Ski: 2019-2020 Moment "Extra Crunchy" PB&J, 188 cm
Available Lengths: 162, 172, 182, 188 cm
Measured Weight per Ski: 2145 & 2156 grams
Stated Dimensions: 129-101-121 mm
Stated Sidecut Radius (188 cm): 23.0 meters
Core: Maple + Carbon Stringers + Fiberglass Laminate
Base: Sintered 4001 Durasurf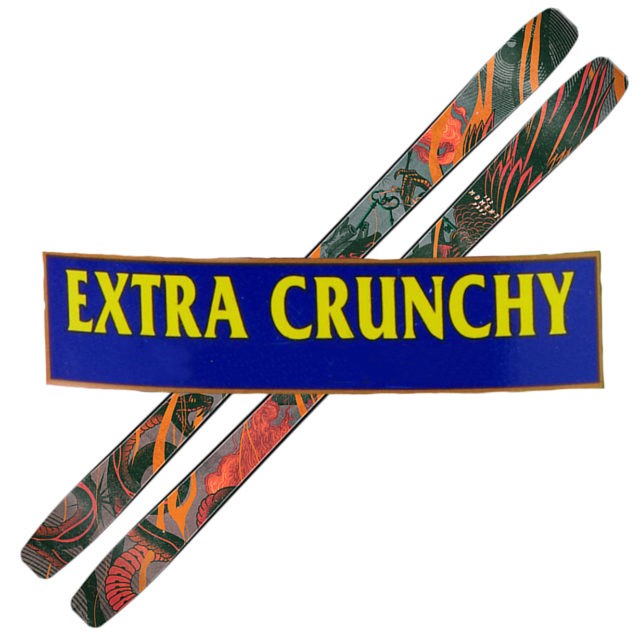 Intro
It might be summer in the northern hemisphere, but a lot of us are still skiing here (God Bless This Long Ski Season), or getting ready to start skiing in the southern hemisphere, or already thinking of next season.
If you are reading this, I know you can relate.
Given that, and given that we also have an extremely passionate audience of ski fanatics and tinkerers around here, we wanted to share with you one pretty fun and interesting project that one of our Blister members had been discussing with me for quite a while now.
And after a good bit of back and forth with me, plus a lot of research and sleuthing around on his own, Mark's personal creation has come to be. In what has to be one of the best names for a ski that I've heard in quite a while, ladies and gentlemen, I'd like to introduce you to the Extra Crunchy PB&J.
Here in his own words is some of the backstory on the "ECPB&J" right from the creator himself.
(And if you have been tinkering around with your own custom creation, feel free to let us know, and we'll see about posting yours, too.)
Take it away, Mark:
A Little Background on Me & This Project
I've been skiing recreationally for most of my life, but didn't own any skis until 2010. My first (much contemplated) ski purchase was a Kastle MX 88 in the 178 length which I loved for its combination of damp, powerful turns on hard snow, and low swing weight off piste. However, over the years I came to realize that I wanted a ski that enabled a more whimsical approach switching between straight lines, smears, and carves with equal aplomb.
When skiing, I've always gravitated toward exploring the mountain and finding challenging terrain.
I live on the east coast and do about half my season in Vermont, where 'looking for a challenge' usually means I'm in the trees and bumps with hard snow. The other half of my season is spent out west on bigger terrain where I benefit a bit more from a wider turn radius because I like going straight and fast.
I tried the Nordica Enforcer 100 for a few runs at a demo day in 2017, and it got me very interested in similarly heavy directional skis with tail rocker. I decided to take a gamble on the J Skis Masterblaster in the 181 cm length based on Blister's review that fall, and I really liked it because it made skiing trees and bumps much less work than the Kastle MX did, without giving up too much stability in open terrain. I attributed this to the shape and mass of the Masterblaster, particularly the looseness created by its rocker-camber-rocker profile.
Then this past year, I started to wonder whether anyone made a stronger version of the Masterblaster, primarily because I am a pretty big dude (6'0", 220 lbs).
My thinking was that my ideal personal ski would be a lot stiffer to offer more stability at speed. And while I considered getting the longer version of the Masterblaster, I was worried that going longer would reduce the quickness of the ski (which I really like) to a very significant extent.
The Idea
My idea for how to get a ski that would offer the high-speed stability I was looking for in open terrain — while preserving the quickness I need for a lot of my skiing — was to go with a more radical rocker profile that was paired with a stiffer core. The hope was that a lot of rocker would make a very stiff ski still feel loose enough to break into a slide in the middle of the trees. Basically, I wanted something Blister has been calling an easy shape with what I'm calling a badass core. This turned out to be a tricky set of attributes to find.
Skis I Considered
Some candidates that I considered but ultimately moved away from (for one or more reasons) were the Nordica Enforcer 93 and 100 which I found to be too soft; the K2 Mindbender 99Ti in a 184 length because I agree with Blister's recent review that they are a lot of work in bumps; and the Head Monster 98, which was described by Jonathan as "definitely not loose."
I spoke with a number of custom ski manufacturers about what I had in mind, and honestly, I found all of them to be really helpful, nice, and willing to help me organize my ideas. However, one concept I came across on the TGR ski forum (thanks Beetlejuice), was putting a heavier maple core into the Moment PB&J. I originally discounted this option because I didn't have personal experience with Moment's products.
After spending a season pondering and using a new pair of Moment Wildcat 108 Tour skis, the idea of an "Extra Crunchy" version of Moment's narrowest freestyle ski, the PB&J, seemed compelling to me. The Extra Crunchy edition of the PB&J (or ECPB&J for short) was going to be heavier and stiffer than the stock model, which meant incorporating a different core material. Moment has a little-publicized semi-custom program, and after some begging, Moment decided they were willing to build the skis this past spring.
Moment described the finished result as "stiffer than the Commander 98, but the comparison here can be a little skewed due to the differing rocker profiles and the fact that the Commander has two sheets of metal in it" and they further qualified that comment by noting they hadn't done any specific A/B-ing of the flex pattern of those two skis. I do not necessarily trust my hand-flexing-of-skis chops, but I can tell you that the Extra Crunchy PB&Js are definitely stiffer than my 181 cm Masterblasters, and are pretty in line with a pair of Kastle FX104 in 184 cm that I happen to have floating around my house.
I also weighed the skis on arrival — they came in at 2145 & 2156 grams per ski for the 188 cm length, which is about 300 grams/ski heavier than the stated weights of a stock 188 cm PB&J or 188 cm Commander 98 (the two stock skis have the same listed weight on Moment's website). The 2150-gram-per-ski average weight puts the ECPB&J in the same general class as the Nordica Enforcer 93 & 100, 181 cm Masterblaster, and 184 cm Kastle FX104, which I am very excited about.
Also, I think the skis look great with next year's Wildcat graphic and I am now counting down the days till winter.
So … what do you think?