Liv Intrigue LT Advanced Pro
Wheel Size: 29'' front, 27.5'' / 29'' rear — size dependent, see below for details
Travel: 150 mm rear / 160 mm front
Geometry highlights:
Sizes offered: XS, S, M, L
Headtube angle: 64.8° (Large / Low) 65.1° (Large / Mid), 65.5° (Large / High)
Seat tube angle: 77.3° (Large / Low) 77.6° (Large / Mid), 78° (Large / High)
Reach: 459-467 mm (size Large)
Chainstay length: 443-440 mm (size Large)
Material: Carbon fiber
Price:
US-spec builds: $7,000 to $12,500 USD
Canadian-spec builds: $4,999 to $14,199 CAD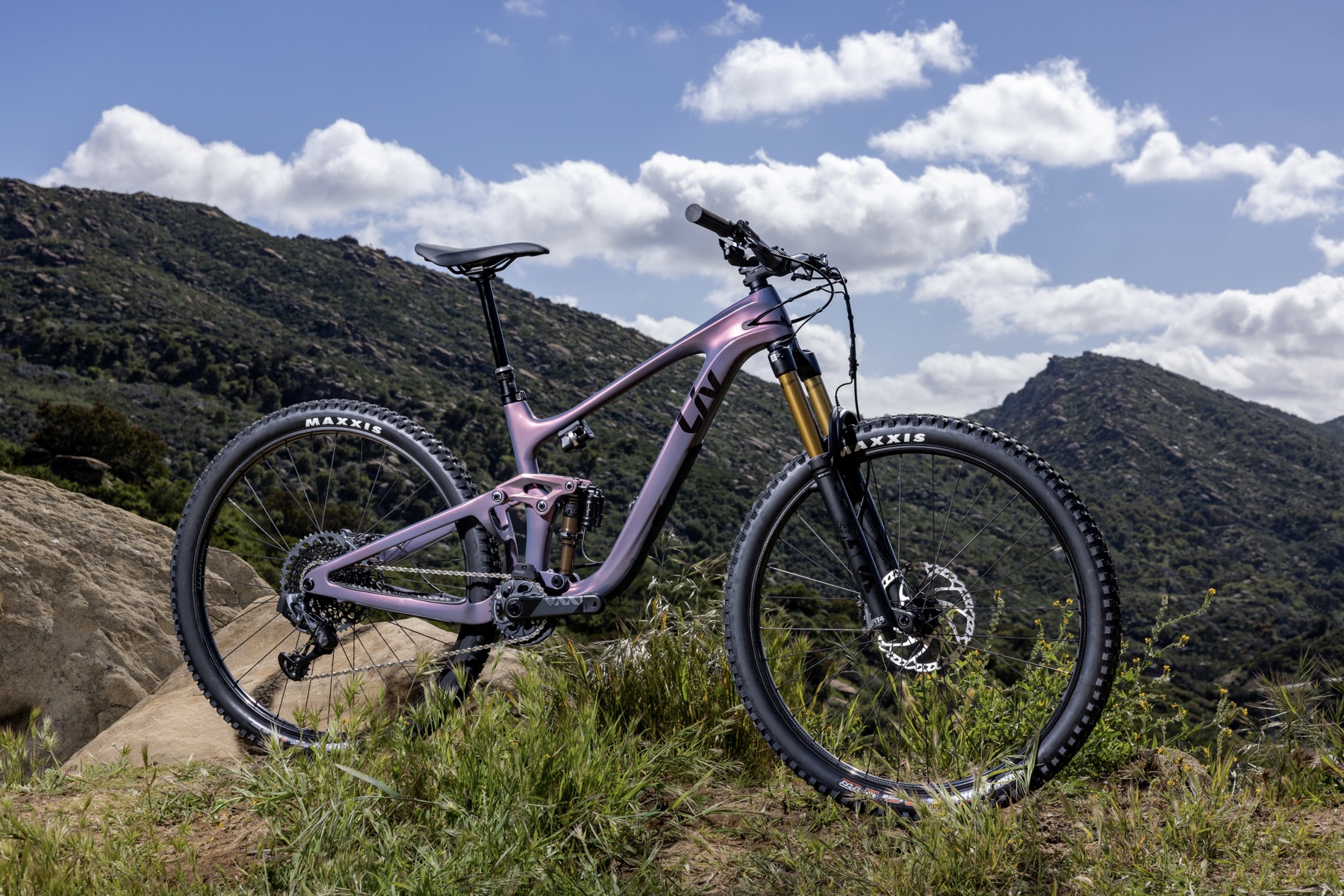 Intro
Earlier this week, Liv announced their Intrigue LT Advanced Pro, which is their highest-performance, and longest-travel bike, dropping in the Summer of 2023. Stemming from their Intrigue LT, which was launched in January 2023, the new Intrigue LT Advanced Pro features a variety of upgrades and several key differences.
Liv developed the Intrigue LT Advanced Pro bike as a means of catering to the more advanced and progressive riders while sticking to their principles of bikes designed by women and for women.
The Intrigue LT Advanced Pro features notable differences in the frame, geometry, and grouping, all of which advance Liv's lineup into the higher-end realm, plus some really unique features for customization and fitting.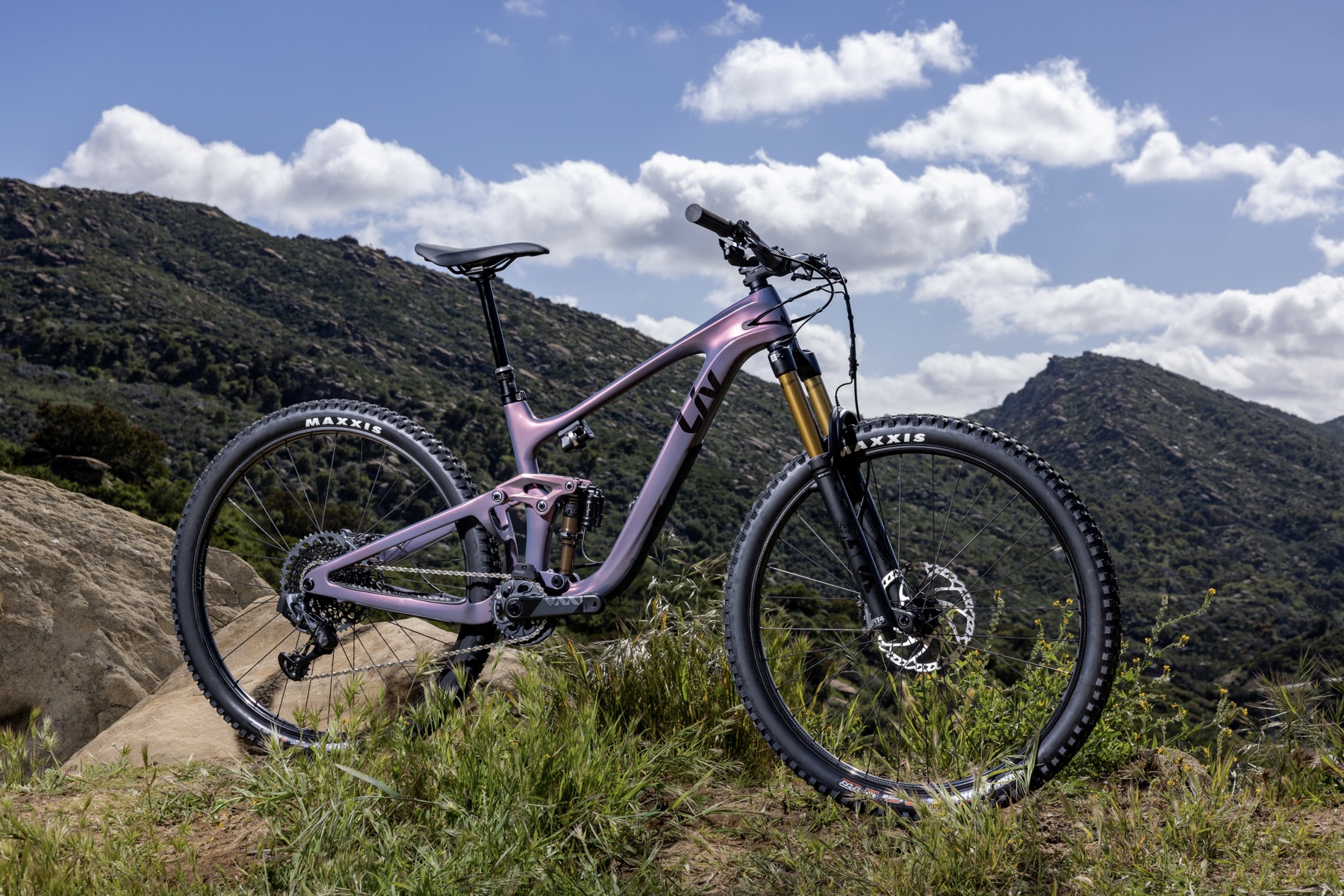 The Frame
The design of Liv's Intrigue LT Advanced Pro is a step up from the previous Intrigue LT models. It is built with Liv's Advanced-Grade Composite frame, whereas previous Intrigue models were only available in aluminum. The Advanced-Grade Composite frame is composed of raw carbon and a custom resin, built at Liv's composite factory. This is a monocoque construction, applied to both the mainframe and rear swingarm of the Intrigue LT Advanced Pro. The frame is the same across all the Intrigue LT Advanced Pro models.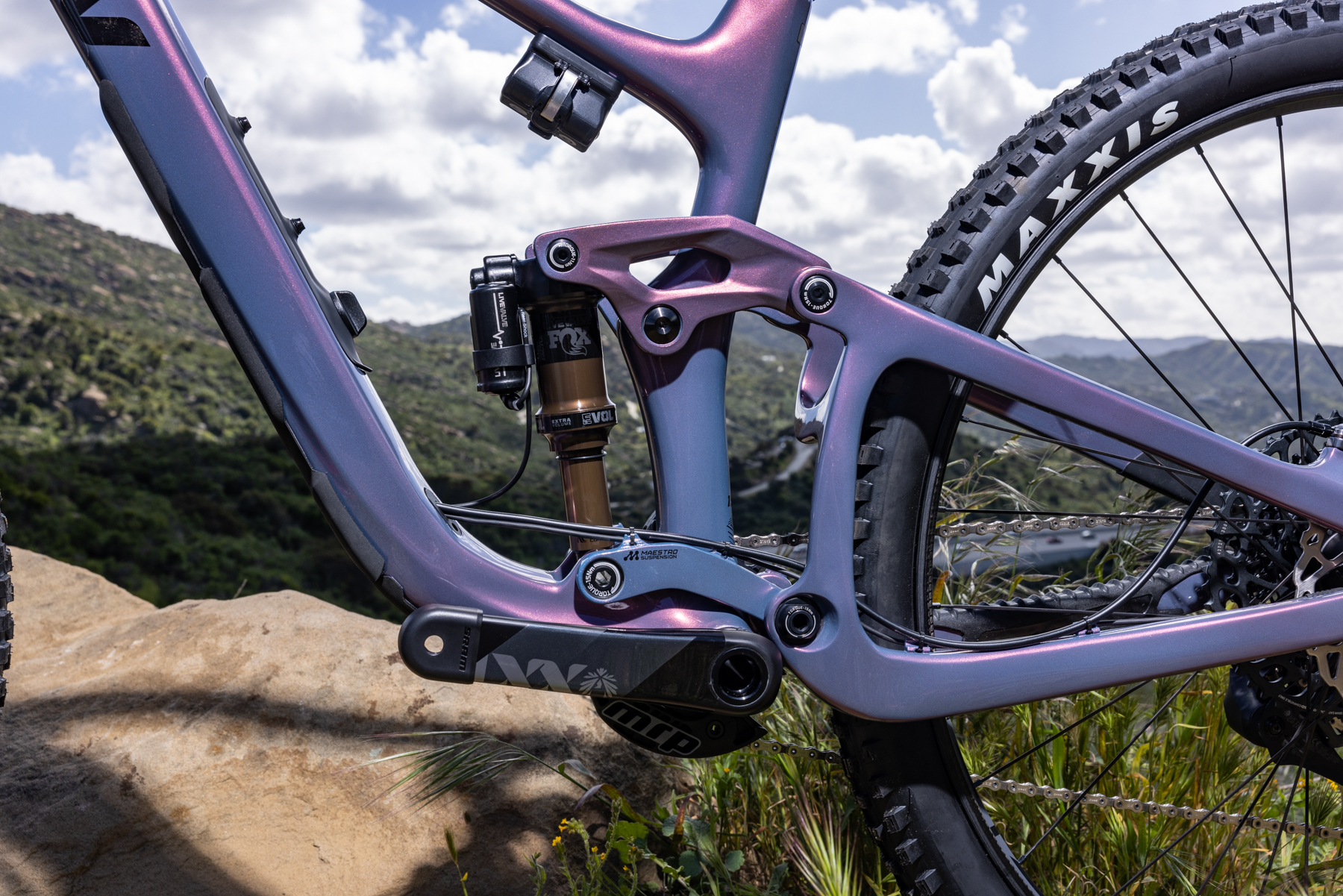 Liv utilizes its Maestro Suspension platform across the Intrigue LT Advanced Pro, which is a non-vertical wheel path with a linear spring curve. It's a four bar, short link design that Liv (and sibling brand Giant) have been using for the better part of two decades now, with continual refinement. The Intrigue LT Advanced Pro frame offers integrated down tube storage, with a pouch to help keep things contained and organized. A three-position flip chip toggles between a variety of geometry settings (more on those below).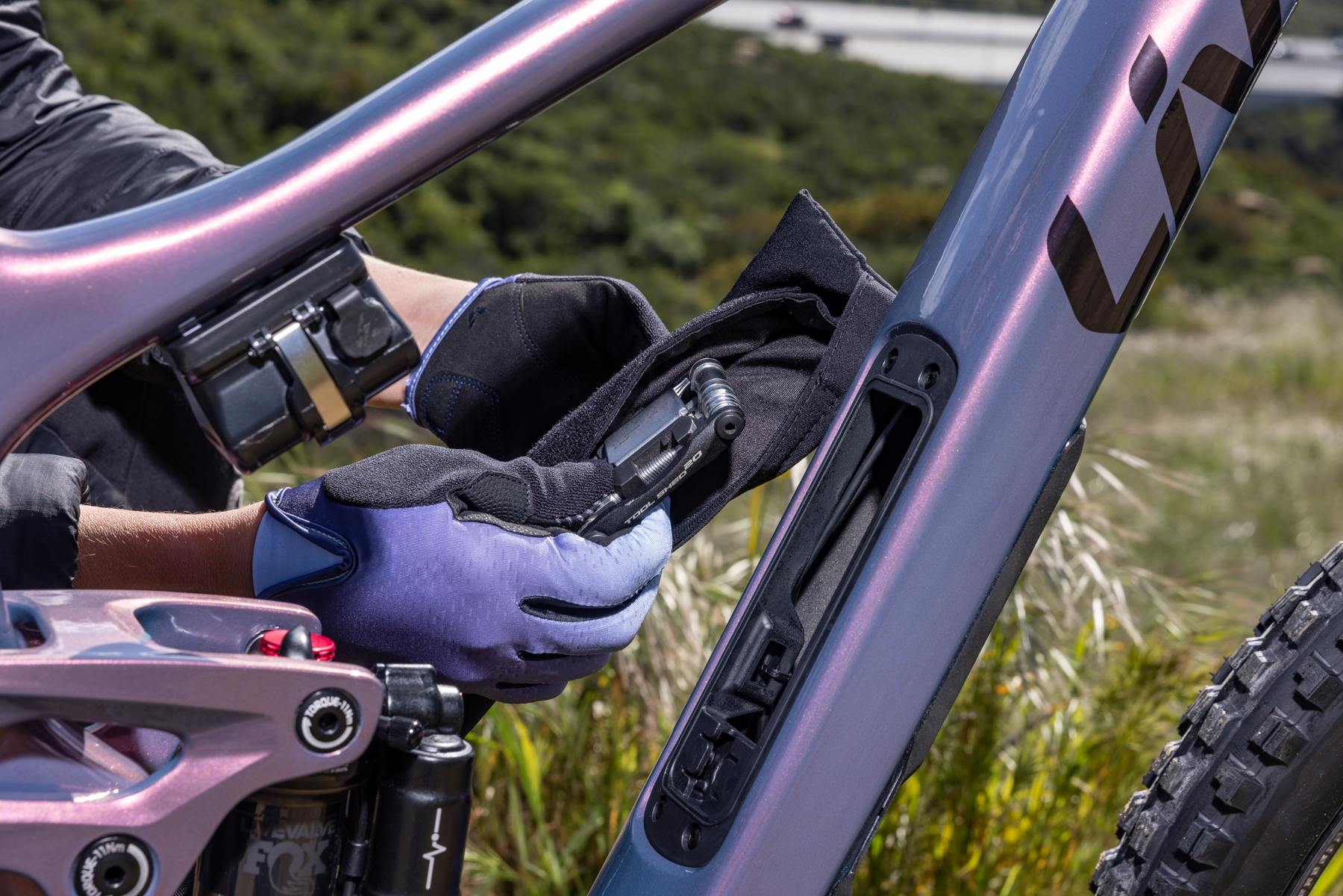 Fit & Geometry
At first glance, the most intriguing aspect of Liv's Intrigue LT Advanced Pro is the vast options for adjustable geometry. They use their "Maestro 3" design to adjust frame geometry, which gives you a choice in rear-wheel size. This "MX configuration," means that for frame sizes Extra Small and Small, they are equipped with a 29'' wheel up front and 27.5'' in the rear, and are dedicated to that configuration. Size Medium and Large frames are equipped with 29'' wheels at both ends, but can accommodate a 27.5" wheel in the rear, if the rider chooses.
The Maestro Flip Chip also allows for adjustment of the head tube angle, seat tube angle, and bottom bracket height. This flip chip is located on the upper rocker arm of the rear suspension and enlists the option for a "High," "Medium," or "Low," position.
Liv states that the average difference between each setting (three settings are offered) is 0.4° for the head tube and seat tube angles with an average difference of 5mm of bottom bracket drop. Liv provided recommended flip chip positions for each of the sizes, and the "Low" position is not permitted on Medium and Large frames when running a mixed-wheel, or "mullet" configuration.
Worth noting, Liv isn't just a brand that claims to make a women-specific frame. Liv uses body dimension data and riding experience to custom-design bikes specifically for women, and they centered this in the design of this latest bike.
The Builds
Liv is releasing three versions of the Intrigue LT advanced Pro, denoted by 0, 1, and 2, with "0" being the top end. All three offer the same options for mixed-wheel configurations with the Maestro 3 flip chip, but there are some pretty big distinctions both in groupings and price points.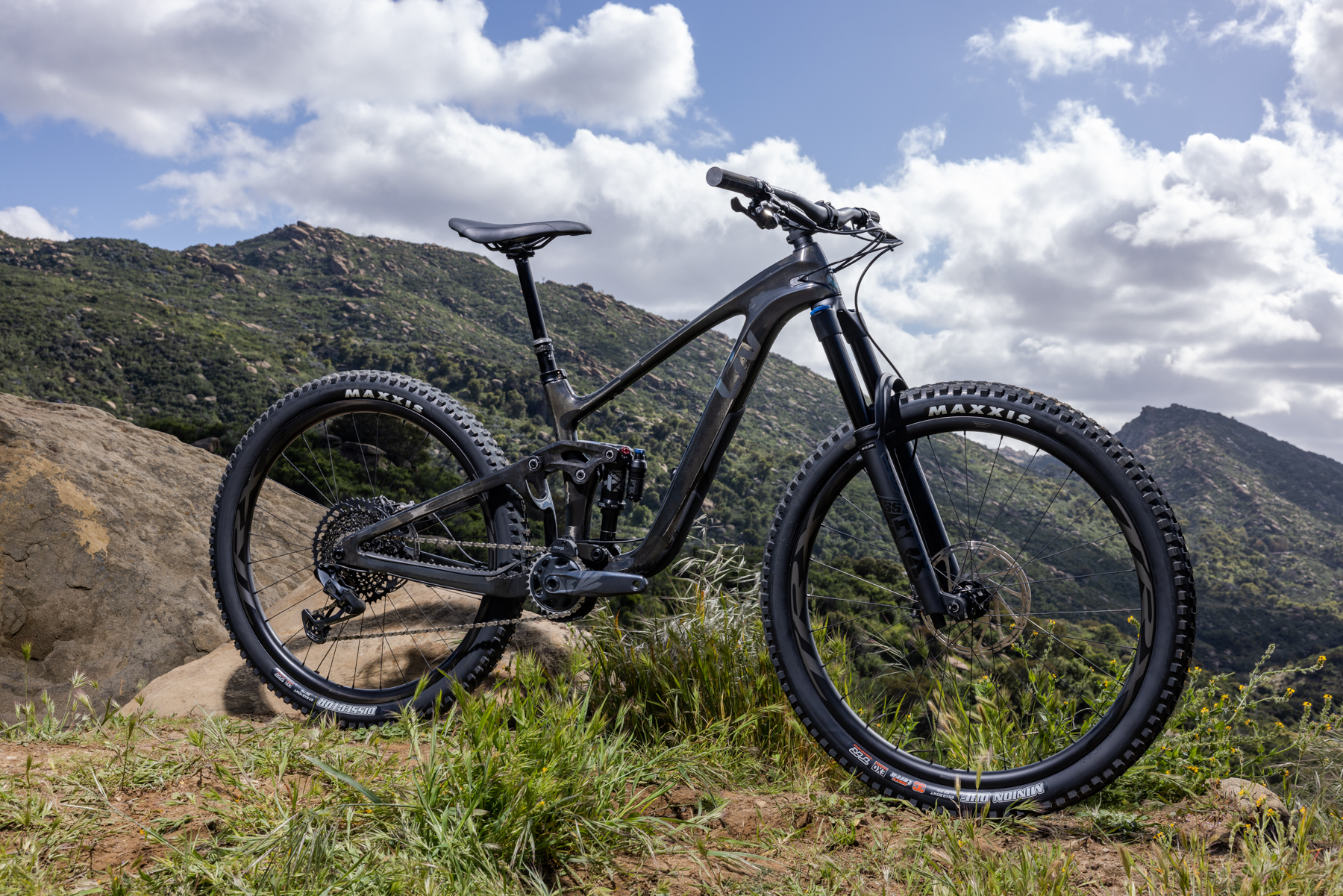 For reference, the complete build options are as follows:
Drivetrain: SRAM XX1 Eagle AXS

Brakes: Shimano XTR M9120 w/ 203 mm front / 180 mm rear rotors

Fork: Fox 36 Factory Live Valve

Shock: Fox Factory Live Valve

Wheels: Zipp 3ZERO MOTO

Dropper Post: TranzX travel-adjustable dropper, remote
Drivetrain: SRAM GX Eagle

Brakes: SRAM G2 RSC w/ 200 mm front / 180 mm rear rotors

Fork: Fox 36 Performance Elite

Shock: Fox Float X Performance Elite

Wheels: TRX 2 29 WheelSystem

Dropper Post: TranzX travel-adjustable dropper, remote
Drivetrain: SRAM SX Eagle

Brakes: Tektro M745 w/ 203 mm front / 180 mm rear rotors

Fork: Marzocchi Bomber Z1

Shock: Fox Float DPS Performance

Wheels: Giant TR 1 29 WheelSystem

Dropper Post: TranzX travel-adjustable dropper
Some Questions / Things We're Curious About
We will soon have the Liv Intrigue LT Advanced Pro in for long-term testing, and there are several questions that arise as we wait for the trails to melt here in Crested Butte.
How does Liv's commitment to women-specific builds and geometry compare to similar bikes that take a more unisex approach? Are these differences obvious, minor, or indistinguishable?

With so much potential for customization and altering of geometry, how different is the ride experience among the different chip settings? How easy is this design to adjust, and who might benefit the most from having these different options? Since the bike we are receiving will be large, we will mostly be speaking about the differences between the "Mid" to "High" settings.
Bottom Line (For Now)
The Liv Intrigue LT Advanced Pro is an exciting bike to hit the market because it shows the top-end potential of what is available in women-specific design, from a brand that is dedicated to centering women's riding experiences. Given its potential for rear wheel size swapping and geometry finetuning, it offers a lot to be intrigued about. Stay tuned for a whole lot more info as we spend some time on it this summer.
FULL REVIEW
We started riding the Liv Intrigue LT Advanced Pro 0 just as things were starting to melt out in the spring, and have used it for just about everything all the way into fall. This started with plenty of more XC-oriented trails (and even a 36-mile bike race) and progressively shifted toward the sorts of trails it was really designed for, including the long, techy, moto-inspired descents for which Crested Butte is best known.
So, after all that, I have plenty of thoughts about where this bike excels and some of the aspects that make it stand out in the longer-travel Trail bike category.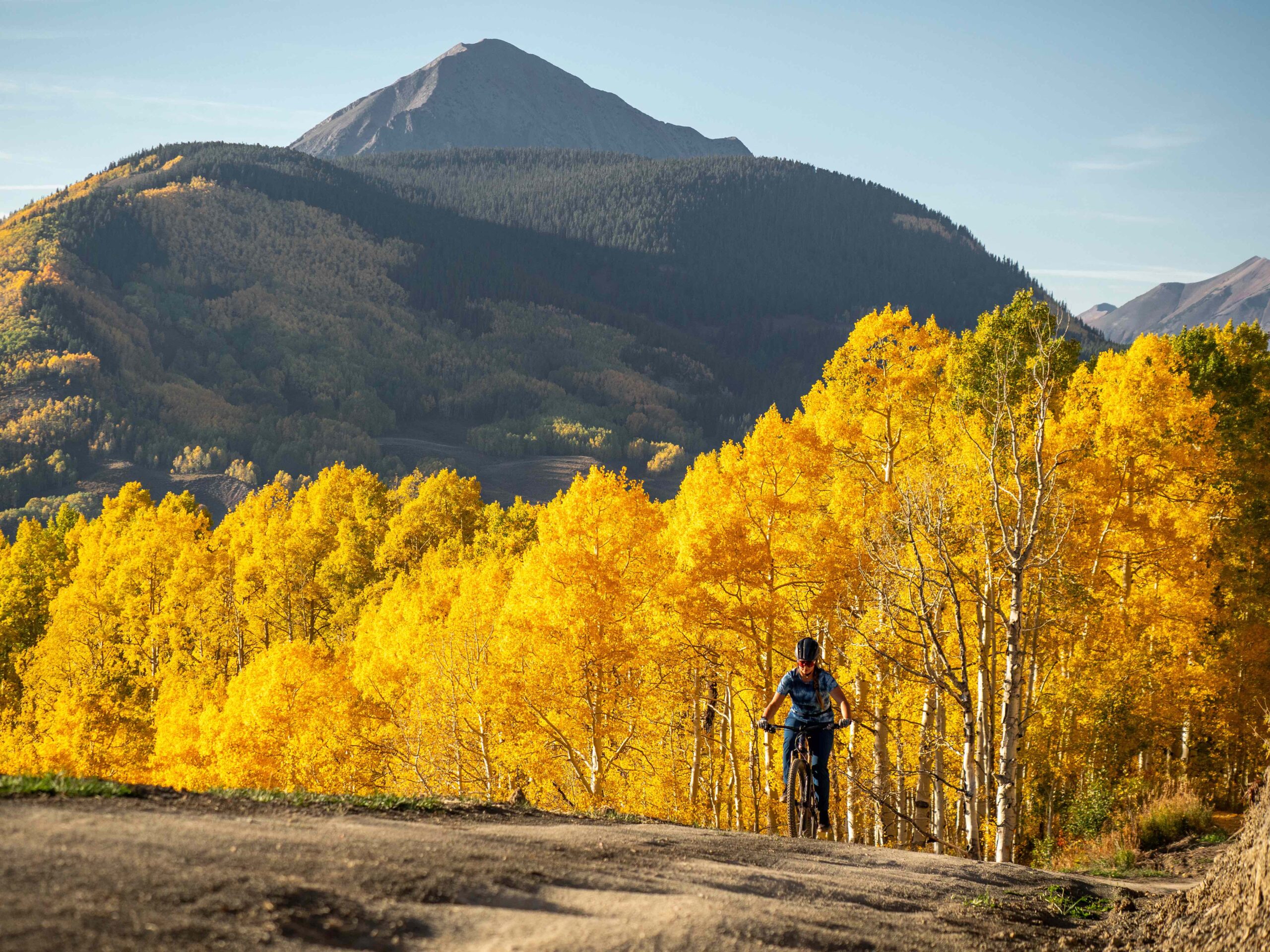 Fit & Sizing
Kara Williard (5'9", 167 lbs / 175 cm, 75.7 kg): The Liv Intrigue LT Advanced Pro offers many ways to tweak its geometry and fit, so there's a lot to cover here.
First off, the Intrigue LT Advanced Pro is equipped with Liv's "Maestro Flip Chip" (mirrored by what Liv's sibling company, Giant, offers in their frames). It lets you swap between "High" and "Low" settings by loosening a couple of Allen bolts and flipping the chip 180°; alternatively, you can swap that high / low chip for the "Mid" chip, equating to three geometry settings that actually feel different, but aren't so much so that it feels jarring / weird when switching between them. The flip chip most notably changes the seat tube angle, head tube angle, and bottom bracket drop, which also changes other aspects a bit (most notably, reach and stack). I took advantage of this adjustability numerous times over the course of my time with the Liv Intrigue LT Advanced Pro and it's been easy and effective, making significant and noticeable changes to the bike's geometry, and subsequently, the fit (more on the performance differences below).
As far as sizing goes, Liv's geo chart made it pretty clear that I should opt for a Large frame, though I was a bit intimidated by its reach (459-467 mm, depending on chip settings). But after plenty of time spent on the Large these past few months, this was the correct choice.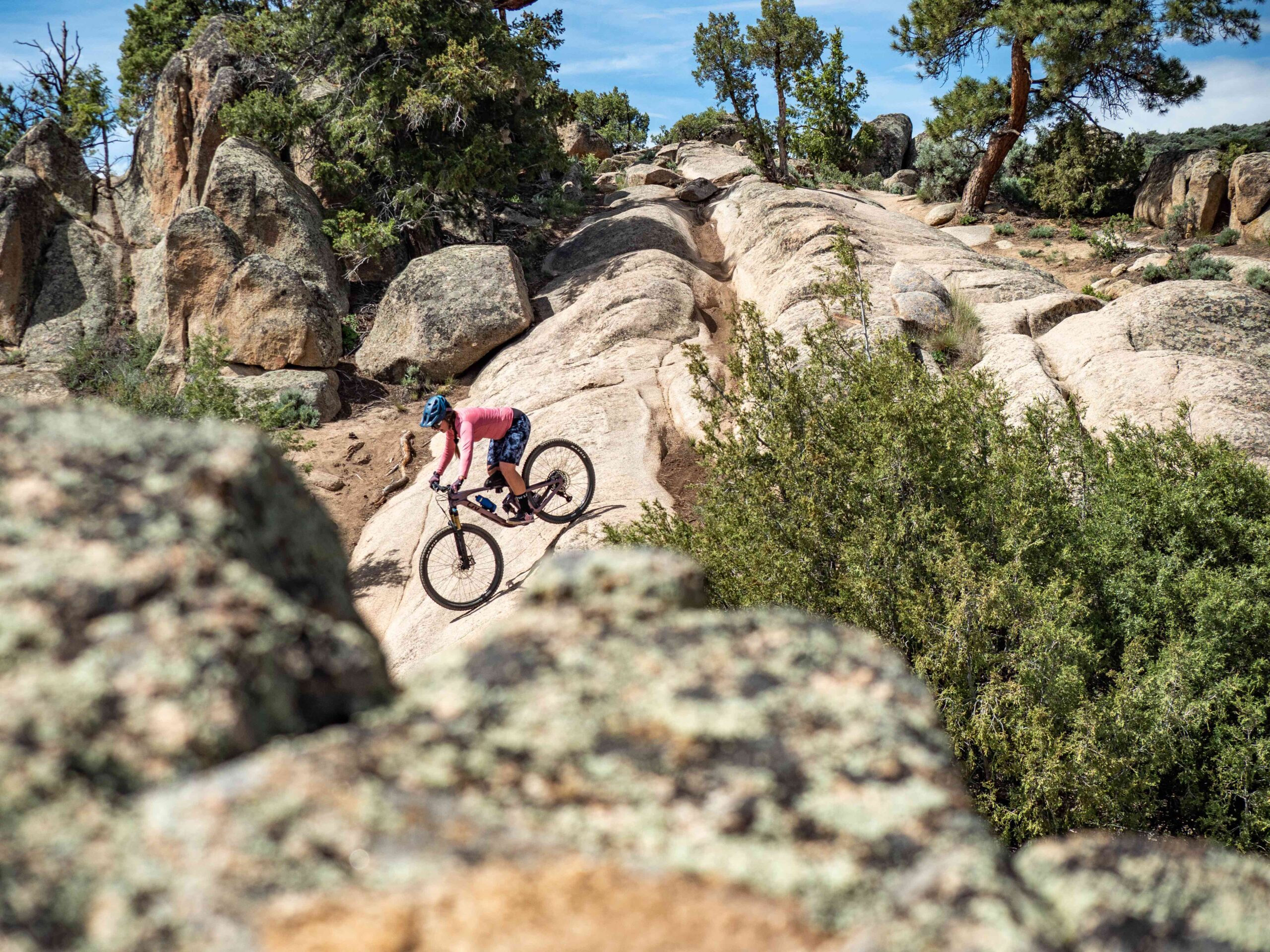 Typically, I feel pretty comfortable on bikes with reach numbers around ~460 mm, and given that this is a longer-travel, more descending-oriented bike, going longer rather than shorter seemed like the right call. It does feel pretty big, especially in the High setting, but I suspect the size Medium would have felt a bit short (its reach options range from 439–447 mm).
Over the past several months, I tried all three of the Intrigue LT's geometry settings and generally got along with all of them. The caveat is that I did have to make some other minor adjustments on the bike to account for the geo changes made by each flip chip setting (e.g., moving the saddle slightly fore or aft). These alterations have all been pretty minor, but for someone who doesn't want to have to think about these changes from day to day or ride to ride, I'd probably recommend finding the setting that works the best for most of the riding that you do and just optimizing your fit in that position.
I also think that Liv has done a really good job with the "touch points" and women-specific design of this bike. The saddle on the Intrigue LT Advanced Pro is easily the best women-specific stock saddle I have ever spent time on (for me, anyway), and there is a lot to be said for being able to hop on a bike with a stock saddle and not immediately want to hop off.
Liv reports that each size of the Liv Intrigue LT Advanced Pro is custom-designed using women's body dimensions. Out of my own curiosity, I wanted to compare the Intrigue LT Advanced Pro's numbers against the men's equivalent, Giant's Reign Advanced Pro. In contrast to most women-specific MTB brands, the frames do actually appear different on paper. E.g, in terms of reach, the size Large Liv Intrigue LT falls between the Reign's Medium and Large frame, and across the board, the Intrigue LT gets shorter chainstays than the Reign.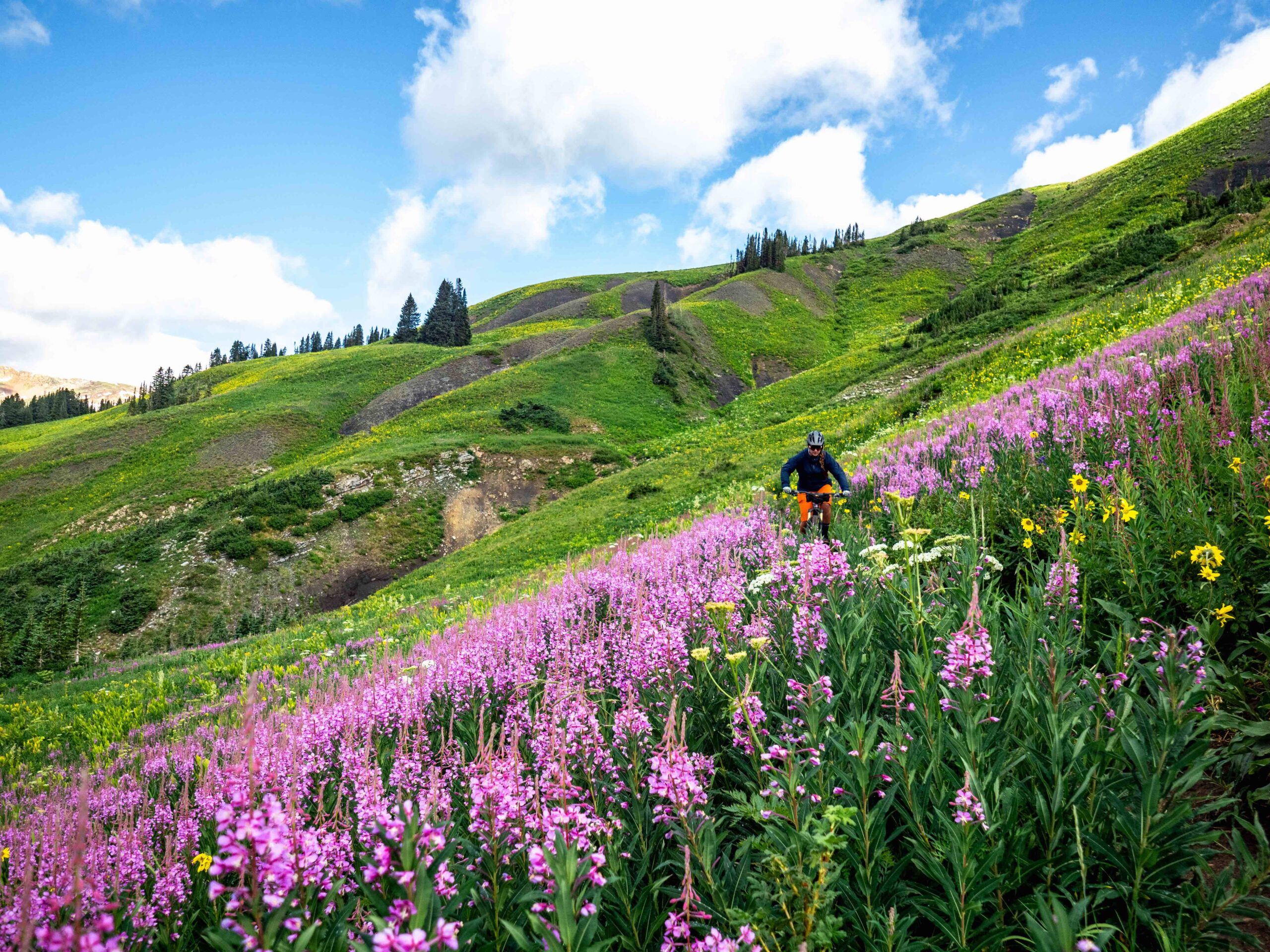 Climbing
Uphills have been where the Intrigue LT Advanced Pro has most surprised me — and I have spent a lot of time pedaling this bike. While this isn't some supremely efficient short-travel Trail bike or anything like that, I think it does a really good job of providing efficiency on the uphill for what it is.
Most recently, I opted to take it on my biggest single day of climbing this year (~6,500 feet / 2000 m). There are definitely better options for big days, but with the Intrigue LT Advanced Pro in its High geo setting, I felt comfortable, had no issues with traction even on the steepest of pitches, and didn't feel like a drastic amount of my energy was being sapped by the bike's suspension.
A key part of this climbing experience is that the Intrigue LT Advanced Pro 0 is equipped with Fox's Live Valve system, which can automatically close / firm up the fork and shock when it senses that you're pedaling / not hitting chunky trail debris at speed. For a lot more detail on Live Valve and my experience with it, see the "Build" section, below.
You can also fine-tune how biased the system is toward being open for descending vs. being closed for efficiency, via the Bluetooth app on your phone. Given how easy it is to do so, I switched it into "Firm" or "Climb" mode whenever I knew I had a long, consistent climb ahead of me, though I imagine some folks will likely just keep it in one of the more open modes and "set and forget."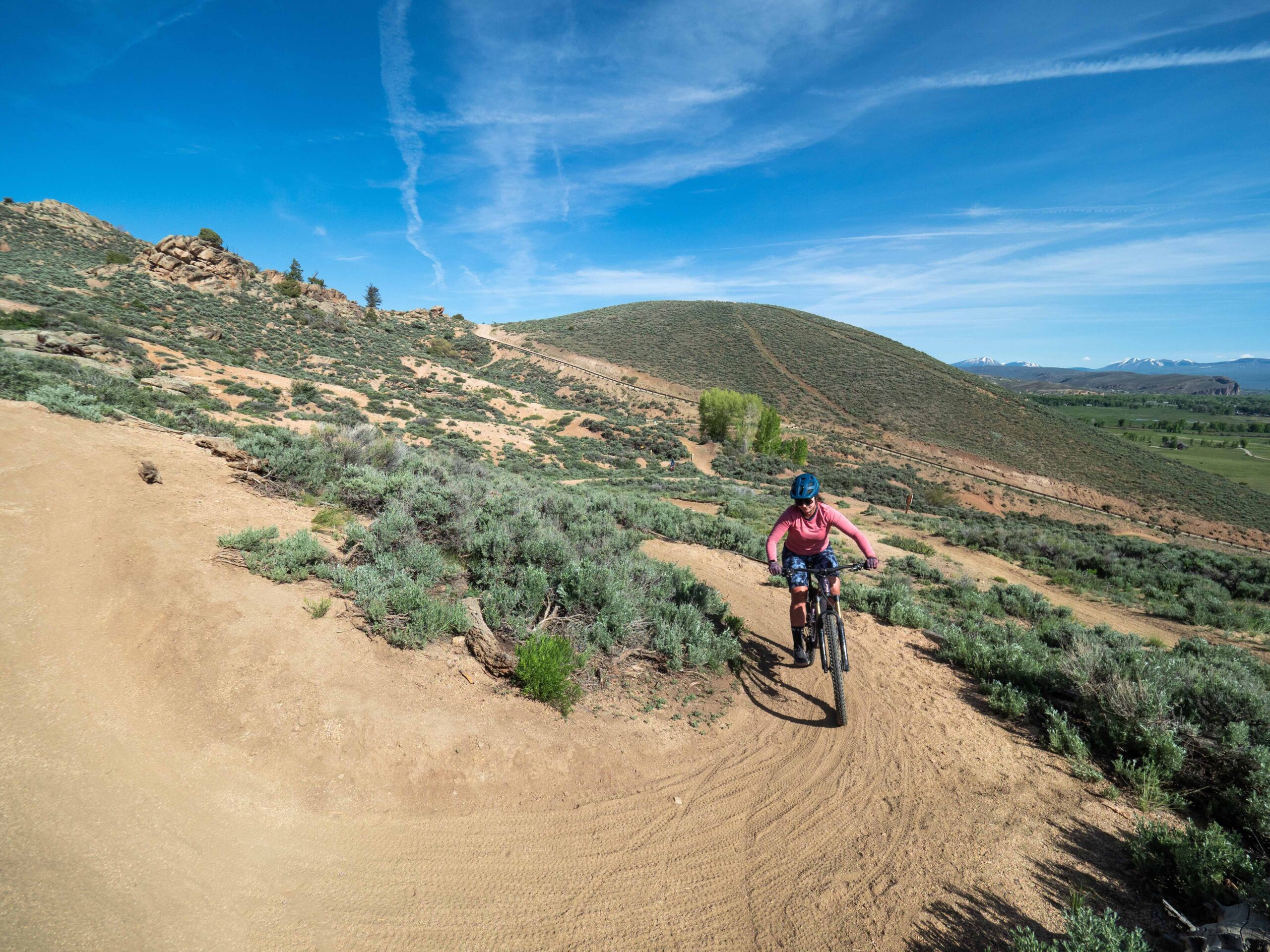 When in the "Firm" setting, the Live Valve suspension doesn't open as easily and will firm up more quickly after impacts. It's nice that the system will still open up while in the "Firm" setting (in contrast to a traditional manual lockout), but it generally felt pretty harsh on descents and I consequently found it most appropriate for long, smooth climbs (e.g., fire roads).
In the "Climb" setting, the Live Valve system keeps the fork open for "increased traction on technical climbing" while keeping the shock fairly firm overall. This seemed pretty well suited for more XC-oriented trails (lots of ups and downs), but I still found myself using the more open modes on the majority of my descents.
The fact that the fork and shock were mostly locked out while pedaling definitely helped justify bringing a 150mm-travel bike on some bigger climbs. Of course, Live Valve is expensive and brings with it added complexity (more on that later); less expensive builds for the Intrigue LT Advanced Pro feature shocks with traditional manual climb switches / lock outs.
As I alluded to earlier, I thought the Intrigue LT Advanced Pro climbed notably better in its High geo setting. The steeper head tube and seat tube angles equated to a better body position for me, both in terms of getting power to the pedals and maintaining traction through the rear wheel without having to drop my torso as dramatically towards the bars as I do with the bike in the Mid or Low settings.
The bike's Low setting left me in a pedaling position that just didn't feel as conducive to maintaining a smooth, powerful cadence. Of course, a lot of this depends on your body proportions and which size you're on, but it's nice to be able to tweak the fit (especially if you fall a bit between sizes, like me).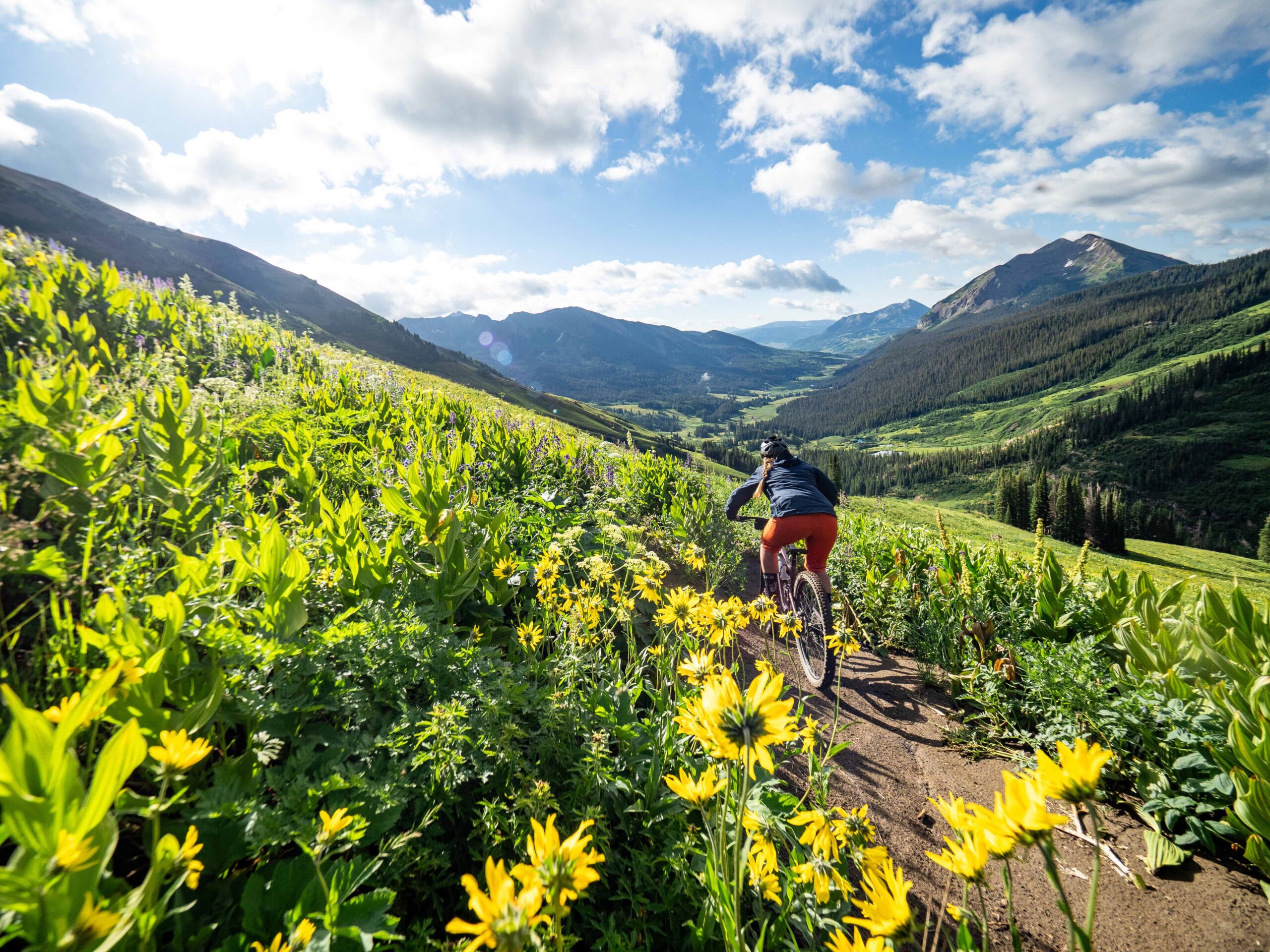 Descending
My time on the Liv Intrigue LT Advanced Pro this summer has undeniably helped my confidence while descending, particularly when it comes to chunky, technical, and/or higher-speed trails.
Overall, I'd say it's more stable than it is highly maneuverable, though you can cater to one or the other via tweaking the geometry. The Intrigue LT Advanced Pro felt a bit more inclined to take faster, straighter lines than make lots of small, on-the-fly adjustments (especially in the Low setting), but I could weave it through tighter sections pretty easily if I dialed back my speed a bit. For a 150mm-travel bike, I think it does an admirable job of carrying momentum when rolling through scree and rock gardens.
The Intrigue LT Advanced Pro's Low geometry setting has been my favorite while descending, especially in terms of how balanced and intuitive the fit of the bike feels when pointed downhill, whether that be on a big rock roll or while carrying lots of speed through chunky roots and rocks. The Mid and High settings give it a more precise feel, especially on tight corners, at the cost of composure in steep and/or fast terrain.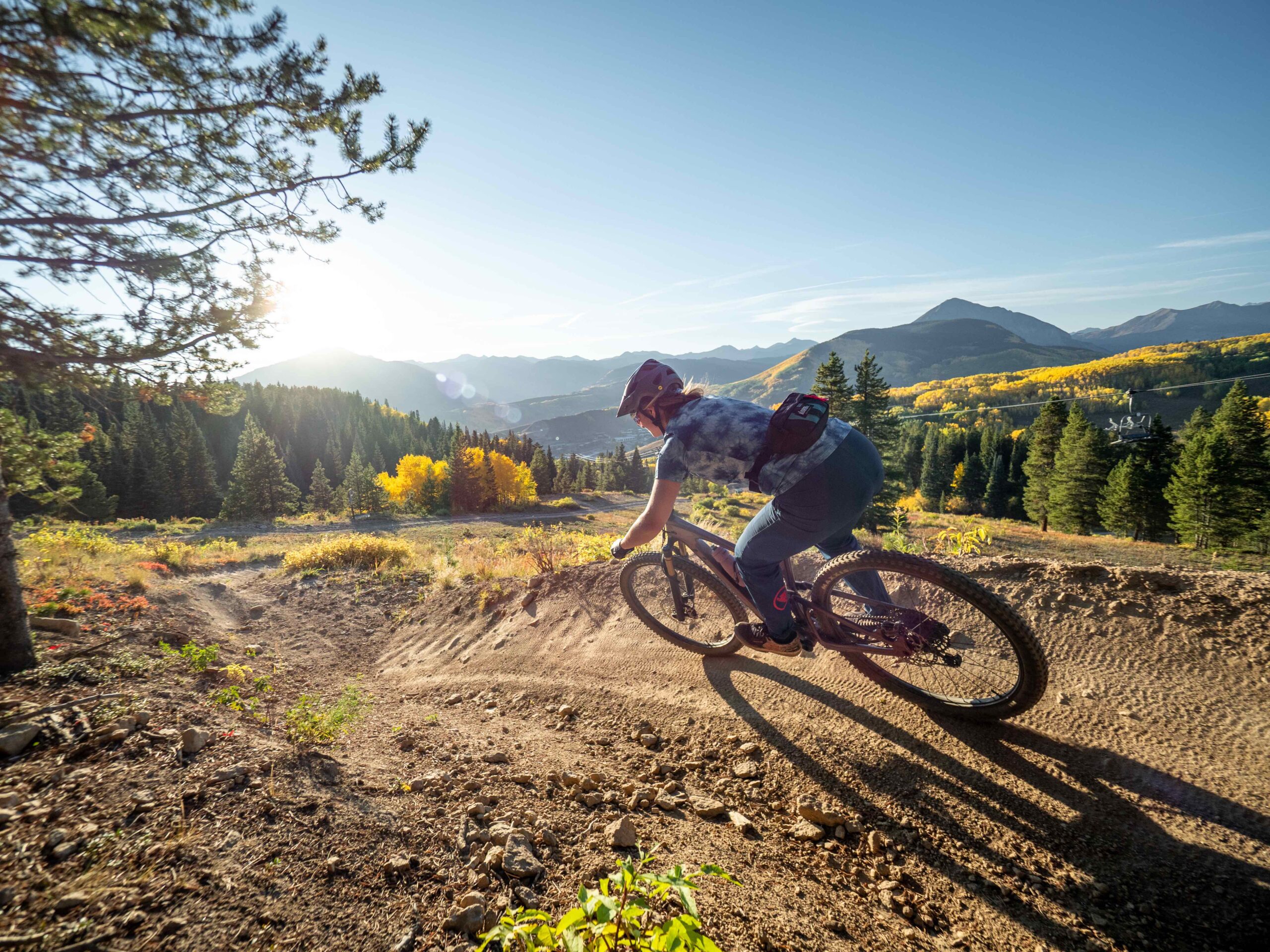 This bike's Live Valve suspension opens up lots of opportunities in terms of tweaking the suspension for specific terrain / rider preferences. That said, I've typically opted to leave it in one of the more open settings of the five standard options.
More often than not, I found myself in the middle "Sport" setting, which is described in the app as "balanc[ing] comfort with efficiency for all-around riding conditions." It's more eager to open up when hitting some obstacle (than the "Firm" and "Climb" modes), making for a more comfortable ride while still feeling pretty efficient when traveling on smooth terrain or climbing for a long period. On occasions where I knew I had a long, fairly consistent descent to enjoy, I would choose the "Comfort" or "Open" settings, since they maximize the plush ride of the bike and provide the most comfortable ride on the descent (especially on rougher trails).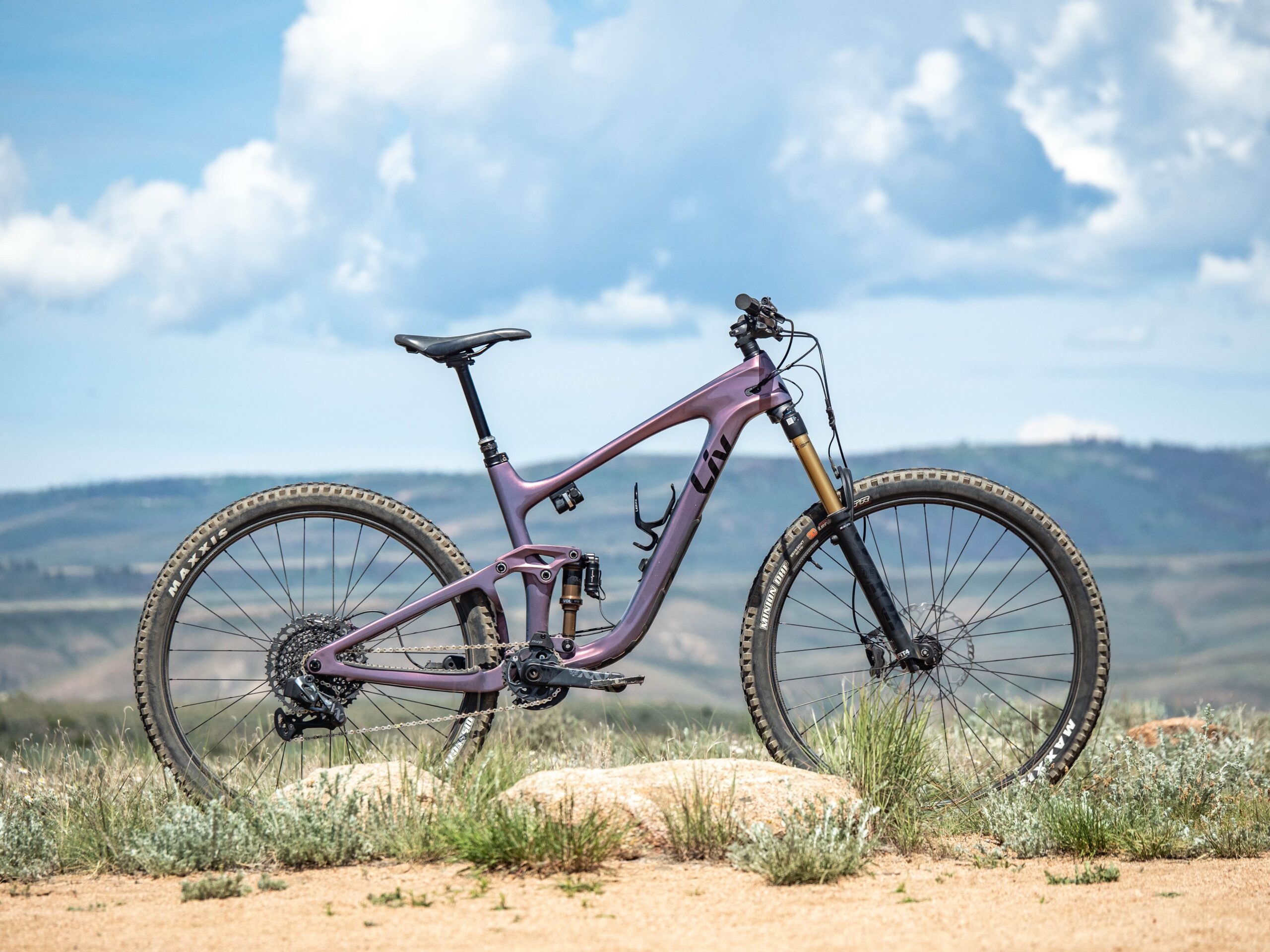 The Build
The Intrigue LT Advanced Pro 0 is an undeniably high-end bike. In fact, at its eye-watering retail price of $12,500, it's the most expensive non-motorized bike we've ever reviewed. As you'd expect, it's stacked with pretty much every top-of-the-line component you can find.
The SRAM XX1 Eagle AXS Drivetrain has been precise and durable throughout 250+ miles testing, with pretty much zero issues to date. Liv released the Intrigue LT Advanced Pro 0 before the release of SRAM's Transmission, but that's pretty much the only place left to upgrade in terms of components.
The Zipp 3ZERO MOTO wheelset has provided a stiff but smooth ride quality (especially relative to other carbon rims), as well as quick hub engagement. The XX1 carbon cranks feel stiff with no play and have also held up to a good number of rock strikes while I adjusted to the many different geometry settings in tricky rock gardens over the past few months.
The Shimano XTR brakes have been incredibly impressive – sensitive and strong with very minimal pressure needing to be applied to get the desired result.
There are a few other details of the Intrigue LT Advanced Pro 0 that I've come to appreciate over time. These include the integrated down tube storage that I found pretty easy to access and a great option for storing always-carry items like a light rain shell and / or tools. I found it to be slightly roomier than the down tube storage on my 2019 Specialized Stumpjumper, but it still requires a little bit of cramming for even my lightest rain jacket.
The Intrigue LT Advanced Pro 0 is also equipped with MRP's AMg Chain Guide, which kept the chain where it should be and protected the frame / chainring from multiple strikes in rock gardens.
From the larger components to the smaller details of the Intrigue LT Advanced Pro 0, it's been impressive. I don't imagine many folks will spring for this high-end of a build, but I definitely enjoyed my few months with it.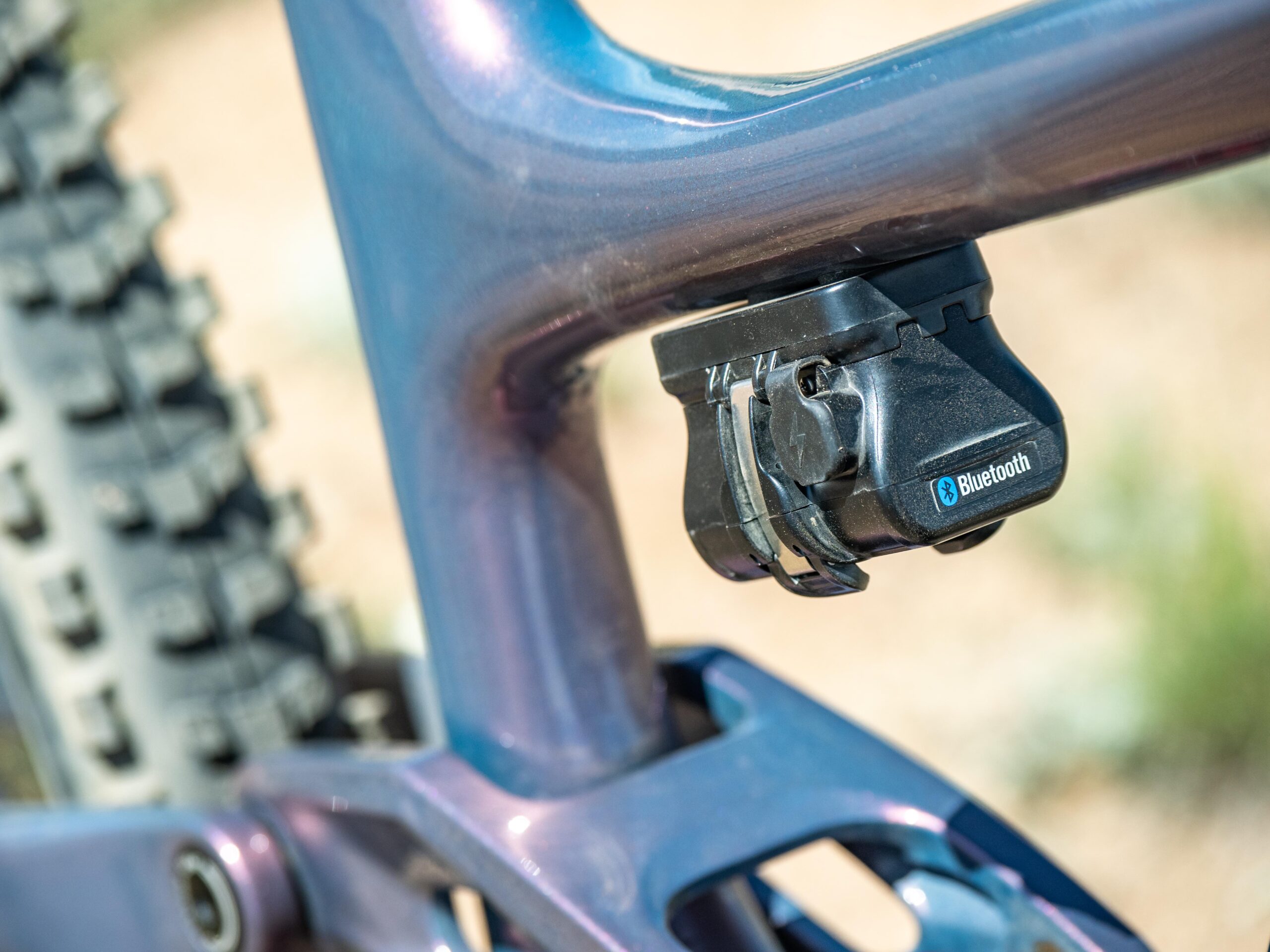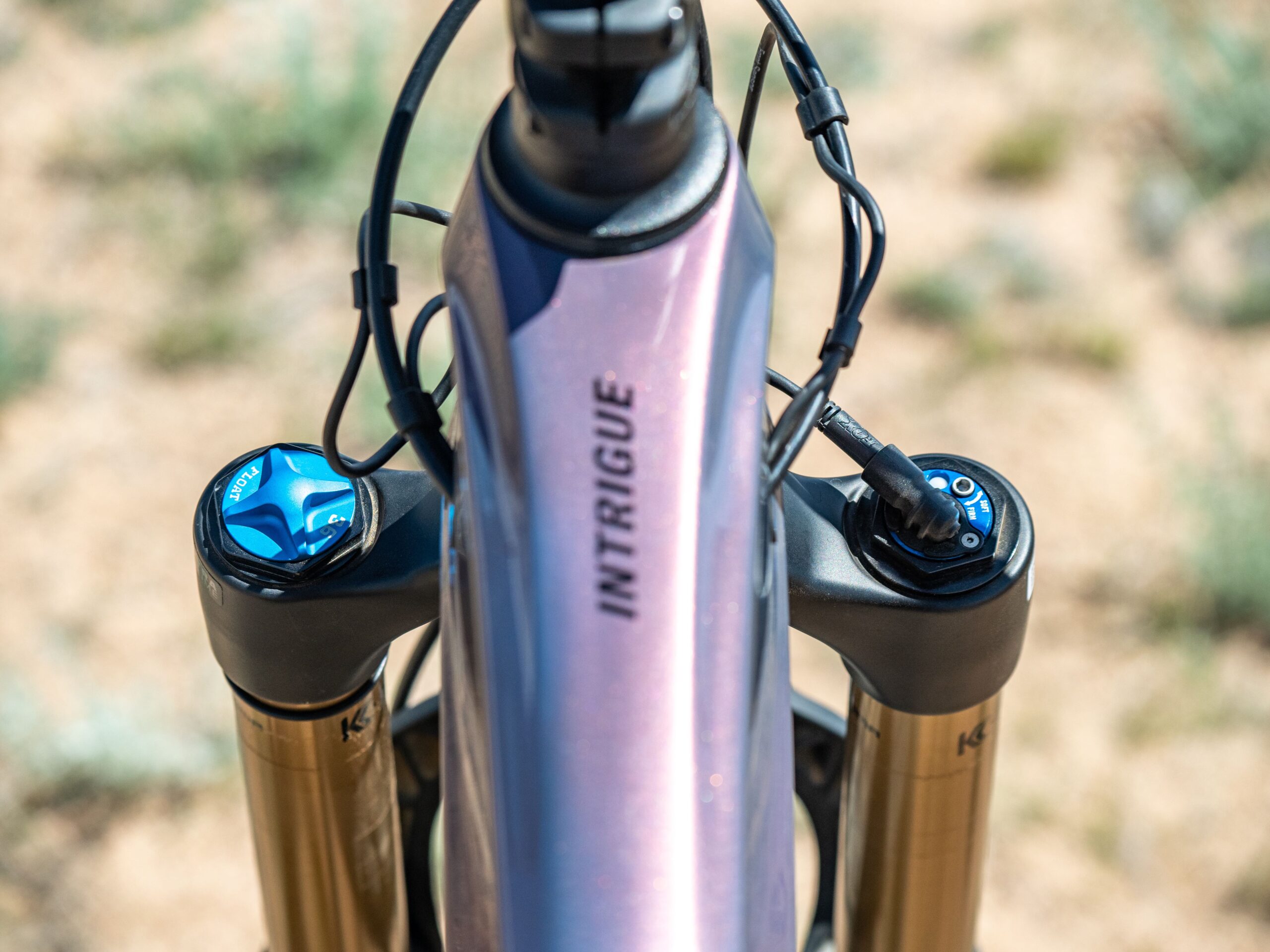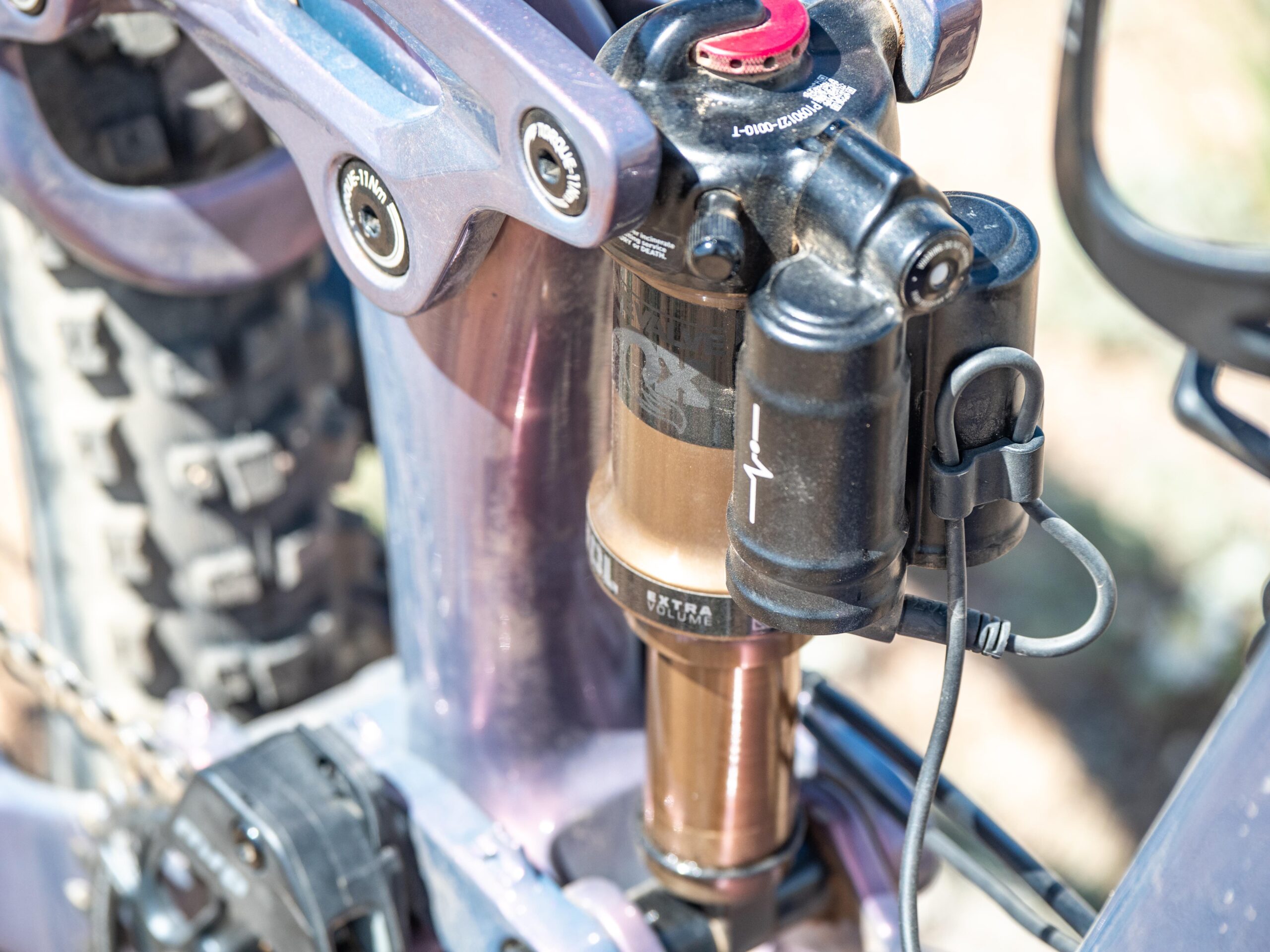 Fox Live Valve 1.5
Given that Live Valve is expensive, somewhat rare, and a big part in defining a given bike's character, I want to go a bit deeper on my experience with it on the Intrigue LT Advanced Pro 0.
First, a bit of background information on Fox's Live Valve system: it's comprised of a controller mounted beneath the top tube with a removable battery pack. The controller distributes four internally-routed wires throughout the frame, which lead to sensors: one on the damper of the fork, one on the rear suspension, one on the back of the fork, and another on the rear, non-drive side of the frame near the axle. In theory, these sensors work to detect bumps large enough to warrant changing the suspension from a default setting of "firm" to "open." The system also uses pitch sensors to help determine if the rider is climbing or descending. Depending on what specific setting you're in, the system will stay open for longer or shorter periods between impacts / bumps, before reverting back to the firm mode. Fox reports that this system calibrates and adjusts within three milliseconds, and the front and rear sensors can work independently from one another. The end goal is to achieve a better balance of pedaling efficiency and downhill performance via a system that adapts on its own in real time.
In particular, I really loved having Live Valve when I started my bike season on the really chunky but XC-oriented trails of Hartman Rocks. At Hartman's, there are constant changes in terrain and plenty of rocks that require a bit of plush suspension to comfortably roll over, but are often followed by stout and short climbs that require efficiency. After a few initial rides with Live Valve, I determined I was ready to put it to the test during a 36-mile XC race to launch me into bike season. Considering the constant transitions between up and down, I figured this automatic system would help me with overall efficiency without having to think about a manual lockout or forget to open it before a descent. Overall, it accomplishes that pretty well.
To complement this system on-bike is a pretty useful Bluetooth app. This app helps with calibration and setup, allows you to mess around with the five stock settings, all of which can be fine-tuned, and also helps troubleshoot (in some instances). The battery itself reportedly lasts between 16-20 hours and I have been willing to test it for close to 12 hours without recharging. The charging process is pretty simple; remove the battery from two clips and charge off-bike with a mini-USB cable. Fox provides a cover to clip onto the controller to protect and cover it while the battery is off the bike.
Overall, I'd say that Fox Live Valve has been mostly intuitive and user-friendly, and the app certainly helps with that. I don't think you need to be particularly tech savvy to enjoy it, but it is one more thing to keep track of.
(Unfortunately, I don't have any direct experience with Live Valve's main competitor, Rock Shox's Flight Attendant system.)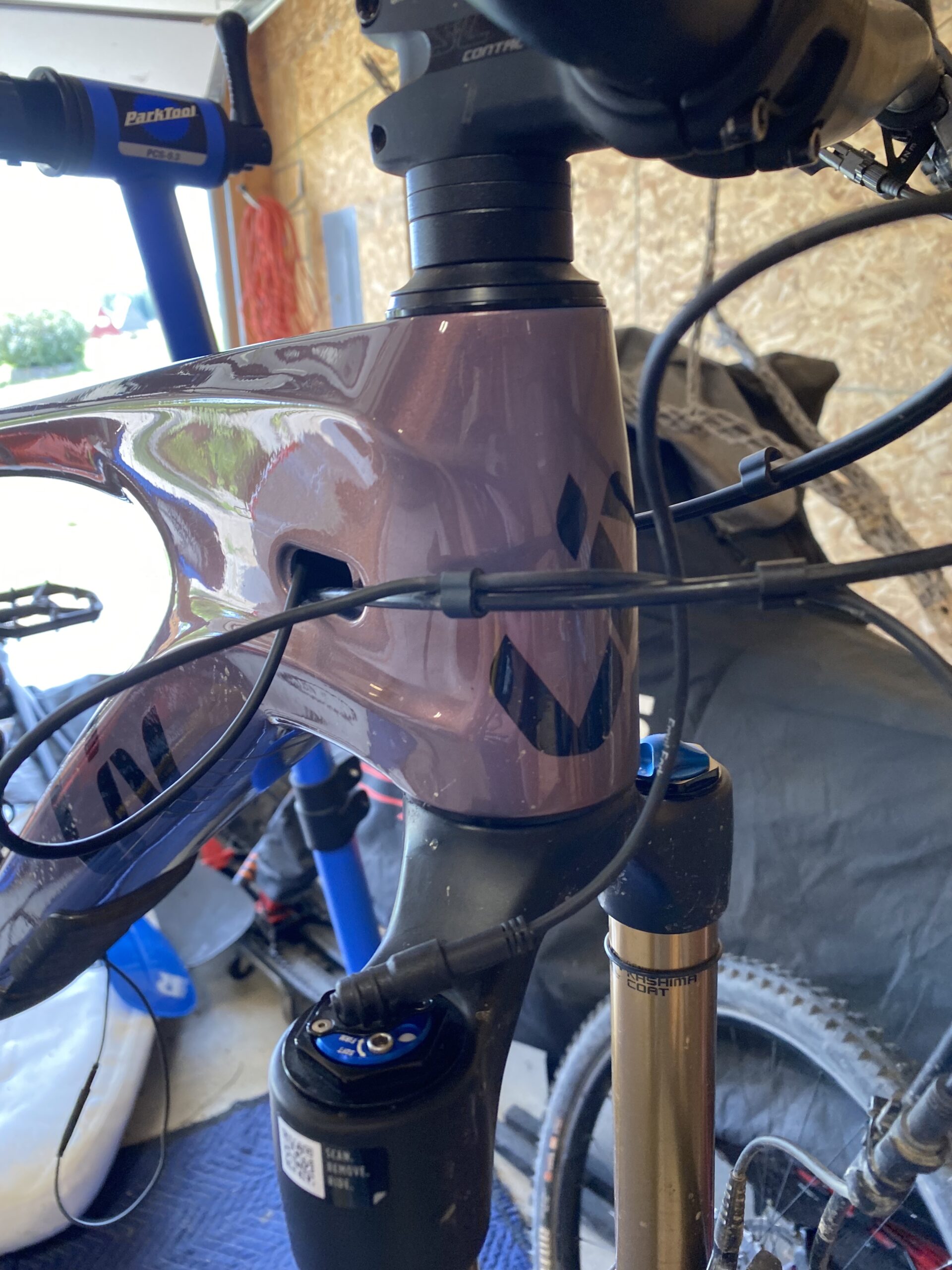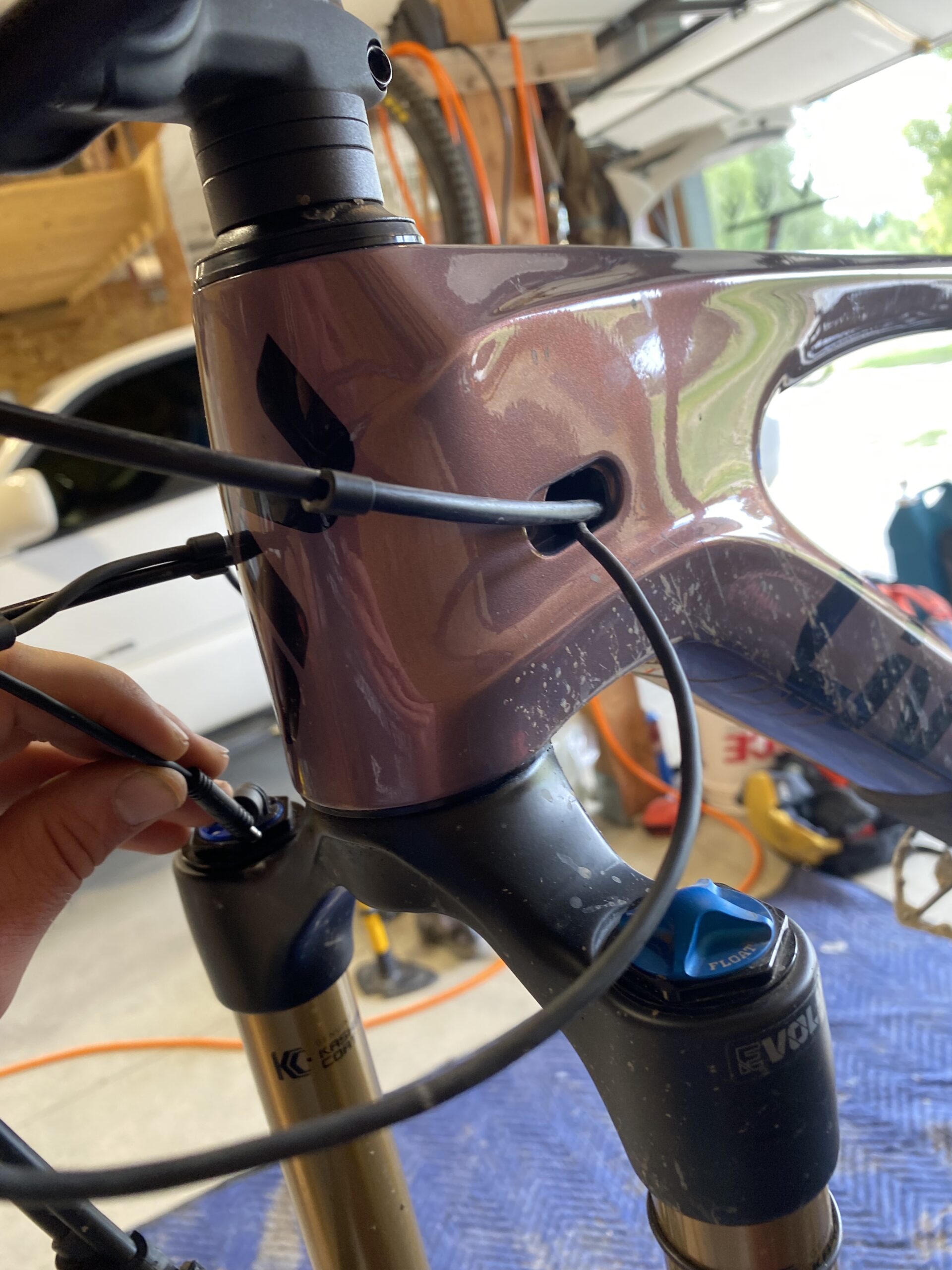 I did have some trouble with the system; after my first 100 miles or so, it stopped working altogether. Following lots of troubleshooting and spending time on the phone with Fox, they sent a new battery, thinking that it sounded like a faulty battery issue. It only took two business days for the new battery to arrive, but this, sadly, did not resolve the problem. So, then they sent a new controller all together, which, again, arrived quickly.
But then came the process of installing the new controller, which was not the easiest, since it required re-routing the four wires mentioned above throughout the frame. This process took a couple of hours for me (and my partner) to figure out; many of us are now somewhat used to the usual internal routing, but the cables specific to Live Valve are an added twist. Fortunately, installing the new controller did resolve the issue, and it has been working great ever since.
It's also worth mentioning that there isn't a ton of information out there in the world when it comes to troubleshooting Live Valve. I have spent a ton of time navigating the ins and outs of the app, but when the controller and battery started acting up, I had a hard time diagnosing the problem on my own. Thankfully, Fox's customer support was quite responsive and pretty easy to get ahold of, but for those who are really impatient with these types of things, or don't want to deal with the hassle associated with some of these electric-heavy upgrades, Live Valve probably isn't the best choice for you.
For what it's worth, even when the Live Valve system was out of order / turned off, I was still able to happily ride the Intrigue LT — it just defaults to a fully "open" setting, which isn't the end of the world by any means (that's how most of us ride our bikes most of the time, anyway).
Who's It For?
The Liv Intrigue LT Advanced Pro 0 is a lot more versatile than I anticipated, mostly due to its adjustable geometry and Live Valve suspension, making for a very adaptable bike in the longer-travel Trail category. The Intrigue LT Advanced Pro does a lot of things quite well and it was easy to reach for any time there were technical trails on the agenda, even if this meant long climbs to get there.
It really shines on techy and chunky descents, with impressive composure and a suspension platform that does a very good job of muting out impacts and maintaining momentum. At the same time, it's not the most radical bike in the Enduro category, and combined with its adjustability, that can make it pretty well rounded and not purely focused on high-speed descents. Add on the blingy components and highly tunable Live Valve suspension of the "0" build, and you end up with an uncommonly adaptable 150mm-travel bike (though that comes with an uncommonly high price tag to match).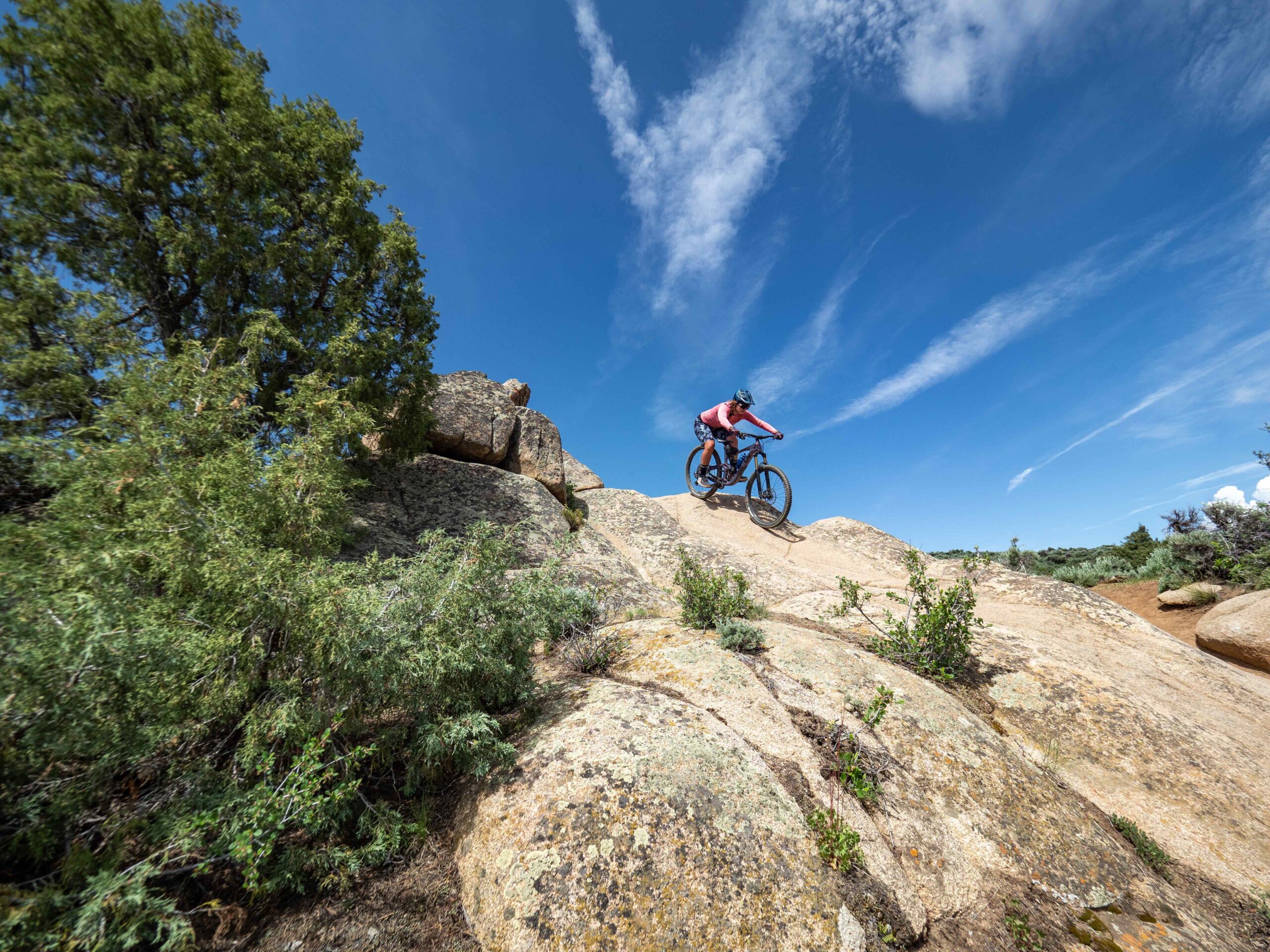 Bottom Line
The Liv Intrigue LT Advanced Pro 0 is a very high-end Enduro bike with a seriously impressive build that offers a lot of potential when it comes to fine tuning the fit, feel, and suspension. It is also an intentionally designed women-specific frame that definitely isn't skimping on any tech or features. The end result is a bike that's happy to take on some pretty burly descents while being surprisingly comfortable and efficient on the pedal to the top.