Öhlins RXC34 m.1 and TXC Air
Öhlins RXC34 m.1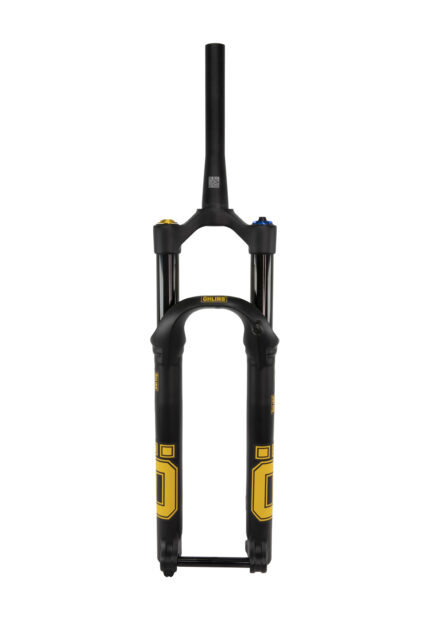 Travel Options: 100, 110, & 120 mm options
Wheel Size: 29''
Offset: 44 mm
Stanchions: 34 mm
Stated Weight:
RXC34: 1,598 g
RXC34 Carbon: 1,496 g
RXC34 Carbon Race: 1,476 g (100 mm travel only)
MSRP:
RXC34: $1,190 / €1,495 / £1,310
RXC34 Carbon: $1,390 / €1,695 / £1,485
RXC34 Carbon Race: $1,390 / €1,695 / £1,485
Öhlins TXC1 Air and TXC2 Air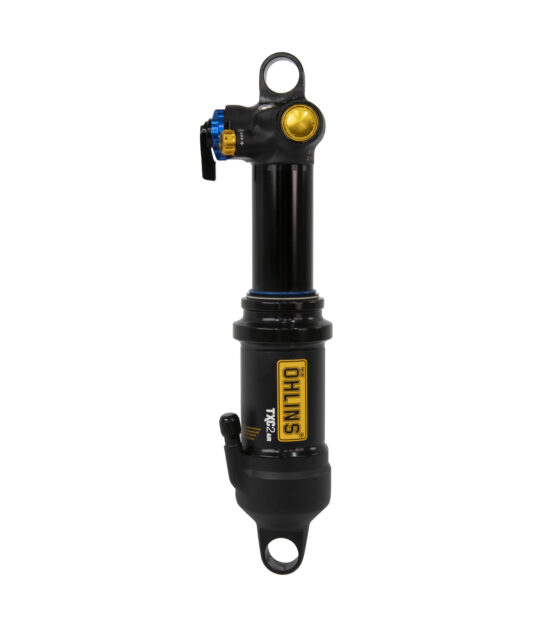 Sizes Available:
TXC1 Air:
Metric Eyelet:
190 x 37.5 mm
190 x 40 mm
210 x 47.5 mm
210 x 50 mm
Metric Trunnion:
165 x 37.5 mm
165 x 40 mm
185 x 47.5 mm
185 x 50 mm
TXC2 Air:
Metric Eyelet:
190 x 37.5 mm
190 x 40 mm
190 x 42.5 mm
190 x 45 mm
210 x 47.5 mm
210 x 50 mm
210 x 52.5 mm
210 x 55 mm
Metric Trunnion:
165 x 37.5 mm
165 x 40 mm
165 x 42.5 mm
165 x 45 mm
185 x 47.5 mm
185 x 50 mm
185 x 52.5 mm
185 x 55 mm
Stated Weight:
TXC1 Air: from 245 g
TXC2 Air: from 255 g
MSRP: $565 / €695 / £609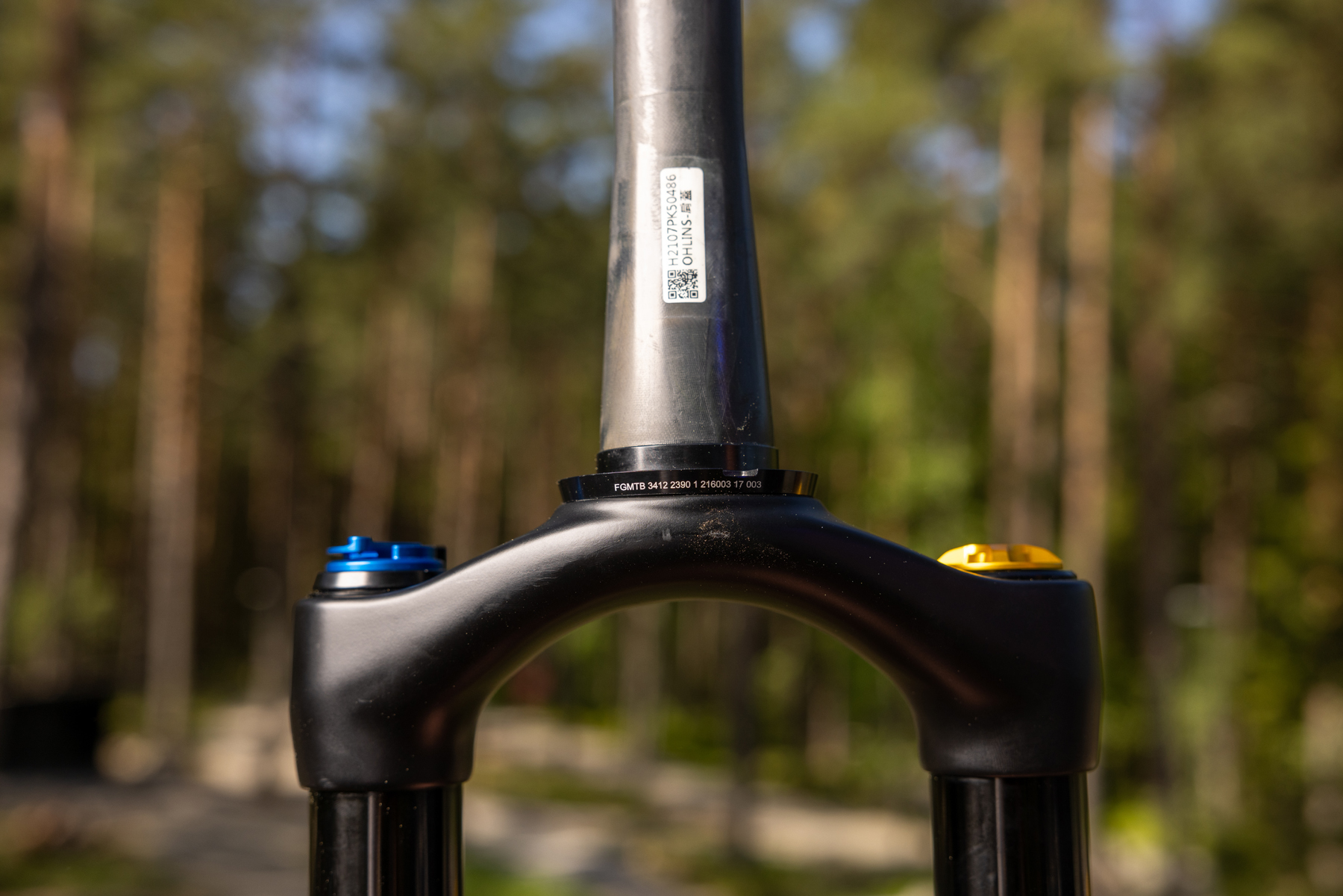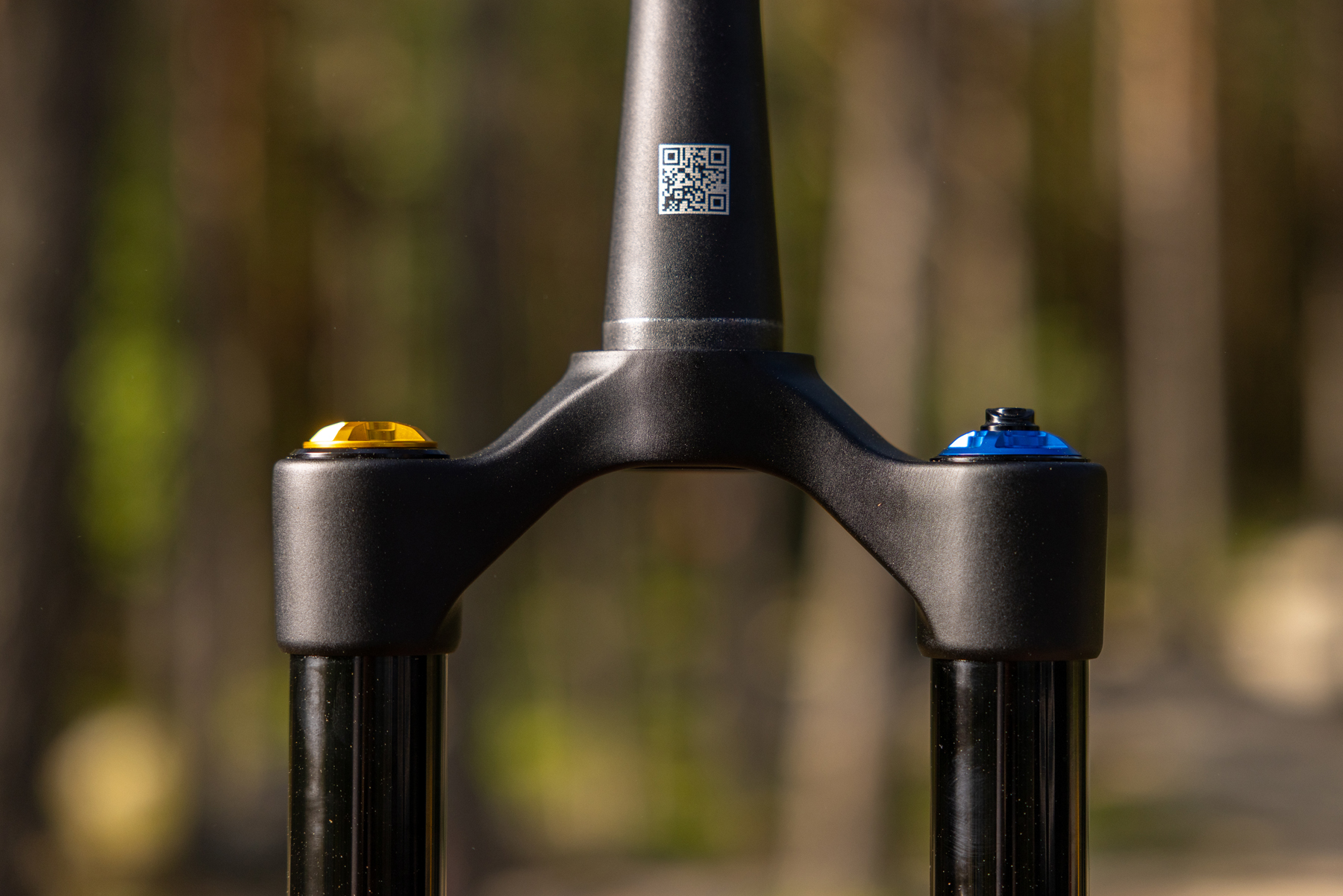 Intro
Öhlins has been expanding their MTB suspension offerings bit by bit over the last few years, and now they've got their first true XC suspension package, the RXC34 m.1 fork and TXC1 and TXC2 Air shocks.
Öhlins' XC suspension was developed in collaboration with Team BMC and has already debuted on the World Cup circuit, but now the details on the new fork and shocks are publicly available. And while a lot of the design queues carry over to one extent or another from Öhlins' bigger, longer-travel offerings, they've done a lot to suit the new RXC34 and TXC to XC race use than just carve some weight out of them.
Design
So what has Öhlins done with their first true XC suspension package, and how does it stand out from its main competitors — the RockShox SID and Fox 32 / 34 Stepcast on the fork side, and the RockShox SidLuxe and Fox Float SL (and maybe also the RockShox Deluxe and Fox Float)?
RXC34 m.1
Let's start at the front of the bike, with the new RXC34 m.1 fork. It's offered with 100, 110, or 120 mm of travel (depending on the version — more on that in a minute) and for 29'' wheels only. The RXC34, unsurprisingly, has 34 mm stanchions and while weight was, of course, a key consideration in the development of the platform, Öhlins says that keeping the fork stiff to cope with the demands of modern, more technical XC race courses was front of mind, too.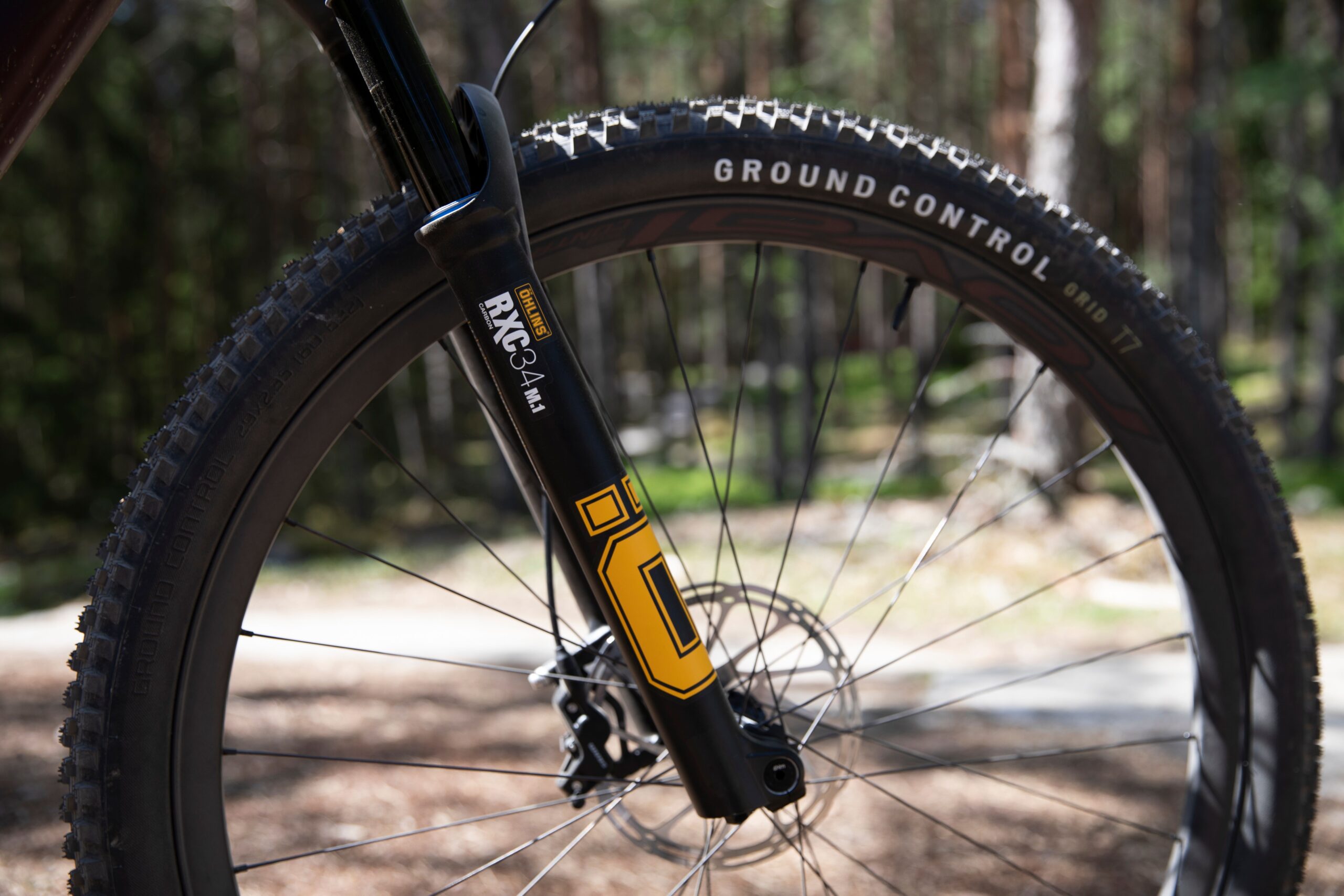 There are two different versions of the chassis available, with a more traditional aluminum crown and steerer tube on the standard RXC34, and an option one-piece carbon fiber crown and steerer tube that saves about 100 grams over the aluminum one, bringing the stated weight down to 1,496 grams, from 1,698. Both get 44 mm of offset only and are available with 110 or 120 mm of travel; a 100mm-only Carbon Race version pares another 20 g off the total. Öhlins says that a 100mm-travel aluminum version will be available soon. The Carbon chassis also uses an integrated aluminum crown race, whereas the aluminum one takes a standard press fit race.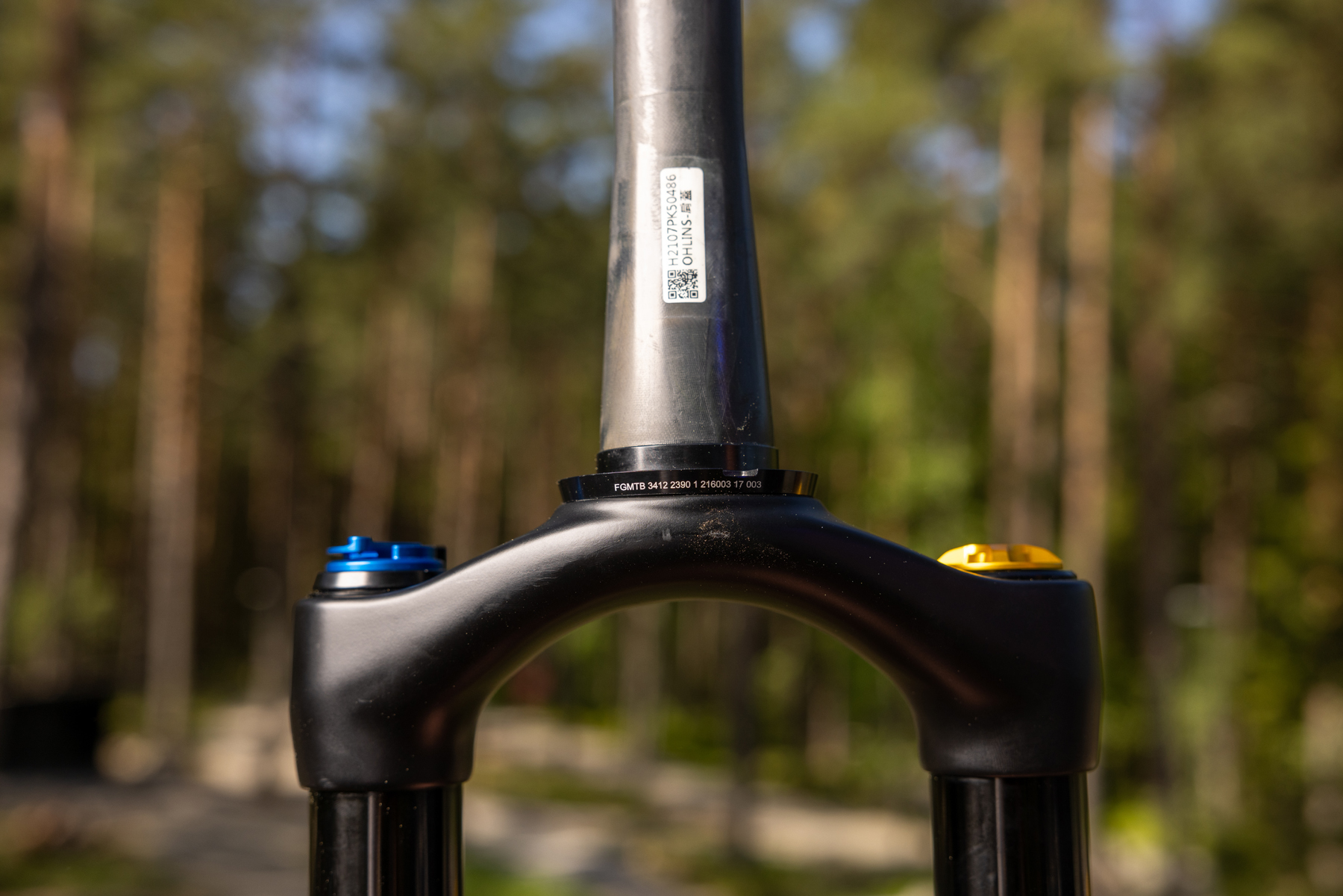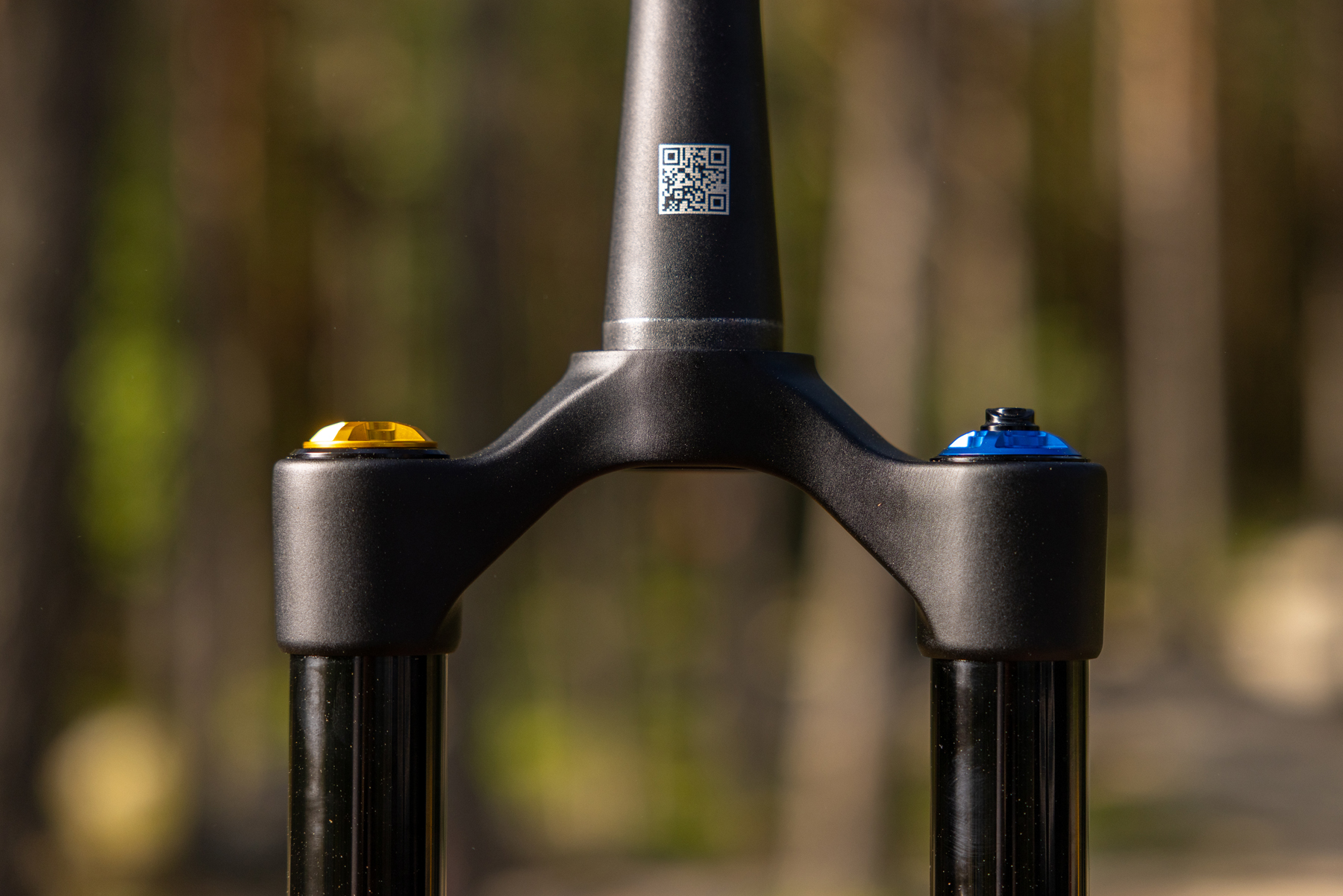 The RXC34 uses the same lowers as the RXF34 Trail bike fork, and the spring and damper from the RXC34 and RXF34 are interchangeable if you want to mix and match parts between the two platforms. Unlike most other forks in the category, the RXC34 uses a floating axle with a pinch bolt on the drive side dropout; the idea is to keep the two legs aligned, irrespective of variations in hub width but it does mean that there's no quick-release option. And though it's not currently available as an option, the RXC34 chassis can handle up to 130 mm of travel, should Öhlins decide to offer a longer-travel version down the line.
Internally, the aluminum and carbon versions of the RXC34 use the same damper and spring design, both of which are specific to the new fork. The air spring uses a single positive chamber, like that of the RXC34 but in contrast to the dual-positive design in Öhlins' bigger forks (namely the RXF36, RXF38, and DH38). It uses a self-equalizing negative chamber, like most other modern air-sprung forks, but compared to the RXF34, the negative chamber has been made larger by way of a bulge on the main piston, similar to what RockShox did on the latest ZEB, or Vorsprung's longstanding Luftkappe aftermarket upgrade for a variety of forks. Doing so takes up some of the positive spring volume, akin to adding a volume spacer.
Öhlins rightly notes that shorter-travel forks tend to be less progressive in general, so they felt that going this route was beneficial. Small bump sensitivity is said to be improved by the bigger negative spring, and the RXC34 uses optional spacers for both the positive and negative chambers to help fine-tune the spring curve. The positive volume spacers snap onto the underside of the spring-side top cap like they do on most air-sprung forks, and are easily adjusted by the end user; the negative chamber ones require a set of shaft clamps to crack the spring assembly open, and Öhlins recommends having a service center handle that job.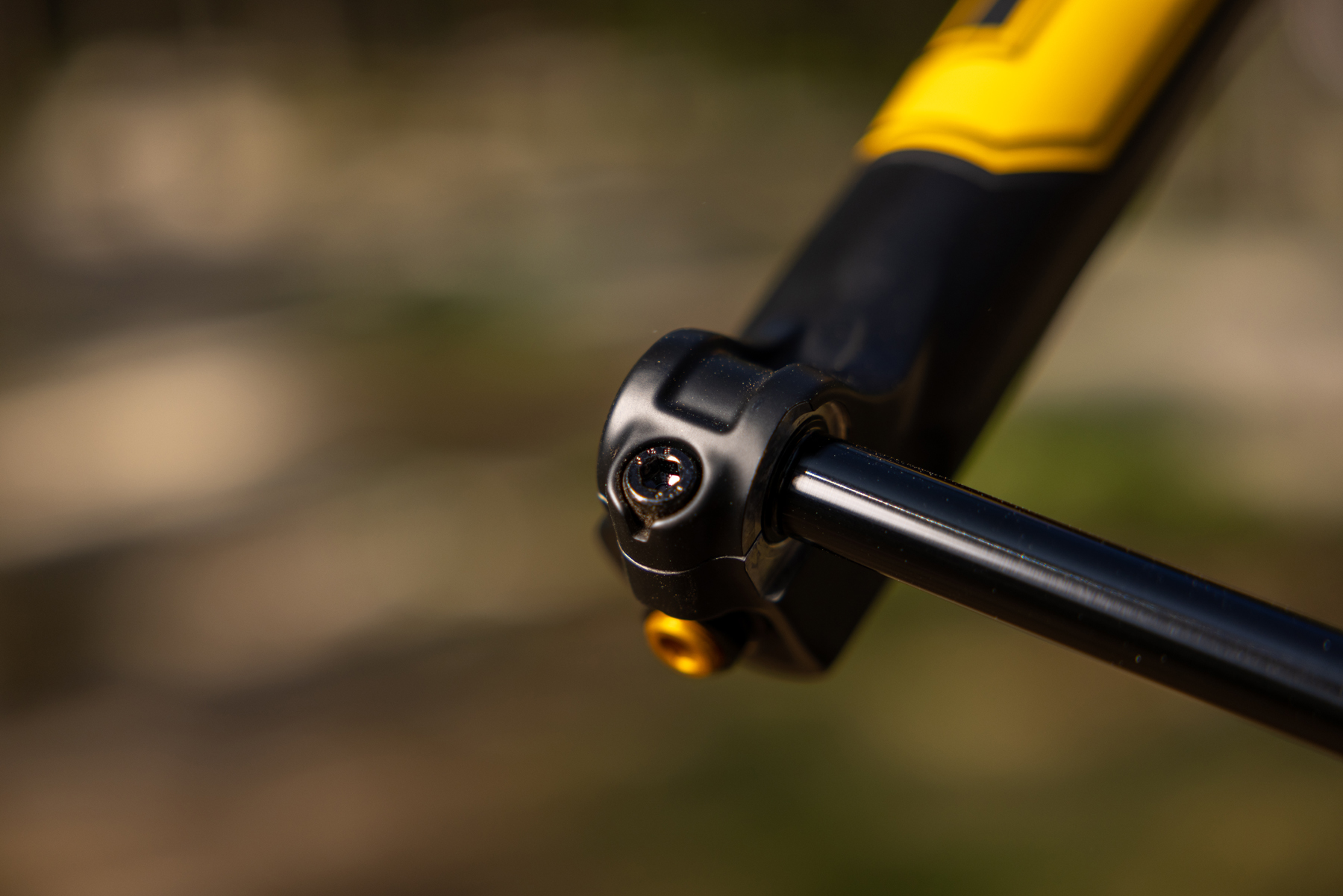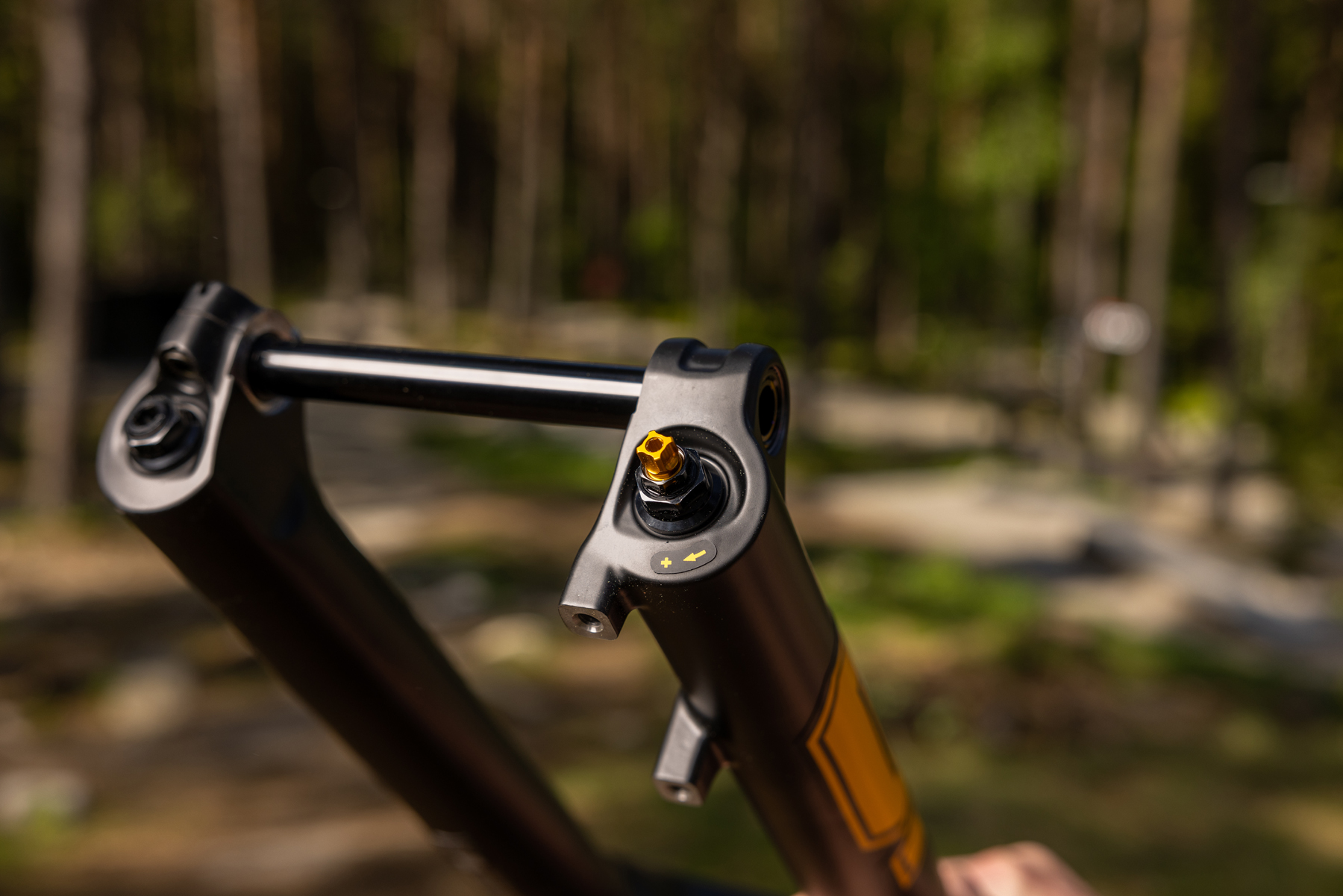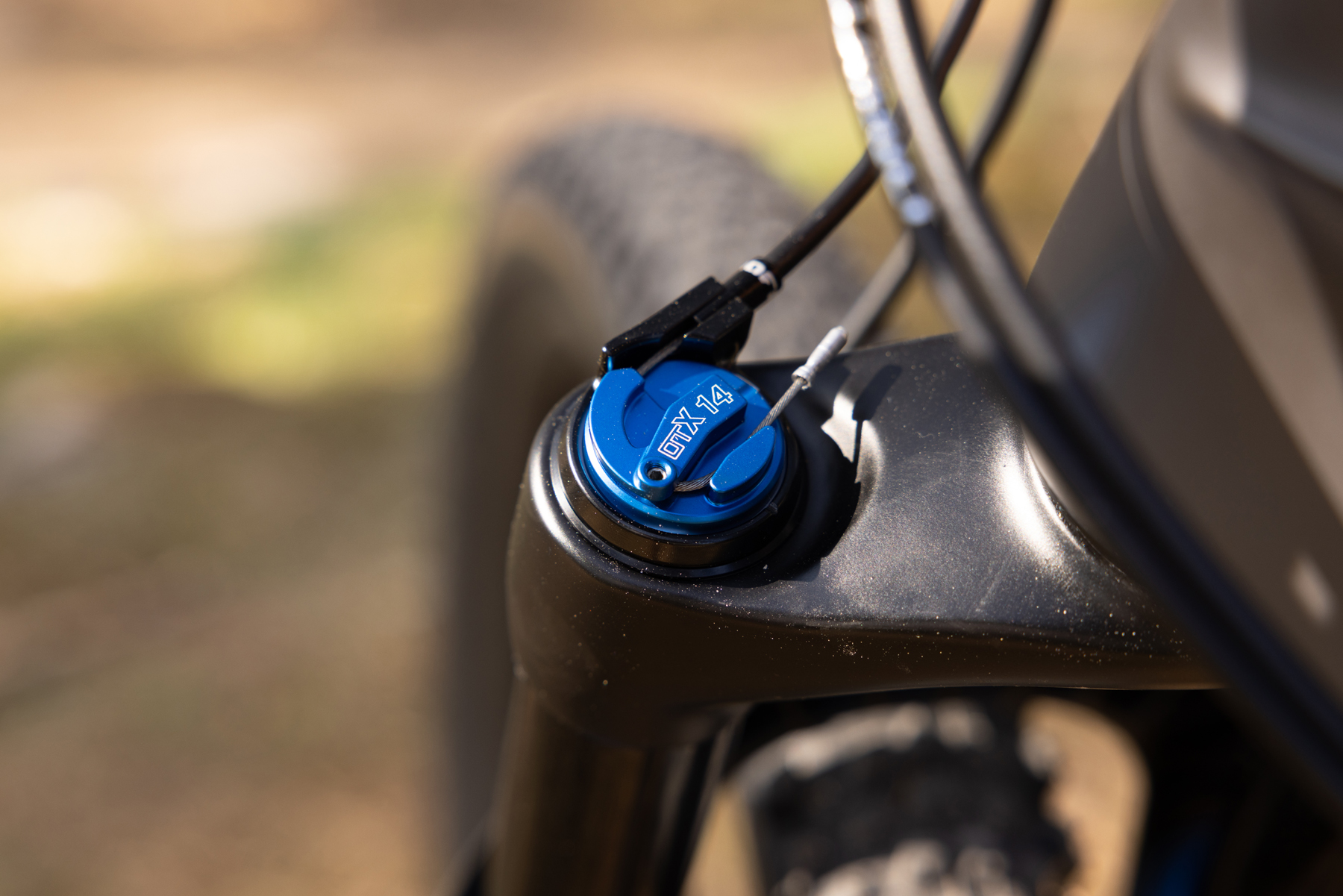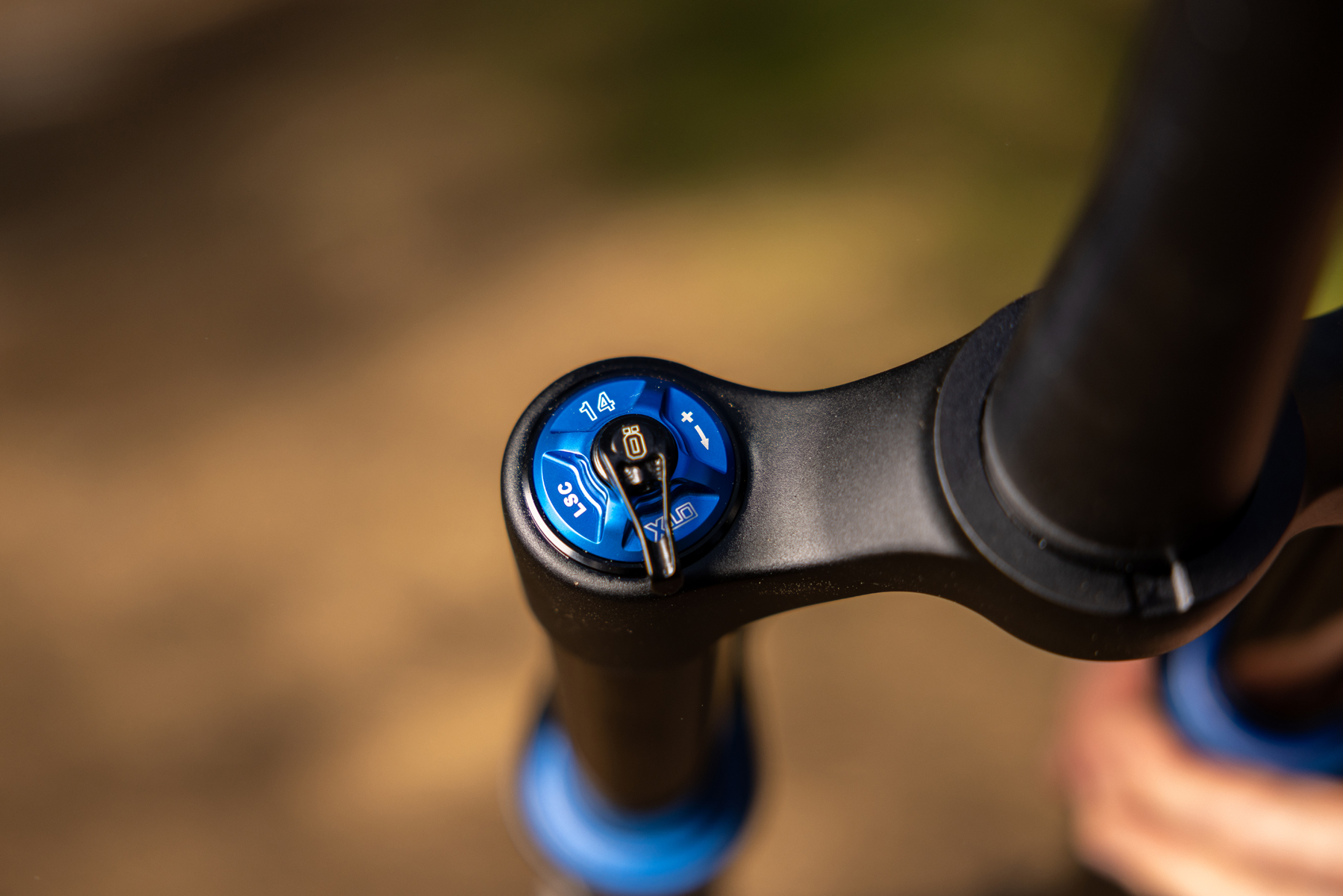 The OTX14 damper is also new for the RXC34, and features adjustable rebound and three ride modes, which Öhlins calls "open," "pedal," and "lock." Versions of the damper are offered with manual adjustment between the three or with a provision for a remote to toggle between them; the manual version also gets a separate low-speed compression adjuster that applies in the open mode.
TXC1 Air and TXC2 Air
As with Öhlins' burlier air shocks, the TTX1 and TTX2 (full review coming very soon), the TXC is is offered in two subtly different versions, with the TXC1 getting a smaller air can that's meant to be lighter, more compact (to fit on certain XC race bikes with limited clearance) and be more progressive. The tapered air can on the TXC1 does mean that its stroke is limited to a maximum of 40 mm in the 190 mm (eyelet) / 165 mm (trunnion) lengths and 50 mm for the 210 / 185 mm versions; the TXC2 can handle the more typical maximum 45 and 55 mm strokes for those lengths, respectively.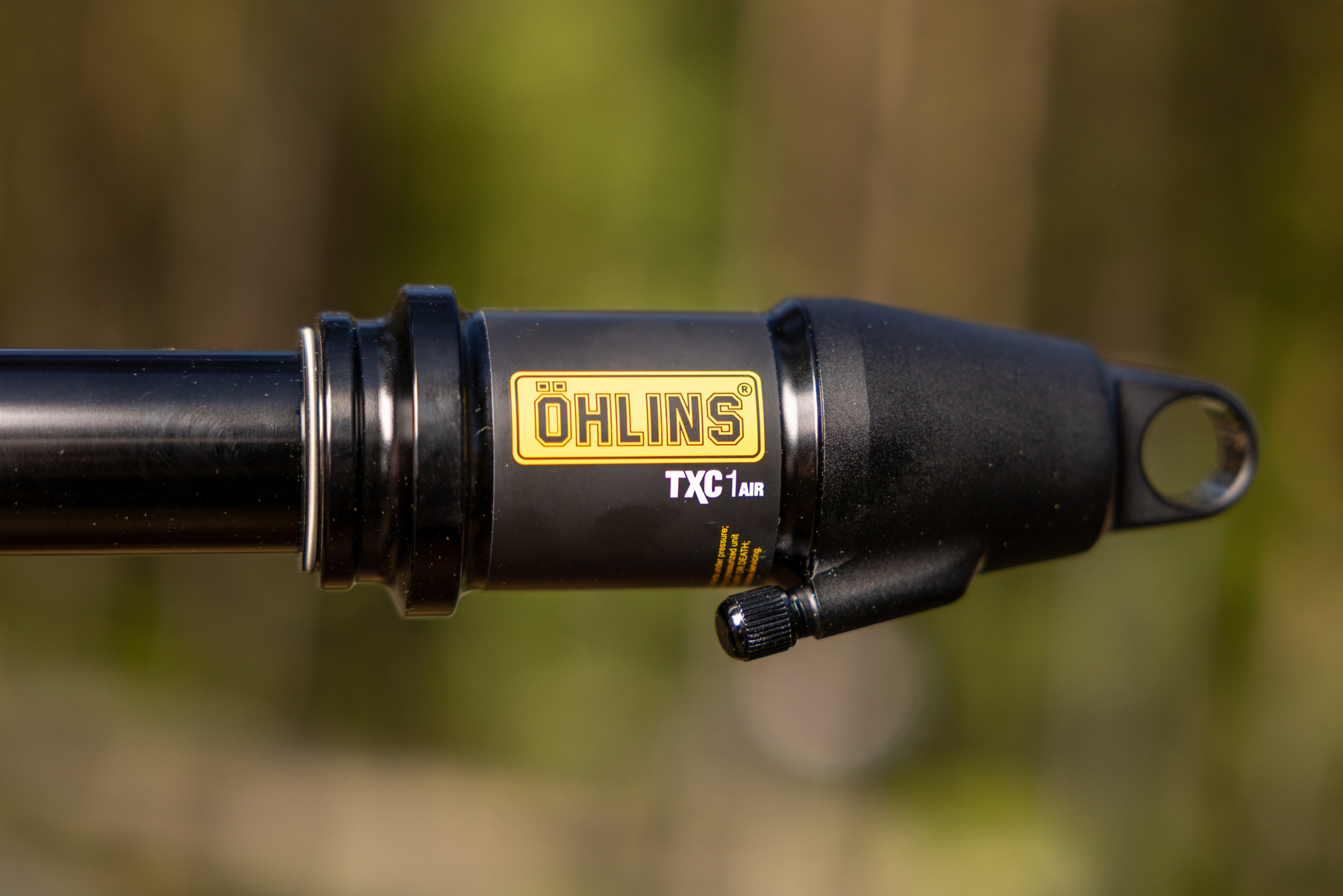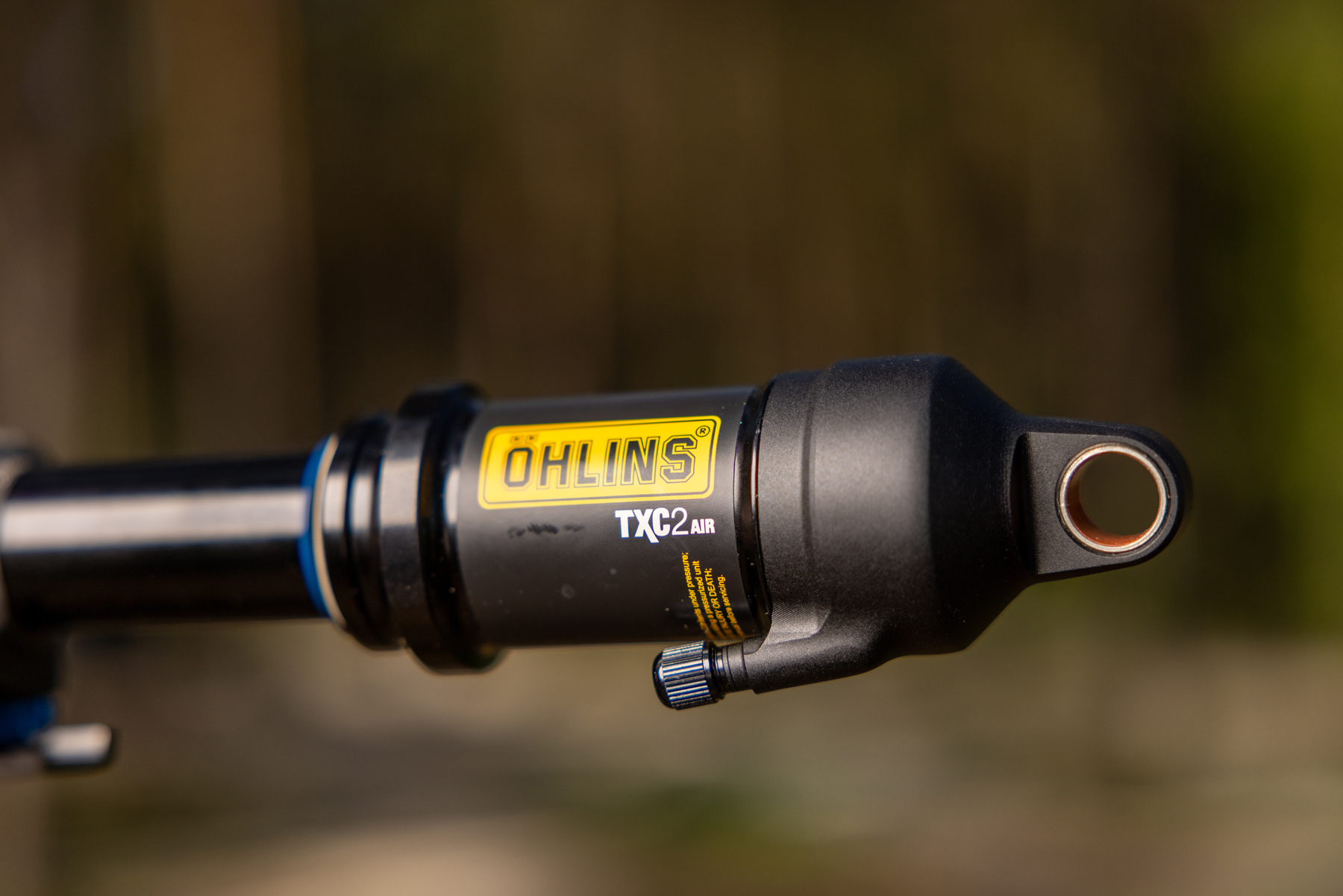 The damper design is shared between the TXC1 and TXC2, and in contrast to the monotube damper in the RXC34 fork, it is a twin-tube arrangement, as Öhlins has historically favored. Mirroring the RXC34, the TXC shocks have a three-position ride mode switch (again with "open," "pedal," and "lock" settings) with manual and remote options. Once again, the manual version gets an additional open-mode low-speed compression adjuster that the remote version lacks. Rebound is adjustable as well, and positive chamber volume spacers are available to tune the amount of spring progression.
Remote
Along with their new remote-enabled fork and shock, Öhlins has, unsurprisingly, developed a remote to complete the package. It's designed to toggle both the fork and shock in unison, with dual cables operated by a single pair of paddles, one to move into a firmer ride mode and the other to go the other way. (That said, the remote presumably works fine with one cable left off if you, for example, want to pair the remote shock with the manual version of the fork). The ride mode paddles are designed to pull 7.5 mm of cable per click, the default configuration for the RXC34 and TXC, though both the fork and shock have adapters available to reduce the required cable pull to 5.5 mm if you want to run a different remote that moves less cable.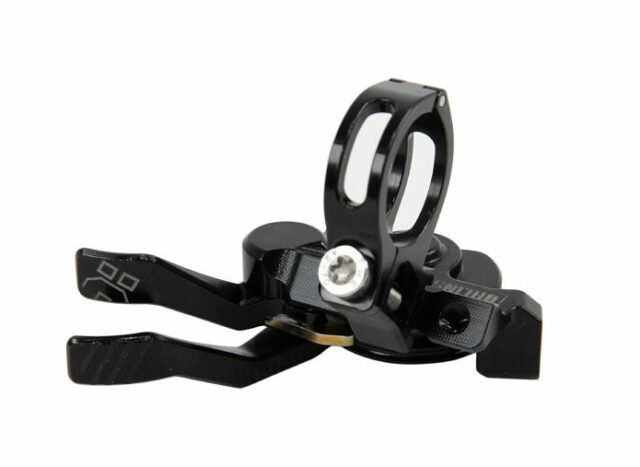 The Öhlins remote also has an optional bolt-on third paddle for a dropper post, if desired. It's a simple bridge that puts a SRAM Matchmaker-compatible remote of your choice below the two paddles for the fork/shock ride modes. The main Öhlins remote also uses a Matchmaker-style clamp with two threaded holes to toggle the mounting position inboard or outboard on the bar.
Some Questions / Things We're Curious About
(1) XC race suspension is a new category for Öhlins, so how are the RXC34 and TXC going to stack up against their competition, chiefly from Fox and RockShox?
(2) And will RXC34 and/or TXC2 (presumably more so than the TXC1) be compelling options for a broader spectrum of riders looking for lightweight Trail bike suspension, or do they feel more dedicated to true XC race use?
Bottom Line (For Now)
Öhlins' new XC suspension is an interesting-looking package, and given our generally positive experiences with their more recent longer-travel offerings, we're pretty curious to see how the RXC34 fork and TXC shocks stack up.