Rudy Project Crossway Helmet
Test Location: Gunnison / Crested Butte CO
Duration of Test: 3 months
Size Tested: Small / Medium
Blister's Measured Weight (size S-M): 277 g / 9.8 oz
MSRP: $130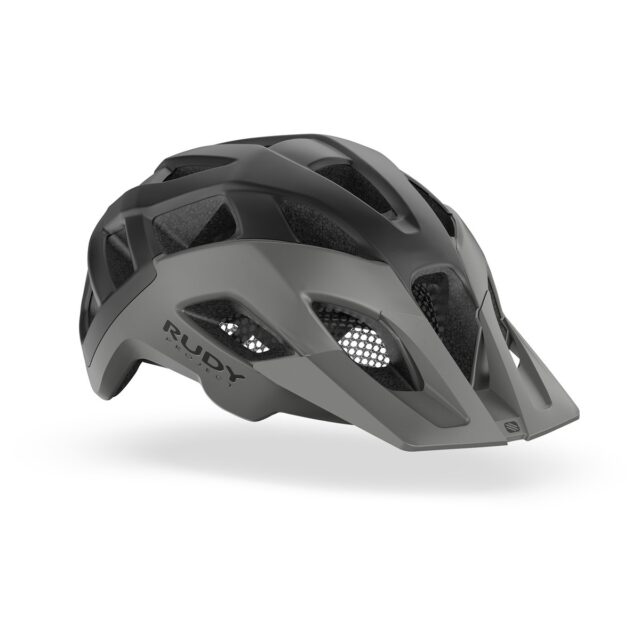 Intro
Helmets and brain safety is something we take very seriously here at Blister, and we also recently did a five-part deep dive on the subject on the GEAR:30 podcast, which you should check out if you haven't already (Ep. 149–152 & 154).
Along with talking about helmets, we've been testing some, too. The Rudy Project Crossway Helmet is a lightweight, well-ventilated helmet designed mostly for XC / Trail use, and I've been riding it for most of the summer in Gunnison's Hartman Rocks and various trails in the Crested Butte area. So, what makes this helmet stand out, and how does it compare to the competition?
The Design
The Rudy Project Crossframe has a pretty standard design for a lightweight mountain bike helmet. It features an integrated fixed visor, a dial adjustment at the back of the helmet, and coverage around the sides and back of the helmet (though, not as deep as more Enduro-oriented options like the Fox Speedframe Pro or Smith Forefront 2).
The Crossframe's "RSR105" retention system has seven different positions at the back of the helmet, and is fixed to two anchor points on the front of the helmet. These seven different points are more than what you see on most mountain bike helmets, which usually only feature three or four.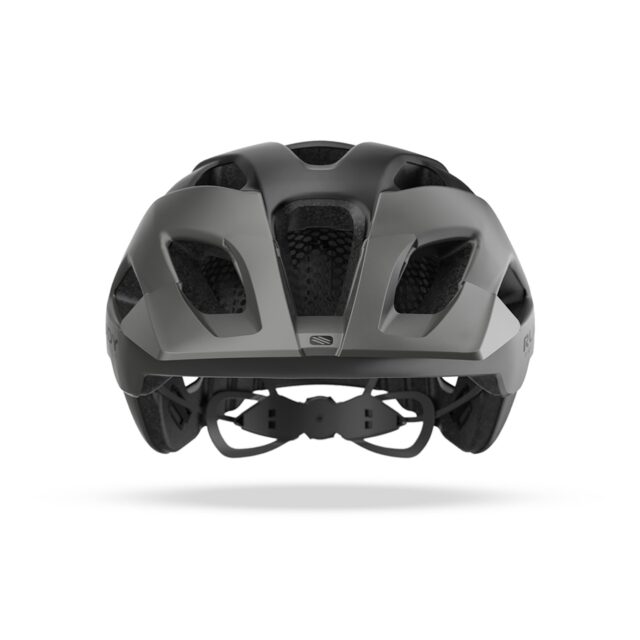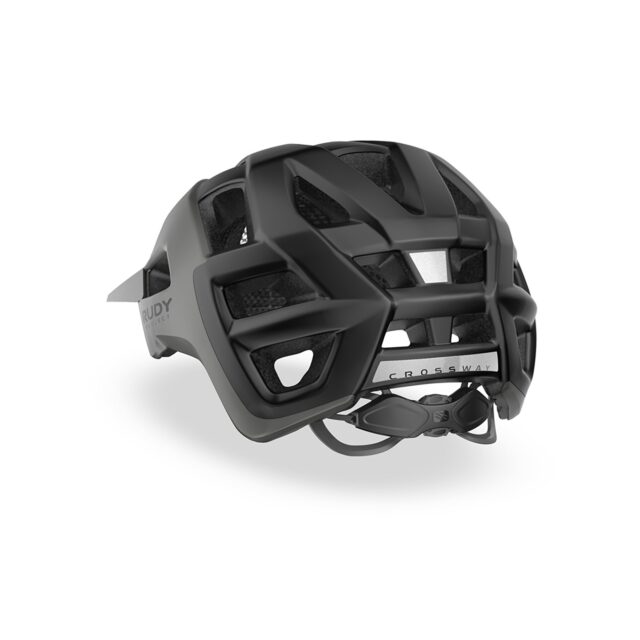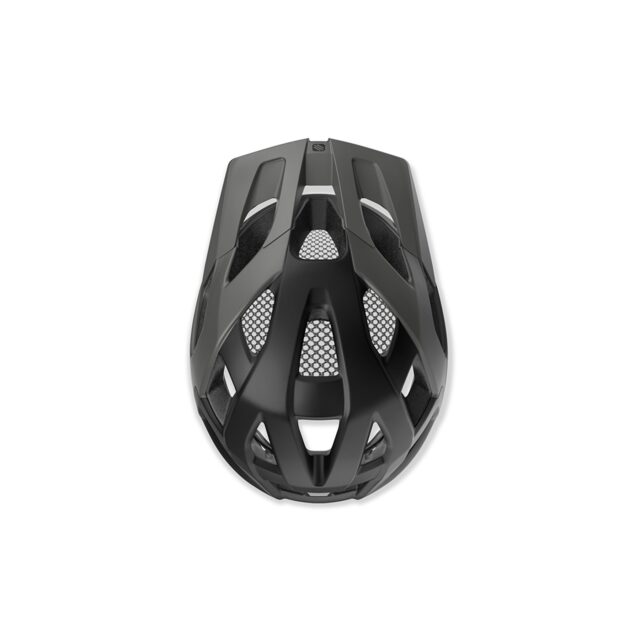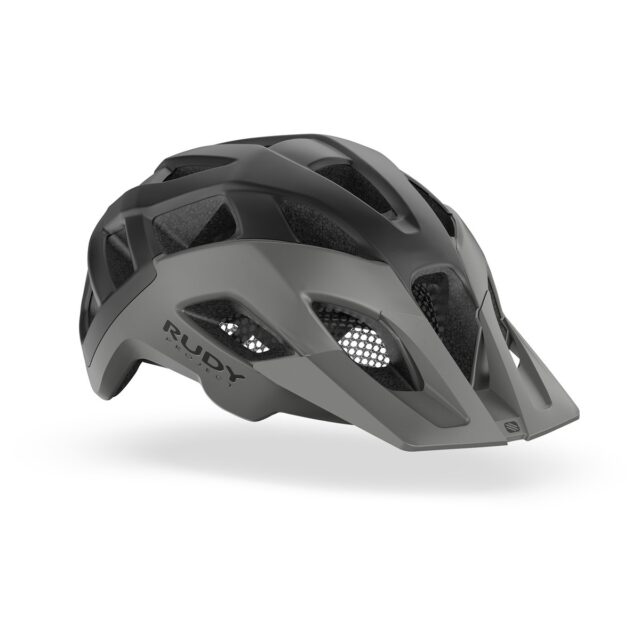 The Crossframe is made with an EPS foam structure, and unlike many higher-end helmet models, does not feature MIPS or any additional protection system designed to reduce rotational forces. It features 23 vents, with the central ones on the front of the helmet being the widest to allow for more airflow.
The Crossframe also features "bug stop" netting that is integrated into the padded liner on the inside of the helmet. Along with this, the Crossway has a frontal "air frame" band that allows the wearer's forehead to sit off the EPS foam of the helmet enough to encourage some more airflow to pass between.
Fit
The fit of the Crossframe is one of the first things that jumped out at me. This helmet fit my head really well, and the adjustment system was very easy to use. The up-and-down position of the rear anchor points can be moved while you are wearing it, allowing you to easily dial in the fit and have it sit exactly where you want it on the back of your head. Fit is a really important factor in terms of the safety of a helmet, so definitely make sure to try on any helmet you are interested in before buying and riding in it.
The Crossframe has a more "spherical" shape to it (i.e., there's not as big of a difference between its width and length) than most helmets I've been in, such as the Bontrager Lithos MIPS, and this just seems to fit my head better. However, the sides of the adjustment system are very pliable and can contour to most head shapes. In terms of how this helmet sits on the head, it is pretty average when compared to most other lightweight, well-ventilated helmets. It doesn't have the drop-down protection around the sides / back that more aggressive half-shell options do, and it sits above the brow by a few centimeters. (It's worth noting that Rudy Project also makes a higher-coverage helmet, the Protera+.)
On the Trail
The Rudy Project Crossway is a very light helmet, and this translated to very little movement and bobbing around on my head when riding rougher trails. The Crossway stays in place very nicely, and combined with a solid fit, makes for a very comfortable helmet.
Additionally, the Crossway is very well ventilated. All 23 vents on this helmet, combined with the "frontal air frame band," kept my head nice and cool on hot, long rides (so long as I kept things moving). The liner padding above the brow is fairly thick, too; it did a good job of catching sweat and prevented it from dripping down my face or sunglasses. Speaking of the padded liner, it felt soft and comfortable on my head — no complaints there. The "bug stop" netting is sort of unnecessary for most of the rides I do (Gunnison and Crested Butte are not very buggy places), but it does not seem to impede ventilation, so I see no downsides of having it.
The visor on the Crossway was big enough to block some sun but not large enough to disrupt my vision down the trail. The Visor on this helmet is also fixed in place and did not rattle or make any noise — nor did anything else on this helmet, which was nice.
Overall, this helmet was very nice for long, hot rides, and it had a barely-noticeable presence on my head. I am lucky enough to not have hit my head in this helmet, but I would expect it to protect my head against most crashes. That being said, the Crossway does not have the broadest coverage or additional safety features like MIPS that more Enduro-oriented options have, and if you tend to ride hard and take chances in your half shell — or you just happen to crash a lot — the Rudy Project Crossway probably isn't your best option out there. If that does sound like you, it'd be worth checking out the Rudy Project Protera+, Fox Speedframe Pro, and Smith Forefront 2.
The Bottom Line
The Rudy Project Crossway is a very solid helmet for riders who prioritize low weight, good ventilation, and a fuss-free fit. If you are looking for maximum protection and coverage out of your open-face helmet, you have several better options. But for mostly XC and typical Trail riding, the Crossway is a compelling choice.