If you're outside in the winter, keeping your neck, face, and head warm and comfortable can be tricky, especially when skiing or riding in frigid temps. There are a ton of products out there designed to help you accomplish just that, so here we've rounded up a bunch of the neck gaiters, facemasks, balaclavas, headbands, and hoods that we use on a regular basis. As always, if you have a go-to that you love, please let us know in the Comments section at the bottom.
Fabric: 200-weight Polartec recycled fleece
MSRP: $30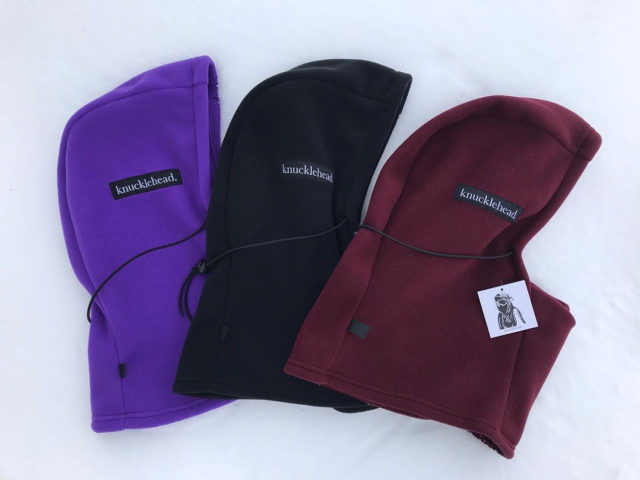 Luke Koppa: Knucklehead is a small brand based in the same town as Blister — Crested Butte, CO. All of their hoods are made in Colorado using recycled Polartec fleece, and each year they donate 10% of their sales to non-profit organizations fighting climate change and for sustainable water availability in the western United States.
While their over-the-helmet Cletus Hood is a bit too warm for me on most days, it is incredibly nice on frigid days and for those epic deep days. It easily fits over all of my helmets, but the cinch cord on the back lets me tighten it down to the point that it does not shift around. The super-soft fleece comes up to around my mouth, providing plenty of coverage for my neck and chin, and it does so without blocking any of my field of view. The fleece fabric adds lots of warmth on super cold days, but since it's not windproof, it still breathes pretty well. And after I'm done getting super pitted in super deep snow all day, the fleece fabric dries really quickly.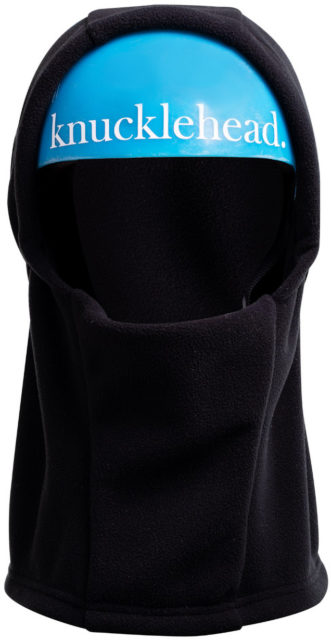 Some may not love the look of this over-the-helmet hood, but personally, I really dig it. And Knucklehead also makes an under-the-helmet version. I'm a big fan of small companies who are trying to do business the right way, and Knucklehead certainly falls into that category. On top of that, their hoods are very well made, they're made with high-quality, recycled materials, and they do all of that at a price that's totally reasonable compared to the mass-produced competition.
Fabric: 85% polyester 15% spandex jersey knit
MSRP: $30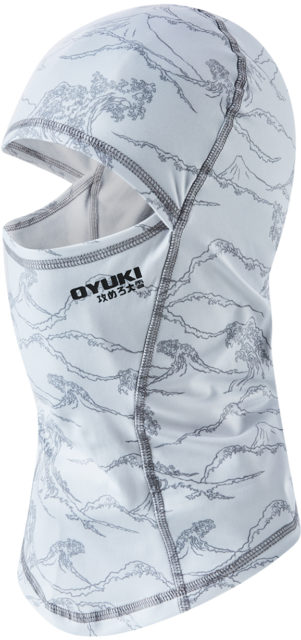 Luke: Oyuki's Proclava is one of my favorite balaclavas. It has a slightly hinged design that lets me pull it below my mouth more comfortably than balaclavas like the Mons Royale Olympus, which have simple O-shapes openings.
The Proclava's fabric is quite breathable and is what I opt for on my ski days when the temps are between 10–35°F (-12–2°C). The Proclava doesn't breathe quite as well as the mesh portion of the Mons Royale Olympus, but I still haven't had any notable fogging issues. And especially compared to merino balaclavas like the Olympus, the Proclava's synthetic fabric feels a bit softer and more comfortable on skin.
While it's a fairly simple product, the Oyuki Proclava's design and fabric work really well in most scenarios, making it one of the more versatile pieces here.
Fabric: 66.5% rayon from bamboo, 30.5% merino, 3% elastane
MSRP: $25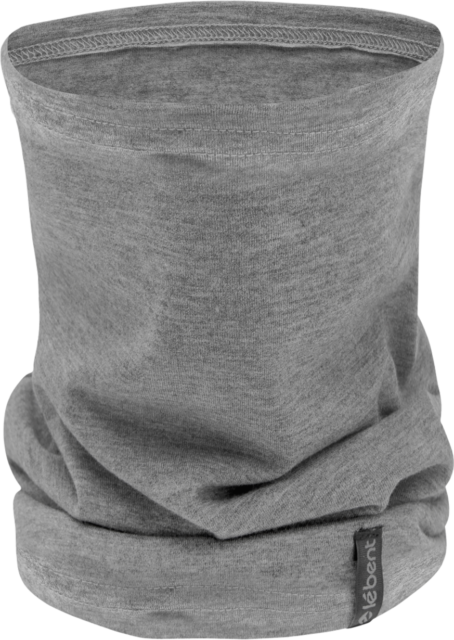 Kristin Sinnott: While somewhat new to the North American scene, Le Bent has been creating incredibly soft, merino-blend neck gaiters, base layers, and socks for years. Based in Australia, the neck gaiters are available in two weights and have a relatively slim cut. The size (22 cm x 37 cm) of the Le Bent gaiter is narrow enough to stay up around my face when needed but not so long that it bunches uncomfortably around my neck. Soft and relatively thin, I've found it to be a great choice for cool days when I need a little extra warmth around my neck. If you're looking for a heavy-duty neck gaiter, I'd look at some of the other options (or the heavier-weight Le Bent option) listed but for most ski days this one works great — and it's thin enough I can pull it over my mouth and nose and breathe comfortably.
Fabric: 96% Rayon, 4% Spandex
MSRP: $14

Kristin: The HeadPeace Headband is just about the lightest-weight headband I've found — well, other than the athletic tape soccer players seem to wrap around their heads. Being so lightweight, it might be a stretch to include this headband in a winter roundup but as someone that hates having hair in my face no matter the season, the HeadPeace Headband is perfect for those days when a ski hat, Skida's heavier-weight "Alpine" headband, or even a ball cap are just too warm. When I'm skinning up the mountain on a warm day, the HeadPeace Headband inevitably finds it way onto my head. So light and thin I barely notice it on my head or in my pocket, but it does what it's supposed to by keeping my hair pulled back regardless if I'm using it as a narrow headband or have unfolded it for more coverage.
On top of all that, you can feel good about your purchase as the headbands are "made by a socially-ethical manufacturer that empowers the most marginalized in society to fresh starts and fulfilled lives". If you're a headband person, the HeadPeace Headband might become your new favorite accessory.
Fabric: 65.8% rayon from bamboo, 28.2% merino, 6% elastane
MSRP: $30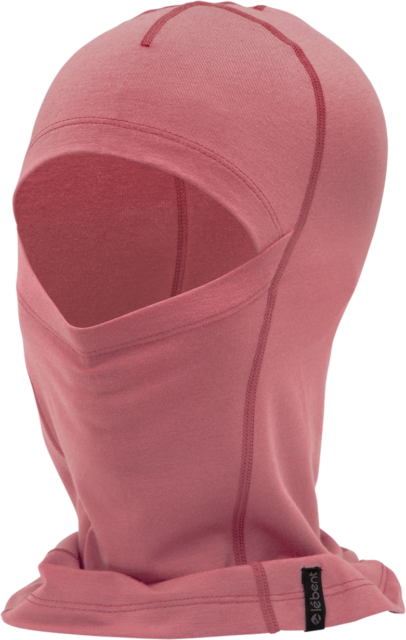 Kristin: I might not be the best judge of balaclavas as this is the very first one I've ever worn but thanks to the slightly hinged opening, full cap design, and soft merino and bamboo blend fabric, I am now a convert. I always wear a cap under my helmet since, no matter what helmet /goggle combo I'm wearing, I always feel cold air on my forehead. I've tried lots of different style caps but the only one that works is a hand-me-down US Ski Team Bjorn Daehlie Nordic cap. That is, until I tried this balaclava.
The Le balaclava 200 Lightweight is soft and fairly thin so it takes up very little space inside my helmet. The flat seams keep things smooth on my head and neck and having a seamless connection between my cap and neckwarmer really ups the warmth factor. The hinged-style design allows me to tuck the neck gaiter down and out of the way when the day warms up. Ideal for cool days when you want to eliminate any drafts but still have freedom of movement without overheating.
Fabric: 190 g/m2 merino wool
MSRP: $40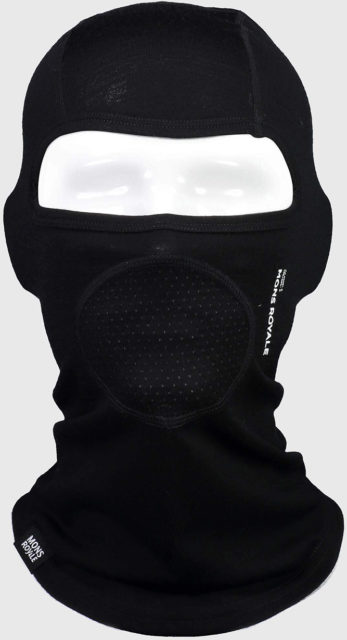 Luke: The Olympus Tech Balaclava is my go-to for warm spring days where I want some sun and wind protection, but don't want a facemask that's super hot. While I am totally fine wearing the Olympus during the winter in temps down to around 15°F (-9°C), it really stands out when the sun is out and things are heating up. The mesh portion of the Olympus covers my mouth and most of my nose, and that makes it one of the most breathable and least fogging-prone balaclavas I've used. I've happily worn it on spring days when the temps are hitting 50°F (10°C).
The merino wool fabric of the Olympus is comfortable enough for me to wear all day, though those with sensitive skin should look to synthetic options as the Olympus can feel a bit scratchy. The upside to its merino fabric is that it's extremely breathable and you can wear it for days on end before it starts getting stinky.
The Olympus has a standard O-shaped opening for your mouth, which makes it a bit tricky to comfortably pull the fabric below your mouth. But if that's not a dealbreaker and you want a balaclava that you can wear all year long, the Olympus Tech Balaclava is worth a good look.
Fabric:
Outer: Polytwill (94% polyester / 6% spandex)
Inner: Polartec microfleece
MSRP: $28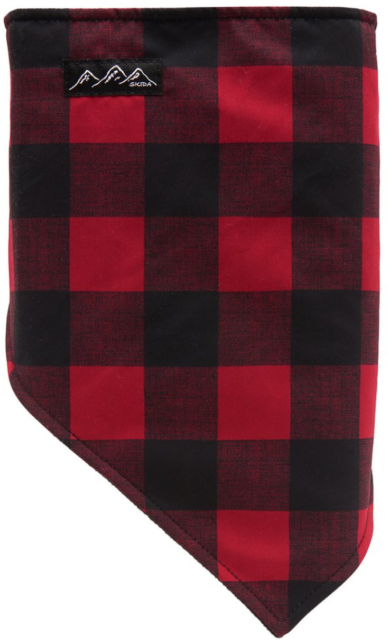 Luke: If you don't need full head coverage and instead want a warm, stylish neck cover, the Skida Bandito is great. It uses a double-layer fabric with water-resistant polyester twill on the outside and a very soft, warm microfleece on the inside. This makes it extremely comfortable, and quite warm.
Due to the warmth of the fabric, I usually use the Bandito on the same days I'd use the Knucklehead hood — very cold days, or deep pow days. While it's not the most versatile weight of fabric, the Bandito has a velcro closure on the back that makes it easy to take off and put on, and I can easily stash it in a jacket pocket if I get too warm. Like the Knucklehead hood, the Bandito's fabric is pretty quick to dry and its exterior twill fabric blocks moisture better than a more lofty, open-knit fleece fabric.
The Bandito doesn't naturally sit super high on my neck, but if I tuck it into my goggle strap or helmet, I can get it to cover everything up to my nose. All in all, the Bandito is a very good choice for the cold and deep days, and it comes in a variety of styles from subdued to bright and fun.
Kristin: I've also been using the Bandita (women's version of the Bandito) and overall like it as a different alternative to a traditional neck tube. The sheer number of designs Skida has available is impressive and they are always introducing new ones. The one drawback is the same thing that first drew me in — the adjustable velcro backing. The ability to adjust the width of the Bandita is great and I generally found myself somewhere in the middle range where I could tuck my face in when needed but also have my mouth free on hikes without the need to adjust the gaiter up or down. But my hair always got caught in the Velcro no matter how I adjusted it. Detaching my hair from the velcro worked for one season but I've found I no longer reach for the Bandita as often since receiving the Skida Alpine Neckwarmer.
Fabric: Repreve (recycled polyester jersey knit)
MSRP: $19.99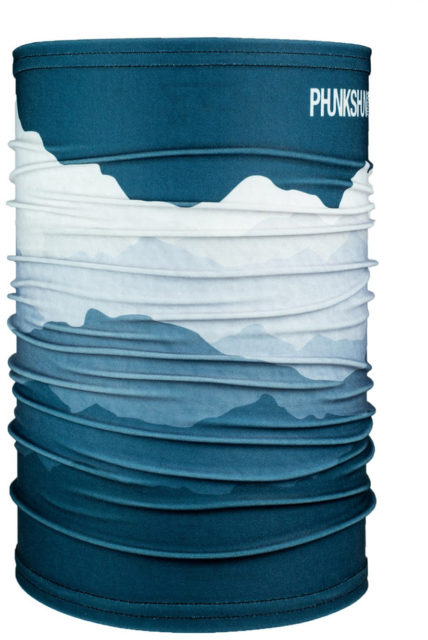 Luke: Phunkshun makes a variety of neck tubes, balaclavas (they call them "Ballerclavas"), and other headwear accessories — all of which are made in the United States with recycled materials. I've been using their Single Tube for years, though they also make a Double Tube (two-layer fabric) and a very warm Thermal Tube (fleece lined).
The Single Tube is a very versatile piece that I end up using year-round. It's the least warm of the options I've included, which makes it best for warmer ski days (25°F+ / -4°C+). But that also makes it my top pick for spring and summer activities, from slushy ski laps to long days on the water.
The simple tube-style design, as many people know, is quite versatile. I usually just pull it over my ears and up over my chin for skiing, or fully over my nose for super sunny or colder days. Then you can also roll it up and use it as a headband, and the cool-feeling fabric is also great for cooling off if you soak it in some water. If you've had issues with neck tubes with seams chafing, the Outdoor Tech Yowie is a very good alternative (that's reviewer Sam Shaheen's favorite neck gaiter).
Fabric:
Printed outer fabric: Poly-spandex jersey with MAX-Dri moisture management technology (92% Polyester / 8% Spandex)
Lining: Polartec® micro-fleece (100% Polyester; 87% recycled materials)
MSRP: $26
Kristin: Gone are the days when a powder day meant you had to pack extra neckwarmers or rotate the one so you weren't left with a sopping-wet neckwarmer every time you took a water break. The outer fabric on the Skida Alpine Neckwarmer sheds moisture better than most thanks to the MAX-Dri moisture management technology while the interior's micro-fleece is soft against my skin.
The double-layer design also means the neckwarmer has some integrity and stands up on its own. No need to dig around inside your collar looking for your neckwarmer anymore as it will be right where you left it. With a plethora of prints to choose from, it's hard to imagine anyone not finding a design they like. For a neckwarmer that will keep your neck and face warm on the coldest of days and resist moisture, the Alpine Neckwarmer is a great choice.
Fabric:
Printed outer fabric: Poly-spandex jersey with MAX-Dri moisture management technology (92% Polyester / 8% Spandex)
Lining: Polartec® micro-fleece (100% Polyester; 87% recycled materials)
MSRP: $20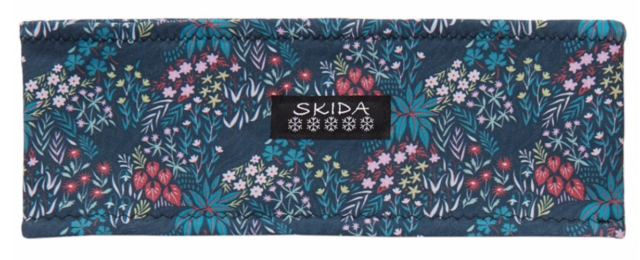 Kristin: When I want to keep my ears and forehead warm but let heat escape out the top of my head, a headband is the best option. With its windproof face fabric and soft micro-fleece interior, the Alpine Headband is perfect for a day of skinning or a winter jog. The outer fabric is not only windproof, it also repels moisture. No need to worry about cold headaches on windy days or during fast descents and no soggy foreheads. For a technical and warm headband, the Alpine Headband is a great option. For a more breathable and less warm alternative, check out the HeadPeace Headband below.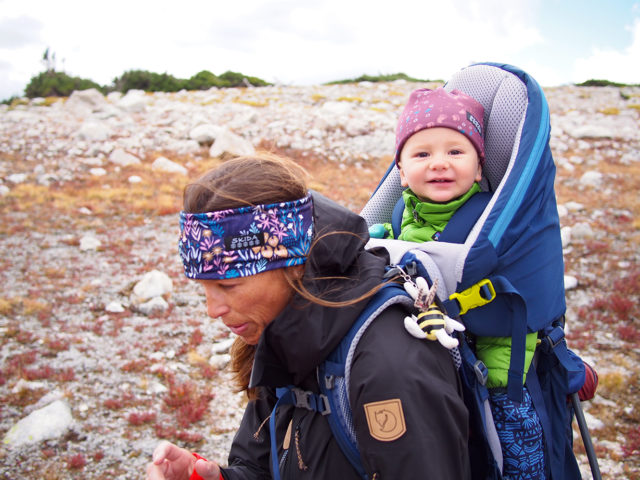 Fabric: 190 g/m2 merino wool
MSRP: $40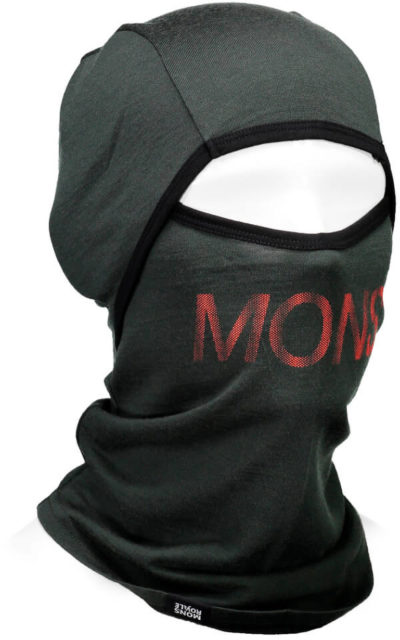 Kristin: If you put the word "hinge" into the name of your balaclava then it must be a pretty notable part of the design, which it most definitely is in this case. The Le Bent balaclava also has a hinge in its opening but is much smaller and less versatile in comparison to this balaclava from Mons Royale. The Santa Rosa Hinge Balaclava's larger hinged design lets you slide the "cap" part of the balaclava off your head and onto the back of your neck — transitioning the balaclava into a neck gaiter. More than once I've found myself wearing a balaclava when temps start to warm. While a full balaclava is great for chilly mornings, wearing a balaclava with warming temps drives me crazy. Fortunately, with this design, there's no need to sweat it out. Just push the cap back and enjoy the rest of your day. On the coldest of days, the hinge also functions to make the opening narrower and therefore letting in less cold air.
Fabric: 100% acrylic heather knit
MSRP: $20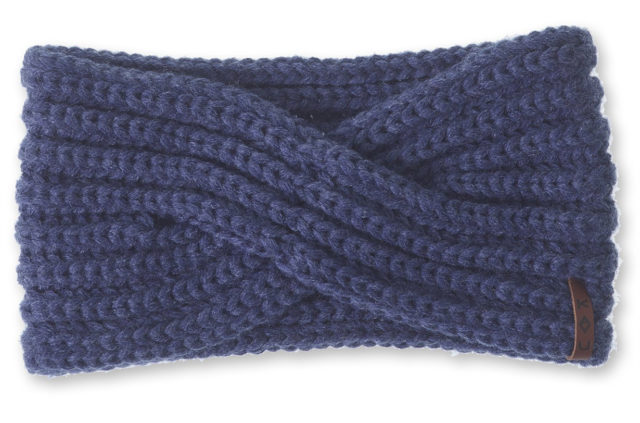 Kristin: While most items on this list are designed for technical use, the Maplewood is not. The 100% acrylic heather yarn doesn't wick away moisture or keep you very warm when wet, but it is thick, warm, and good looking. The cable-twist design not only makes for a cute look, it also allows the headband to be pulled down over the ears; far enough down that it completely covers the ears without causing the whole headband to be uncomfortably low on the head. I find myself reaching for this headband on cool days when I want to look good and stay warm. Perfect for strolls with my son or for running errands around town.
Fabric: cotton / polyester blend
MSRP: $12.99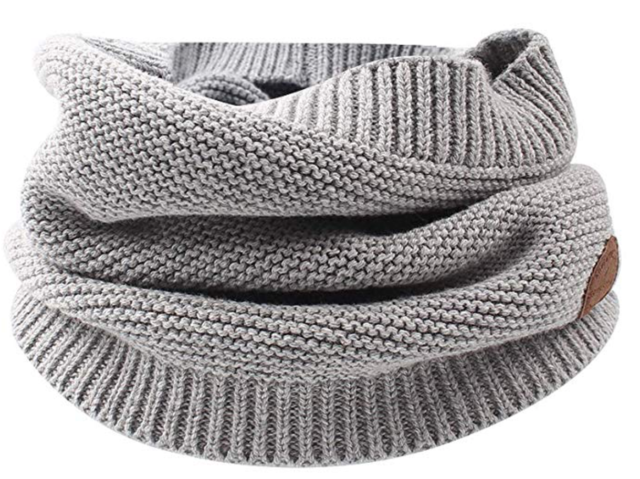 Kristin: I purchased this neckwarmer for my son when he was 6 months old and now at 17 months it still fits him nicely. Not too big or too tight, it can easily be tucked into his jacket or one-piece. When dressing my son for the cold, particularly when we were planning to go for a skin, there always seemed to be a gap between the top of his outerwear zipper and his neck. I know when I have a gap like that, I get cold so I started searching for a baby-sized neck gaiter.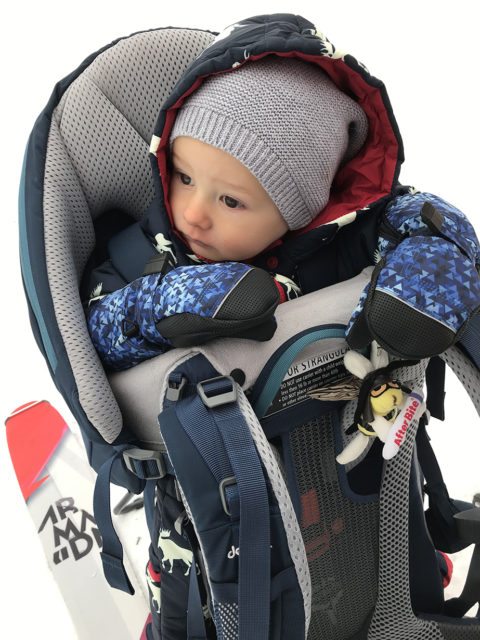 The Cutegogo Baby Neckwarmer's cotton / polyester blend fabric is soft, somewhat loose, and just thick enough that it can be scrunched down under or over his double chin. My son never fussed about wearing it and most of the time I don't think he even notices it's there. When in a pinch, my son has also worn the neckwarmer as a hat. It works fairly well when paired with a hood.