Propain Tyee
Wheel Size: 27.5'' (XS, S, M); 27.5'' front / 29 rear'' (M, L, XL) or 29'' (M, L, XL)
Travel: 160 mm rear / 160 or 170 mm front
Geometry highlights:
Sizes offered: XS, S, M, L, XL
Headtube angle: 63º – 64.5º
Seat tube angle: 76.2º – 77.9º
Reach: 480 mm (size Large)
Chainstay length: 430 mm (27.5'' version); 445 mm (29'' / MX version)
Frame material: Carbon Fiber and Aluminum versions available
Price: Complete bikes: $3,599 – $8,244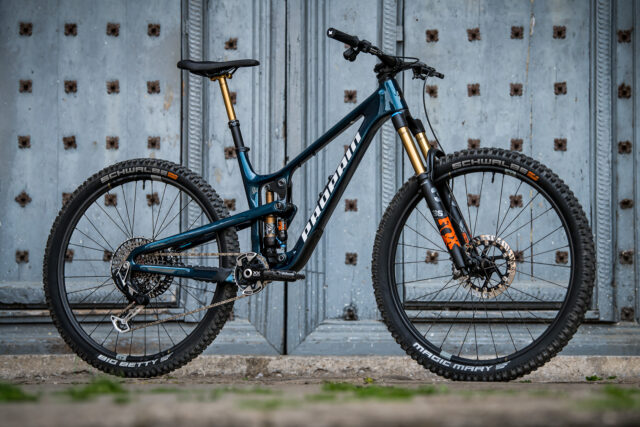 Intro
The current Tyee has been around since 2020 and was due for a refresh. Propane claims a ground-up redesign that incorporates the usual longer, slacker geometry evolution, but also some notable changes to suspension kinematics and frame construction — and the addition of headset cable routing, among other tweaks.
The Frame
The Tyee frame continues to be offered in aluminum and carbon versions, both of which utilize a blend of either different carbon materials or aluminum alloys. Propane states that the blended approach to the frame materials results in improved ride characteristics, weight, and durability. Speaking of weight, they've gained a bit in the redesign — according to Propain, that extra weight translates to a 10% stiffer rear end with more tire clearance and an increase in lateral stiffness in the front triangle. In addition to aluminum and carbon versions, there will also be unique dedicated 27.5'' frames for sizes Extra Small through Medium, with the XS and the S only offered in 27.5''. Mediums will be available in both dedicated 27.5'' and 29'' versions. All frames will have a flip chip, which on the bikes designed for a 29'' front wheel also allows running a 27.5'' rear one in lieu of the full 29'' setup; on 27.5'' bikes (sizes XS, Small, and as an option on the Medium) use it for geometry adjustment only.
Suspension duties once again go to Propain's PRO10 system, with its newly designed dual counter-rotating links providing 160 mm of travel. Anti-squat at sag is stated at 113%, coupled with a progressive shock rate (it has decreased progressivity at the lower end), which is said to play well with both coil and air shocks.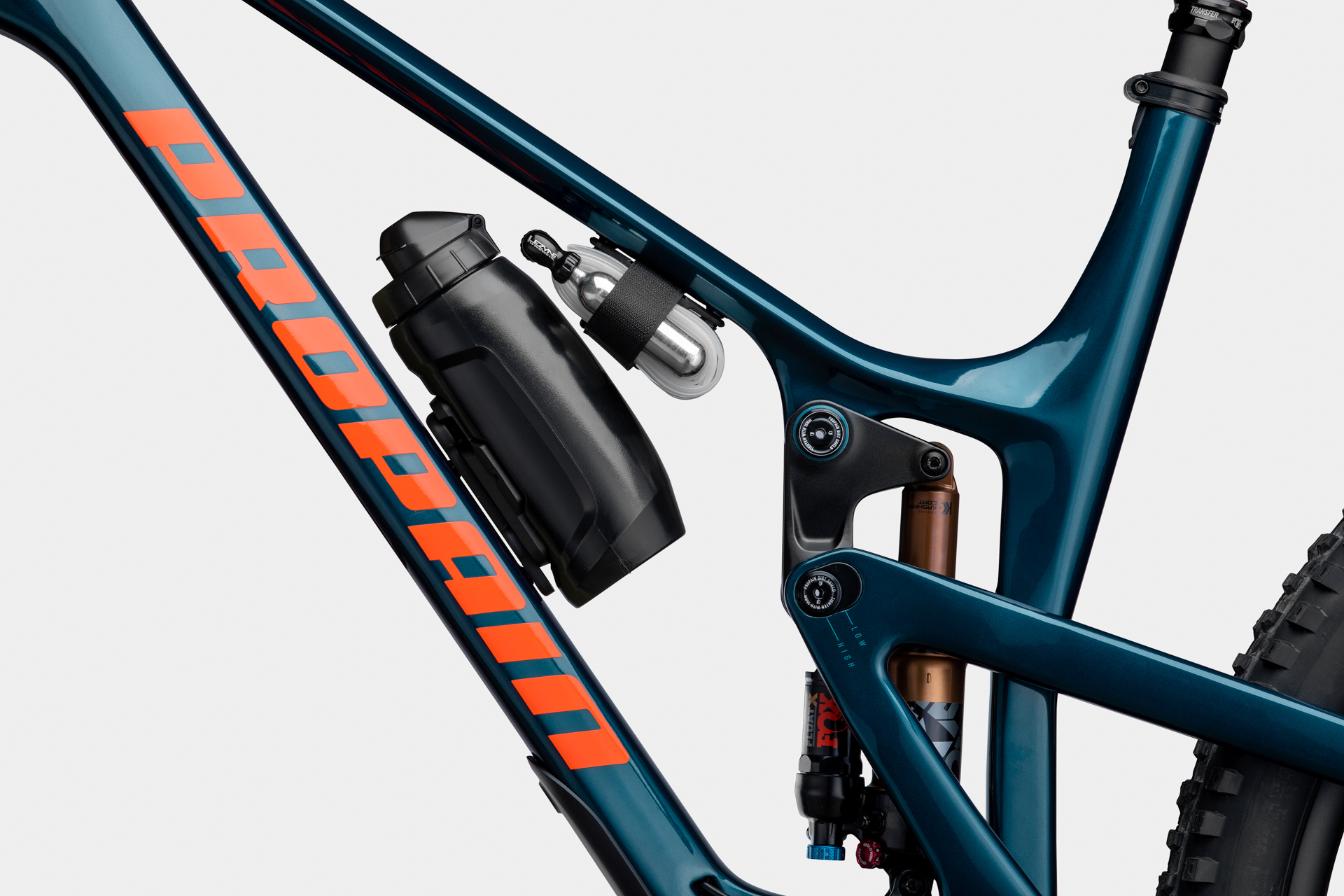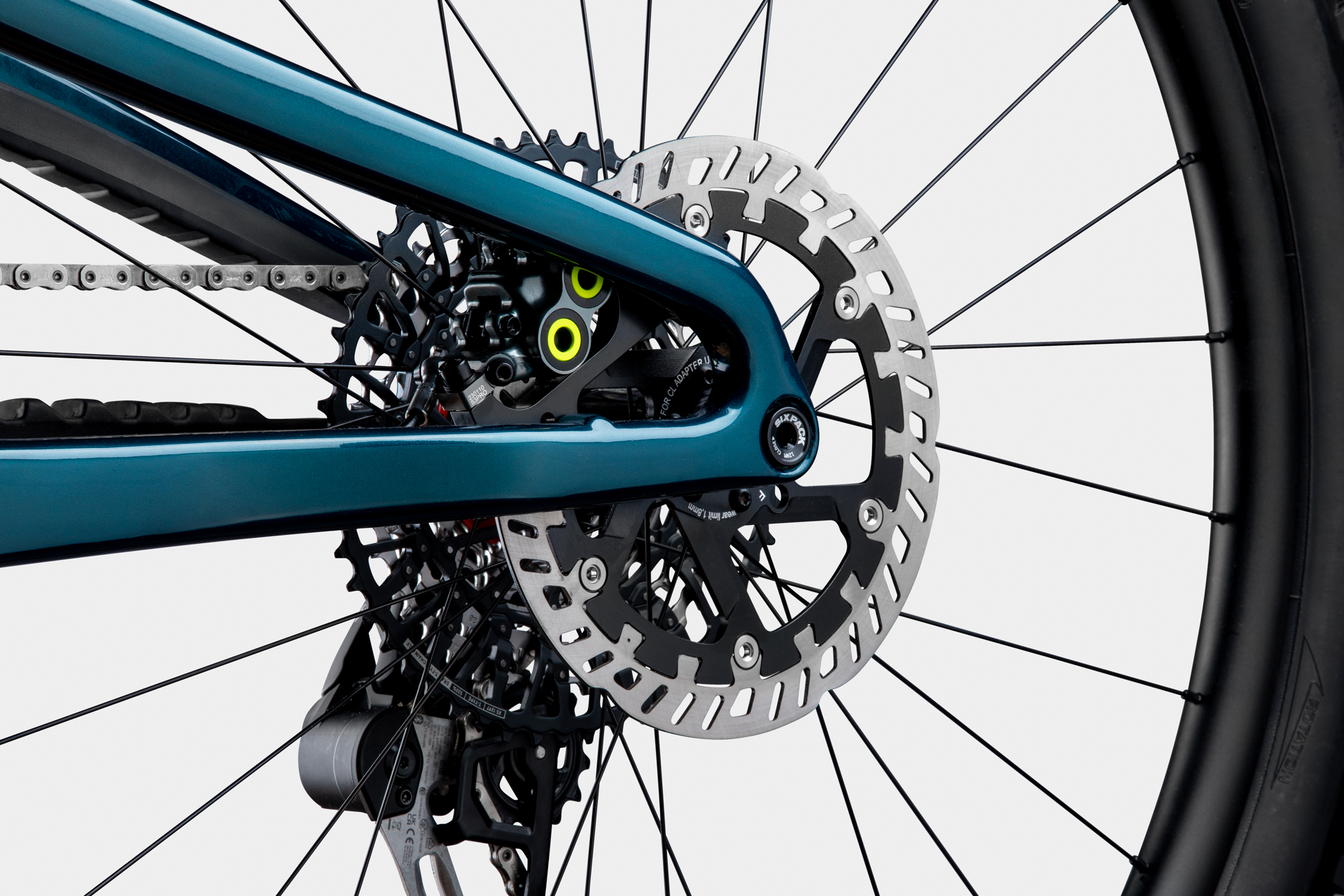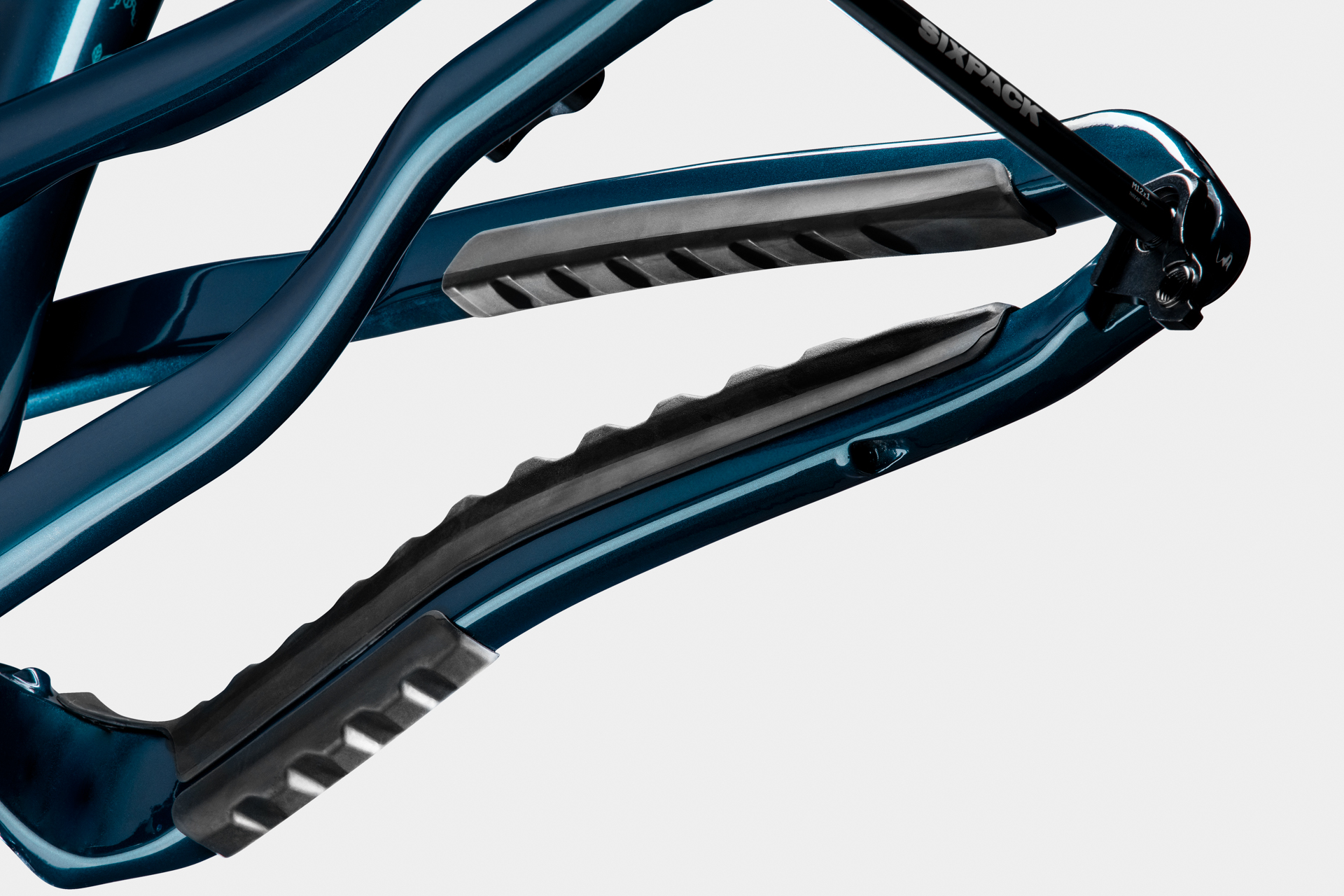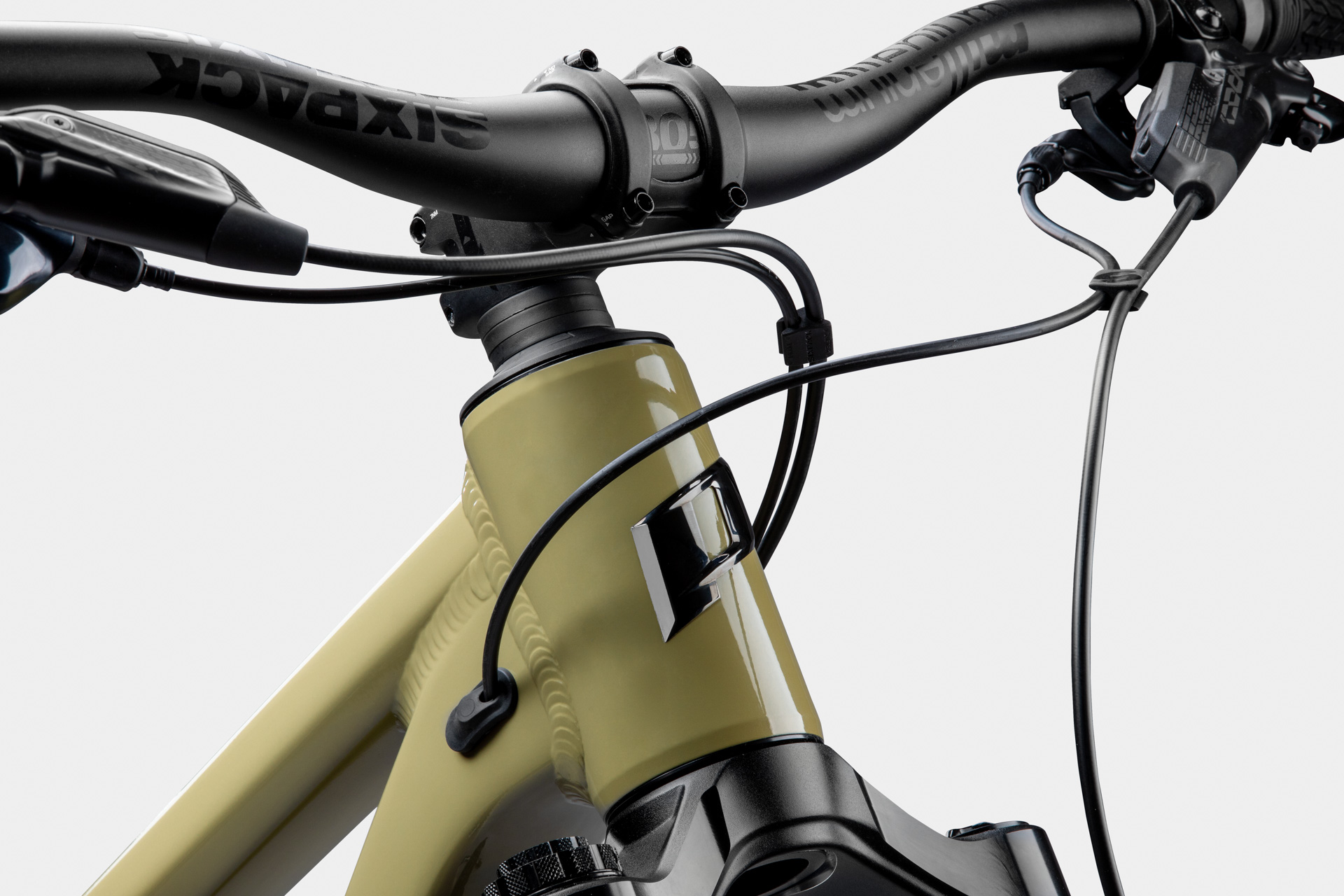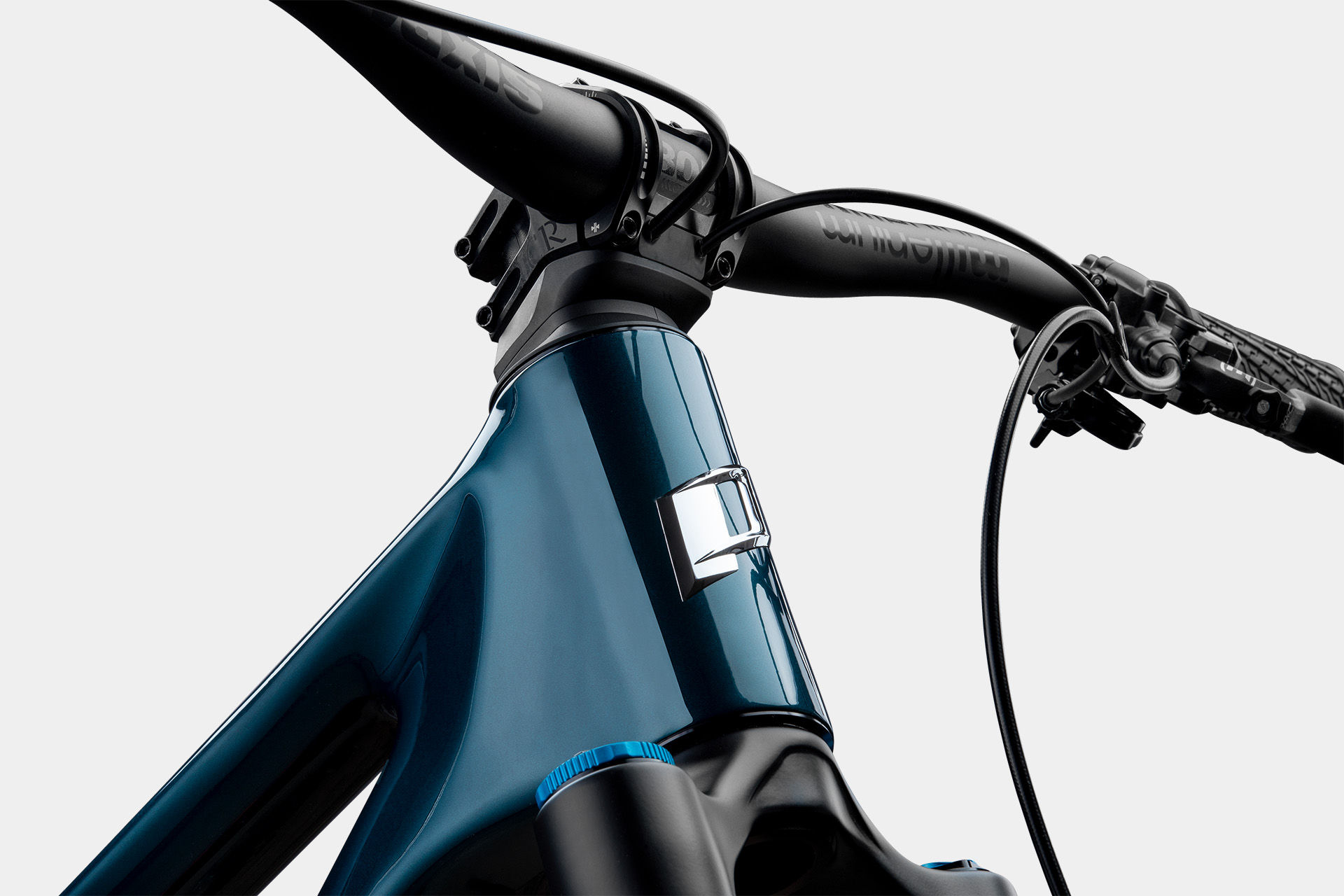 We hinted about the internal cable routing in the introduction, and want to be clear that we will withhold judgment until we have a Tyee in our hands for testing. So, for now, just the facts: Propain is utilizing an Acros ICR headset which is designed for internal headset routing. They have partnered with Sixpack and designed a CNC machined stem that integrates with the Acros composite top spacer. What all this means is that the cables travel through the spacer under the stem, which frees up the stem to be moved up or down, without the hassle of removing all the cables for simple stem height adjustments. They will also be offering clip-in headset spacers that will allow for that adjustment without removing the stem. Not that removing a stem and swapping spacers has ever been difficult with normally routed cables, but we think we appreciate the effort. Another interesting tidbit is the Aluminum frames retain their frame cable ports, so internal headset routing or classic (into the frame ports) internal routing will be an option. Sadly, it looks like the carbon frames will not have this option.
The Tyee will sport three color options for each frame material, with the downtube "Propain" decal and the headtube badge having separate color customization options. Propain has added tool storage mounting under the top tube, and there will continue to be one water bottle mount on the downtube. Acros stainless steel bearings are used throughout, a detail riders in wet climates will appreciate. Frame protection looks well thought out, and they've strived to reduce noise with soft air-filled plastic on the chainstay. Propain has adopted SRAM's UDH derailleur hanger, and some of the higher-end builds will include SRAM's new Transmission.
Fit & Geometry
Propain has added an Extra Small size for the Tyee, with both the XS and Small only offered in a dedicated 27.5" wheel configuration. No mullets or 29ers for short riders. On one hand, there are undoubtedly some shorter riders who'd prefer a bigger wheel or two and will be disappointed by the lack of the option on the Tyee. On the other, smaller 27.5'' wheels do make a good bit of sense for smaller folks for packaging reasons, especially on longer-travel bikes where tire-to-butt clearance and stack height both become more significant limitations, so it's cool to see Propain offering a full 27.5'' bike for folks who'd appreciate that — there are plenty of options with bigger wheels out there.
No matter the wheel size configuration, the Tyee includes a geometry-adjusting flip chip. On the 27.5'' frames, it serves as a geometry adjustment, only. On the 29er, it's primarily intended to give the option of running either a 27.5'' or 29'' rear wheel, with the low position recommended for the 29er configuration and the high one to compensate for a smaller rear wheel. Propain also recommends running the Tyee with either a 160 or 170 mm travel fork, which introduces a few more options for geometry settings. Interestingly, Propain has also included a geometry chart for mixed wheel size in the low position (the 29er position), and as you can imagine, that slackens things accordingly. For the absolute slackest configuration, choosing a build with a 170 mm fork, while running a 27.5" rear wheel in the low position, returns a 63.2º (size Large) head angle — properly slack indeed.
Running the recommended flip chip settings on the 29er frame produces the same geometry for the 29'' and MX configurations. All sizes get a 64.5º head angle, a seat tube angle around 77.5º (varies slightly by size), and reach on the Large comes in at 480 mm — all very common numbers in this travel range. Chainstays are a short 430 mm on the dedicated 27.5'' bikes and grow to 445 mm on the mixed / 29er bikes.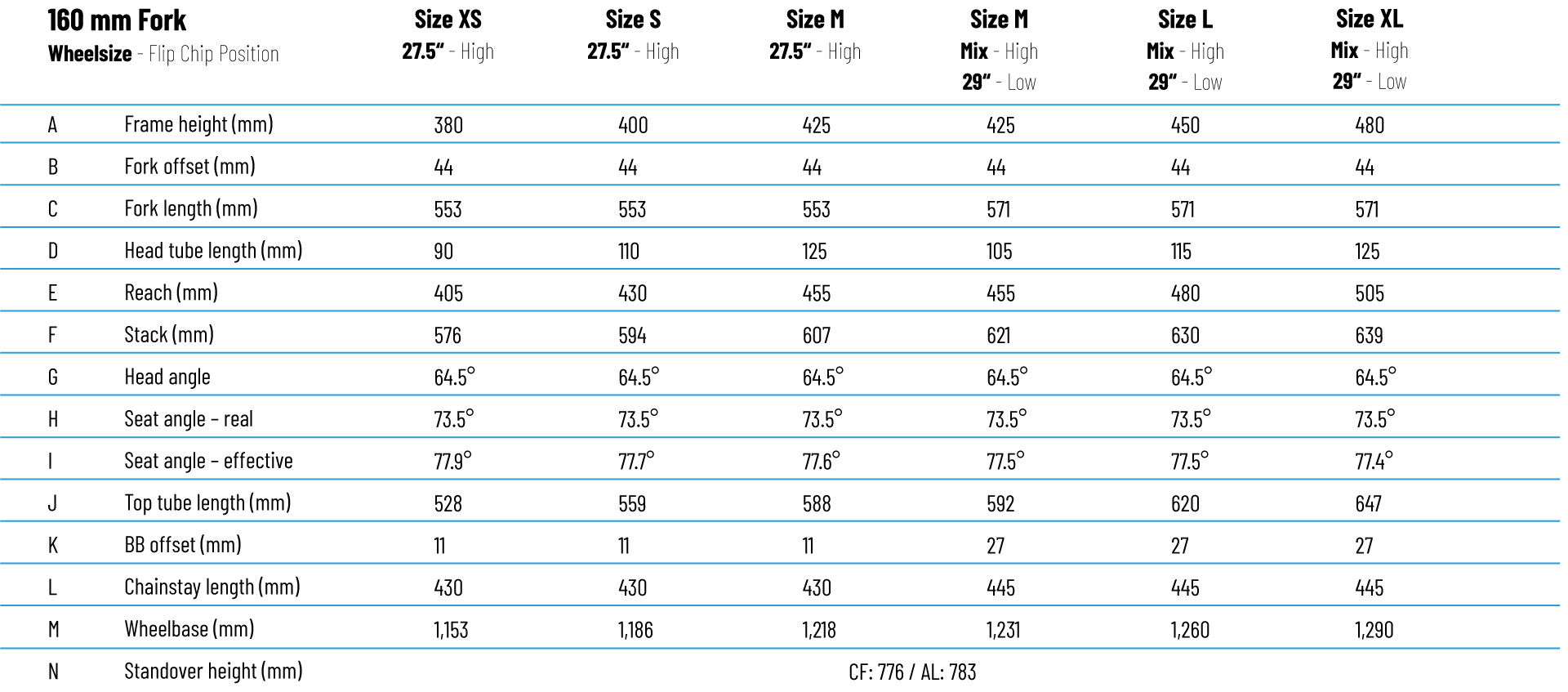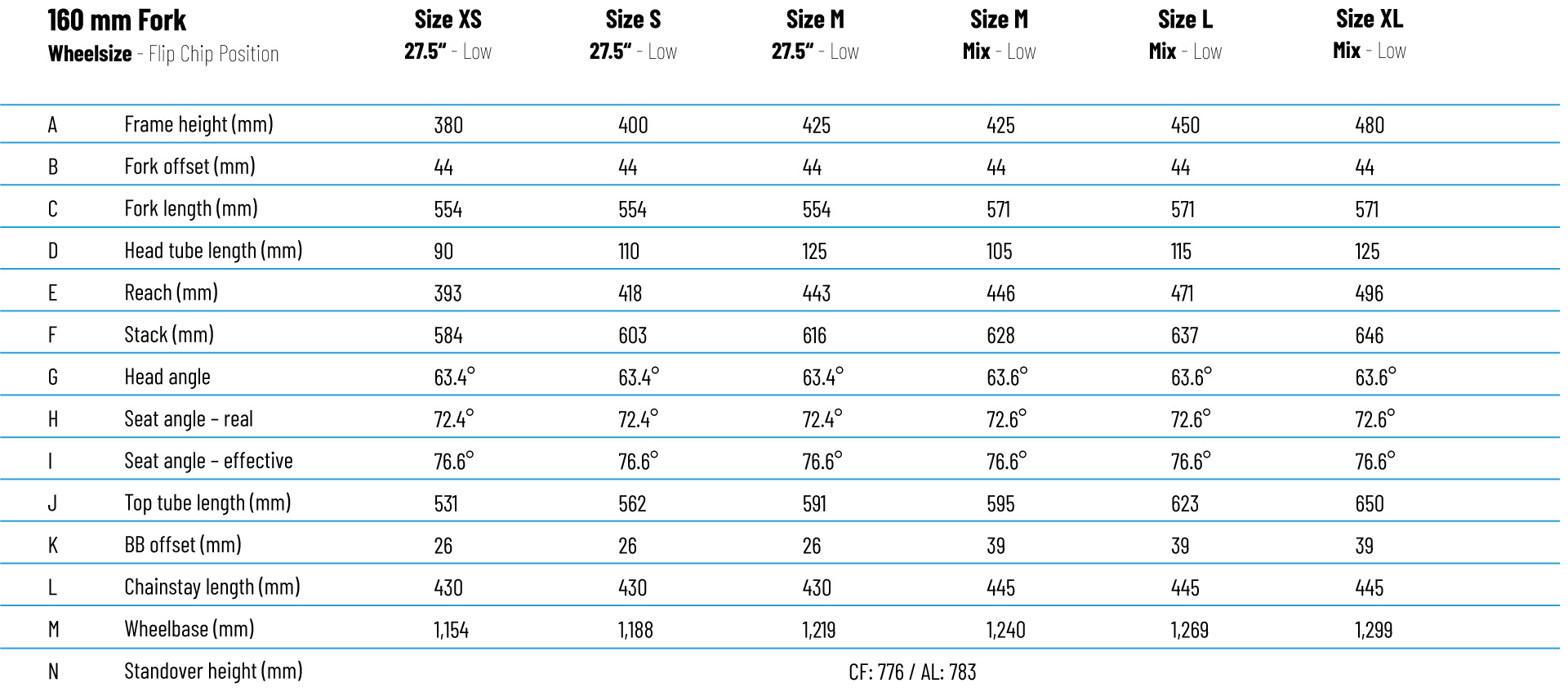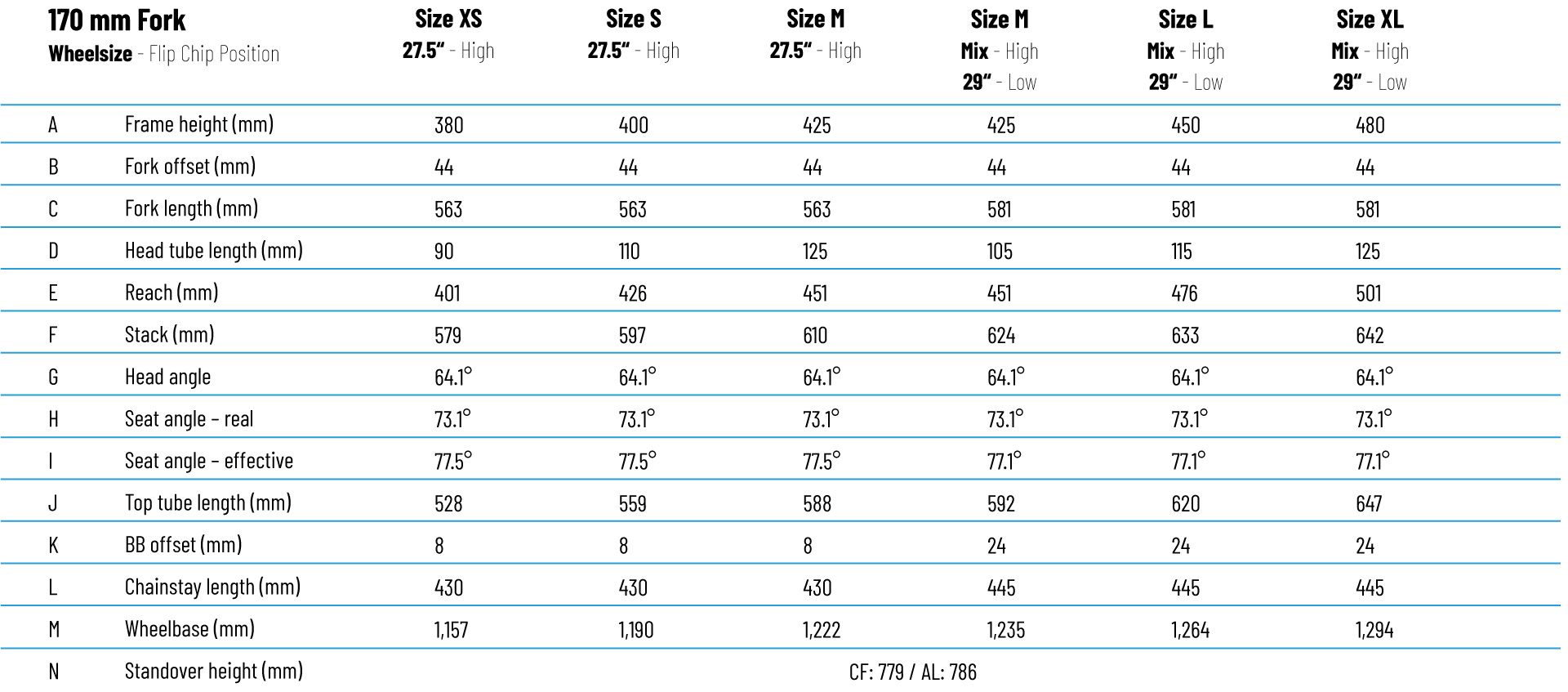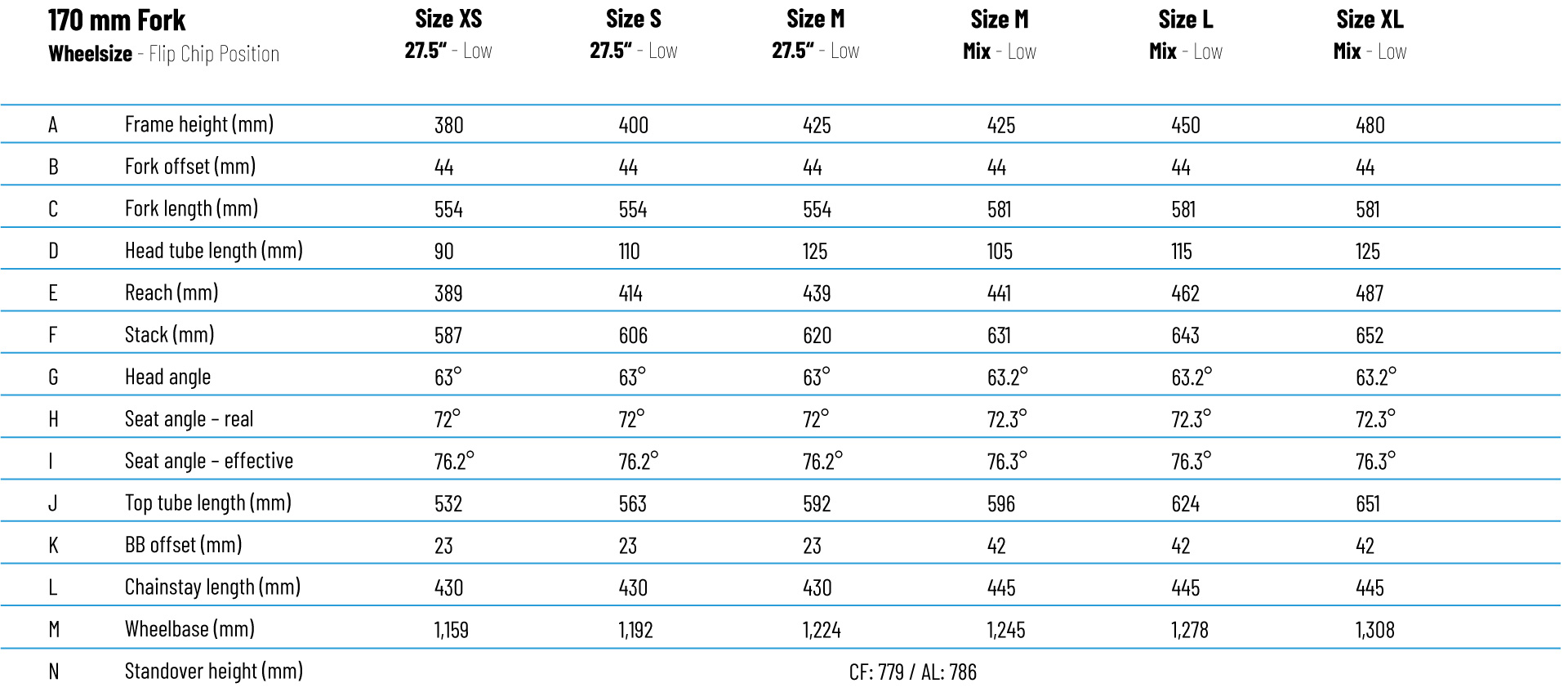 The Builds
Propain offers four builds on the Tyee, with additional options for customization through their online builder tool. The first two builds look to be positioned as a bit more downhill-focused, both coming spec'd with 170 mm travel forks and coil shocks. Moving up to the Phantom and Goldrush builds, the fork travel drops to 160 mm and the coil shocks get replaced with air shocks, indicating perhaps a more versatile Enduro focus. Pricing across the board looks to be quite competitive in the direct-to-consumer market, particularly the top-of-the-line carbon Phantom build featuring SRAM's XX Transmission, Fox Factory 36 and Float X suspension, Magura MT7 brakes, and Crankbrothers Synthesis carbon wheels for a solid $8,244. With that said, the carbon Phantom build gets our pick, as it's a very compelling package at $6,709 — the combination of RockShox Ultimate suspension with SRAM's XO Transmission, plus a RockShox AXS seatpost, is an extremely impressive value. All four builds are available on either the aluminum or carbon fiber frame — a really nice touch — with the carbon frame commanding a $600 premium.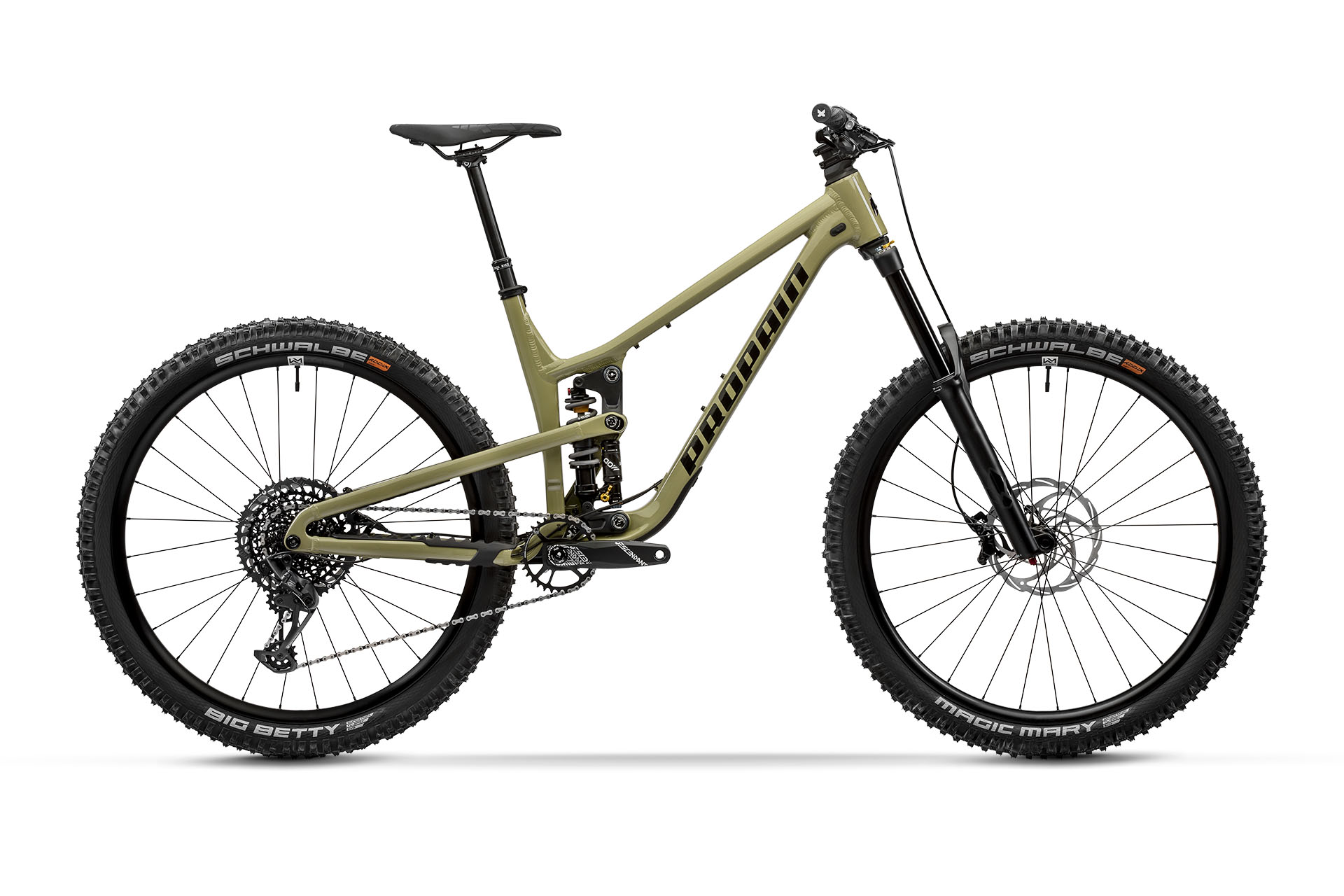 Propain will be launching an expanded custom configurator at some point in the future. The new configurator will include options such as handlebar rise and stem length, with the aim of helping dial in the fit. None of the builds call out seatpost travel, but we expect that to be an option in the configurator — we've reached out to Propain for clarification.
Some Questions / Things We're Curious About
(1) How does the PRO10 suspension platform perform?
(2) How cleanly does the wheel size toggling on the larger sizes work out, and how much does changing the rear wheel size change the character of the Tyee?
(3) Has Propain indeed pulled off internal headset cable routing as well as they say?
Bottom Line (For Now)
There's a lot to get excited about with the new Tyee, from our standpoint it does appear to be a pretty extensive update. Of course, there are questions (*cough* cable routing), and an almost overwhelming amount of options. If you're the type of rider who's after a longer travel enduro rig, and appreciates customization, then it could definitely be on the shortlist. We are looking forward to getting one in for testing soon because great pricing and custom options won't really matter if it doesn't ride well. Propane has told us we'll be getting one headed our way, so stay tuned for a full review to come.