Rab Alpha Flash Jacket
Size Tested: Medium
Blister's Measured Weight: 251 g
Materials:
Polartec Alpha Direct 120
Thermic™ brushed back single jersey with Polygiene® STAY FRESH odour control treatment
Stated Features:
YKK® Vislon front zip, internal zip flap and chin guard
Low bulk cuff construction
Half hem drawcord
Pockets:
MSRP: $125
Test Locations: Davos, Switzerland; Sölden, Austria; Front Range, CO
Days Tested: 10
Intro
Following in the footsteps of Polartec Thermal Pro and Alpha insulations, Polartec's newest low-density knit insulation, Alpha Direct, aims to increase breathability and decrease weight and bulk — all while maintaining warmth.
The Rab Alpha Flash Jacket uses the new Alpha Direct without a face fabric (unlike the Outdoor Research Ascendant) to maximize breathability. The result is a mid layer that is quite warm and blocks almost zero weather. But how does that combination work in the mountains?
Fit
The Alpha Flash has a fairly standard, slim fit. The torso is trim to the body and there is little extra bulk in the sleeves. The fit, as is generally good for a mid layer, is enough to fit a thick base layer underneath, and not much else.
It is the slimmest of the two other similar pieces I've used — the North Face Radium Jacket and the Norrona Alpha Raw Zip Hoodie (review coming soon). The Alpha Flash's sleeves are much shorter than those on the Norrona piece (which has thumb holes, so the sleeves are cut a bit longer) and a tad shorter than the sleeves on the Radium. Both the North Face and Norrona pieces are a bit wider in the torso, and longer.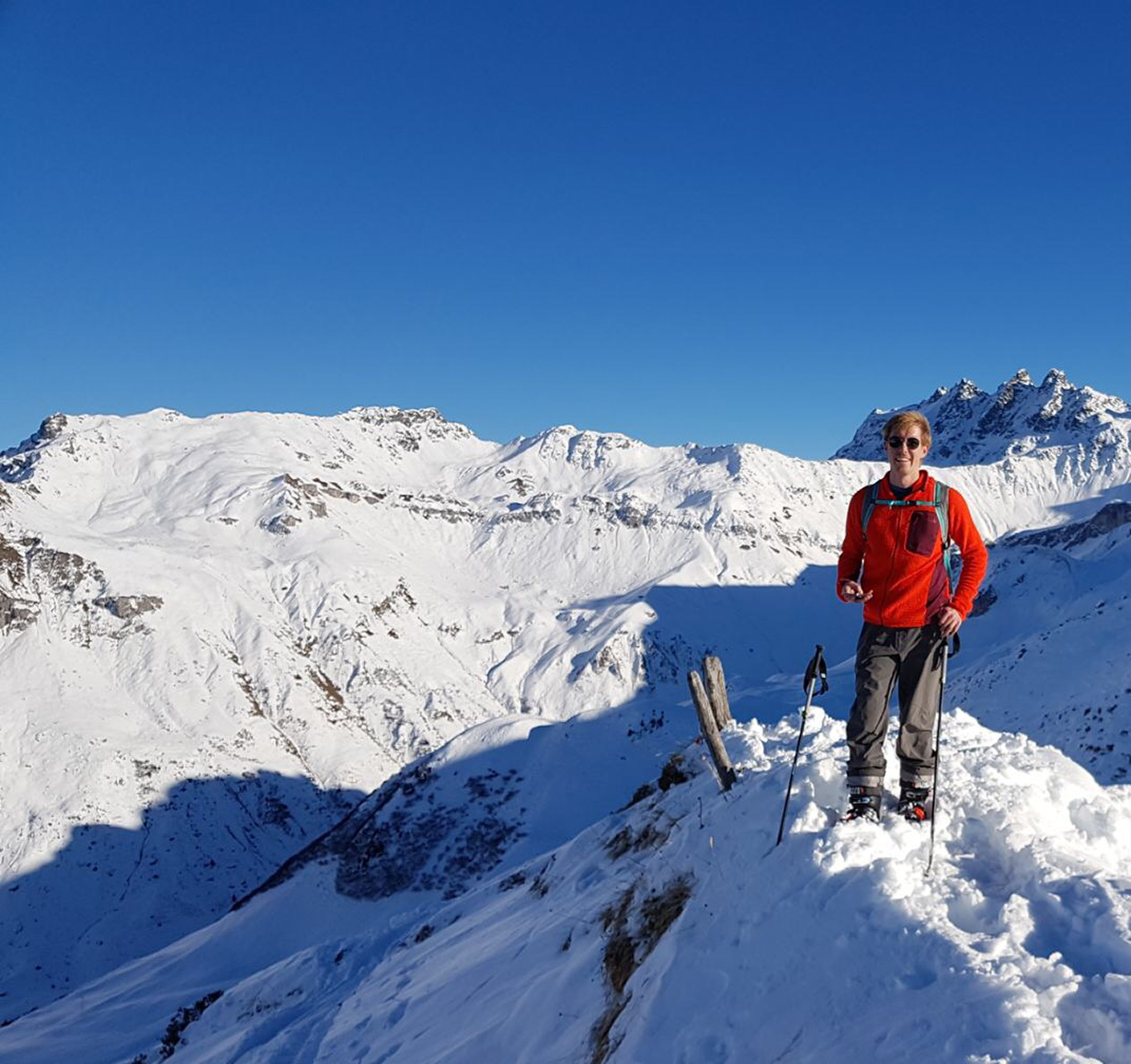 I like the slim fit of the Alpha Flash because it makes it easier to throw shells and insulators over while I'm skiing or climbing. The fuzzy Alpha Direct fabric tends to grab a bit on other layers, and the slim cut also helps counteract this.
Materials
The heart and soul of the Alpha Flash is Polartec's Alpha Direct fabric. This is a low-density fleece knit that is extremely fuzzy. Compared to Polartec Thermal Pro High Loft, Alpha Direct seems a bit less refined, less organized, and more random. It is lower density and doesn't feel quite as comfortable against my skin.
It is clear that this more chaotic knit is intended to increase breathability — which I think it succeeds in (more on that later). But it does result in a less aesthetically appealing and comfortable final product.
The Alpha Flash uses a thin brushed fleece for the cuffs, side / arm panels, chest pocket, collar details, and hem adjust. This fleece is quite stretchy, durable, and comfortable on the skin.
On the cuffs and collar, it is used for next-to-skin comfort. On the chest pocket and hem adjust it is used for durability, and on the side panels it is used to increase range of motion as the Alpha Direct fabric doesn't stretch very much.
One issue I've had with the Alpha Direct fabric is that it has a tendency to feel wet to the touch when it gets even slightly damp (for instance, after getting some snow up my jacket while skiing). I think this is because the water tends to bead up on the surface of the Alpha Direct fabric, right where you can feel it (as opposed to being absorbed by the fabric). If you closely examine the jacket when it feels wet, you'll be able to see the tiny beads of water in the knit.
This beading effect also makes the fabric slower to dry than other fleece fabrics I've used.
Features
The Alpha Flash is very minimal on features. It has a zip chest pocket, stretchy side / arm panels, and a hem adjustment. That's about it.
The chest pocket is rather small, and due to the slim fit of the piece, I rarely put anything in there as I often find it uncomfortable. That said, it can happily hold a chapstick, snack, or (slightly less happily) — a phone.
The side and arm panels do a good job of giving the Alpha Flash a decent range of motion. It will certainly lift up if you put your hands over your head, but most other movements aren't a problem. With a thin base layer, it is pretty comfortable.
The main thing that detracts from the comfort of the Alpha Flash isn't the range of motion, it's the grabby-ness of the Alpha Direct fabric. Because the fabric is so fuzzy, it likes to grab onto everything. When I first pull it on over a base layer, I have to spend a minute to make sure that both layers are lining up ok.
It isn't as bad with shells — they work pretty well with Alpha Direct. Puffy insulators aren't a problem either since they often use very slippery fabrics, but with other, softer layers, the Alpha Direct can be a pain when layering.
Weight
At a measured weight of 251 g for a Medium, the Alpha Flash comes in lighter than other, similarly warm mid layers. The North Face FuseForm Dolomiti ¼ Zip Hoodie weighs 346 g, the North Face Summit L2 FuseForm Fleece ½ Zip Hoodie (review coming soon) weighs 415 g, and the comparable Norrona Alpha Raw Zip Hoodie (also with Alpha Direct) weights 274 g.
The Alpha Direct insulation is also quite compressible and the Alpha Flash can be compressed to the size of about 2/3rds of a 1-liter Nalgene bottle.
Just keep in mind that low weight typically comes with a cost, and usually that is a high price tag and lessened durability. In the case of the Alpha Flash, that cost is…
Weather Resistance
The Alpha Flash has essentially zero weather resistance. I feel every bit of a light breeze and every drop of a drizzle. Unless the conditions are dry and calm, the Alpha Flash needs to be paired with a shell.
Breathability
The Alpha Flash is extremely breathable. Of all of the equivalently warm mid layers I've used, it is the most breathable (tied with the Norrona Alpha Raw Zip Hoodie, which uses the same type of fabric).
The low-density knit of the Alpha Direct fabric ensures plenty of convective air movement which translates into excellent breathability. But that breathability is coupled with zero ability to block wind. If you always have to wear a shell with your super breathable mid layer, are you fully utilizing the mid layer?
For below treeline tours, climbing on calm days, or climbing / skiing in places that aren't very windy, the Alpha Flash is a great mid layer (and can be used as an outer layer in high output activity on these days).
If you tend to leave your shell on regardless of mid layer, then the Alpha Flash will definitely increase the breathability of your overall layering system. I think the Alpha Flash excels as a cold-weather mid layer where you won't be tempted to use it as an outer layer when you overheat.
Warmth
In calm conditions, the 251 g Alpha Flash has great warmth-to-weight ratio. From a pure insulation perspective, It is similarly warm to the Patagonia Nano-Air Light Hoody (stated weight of 309 g). However, in practice, it is less warm because of the huge air permeability. Under a shell though, both pieces are similarly warm.
Similarly, under a shell, the North Face Ventrix Hoodie is a bit warmer and the Dolomiti, L2, and the Patagonia R1 are a touch cooler. The North Face Radium is much warmer.
The Alpha Flash has the same insulating value as the Norrona Alpha Raw Zip Hoodie.
On the Skin Track
The combination of good warmth retention, excellent breathability, and little-to-no wind / weather resistance actually has worked pretty well for me while ski touring.
I have been able to use the Alpha Flash as an outer layer at the beginning of tours when I am still below treeline and trying to warm up. When the tour gets to more exposed topographies, I can throw a softshell on over the Alpha Flash to block the wind. However, if there is precipitation forecasted, I'll throw in a harder faced mid layer like the North Face Dolomiti, or Patagonia Nano-Air Light Hoody since they can hold up to a bit of precipitation on their own.
In the Resort
I think the Alpha Flash excels in the ski area as a warm layering piece that can still dump heat on the occasional hike. The only downside to using it in the resort is the slim, less casual, minimal fit and the typical durability concerns that come with lightweight gear.
Durability
I've got about 10 days in the Alpha Flash (and more days in the Outdoor Research Ascendant and Norrona Alpha Raw Zip Hoodie that also use Polartec Alpha Direct) and haven't noticed any durability issues. I suspect that it won't hold up well to rubbing on hard granite or tree bashing — the fabric is very, very light. But I haven't been excessively careful with mine and they are all ok.
I do worry about the Alpha Direct fabric losing its shape over time. It doesn't have much stretch and I've noticed some slight stretching of the Alpha Flash after long days of use. I'll be sure to keep an eye on this and update this review if I notice anything new.
Who's It For?
The Alpha Flash is ideal for a skier or climber looking for a highly breathable mid layer that they plan to leave under a shell for all but the most bluebird, clam days. Whether that's lift accessed skiing, cold weather alpine climbing, or something similar. Just don't count on this jacket to block any weather.
Bottom Line
The Rab Alpha Flash Jacket is one of the lightest, most breathable mid layers we have ever tested. It has a great athletic, slim fit with good range of motion and a streamlined silhouette.
The low density Polartec Alpha Direct fabric allows it to be light and breathable, but it doesn't block hardly any wind or precipitation. As long as you don't need to use the Alpha Flash as an outer layer, it should be on your list of mid layers.