Ride Concepts Transition Clipless Shoe
Test Location: Gunnison-Crested Butte Valley, Colorado / Washington
Test Duration: 6 months
Reviewers:
Dylan Wood: 5'11", 155 lbs (180 cm, 70 kg)
David Golay: 6′, 165 lb (183 cm, 75kg)
Sizes Tested: US Men's 9.5 & 10
Blister's Measured Weight per Shoe:
Size 9.5: 534 and 536 g
Size 10: 558 and 560 g
Upper: Welded Synthetic Microfiber
Closure: Lace Closure with powerstrap
Stated Features:
Rubber Kinetics | DST 8.0 MID GRIP Rubber Outsole
RC PowerDrive nylon shank provides power and maintains lateral stiffness
40mm wide cleat box for ease of pedal entry
Asymmetrical medial collar with D30 impact protection
Medial high-rise EVA midsole provides support and shock absorption
D3O High Impact Zone Insole Technology absorbs shock and reduces fatigue
Pedals used: Shimano XTR PD-M9020, Shimano Saint PD-M820, HT T1, HT X2 SX
MSRP: $160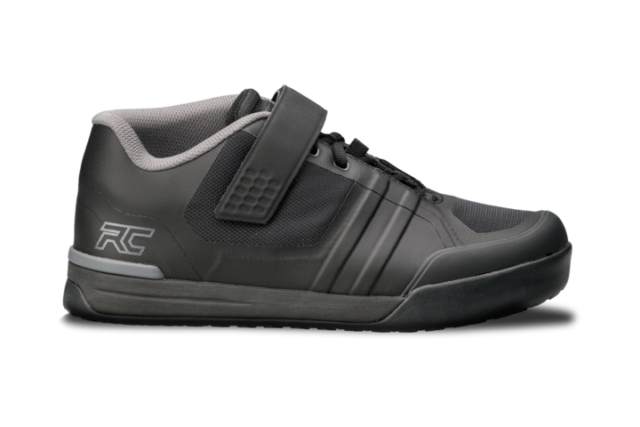 The Transition Clipless Shoe from Ride Concepts is currently the company's only clipless offering, other than the Transition's women's-specific counterpart, the Traverse. The Transition was introduced in 2019 and reportedly developed with the help of Atherton racing.
Ride Concepts say they designed the shoe to "change perception of how a clipless shoe should connect with the pedal." The Transition Clipless is intended for a wide variety of riding styles, from general trail riding to gravity.
I have spent time in a variety of clipless shoes, from stiff and light XC-style shoes to flat-soled, more gravity-oriented ones. In the past year, about half my time on a bike has been in the Transition, with the other half being in the Five Ten Kestrel Pro Boa. My time in these shoes has consisted of riding the desert-like trails of Hartman Rocks in Gunnison, the steep and long moto-esque trails of Crested butte, and hiking my bike up steep, rocky, and loose climbs. David Golay has also been using the Transition out in the wetter climate of Washington, so how do these shoes perform out on the trail, and how do they compare to the broader clipless-shoe market?
Features and Construction
Designed to be an all-arounder, the construction of the Transition Clipless combines stiffness for efficiency with impact absorption for all-day comfort. Similar to this balance, the shoe is also designed to be weather-resistant yet breathable. Ride concepts attempted to accomplish this in a few ways:
The Transition's upper consists of welded synthetic microfiber, designed to hug the ankle so that debris does not enter the shoe. Securing the shoe is taken care of by traditional laces and a power strap near the top of the tongue. The tongue is fully gusseted to prevent the intake of debris, and the power strap is quite stiff and has a generous range of adjustability. The upper also features D3O impact protection in the medial collar, near the inside of the ankle, designed to protect your foot from impacts from crank arms, chainstays, or the occasional trail-side object.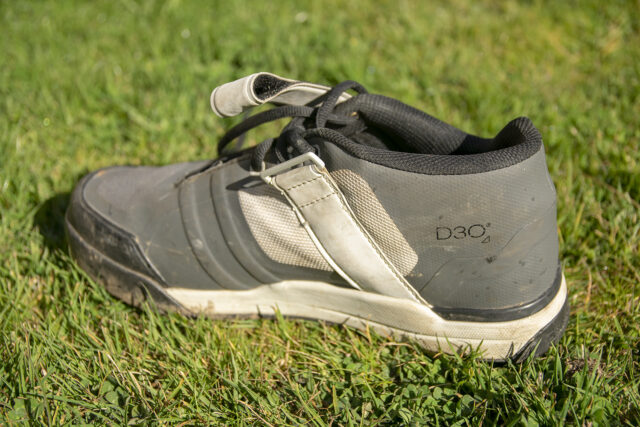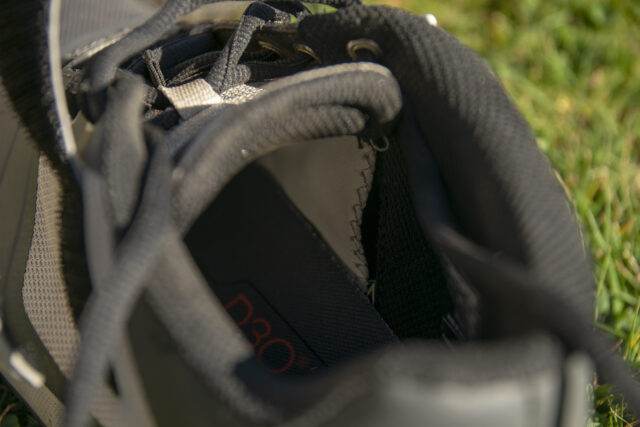 The sole of the Transition Clipless features Ride Concept's DST 8.0 Mid Grip rubber. This type of rubber is designed with durability in mind and offers less grip than the brand's other soles on their flat-pedal shoes (since rubber grip is not the binding force between shoe and pedal in the case of a clipless setup). Above the Transition's sole is a high-rise EVA midsole that takes on the responsibility of support and shock absorption.
The Transition also features Ride Concept's Powerdrive Nylon shank, which adds stiffness to the front 2/3rds of the shoe, including the area in which the cleat attaches to the pedal. This creates a sole that is pretty stiff until you get to the heel area, then it is more pliable. Overall, the sole is significantly less stiff than more trail-oriented shoes I've used, like the Five Ten Kestrel Pro Boa, but still plenty stiff to support the rider's foot on their clipless pedal.
The Transition's cleat box on the sole is 40 mm wide, allowing for nice ease of entry into the pedal. The cleat window also allows for plenty of adjustment front and back, and I've found it to allow for a cleat setup slightly more rearward than most shoes.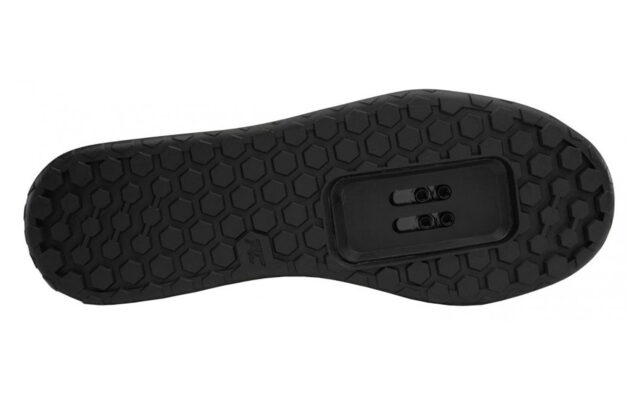 One of the more interesting features of this shoe is the D3O High Impact Zone Technology that is featured in the insoles of the Transition Clipless (and most of Ride Concept's other shoes). These special insoles are designed to reduce fatigue and absorb shock. I will talk more about how this and other features affect the shoe's performance later on below.
Weight
Our pair of the Transition Clipless weighed in at 535 grams per shoe (size US Men's 9.5). For a well-protected and general-purpose shoe, this weight is very reasonable. Stiffer shoes aimed at being more pedal efficient, like the Five Ten Kestrel Pro Boa (458 grams per shoe) are notably lighter, while similar shoes like the Five Ten Hellcat Pro (546 grams per shoe) are in the same ballpark. I thought the weight was appropriate for the Transition, and if your shoes being lightweight is a priority to you, consider choosing a stiff, efficient XC-style shoe over a more walkable, better-protected one like the Transition.
Fit
Dylan Wood: At the end of the day, fit is a personal thing and it is solely dependent on your foot. So as with all of our footwear reviews, we highly recommend trying on a shoe before buying, when possible. For my narrow foot, which is typically in the range of 9-9.5 in US men's sizing, the 9.5 Transition Clipless fits almost perfectly. I personally would not want this shoe to be any longer or shorter. As far as volume goes, it is slightly wider than I would prefer. Again, this is most likely due to the fact that I have a relatively narrow foot.
David Golay: My feet are substantially wider than Dylan's (~112 mm wide in the forefoot), and while the Transition in a US 10 (my normal street shoe size) feels good in terms of length, I could do with a little more width in the forefoot. The Transition did soften and break in a little after some use, but I'd place them on the slightly narrower side of average, which isn't ideal for my stupid feet.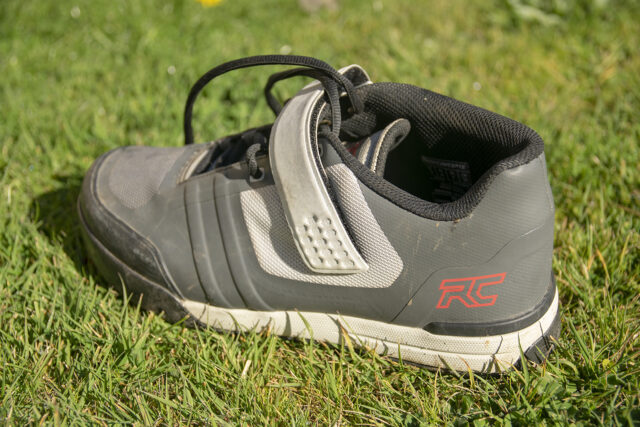 Dylan: The Transition's laces allow me to tighten the shoe almost exactly how I need it on my foot, and the power strap allows me to secure the shoe in a spot where security is needed most. No complaints here — and as I mentioned earlier, the power strap allows for generous adjustability to fit feet of a wide range of shapes and sizes. Never have the laces or power strap come undone while riding, which is obviously a plus. This security system isn't as fast or as adjustable on-the-fly as a shoe with BOA or a strap-and-ratchet type system, but will most certainly satisfy anyone who likes laces on their mountain bike shoes.
An area where I was disappointed with the fit of the Transition Clipless was off-the-bike hiking in steep situations. I found that this shoe had significant heel slip, despite being snug and secure on the rest of my foot. This was only a major problem once: after pushing my bike to the top of the Valmont Bike Park slopestyle line dozens of times in the course of a few hours, I began developing hot spots on the back of my heels, and this area was sensitive for the next few days. Other than that one instance, the heel slip has been noticeable, but not problematic. This may be attributed to the non-uniform stiffness of the sole as you bend the shoe in stride, or simply because I have a pretty low-volume foot. Overall, I would not worry about this issue unless you regularly spend more than ~20 minutes on a normal ride pushing your bike.
David: I've done a bunch of hike-a-biking in the Transitions, and I've had a little bit of heel movement, but nothing that rose to the level that Dylan described. I think there are two takeaways here: (1) my feet are just fatter than Dylan's, and (2) the Transition does have a stiffer sole than average for this class of well-padded, gravity-oriented clipless shoes. While that certainly has its benefits on the bike (more on that in a bit), it does have its drawbacks when it comes to walkability.
On the Bike
Dylan: The first thing I noticed while using the Transition Clipless on the bike was that it is slightly easier to clip in than any other shoe I've used. This is no surprise: Ride Concepts states that this was a priority in the design process of the shoe. The Transition's wide cleat box is slightly less recessed than other shoes (such as the Five Ten Kestrel Pro Boa), making it so that the cleat has ample room around it for clipping into place in the pedal. This feature was especially welcome in situations where I needed to clip in quickly; like just getting started at the top of a technical feature, or needing to clip back in after putting a foot out for a corner.
During my time pedaling in them, the Transition Clipless shoes have been comfortable and quite efficient. The shoes are stiff enough so that I can put the power down into the pedals when I need to, but not so stiff that they are unforgiving and harsh.
That said, I think the Transition Clipless may be a little less stiff than I would personally prefer. On long, chunky descents, I have experienced some foot fatigue, specifically in my arches. I have a high arch, and since the nylon shank in the shoe does not extend through the entire sole, the shoe tends to flex underfoot, just forward of my heel. For this reason, I'm still not entirely sold on the EVA midsole and D3O impact-absorbing insoles. I tried the insoles in my Five Ten Kestrel Pro Boa clipless shoes to see if I could notice a difference, and I couldn't attribute any on-the-bike qualities of the shoe to the change in insoles, so it seems more that the Transition is just overall a bit softer than what I'd become used to with the Kestrel Pro Boa.
David: My take here is a bit different than Dylan's — I really like the stiffness of the Transition for this sort of shoe. They're definitely much less stiff overall than most lightweight, XC-oriented shoes, but stiffer than my typical go-to for a gravity clipless shoe, the Shimano AM9. And for my preferences, the Transition strikes a great balance here. I've found them to be supportive and do a good job of delivering power, while also being comfortable and well cushioned.
Where I'm less happy with the sole of the Transition is in its thickness. They're notably thicker than the AM9s, to the point that I actually found myself wanting to tweak my seat height when swapping between the two, and that added height came at a cost when it comes to pedal feel and ability to steer the bike through my feet. Being elevated farther above the pedal spindle felt, for lack of a better word, "tippy." In the Transition, I found it harder to find a solid balance point when dropping my heels through a corner in a way that was a bit unsettling.
Breathability & Weather Resistance
Dylan: Summer riding temperatures in Crested Butte and Gunnison tend to be between 60-85º F (15.6-29.4° C) . I found this temperature range to be a little warm for the Transition Clipless. The "welded," synthetic upper of the shoe doesn't offer as much heat loss as a lighter, thinner, more airy fabric would. On the other hand, I found the Ride Concepts Transition Clipless to be quite ideal for fall and spring riding temperatures of 40-60º F (4.4-15.6° C). And for spring and fall riding in Colorado (a generally drier place), I've found the water resistance of the Transition to be quite nice.
David: Yep. The Transition is pretty warm. I've ridden them in temperatures up to ~90° F (32.2° C) and while they're still tolerable in that range, I'd prefer something better ventilated once temperatures get that high.
And with all due respect to Dylan, as Blister's Pacific Northwest denizen, I'd slightly temper his take on how well the Transition holds up to wet weather. They're certainly more water resistant than many (much more breathable) shoes with more mesh in the uppers, but after prolonged exposure, the Transition will absorb a fair amount of water and turn squishy and sodden. Most riders probably won't have an issue here, but if you're riding in a ton of very wet weather, the Shimano AM9 is significantly better in this regard.
Some of that warmth and water absorption is certainly down to how protective the Transition is (there's a lot of padding), and if you're looking for a substantially padded shoe, the Transition is very much worth a look. The asymmetric ankle padding (the cuff is substantially taller on the inside than the outside) does a good job of protecting the ankle from bumping against chainstays and crank arms without feeling unduly bulky or hindering pedaling motion. Similarly, the toe box is quite substantial and offers very good protection from rock strikes and the like, should you throw an errant pedal stroke and get caught out.
Off the Bike
Dylan: The Transition Clipless has a durable, fairly grippy DST 8.0 Mid Grip sole that grips rock and trail quite well. This shoe has enough flex to it that it can conform to the ground and bend as I hike up very steep terrain, something that I've found stiffer shoes fail to do. These shoes are best suited for hiking in dry conditions, as they don't have deep enough lugs in the soles to be effective in wet conditions and mud. As I mentioned earlier, I have experienced heel slippage in these shoes that have only caused pain or irritation after about 20 minutes of walking in them. I've found this to be the only limiting factor of these shoes being absolutely stellar in off-the-bike hiking situations, for a clipless shoe.
Besides that, the shoe looks mostly casual and feels comfortable when driving or getting some food post-ride. Being less stiff than many other options, these shoes feel more natural to walk in on flat ground. No complaints here.
David: No disagreement here. The only thing I'd clarify is that, while the sole of the Transition is definitely less stiff than many (mostly lighter, less gravity-oriented) shoe options, it is on the stiffer side for a burly, gravity-focused shoe. Keep that in mind when we're talking about relative stiffness throughout.
Durability
Dylan: Durability has been one of the most impressive qualities of the Ride Concepts Transition Clipless. After 6 months in this shoe, it shows very minimal signs of wear. I've found the soles to be more durable than the Five Ten "dotty" outsoles I have used (of various Five Ten Stealth rubber compounds). After many instances of pushing my bike and walking in them, the soles look almost new.
The lace and powerstrap system has never failed me and remains very much intact. The upper of the shoe, despite frequently rubbing against cranks and brush, also shows very minimal signs of abuse. I expect my Transition shoes to last me at least another season.
David: No issues to report here either. The Transition seems to be very well constructed, and is holding up great for me as well.
Bottom Line
Riders looking for a durable, comfortable, well-protected clipless shoe should consider the Ride Concepts Transition Clipless. We've found the ideal climate to be on the cooler side for these shoes, as they do a great job in preventing the entrance of debris, a pretty good job of keeping out a bit of water, but are not the most breathable out there. They also have a nice balance of stiffness to allow the rider to push into the shoe as well as hike up very steep slabs of rock, neither falling on the super-stiff nor super-soft ends of the spectrum for shoes in this category.
That being said, the Transition Clipless would not be our first pick for hot climates. With minimal ventilation, the shoe can be quite hot on a sunny summer day. Also, riders with high arches who ride long, chunky descents may find they also run into foot fatigue issues with the Transition. But if you're looking for a burly, protective clipless shoe and the Transition Clipless sounds appealing to you, we'd highly recommend going to try it on.