When considering a new running shoe, there are so many similar-looking shoes on the market being made by so many different companies, it is virtually impossible to (1) know where to begin; (2) quickly figure out which one or two products from a given brand might work well for you; and (3) determine what products from other brands might be the most similar and also worth considering.
So in our new "Blister Brand Guide" series, we provide an overview of the entire product lineup of a brand; highlight how each product stands out from the rest of that brand's lineup; and help you figure out quickly and easily which shoe might work best for you.
In our individual product reviews, we go very deep into the details of particular products. With these Brand Guides, the goal is not Depth, but Breadth. Our Brand Guides and full reviews are designed to complement each other — provide a broad overview of entire company lineups, and then also very detailed reviews of individual products.
Adidas Terrex: Brand Background
Adidas has been a big name in the running world since the 1960's, when they developed the first specialist running shoe with the stated goal of "pushing athletic boundaries."
The Adidas Terrex line is the brand's foray into the trail running (and hiking) world. After a few years on the market, the Terrex line now includes shoes with a variety of cushioning and stack heights. Many models are also available in a waterproof / breathable Gore-Tex version.
Adidas is also a standout brand when it comes to more sustainable shoe construction. Many of their shoes are available in dye-free colorways, and a few models use recycled plastic yarns for the upper.
Adidas Terrex shoes tend to run a bit on the small side, and most models are also slightly narrower than shoes from brands like Altra or Topo Athletic. As always, it's best to try on shoes in person before buying, if at all possible. But to help you figure out which of Adidas' shoes you should consider, this Brand Guide will provide a general overview of each model's features and intended purpose. As always with our Brand Guides, shoes are organized from highest to lowest stack height, and in this guide we're covering the models in the Terrex line that are designed with trail running in mind, rather than hiking.
(Most Cushioned to Least Cushioned)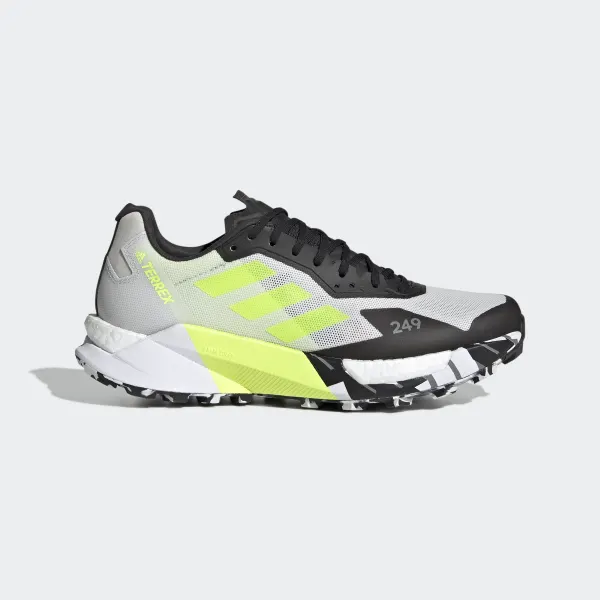 The Terrex Agravic Ultra is Adidas's long-distance option for technical trail running and one of its most feature-laden models. Highlights include a full-length bio-based TPE carbon plate sandwiched in between a midsole made from Adidas's proprietary "Boost" and "Lightstrike" foams, dual-layer Achilles protection, and a slightly wider toe box in comparison to many other of Adidas' trail models. The outsole uses the same Continental-brand rubber found on most shoes in the Terrex line, which seems to be fairly balanced as far as traction and durability are concerned — it isn't as soft / sticky as a mud-oriented outsole compound like La Sportiva's "Frixion White" compound, but it is more durable. If you're looking for a more protective and supportive shoe for long distances on technical terrain, the Terrex Agravic Ultra could be a good option.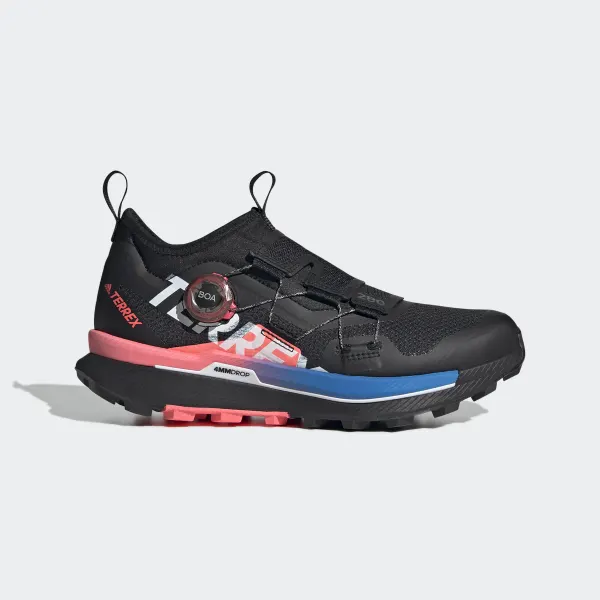 The Terrex Agravic Pro is a shoe designed for rugged terrain. With its high stack height, "Lightstrike" midsole, TPE plate, rugged outsole, and a boot-cut upper with a debris collar, there's little doubt your feet will be protected. All of this security comes at the expense of weight though, so the Agravic Pro is not the best option if you're looking to move fast on trail. Fit wise, the Agravic Pro uses BOA's dial-style "Fit System" instead of traditional laces. Doing so makes adjusting the tightness of the shoe on the fly extremely easy. If you're someone who enjoys fastpacking or outings with a combination of running, scrambling, and bushwacking, the Agravic Pro might be an option to consider.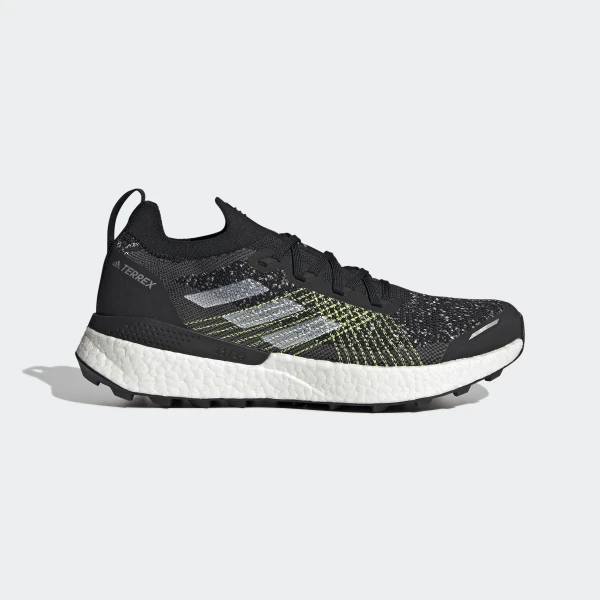 The Terrex Two Ultra is a plush, long-distance-oriented trail shoe. It has a relatively soft yet energetic TPU-based "Boost" midsole material known to provide excellent absorption and energy return, though at the cost of some added weight. The Ultra has a fairly wide fit and stretchy "Primeknit" upper, which should also improve comfort for bigger days on the trail. The shoe is probably best suited for long runs on less technical terrain due to its higher stack height, lower-profile lugs, softer cushioning, and stretchy upper. Like the shoes in Adidas' "Parley" line, the Terrex Two Ultra uses recycled ocean plastic in its upper material. So If you're looking for a plush shoe for slower-paced long miles on moderate terrain, the Terrex Two Ultra could be a good fit. Check out our full review for more info.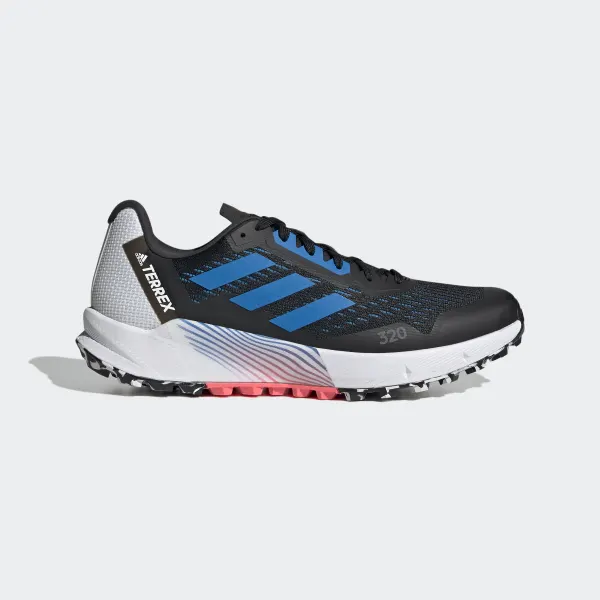 The Terrex Agravic Flow 2 is a slightly higher cushioned version of its predecessor, the Agravic Flow, and one of the most versatile trail shoes within the Terrex line. The Agravic Flow 2 features a full-length "Pro-Moderator" foil that extends beneath the midfoot for protection and stability, a midsole made from Adidas's "Lightstrike" EVA foam for balance and cushioning, a 360° mudguard complementing a breathable abrasion-resistant mesh upper, and a sticky outsole made from durable Continental rubber. The Agravic Flow 2 is a good bet if you're looking for a highly versatile shoe for long distances on mountain trails.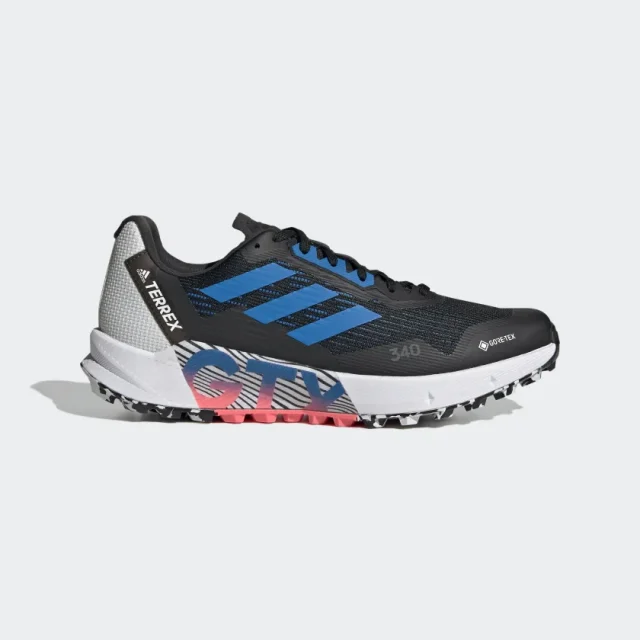 The Agravic Flow 2.0 GORE-TEX has the same construction as the standard version of the Agravic Flow 2, but with a waterproof / breathable GORE-TEX lining and a lace closure. If you like the looks of the Agravic Flow 2 but often run in cold, wet conditions, the Agravic Flow 2.0 GORE-TEX could be a good fit.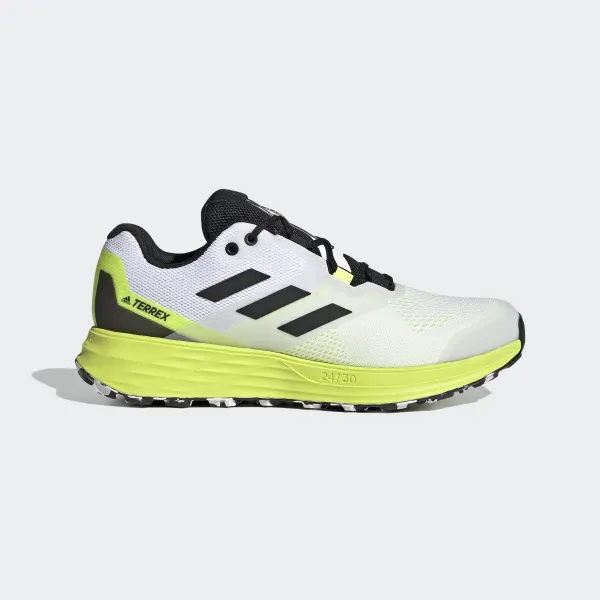 The Terrex Two Flow is a road-to-trail option from Adidas, similar to the Soulstride. It offers a modest outsole that won't inconvenience you on harder surfaces, a lightweight mesh upper that provides some added stability by hugging the foot, and a soft "Lightstrike" midsole to absorb impact. The Terrex Flow Two is probably best used for shorter runs or commutes that take you on a mix of mild off-road terrain and pavement.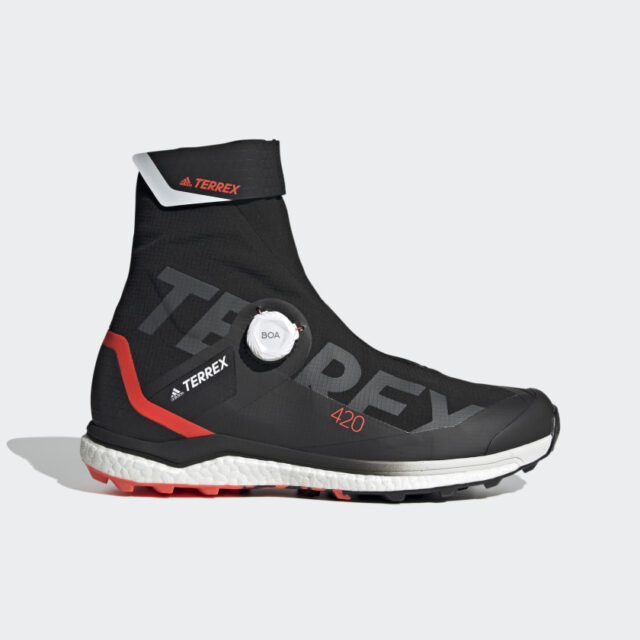 The Agravic Tech Pro is Adidas' answer to a mid-height, hiking-boot / running-shoe hybrid for technical terrain and extreme conditions. It has a dual-layer midsole similar to the Agravic Flow 2 (firm EVA upper layer and softer / springier Boost lower layer), which should provide a fairly cushioned ride — although the Tech Pro probably won't feel as plush as the Terrex Two Ultra. What really sets the Agravic Tech Pro apart is its upper. The Tech Pro has an ankle-height, water-repellent gaiter that zips closed over the inner shoe. It also has a BOA lacing system to provide a secure, easily adjustable fit. The Tech Pro could be a good option if you need a shoe that will keep your feet warm, dry, and free of debris when running in snow, mud, and/or scree — as long as you don't mind the extra weight that comes along with all of those features.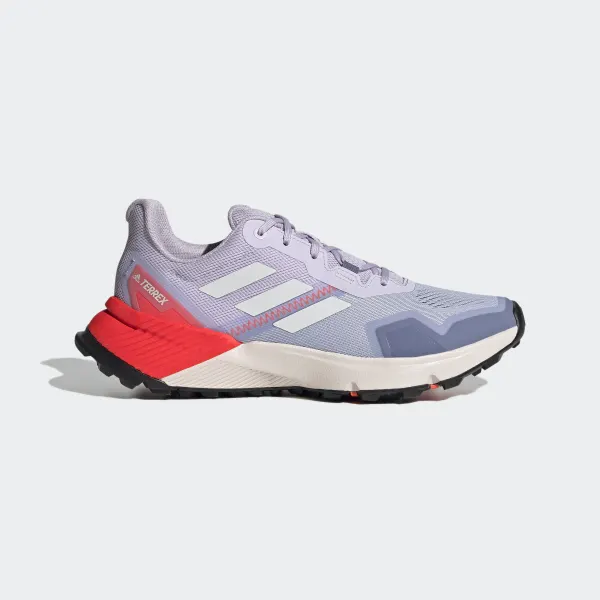 The Terrex Soulstride is intended to be an entry level road-to-trail shoe for folks venturing onto trails for the first time. As such, it's designed with a bit of road running in mind. The Soulstride comes with a hybrid 3 mm lugged "Traxion" outsole that transitions seamlessly between pavement and dirt, raised sidewalls for stability, a lightweight EVA midsole, and an engineered mesh upper that breathes well. With a high drop of 10 millimeters, the Soulstride will perform best on firmer surfaces without a ton of elevation change (and might not work well if you're a forefoot striker). If you are looking for a relatively inexpensive shoe for running on easy to moderate local trails, consider checking out this model.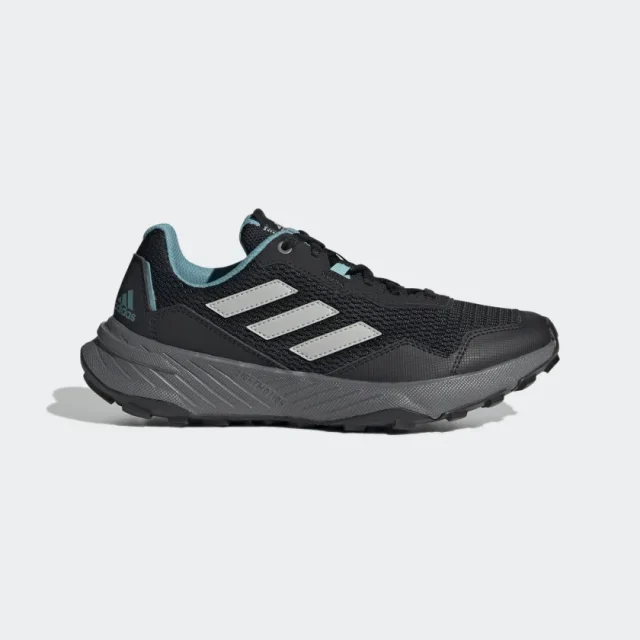 The Terrex Tracefinder is a shoe for general cross-training that can handle mellow trails. Similar to the Soulstride, it is equipped with Adidas's "Traxion" outsole — with the intention of helping the shoe hop between roads and trails — and a breathable mesh upper. At just $70, the Tracefinder is a good option for folks who don't run a ton of volume but want a shoe that can handle itself on trails if the situation presents itself. The Tracefinder likely won't be the most durable option in the Terrex lineup, but it might be the most affordable.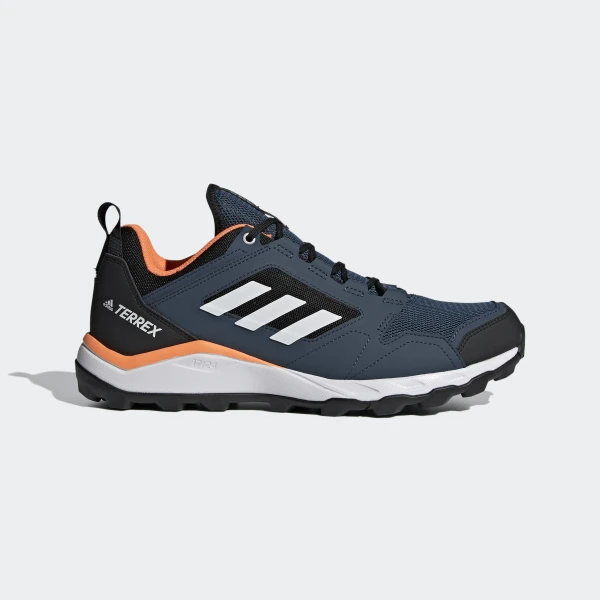 The Terrex Agravic TR is an affordable, all-round trail shoe that offers similar features to the Agravic Flow 2 at a lower price point. It has a standard EVA midsole that will likely be a bit firmer than the dual-layer "Boost" midsole on the Agravic Flow 2, an abrasion-resistant mesh upper, and a moderately aggressive outsole. The Agravic TR's lower price point does mean that it potentially compromises a bit on quality / durability — so there's a chance it won't hold up quite as long as Adidas' pricier options. But if you're looking for a moderately cushioned all-round shoe that will get you out on the trails for less than $100, the Agravic TR could be worth checking out.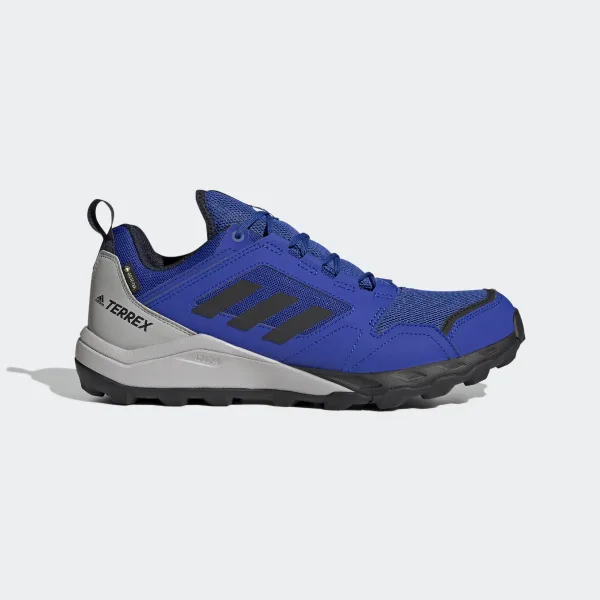 Like the Agravic TR, the Agravic TR GORE-TEX is intended to be an entry-level, affordable, all-round trail shoe — but it also has a waterproof / breathable GORE-TEX upper for extra protection from the elements in inclement weather. If you frequently run in wet / cold conditions and want an affordable, all-round shoe, the Agravic TR GORE-TEX could be a good fit.
Adidas Terrex Speed Ultra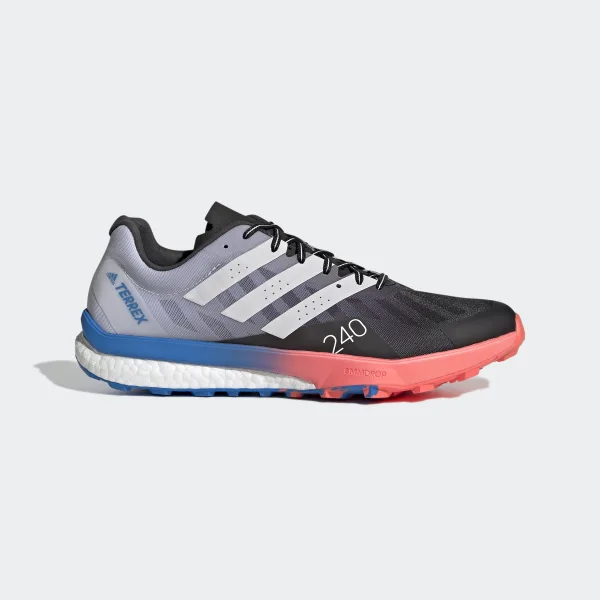 At 241 g, the Terrex Speed Ultra represents Adidas's lightest trail shoe, yet despite its minimalism, the Terrex Speed Ultra is still a supportive option for long-distance trail runs on mixed terrain. Taking advantage of Adidas's combination of "Lightstrike" EVA foam and TPU-based "Boost" midsole, the Terrex Speed Ultra delivers an impressive balance between cushioning and energy return. Continental rubber appears on the shoe's outsole in the form of a modest lug pattern that still performs well on loose surfaces. Finally, the shoe is rounded out by a minimalist mesh upper with a few abrasion-resistant weldings. The Terrex Speed Ultra leans towards a slimmer, more precise fit, making it a good option for short-distance trail races and workouts, as well as long distances for certain people — check out our full review of the Speed Ultra for the whole story.