When considering a new running shoe, there are so many similar-looking shoes on the market being made by so many different companies, it is virtually impossible to (1) know where to begin; (2) quickly figure out which one or two products from a given brand might work well for you; and (3) determine what products from other brands might be the most similar and also worth considering.
So in our new "Blister Brand Guide" series, we provide an overview of the entire product lineup of a brand; highlight how each product stands out from the rest of that brand's lineup; and help you figure out quickly and easily which shoe might work best for you.
In our individual product reviews, we go very deep into the details of particular products. With these Brand Guides, the goal is not Depth, but Breadth. Our Brand Guides and full reviews are designed to complement each other — provide a broad overview of entire company lineups, and then also very detailed reviews of individual products.
The North Face: Brand Background
The North Face is a storied brand with a history inseparable from mountain sports. Founded in San Francisco by Doug Tompkins in 1968, the company spent its first few seasons selling predominately climbing equipment. As the years progressed, The North Face's success widened its breadth, and the brand graduated from harnesses and ropes to backpacks, expedition tents, outerwear, and eventually their first line of run-specific apparel, "Flight Series," which launched in 2006.
Though The North Face has made trail shoes for quite some time, they've been viewed by many as secondary to their performance wear. As a brand, The North Face has a reputation for producing paradigm shifting pieces of gear, like their Rucksack, which was one of the first internal frame backpacks, or their Oval InTENTion shelter, a tent that changed the way designers thought about A-shaped tents. As players in the trail space witness to the sport's emphatic rise over the last decade, it was only a matter of time until creatives at The North Face directed their inventiveness in the direction of running shoes.
In 2021, The North Face launched 3 new sibling trail shoes to showcase their "VECTIV" technology, a patented platform uniting all of their disparate models. VECTIV is more of an approach to shoe design than a piece of hardware; it essentially consists of combining a performance plate made from either carbon fiber, Pebax, or TPU with a rocker midsole. This pairing was central to The North Face's first 3 models, and each shoe — the VECTIV Enduris, the VECTIV Infinite, and the VECTIV Flight — was then tuned specifically for different types of trail running. A framework like this preserves similarities across models while still notionally offering precision for things like distance, terrain, and speed. In 2023, The North Face rolled out "Vective 2.0," an updated version of their original system marked by the addition of a forked carbon footplate and high-rebound superfoam.
In general, North Face VECTIV shoes keep a pretty narrow aperture in terms of their design. Heel stack heights range from 21 mm to 32 mm, lug lengths hover between 3.5 mm and 5 mm, and heel-to-toe drops settle in at 6 mm for most of their models. While every North Face shoe has a pronounced rocker geometry, it's more subtle in models that use less rigid materials for their performance plates. Those models also tend to have better ground feel, but offer less protection. And while The North Face VECTIV shoes have had a reputation for running narrow, several models in their 2023 lineup benefit from an updated D-width last that should theoretically accommodate a broad set of foot shapes.
The North Face's VECTIV line is still relatively nascent, but growing quickly. After only a few years in the game, the principle models they currently have on offer introduce an impressive amount of features, indicative of the brands recommitment to making high performance footwear. In this breakdown, we'll go through the design of each of The North Face's shoes and speak to their intended purpose.
(Most Cushioned to Least Cushioned)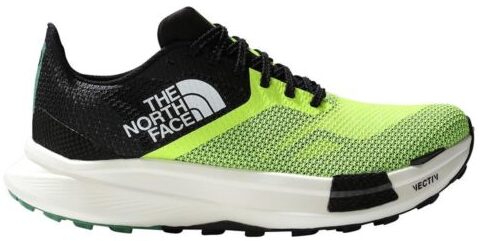 As TNF aptly puts it, the VECTIV Pro is "designed to win." It checks in as the brand's max-cushioned, race ready trail shoe intended for ultra-distance competition. Like its sibling in the VECTIV Sky, the VECTIV Pro features a "VECTIV 2.0" rockered midsole with a forked design carbon-fiber plate (but with the addition of stability wings to promote balance), a 3.5 mm lugged outsole made from TNF's proprietary "Surface CTRL" rubber, and a protective upper made from breathable materials. However, in contrast to the VECTIV Sky's modest stack height — a geometry ideal for navigating technical terrain — the VECTIV Pro's thick midsole is probably best suited for covering long distances on more runnable surfaces, like buffed out singletrack and fire roads. With all-day efforts in mind, TNF built the shoe on their updated D-width last that should theoretically accommodate a broad set of foot shapes. If you're in the market for a performance oriented maximal trail shoe for race day and don't mind shelling out the cash for a premium model, consider checking out a pair of the VECTIV Pro.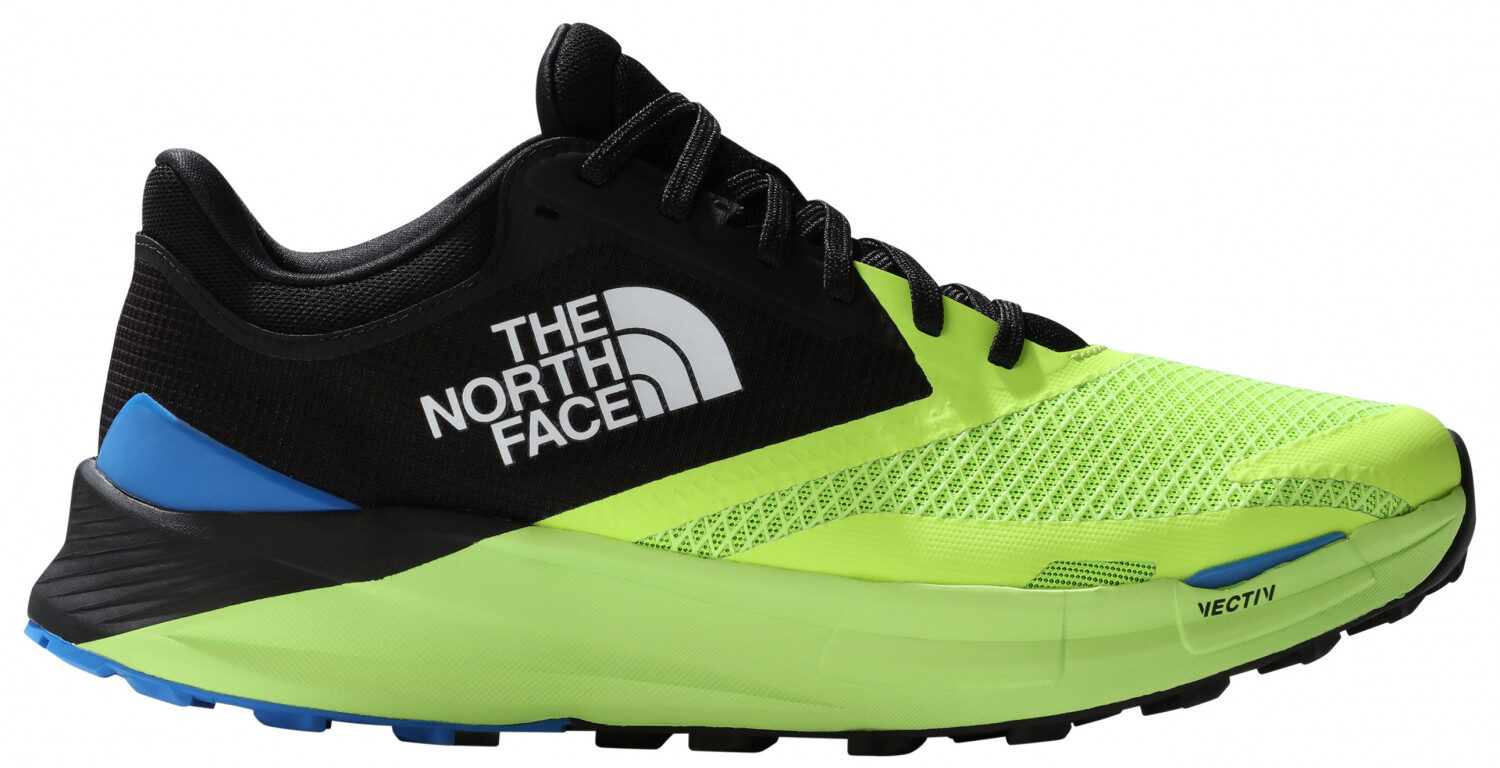 The VECTIV Enduris 3 is TNF's all-around maximal trail shoe designed for general training. It features a familiar dual-density rockered midsole with a 3D TPU plate that's forked at the heel and forefoot for stability and energy return, but has a higher stack height than the VECTIV Infinite 2. Its new 3D printed upper is complemented by tongue wings designed to reduce slippage and enhance comfort on longer efforts, and TNF built the shoe on their updated D-width last, so it should accommodate a broad set of foot shapes. To increase the VECTIV Enduris 3's stability, TNF included their standard 3.5 mm lugged outsole made from "Surface CTRL" rubber, a popular choice throughout their lineup. However, because of the model's higher stack height, performance plate, and overall heft, it's probably not best suited for technical trails that require precise balance and a ton of ground feel. That said, if you're looking for a shoe for long efforts on pretty runnable terrain — where weight isn't much of a concern — definitely check out the VECTIV Enduris 3.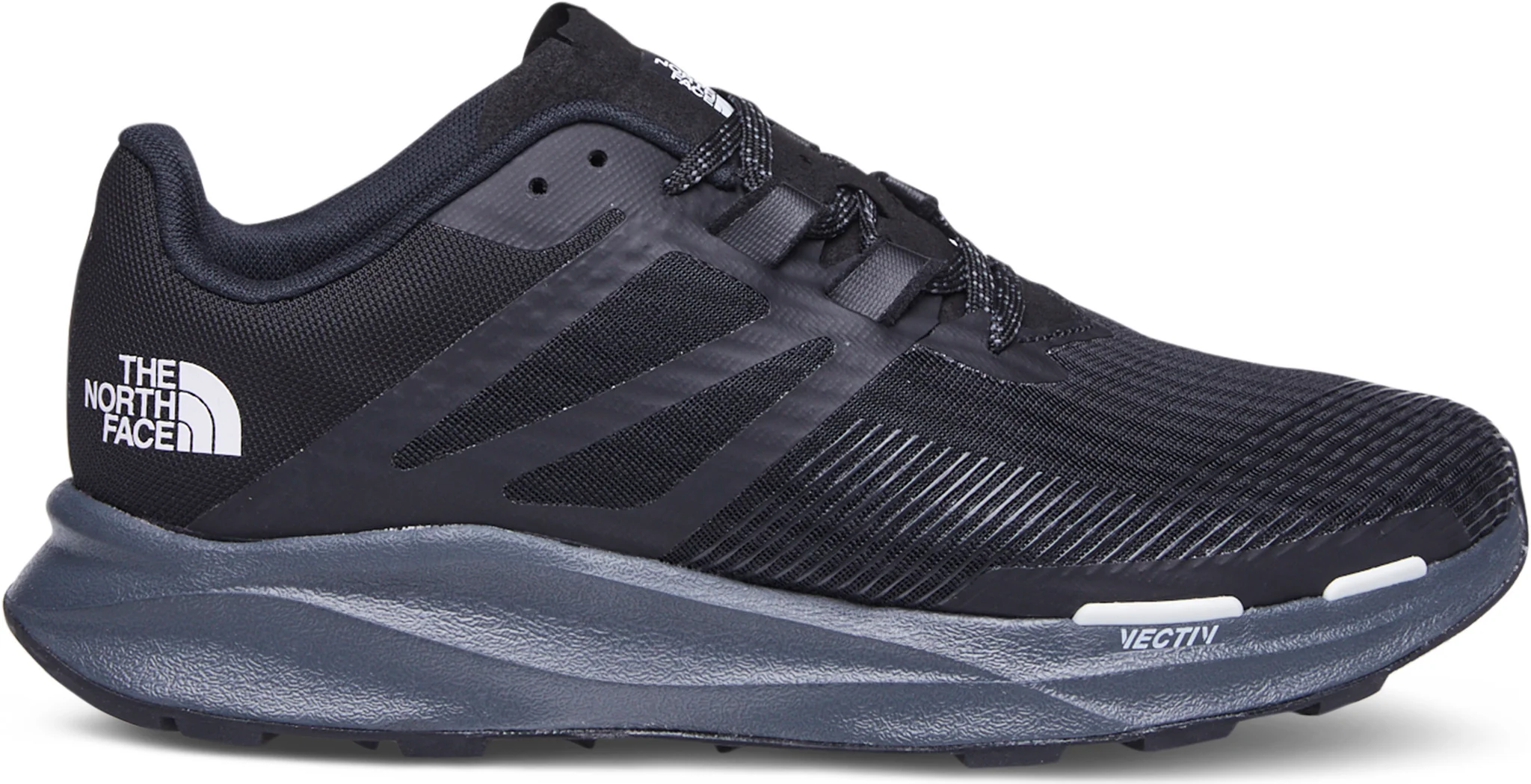 The VECTIV Eminus resembles the VECTIV Enduris 3 in many ways. It shares the same 3D TPU plate, 6 mm offset, "Surface CTRL" rubber outsole (with 3.5 mm lugs), and rockered geometry. Where the VECTIV Eminus differs is in its midsole material (single-density EVA foam) and its upper (TPU quarter-panel overlays applied to performance mesh). The VECTIV Eminus also has a slightly lower stack height than the VECTIV Enduris 3 and reduced padding on the tongue, so it likely won't feel as plush. However, many would still consider 30 mm of stack firmly in maximalist shoe territory, so the VECTIV Eminus shouldn't be thrown out as a long distance option; it's also a bit lighter than the VECTIV Enduris 3 too, so it shouldn't be dismissed as a shoe for workouts, either. If you're looking for a pretty versatile model for anything from weekday runs on town trails to longer runs on non-technical terrain, the VECTIV Eminus is worth kicking the tires on.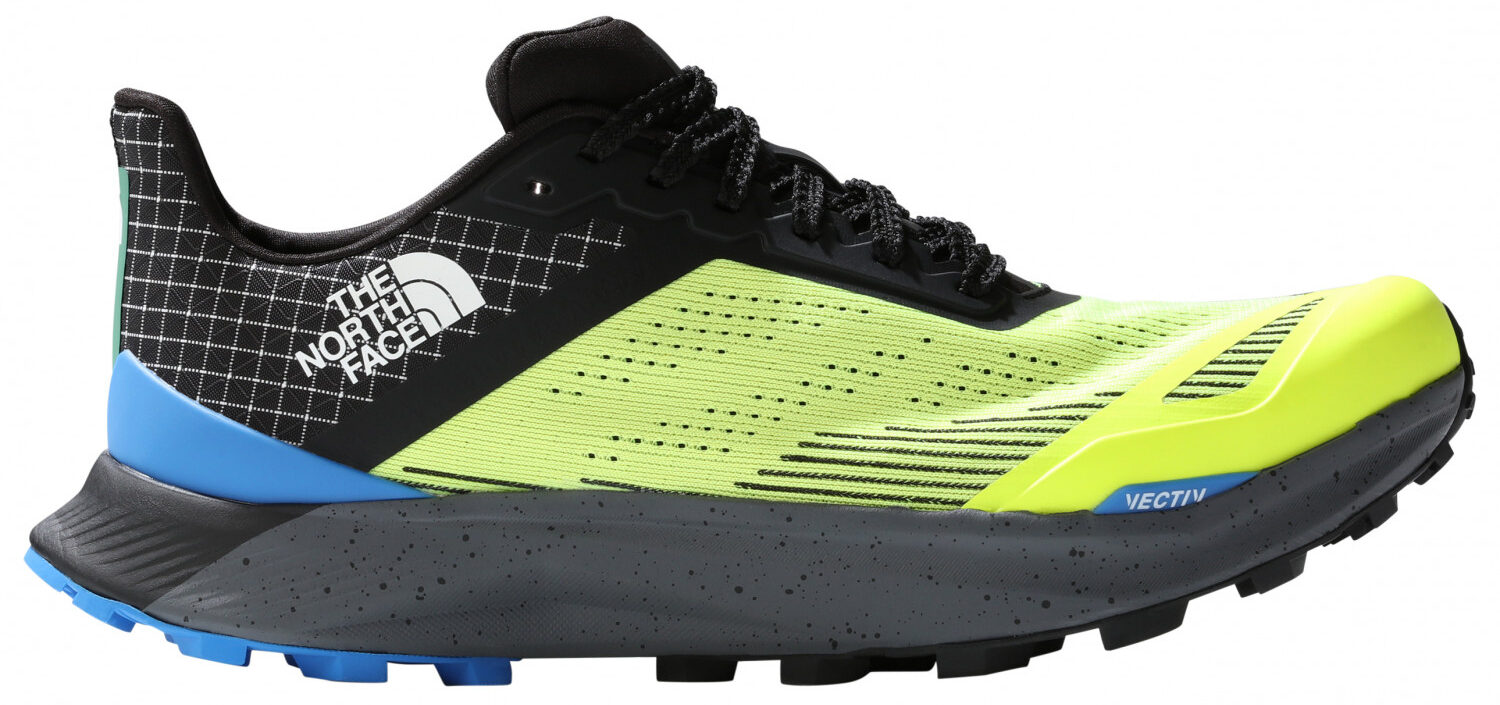 The VECTIV Infinite 2 is designated as the brand's model of choice for long days on technical terrain. As such, it features a rockered EVA foam midsole outfitted with a forked heel / forefoot, TPU plate for increased lateral displacement, and a 6 mm high-rebound Pebax drop-in insert for improved energy return. Compared to the model's first iteration, this current version has 10 mm greater toe spring, 1 mm more cushion, and 1 mm greater lug depth (going from 4 mm to 5 mm "Surface CTRL" rubber lugs on an outsole designed with soft-ground conditions in mind). Like the VECTIV Enduris 3, the Infinite 2 also comes with tongue wings to reduce slippage and is built on TNF's updated D-width last, so it should be able to comfortably handle a multitude of different foot shapes. If you're looking for a true mountain shoe with more cushion and a bit more versatility than the race-oriented Summit Sky, definitely check out the VECTIV Infinite 2.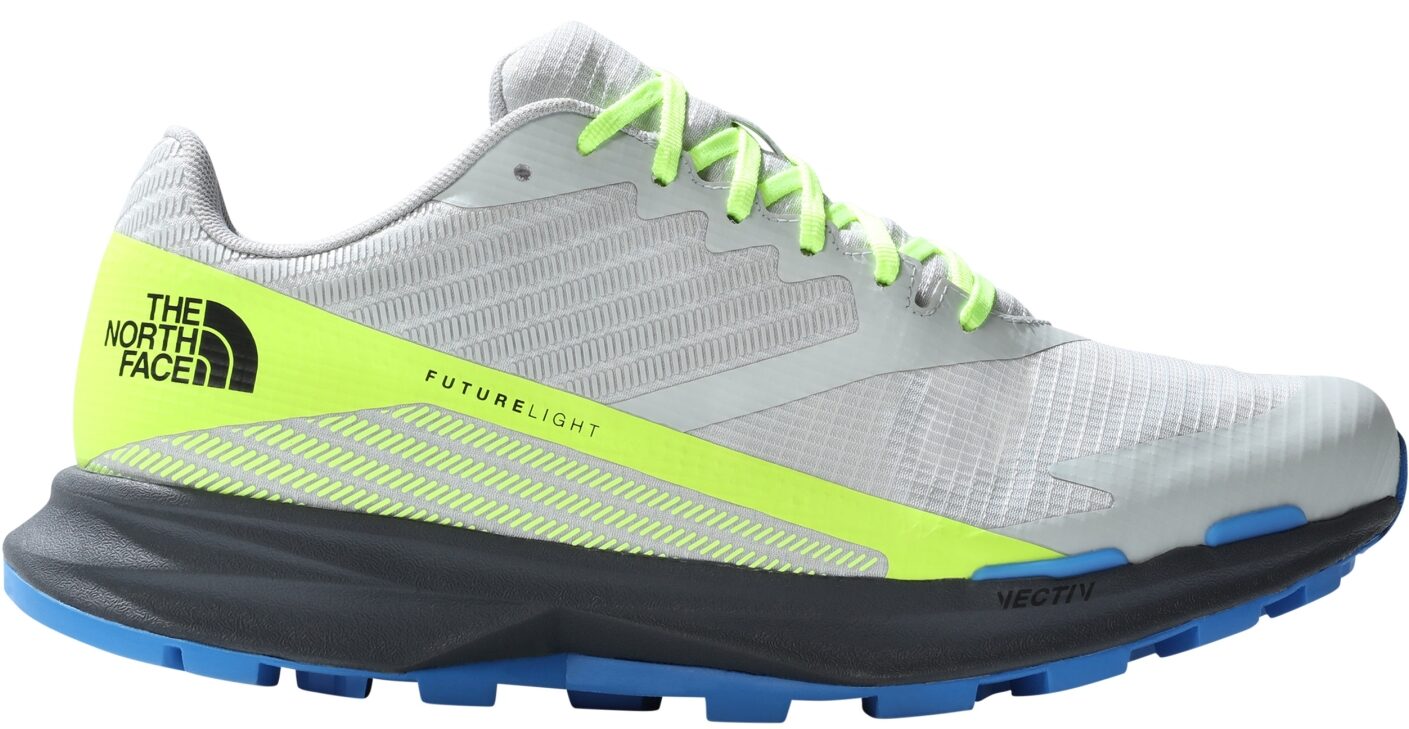 The VECTIV Levitum FUTURELIGHT is a shoe built for speed in sloppy conditions. It features 5 mm lugs on an outsole made from "Surface CTRL" rubber and a "FUTURELIGHT" membrane organized in a bootie-like construction. TNF applies their standard rocker geometry to the VECTIV Levitum FUTURELIGHT's midsole, which consists of a 3D TPU plate enveloped in single-density EVA foam. Ripstop material and no-sew TPU quarter harnesses round out the shoe's upper, which should provide good foot security at higher intensities. While there is technically a plate underfoot, the 3D TPU TNF uses probably won't be as resilient as traditional rock plates. Like with most waterproof shoes, breathability will likely suffer, but if you're looking for an uptempo trail shoe for cold / wet conditions, the VECTIV Levitum FUTURELIGHT could be worth checking out.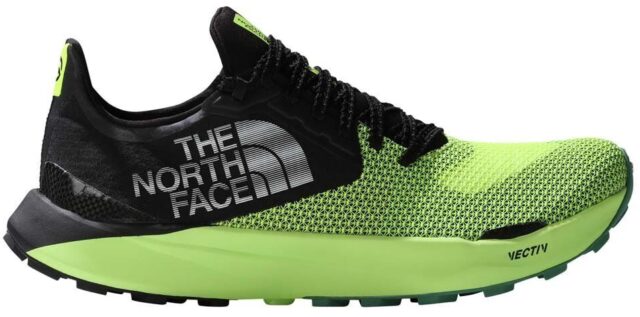 New for 2023, the VECTIV Sky carves out a niche in TNF's trail line as a performance-oriented model intended for rocky, technical terrain, what you'd typically encounter during a skyrace. In order to balance these two at times conflicting demands (i.e., ensuring that the shoe remains protective while optimizing it for speed), TNF layers on enough setting-specific features to help warrant its $199 price tag. The VECTIV Sky's foundation consists of a high-rebound foam midsole equipped with a 4 mm Pebax insert at the forefoot, "VECTIV 2.0" rockered geometry, and a forked design carbon-fiber plate for increased stability on technical terrain. A protective upper with a sock-fit entry for precise foothold and a 3.5 mm lugged outsole made from proprietary "Surface CTRL" rubber rounds out the rest of the VECTIV Sky's construction. Built on a narrow last and under 300 g in a US Men's Size 9, this shoe should feel agile and lightweight on the technical trails it was designed for. Though its relatively low stack height could limit its range for ultra-distance runs, it's an option worth checking out if you plan on toeing the line at any VKs or sub-ultra distance mountain races this summer.