COROS Vertix 2
Test Location: Marin, CA
Test Duration: 250 miles
Size: OSFA
Stated Features:
1.4-inch LCD display
Sapphire glass screen
Working temperatures of -22 to 122°F (-30 to 50°C)
140 hours of GPS use on a single charge
60-days of general use on a single charge
10 ATM (100 m/492 ft.) water resistance
Color topographic maps
32GB of music storage
Optical heart rate sensor
Communicates with all 5 major satellite systems
Allows tracking for run, indoor run, trail run, track run, hike, mountain climb, bike, indoor bike, pool swim, open water, triathlon, multisport, ski, snowboard, XC and ski touring, gym cardio, GPS cardio, strength, training, speedsurfing, windsurfing, whitewater, flatwater, rowing and indoor rower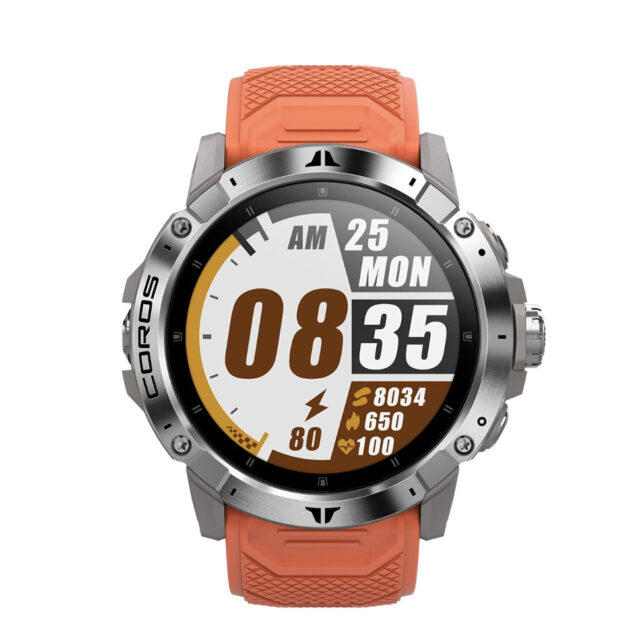 Stated Weight: 89 g
MSRP: $699.99
Reviewer: 5'9", 150 lbs / 175 cm, 68 kg
Intro
The growing popularity of fitness wearables in recent years, combined with the rising interest in endurance sports, has helped stoke demand for niche, high-end GPS watches, in turn creating a competitive climate that has revved up consumer technology in some really fascinating ways. COROS, the Chinese wearables company just a handful of years in the making, is considered by many to be an industry newcomer, but they've already assembled a fleet of sleek GPS watches that have found their way onto the wrists of some of running's biggest names.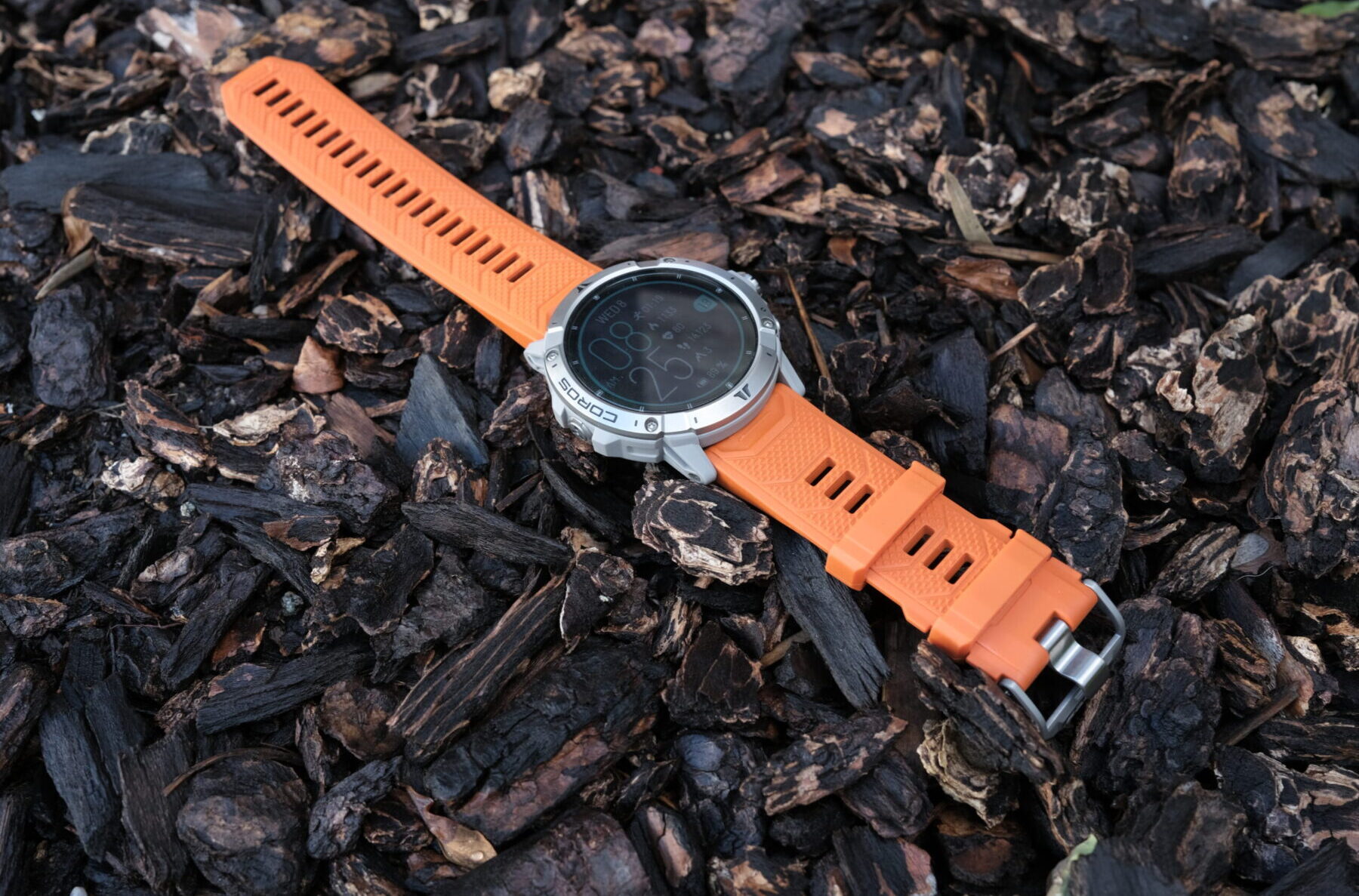 The updated Vertix 2 is the most feature-laden (and expensive) watch in COROS' lineup, less of a fitness wearable than a hulking survival MRI machine. On paper, the watch's exhaustive list of properties — from its ECG sensor to its ability to remotely control a camera — seemed simultaneously impressive and overindulgent. In practice, the physical stature it needs to house all of these features began to give off similar feelings; at what point does taking the idea of "do-it-all" literally begin to subtract from a watch's functionality? I've started to test the Vertix 2 in the hopes of answering that exact question in the future. But for now, we'll take a closer look at the watch's features, and then follow up with a full review down the road.
Features
Starting with the hardwear, the Vertix 2 isn't shy about making its presence known on your wrist. It has a 1.4-inch LCD display made from a "diamond-like coated sapphire glass" set in a titanium, 50 mm bezel with 26 mm interchangeable straps. While COROS watches have been lauded for their general lack of weight, the Vertix 2 is a glaring exception; tipping the scales at a stated 89 g, its stocky appearance doesn't belie its heft, which seems like an outlier in the performance wearables category. For context, here's how the Vertix 2's stated weight compares to a handful of other popular models of multisport GPS watches, including the original Vertix.
52 g / 1.8 oz — Polar Vantage 2
55 g / 1.9 oz — Suunto 9 Peak Pro
53 g / 1.9 oz — Garmin Forerunner 965
66 g / 2.3 oz — COROS Apex 2 Pro
70 g / 2.5 oz — Garmin Enduro 2
76 g / 2.7 oz — COROS Vertix
79 g / 2.8 oz — Garmin Fenix 7
89 g / 3.1 oz — COROS Vertix 2
While many smartwatches have adopted touchscreens in recent years, that kind of interface poses a problem for exercise wearables whose users are constantly doused in sweat. If you've ever tried to stab at your phone in the middle of a hot run, you'll understand why brands like COROS and Garmin mainly stick to a conventional button layout on most of their watches. The Vertix 2 features two on the right side of its bezel interrupted by a protruding crown that COROS calls their "Digital Dial" that is both a 'select' button and scroll knob. The watch requires you to long press the crown to unlock the display prior to use, theoretically to prevent accidental pauses during activity, but so far I've found that precaution to serve as more of an inconvenience than a safety net.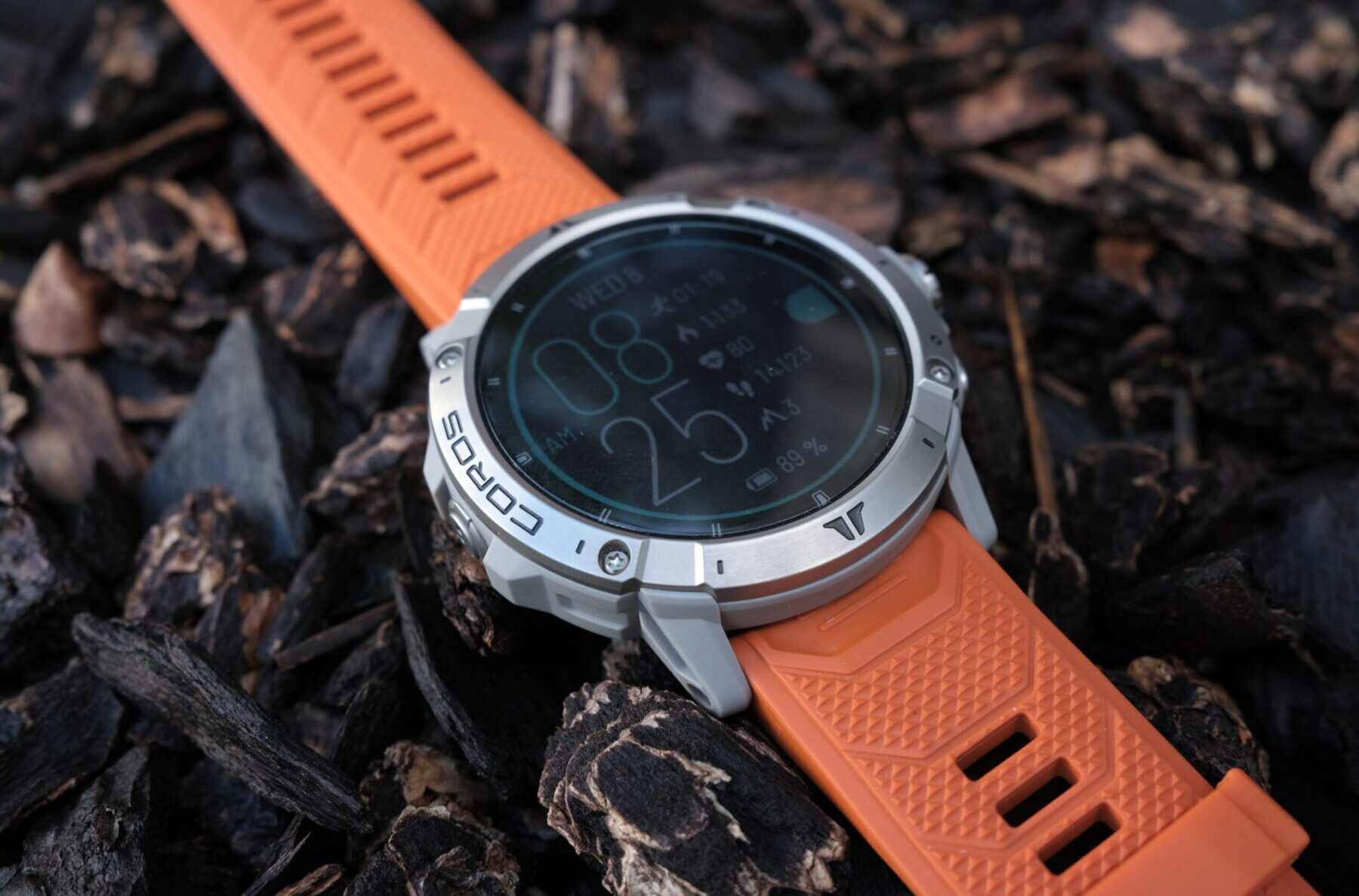 In terms of UI and software, I'm frankly unsure of where to begin. The Vertix 2 just does so much that it might be tough to make real headway in a "First Look" review like this, especially since I've yet to really explore most of its capabilities outside of tracking my early spring runs. In the coming weeks I'll play around with the watch's 32GB of onboard storage for music; test its ability to remotely control the "Insta360" action camera I do not own; monitor my cardiac health with its ECG sensor; determine what quality of sleep I get with the watch's REM tracking; in addition to the myriad of other metrics it keeps tabs on with its optical heart rate sensor, barometric altimeter, accelerometer, compass, and thermometer.
Acknowledging that I've yet to tap much of the Vertix 2's capabilities, I can comment on how it's handled the basic run tracking I've used it for so far. One of the benefits of the watch's gargantuan LCD screen is that it allows for up to 8 data fields on a single page, a feature I've taken advantage of on mountain runs when I'd like to be able to see more involved metrics like grade, cadence, ascent / descent, etc. The color topographic maps also gain from the watch's impressive screen; but while they do appear lucid and high-resolution, COROS does not include labels nor easily recognizable landmarks, so I'd imagine that using them to navigate could prove difficult.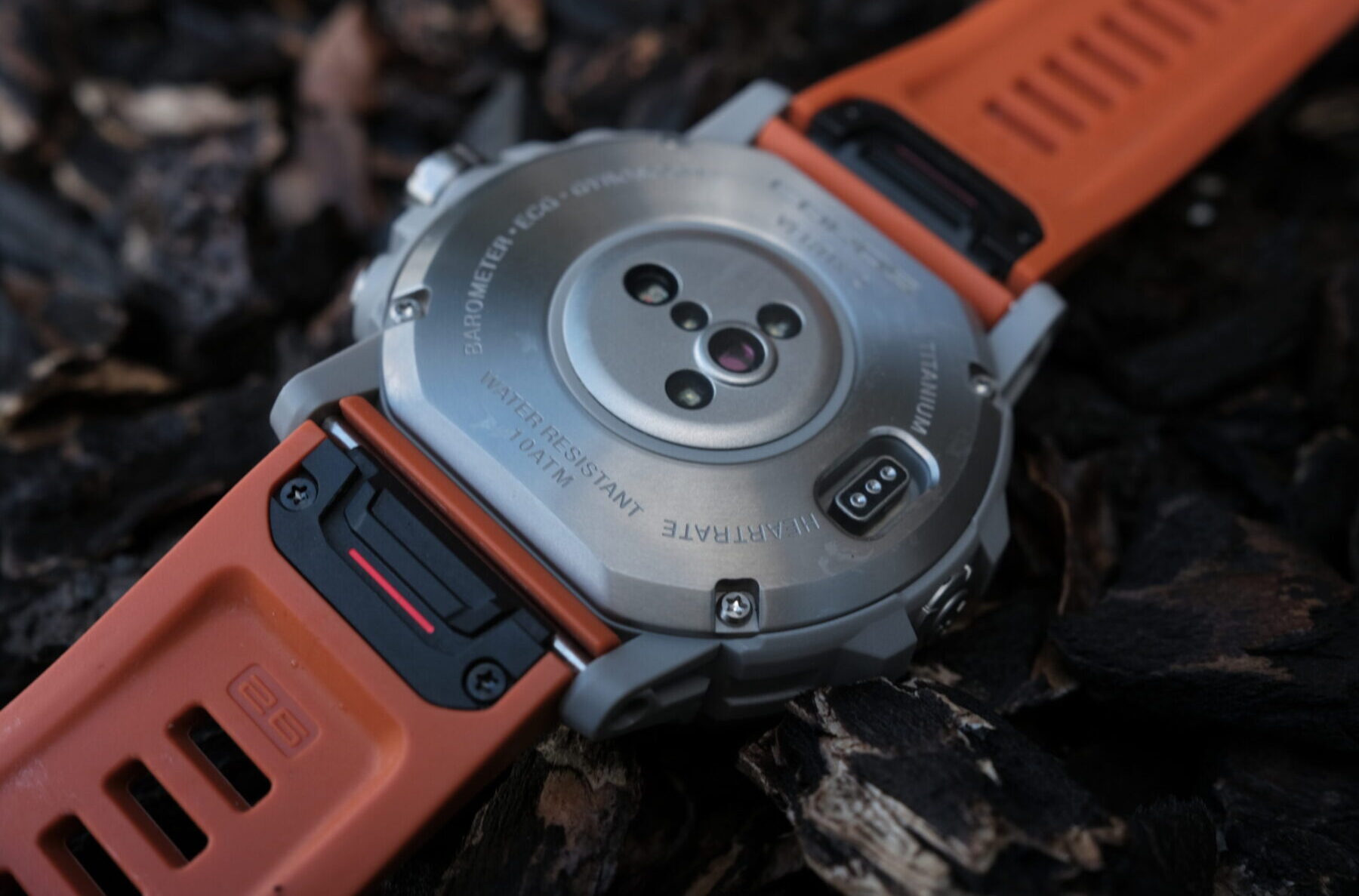 That said, the Vertix 2's GPS accuracy has been excellent so far (the watch has access to all five major satellite systems and acquires a strong signal almost instantaneously) so at least you should be able trust your bearings if you do wander off track. And for day-to-day use, the distance the watch has tracked for my runs corresponds almost identically to the high-precision route-building tools I use on my computer, so hopefully unexpected bonus miles due to spotty GPS will be a thing of the past.
While not a complete Luddite, I'm by no means the most tech savvy guy out there, which is coming to bear in the limited way I've interacted with the Vertix 2 so far. I feel like I've gotten a solid read on how it performs as a GPS trail / mountain running watch but have yet to really explore the bevy of other tools at its disposal. My forthcoming full review will be written with a broader lens to encompass all that COROS has packed into a piece of gear meant to live on your wrist.
Some Questions / Things We're Curious About
Will the watch's weight / size start to become irritating on longer runs?
Relatedly, what if I can't make it through the night wearing the Vertix 2? Should I just forget about sleep tracking?
Does the Vertix 2's battery perform as advertised?
I'm personally curious about how many features aside from tracking my runs I'll end up using on a daily basis after I've spent more time using the device. And on that note, what sort of people should really be considering this fully-featured a watch?
Will COROS do anything in the form of software updates to address potential flaws / make UX improvements?
Bottom Line (For Now)
After early testing, I think the Vertix 2 in some ways succumbs to the strain of the near-infinite things it's designed to do. Its impressive battery life and phenomenal GPS accuracy — two aspects runners I know prize the most — at times can feel overshadowed by the watch's hulking size and slightly confusing UI. Whether or not the Vertix 2's bevy of features I have yet to fully explore are enough to redeem its weaknesses will be something I'll sort out ahead of my forthcoming full review.
Intro
The proliferation of training software, advancements in wearables, and the popularity of social media platforms such as Strava have made exercising with a GPS watch compulsory for many runners. A byproduct of this upswell in activity tracking is the arrival of budding technology companies to what was once a pretty territorial marketplace staked out by big brands like Garmin, Suunto, and Polar. However, since launching its first product in 2016, COROS, the Chinese wearables company, has done well to elbow its way into the conversation. Their premium multi-sport GPS watches are known reputationally for their lack of weight, impressive battery life, and quick activity upload times. COROS was also quick to partner up with an elite roster of runners from nearly every discipline, nabbing all-time greats in both Kilian Jornet and Eliud Kipchoge.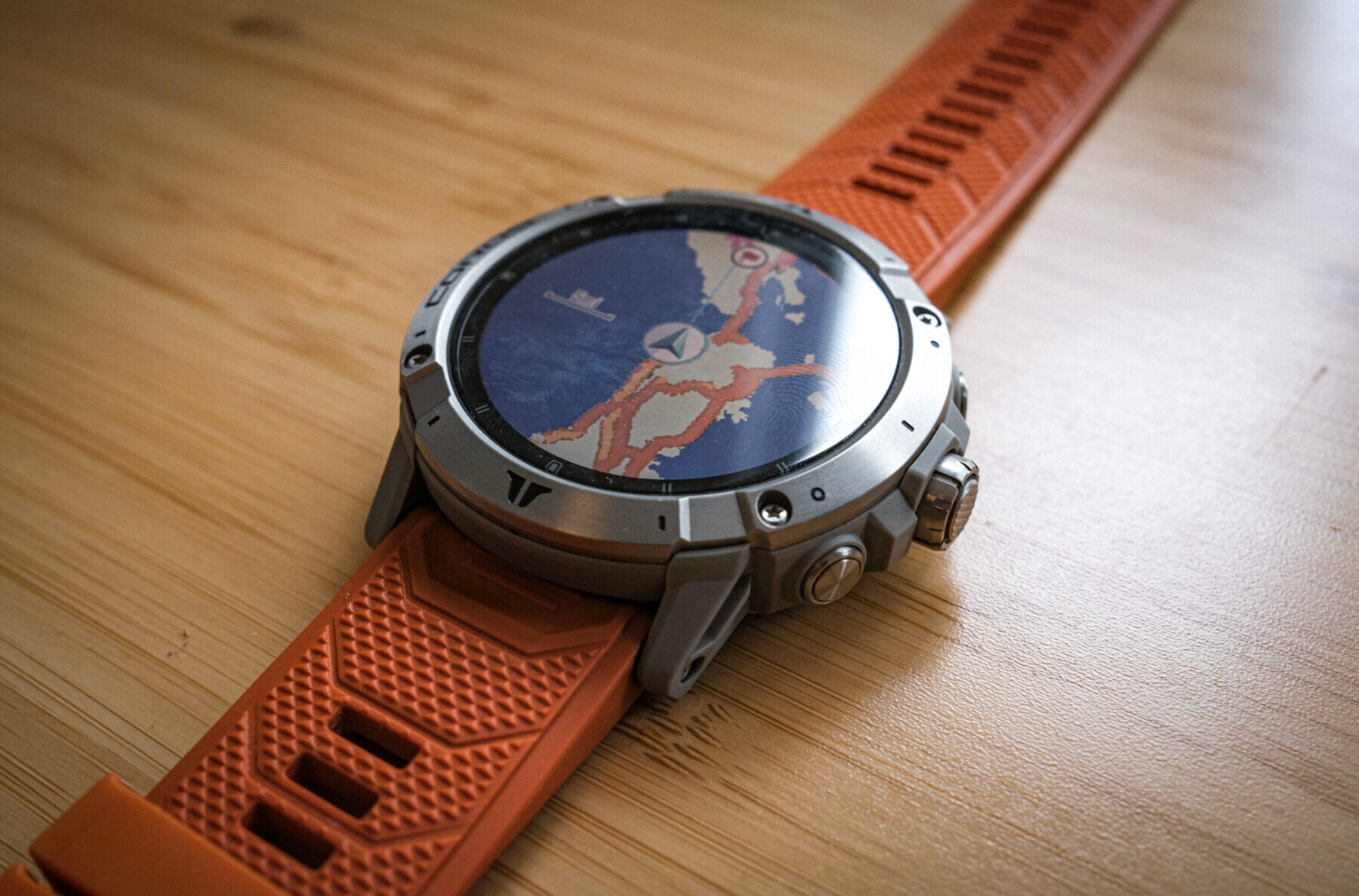 The updated Vertix 2 is the most feature-laden (and expensive) watch in COROS' lineup, less of a fitness wearable than a hulking survival MRI machine. On paper, the watch's exhaustive list of properties — from its ECG sensor to its ability to remotely control a camera — seemed simultaneously impressive and overindulgent. After spending close to a month with the Vertix 2 strapped to my wrist, this same sentiment slowly began to replicate itself in practice, too. At the same time, I can appreciate how much effort COROS's software team has put into the Vertix 2; it's a dynamic piece of technology that's easy to marvel at, grabbing both the attention of consumers and COROS's competition alike. In this review, I'll detail the watch's litany of features (focusing on the ones I happened to interface with frequently) before fleshing out who I think could benefit from it the most.
Hardware & Fit
The Vertix 2 is, colloquially, a "unit." It's by far the largest GPS watch I've encountered since I started routinely wearing one almost ten years ago, which says a lot considering how hell bent wearable tech has been on slimming their products during that timespan. Then again, for what COROS asks the watch to do, its hulking appearance shouldn't come as a surprise. The Vertix 2 has a 1.4-inch touchscreen LCD display made from a "diamond-like coated sapphire glass" set in a titanium, 50 mm bezel. On the back face of the watch, COROS has installed a charging port and an optical heart rate sensor, the latter used to measure heart rate, ECG data, and blood oxygen levels. A conventional button layout takes up the right side of its frame, with two buttons set on either side of a protruding crown COROS calls their "Digital Dial," which is both a 'select' button and scroll knob. The other side of the watch is spare, save for a barometric altimeter port.
While the Vertix 2 does have a touchscreen, I found its application to be pretty limited. I really only used it to scroll haphazardly through widgets while I wasn't on the go, but it did track well and was easy to navigate. My fingers would likely be too sweaty to be of any use during workouts anyway, so I appreciated how prominent and tactile the side buttons / scroll knob were. My only real complaint has to do with the watch's automatic lock function that requires you to long press the Digital Dial to unlock the display to stop an activity. I understand the role it plays in preventing accidental pauses, etc., but it became an annoying barrier over time, especially when I wanted to access information in the middle of a hard effort.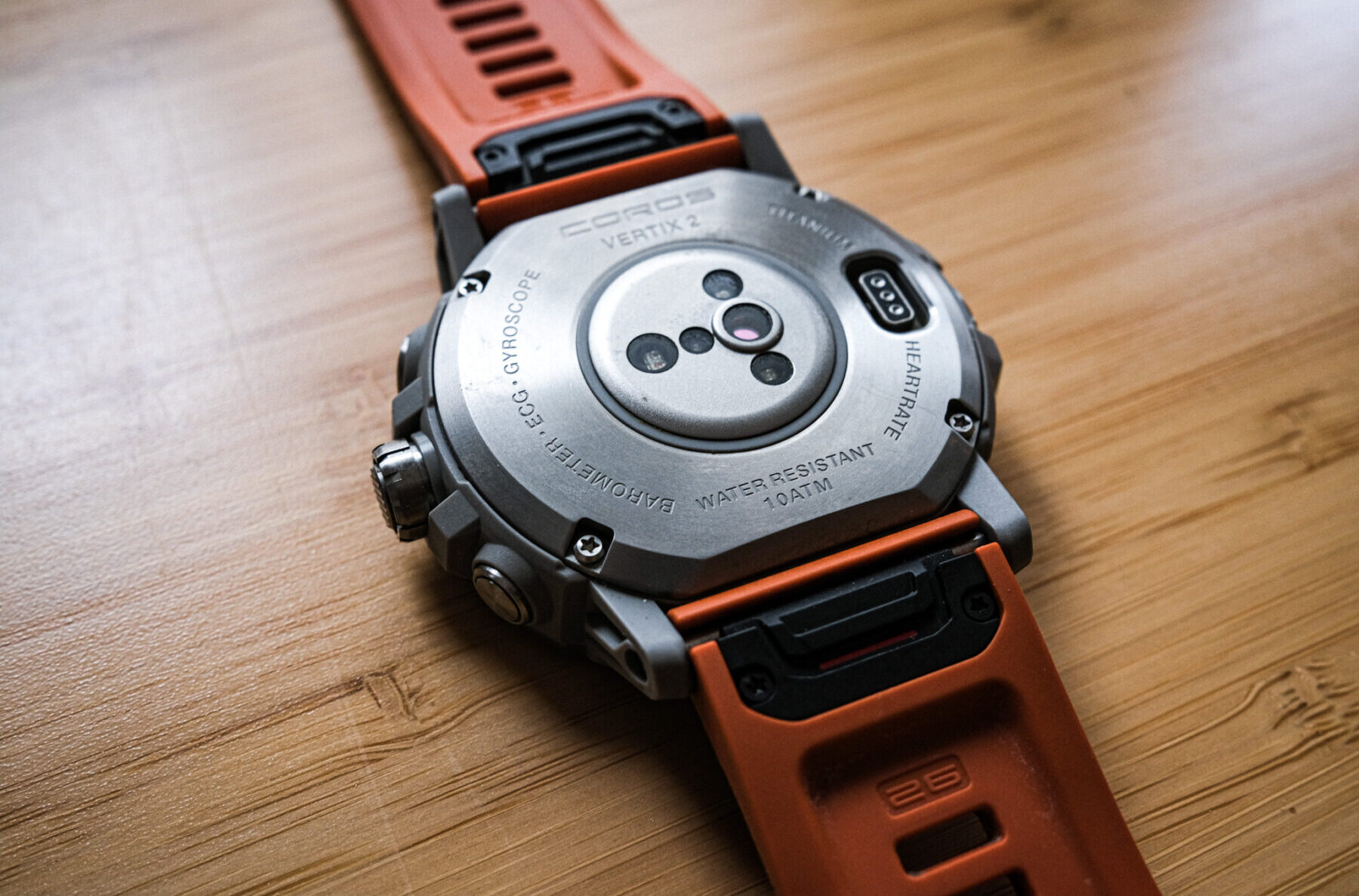 The 26 mm interchangeable bands that come with the Vertix 2 attach to either side of the watch via a quick-release style hitch that allows them to be swapped quickly sans tools. For the duration of my testing, I chose to replace the standard rubber strap that's studded with holes with an aftermarket velcro one because I felt like the added precision it afforded did a better job of fastening the watch to my thin wrist while running. I include this aside only to call attention to the Vertix 2's ungainly weight. Tipping the scales at just under 90 grams (mine measured at 88 g), the watch's stocky appearance doesn't belie its heft, which seems like an outlier in the performance wearables category. For context, here's how the Vertix 2's stated weight compares to a handful of other popular models of multisport GPS watches, including the original Vertix.
52 g / 1.8 oz — Polar Vantage 2
55 g / 1.9 oz — Suunto 9 Peak Pro
53 g / 1.9 oz — Garmin Forerunner 965
66 g / 2.3 oz — COROS Apex 2 Pro
70 g / 2.5 oz — Garmin Enduro 2
76 g / 2.7 oz — COROS Vertix
79 g / 2.8 oz — Garmin Fenix 7
89 g / 3.1 oz — COROS Vertix 2
I've written about my conviction that the best pieces of gear are the ones that seamlessly seem to disappear when you're using them, like the pair of shorts that follow your stride instead of hemming it in, or the shoes that feel like an extension of your own anatomy. I was never really able to achieve that (lack of) sensation while wearing the Vertix 2; even ratched down with a velcro strap, it still shifted around, making for a pretty turbulent arm swing that never let go of my attention. This is a safe space so I'll readily admit to not having the stockiest wrists, but even if I did have the forearms of someone who's hung drywall for 30 years, I still think the Vertix 2's 89 g weight would be hard to ignore. As will be reiterated later in this review, the watch's sheer physical size is just another reason why I think its ideal audience is actually quite small.
A Note On Features
If it hasn't already become clear, I approached the Vertix 2, which is technically a multisport adventure watch, from the perspective of a freshly thawed trail runner hungry to get some miles in before work and on the weekends. In full transparency, I did not have the bandwidth nor interest to meticulously test out every one of its features. I did not use the Vertix 2 to control the Insta360 action cam I do not own, nor did I take advantage of its Bluetooth connectivity to listen to music, though it can do both. And while I attempted to wear the watch through the night to harvest my sleep data, I kept on waking myself up by unconsciously knocking its outsized titanium bezel against my forehead, so it quickly found its way onto my nightstand.
What I can speak to is the Vertix 2's compatibility as a watch for ultrarunners / mountain athletes, so this section of the review will focus on areas of particular importance to that demographic in particular.
Activity Mode, Mapping, & GPS
I've griped about the watch's dimensions before, but one of the positives of having such a large display is the amount of information you can gather on a single screen. With a little customization, either on the watch itself or on COROS's app (which will then sync to the watch via Bluetooth), you're able to organize up to 8 data fields per page. In the context of trail running, a sport that relies on a bunch of different metrics for both performance and safety, I found this to be incredibly useful on longer efforts when I was curious how much vert I had accumulated, what percent incline I was on, my altitude, how much daylight I had left, time elapsed, etc.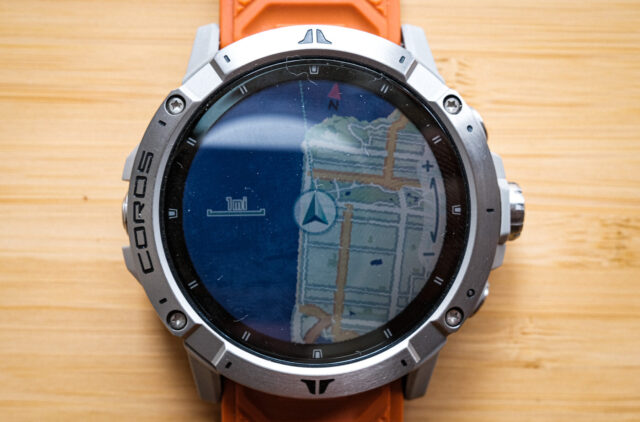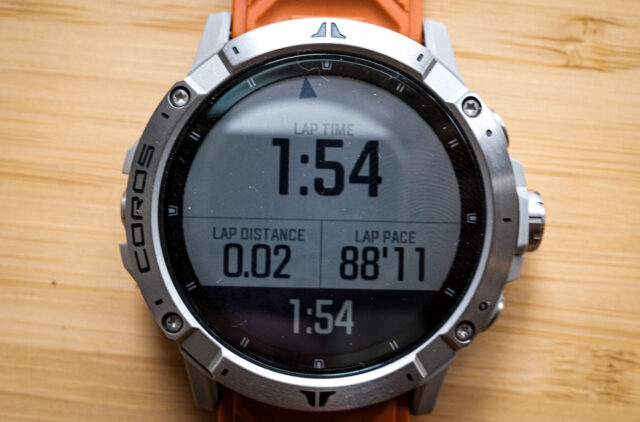 In a similar vein, COROS's software is equally data driven once your run is wrapped. They've included a ton of metrics that diagnose performance, which can be scrutinized on the watch itself, though it's probably easier to consult COROS's smartphone app. Curious after one of my workouts, I appraised how the watch thought I performed. Clicking into my activity file, I was presented with stats like my average heart rate and cadence, as well as a bunch of other proprietary metrics COROS came up with that I'm slightly less confident in, like "Running Performance," "Fatigue," "Power," and so on.
Circling back to the Vertix 2's LCD screen, a feature I'm trying to rescue after lobbing some heavy criticism at it earlier, I do think it really complements the watch's navigation function, particularly in how clearly topo mapsets appear from preloaded routes I created on my desktop. (You're unable to create courses on COROS's companion app to sync directly to the Vertix 2, nor do they let you hop routes over from Strava, so actually getting a .GPX file onto the watch feels like quite the runaround.) Once loaded and selected, you'll see your position relative to your route and nudged if you deviate from it. However, unlike the navigation function I've used on watches like the Garmin Fenix 7, COROS's maps don't include any labels, there are no turn-by-turn directions, and the display is only available if you're in "Navigation" mode, so getting a sense of your location depends — arguably too much so — on your knowledge of the area.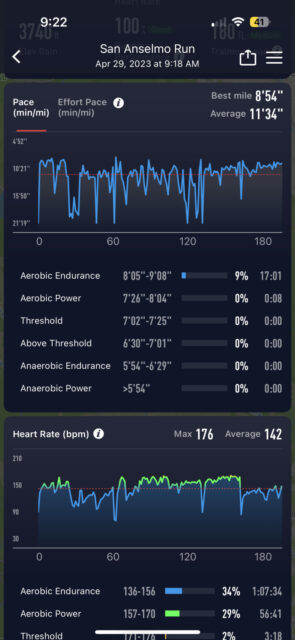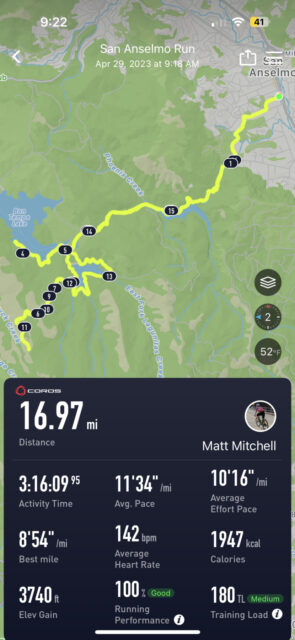 As far as GPS accuracy is concerned, the Vertix 2 is one of the only multisport watches to feature dual-GNSS satellite support, considered the highest consumer-grade GPS currently available and a selling point COROS really tries to push. In layman's terms, dual-GNSS GPS allows the watch to receive multiple frequencies from different satellites, in theory reducing signal acquisition time, improving accuracy, and minimizing issues caused by interference from buildings / foliage. However, dual-GNSS isn't the watch's default mode of position tracking because it places such a strain on battery life (reducing it from 140 hours to 50), so in order to actually use dual-GNSS, you need to dig into the settings to activate it. Because most of my runs with the Vertix 2 took place on urban-adjacent trails free from tree cover, I kept the watch's GPS in its standard mode (GPS/QZSS) and experienced no issues with sloppy tracking or distance inaccuracy when compared to the high-precision route-building tools I use on my computer.
Battery Life
I've made a tradition out of planning some hellish fastpacking trip in the Sierra every summer, and up until just last year, I always needed to bring an external battery / charging cable to pump new life into my GPS watch. Even on conservative settings, most devices used to expire after 10 to 14 hours, in my experience, far short of the 30- to 40-hour pushes I typically set out for.
The Vertix 2, along with models like the Garmin Fenix 7 and Enduro 2, make up a new crop of so-called "adventure" watches designed partly with ultra-distance efforts in mind. I'd argue that the defining feature of this category is battery life, the metric that mapping, timing, and everything else depend on. With (reportedly) up to 140 hours of burn time in regular GPS mode, 240 hours in "Ultra" mode, 50 hours in the aforementioned dual-GNSS mode, and up to 60 days of general use, the Vertix 2's battery life is impressive by all accounts.
Like most runners I know, I own only one GPS watch, but my training varies wildly between the steady beat of weekday runs when I'm out for 1-2 hours and big mountain days when I could be moving for 10 times that long. While using the Vertix 2, I was unburdened from feeling like I'd inevitably be stuck chasing a charge, regardless of what I was doing (I plugged the watch into the wall a whole 3 times in the 6+ weeks I've had it). The independence this gave me quickly became my favorite feature, one that I think could be appreciated by both enterprising endurance athletes out for multiple days and recreational runners who take a more casual approach to exercise.
On Trail
It'd be quite the stretch to call most of the activities I recorded with the Vertix 2 adventures. Unfortunately, I started using it at the dawn of spring, and with the absurd snowpack we're confronted with here in California, I was unable to get up into the mountains, nor was I successful in mustering the fitness for a run befitting the watch's potential. Instead, the Vertix 2 kept me company on my local trails as I steadily increased my training volume, which reached a cruising altitude of about 13 hours a week for the past month and included a weekly long run lasting anywhere between 3 and 5 hours (i.e., pretty standard for folks who routinely train for / run ultras consistently).
Within just a few days it became quite clear that the Vertix 2 was ill-suited for this type of use. Now, the watch barely broke a sweat keeping up with all the data I asked from it, but therein lies the problem — aside from maybe a week or two during the summer, I'd seldom tap into all of the performance specs of this $699 watch. Instead, what I was left with was an expensive and cumbersome piece of technology that filled me with a nagging sense of guilt every time I put it on just to run a measly four miles in a city park.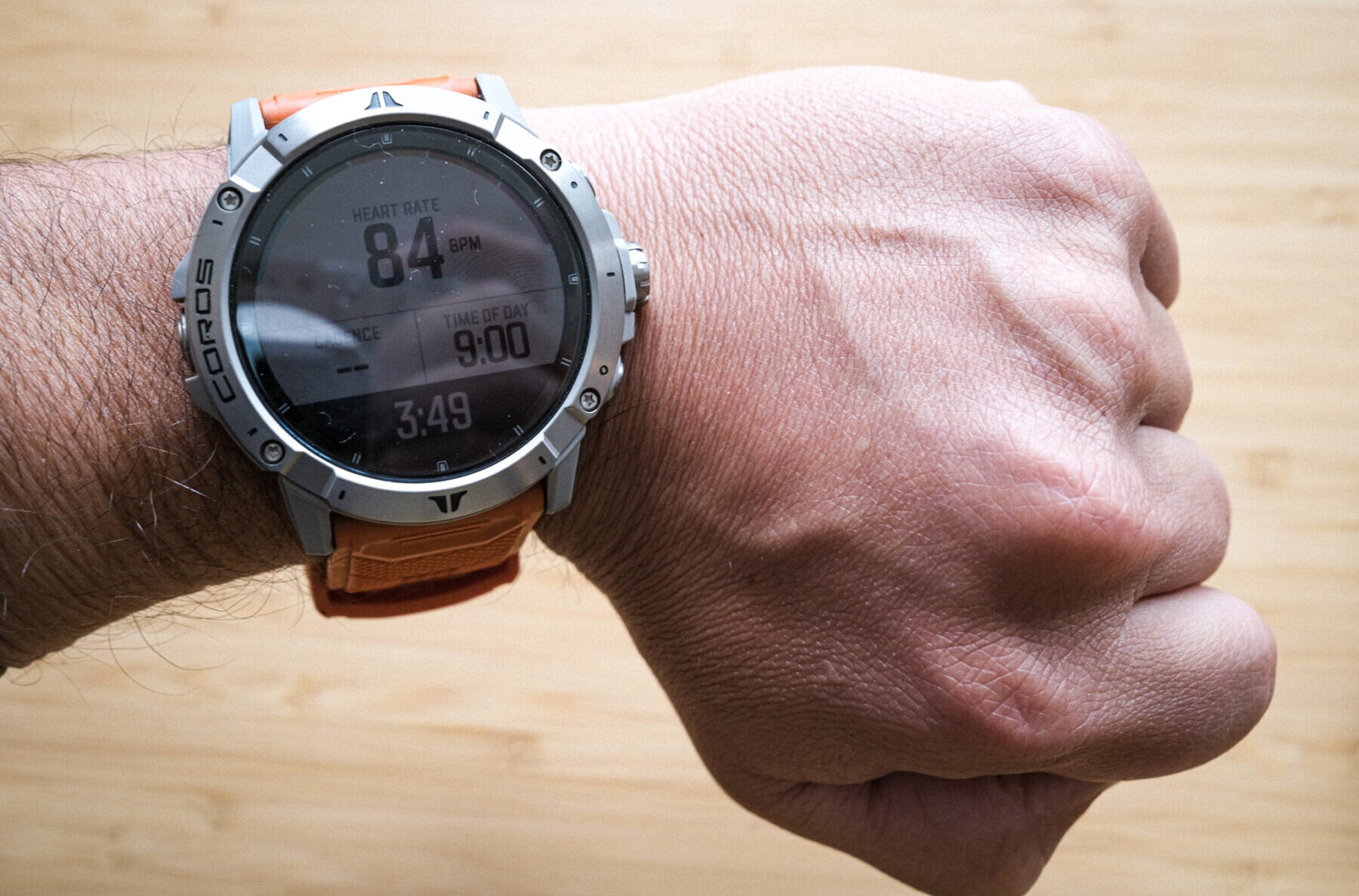 Removing what maybe can be chalked up to user error on my part, the Vertix 2's features that I did interact with on a daily basis worked flawlessly. In its standard GPS mode, the watch's battery life lasted me several weeks off a single charge; the supersized display enabled me to collect all of the data I wanted available at a glance on a single page; and the stats I cared about, like heart rate, mileage, and vertical gain, were all spot on in my estimation. The intuitiveness and simplicity of COROS's smartphone app is worth acknowledging here too. After I wrapped up a run, the Vertix 2 uploaded my activity's data in less than a minute, much faster than the often dragged-out process I've become accustomed to from years of using Garmin's software.
Still, other areas of the watch felt much less polished. The scroll knob jutting out from the side snagged on clothing frequently, and its auto-lock function, which forced me to long-press the dial every time in order to access the display, frustrated me in growing increments during testing. The Vertix 2's mapping, a feature that I think will draw many to the watch in the first place, also came across as slightly mailed in compared to what other multisport GPS watches currently offer. Without labels and place names, I had trouble orienting myself in new areas, and while I don't often use turn-by-turn directions, their absence on the Vertix 2 poked a hole in my confidence in the watch. With as many features as COROS managed to pack into the Vertix 2, why are the ones that I think an "adventure watch" should leverage the most seemingly limited?
Who's It For?
Frankly, I had a hard time coming up with a demographic for the Vertix 2. It has worked its way into a paradox by virtue of its capabilities, a device that's so elaborate and powerful that it's likely complete overkill for most runners. As such, the Vertix 2 is probably best suited for folks who own multiple GPS watches, those who might rotate between a lightweight, uncomplicated model for recording weekday runs — like COROS's still capable but much more affordable Apex 2 — and a burlier, expedition-style model reserved for ultras and other extremes. I can tell you that that population is likely pretty small, but if you belong to it, the Vertix 2 could be worth the investment. Though still with a few corners in need of smoothing, its battery life and GPS accuracy alone are breakaway features you'll definitely want to have if you're planning a major huck.
Bottom Line
As trail running and other off-road endurance sports continue to rise in popularity in the US, the market for multisport GPS wearables used to track those activities has grown more and more competitive, with new players like COROS arriving to challenge established big-name brands. This arms (err, wrist?) race often looks like a back and forth between who can cram the most features into their highest-end watch, and while this competition may drive technological advancement, does it actually produce the best product?
I still think the Vertix 2 in some ways folds under the near-infinite things it's expected to do. Its impressive battery life and phenomenal GPS accuracy — two aspects runners I know prize the most — at times can feel overshadowed by the watch's imposing size and slightly confusing UI. Spread too thin, features that should be a priority for an "adventure" watch, specifically mapping / navigation, come across as well-intended but otherwise unfulfilled. However, because most of my gripes are software related, I'm hopeful that COROS will continue to revise the Vertix 2 so that it can eventually come within range of its potential. For now, I think most runners will find that one of the brand's more pared-down models, like the Apex 2 or Pace 2, will better suit their day-to-day needs out on the trails.