When considering a new running shoe, there are so many similar-looking shoes on the market being made by so many different companies, it is virtually impossible to (1) know where to begin; (2) quickly figure out which one or two products from a given brand might work well for you; and (3) determine what products from other brands might be the most similar and also worth considering.
So in our new "Blister Brand Guide" series, we provide an overview of the entire product lineup of a brand; highlight how each product stands out from the rest of that brand's lineup; and help you figure out quickly and easily which shoe might work best for you.
In our individual product reviews, we go very deep into the details of particular products. With these Brand Guides, the goal is not Depth, but Breadth. Our Brand Guides and full reviews are designed to complement each other — provide a broad overview of entire company lineups, and then also very detailed reviews of individual products.
Columbia Montrail: Brand Background
Montrail has been a mainstay in the trail running world since the early 2000's, when the brand sponsored many of the top ultra runners and trail runners in the sport. Now, as a sub-brand of Columbia, Montrail shoes continue to offer many of the features that made them so popular in years past. All Montrail shoes are now sold under the Columbia name and labeled as "Columbia Montrail" shoes.
Columbia / Montrail shoes generally follow a more "traditional" model, with heel-to-toe drops mostly in the range of 8-10 mm and moderate stack heights. While Columbia / Montrail shoes don't run particularly narrow, the forefoot of most of their shoes is a bit narrower and more pointed than shoes from brands like Altra or Topo Athletic, which have much wider toe boxes. One other perk of Columbia / Montrail shoes is that many models often go on sale for $60-$80, making them a good option for runners looking for a more affordable shoe.
Many models are available with Columbia's OutDry waterproof / breathable membrane in the upper. Like other waterproof upper technologies, OutDry provides protection from the elements at the cost of decreased breathability.
In this breakdown, we'll go through the features and intended purpose of each shoe in Columbia / Montrail's lineup. The shoes are organized from highest to lowest stack height.
(Most Cushioned to Least Cushioned)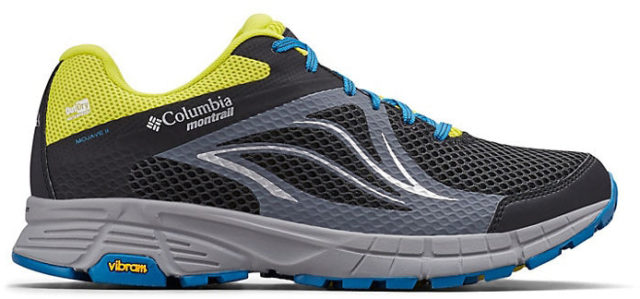 The Mojave is Columbia's most cushioned trail shoe. While the Variant offers a similar amount of cushioning, the Mojave has a more aggressive, trail-oriented outsole. Its 4 mm lugs and Vibram-rubber outsole should provide solid grip on most trail conditions, more so than the Variant. The Trail II's "FluidFoam" midsole material provides cushioning and decent energy return / rebound, while the OutDry waterproof upper offers additional protection in wet conditions. If you're looking for a dedicated trail shoe from Columbia / Montrail and appreciate more cushioning, the Mojave Trail II Outdry may be a good option.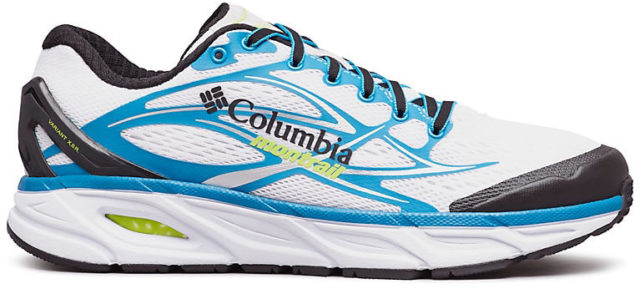 The Variant is designed for runs that combine roads and less technical trails. The shoe's moderately high stack height should provide good shock-absorption, and its midsole uses a combination of FluidFoam and Columbia / Montrail's new PearlFoam cushioning, which is designed to provide a springy / energetic feel similar to Adidas' Boost foam. The harder outsole compound is designed to maximize durability and efficiency on hard surfaces, though that harder rubber and the Variant's lower-profile lugs may compromise traction on wet / loose trails (particularly compared to the Mojave Trail II's softer, more aggressive rubber outsole). If you regularly switch between roads and trails and want a well cushioned shoe that will perform well on both, give the Variant X.S.R. a closer look.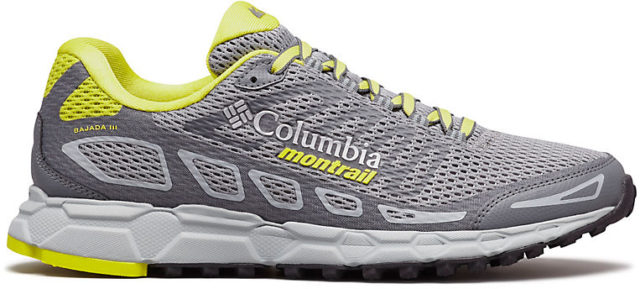 The Bajada III offers a moderately cushioned package with a more aggressive outsole than the Mojave or Variant. The Bajada III's lower-profile FluidFoam midsole is more efficient than the previous two shoes, though it'll be a bit more comfortable and "plush" than some of the next few shoes. It also features grooves in the outsole to allow the shoe to flex during each stride. The Bajada III's outsole uses Columbia / Montrail's sticky Gryptonite rubber and very widely spaced 5 mm lugs for traction on wet or loose terrain. It's also got a "Trail-Shield" rock plate in the forefoot. Because of the softer rubber used in the outsole, the Bajada may wear down a little faster than a shoe like the Variant if you usually run on hard surfaces. But if your typical runs include a lot of looser and / or wet terrain and you like a moderately cushioned shoe with a higher drop, the Bajada III is worth a look.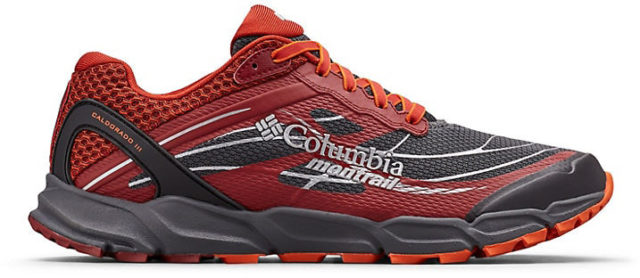 The Caldorado offers a more supportive option for runners who need a shoe with moderate pronation control. Its "FluidGuide" system uses different midsole foams in the midfoot of the shoe to provide additional support and stability. Because the FluidGuide system just uses different midsole foam densities rather than hard plastic stability inserts, it may give the Caldorado a smoother ride than other "stability" running shoes. Together with the full-length rubber outsole and forefoot rockplate, this technology makes the Caldorado a good option for runners who want a protective, supportive shoe that doesn't feel too clunky and overbuilt.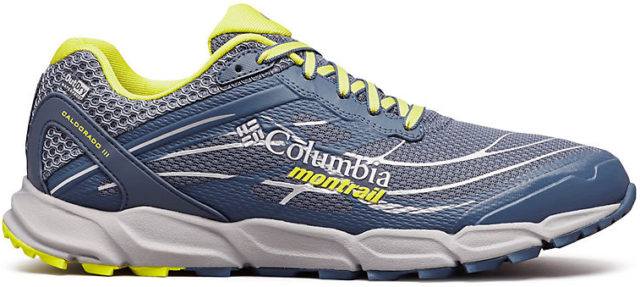 This shoe takes the moderate pronation control and protection of the original Caldorado and adds a waterproof / breathable upper. This should add comfort in cold, wet conditions, but will reduce breathability. If the Caldorado III catches your interest but you want something that will keep your feet warmer and drier in nasty weather, give this shoe a look.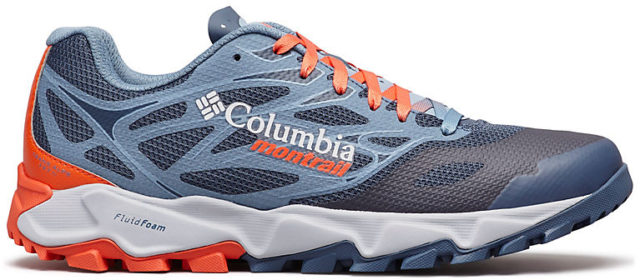 As you might have guessed from the name, this shoe is designed to tackle mountainous terrain. Its fairly low stack height should offer improved stability on technical terrain vs. the shoes above, while the full-length rubber outsole and forefoot rock plate provide ample protection from sharp trail obstacles. Its aggressive outsole and larger lugs are designed to provide traction on variable terrain. The Trans Alps F.K.T. II also has a water-resistant overlay on the forefoot. While this won't keep your feet as dry as a fully waterproof / breathable upper, it should help shed and repel water from wet vegetation or creek crossings. If technical mountain trails are your thing, the Trans Alps F.K.T. II might be a good fit. And if you want a limited edition colorway and don't mind paying $10 more, check out the Trans Alps F.K.T. II.UTMB.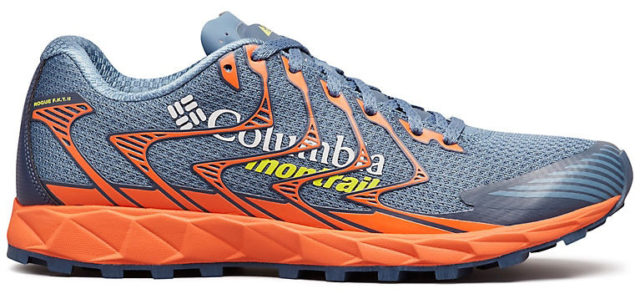 The Rouge F.K.T. II is a lighter, faster option designed to perform on up-tempo runs without sacrificing protection. Its minimal mesh upper has lightweight 3D printed overlays to provide some structure and support. The midsole uses the same FluidFoam material found in most of Columbia / Montrail's shoes to provide a mix of cushioning and energy return. The Rogue F.K.T. II's outsole has moderately aggressive, widely spaced lugs that should provide traction on technical terrain without feeling particularly inefficient on smoother trails. It's also got a minimal midfoot rockplate for stability and protection on rocky trails. If you like the cushioning and protection of the Trans Alps F.K.T. II but want something a little lighter and more efficient, the Rouge F.K.T. II is worth a look.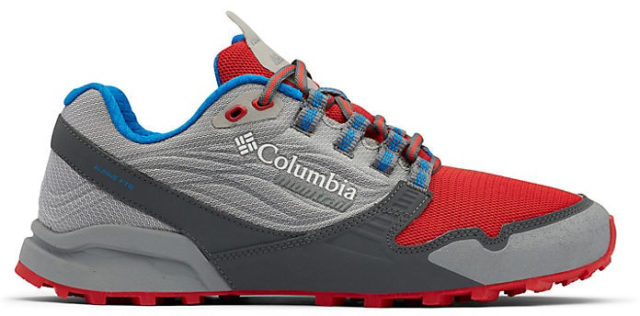 The Alpine FTG ("Feel The Ground") is designed to excel in technical, loose, and / or muddy terrain. While it's still more protective than many truly minimal shoes on the market, the shoe's lower drop and stack height do keep your feet closer to the ground than many of Columbia / Montrail's other options. This should improve stability on uneven terrain, but might make the Alpine FTG less comfortable for long, technical runs — especially since it doesn't have a rock plate. The outsole has aggressive, widely spaced chevron lugs designed to grip loose surfaces and shed mud quickly. Finally, the shoe's upper uses a unique heat-molded TPU yarn to reduce weight without decreasing support. This should give the upper a little more structure than a typical mesh material would, but may also reduce breathability a little. The Alpine FTG is a good option for runners who prioritize ground feel and who are looking for a fairly light shoe that can still handle technical and muddy terrain.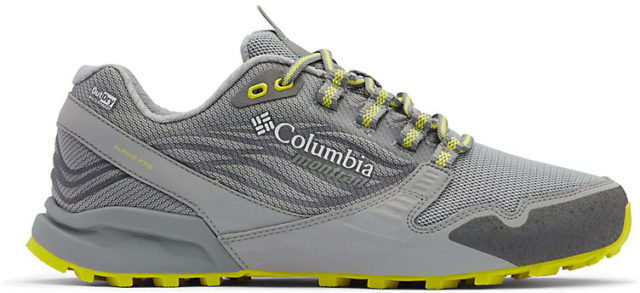 No surprises here — this version of the Alpine FTG adds a waterproof / breathable upper to the same platform as the original to improve comfort in wet conditions. If you like the features of the Alpine FTG but usually run in wet conditions, this shoe may work well for you.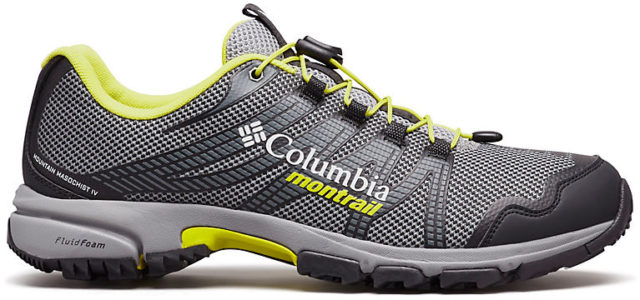 The Mountain Masochist is one of Columbia / Montrail's most popular and long-lived trail shoes. The latest version maintains the firm cushioning and low-profile outsole of previous iterations of the shoe, but uses new upper materials to reportedly improve the shoe's fit, durability, and support. Like the Caldorado III, the Mountain Masochist uses different density midsole foams to provide moderate pronation control. The outsole uses Columbia's stickier Gryptonite rubber and a full-length rockplate to provide protection and traction on all most trail surfaces, though the previous two shoes have outsoles better suited to wet / loose conditions. If you like a protective, fairly minimal, and durable shoe for tackling mountainous terrain and don't mind sacrificing a little weight and flexibility, the Mountain Masochist IV is worth checking out.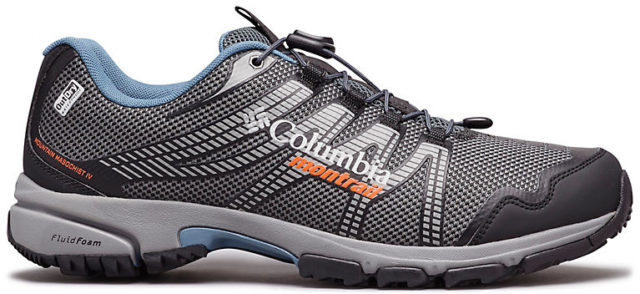 If your technical mountain adventures often include lots of wet weather, this version of the Mountain Masochist IV could be the shoe for you. It's got the same grippy outsole, firm midsole, and durable upper as the original but with an added waterproof / breathable membrane to keep your feet dry when the going gets wet.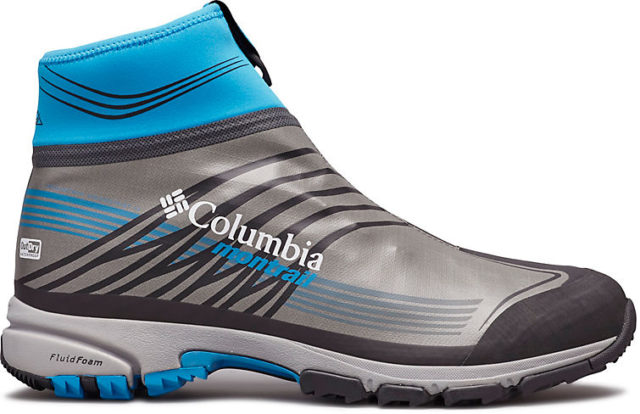 As the name suggests, this version of the Mountain Masochist IV is designed to protect your feet in all types of nasty weather. In addition to the standard features of the Mountain Masochist IV, the "Extreme" version has an external waterproof / breathable shell & gaiter that cover the foot and ankle, sealing out water. This shoe is designed to keep you dry when you're running through snow, mud, or just about anything else. That said, unlike most trail shoes with extended gaiters, the Mountain Masochist does not have very large or widely spaced lugs, which is worth noting if you're planning on using this in deep, wet, and loose conditions like snow and mud.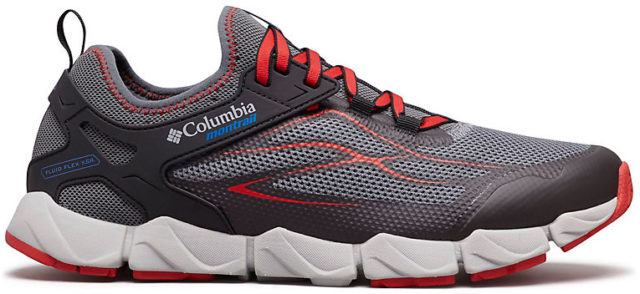 As Columbia / Montrail's most minimal option, this road / trail hybrid shoe is designed to provide a little cushion without changing the natural gait cycle. The FluidFoam midsole has deep grooves that allow the shoe to flex in all directions, while the low-profile outsole should provide a smooth ride on hard surfaces. Like the Variant X.S.R., the harder, abrasion-resistant rubber used on the outsole should hold up well to extended use on hard surfaces, but probably won't provide much traction on wet / loose trails. The upper has a unique stretchy mesh heel collar designed to improve heel fit and keep out debris. The forefoot uses a more traditional breathable mesh material, with a minimal rubber toe bumper to protect from rocks. If you regularly run on both roads and trails and want something more minimal than the Variant X.S.R., this shoe could be a good option.