Intro
When considering a new running shoe, there are so many similar-looking shoes on the market being made by so many different companies, it is virtually impossible to (1) know where to begin; (2) quickly figure out which one or two products from a given brand might work well for you; and (3) determine what products from other brands might be the most similar and also worth considering.
So in our new "Blister Brand Guide" series, we provide an overview of the entire product lineup of a brand; highlight how each product stands out from the rest of that brand's lineup; and help you figure out quickly and easily which shoe might work best for you.
In our individual product reviews, we go very deep into the details of particular products. With these Brand Guides, the goal is not Depth, but Breadth. Our Brand Guides and full reviews are designed to complement each other — provide a broad overview of entire company lineups, and then also very detailed reviews of individual products.
See our other running shoe Brand Guides
La Sportiva: Brand Background
La Sportiva is known by many for their climbing and mountaineering shoes, but their "mountain running" shoes are becoming more and more popular — and with good reason. La Sportiva offers a wide range of trail and mountain running shoes with the unifying characteristics of traction and durability. As a general rule, La Sportiva's shoes have narrower, lower-volume fits than other brands. This might cause problems for people with wide / high-volume feet, but if Sportiva's shoes do fit your foot, they often provide a precise fit. La Sportiva's shoes tend to have higher heel-to-toe drops, but they do offer a few options with drops around 4-6 mm.
Sportiva's "high cushion" shoes are relatively minimal compared to max-cushion offerings from brands like Altra or Hoka. Sportiva's shoes also tend to be on the stiffer side compared to most shoes from other brands, and many of them are catered toward very rough, off-camber, and challenging terrain. If you generally prioritize precision over high cushion and prefer to run on very technical terrain, many of La Sportiva's mountain running shoes deserve strong consideration.
Several of La Sportiva's shoes are also made in a GTX (aka, "Gore-Tex") version. The GTX versions feature a waterproof Gore-Tex lining, which increases water resistance and decreases breathability.
A note on sizing: all of Sportiva's sizing is in European units. In our experience, La Sportiva trail shoes tend to run a bit small (often a half or full US size), so as always, we advise trying them on before buying.
This breakdown will give a quick overview of each model's features and intended purpose. It's organized from most- to least-cushioned.
TRAIL SHOES
(Most Cushioned to Least Cushioned)
Most Cushion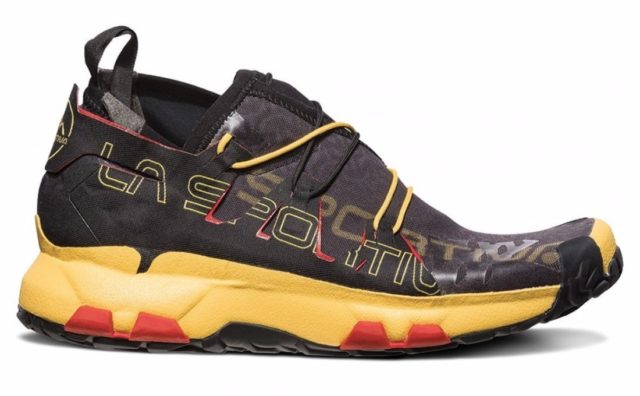 As the name suggests, the Unika is a pretty unique-looking shoe. But it's also a highly cushioned, reportedly efficient & durable, yet fairly light shoe built to go long over highly technical terrain. The Unika's "Infinitoo" midsole material is designed to resist compression and provide high energy return over the course of longer runs, and do so over the entire lifetime of the shoe. The Unika also includes Sportiva's "Rock-Guard Skin," which is an external coating designed to offer increased protection from harsh impacts. The Unika's outsole uses an updated version of Sportiva's sticky FriXion White rubber, meant to provide great traction on a variety of surfaces, though its lugs aren't huge so it's not the best option here for super wet, sloppy trail conditions. The Unika is built on Sportiva's "ultra" last that offers a more spacious fit than shoes like the Bushido II or Mutant. The fit is probably most similar to the Akasha or Lycan, so if those shoes fit your foot, this one may as well. If you're looking for an ultra-distance oriented mountain running shoe with a bit more cushion, the Unika is worth a look.
Stack Height
Drop: 8 mm
Stated Weight
Men's: 330 g
Women's: 264 g
MSRP: $199.00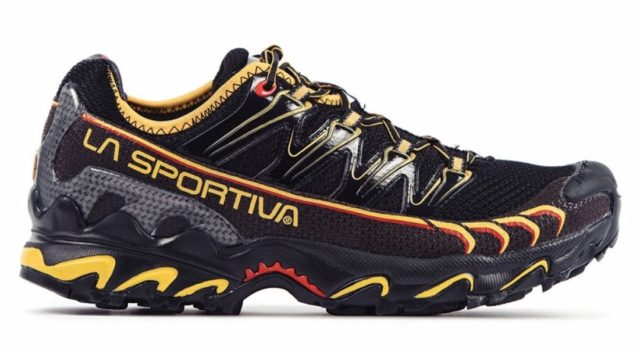 The Ultra Raptor is one of Sportiva's higher-volume shoes designed for long-distance runs. The shoe has a full-length rock guard to protect your whole foot against sharp rocks. The Ultra Raptor's upper utilizes a combination of breathable mesh and synthetic leather for additional durability. Like many of Sportiva's shoes, the Ultra Raptor falls on the more supportive & protective end of the spectrum, rather than being super light and minimal. This shoe has a wider fit than some of Sportiva's other shoes, falling in line with the Tempesta GTX and Wildcat in terms of fit. The outsole has slightly smaller lugs than the Akyra or the Tempesta GTX, but still large enough to provide secure traction on most wet, loose, or slick terrain.
Stack Height
Drop: 7 mm
Stated Weight
Men's: 343 g
Women's: 292 g
MSRP: $130.00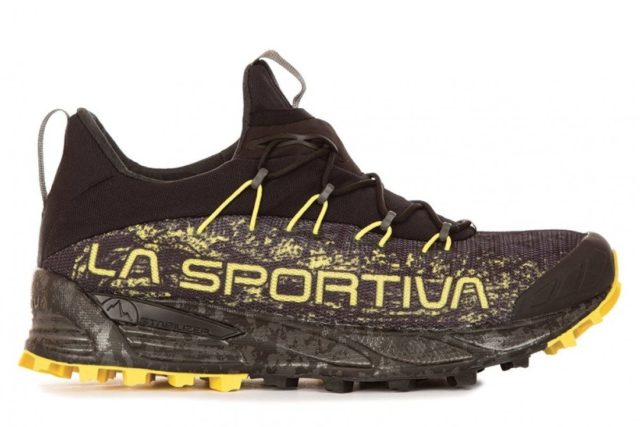 This shoe features a waterproof upper & higher-coverage upper and aggressive outsole designed to should offer lots of traction and weather protection on wet runs. The 4-way stretch pseudo-gaiter wraps the ankle to keep rocks and snow out of the shoe, while a quicklace system makes adjusting the fit fast and easy. The shoe's midsole includes a plastic TPU insert to improve stability and support on off-camber terrain. While the Tempesta doesn't have a rock plate, its combination of firm cushioning and a full-length FriXion Blue rubber outsole should provide ample rock protection. The "Blue" version of their FriXion rubber is reportedly their most durable (and likely, least grippy) rubber. The Tempesta fits similarly to the Mutant, so if the Mutant works well for your foot but you want an option with slightly more cushioning and weather protection, the Tempesta GTX might be a good choice. For even more weather protection and better grip on ice, see the Blizzard GTX.
Stack Height
Drop: 10 mm
Stated Weight
Men's: 320 g
Women's: 256 g
MSRP: $165.00
La Sportiva Lycan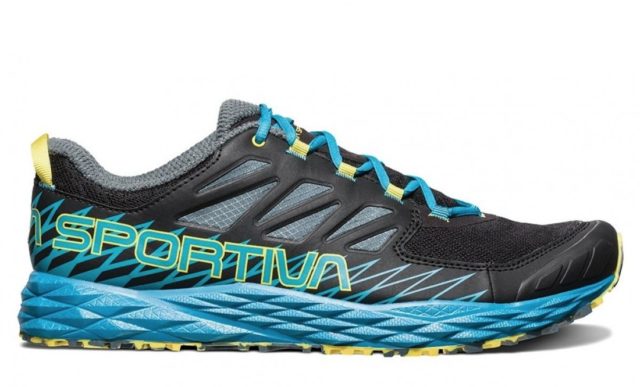 The Lycan breaks away from many of Sportiva's other shoes in that it has a wider toe box, minimal structure to its upper, more generous cushioning, and no shank or rock plate. Its higher-volume, wider fit and softer cushioning make it a good option for longer days out on the trail. The shoe provides more of a "plush" or forgiving ride than shoes like the Akyra and Bushido II, while still offering good ground feel. The Lycan uses Sportiva's high-durability FriXion Blue outsole material, which will last longer but not provide quite as much grip as their "White" FriXion compound. The Bushido II or Akyra are better options for really rocky, technical trails, while the Lycan is better suited to those who prioritize a lower weight, want a more forgiving ride, and / or who prefer more ground feel. [Check out our full review of the Lycan]
Stack Height
Drop: 6 mm
Stated Weight
Men's: 268 g
Women's: 225 g
MSRP: $115.00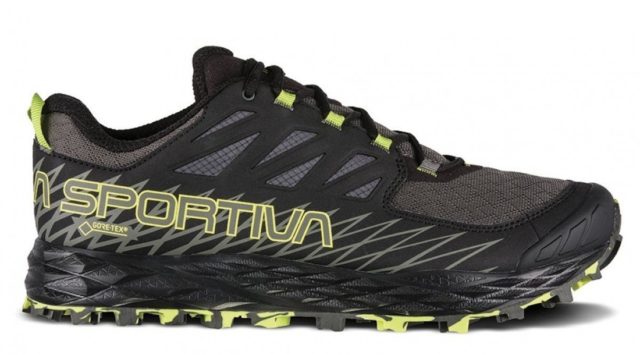 The Lycan GTX has all the features of the Lycan with the addition of a waterproof Gore-Tex upper. Like the standard Lycan, it's got softer cushioning, a durable outsole, and a wider fit than a shoe like the Bushido II. If that all sounds good to you but you often run in cold, wet conditions, the Lycan GTX is worth checking out.
Stack Height
Drop: 6 mm
Stated Weight
Men's: 355 g
Women's: 297 g
MSRP: $140.00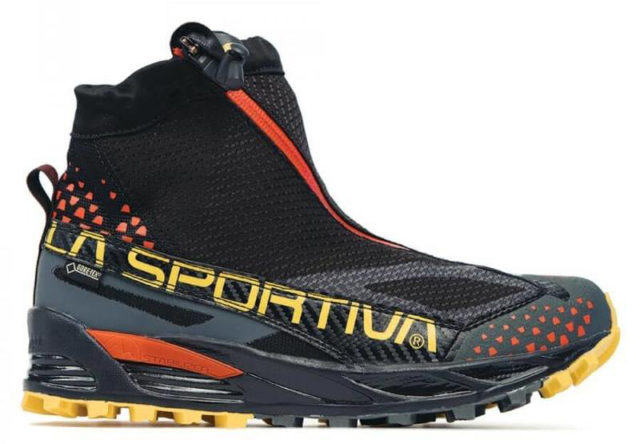 Like the Uragano and Blizzard GTX, the Crossover 2.0 GTX is designed specifically with winter running in mind. It has a high, waterproof, zippered gaiter to keep out snow, and a FriXion Blue rubber outsole with very large and widely spaced lugs. What sets the Crossover 2.0 GTX apart from Sportiva's other running shoes is its thicker, and reportedly very flexible midsole. In fact, Sportiva calls it the "most flexible athletic Gore-Tex footwear ever." Like the Blizzard GTX and Uragano, the Crossover 2.0 GTX is a very niche shoe and really only makes sense if you're running in very wet, snowy, and / or cold conditions. But if you are, and you want a cushioned and flexible ride, the Crossover 2.0 GTX is worth a look.
Stack Height
Drop: 10 mm
Stated Weight
Men's: 370 g
Women's: 370 g
MSRP: $190.00
Least Cushion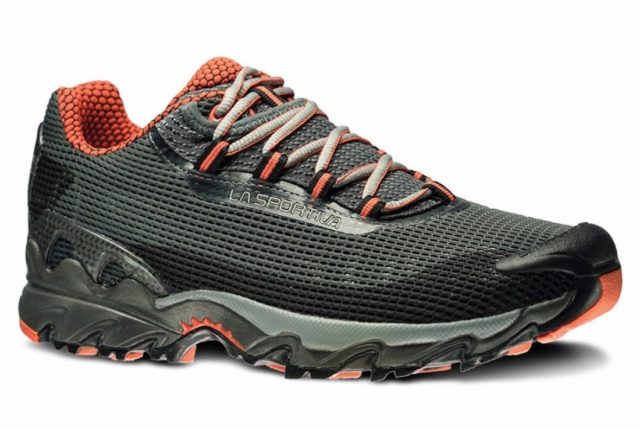 The Wildcat is one of La Sportivas' more cushioned, higher-drop shoes, and it's a good alternative to the Ultra Raptor if you want something that's a bit more breathable, has a higher drop, and that has a more medium-volume fit. Its upper is primarily mesh with few reinforcements, making it one of the most breathable and quickest-drying options of Sportiva's higher-cushioned shoes. The Wildcat's moderately high cushioning, partial nylon shank, and FriXion Blue rubber outsole with average-sized lugs make it well suited for moderate to highly technical terrain. This shoe is more structured and supportive than the Akasha or Tempesta GTX. If you prefer a high heel-to-toe drop, want pretty firm cushioning, and like the sound of a breathable and supportive shoe, check out the Wildcat.
Stack Height
Drop: 12 mm
Stated Weight
Men's: 328 g
Women's: 289 g
MSRP: $110.00
Most Cushion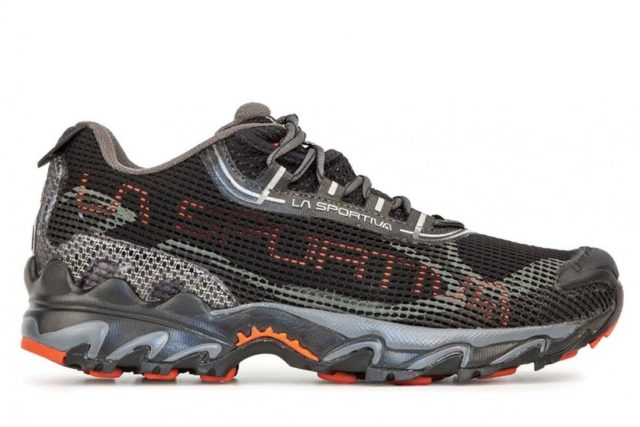 This updated version of the Wildcat offers a waterproof/breathable Gore-Tex upper and slightly lower stack height. It features a nearly identical midsole and outsole vs. the Wildcat, but the Wildcat 2.0 GTX has a stack height that's 2 mm lower, and it offers much better weather resistance and decreased breathability compared to the regular Wildcat.
Stack Height
Drop: 12 mm
Stated Weight
Men's: 400 g
Women's: 330 g
MSRP: $155.00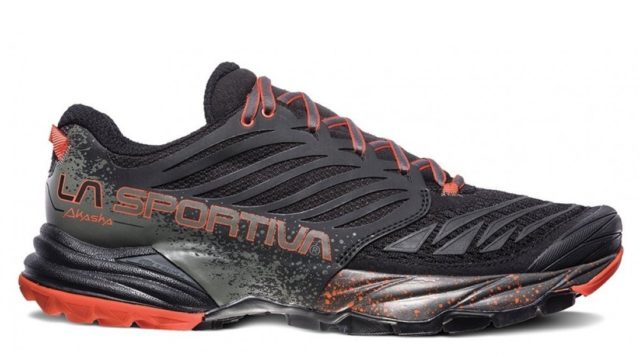 The Akasha is specifically designed to improve efficiency and provide comfort for long runs on rough terrain. Its curved "rockered" sole is similar in design to many of Hoka's shoes and makes for a smooth heel-to-toe transition. Sportiva says that the Akasha's EVA midsole is one of their best options when it comes to shock absorption over the course of long runs. The Akasha also has a wider fit than some of Sportiva's other models, though it's still much narrower than most of Altra or Hoka's shoes. The Akasha lacks a rockplate, but its ample cushioning should protect well against rocks, and the lack of a rock plate also makes this one of Sportiva's softer and more flexible shoes. The Akasha has large, widely spaced lugs that grip well on most surfaces, and are better in deep and wet conditions than the Wildcat. The Akasha reportedly has the highest-volume fit of any Sportiva running shoe. The Akasha makes sense for those who prefer a more moderate drop and smoother heel-to-toe transition over maximum stability or support.
Stack Height
Drop: 6 mm
Stated Weight
Men's: 330 g
Women's: 278 g
MSRP: $140.00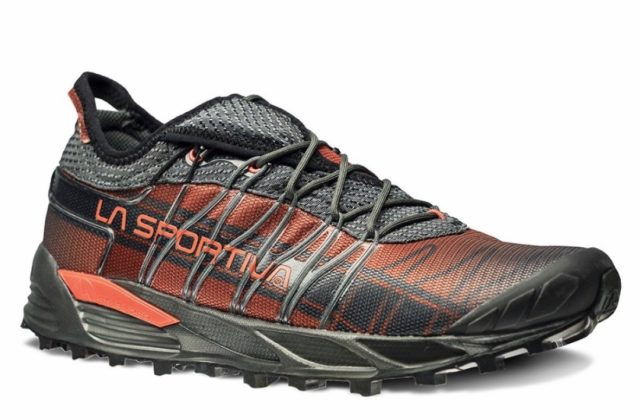 The Mutant has numerous features that make it ideal for runs on wet and / or loose terrain, particularly if you're running in those conditions and prefer a quicker-drying shoe, rather than a waterproof one. The Mutant uses Sportiva's stickiest FriXion White outsole rubber that's formed into large, widely spaced lugs. The softer rubber does wear down faster on harder surfaces compared to Sportiva's "Blue" or "Red" FriXion rubber compounds. The Mutant's asymmetric lacing system is meant to provide a tight, locked-down fit that's vaguely reminiscent of a climbing shoe. The TPU stabilizer in the Mutant's midsole provides additional support and a little pronation control. The fit and construction of the Mutant are similar to the Tempesta GTX, but it has a more breathable upper and stickier outsole rubber. If you run on technical terrain and prefer a tight-fitting shoe, the Mutant is an option to consider.
Stack Height
Drop: 10 mm
Stated Weight
Men's: 303 g
Women's: 256 g
MSRP: $135.00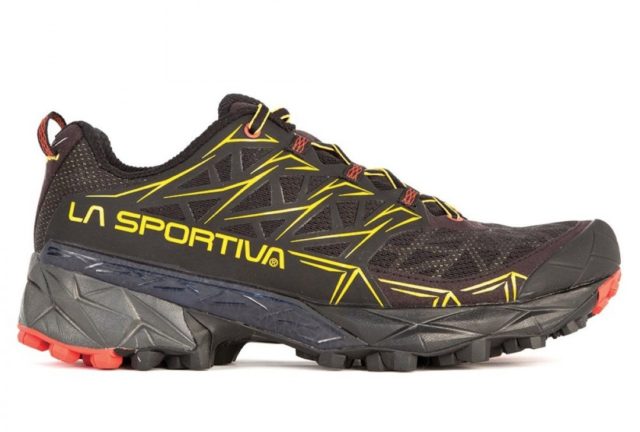 The Akyra is built for maximum stability, support, and durability. Its burly upper and ample upper reinforcements are designed to withstand rough terrain. Its sole features larger lugs and FriXion Red rubber, which is the middle ground between their grippy "White" and more durable "Blue" compounds. The Akyra also has a rockered sole profile that aids in natural outer-heel to inner-toe transitions. Sportiva says the Akyra has a high-volume fit, but it's still quite low-volume compared to the whole market, making it fit similarly to the Wildcat or the Ultra Raptor. The Akyra makes the most sense for those seeking lots of stability and support in a moderately cushioned package.
Stack Height
Drop: 9 mm
Stated Weight
Men's: 330 g
Women's: 278 g
MSRP: $140.00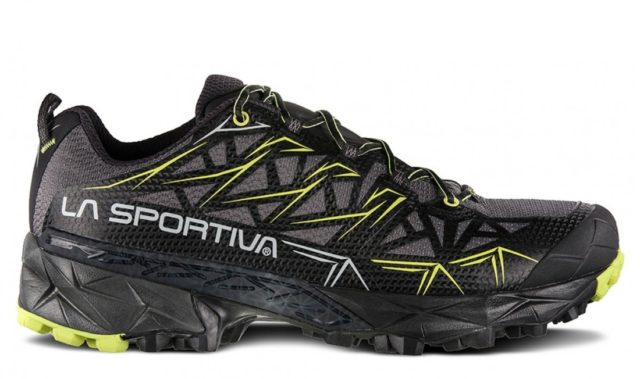 The Akyra GTX is the same as the Akyra, but with a waterproof, less breathable upper.
Stack Height
Drop: 9 mm
Stated Weight
Men's: 388 g
Women's: 310 g
MSRP: $160.00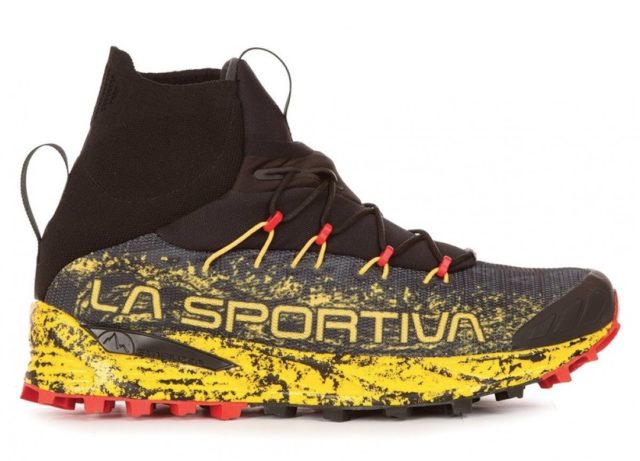 This shoe's built-in neoprene gaiter and waterproof/breathable interior lining make it targeted toward running in wet and cold conditions. The upper rises above the ankle and is made of a sock-like material, offering lots of weather resistance while maintaining a pretty soft, flexible structure (though the gaiter itself isn't waterproof, only the interior lining is). The Uragano's outsole has large lugs made with Sportiva's FriXion Blue compound, which is their most durable but least grippy (though grip shouldn't be an issue if you're using it in snow). The Uragano GTX's fit and outsole are similar to the Mutant, but the Uragano offers a fully waterproof lining and higher-coverage gaiter, making it better suited to winter running (particularly running through deeper snow).
Stack Height
Drop: 10 mm
Stated Weight
Men's: 346 g
Women's: 346 g
MSRP: $180.00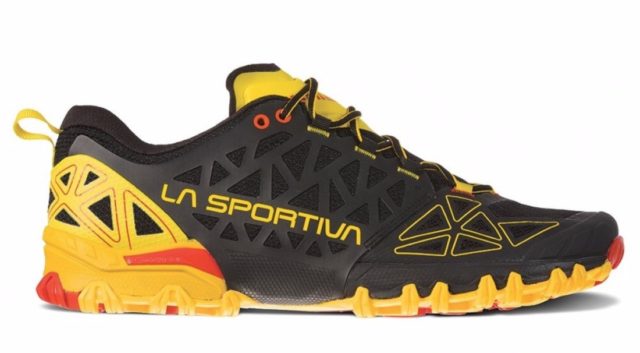 The newest version of the Bushido takes the support, protection, and traction of the original Bushido and adds slightly more forgiving cushioning for added comfort. The Bushido II's upper is composed of a breathable mesh with more minimal reinforcements than something like the Ultra Raptor, though the Bushido II still has a large TPU toe cap to protect against rocks. Its outsole uses FriXion Red rubber, Sportiva's medium-grip ad medium-durability compound, and features moderately sized and spaced lugs to provide a balance of durability and grip on most surfaces. The Bushido is built on a slightly narrower last than most of Sportiva's other shoes, so it's a good option if you want a very secure fit. The Bushido's flatter, lower-drop profile, lower-volume fit, and versatile outsole all make for a shoe that excels on technical terrain where support and stability are higher priorities than plush cushioning.
Stack Height
Drop: 6 mm
Stated Weight
Men's: 298 g
Women's: 250 g
MSRP: $130.00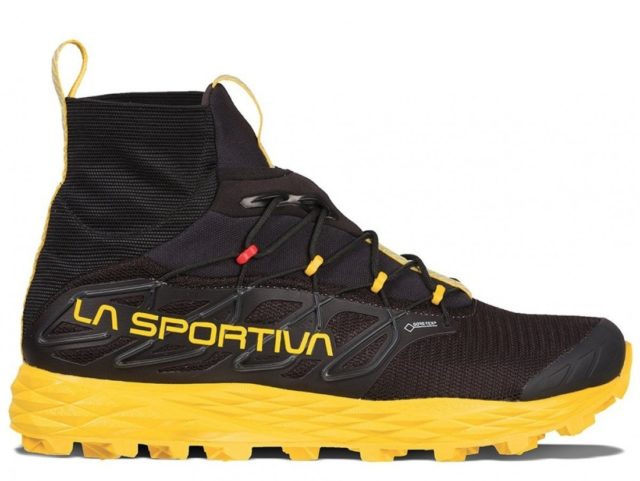 The Blizzard GTX is Sportiva's most winter-oriented running shoe. It has a very high, water-resistant gaiter and interior waterproof lining that help keep your feet dry and warm in deeper snow. Its outsole uses Sportiva's durable FriXion Blue rubber compound, and it features some of the largest and most widely spaced lugs of any Sportiva running shoe. It also comes stock with metal spikes in the outsole, which provide lots of grip on icy surfaces. Compared to the Ugano, the Blizzard has a less cushioned and lower-drop platform.
Stack Height
Drop: 6 mm
Stated Weight
Men's: 377 g
Women's: 377 g
MSRP: $199.00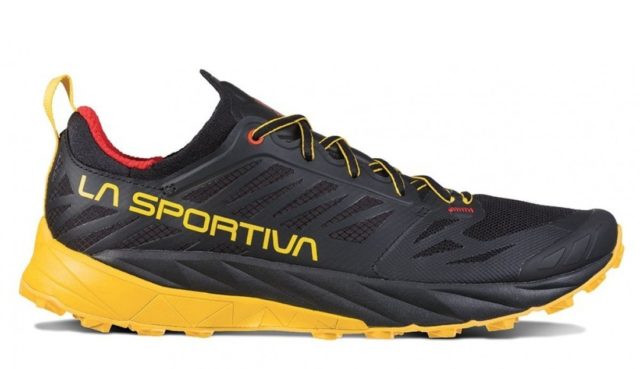 A new addition to the Sportiva lineup, the Kaptiva is a minimal, racing-oriented shoe designed for trail / mountain races on techy terrain. It's lower-profile midsole and lightweight construction make it a great option for trail runners that like a snappy, efficient shoe. The Kaptiva features Sportiva's grippiest FriXion White rubber compound with larger lugs for added traction in wet / loose conditions. The Kaptiva's rock plates also add some protection for more technical terrain. The shoe's race-specific last makes for a narrow, precise fit that feels similar to the Bushido II. While its low weight makes it a good racing shoe, it could still serve as a daily trail shoe for those who prefer less cushioning and a precise, low-volume fit. If you like the sound of the Bushido II but want a lower, lighter, faster-feeling option, the Kaptiva warrants a look.
Stack Height
Drop: 6 mm
Stated Weight
Men's: 260 g
Women's: 225 g
MSRP: $139.00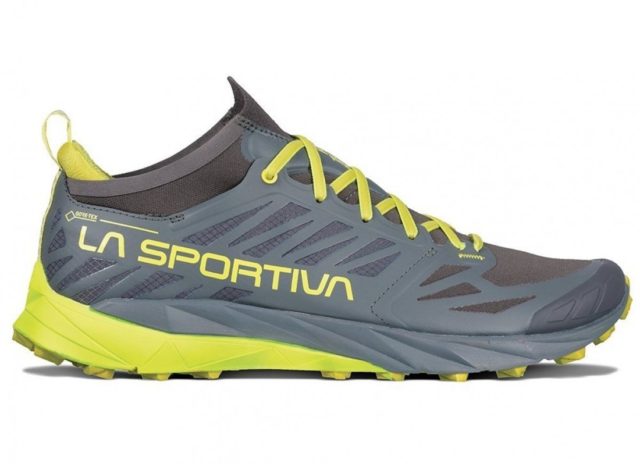 The Kaptiva GTX takes everything about the standard Kaptiva and make it better suited to wet and / or cold runs, thanks to its waterproof upper.
Stack Height
Drop: 6 mm
Stated Weight
Men's: 270 g
Women's: 270 g
MSRP: $159.00
La Sportiva VK (unisex)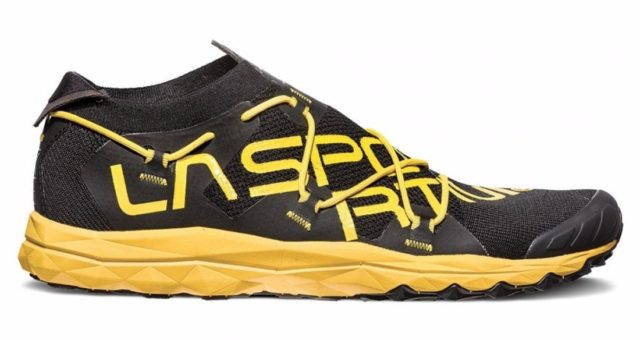 This shoe is designed with the very specific intent of going uphill fast. Its minimal design keeps its weight extremely low, while its sticky (FriXion White) rubber and lower-profile lugs in the forefoot provide lots of grip — particularly on rocks and hard-packed trails. Its sock-like upper, unique wrap-around lacing system, and very narrow race-specific last make for a secure fit on steep terrain. All that said, this is a pretty niche shoe in that it's primarily designed with going uphill in mind, and most people looking for a general trail shoe should look to options with more cushioning, full-rubber outsoles (the VK's heel is not full-rubber), and / or a more supportive midsole. But if you're looking to go as fast as possible on the uphill, the VK is one of few shoes specifically designed for that.
Stack Height
Drop: 4 mm
Stated Weight
Men's: 198 g
Women's: 198 g
MSRP: $135.00