When considering a new running shoe, there are so many similar-looking shoes on the market being made by so many different companies, it is virtually impossible to (1) know where to begin; (2) quickly figure out which one or two products from a given brand might work well for you; and (3) determine what products from other brands might be the most similar and also worth considering.
So in our new "Blister Brand Guide" series, we provide an overview of the entire product lineup of a brand; highlight how each product stands out from the rest of that brand's lineup; and help you figure out quickly and easily which shoe might work best for you.
In our individual product reviews, we go very deep into the details of particular products. With these Brand Guides, the goal is not Depth, but Breadth. Our Brand Guides and full reviews are designed to complement each other — provide a broad overview of entire company lineups, and then also very detailed reviews of individual products.
On Running: Brand Background
On Running is a relatively new brand — it was founded in 2010 in Zürich, Switzerland. The company was started by Olivier Bernhard and his friends David Allemann and Caspar Coppett, with the idea in mind of creating a shoe that provided a new running feel with innovative technology. The brand has since expanded globally and grown in popularity in the years after its founding.
On's shoes have a unique appearance, with a bulbous outsole / midsole that is designed to provide a cushioned ride while maintaining efficiency and energy return, while decreasing weight. On makes both road and trail shoes, all of which feature a similar midsole / outsole design but with unique features to serve most needs, from technical trail running to fast road racing.
A few of On's features are worth quickly touching on. Their shoes' midsoles / outsoles have what On calls "Cloud Elements," which are essentially hollow semicircles. On says the Cloud Elements cushion both vertical and horizontal forces during each step, while also locking into place during the takeoff of the stride, in an effort to both absorb harsh impacts and provide an efficient platform.
On uses 4 different outsole designs to meet the needs of a variety of users: Helion Superfoam, Missiongrip, Zero-Gravity Foam, and Rebound Rubber. Helion Superfoam is on the stiffer end overall, but has softer sections to provide cushioning that is light, yet energy efficient. Missiongrip is used on their trail shoes, since it has more aggressive lugs and stickier rubber. Their Zero-Gravity design is the lightest outsole, and while much of it is foam (rather than rubber), it does feature some abrasion pads for a strong grip on the road or smoother off-road surfaces. Their Zero-Gravity outsole is geared towards "all-day performance," and many of the lifestyle shoes On makes feature that outsole. On's Rebound Rubber was the first outsole that the brand designed, designed to be durable and efficient for extended use.
On also uses a technology that they call a "Speedboard." Their various Speedboards are essentially rigid frames situated above the midsole / outsole that support the natural foot motion and promote a quicker turnover between strides. Their Speedboards are designed specifically for the shoe they are used on, so each is designed to work well with the other features of the shoe.
Here, we'll cover all of On's running-specific models (road and trail); On also makes several more casual shoes, as well as apparel. For reference, stated weights are for a US men's size 9 and a US women's size 8. Shoes are organized from most-to-least cushioned, though On doesn't list a stated stack height for many of their models.
(Most Cushioned to Least Cushioned)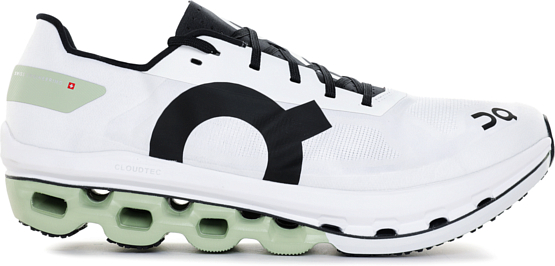 At a trim 220 g in a US Men's Size 9, the Cloudboom Echo is On's submission to the hyper-shoe category. Its steep price tag nets you a carbon Speedboard with an aggressive rocker geometry, and maybe a shorter marathon time. Enhanced forefoot cushioning and a 100% recycled engineered mesh upper anticipate the demands of high speeds, and the shoe's use of strategically placed rubber on its outsole saves weight by focusing only on high-use areas. The Cloudboom Echo is no racing flat, though. With one of the taller stack-heights on the market, it's a model best laced up for road races over the 10k distance. Hyper-shoes like it tend not to have the greatest longevity though, so turning to a model like the Cloudsurfer 6 might be a better option for non-race-day workouts. That said, if you're a fan of the way On shoes fit and don't mind shelling out a few extra bucks to (potentially) set a new PR for longer road races, check out the Cloudboom Echo.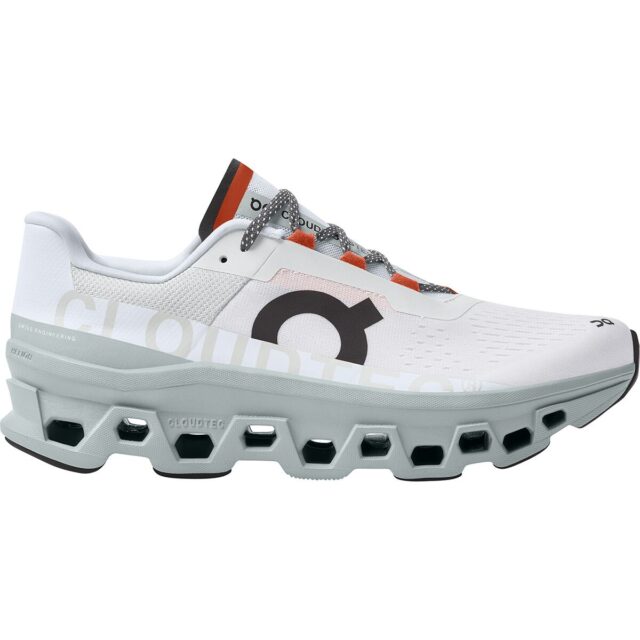 The Cloudmonster is a new addition to On's lineup and is designed to serve as a maximally cushioned trainer. It features the most ever CloudTec used in an On shoe, which the brand combines with their Speedboard technology and a rockered geometry to increase energy return and promote an efficient stride. The Cloudmonster's soft recycled upper includes a sockliner for comfort and is temperature resistant, so it should breathe well. And with a stack height of 30 mm / 24 mm, its thick Helion midsole positions the shoe as a good candidate for road runs ranging from 5k to 20+ miles. If you're a fan of maximalist shoes and enjoy the feel of On's unique CloudTec midsole / outsole, then the Cloudmonster might be just up your alley.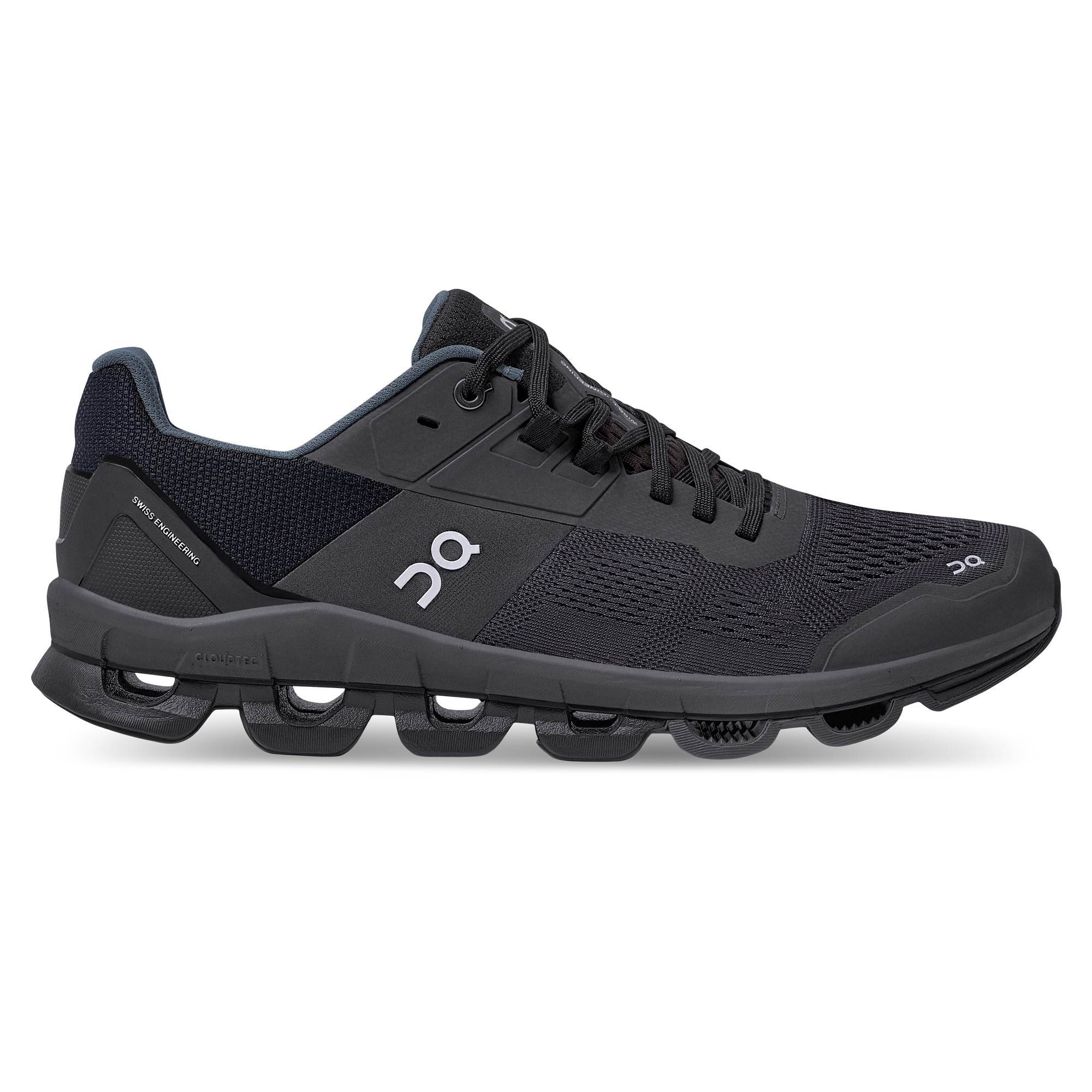 The Cloudace is one of On's most cushioned road shoes and is designed for long-distance training. Its midsole features two different types of CloudTec — Rebound Rubber in the forefoot for improved energy return and Helion superfoam clouds under the heel for cushioning — and the Speedboard On uses is intentionally wide. The Cloudace's upper is made with engineered mesh and includes molded side elements for additional support. As such, this model will likely be a bit more stable than some of On's more speed-oriented shoes. If you're looking for a maximally cushioned option for long runs, recovery runs, or even road ultras, consider giving the Cloudace a shot.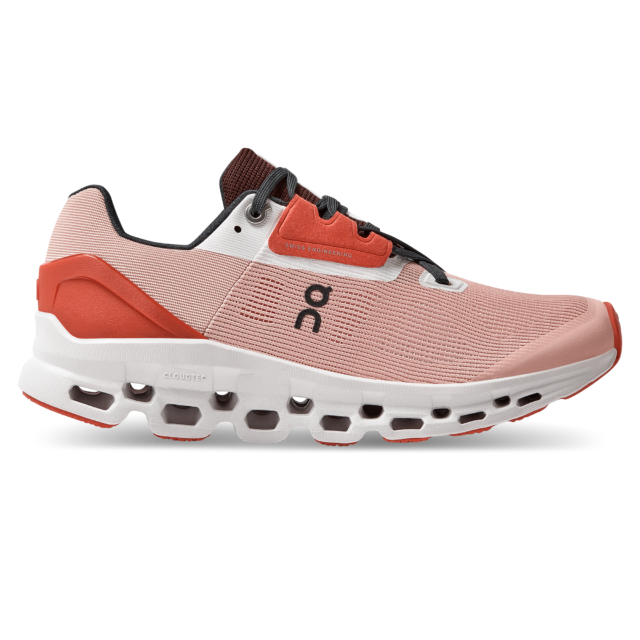 The all new Cloudstratus is another high-cushioned road shoe from On, but with its more rockered outsole and two layers of Helion-enhanced CloudTec midsole, the Cloudstratus is supposed to still offer a fast, efficient ride. Its upper is constructed with recycled open-knit mesh to create lots of air flow and its star-lacing configuration pulls the mesh more closely to your foot for a secure fit. The Cloudstratus also has a broader platform, particularly in the forefoot, which should give your toes a bit of extra room over long distances. If you've struggled with the narrowness typical of On shoes in the past and you're looking for a well-cushioned road option for anything from a 5k to a marathon, check out the Cloudstratus.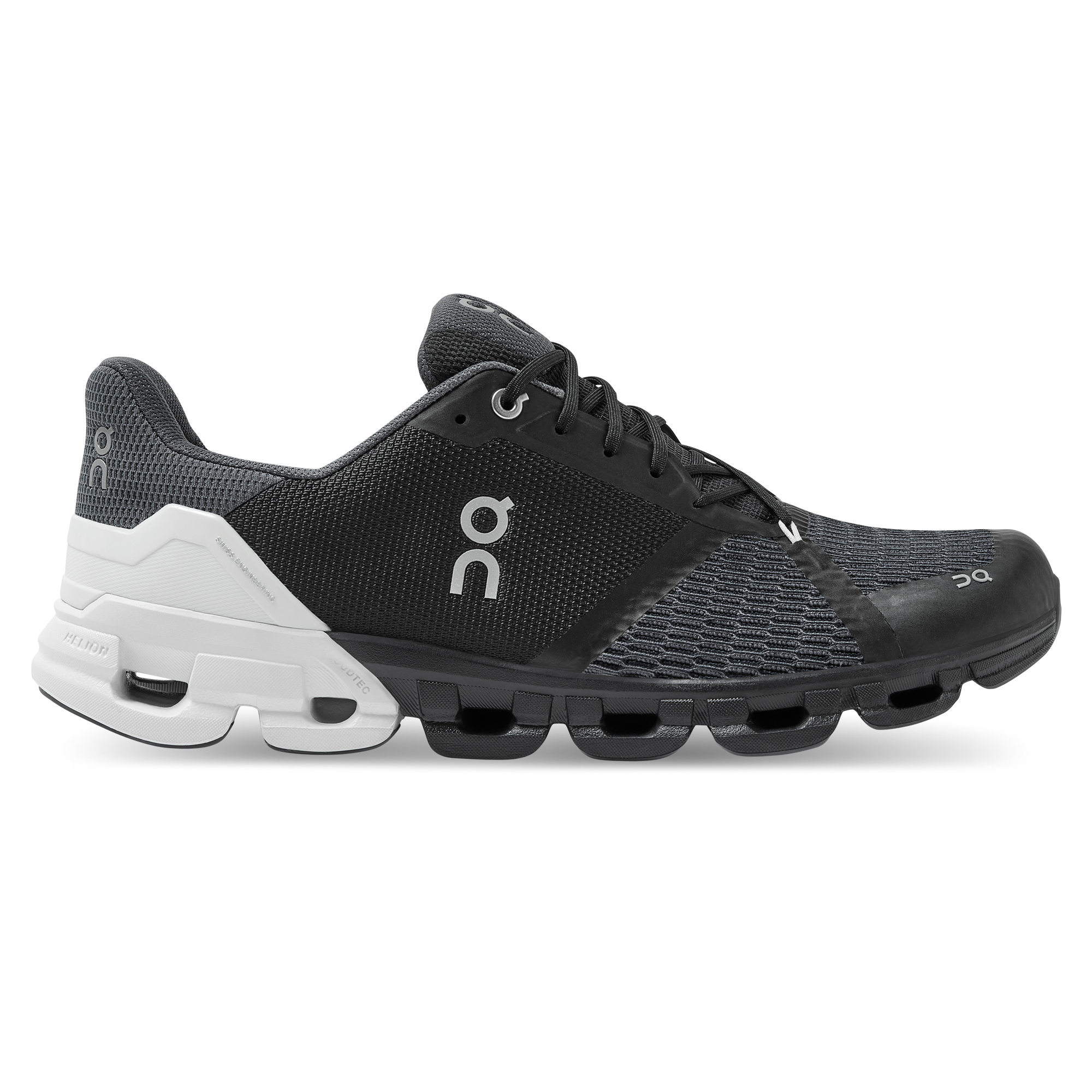 The Cloudflyer is designed to support any runner over a variety of distances. The shoe is light, yet still very cushioned. The updated version now features Helion superfoam and a tailored Speedboard in its midsole composition, and a slightly wider outsole. These elements are configured to reduce inward rotation to aid in a stable stride. The Cloudflyer has a 3D-molded heel cap to help secure your foot in place, paired with a more plush tongue and a star-shaped lacing configuration for a secure fit. Like the Cloudstratus, the Cloudflyer is also a bit broader, making it a good option for runners with wider feet. On emphasizes accessibility with this model, so its ideal end uses vary, but if you're looking for a really supportive, fairly lightweight, and durable shoe for a large range of distances and intensities, check out the Cloudflyer. Also note that there is a "Wide" version of the Cloudflyer.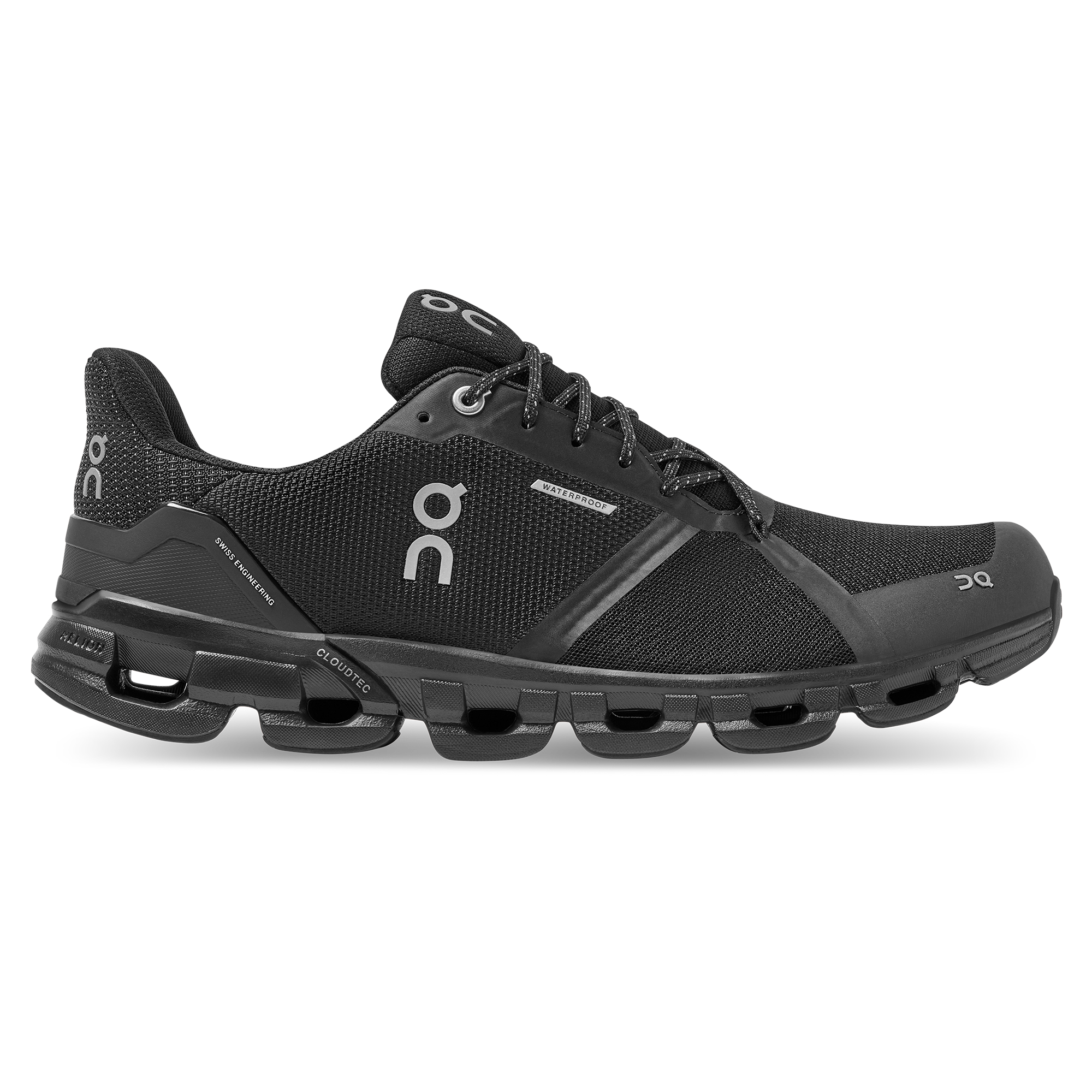 The Cloudflyer Waterproof shares all the same features as the standard Cloudflyer, but with the addition of an allegedly wind and waterproof membrane. Waterproofing adds weight and reduces its breathability, but many runners consider that a worthy tradeoff if they're frequently out in the elements. Give the Cloudflyer a look if you're in the market for a versatile option that'll be a bit more weather-resistant than On's standard version.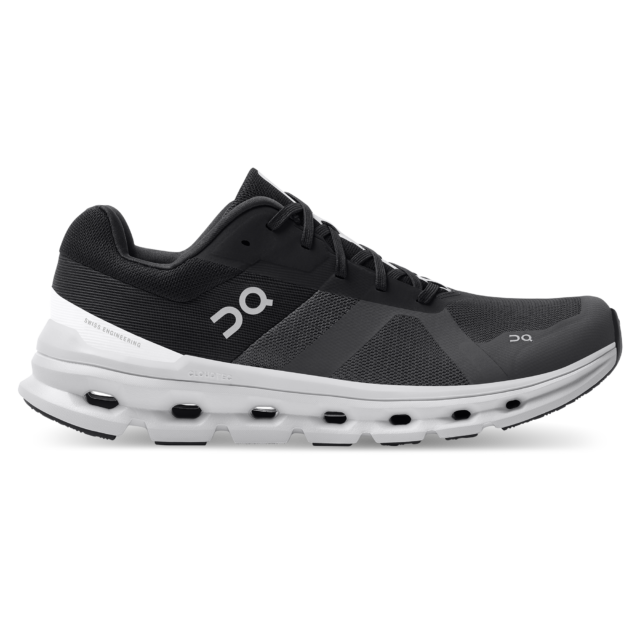 The Cloudrunner is another option from On designed to function as a daily trainer. While its stack height won't be as towering as a shoe like the Cloudmonster, the Cloudrunner still provides plenty of cushion for medium to long-distance efforts. Its CloudTec midsole incorporates soft Zero-Gravity foam, which On pairs with a slightly wider platform to dampen impact forces. Comfort is definitely the focus of this shoe, and not just in the plush midsole; the Cloudrunner features a lavish ankle / heel collar made from 90% recycled polyester and the rest of the upper is constructed from On's engineered mesh, which they claim is designed to offer support and breathability. If you're new to running or just want another accommodating option for road runs, the Cloudrunner could be worth checking out. There's also a "Wide" version of the Cloudrunner.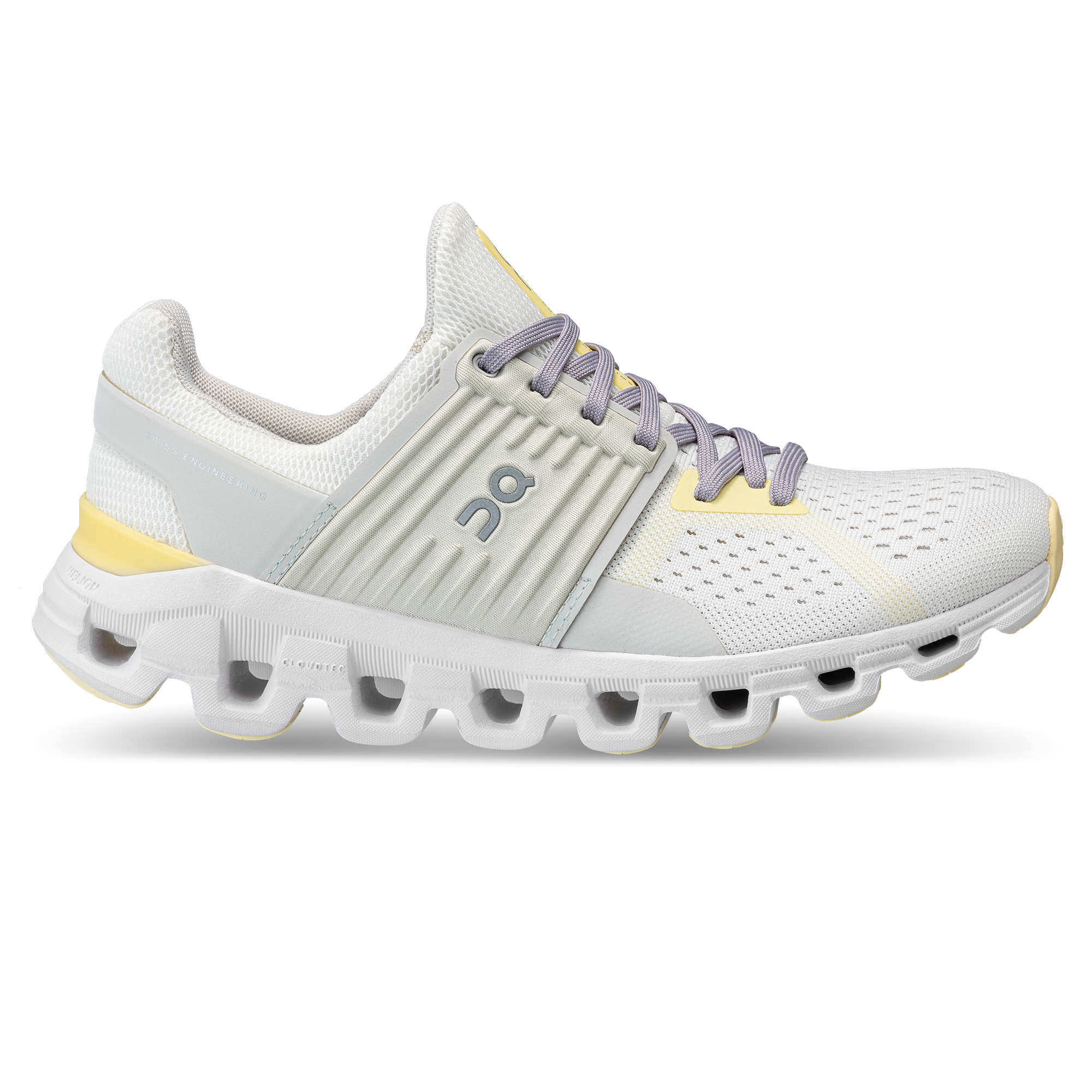 The updated Cloudswift is still On's moderately cushioned option for short to medium-distance road runs. Its aggressively rockered midsole design features increased CloudTec in the forefoot and enlarged Clouds by the hindfoot to soften heel strikes. The Cloudswift's upper is designed with a sock-like material for a snug fit and is supplemented with a quarter cage around the midfoot and TPU reinforcements for added support / stability. New rubber pads line the shoe's outsole at high-use areas, which should provide more than enough traction on roads and sidewalk. On positions the Cloudswift as a model meant for recreational urban running, so if you're looking for a shoe to log some miles in during your lunch break or to run-commute in, think about giving the Cloudswift a try.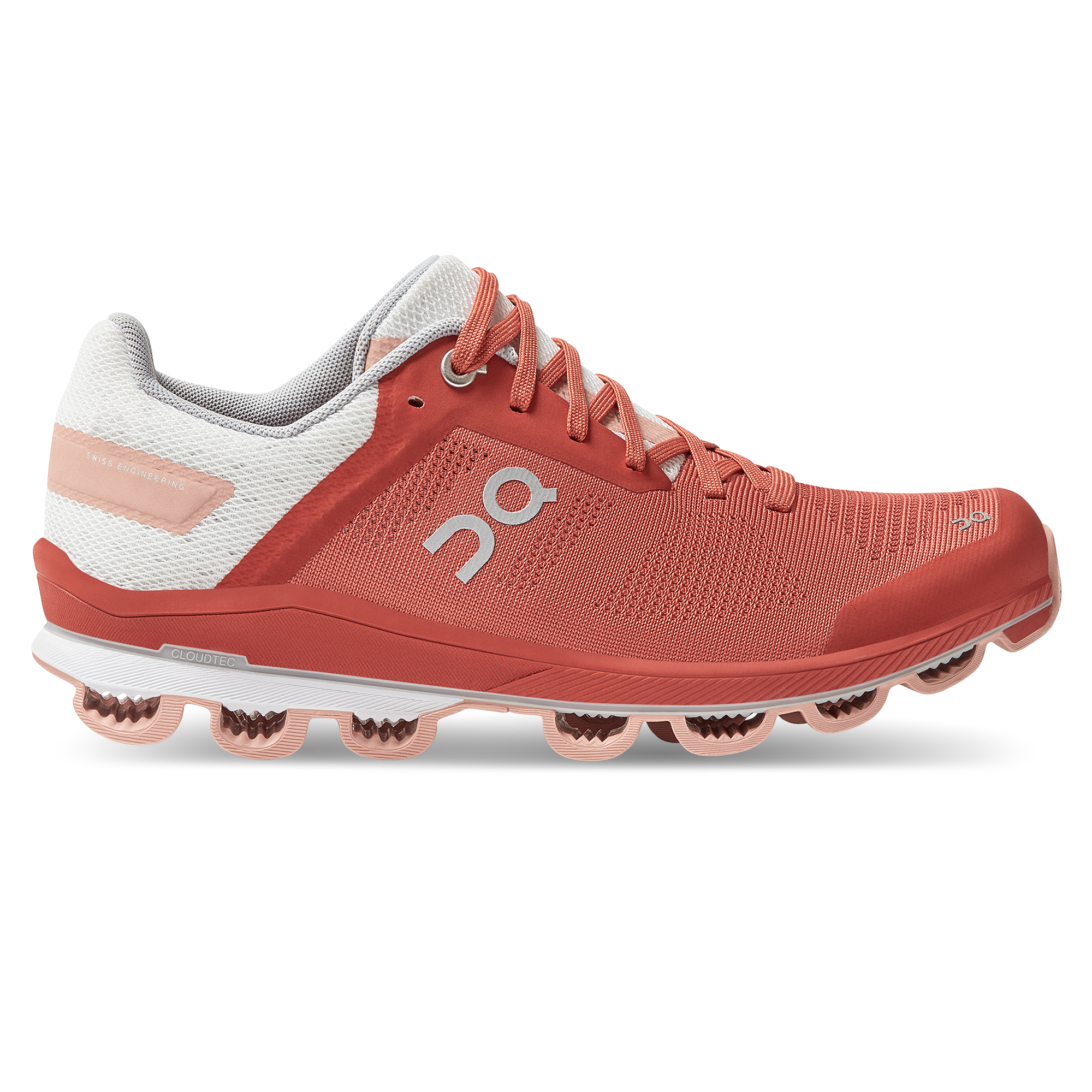 The original Cloudsurfer was the model that helped put On on the map. Now in its 6th iteration, the shoe's technology has changed quite a bit, but its principles have stayed the same. The Cloudsurfer 6 is built to balance speed with comfort. It's the only On shoe to feature all Rebound-Rubber Cloud elements, which the brand pairs with their standard Speedboard and Zero-Gravity midsole. Compared to past models, the Cloudsurfer 6 has added EVA for cushioning, a re-engineered mesh upper, and a new wraparound tongue to secure the fit at higher intensities. If you're looking for a training shoe to rip workouts in that feels similar to a racing flat, but with perhaps a bit more cushioning, the Cloudsurfer 6 is a shoe to keep an eye on.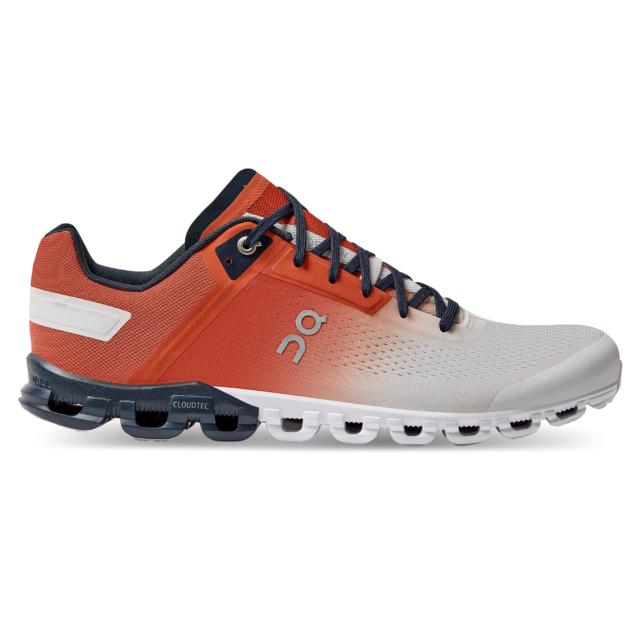 The third-gen Cloudflow is a lightweight, yet "fully cushioned" training and racing shoe. The Cloudflow utilizes Helion superfoam technology to create a fairly cushioned feel without making it super heavy. The shoe is far less cushioned than some of the above models but provides a bit more cushion than On's purely race-oriented shoes, (the Cloudflash). The Cloudflow's upper is notably less structured / supportive than the Cloudswift's, and the Cloudflow also has a much flatter profile that could feel more intuitive for midfoot and forefoot strikers. As such, it's a shoe intended for shorter distances at high speeds, ideal for anything from a 5k to a half marathon. Note that there is also a "Wide" version of the Cloudflow.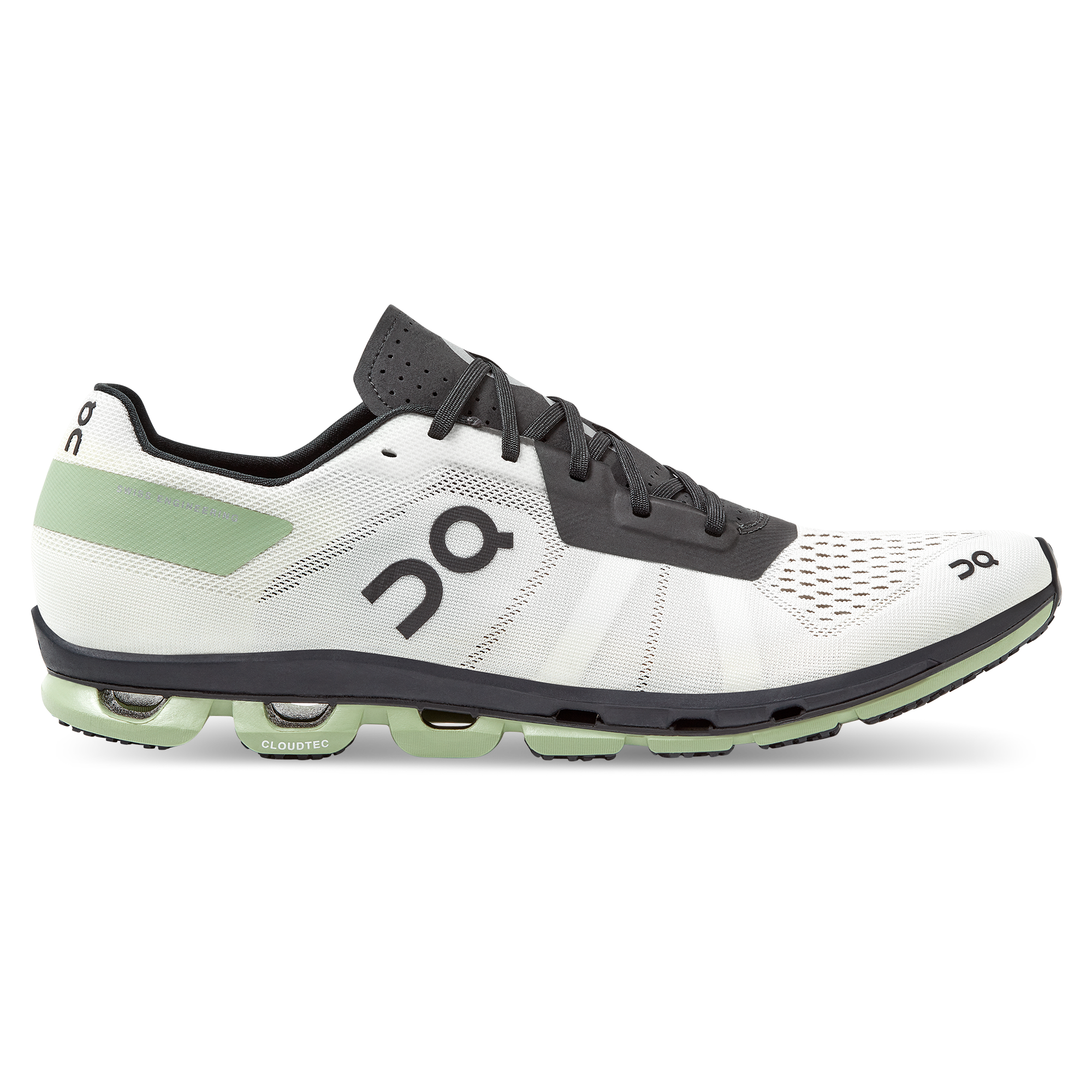 The updated Cloudflash is On's lightest and most minimal road racing shoe. It features a carbon-fiber-infused Speedoard for propulsion and efficiency, with just a bit of cushion from a dual-layer CloudTec midsole featuring Helion superfoam. The Cloudflash's upper is made with ultra-light mesh and features added no-sew support in the forefoot for comfort and non-linear lacing for better lockdown. Another major update On made to the Cloudflash comes in the form of a reworked heel, now with molded padding and a lower curve for improved lockdown. This model shares a lot of similarities with a racing flat and should be used in a similar fashion, so if you'll be racing a 5k or a 10k, the Cloudflash could be a good option.
(Most Cushioned to Least Cushioned)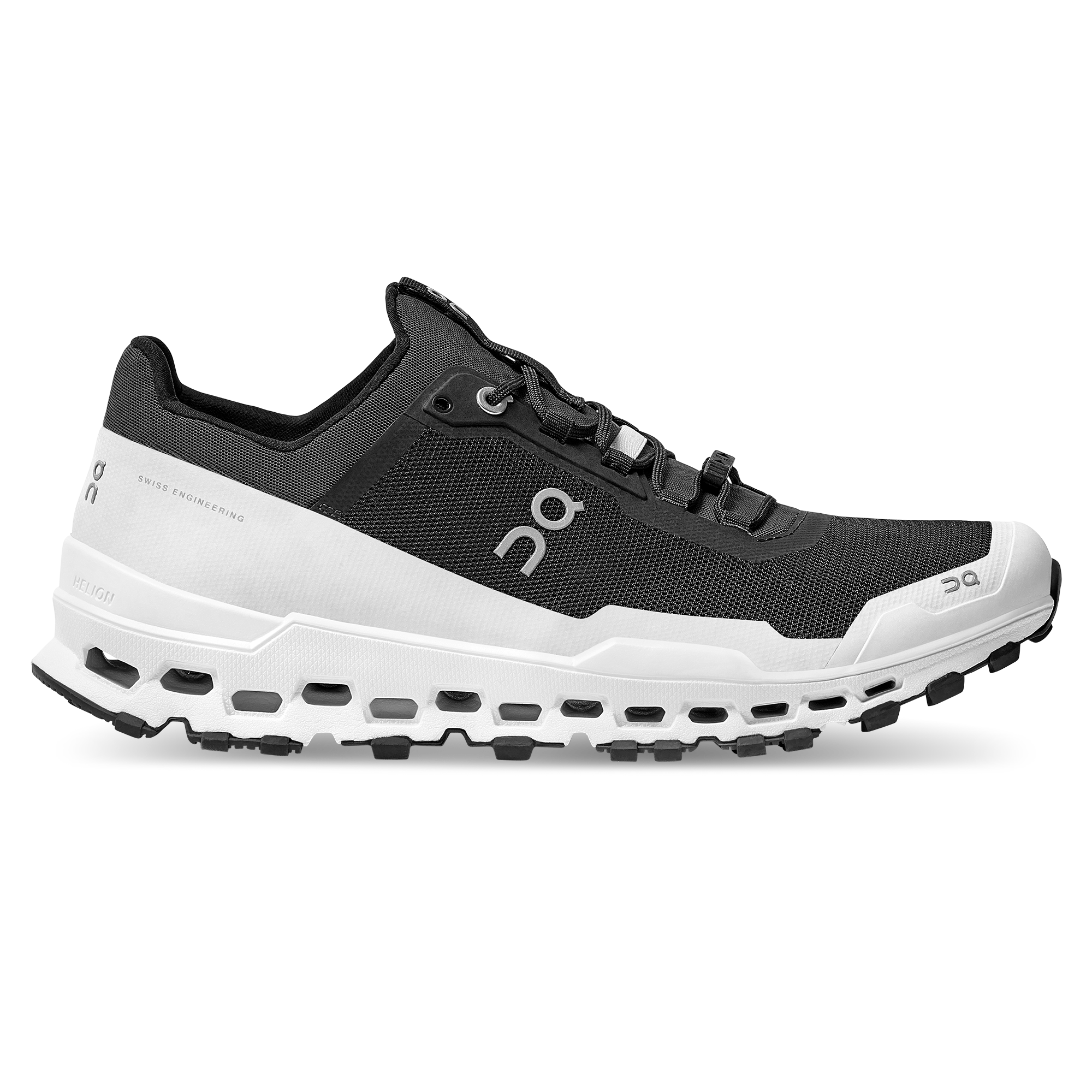 If you're looking for a shoe to take deep into the late miles of an ultra, the Cloudultra is On's solution. With a midsole designed around a double layer of Helion superfoam and two layers of added CloudTec, the Cloudultra is built for sustained energy return and cushioning over long distances. The rest of the shoe shares a similar approach. By using two-layer sandwich mesh reinforced with lightweight TPU in a wrap-fit construction, the Cloudultra's upper is meant to be both comfortable, secure, and protective. It also features On's new "FlipRelease" system, which allows you to adjust the shoe's fit on the go. By virtue of the Cloudultra's Helion superfoam, it will likely feel more forgiving than the Cloudventure, despite the two shoes sharing a similar stack height. However, unlike the Cloudventure, which is capable of tackling technical terrain, the Cloudultra is probably more at home running long distances on buffed-out trails and gravel paths.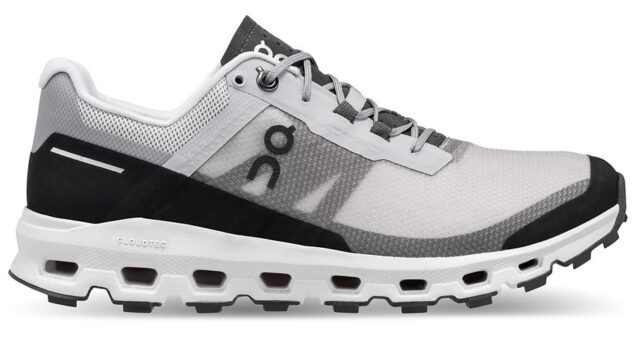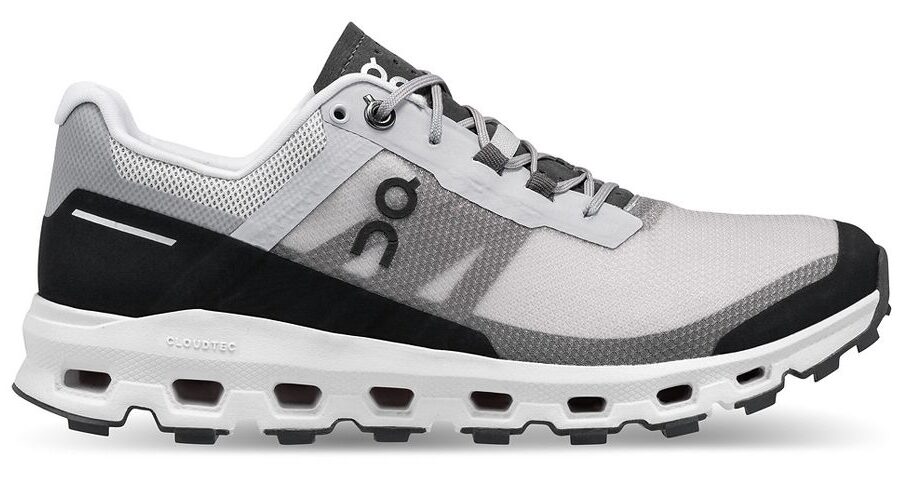 The Cloudvista is a new model from On and positioned as their road-to-trail shoe. Its midsole combines lightweight Helion Superfoam with standard CloudTec, like many of On's road shoes. However, the addition of a MissionGrip rubber outsole primes the Cloudvista for non-technical trails. Up top, a TPU mudguard and 70% recycled polyester fabric surround a fully gusseted perforated tongue, together forming a relatively lightweight upper when compared to other models. The Cloudvista is definitely one of On's more versatile offerings, capable of easily transitioning between pavement and hard-packed dirt paths. The only thing slightly restricted about the Cloudvista is its range; the shoe performs best over short to medium distances. As such, it's a good option for runners new to trails, or individuals looking for a single-quiver shoe. Check out our full review for more info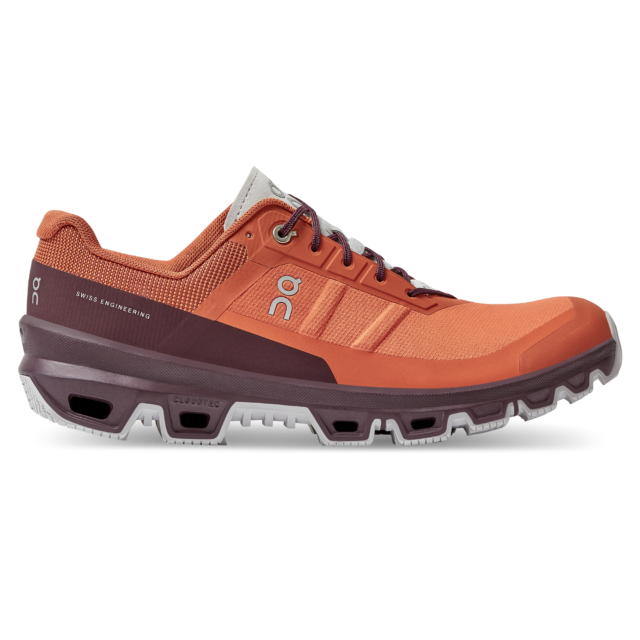 The Cloudventure is a moderately cushioned trail running shoe, designed to be a bit of a generalist — not specifically intended for any particular terrain, but supposedly capable on just about anything. The improved upper is made from polyester and features flexible tongue wings for added support, and the shoe's reconfigured midsole combines Helion superfoam with On's new slingshot Speedboard for allegedly better energy return. The Cloudventure's outsole is made from On's Missiongrip rubber, now with a more aggressive tread pattern for added traction on a wide variety of terrain. This is more of an everyday training trail shoe, with the Cloudventure Peak serving as On's race-oriented option. Check out our full review for more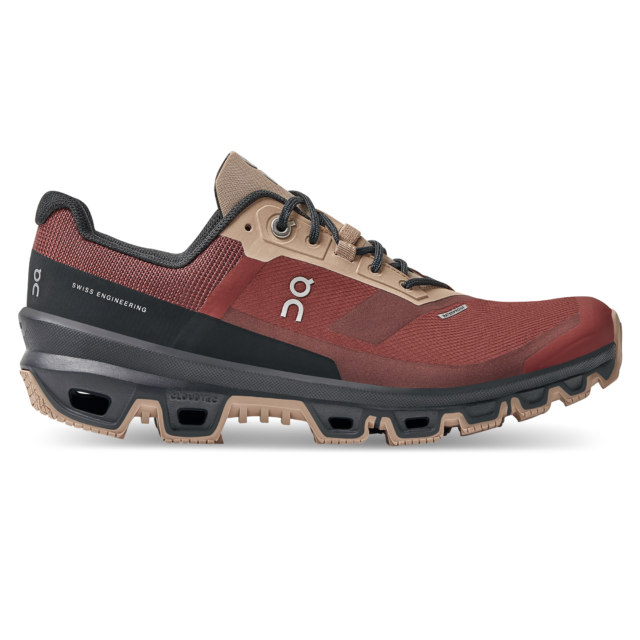 This shoe reportedly has all of the same features as the Cloudventure (see above), but with a waterproof upper. The thin membrane On lines the Cloudventure Waterproof with will reduce breathability and add weight to the shoe, but it's still on the lighter side when compared to other weatherized versions of trail shoes on the market. That said, this model is definitely best suited for running in harsh, wet conditions.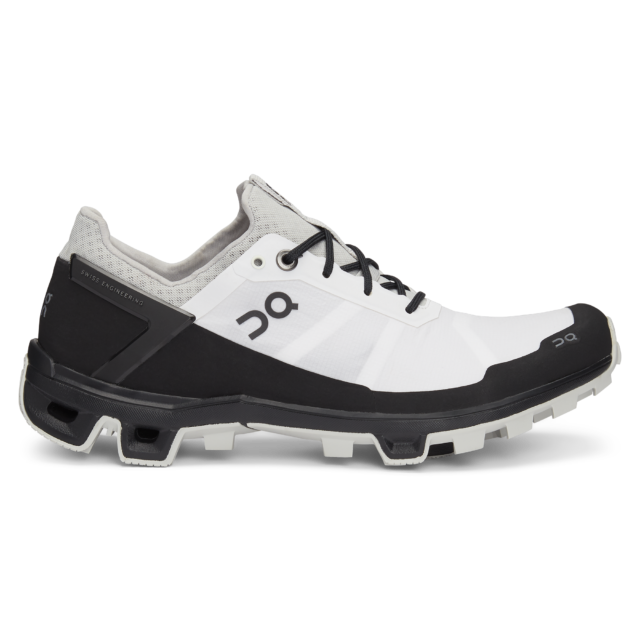 The second generation of the Cloudventure Peak is still On's designated race-day trail shoe. It has a lower stack height, a much lower weight, a lower heel-to-toe drop, and a less cushioned feel compared to the regular Cloudventure. On uses premium rip-stop material instead of polyester for the Cloudventure Peak's upper and includes their new Speedboard in the shoe's midsole. Present in a handful of On models, both road and trail, the Speedboard has a split forefoot design and a narrower midfoot, which On says promotes torsional twisting for better ground feel on uneven terrain. While the Cloudventure Peak will likely feel pretty agile, the Cloudultra is probably a better choice if your runs take you over 12-15 miles. However, if you're looking for a shoe for trail workouts or steep, short-distance races on technical terrain, give the Cloudventure Peak a look. Check out our full review for more