When considering a new running shoe, there are so many similar-looking shoes on the market being made by so many different companies, it is virtually impossible to (1) know where to begin; (2) quickly figure out which one or two products from a given brand might work well for you; and (3) determine what products from other brands might be the most similar and also worth considering.
So in our new "Blister Brand Guide" series, we provide an overview of the entire product lineup of a brand; highlight how each product stands out from the rest of that brand's lineup; and help you figure out quickly and easily which shoe might work best for you.
In our individual product reviews, we go very deep into the details of particular products. With these Brand Guides, the goal is not Depth, but Breadth. Our Brand Guides and full reviews are designed to complement each other — provide a broad overview of entire company lineups, and then also very detailed reviews of individual products.
Salomon: Brand Background
Since its beginning in the High Alps in 1947, Salomon has become one of the largest running shoe brands, particularly in the trail market.
Salomon's shoes tend to run on the narrower end of the spectrum and offer more minimal cushioning, though they've diversified their line in recent years.
Salomon's "high cushion" shoes are still much more minimal compared to the "high cushion" shoes from brands like Hoka and Altra. Salomon's shoes generally provide a firmer ride and plenty of ground feel. While many individuals with wider feet struggle to find Salomon shoes that feel roomy enough in the midfoot, Salomon does have a few models that come in a "wide" version. Their shoes tend to have a higher heel-to-toe drop (typically in the 6-10 mm range) compared to many of their competitors' shoes, so if you prefer a lower-drop shoe and / or tend to strike with your forefoot, this is important to keep in mind.
Salomon's "S/Lab" shoes are designed for racing. They are the lightest shoes Salomon makes and tend to wear far faster than their other models. The S/Lab models also tend to have a lower drop than many of the other shoes Salomon makes. The S/Lab models often mirror another shoe in Salomon's lineup, which we'll mention in the brief summary of each shoe.
Most of Salomon's trail shoes have a "quick lacing" system, designed with a "buckle" that slides down the laces to your desired tightness, rather than having to tie traditional laces. The buckle and excess lace then tuck into a pocket on the top of the tongue in each quick-lace shoe. All of Salomon's current road shoes use a regular lacing system, while the vast majority of their trail shoes use quick laces.
Salomon also makes waterproof versions of many of their popular models, whether that's with a Gore-Tex insert or Salomon's proprietary ClimaSalomon waterproof insert. The waterproof versions will feel extremely similar to the non-waterproof versions in terms of support, cushioning, and midsole feel, but obviously provide better weather protection and they also tend to be significantly less breathable. Lastly, they also make several of their shoes in "Nocturne" versions, which feature a reflective print covering the entire upper of each shoe.
(Most Cushioned to Least Cushioned)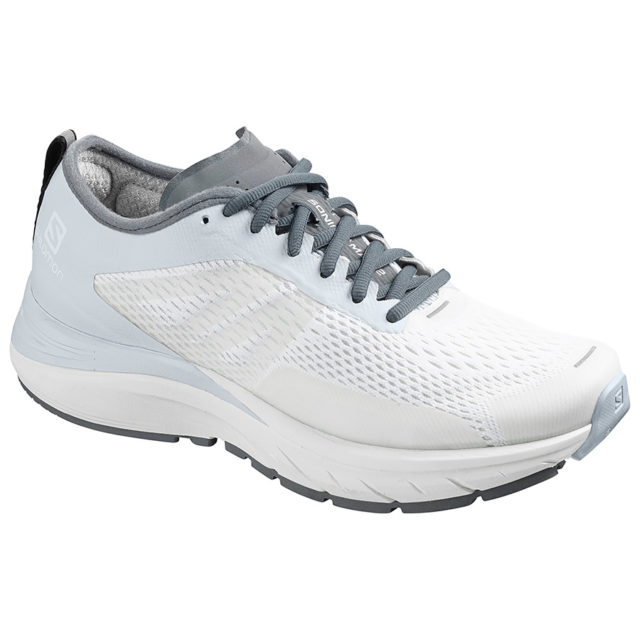 The RA Max 2 is Salomon's most cushioned road shoe, and offers a slightly more structured, stable upper than many of Salomon's road shoes. This shoe offers the plushest ride of any Salomon shoe, though compared to maximal shoes from brands like Hoka and Altra, the RA Max 2's level of cushioning is not as high. But if you want a Salomon shoe that is well suited to long training runs on pavement, this shoe is worth a look.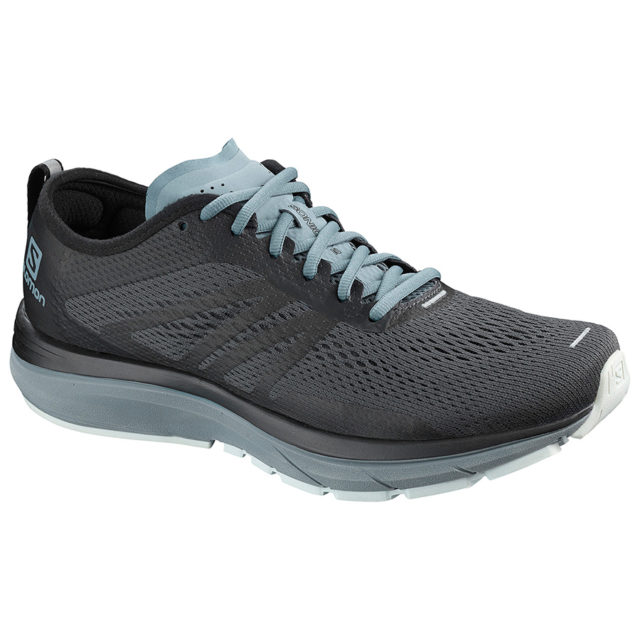 You could think of the Sonic RA 2 as a more minimal version of the Sonic RA Max 2. The RA 2 has a slightly lower stack height and lower drop, and its upper is significantly less structured (which might make it feel less stable for some runners). Compared to the Sonic RA Pro 2, the Sonic RA 2 offers a bit more support in the upper and a more cushioned ride. For everyday training or recovery miles, the Sonic RA 2 is worth a look.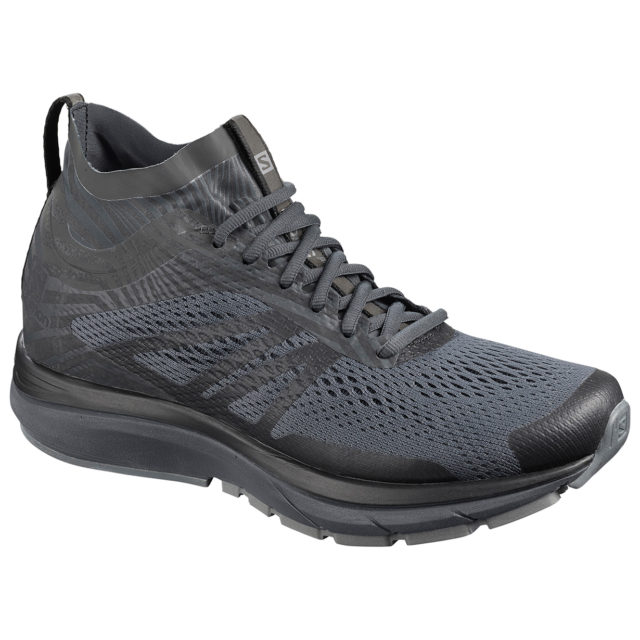 This "winterized" version of the Sonic RA 2 takes the midsole and outsole of the standard version and adds a higher cuff with a pseudo-gaiter, a minimal lightweight wool liner, and a 360° reflective print. These shoes will feel the same as the Sonic RA since they share the same midsole, but are better suited for winter and nighttime running. That said, it's important to note that this is not a waterproof shoe.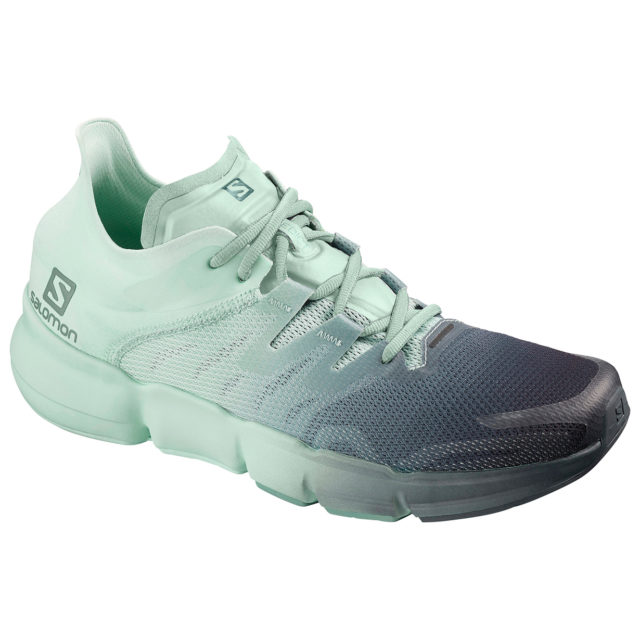 With the Predict RA, Salomon aims to decrease harsh impacts against the foot by adding grooves to the midsole that mirror the major joints in your foot. In addition to decreasing the force of impacts, the grooves are designed to give the shoe a smooth heel-to-toe transition by allowing the shoe to flex longitudinally. These shoes also have a sock-like upper, designed to create a uniform fit throughout the shoe. If you want a moderately cushioned road shoe that has the potential to reduce foot fatigue better than its fairly thin midsole would suggest, this shoe might be worth a try.
This is the lightest and most minimal model in the Salomon road running lineup. Designed to be quick and efficient, this shoe features a lower stack height and drop than the other shoes from Salomon's road line. While Salomon's other road shoes are designed primarily with comfort in mind, the RA Pro 2 is more targeted at people who prioritize efficiency.
(Most Cushioned to Least Cushioned)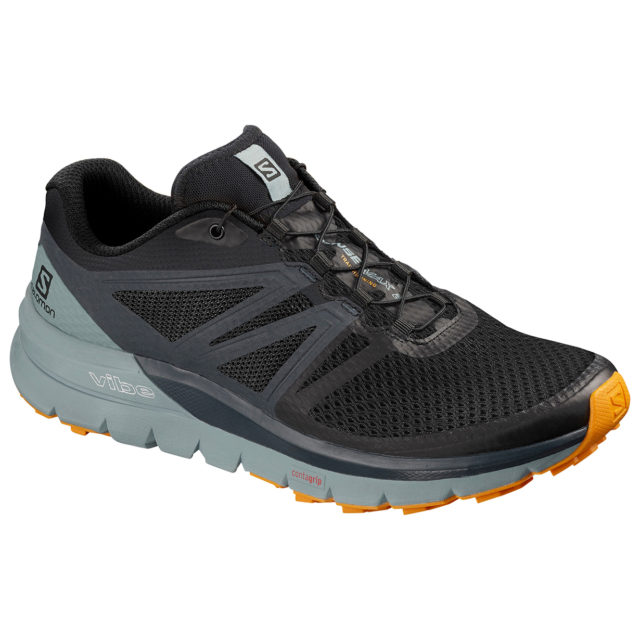 The Sense Max 2 is essentially a Sense Ride 2 with more cushioning, a less aggressive rubber outsole, and a slightly thinner, more breathable upper. As Salomon's most maximal trail shoe, the Sense Max 2 is designed for longer days on the trail or for someone who just prefers a more plush ride. Its higher stack height and fairly minimal rubber lugs make it less ideal than most of their other shoes for very technical trails, though the low-profile lugs mean that it could work well if your runs tend to involve both pavement and trails. It's also worth noting that this shoe has a lower drop (6 mm) than many of Salomon's other shoes.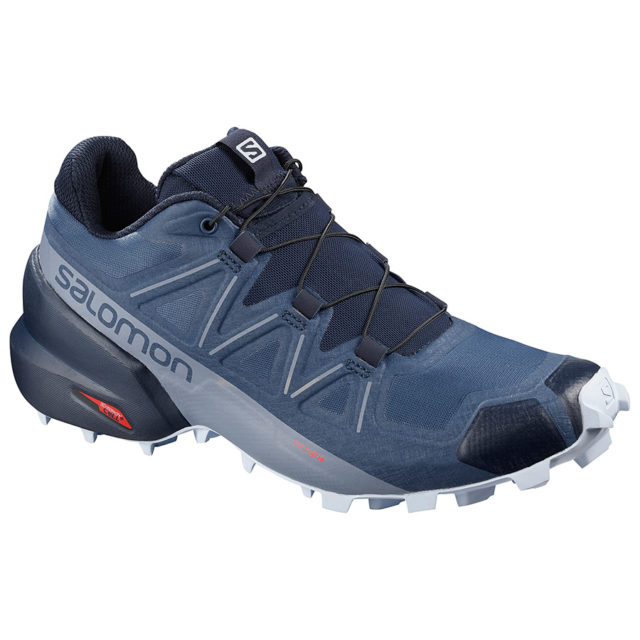 The Speedcross has been in Salomon's line for years, and many runners love its combination of a precise, stable fit and excellent traction in wet / sloppy conditions. With really big, widely spaced lugs, a narrow fit, and more stability than the shoe above, the Speedcross 5 is designed to handle harsh terrain. The Speedcross 5 will thrive in wet conditions like snow and mud, making it a top choice for things like adventure races or just general wet trail running. Since the lugs are so big, this shoe won't feel as efficient on smoother, packed trails compared to shoes with more minimal outsoles like the Ultra/Pro and Sense Ride 2. And if you like the sound of the Speedcross but want more weather protection or better grip in winter conditions, see the next few shoes.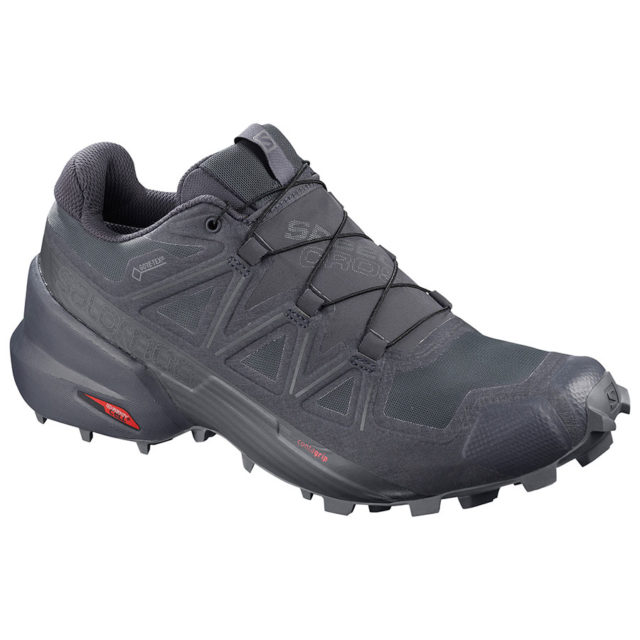 This shoe offers the same build and ride as the Speedcross 5, but adds a waterproof insert and 360° reflectivity. That makes the GTX Nocturne version better for cold and wet runs at night. If you don't need the reflective upper, you can save some money by going with the next shoe.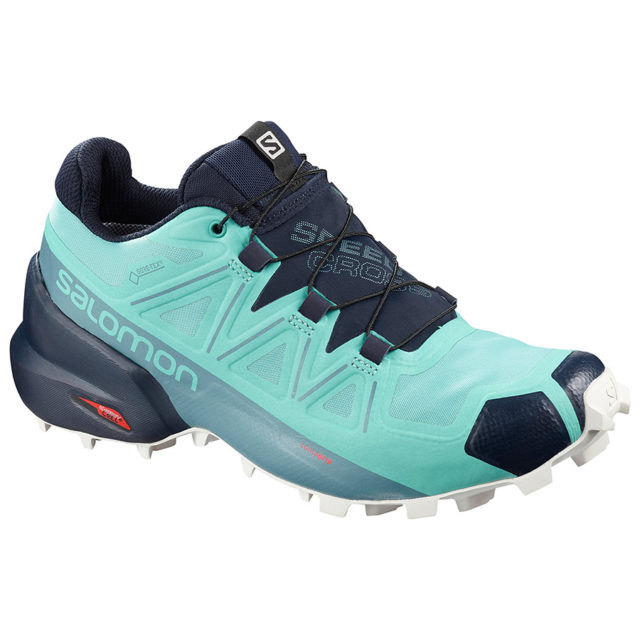 This is the same as the Speedcross 5 GTX Nocturne, but lacks the 360° reflectivity. If you like the Speedcross 5 and are looking for a shoe to use in wet / cold weather, this is the shoe for you.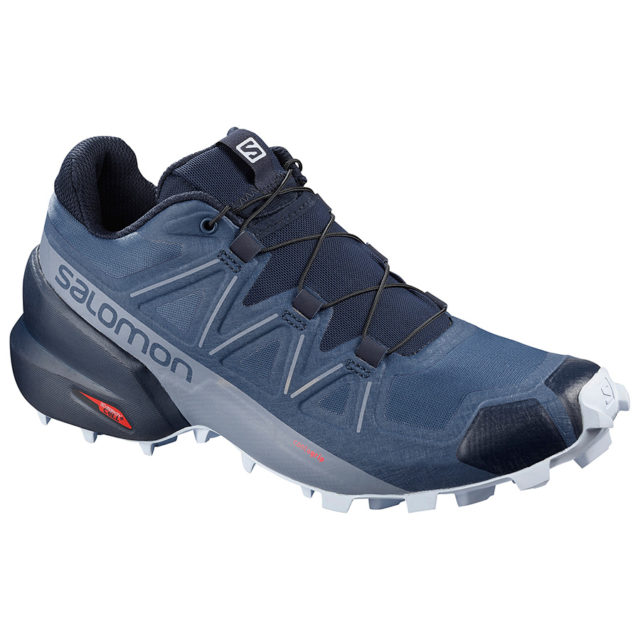 Because some individuals' feet don't work well with Salomon's generally narrower fit, the brand now sells several of their best sellers in Wide versions. The Speedcross 5 Wide is one of those shoes, and Salomon claims that the circumference of the forefoot of the wide version is 12 mm larger. If the standard Speedcross 5 is too narrow for you, this is a good shoe to try. That said, we still wouldn't call this a particularly wide or high-volume shoe, compared to the whole market. So, as always, we highly recommend trying on shoes at your local shop before buying.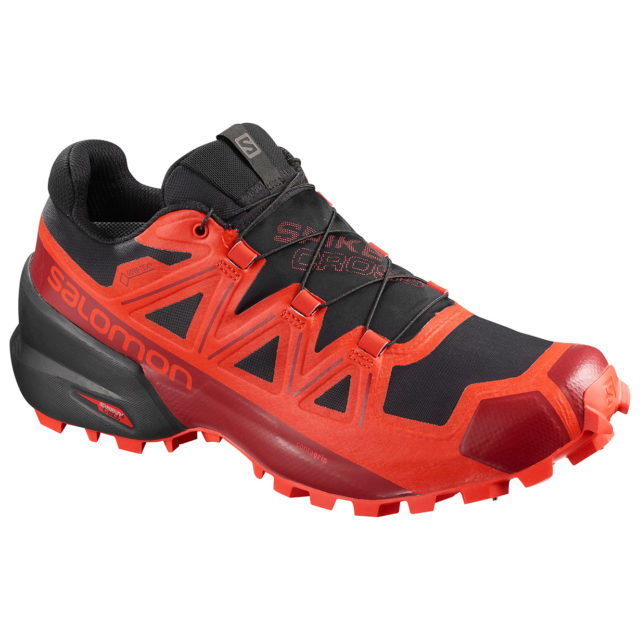 This is essentially a "winterized" version of the Speedcross 5. It takes the fit and midsole of the Speedcross 5 but adds a Gore-Tex bootie and features a "winter" Contagrip sole with 12 carbide spikes to help prevent slipping on snowy or icy conditions. For even more weather protection with the same excellent grip in winter conditions, see the next shoe.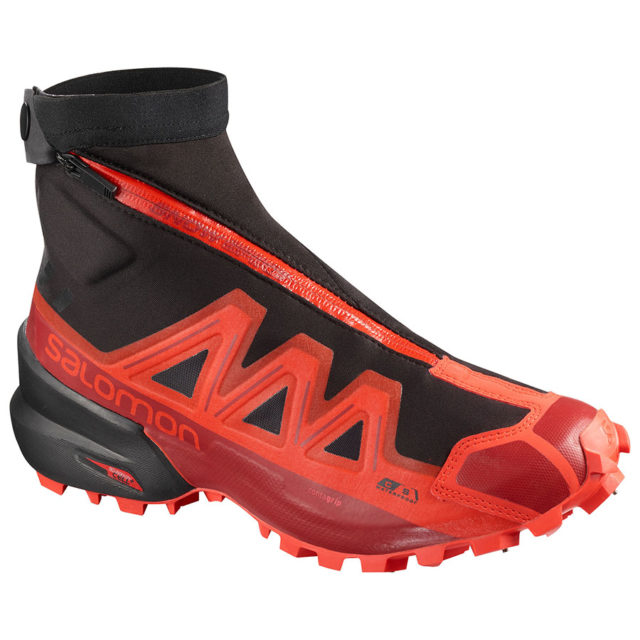 With the SnowSpike CSWP, Salomon took the SpikeCross 5 and added even more weather protection via a waterproof bootie / gaiter that extends above the ankle. This new shoe is designed to keep your feet dry, even in deep snow. With a high top and zippered gaiter to keep snow and moisture out, 12 carbide spikes in the outsole, and complete waterproof protection, this shoe is worth checking out if you need a new snow-running shoe and you get along well with the ride of the Speedcross series.
The Supercross looks a lot like the Speedcross, but with a few notable tweaks. They both have aggressive outsole patterns, but the Supercross uses a slightly more durable and less grippy rubber compound. The Supercross also uses a slightly less structured and supportive upper, and a midsole with a bit less rebound and cushioning. Lastly, it's a bit lighter and less expensive than the Speedcross 5, and is a solid choice for people seeking a trail shoe that excels in challenging conditions like mud and loose dirt. And if you want a slightly lighter and cheaper ($90) alternative, the more hiking-oriented Salomon Alphacross is worth a look.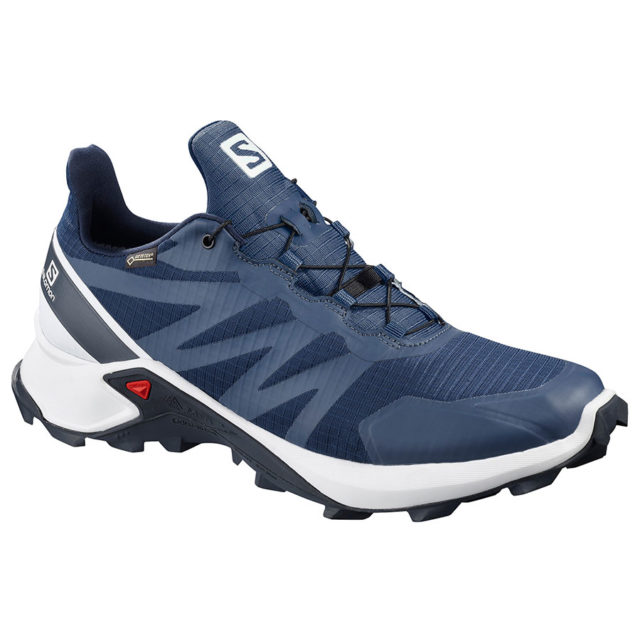 This is the same shoe as the Supercross, but with a Gore-Tex insert to keep out water, at the cost of breathability.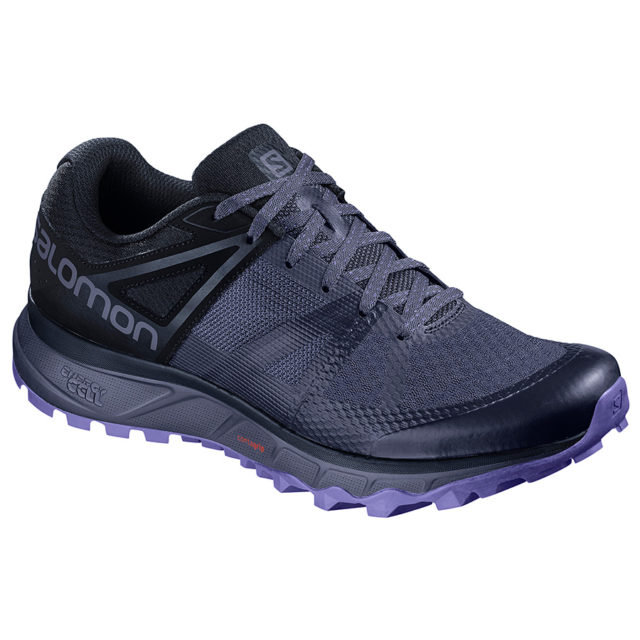 This is an affordable shoe designed for people who are transitioning from road running to trail running, and who need a shoe for both. The Trailster uses a regular lacing system and fits very similarly to many of Salomon's road shoes. But the Trailster features a full-rubber outsole with moderate lugs to provide good grip on rocks and mellow trails, while still being efficient on pavement. It's not the best option for really wet conditions or where maximum grip is a priority (it uses the more durable, less grippy ContaGrip rubber), but the Trailster is a solid option for a mix of road and trail running.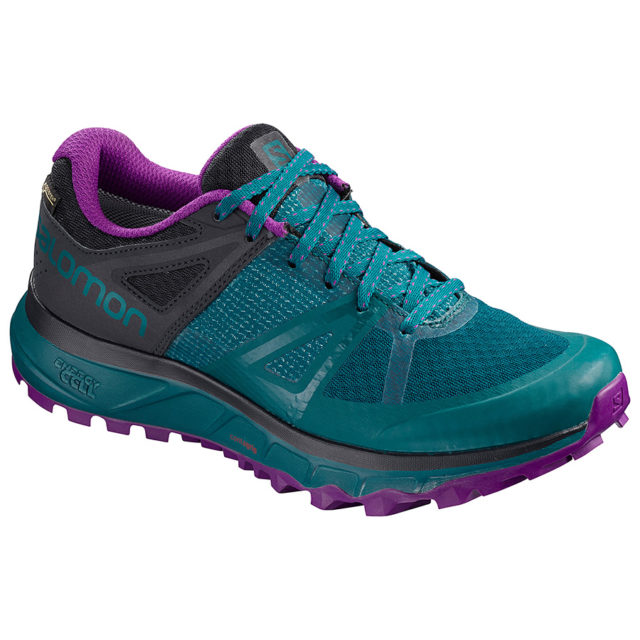 This is the waterproof version of the Trailster — better for wet runs, and worse for hot days.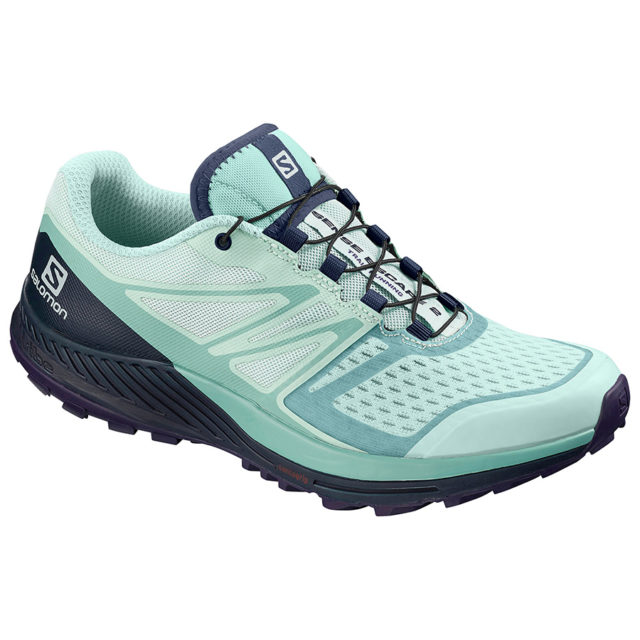 Taking the same midsole material used in Salomon's road shoes and pairing it with a full-rubber Contagrip outsole, this trail shoe will feel similar to Salomon's road runners, yet is designed to provide grip on a wide variety of terrain. It's a good alternative to the Sense Ride 2 if you want something with a slightly higher drop and more cushioning in the heel, or if you're looking for a durable shoe to transition from pavement to dirt (the Sense Escape 2 uses a more durable, but less grippy version of their ContaGrip rubber).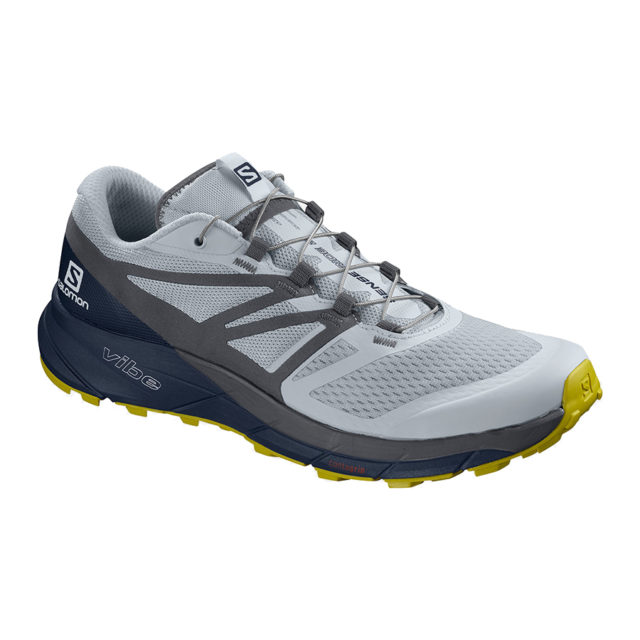 With a bit less cushioning than the Sense Max 2, a more structured upper, and a full-rubber outsole, the Sense Ride 2 is a solid option for those seeking a moderately cushioned everyday trail shoe. Its moderate cushioning, lack of a rock plate, and flexible midsole keeps you feeling close to the ground while providing a more forgiving ride than many of Salomon's more minimal trail shoes. Compared to the Ultra/Pro, the Sense Ride 2 has a less supportive / more flexible upper and is better suited to less technical trails or those who want a lighter, plusher shoe.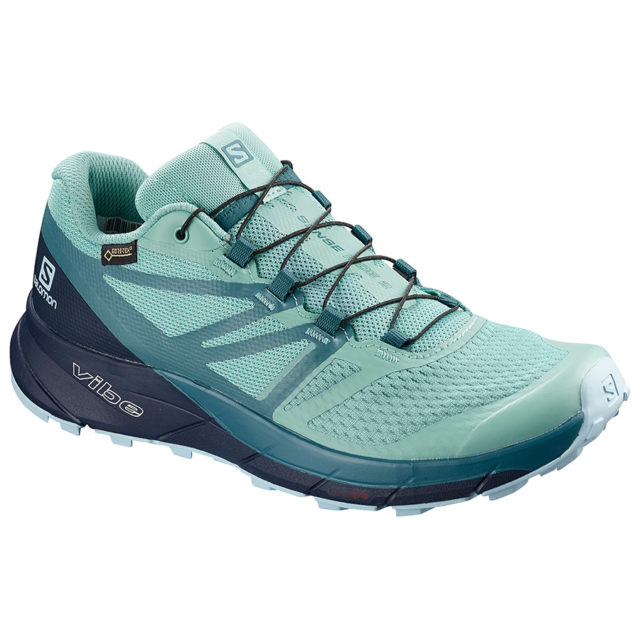 This is the waterproof version of the Sense Ride, featuring the same midsole and outsole but adding a Gore-Tex insert. This makes it far better for cold and / or wet runs, but that comes at the cost of breathability. Gore-Tex's "Invisible Fit" tech integrates the waterproof layer into the outer part of the upper, rather than using a traditional internal liner, which is meant to make the waterproof versions feel and fit much more similarly to the non-waterproof versions.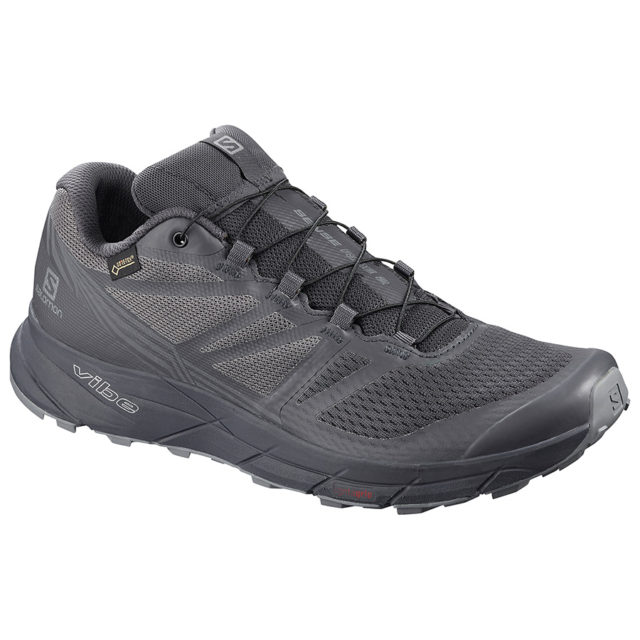 This shoe is almost identical to the Sense Ride GTX Invisible Fit, but adds a 360° reflective print that makes it better suited for wet and / or cold runs at night, where you want to be seen.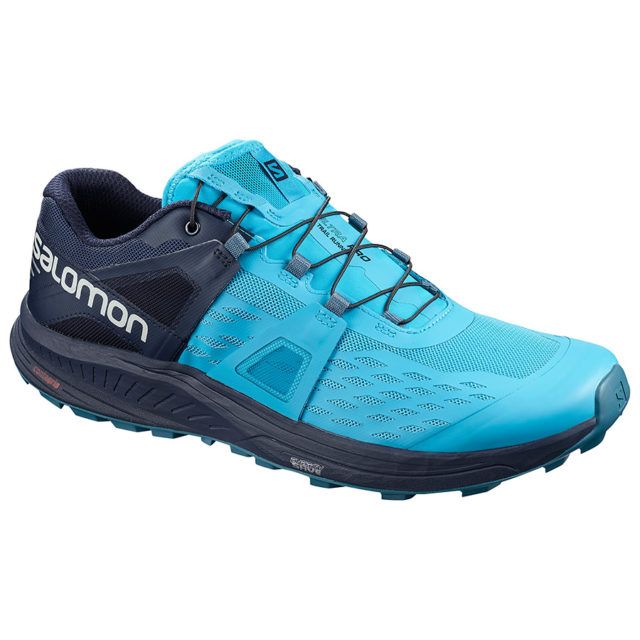 If you enjoy the fit, feel, and ride of the S/Lab Ultra but want something that'll hold up better to regular training days, this is a good shoe to have on hand. Alternatively, if you like the sound of the Sense Ride 2 but want something with a more supportive upper and a more efficient / less plush midsole, the Ultra Pro might be the shoe for you.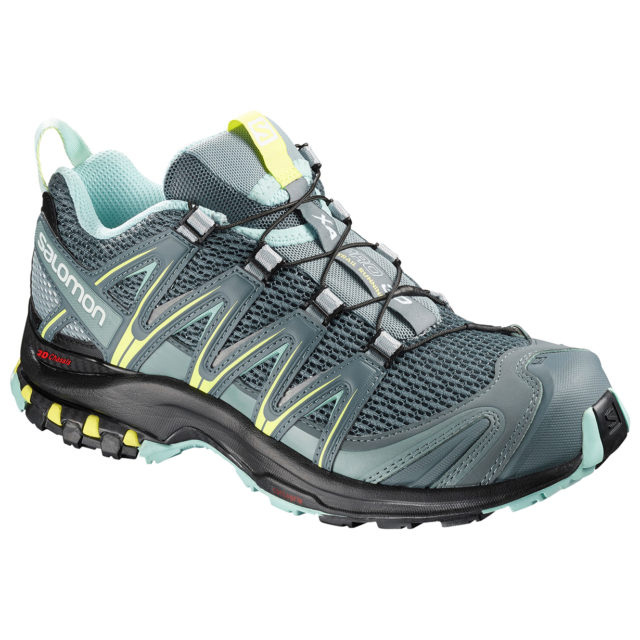 While Salomon markets this shoe as both a trail running shoe and a hiking shoe, we think it'll make the most sense for people who are seeking a hiking shoe. It offers a very stable, supportive, and protective construction, and it's one of the stiffest shoes here. But it's also quite heavy, and we think most of the other shoes here are better options for actually running on trails. But if you prefer a very supportive shoe and don't mind it being quite heavy, the XA Pro 3D might be worth a try.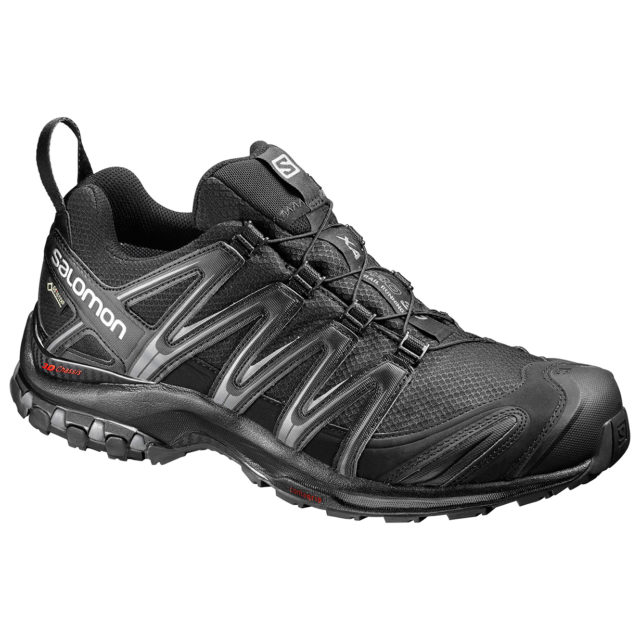 As the waterproof version of the XA Pro 3D, this shoe takes all of the traits of that shoe and adds water resistance while decreasing breathability.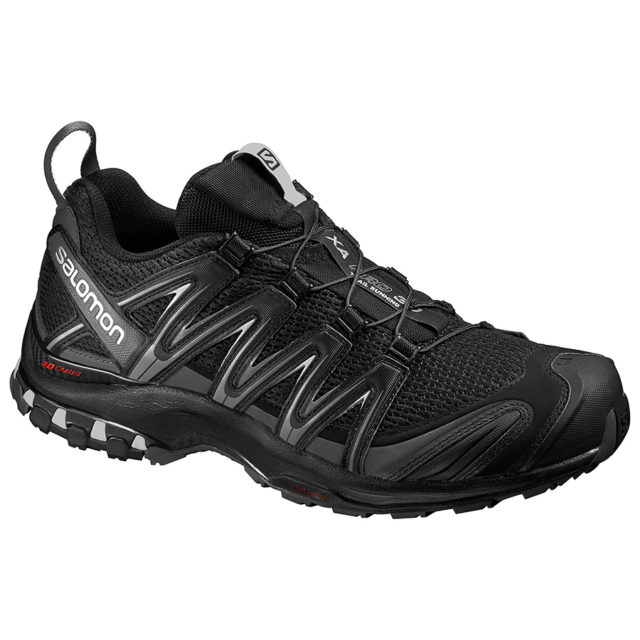 This is the same shoe as the XA Pro 3D, but its wider fit adds a bit more room through the midfoot area.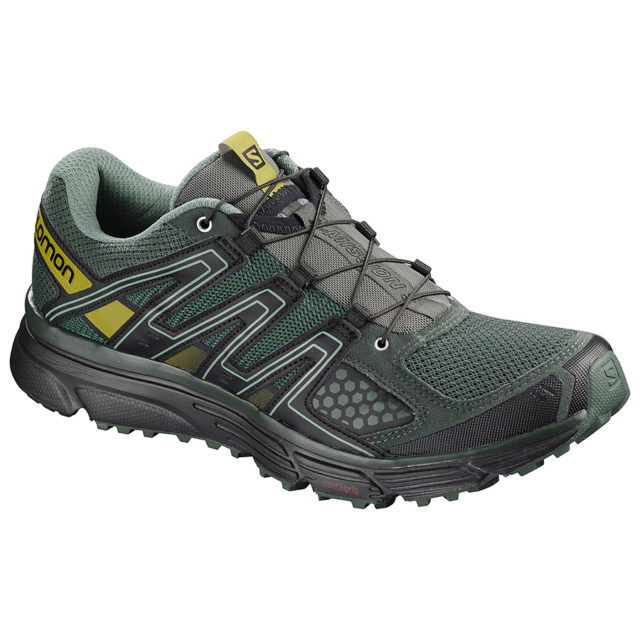 Like the Trailster, the X-Mission 3 is designed to seamlessly transition between pavement and trails, and is a good alternative to the Trailster if you want a shoe with a more supportive upper and / or a bit less cushioning. The X-Mission 3 has a higher arch and a wider toe box, and the inlays in the upper help to hold your foot in place and prevent movement to accommodate for the additional room in the toe box.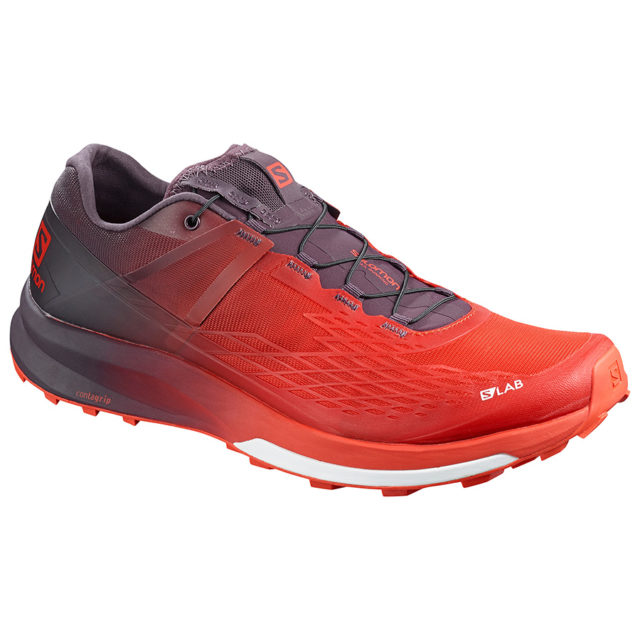 The S/Lab Ultra 2 is Salomon's most cushioned race-oriented trail shoe. The second version of this shoe is designed to be both more durable and lighter than the original model, while still featuring the precise fit and long-distance comfort and ride that Francois D'haene (an accomplished ultra runner from France) helped to create. These shoes are very similar to the Ultra Pro but are a bit lighter, have a bit less structure to their upper, feature a higher-rebound midsole material, and likely aren't as durable.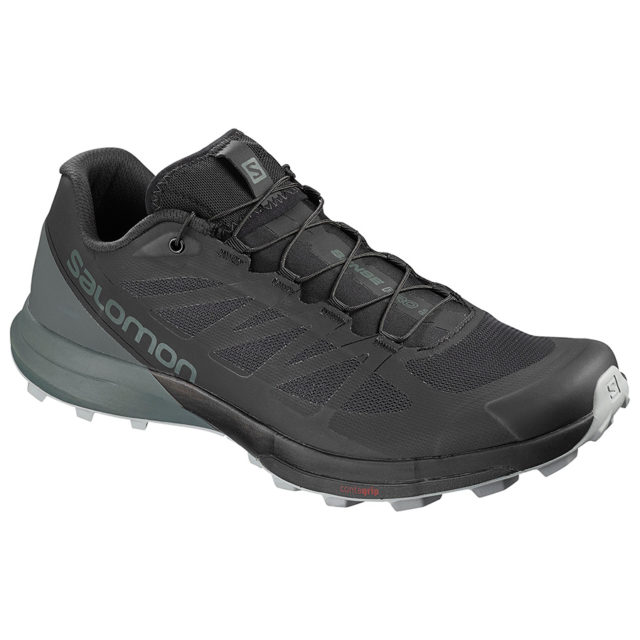 With a rockplace from the toes to the midfoot and a midsole material with more rebound / energy than the X-Mission 3, the Sense Pro 3 offers an energetic ride while doing a better job of protecting your forefoot from rocks, roots, etc. compared to the X-Mission 3 and Trailster. It has a pretty moderate lug pattern and a middle-of-the-road rubber compound which should make for a pretty durable shoe that could work well for a variety of trails and some pavement. And thanks to its very thin upper material, the Sense Pro 3 is very light. All of this makes the Sense Pro 3 an appealing option for those who like the low weight of the S/Lab shoes, but want something more durable and less expensive.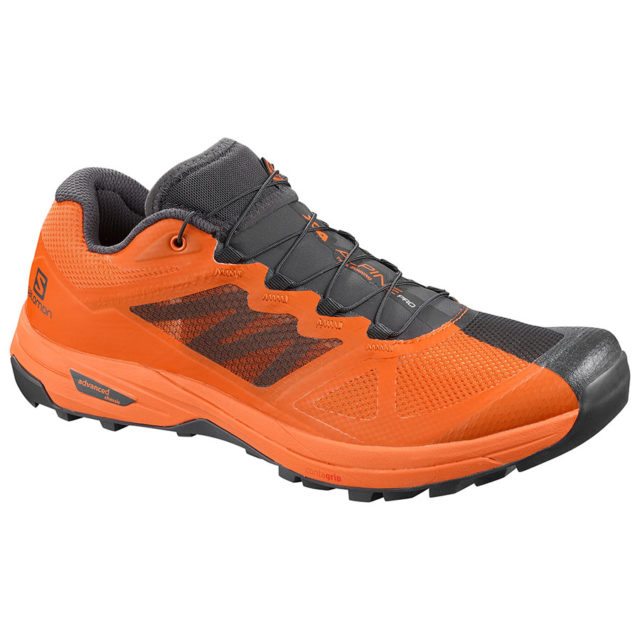 If you prefer adventures above treeline, this new shoe in Salomon's 19/20 lineup may be a good match. As part of Salomon's "Alpine" line, the X Alpine Pro blends features of running shoes with those of climbing approach shoes. Its outsole is designed to excel on rock, and features a flat "climbing zone" near the toe for maximum grip when scrambling. Its thin upper should be very breathable, but added overlays offer more protection than many of Salomon's general trail running shoes like the Sense Pro 3. Lastly, the X Alpine Pro uses a more supportive chassis that's designed to make the shoe feel stable when running / scrambling on inconsistent, rocky terrain, but don't expect this shoe to be super forgiving / soft.
This is another one of Salomon's winter shoes, featuring 15 carbide spikes, an agressive, widely spaced lug pattern, a waterproof insert over the forefoot, and a moderately cushioned, lower-drop midsole. The SpeedSpike is similar to the SpikeCross, but the SpeedSpike is less cushioned, has a lower heel-to-toe drop, and only features a waterproof insert in the forefoot, rather than a fully waterproof insert. The SpeedSpike also has slightly smaller lugs and a lower cut around the ankle.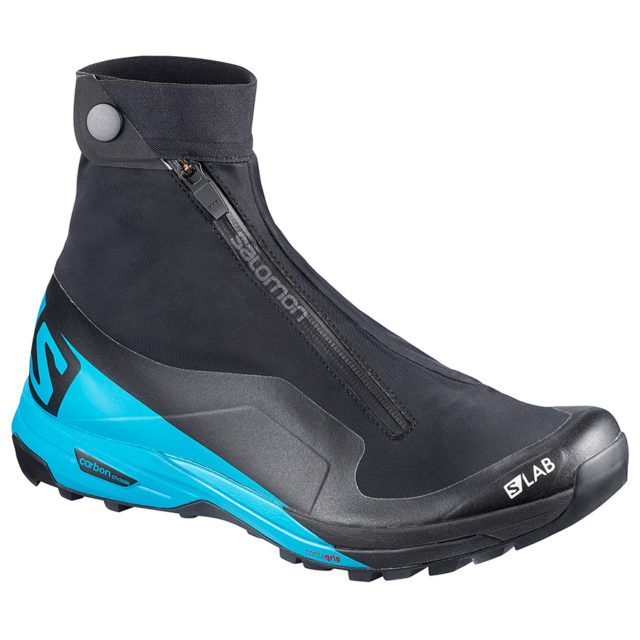 This is a pretty niche shoe designed to keep your feet dry, stable, and rock-free during runs in very technical terrain. This shoe was designed with Killian Jornet in mind, and it's well suited for his extreme adventures. The XA Alpine 2 uses a shank and carbon chassis that make it significantly stiffer and less pliable compared to most trail shoes. The upside to this is excellent control and stability while scrambling and edging on rock. While the XA Alpine 2 does feature a full gaiter that wraps above the ankle, it's not waterproof and is instead designed to keep rocks out of the shoe, provide a bit more protection around the ankle, and keep you dry during the ocassional glacier / snow crossing. If you don't tend to run in a lot of extremely rocky terrain, the other trail shoes here will be better (and far cheaper) options. But if you want to run fast on the most technical alpine terrain, the XA Alpine 2 is worth a look.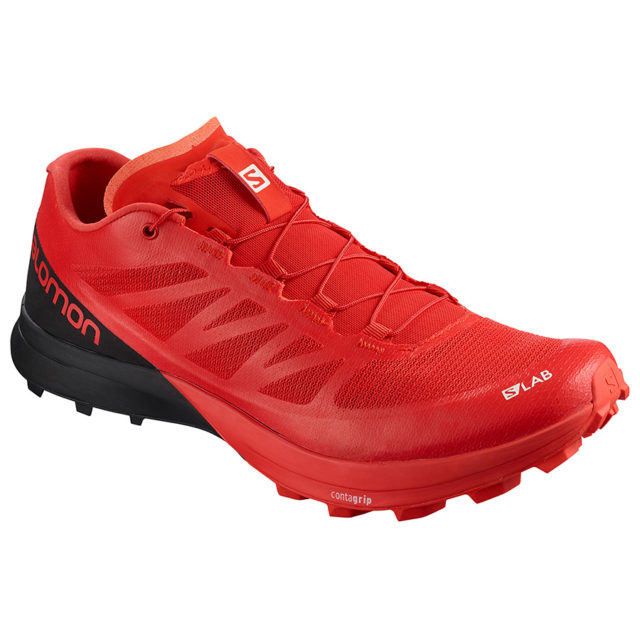 As part of the S/Lab lineup, these light and minimal shoes are designed for racing and running fast. They use a pretty thin midsole with a much lower drop compared to most Salomon shoes. The midsole is designed to offer lots of rebound and ground feel, while a thin film offers increased protection from rocks. The "SG" version (aka, "soft ground") has larger lugs and a slightly thicker midsole than the S/Lab Sense 7, designed to give you added traction on mud or slick rock and a slightly more plush feel on rough terrain. These shoes feel very similar in both weight and fit compared to the Sense 7, so just pick the one with the outsole and midsole that makes sense for the terrain you frequent.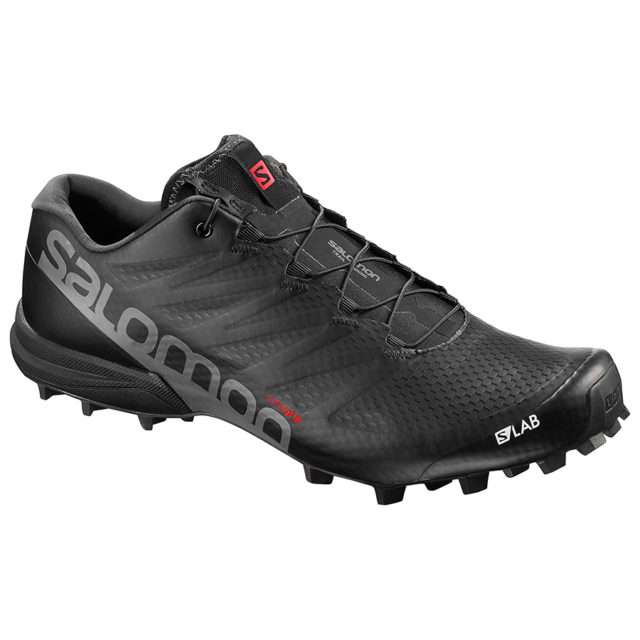 The Speed 2 is designed for racing in wet, slippery, and muddy conditions. The S/Lab Speed 2 is very similar to the Speedcross 5 in shape and fit, but with a lighter and thinner midsole designed for efficiency and speed. If you are going to be racing on muddy or slick terrain, this may be a good shoe to check out.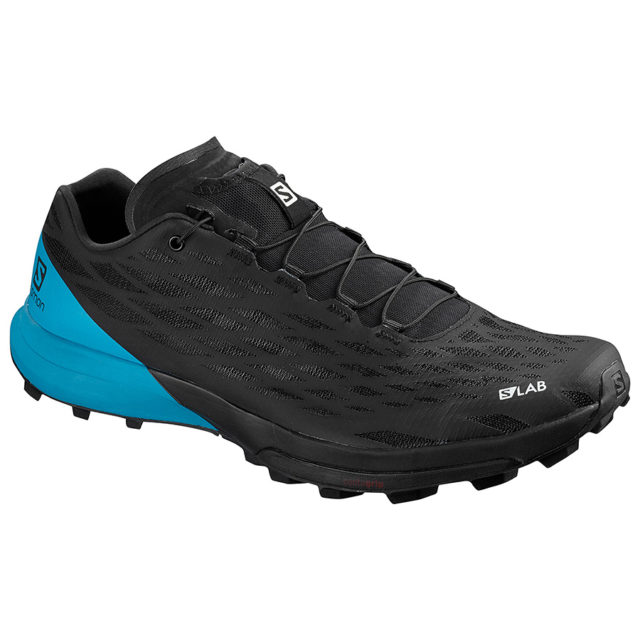 This is another fairly niche shoe, designed specifically for runs that involve a lot of water, whether that be river crossings, rain, or races that include both running and swimming. Rather than using a waterproof insert to keep water out, the S/Lab XA Amphib 2 uses a very breathable open-knit upper designed to let water move in and out of the shoe and dry quickly. It also features a ContaGrip outsole with a rubber compound specifically designed for wet terrain, though the lugs don't seem as ideal for really sloppy, deep conditions (e.g., mud & snow) compared to the S/Lab Speed 2. The S/Lab XA Amphib 2 is also very light with an energetic midsole, protective film insert, and fairly minimal cushioning.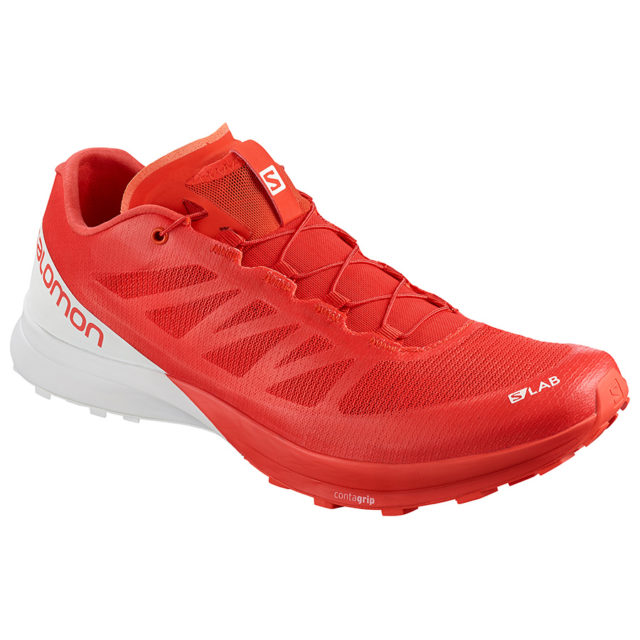 This is Salomon's lightest and most minimal trail shoe. The Sense 7 has a rock plate that goes from midfoot to the toes; it is just enough to protect the soft spots of the foot from sharp rocks without adding bulk. The shoe is extremely light with very minimal cushioning, making it ideal for racing but probably too minimal to be an everyday shoe for many people. The lugs on the Sense 7 are smaller than the Sense 7 SG, making them ideal for smooth, rocky, rooty terrain without much mud or moisture. If you are in the market for a new trail-racing shoe and you prioritize low weight and ground feel, the Sense 7 is worth a look.