Hoka Tecton X
Test Location: Marin, CA
Test Duration: ~ 90 miles / 15k vertical change
Stated Stack Height (Heel / Forefoot): 33 mm / 29 mm
Stated Heel to Toe Drop: 4 mm
Stated Lug Depth: 4 mm
Stated Features:
Vibram MegaGrip Litebase outsole zonally constructed to save weight without sacrificing traction.
ProFly X midsole constructed from supercritical EVA foam strategically layered underfoot.
Dual parallel carbon plates intended to increase energy return while allowing forward and lateral movement on uneven surfaces.
Lightweight jacquard mesh upper for breathability and fit.
MSRP: $200
Size Tested: US Men's 9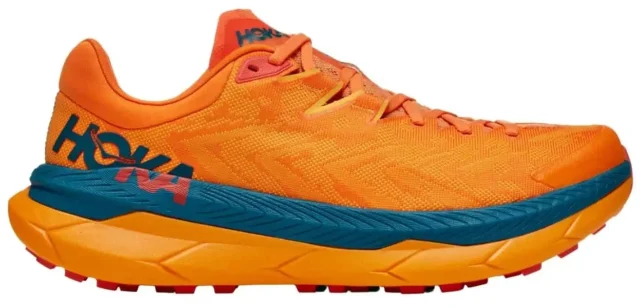 Stated Weight Per Shoe (US Men's Size 9): 252g / 8.9 oz
Blister Measured Weight per Shoe (US Men's Size 9):
Shoes + Laces: 237 g (right) + 235 g (left)
Insoles: 14 g (right) + 14 (left)
Total: 251 g (right) + 249 g (left)
Shoe Release Date: May 1st, 2022
Reviewer: 5'9, 155
Intro
When Hoka (they've now dropped the 'One-One') debuted "Time to Fly" as their slogan several years ago, it was tempting to read the move ironically. Teased for their lurid colors, teetering stack heights, and potbellied profiles, the thought of stepping into a pair of Hokas evoking "flight" seemed counterintuitive. With a midsole that looked cleaved from the Michelin man, some assumed the shoes were best suited for an audience with little cartilage left in their knees.
Ridicule dropped off sharply over the past few years, though. The status Hoka garnered as a serious player in the trail space over that time left many of its early critics with a proverbial foot in the mouth. Hoka's signature silhouette and overstated style expanded an entire classification of shoe, allowing them to stake out a sizable corner of the running market. Competitors scrambled to add more material to their midsoles. Now, models intended for the "maximal" shoe category predominate the market. If sales are any indication, the brand from Annecy left the ground quite a while ago.
With the Tecton X, a first-of-its-kind, carbon-plated, max-cushion trail shoe, Hoka is again wagering on cushion and originality to keep them flying. While performance plates are not altogether alien to the trail world, the Tecton X is one of the first plated shoes to take seriously the differing demands of trail running. Two independent pieces of carbon run parallel the length of the shoe's midsole and function similarly to how a 4×4's suspension would over rough terrain (though Hoka prefers the whole "tectonic plate" analogy). Both plates are embedded in thick EVA foam, providing ample padding for longer distances. Placing an emphasis on energy return and cushioning sounds paradoxical, but if any brand can design a shoe with room for both to coexist, Hoka's the clear frontrunner.
The Tecton X comes from a company with a reputation for taking risks, not all of which have been successful. Recall the Hindenburgian TenNine or the ill-conceived Clifton Edge, two models that likely inspired more head scratching than running. After putting some miles on my pair of Tecton Xs, I can say that Hoka's first carbon-plated trail shoe averts a similar fate. While the shoe leaves me feeling mixed, it's a worthy entrant into the hyper-performance trail shoe category and I expect to see plenty of Tecton Xs on the starting lines of summer races. In this review, I'll dive into its strengths and weaknesses before assessing who might benefit from the Tecton X as a result.
Fit
By sheer quantity, Hoka's trail line is one of the deepest of any brand. Their models blanket distances of all kinds, from technical VKs to 100-milers. A bevy of options ensures runners will never have a reason to leave Hoka's umbrella in search of a shoe more capable than one the company already offers. But brand loyalty relies on trust, and familiarity is often the rationale determining the fit of a shoe. Hoka excels at maintaining a comfortable parity across models so that hopping between each of them is often seamless.
The Tecton X doesn't degrade this trust; it fits similarly to other Hoka trail shoes I've tested. In some respects, the feel of the Tecton X resembles a mosaic, with certain features recalling aspects seen elsewhere in Hoka's lineup. The heel counter and midfoot deliver the same support as the Speedgoat EVO; the toebox wears like the Mafate Speed; the feathery mesh upper conforms to the foot ala the Zinal; and the understated stiffness of the Tecton X's midsole brings to mind the Carbon X 3.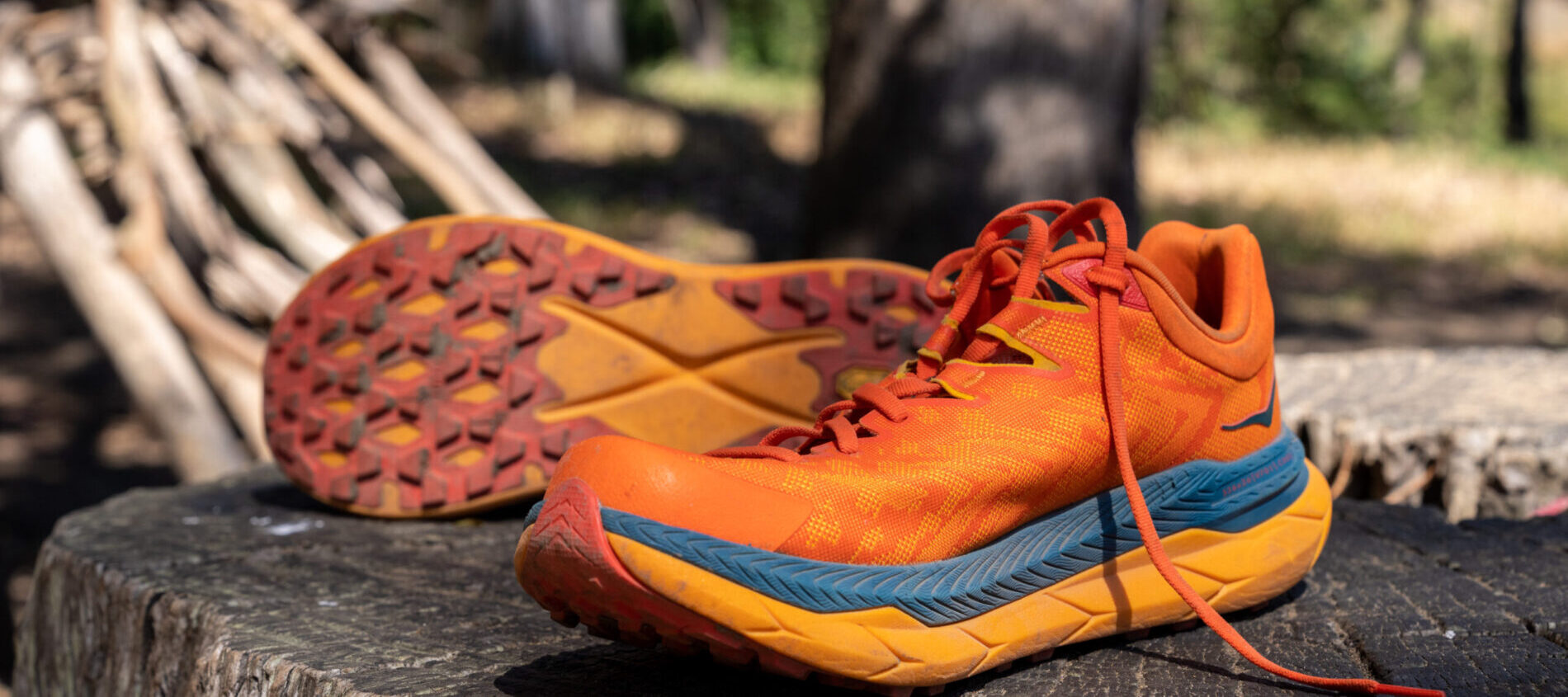 Collectively, the features the Tecton X borrows from its peers combine to do an adequate job supporting various foot shapes. The spacious toe box allows for ample splay for wide feet (though it's not as roomy as an Altra toe box), while the Tecton X's laces extend nearly down to the toe cap to grant those with narrow feet the option to adjust tightness across the forefoot. Precision extends through the arch to a pliable heel counter that's effective at securing the foot over non-technical terrain. If you've enjoyed either the Speedgoat EVO or the last two iterations of the Speedgoat, you'll be right at home in the Tecton X.
As we know, a shoe's fit will change over the course of its life. I find this particularly worth mentioning anytime I review a Hoka with an elevated stack height. "Pancaking out" isn't the technical term for what happens to chunky midsoles made from lightweight EVA foam, but it gives you a pretty good visual. Normally, predicting how this will affect the fit of a shoe is pretty straightforward: in most cases, you can expect width to increase, but since the compacted foam loses some of its energy return, foot security shouldn't be impacted. However, the Tecton X complicates things a bit. With loads of foam, a flimsy upper, and rigid carbon plates, there's a strong likelihood a broken-in pair will sacrifice lockdown and stability. An ill-fitting Tecton X will make for a pretty unbalanced ride. Without foot security to help direct the energy return from the carbon plates, I worry all that force will be left to pinball around the shoe as it slides. We'll see over the coming months.
Weight
At 252 g / 8.9 oz, the Tecton X is impossibly light, given its stack height (33 mm / 29 mm). The shoe's weight contradicts its shape, which might be considered blimp-like. This is a shoe that wants to get off the ground quickly and feels light on your feet. To do so, the Tecton X's 252 grams needed to be distributed thoughtfully. Hoka's solution is to use the same Vibram Megagrip Litebase and similar zonal construction seen in the Zinal's outsole. With less rubber anchoring the shoe's bottom half, the Tecton X's weight stays closer to the foot and the shoe ends up feeling lighter than it actually is.
If we look at other models in the Tecton X's category, it's far and away the lightest of the bunch. Here's a snapshot of how it compares to some other premium long-distance trail shoes currently on the market (all stated weights are based on a US Men's size 9).
252 g / 8.9 oz – Hoka Tecton X
260 g / 9.2 oz (Size 8.5) – Craft CTM Ultra Carbon
295 g / 10.4oz – Salomon S/LAB Ultra 3
295 g / 10.4 oz – On Cloud Ultra
295 g / 10.4 oz – TNF Vectiv Flight
330 g / 11.6 oz – La Sportiva Cyklon
329 g / 11.6 oz — adidas TERREX Agravic Ultra
In the context of other Hoka models, the Tecton X falls between the Zinal (241 g / 8.5 oz) and the Torrent 2 (258 g / 9.1 oz) in terms of weight, but bear in mind it does so with 1 mm more stack height than the notably heavier (281 g) Speedgoat EVO. These measurements are impressive, at least on paper. In practice, they give cause for concern. After testing it, I'm not sure all the lightweight elements that the Tecton X shares with other trail racing shoes are an ideal match with the Tecton X's enormous midsole. More on that later.
Upper
The Tecton X's debut colorway is a slurry of orange the shade of magma, a nod to Hoka's "plate tectonics" trope. Bright oranges and reds also connote speed, and the Tecton X's upper reflects that end. It's about as lean and lightweight as I've seen on a long-distance trail shoe, like a drag car without a passenger seat, loaded with just enough fuel to make it through the race.
The shoe features an upper made from a single layer of engineered jacquard mesh. The construction is similar to Hoka's other lightweight trail racer, the Zinal, but on the Tecton X, the upper is nearly split in half by laces running down the full extent of the shoe, nearly to the toe cap. A lay-flat gusseted tongue that's sparse on padding and an extended heel collar for comfort round out the rest of the upper.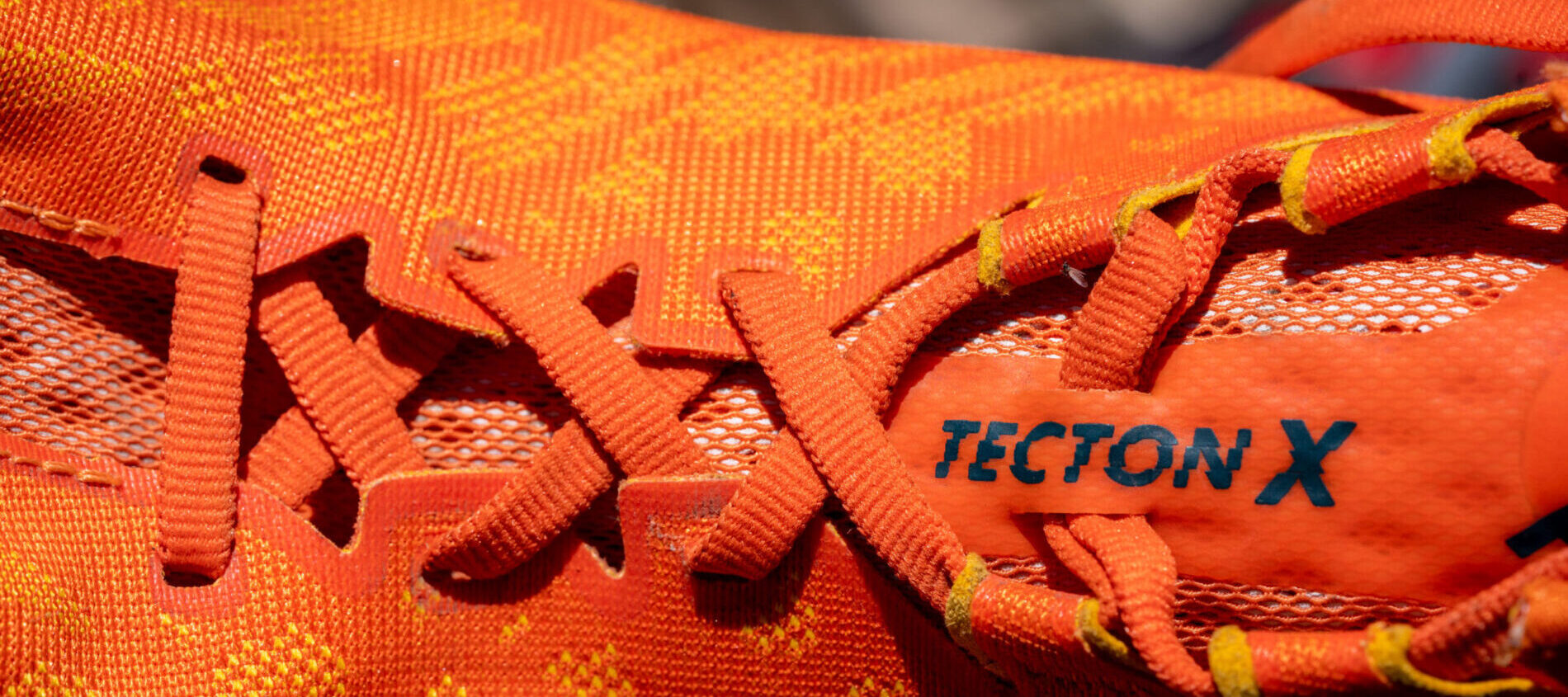 The Tecton X's lacing layout reminds me of what's seen on most climbing / approach shoes. Extending the laces over the toe box allows wearers a precise fit along the entire foot. Those not needing the room up front will have the option to securely cinch down their forefoot to avoid excess motion. It's smart thinking undercut by imperfect execution. In my opinion, the weight-saving measures Hoka takes with the Tecton X's upper sabotage an otherwise promising design. Durability and fit issues abound. The lace eyelets are crudely punched directly into the engineered mesh; the lack of overlays connecting the lacing system to the midsole hinder a locked-down fit; the single layer of engineered mesh is prone to stretch; and after only 50 miles, I've noticed creasing and fraying over the toe box. Together, these problems are compounded by the Tecton X's rigid, high-stack midsole, making a shoe predisposed to instability that much more unstable. Personally, I'd have no qualms with sacrificing a few grams worth of weight if Hoka had added a welded overlay or two.
Midsole
Carbon plates are not the only feature carried over from road shoes that Hoka adapts for the Tecton X. Its midsole design overlaps with the new Hoka Carbon X 3. Both models use what Hoka calls their ProFly X construction — a supple layer of foam directly underfoot for comfort, sitting atop a thicker layer of "Super Critical" EVA foam (with carbon plates pinched between). The two models share plenty of DNA. Correlatives between a brand's road lineup and trail lineup are often sensible, but their success depends on the purpose of the shoe. E.g., Nike's Pegasus and Pegasus Trail 36 prospered by virtue of their versatility and simple design. However, the more specified a road shoe is, the more resistant it is to remodeling for trail use. Hoka's Tecton X is trumpeted as a true "trail racer," but the shoe is still defined by a midsole better suited for setting road PRs.
My grievances with the Tecton X's midsole are mostly lodged in the shoe's carbon plates; I'm actually quite bullish on the two foams Hoka chose to surround them with. The combination of the top layer's hallmark Hoka squish and the resilience / support of the Super Critical EVA foam beneath lend the shoe a nice balance. The midsole feels like it has more energy than those of the Speedgoat 4 and Challenger ATR 6, and more cushion than the Torrent 2's and Zinal's. I'd love to see Hoka implement similar foam compounds across their trail models moving forward.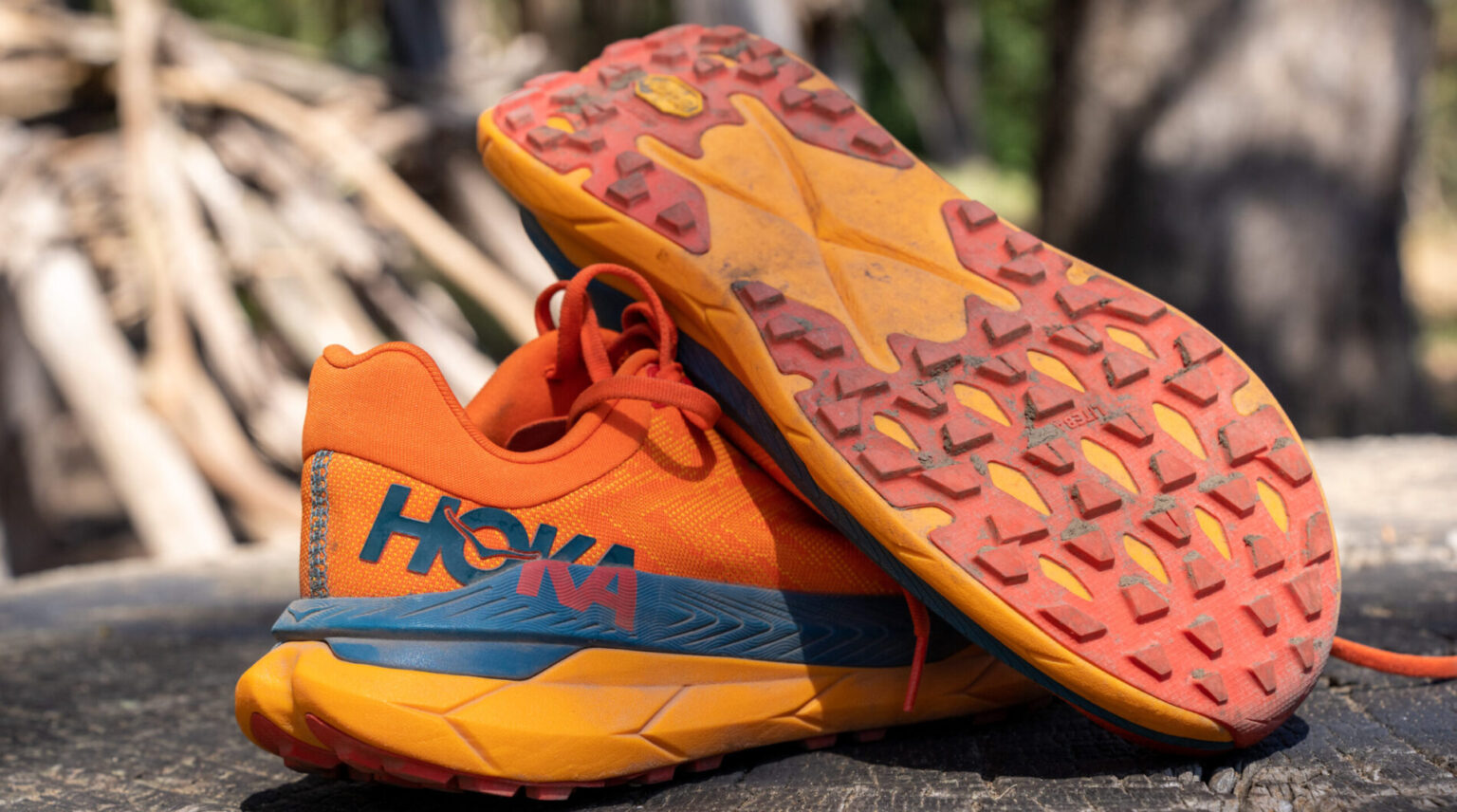 But the plates, man. In order for carbon plates to be effective, they need to be rigid (don't press me on the physics). More rigidity is the last thing the Tecton X needs. Trail shoes with stack heights over ~30 mm need to retain degrees of flexibility to steady themselves on off-camber trails. As a corrective, Hoka splits their plate into two parallel strips, in theory allowing each strip to work independently within the midsole as the shoe navigates uneven terrain. In theory, ground feel shouldn't be impacted and runners should still benefit from the added energy return the plates confer. It's a smart proposition, which makes the Tecton X's struggles all the more vexing.
In practice, the addition of inflexible plates to a fairly firm hunk of EVA foam robs the midsole of most of its ground feel, dealing a blow to a shoe already compensating for a maximal stack height. On technical singletrack, running in the Tecton X felt harrowing and unpredictable. Its midsole refused to flex against the angled sides of trails and my footing gave out consistently when scrambling over rocks and roots. That said, I'm optimistic the shoe just needs time to mature and soften, which should return some of the ground feel nullified by the carbon plates and thick midsole. As the Tecton X ages in my rotation, I'll chime back in with updates.
Outsole
Vibram outsoles are a selling point for many trail shoes. The name comes with its own reputation, accrued from years of engineering some of the best treads on the market. Hoka's relationship with the outsole manufacturer is extensive, with some of the first iterations of the Speedgoat shod in Vibram Megagrip rubber. The two companies continue to play off one another as demand for innovation within the shoe industry increases.
In 2021 Hoka debuted the Zinal, a lightweight trail shoe named after the celebrated 31K Swiss race. To slim down, Hoka crafted the shoe's outsole from zonally constructed Vibram Megagrip Litebase, a tread 30% lighter than Vibram's other styles. Our review of the Zinal came down favorably on its outsole, with consideration paid to the shoe's intended use — shorter, faster efforts on buffed-out trails.
A very similar Vibram Megagrip Litebase outsole appears on the Tecton X. Again we see patches of Litebase tread limited to the forefoot and heel, separated by an exposed area of bald EVA foam. 4 mm lugs cover slightly more surface area on the Tecton X than they do on the bottom of the Zinal, but considering the Tecton X's intended use and various stability issues, it's surprising not to see a more robust outsole.
In practice, the Tecton X struggled to maintain traction on steep, wet, and/or loose trails. Road-adjacent surfaces like bike paths and groomed gravel roads suit the shoe's tread much better, consistent with the types of terrain its upper and midsole fare well on. Nevertheless, the Tecton X still feels separated from its potential. Providing the shoe with a generous layer of Vibram Megagrip the length of the outsole instead of the dietary amount it currently has would go a long way in bridging that distance.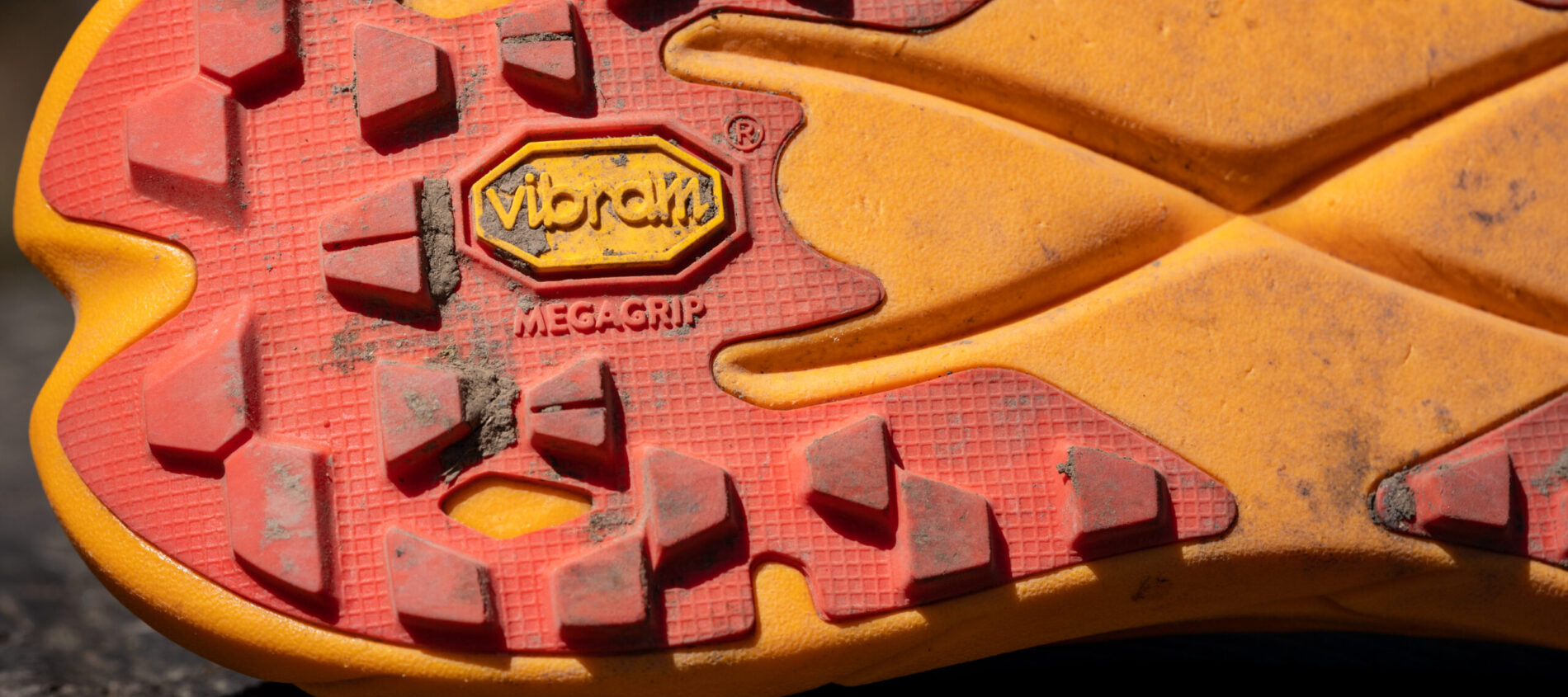 On Trail
Having been burned by carbon-plated trail shoes in the past, my anticipation for the Tecton X was measured with both hesitancy and optimism. Maybe craftily splitting the carbon plate into two pieces would absolve the Tecton X from stability issues faced by past models equipped with performance plates? Hoka's reasoning appeared unambiguous and informed, reflective of how well the brand understands trail runners' needs.
Yet, many of the first 40 miles I covered in the shoe were spent grappling with how disconnected the shoe felt from the rationale behind its design. Despite redoubled efforts to convince myself that Hoka had bested themselves — that I could not not be enjoying every propulsive stride, that my form was to blame for the unsteadiness I never got around — my enthusiasm for the shoe waned after 90 miles. Self-deception can take you quite a ways in running, but not when it concerns your gear.
The Tecton X has some pretty sharp limitations, which might be fine, depending on how you use it. Non-technical trails with graded climbs are where I think the shoe excels. But most ultras, by dint of their length, include varied terrain on which the Tecton X might feel clumsy, so using the shoe as a long-distance option seems precarious. A realistic use case might be to strategically switch into the Tecton X for flat, runnable stretches of a race. The plates, after all, do work in a traditional sense; the shoe is still impressively lightweight, and the midsole is cushioned enough to support longer efforts. That said, I expect most folks to benefit from a more versatile shoe on race day. On that note, stay tuned for our review of the Hoka Speedgoat 5.
Durability
I'm dubious of trail shoes that use their "race specific" standing to skirt durability issues. Performance at the expense of lifespan is an exchange attached to high-end shoes, both road and trail, but the value of that transaction is murkier with plated trail shoes. Anecdotes aside, there isn't much hard evidence to support they lead to better performances off-road or over ultra distances. Without the assurance of speed, justifying the price of a carbon-plated trail shoe that's less hardwearing than models half the cost becomes hard to square.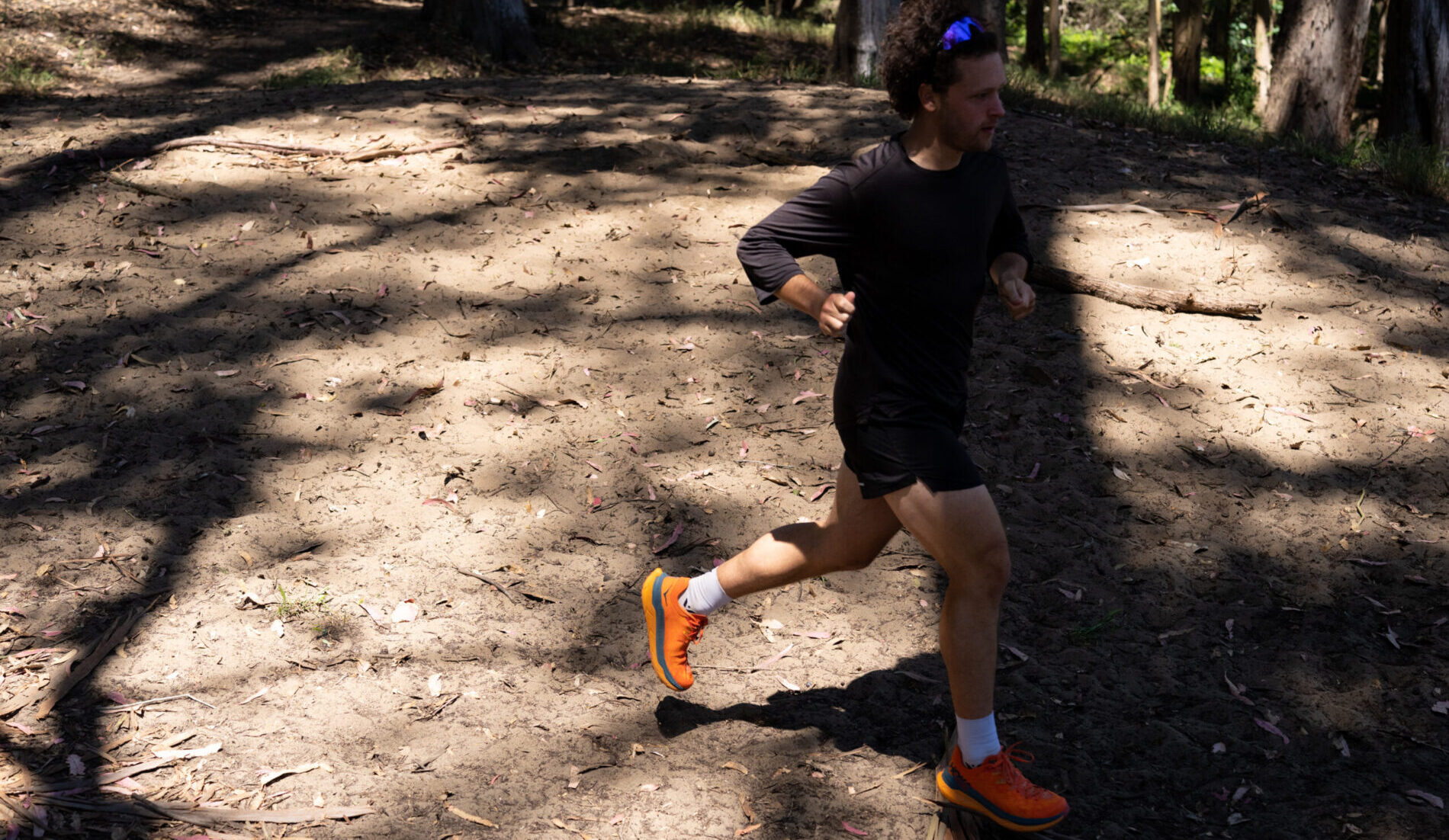 After 90 miles in the Tecton X, most of my suspicions surrounding the shoe's durability are bearing out. A single layer of engineered upper, sans overlays, lacks the resilience required to keep my foot controlled while running on such a twitchy, rigid midsole. Hoka's jacquard mesh and thin sliver of a tongue creased and warped after my first dozen miles in the shoe, enough that I'd have to tighten the laces to the point where the opposite eyelets nearly touched. I was also wary of how much exposed midsole there is on the shoe's outsole. Leaving such a soft underbelly vulnerable to the right-angles of rocks gave me anxiety, and sure enough, my pair's outsole is full of gouges to the unprotected EVA.
That said, the fragility of the Tecton X's upper and outsole is buoyed a bit by the integrity of its midsole, which (sorry) never lost a step. Hoka's Profly X construction is laudable, especially coming from a brand that has had issues with the longevity of their foams in the past. So to sum things up: I think if you're selective about what types of trails you take the Tecton X on, you can probably expect a normal lifespan out of the shoe. I'll report back if any unusual durability issues arise in the future.
Who's It For?
The Tecton X is an accessory shoe in the least pejorative way possible. It's intended to complement a range of Hoka models that serious trail runners rotate through during their training blocks; the Tecton X is by no means a mileage-eating trainer. Durability and design issues limit the Tecton X's ideal usage scenarios, so gauging how to get the most from this shoe can be hard to do. Personally, I think it's best treated like its carbon-plated road analogue, the Carbon X 3 (i.e., worn for key workouts and on race day). Sticking with that comparison, I'd save the Tecton X for pavement-adjacent trails like fire roads and caution against putting a ton of confidence in its potential to deftly handle technical trails. If you're a Hoka diehard and your shoe quiver can accommodate a fairly specific shoe from the top shelf, then the Tecton X is a fun addition.
Bottom Line
Carbon plates continue to colonize trail shoes, deservedly or not. Hoka's Tecton X is the first model to thoughtfully incorporate plated technology into a shoe with the demands of trail running in mind. While the Tecton X falls victim to some of its racing aspirations, forsaking durability and stability for speed, its segmented carbon plate and Hoka's new ProFlyX midsole construction are high performers. However, because of the Tecton X's high degree of specificity, its use cases are limited, and it struggles on technical terrain. The shoe is an ideal candidate for fast and smooth trail races of any distance, but for runners looking to lean on the Tecton X for general training, Hoka has (lots of) better options.