Speedland SL:PDX
Test Location: Marin, CA & Bellingham, WA
Test Duration: 150 miles / 35K vert
Stated Stack Height (Heel – Forefoot): 28 mm / 23 mm
Stated Heel to Toe Drop: 5 mm
Stated Lug Depth: 7 mm to 4 mm
Stated Features:
PerformFit™ Wrap powered by BOA Li2 Fit System (dual-dial with multidirectional incremental adjustments)
A knit Dyneema® upper
Carbitex carbon plate (removable)
Pebax SCF midsole
Michelin textile web outsole
Dyneema moccasin stitching
3mm cuttable lug system for terrain specificity
Two optional drainage ports along the outsole
MSRP: $375
Size Tested: US Men's 9
Reviewer: 5'9″, 155 lbs / 175 cm, 70.3 kg
Release Date: June 2021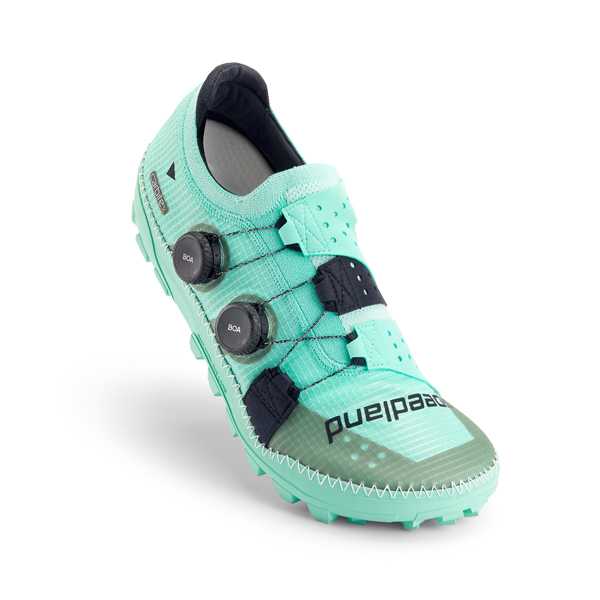 Stated Weight Per Shoe (US Men's Size 9): 10.3 oz (9.9 oz trimmed)
Blister Measured Weight per Shoe (US Men's Size 9): 304 g (left) 309 g (right)
Intro
The first time I saw a pair of Speedland's debut model, the SL:PDX, was on the internet, on my phone, where one discovers most things. My thumb paused over an image of spearmint shoes pinned under the bronzed Hellenic calves I knew belonged to Dean Karnazes. Dean's lower legs control the physics in just about every picture — they are the burning sun around which we orbit — but the pair of the SL:PDX pulled me toward them with their own gravity. Pinching at my phone, I leaned in to study the curious pair of glowing shoes, giving them my entire screen. But more pixels just furrowed my brow further. At a loss, I flicked the picture back into cyberspace.
This was in the middle of last summer. Since then, we've learned a lot more about Speedland and their "hyper-performance trail shoe." Founded in June 2021 by Dave Dombrow and Kevin Fallon (see our Off The Couch podcast with them for more), two friends with several decades of experience in the footwear industry between them, the SL:PDX is their Frankenstinian brainchild.
Taking influences from cycling and skiing, the SL:PDX is crammed with technological firsts rarely seen in the trail shoe space. To name a few: Michelin rubber outsoles featuring trimmable lugs, removable Carbitex carbon plates, BOA's Li2 Fit System, Dyneema, etc. Speedland is a company steadfast in its pursuit of crafting a truly incomparable piece of equipment, and the quality of its product is a glittering reflection of that commitment.
If your wallet just let out a deflated sigh after reading 'carbon,' it's well justified. Unlike larger brands compelled to orient their trail lineups around various price points to reflect an economy of scale, Speedland is not fenced in by financial constraints (and neither are most of their customers, it seems). As the company's website will tell you, "compromise is not in [their] vocabulary" and the price of concession is steep — the SL:PDX retails for $375.
That's a king's ransom for a pair of trail shoes — double the cost of most other models you likely won't get twice the number of miles out of. But should that matter? Speedland doesn't seem to think so. The company admits that the SL:PDX is not for everyone (nor could it be – their first commission produced only 1200 units, 1198 if you account for Dean and me). While Speedland says they have plans for several more drops later this year, supplies will be limited.
"Wait, so then why the hell are you reviewing a shoe most of us will be unable to buy, even if we had the $375 to burn?"
Well, because the SL:PDX affords us the opportunity to test a bunch of novel technologies rolled into a single pair of shoes. Boutique shoemakers willing to take creative risks will generate opportunities for innovation to trickle up to more watchful brands producing at a larger scale. You'll see more Dyneema and BOA in the future. And for those fine unblinkingly shelling out around $1 per mile for a pair of the SL:PDX or the upcoming SL:HSV, you won't be disappointed.
Fit
Some modern trail shoes ignore the foot's mechanics by directing their attention externally, toward terrain and protection. Speedland turns attention inward, concerning themselves with how their shoe's design interacts with the foot. As a guiding principle, this pays off. Simply put, the fit quality of the SL:PDX is unmatched. In fact, fit alone should be enough to assuage hesitant buyers.
The shoe's upper borrows a sock-like design from other models in the high-performance shoe category (recall Salomon's S/LAB Ultra 3 and the La Sportiva Cyklon). This isn't particularly original and wouldn't be notable here if Speedland hadn't managed to do it far better than anyone else. The latest sock-like knit uppers have a tendency to breathe poorly and almost always sacrifice durability. They also seemingly never include a heel tab, which can make getting the shoe on its own form of exertion. Speedland solves both problems by implementing lightweight reinforced mesh and adding a nifty pull tab at the top of the heel collar.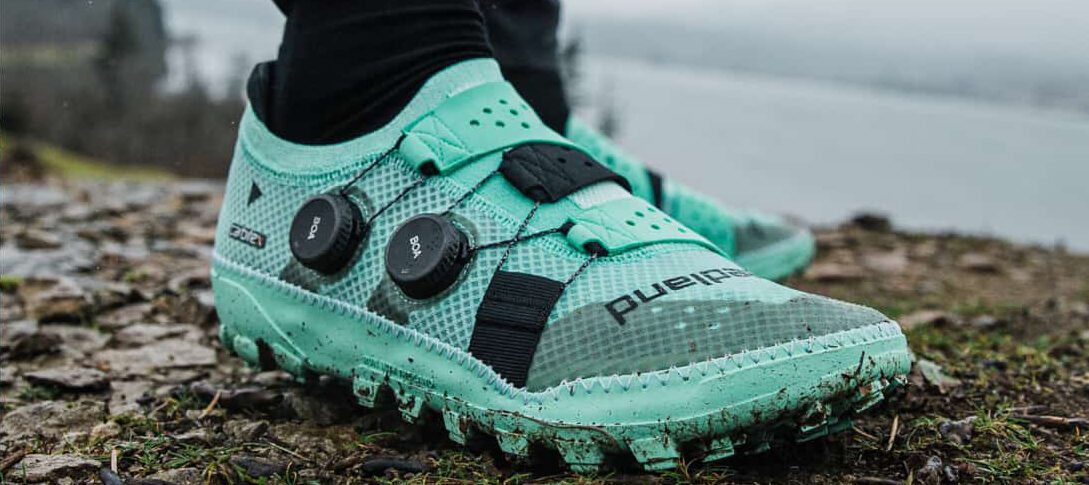 Moving up the shoe, instead of traditional laces the SL:PDX goes with BOA's Li2 Fit System paired with PerformFit Wrap. BOA lacing isn't particularly new to the trail space, either – models like the Saucony Switchback 2 and the aforementioned La Sportiva Cyklon feature similar components. Again, Speedland manages to do it a bit better. Instead of a single micro-adjustable dial controlling lace tension across the entire foot, the SL:PDX features two dials that work in tandem with three independent wraps layered over the medial frontfoot, midfoot, and forefoot. Thatching in this way allows for an impressive level of precision and broadens the variety of foot types the shoe can accomodate. Runners with wide feet will be able to relax tension across the forefoot by slackening the lower dial while keeping the upper dial tight to maintain heel lockdown / ankle stability. For folks with narrow feet, the BOA Li2 Fit System's security and the location of the PerformFit Wrap should be more than enough to ensure a snug fit. Once "dialed-in," the BOA laces don't budge.
Independent zonal adjustability has its advantages on the go, too. In anticipation of a steep climb, I'd often pause mid-run to ratchet down the upper BOA dial, only then to give it slack as I made my descent a few miles later. Unlike its predecessors, the Li2 version of BOA lacing on the SL:PDX permits multidirectional adjustments in both directions, so you don't have to completely release the dial every time to calibrate it. The ability to quickly fine-tune a shoe with a few clicks either way acknowledges that fit can change over the course of a trail run. Speedland gives this consideration the attention it deserves.
Weight
"Tunability," seen in the customizable fit of the SL:PDX, plays into the weight of Speedland's shoe as well. The company provides two different measurements based on whether or not the wearer elects to modify the SL:PDX's trimmable outsole. Fully intact, the SL:PDX tips the scales at a stated 292 g / 10.3 oz. With the entire outsole stripped down from 7 mm lugs to 4 mm, the shoe conveniently slips beneath 10 ounces at 281 g / 9.9 oz. Weight will also fluctuate a few grams either way if the removable carbon plates are left in. I predict most folks will have reservations about irreversibly clipping off significant chunks of a shoe this expensive, so for our purposes, we'll assume the standard weight.
If you noticed in the previous fit section, there's a shortage of models mentioned to serve as comparisons to the SL:PDX; it really is that original. Add that Speedland endorses their shoe for runs up to 100 miles (i.e., broadly, any ultra distance), comparison becomes even more challenging. However, given its claim as, "the world's first hyper-performance trail shoe," I'm inclined to place the SL:PDX among other high-end, plated, performance models. With that in mind, here's where it weighs in:
*All stated weights are based on a US Men's size 9 unless indicated otherwise.
252 g / 8.9 oz – Hoka Tecton X
260 g / 9.2 oz (Size 8.5) – Craft CTM Ultra Carbon
292 g / 10.3 oz (281 g / 9.9 oz trimmed) – Speedland SL:PDX
295 g / 10.4oz – Salomon S/LAB Ultra 3
295 g / 10.4 oz – On Cloud Ultra
295 g / 10.4 oz – TNF Vectiv Flight
330 g / 11.6 oz – La Sportiva Cyklon
329 g / 11.6 oz — adidas TERREX Agravic Ultra
For all that Speedland is doing with the SL:PDX, its weight is impressive. Shoes too feature-laden often suffer from overengineering; despite their luster on paper, they can be unwieldy in practice. The SL:PDX manages to carry its constitutive parts well while not being too wispy. However, grams / ounces don't reveal much about how weight is distributed. On foot, it only took a few miles to notice how bottom-heavy they felt. The SL:PDX's outsole is made from a single piece of dense rubber, so the shoe can feel unbalanced at times. While I eventually adapted to the SL:PDX's proportions, it made me reconsider doing any kind of workouts on technical terrain while wearing them.
Upper
Much of the coverage around the SL:PDX will fixate on its modular features – the removable carbon plates and trimmable outsole. Fair enough. Those components are tactile, stimulating, and functional. Customization allows each pair of the SL:PDX to take on the identity of their owner in a personal way. Marketing-wise that's a layup, but with so much ogling over how the shoe can be tuned, I'm worried there'll be no attention left for some of its less showy parts.
Let's correct that. As you've picked up from the "fit" section of this review, the SL:PDX's upper is outstanding. I won't rehash the slickness of BOA's Li2 Fit System or how smartly placed the PerformFit Wraps are here. Instead, I want to focus on the materials Speedland chose for their vamp because, (1) they work well, and (2) even if you have no interest in shelling out for a pair of the SL:PDX, shoes you will be interested in will-call on these same materials in the near future.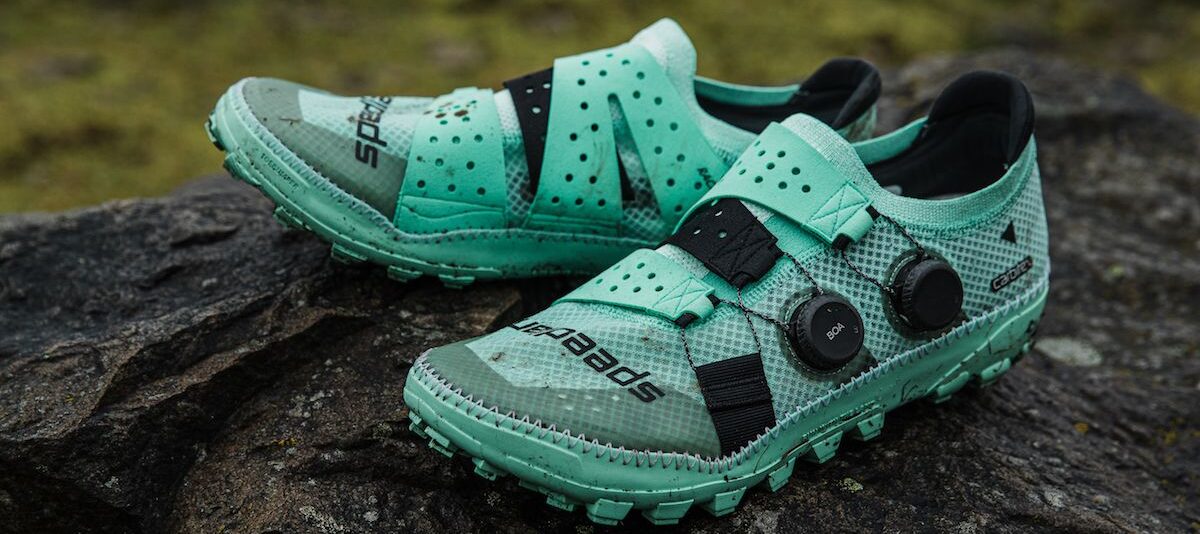 The bulk of Speedland's upper consists of gentle mesh wrapped in Dyneema. Also known as "Cuben Fiber," Dyneema is a polyethylene fabric originally used for ship sails. Over the last handful of years, it's been adopted by the ultralight backpacking industry for its high tensile strength to weight ratio. For context, Dyneema is twice as strong as Kevlar, the material of choice for bulletproof vests, and unlike Kevlar, Dyneema does not absorb water. Slapping some sheets of Dyneema on a trail shoe sounds like a no-brainer, right? There are a couple reasons the material has yet to migrate over to the trail space. Right now, it lacks affordability. It's also notoriously hard to work with, making production at scale a challenge. Speedland, it just so happens, is immune to both.
On foot, the SL:PDX is noticeably soft. The sock-like fit from the upper ensures that the top of your foot is kept in contact with the shoe's breathable mesh at all times. The materials are thicker than expected – with lace bite in mind – but never felt burdensome or suffocating during runs, nor did they retain water. The thickness helps fend off abrasions and punctures, but most shoe failures come from within. Uppers tend to burst along the sidewalls and around where the foot flexes. Like fault lines, a shoe will develop creasing in these areas before it blows. After dragging the SL:PDX across rocks and roots for 150 miles, what's noteworthy is not an absence of rips or holes in the upper – I'd expect that for $375 – but the complete lack of creasing across the toe box. Clearly, if anything is going to tap out on this shoe, it's not going to be the upper. That's Dyneema for you.
Midsole
When a sandwich has too many ingredients layered into it, it risks toppling into a salad. What once was an economical quick bite between fingers needs a fork. Politely, the SL:PDX's midsole runs into similar problems. As mentioned earlier, the company recommends their shoe for any length up to 100 miles. That's biting off a lot. In trying to construct a single midsole to accommodate such a wide range of distances, Speedland lets complexity get in the way of a good thing. I imagine runners looking to go deep into ultras will wish for more foam instead of carbon.
Continuing the same theme of modular design seen in the upper, Speedland breaks their midsole into three separate layers. From bottom to top: a thin layer of EVA for cushioning; a premium Carbitex carbon fiber plate; and a more reactive Pebax unit doubling as the SL:PDX's sock liner. The only truly adjustable piece is the carbon plate, accessed by taking out the molded Pebax unit and unlocking it from underneath.
Speedland smartly decouples their full-length Carbitex plate from their midsole in a nod to the differing demands of trail running. Not only is it removable, but when installed, the plate is designed to articulate independently from its Pebax host to prevent impacting ground feel. Carbitex also flexes asymmetrically (i.e., rigid in one direction, pliable in the other) allowing runners to manipulate stiffness simply by flipping the plate over. In theory, this all sounds splendid. In practice, I think they're better used as stone guards. This isn't to fault Speedland's execution – which by all accounts makes sense – but comes from my own skepticism toward carbon on trails. Still, the protection delivered from the plates was enough for me to keep them inserted.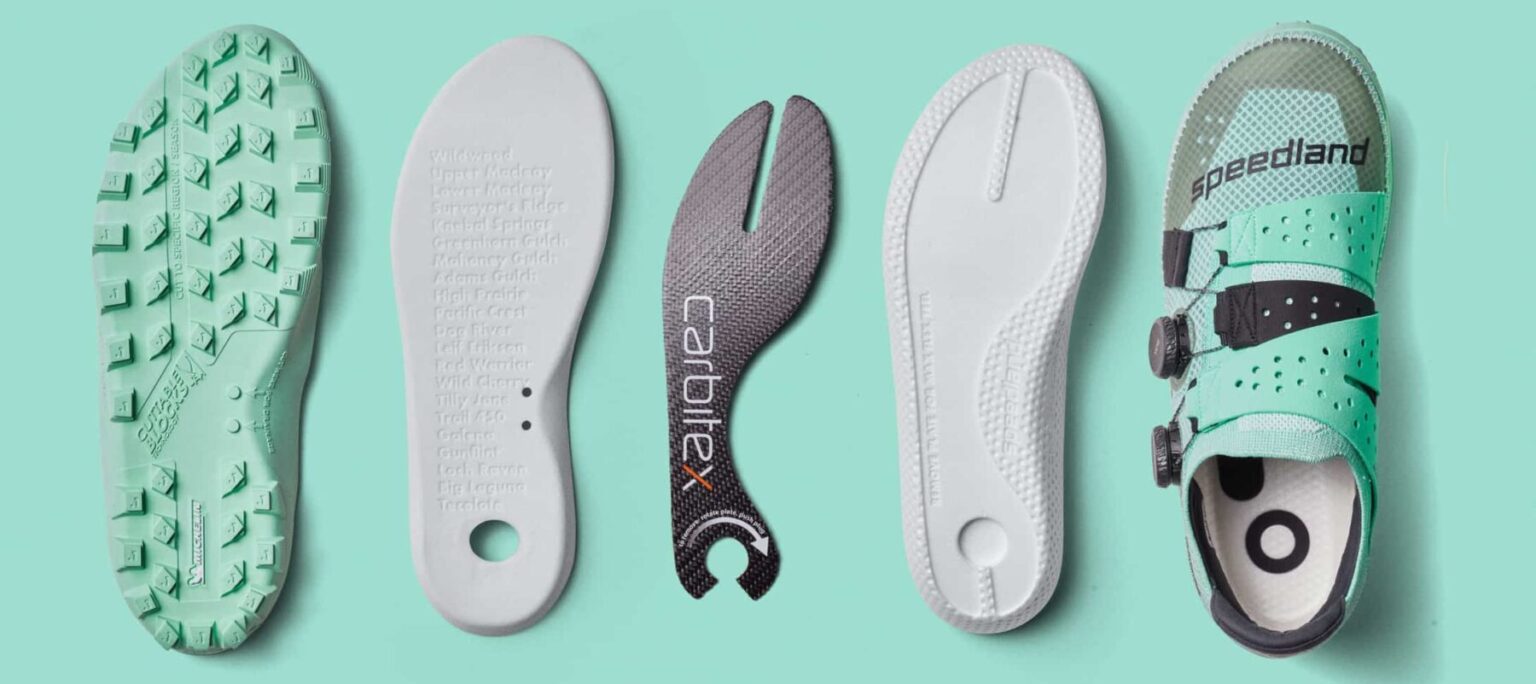 At a cost, it turns out. On runs over 4 hours, the stiffness from the Carbitex plates made my feet sore, and because the plates restrict the shoe's flexibility during the foot's stance phase, the friction from my forefoot motion against the midsole gave me blisters. Good thing the plates are removable, right? True, but relying on a narrow layer of EVA and a slightly thicker section of Pebax for both cushioning and protection over longer runs is asking a lot. Speedland could do well to look at The North Face's Vectiv Flight, which accounts for these issues with a rocker geometry and more midsole padding.
While some may find the SL:PDX midsole's modular construction liberating, with the option to add or subtract plates appealing, others will want no such freedoms. The midsole is a critical part of a shoe that should be trusted, not second guessed. The SL:PDX did feel comfortable, and it did convey that poppy recoil you'd expect from a hyper-performance shoe, but the ride never quite felt consistent on longer efforts. The best trail shoes make varied surfaces feel stable and I wonder if Speedland could have come closer to hitting that mark if they had simplified their midsole.
Outsole
Conversations around the SL:PDX invariably start and end with the outsole, and generally involve some scoffing. Speedland's tread borrows technology from the mountain bike world in the form of 'cuttable blocks,' allowing wearers to trim the 7 mm lugs on the bottom of the shoe to their desired length. Critics are quick to gibe, pointing out that you can alter the outsole on any shoe quite easily with a knife, and that these changes are irreversible, not "tunable." An attack like this seems lobbed more at Speedland's price than an actual indictment of the shoe's performance. That's a shame because the SL:PDX's outsole is yet another highlight.
In the vein of shoe brands borrowing tire technology, Speedland builds their outsole from high-performance Michelin rubber, and there's a lot of it. If you remember, the topmost section of the midsole is removable, so the outsole is designed in a way to act as what the company calls the shoe's "structural chassis." A single piece of Michelin rubber makes up both the lugged bottom and the heightened sidewalls housing the midsole. Because Speedland avoids using glue in their shoe, the single-unit outsole is actually sewn directly into the upper via secure moccasin stitching. Doing so confers added durability and allows the shoe to be disassembled and properly recycled at the end of its life.
The deep lugs that come standard on the SL:PDX are a callback to the sloppy trails of the Pacific Northwest. As expected, the shoe thrives in these conditions, gripping into soft ground while maintaining traction over slick surfaces. At 7 mm, the lugs on the SL:PDX are only a millimeter shorter than those on Inov-8's Mudclaw, a model with one of the most aggressive outsoles on the market. However, Speedland's tread performs equally well on the dry hard-packed trails in the Bay Area, calling into question scenarios where trimming the outsole down to 4 mm really makes sense. I'm of the belief that "it's better to have it and not need it than need it and not have it," so I left my tread intact. But for runners still wanting to experiment, or just looking to shed weight, the lugs are thoughtfully marked along the sides to indicate where to cut.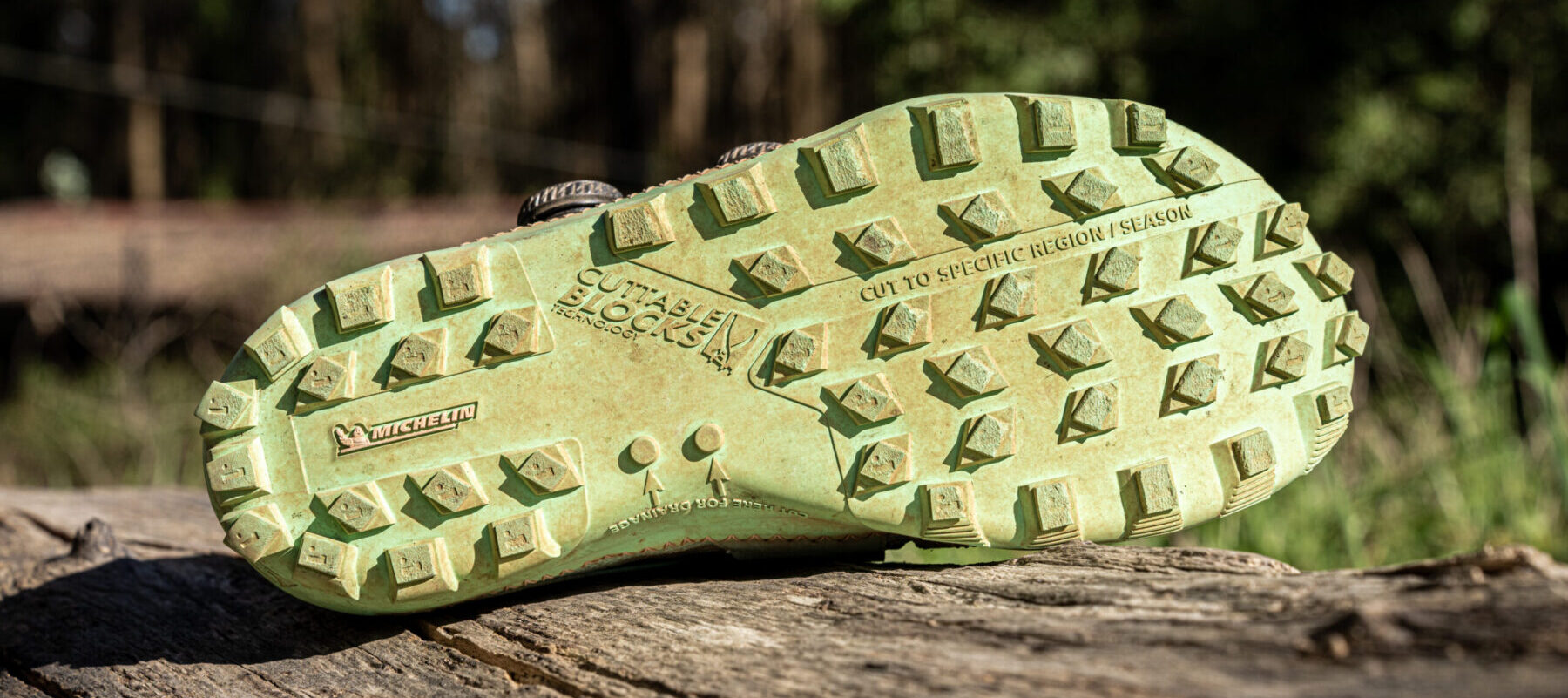 On Trail
Across my testing period, I put the SL:PDX through just about every type of trail and condition. Marin, CA is home to surfaces ranging from compact fire roads to technical singletrack, and my trip up to Bellingham, WA gave me the opportunity to run my pair through mud and puddles.
All in all, I have a little over 150 miles and 35,000 ft of ascent / descent in the SL:PDX. A good majority of those miles were spent beaming with approval.
Speedland has built an intelligent shoe. The SL:PDX knows what it wants to do on just about any surface and it knows it wants to do it quickly. The dialed fit from the lightweight upper controls the midsole's rebound when the plates are left in, making the SL:PDX ideal for fast interval workouts on wet or loose terrain. It handles similarly to the Salomon S/Lab Sense 8 SG – scalpel-like – but with more material underfoot, the SL:PDX fairs better over longer runs.
"Longer runs" requires clarification in this sport. I did find that the comfort of the SL:PDX's midsole fell off sharply once pushed past 30 miles, regardless of whether or not I had the carbon plates in. While the stack height is advertised as similar to other 100-mile shoes in its category (e.g. TNF Vectiv Flight's 25 mm, On Cloud Ultra's 28 mm), the SL:PDX doesn't feel like it has any interest in slogging out the slow miles needed to accomplish that distance. But for 50Ks and sub-ultra distances on surfaces ranging from bike paths to scree fields and everything in between, you'd be hard-pressed to find a better shoe.
Durability
The SL:PDX is mortal. Unlike similarly priced cycling shoes or ski boots that can last the better part of a decade if cared for, the longevity of Speedland's shoe is limited by how abusive trail running can be. 600 miles of wear is generally considered the upper limit for most models. The SL:PDX is capable of pushing that number up a bit, but still, even for low volume runners, the shoe likely won't survive the 6-month mark. That and that alone makes justifying the $375 price tag difficult.
Financial caveat out of the way, Speedland does deliver a pretty bombproof product in the SL:PDX. Apart from shaving off a bit of tread (likely from a few inevitable miles on concrete), my pair looks and feels practically unworn at 150 miles. No creases across the upper. No loose seams or spilled stuffing. I think this is in large part due to Speedland's avoidance of glue in their shoe and their commitment to premium materials. There's nothing to delaminate from the single-piece Michelin outsole and I can't imagine anything on a trail capable of puncturing the Dyneema knit upper. Pebax is notorious for its resilience too, so the midsole likely won't turn into mush after 200 miles like in so many models using exclusively EVA foam.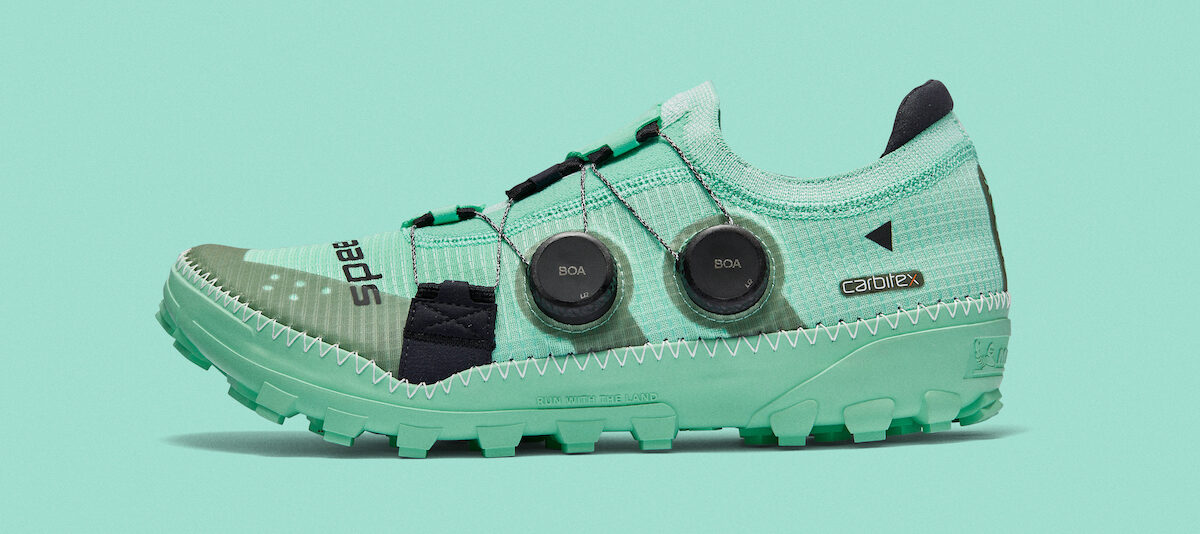 One area of concern is the durability of the PerformFit Wrap and the BOA lacing system (I don't think I'm nitpicking here, either). The three strips of fabric running across the top of the foot are conspicuously flimsy for an area constantly under tension. I've also noticed that bits of debris manage to find their way into the shoe's BOA dials. If just one of these components fails, the SL:PDX becomes unwearable, and mending it will cost a lot more than replacing frayed shoelaces. Seeing how these systems age over the coming months is what I'll be paying close attention to moving forward. I'll be sure to update this review if any issues arise in the future.
Who's It For?
It's unfortunate that most people will never get the chance to look down at a pair of the SL:PDX on their feet. Speedland's debut will always be a niche model for a select audience, whether that's because they're price prohibitive or just unavailable (or both). But for those with Mariana-Trench-deep pockets looking for a legitimate "hyper-performance" shoe for sub-50K distances, do everything you can to land a pair.
Seriously, the SL:PDX is a tour de force. The 'tunability' seen in each section of the shoe ensures that the fit is right for seemingly every foot shape, the midsole adjusts to different distance goals, and the lugs suit all terrains. Collectively, these components lend themselves to a truly elevated running experience. 100 miles is a long way though, and I'm not convinced the SL:PDX has the brawn to carry most runners that far. If you're thinking about toeing the start line at a race of that distance this year, your Speedland dollars might be better spent on a few different pairs of shoes.
Bottom Line
If you can afford to buy a pair of Speedland's SL:PDX without refinancing your home, you should do it. Dave and Kevin's first foray into the trail space is a testament to design, comfort, and performance. Brazenly ignoring affordability allowed Speedland to incorporate technological firsts into a trail shoe, setting a precedent for larger brands to use new components like BOA Li2 and Dyneema at scale. While not quite the 'quiver killer' of lore, the SL:PDX excels at the sub-ultra distances that make up the majority of most people's runs. In short, you'll get what you pay for. Whether what you're paying for is worth it is another matter.