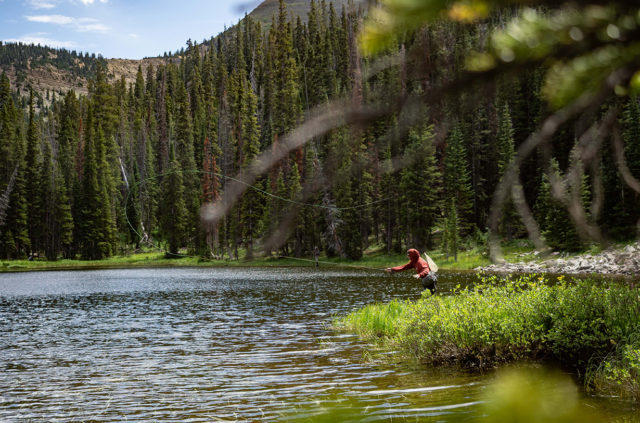 Nowadays, people are asking more of their shorts, and companies are listening.
Want one short that can handle a day that starts with a climb, which then leads to a hike, and eventually ends at the bar? There are now plenty of shorts for that. Maybe you spend a lot of your summers on the water, but don't love the "washed-up raft guide" look? There are tons of simple, functional shorts for you, too.
So here we've gathered several men's and women's options that will not only outperform your old cotton shorts, but they might even look better, too.
Stio Coburn Shorts
Fabric: 94% nylon / 6% spandex w/ water repellent finish
Reviewer: 5'10", 145 lbs
Size Tested: 30
Inseam: 10"
MSRP: $89.00
Best For: Trail to tavern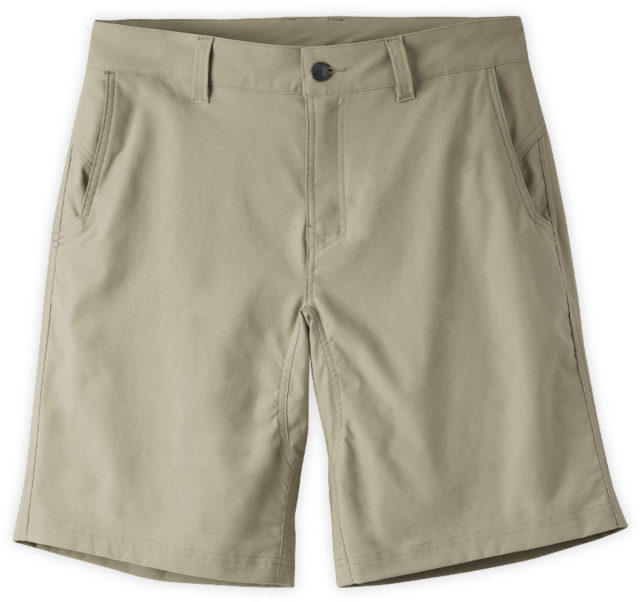 Sam: The Stio Coburn shorts are an excellent pair of shorts that are much more versatile than they look. The silhouette pulls styling cues from classic chino shorts but the details are all about function.
The fabric is fully synthetic and extremely stretchy. Combine this stretchy fabric with a generously gusseted crotch and this short has excellent range of motion. The back pocket openings are covered by a bit of fabric which offers a bit of security on steep climbs or busy public places without looking like cargo shorts or inhibiting quick access. The main pockets have mesh pocket bags for better breathability and faster drying. I've experienced some minor pilling with the fabric after ~25 days, but have no other durability concerns.
If I'm going hiking, scrambling, or climbing and I know I'll be attending happy hour afterwards, the Coburn are my go-to shorts. It sounds cliche to say, but these shorts really do perform on the trail and look good at the bars afterwards.
KAVU River Short
Fabric: 100% nylon
Reviewer: 5'10", 145 lbs
Size Tested: Small
Inseam: 8"
MSRP: $60.00
Best For: Getting wet and wild
Sam: The KAVU River Short is pretty traditional swim trunk. It has a lightweight nylon fabric that dries pretty quickly, an elastic waist, a built-in mesh brief, and a small zip pocket for keys. The River Short has pretty wide-cut leg openings that are nice for ease of movement and it seems to run a hair big — the small I tested is just a hair big for my 30" waist (though it's easy to adjust with the drawcord).
Unsurprisingly, I've really liked using the River Short, well, on the river. This is a great, functional swim trunk that gets the job done in a variety of water sports. If I'm going to be lounging at the pool sipping cocktails, I'll probably opt for something with a more tailored fit. But for any outdoor adventures where I might want to take a dip, the River Short is a great pick.
Fjallraven High Coast Trail Shorts W
Fabric: 84% Polyamide, 16% Elastane
Reviewer: 5'8", 125 lbs
Size Tested: 26
Inseam: 3.5"
MSRP: $85
Best For: hiking and travel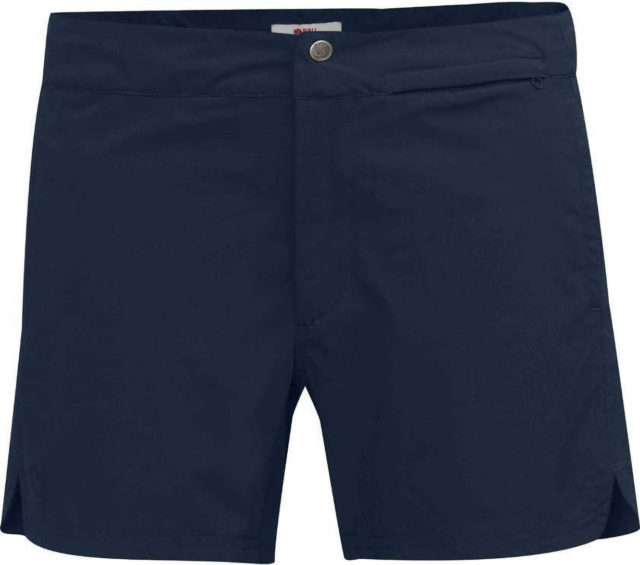 Kristin: From taking a stroll on the bike path to mushroom hunting with my son, the High Coast Trail Shorts have been my go-to shorts whenever I planned to be outside moving around. More form fitting than other hiking-specific shorts, the High Coast Trail Shorts have a very flattering design that can easily pass for casual, non-sport-specific shorts in part thanks to the snap and zipper closure. The waistband is stretchiest at the sides where the material is cinched and features a flat seam on the front and back. There is also a drawstring for additional adjustability at the waist.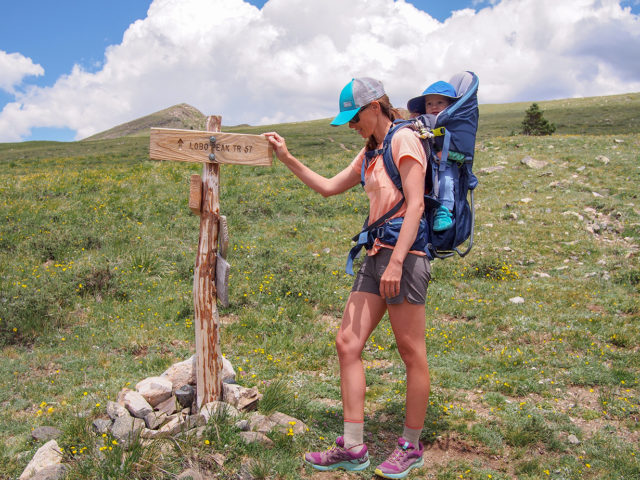 The High Coast Trail Shorts hug the butt (depending on size) and look good while still being comfortable thanks to the Elastane in the fabric. Two front pockets not quite big enough for a large cell phone but are great for smaller items or your hands, and a small zippered pocket on the left front side make the shorts functional. The fabric has endured many hikes that included bushwhacking through dead trees and pricker bushes and they still look as good as new. The quick-drying fabric has come in handy on rainy kayak days and sweaty hikes. I have packed these on every vacation since receiving them 5 months ago and have worn them just about every day.
Carve Designs Bali Short
Fabric: 87% Polyester, 13% Spandex
Reviewer: 5'8", 125 lbs
Size Tested: Small
Inseam: 3"
MSRP: $54
Best For: everyday wear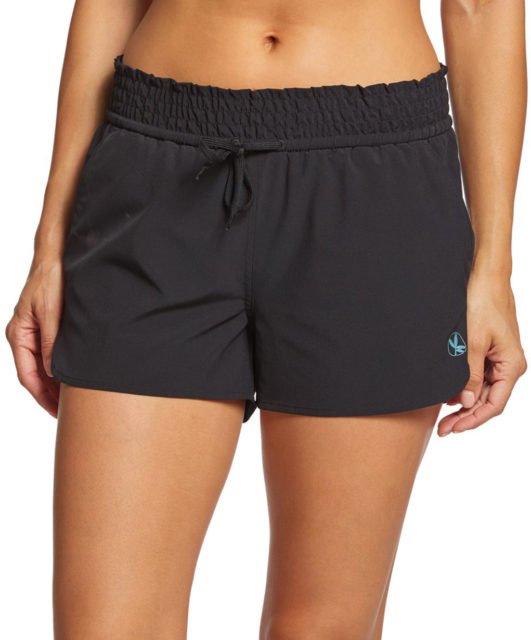 Kristin: With a drawstring at the base of a 2-inch-wide elastic waistband, the Bali Shorts have a fairly non-traditional design. But thanks to the wide legs and lightweight, slightly stretchy fabric, these shorts are extremely comfortable. So comfortable in fact it's easy to forget you're even wearing them. The Bali Shorts sit at the hips with the drawstring helping to keep them in place. But unlike other shorts with an elastic waistband, the Bali shorts have a tendency to shift when putting on a large backpack (or when moving around while sitting) as the waistband is not super tight. It is easy to readjust them, but when planning a hike where I knew the backpack would be on and off frequently, a different pair of shorts was preferable.
The Bali Shorts have two front pockets that are large enough for a cell phone or wallet, but I found myself using them more for my hands than anything else as they are the perfect size and location for one's hands. With only a 3" inseam, it's impressive that the pockets are so substantial / useable. There's also a back pocket with a snap closure that I never felt the need to use, but I imagine it would be great for keys or a small wallet.
The Bali's fabric dries quickly and I found myself reaching for these shorts anytime I planned to be near water. Thanks to the soft, good-looking fabric, flattering design, and comfortable fit, I wore these shorts almost daily throughout the summer.
Mission Workshop Apoch Shorts
Fabric: 95% nylon / 5% elastane w/ water repellent finish
Reviewer: 5'8", 155 lbs
Size Tested: 34
Inseam: 9.5"
MSRP: $135
Best For: biking, climbing, & everyday wear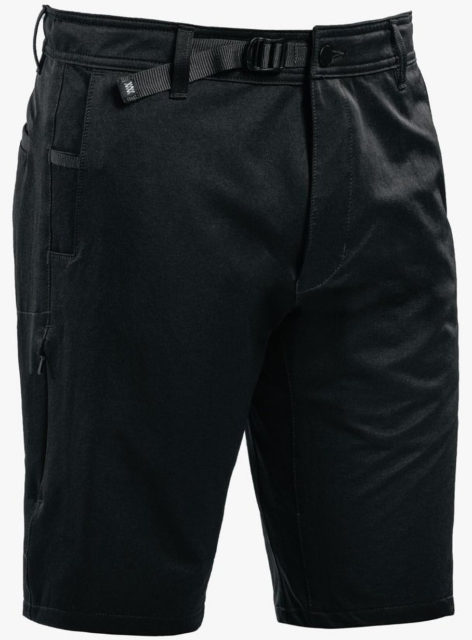 Luke: These are the most expensive shorts here, but there's reasoning behind that. First, like the majority of Mission Workshop's products, they're made in California and all of them feature a lifetime warranty against any manufacturing or fabric defects. Second, the quality is just really, really nice.
I've been impressed by every Mission Workshop product I've used, and the Apoch continues this trend. The patterning, features, and overall fit and finish of the shorts is exceptional. The Apoch's fabric is a midweight stretch nylon that, despite the fairly slim fit of the "straight fit" version, provides plenty of range of motion for hiking, climbing, and biking.
Mission Workshop designed the Apoch to handle a bit of everything, from sessions at the climbing gym to bike rides. I think it works very well with that purpose in mind — it's got very clean lines and a moderate 9.5" inseam that make it look totally normal in town, but I've also reached for it for bouldering sessions or mellow trail rides. I'd opt for the Flylow Cash or Mission Workshop Traverse for a dedicated bike short, but the Apoch has just enough features, stretch, breathability, and durability for quick after-work rides.
There are better options here for the water, but for everything else, the Apoch is an excellent option that feels like it's built to last.
Topo Designs Global Shorts
Fabric: 96% nylon / 4% spandex w/ water repellent finish
Reviewer: 5'8", 155 lbs
Size Tested: Medium
Inseam: 7"
MSRP: $59
Best For: wearing one pair of shorts all summer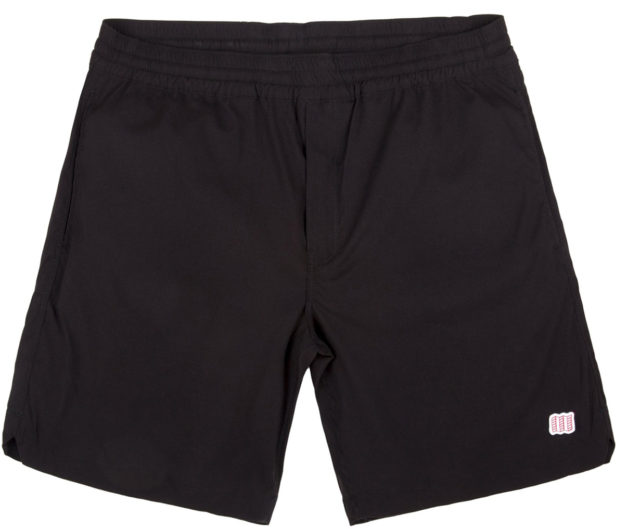 Luke: I've had two pairs of these shorts and I've probably put somewhere around 200 days in between the two. For casual everyday wear, swimming, fishing, and hiking, the Global Shorts are my go-to pick.
The Global Shorts' fabric is very thin, light, and stretchy, but I still haven't been able to put any sort of hole or tear in the fabric, even after using them a lot. The fit is pretty "average," but notably slimmer than the Topo River Shorts and Patagonia Baggies. And unlike some swim-oriented shorts, the Global shorts still give you two hand pockets and a snap back pocket, which are a necessity for me in a short that I'll wear all the time.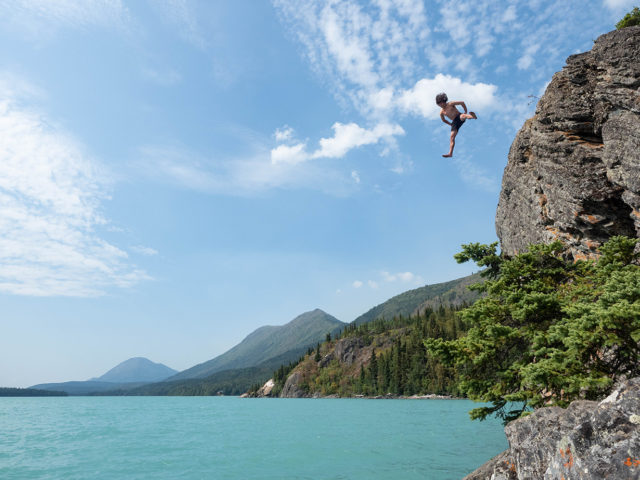 If you wished Patagonia Baggies were slimmer, or you're just looking for a simple, yet highly functional summer short, the Global Shorts are well worth a try.
Topo Designs River Shorts
Fabric: 96% nylon / 4% spandex w/ water repellent finish
Reviewer: 5'8", 155 lbs
Size Tested: Medium
Inseam: 6"
MSRP: $79
Best For: making a statement on and off the water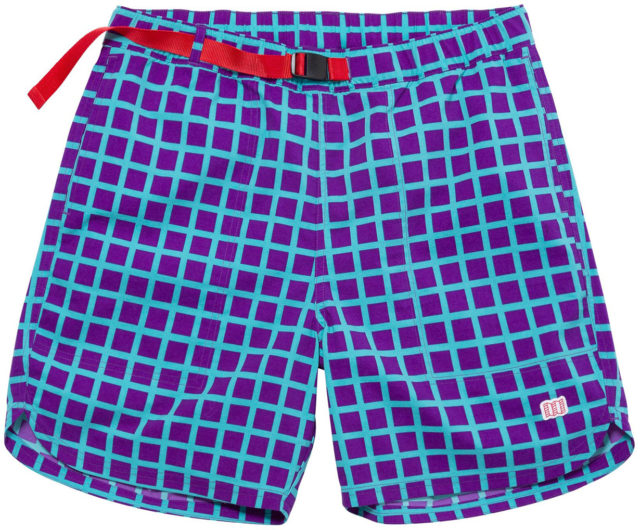 Luke: I got the River Shorts in the "Turquoise Grid" colorway, and I can assure you that they are just as bright in person as they look online. But don't worry if super loud patterns aren't your thing — Topo also offers the River Shorts in several plain, much more subdued colorways.
Looks aside, the fabric on the River Shorts feels sturdy while also providing a bit of stretch. It also dries really fast, and I haven't had any issues with chafing, even while hiking in them after a dip in the lake.
The River Shorts have two deep hand pockets and a secure zippered back pocket, which are complemented by a simple, integrated webbing belt and an elastic waistband. Combined with the loose, but straight fit (slimmer than Baggies) and versatile fabric, all of this makes the River Shorts a great option if you're looking for a short you can use on hot hikes that end with a river or lake to jump in.
Flylow Cash Short
Fabric: 89% polyester / 11% spandex
Reviewer: 5'8", 155 lbs
Size Tested: Medium
Inseam: 11.5"
MSRP: $90
Best For: biking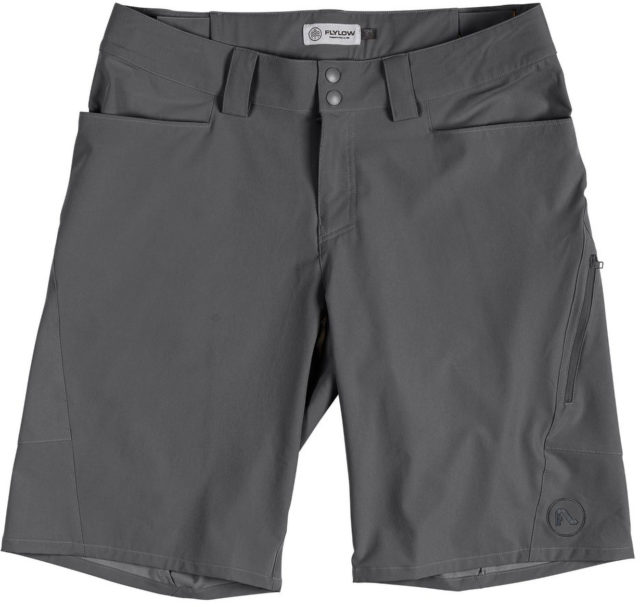 Luke: Flylow markets the Cash as a biking outer short, and I definitely think it works great on the bike. But its fairly understated looks and versatile fabric also make it a short that I'll happily wear when riding bikes is not on the docket that day.
The Cash Short's fabric is extremely stretchy (it might be the stretchiest fabric here), which makes it super comfortable. I was initially worried about the durability of this supple fabric, but I have yet to tear it, even after crashing numerous times in the Cash Short. There are bike shorts with thinner, more breathable fabrics (e.g., Mission Workshop Traverse and Velocio Trail Short), but I've still been happily riding in the Cash Short all summer here in Crested Butte, where the temps are usually around 70-80°F during the day.
The fit on the Cash Short is quite generous — I'd say it's your typical "freeride" bike short fit, somewhat like a board short. So if a slim fit is what you're after in your crossover bike / everyday shorts, I'd check out options from Mission Workshop. But the Cash Short still has a clean silhouette and its more relaxed fit works great with or without an internal chamois. Add on its hand pockets and zippered thigh pocket, and the Cash works great for both Trail and DH riding.
If you prefer a more relaxed fit, like stretchy fabrics, and want a short that will actually perform really well on a bike without looking like you're suiting up for the next EWS race, check out the Cash Short.
Patagonia Baggies 5"
Fabric: 100% recycled nylon w/ water repellent finish
Reviewer: 5'8", 155 lbs
Size Tested: Medium
Inseam: 5"
MSRP: $55
Best For: one recycled short for everything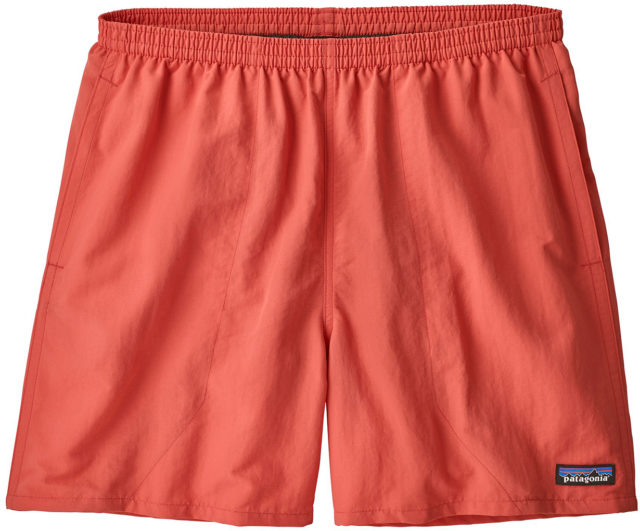 Luke: I've been wearing Baggies for years, and there are plenty of reasons why many people consider this short to be a classic.
If you've never worn them, Baggies have a very generous, relaxed fit and a very light, quick-drying, non-stretch nylon fabric. And now, Patagonia's standard Baggies are made with a 100%-recycled fabric. That's awesome.
Patagonia now offers more versions of Baggies than ever before, including multiple options and inseams for women, men, and children, and some hemp / organic cotton versions.
The classic recycled nylon versions feature an internal mesh liner, elastic drawcord waistband, two deep hand pockets, and a snap rear pocket. The fabric dries really fast, and while it's not stretchy, the generous fit of the shorts provides plenty of range of motion for climbing, swimming, and hiking.
If you want a versatile short with a generous fit, take a look at all the Baggies Patagonia currently makes and just pick the one with the fit, fabric, and color that's best for you.
Share this post:
Share on facebook
Share on twitter
Share on pinterest
Share on reddit
Share on email