Showers Pass IMBA Jacket
Reviewer: 5'10", 145 lbs
Size Tested: Small
Fabric: Artex 2.5L waterproof / breathable fabric w/ double charcoal print interior layer
Stated Features:
Fully seam taped
Reinforced shoulders protect the fabric from backpack straps
Extra Long core vents prevent overheating
Ergonomic easy-grip zipper pulls
360 degrees of 3M™ Scotchlite™ Reflective Material trim for maximum visibility
Velcro cuffs for trim fit and easy on-off
Removable, adjustable hood fits over a helmet and stows in inside pocket
Double toggle hem cinch for adjustability
Soft, moisture-wicking lining at collar
Light loop at collar
Front hand warmer pockets and inside chest pocket with audio port
MSRP: $199
Test Locations: Salt Lake City, UT; Northern CA
Test Duration: ~3 months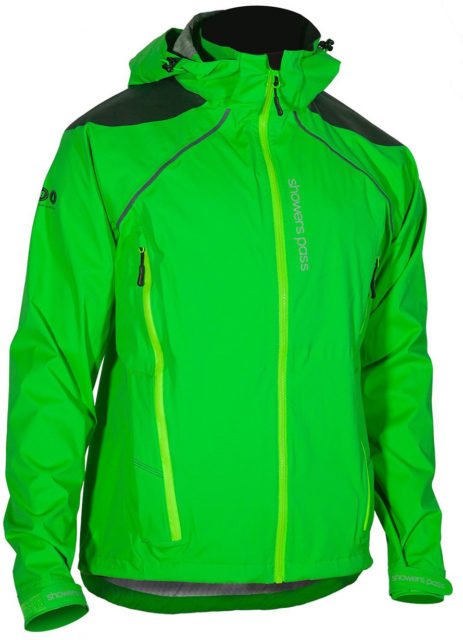 Intro
Due to the inherent nature of mountain biking, finding the perfect mountain-bike shell is pretty tough. It needs to keep water and wind out, be comfortable enough to move around in, and keep you from overheating on climbs. While doing so, it gets scraped against tree branches, bushes, and all too often, the ground.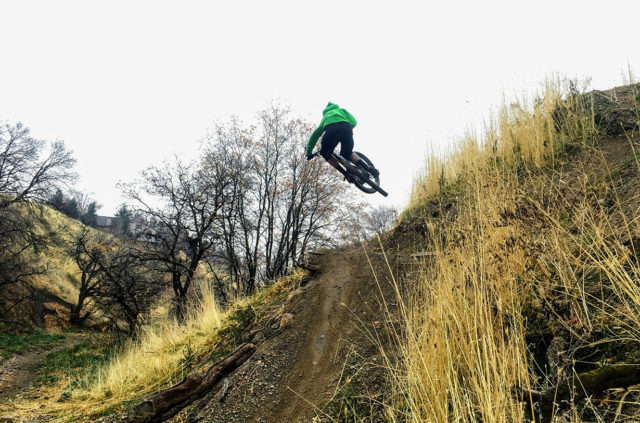 For this reason, we see a wide variety of mountain-bike shells on the market — some emphasizing durability, others weather protection, and others comfort and breathability, all to varying degrees. And while it may be disappointing that there's not a single do-it-all jacket out there, it means that there's a lot of solid stuff to choose from. It just depends on what you want to prioritize.
The Showers Pass IMBA jacket offers a unique blend of characteristics, with an emphasis on breathability and packability, a handful of design cues designed for long mountain-bike rides, and an atypical waterproof fabric. And while I'm not sure the perfect mountain-bike shell exists, I have a hunch that this one will please a lot of riders.
Sizing and Fit
I wore the IMBA Jacket in my standard size of Small. As jackets go, I'd describe the IMBA Jacket's fit as slightly long in the arms and slightly short in the torso. I consider this is a near perfect fit for a mountain-bike jacket, as it doesn't leave a lot of excess material hanging off below the torso. I'm also 5'10," with a lot of that height in my legs. If you're around my height but carry more of that height in your torso, you'll probably want to size up.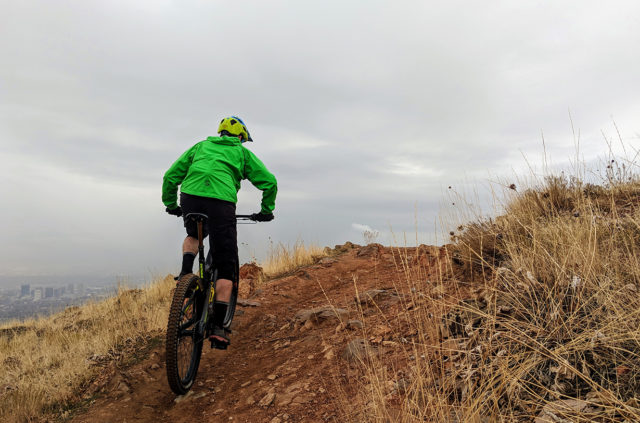 The cut of the IMBA Jacket isn't particularly roomy, but on a particularly cold day of shuttle runs, I was still able to get a wool mid layer and a light puffy under it.
Features
For storage, Showers Pass keeps things sleek and minimal. There are two non-zippered pockets on the inside of the jacket, which aren't ideal for expensive or fragile things, but each pocket could easily hold a sandwich or a beer. Additionally, there's a phone-sized, zippered pocket on the inside of the chest, which features a headphone cable port.
Instead of traditional pit zips, the IMBA features side zips that run slightly diagonally roughly from the pec area to the hip. These vents do a great job of channeling air directly into the jacket, especially when in a typical riding position. Little details like this make the difference between "apparel marketed to cyclists" and actual, purpose-built, cycling-specific apparel, so props to Showers Pass for truly designing the IMBA Jacket for its intended use.
Finally, the IMBA Jacket has a removable hood, which fits over a mountain-bike helmet and still allows decent visibility. The hood works pretty well when you tighten it a bit, but it doesn't allow for quite as much side-to-side movement with a helmet as other brands' hoods do. Shells I've worn from Arc'teryx and Norrøna both do a little better in this department.
Fabric
Instead of the Gore-Tex fabric that seemingly every brand out there relies on for waterproofing, the IMBA jacket utilizes an Artex 2.5 fabric. This material feels more elastic than any other rain shell I've worn, and is also surprisingly thin, which makes the whole jacket extremely packable. In fact, I was able cram the IMBA jacket into a tiny space against a mostly full bladder in my hip pack without issue. This alone should earn it high marks from anyone who stubbornly refuses to carry a real backpack in all but the worst conditions.
The IMBA Jacket's thin material is reinforced at the shoulders, which should help protect the jacket in a tumble, or from being scraped by tree branches. That said, the elbows don't have any reinforcement, so I have my doubts as to how long the fabric will last if you like to get acquainted with the ground on a regular basis.
Performance
After just one climb, I was quite impressed by the breathability of the IMBA Jacket. The thin fabric and well-placed side vents work beautifully together, rarely leaving me damp on climbs. On chillier fall days, I was usually very comfortable leaving it on while ascending. On warm, but damp spring days, it could get a bit muggy on climbs, but it still ventilated better than just about any other shell I've worn, including light and breathable Gore-Tex shells like the Arc'teryx Alpha SL or Norrøna Lyngen.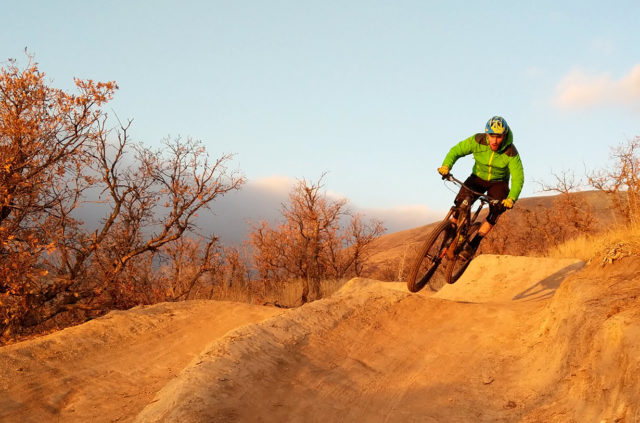 To be fair, the IMBA jacket is also thinner than any other shell I've worn, so the fact that it breathes better than its thicker competitors is admittedly not the most profound discovery. But in addition to offering excellent ventilation, the Artex 2.5 fabric on the IMBA jacket repels water just as well as its Gore-Tex-equipped counterparts, if not better. I still noticed some deterioration in water resistance over time, but I have yet to encounter any Gore-Tex jacket that completely retains its water resistance after some hard use.
What the jacket didn't do was offer much insulation, which would be unfair to ask out of a shell anyway. But since this shell is so thin, it's still worth mentioning that it offers even less warmth than your average rain shell. If it gets cold, layer up.
Durability
I have yet to damage the IMBA jacket, but given how thin this material is, I definitely worry about it. As mountain bikers, we demand a ton out of our jackets, and this inevitably results in some kind of tradeoff. But since the IMBA jacket checks off most of my other requirements from a jacket (e.g., packability, weather protection, and packability), I feel that the potential sacrifice in durability is worth it in most cases. If you prioritize durability over packability and / or breathability, or simply crash a lot, then you'd be better off with a heavier, burlier shell.
I'll update this review if I run into any durability issues down the line.
Bottom Line
With the IMBA jacket, Showers Pass has made a truly purpose-built mountain-bike shell that offers solid protection from the elements in a simple and thoughtfully designed package. Its thin material, lightweight construction, and excellent breathability and venting make it a great choice for big days of pedaling in cold and wet weather, or as a packable "just-in-case" shell for those who frequent high-altitude trails with rapidly changing conditions.