1.20.22
Luke Koppa (5'8", 155 lbs / 173 cm, 70 kg): This afternoon we got our hands on a pair of the new 188 cm Bent 110, and I got my first several laps on the new ski.
We'll have a First Look up soon, but for now, I wanted to throw out a few initial impressions.
Now, it's worthing noting that the 188 cm Bent 110 was the longest, widest, lightest (1870 g), and most center-mounted (-3 cm) ski I'd been on in the past few weeks. Unsurprisingly, it took some getting used to.
After a few runs, though, I started to become much more comfortable on this new ski. And one thing was very clear — it's much more of a narrower Bent Chetler 120 than a wider Bent 100. The 110 is significantly looser and feels notably less directional than the Bent 100. Especially in any sort of soft snow (even just a bit of a dusting on a firm base), the Bent 110 stood out as being notably surfy and loose.
On the other hand, I was also very impressed by this ski's edge hold on firm groomers. I wasn't laying it over extremely hard (mostly cause it feels a bit odd to do that on more center-mounted skis, especially wide ones). But even on scraped-off sections, the Bent 110's edge grip was very impressive for a ski this wide — especially one that's pretty freestyle oriented.
The Bent 110's contrast between its solid edge hold on firm snow and very loose ride in soft snow kind of reminds me of the Line Sir Francis Bacon and Outline. All three are surprisingly easy to break free and slash in soft snow, while also carving quite well. However, the Bent 110 feels notably stiffer than the SFB and a bit stiffer than the Outline.
The Bent 110 also feels very lively. There were several times today when I got a bit more air than I expected on this ski.
The Bent 110's swing weight is also ludicrously low for how big of a ski it is. Flicking it around in the air requires basically no effort. On the other hand, I also had to focus much more on line choice and technique on this ski than I did on something a bit heavier, such as the new 181 cm Salomon QST 106 I was skiing yesterday. I think the Bent 110 is damp and stable enough for some people to really like it as a resort ski — especially a soft-snow resort ski — but it gets knocked around considerably more in variable snow than a lot of the ~2000-g+ skis I've been on lately (e.g., RMU YLE 110). Conditions today were far from super forgiving or generally warranting of a 110mm-wide ski, but as I expected, the <19000-g 188 cm Bent 110 does not feel like a very damp or stable ski.
That said, I'm super eager to take this ski out on a day (or day after) when it's snowed a few inches. I suspect it'll feel like a really quick, maneuverable, and playful ski. Kinda like a slightly lighter, less stable RMU YLE 110. For slashing through pow-filled trees and bouncing around in light chop, I suspect the Bent 110 is gonna be a lot of fun.
In terms of stance, the Bent 110 definitely prefers a centered, more upright one. I could get over its shovels a bit, but it mostly felt like it wanted to be skied from the middle of the ski and the balls of my feet. Fortunately, especially in tight bumps, the ski so far feels fairly forgiving if you get backseat. Its tips and tails hand-flex pretty soft, but the middle of the ski feels very strong and I felt like that stiff middle section was the part of the ski I was really using on the shallow conditions today. There were a few times I got bucked by the tails in really tight, firm bumps, but it felt pretty easy in more widely spaced moguls.
I'm very curious to hear what Dylan Wood thinks, since he's spent a lot of time on the current Bent Chetler 120. But for now, it seems like Atomic has done a nice job of making a fairly versatile, very lightweight, super playful ski with the Bent 110. Stay tuned for updates.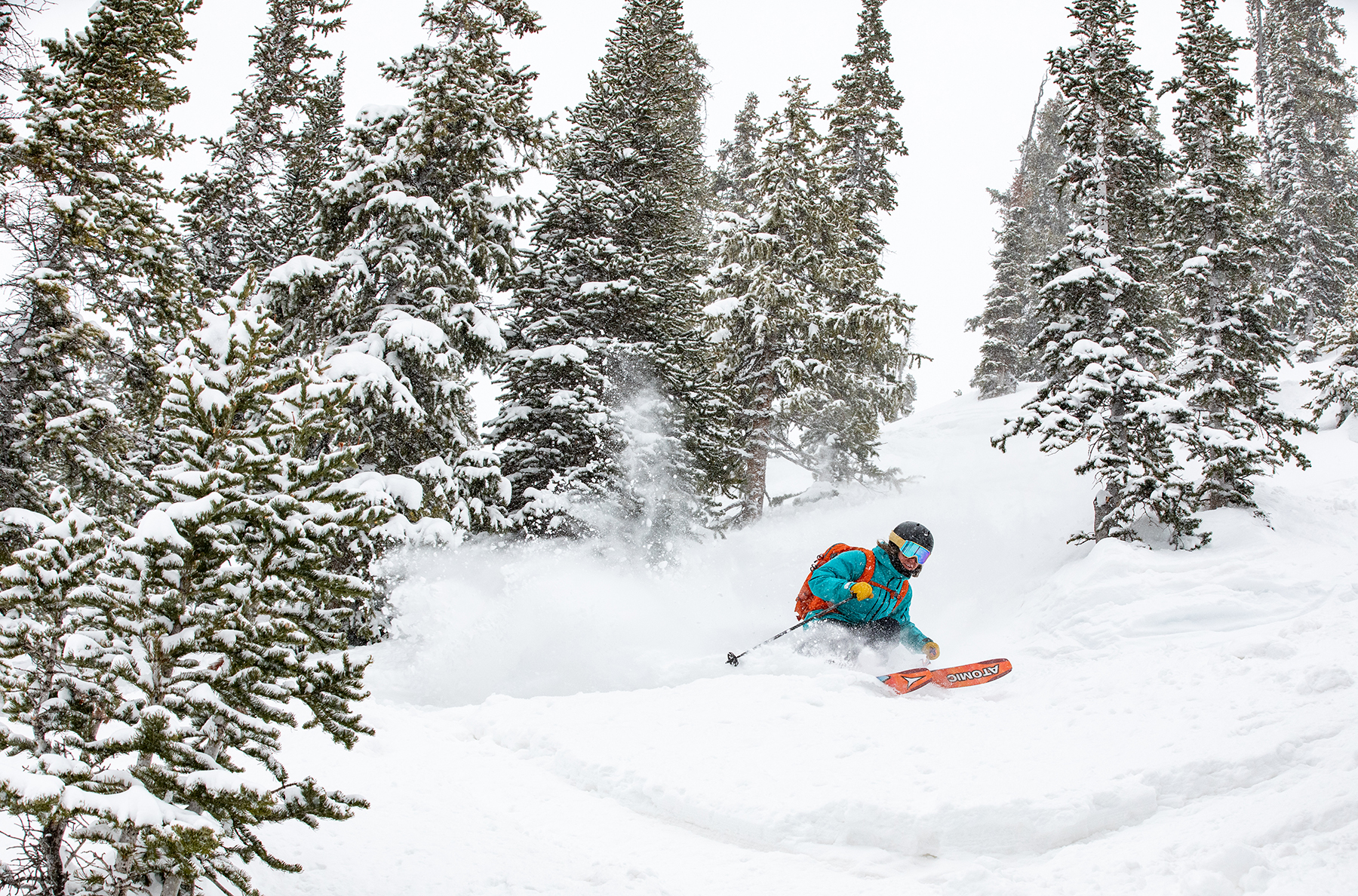 Update 2.22.22
Luke: I just got another day on the 188 cm Bent 110, this time at the Blister Summit, where the weather has cooperated beautifully, and we finally got some fresh snow.
About 8 inches fell overnight at Mt. Crested Butte, and I got out on the Bent 110 around 12:30, when conditions ranged from firm, consolidated chop / crud to fairly deep, untracked snow in areas that opened throughout the day.
I'll start with the good: the Bent 110 is a blast in soft snow. I never found myself thinking I needed more flotation, even when hitting pockets of wind-blown pow that were nearing knee depth. It's also a particularly easy and surfy pow ski, with very, very little effort required to turn and slash it around in deep conditions. It's probably one of the surfier, looser, easier ~110mm-wide pow skis I've used.
Even in soft, freshly chopped-up snow, I was still really liking this ski. It feels like it's got a pretty big sweet spot, and while it prefers a pretty centered stance, it wasn't so preferential to that that I struggled to stay balanced.
Now, in firmer, more crud-like conditions, I was struggling a bit on this ski. It is, after all, very light for its size, and it's a twin-tipped, forward-mounted ski, so I didn't expect it to excel in rougher snow. And it definitely doesn't — my first few laps on this ski, which also happened to be in pretty poor visibility, had me working pretty hard to keep it under control and tracking in the right direction. I had to focus on absorbing and/or avoiding big piles of snow much more so than the Moment Wildcat I was on later in the day.
That said, the Bent 110 isn't less stable than I really expected, given its low weight and playful-skiing-oriented design. But for the folks out there who are curious about using this in a very wide range of conditions, from deep to firm and bumpy, just know that this ski will require much more attention and adaptability to ski fast in conditions that are both fairly firm and fairly bump / inconsistent.
I did find myself liking the Bent 110 much more as I spent more time on it. As I started to figure out what this ski does in rough snow and what sort of stance it prefers (pretty centered, but driving the shovels a bit), I became much more comfortable skiing it pretty fast.
So, after skiing the Bent 110 in some conditions more suited to its design intents, I think it performs above its width in fresh snow, and it's about what you'd probably expect in less ideal conditions. We had several other reviewers and attendees on the ski today, so I'm curious to hear more takes on it.