Board: 2018-2019 Jones Ultra Mountain Twin, 162 cm
Available Sizes: 154,157, 158W, 160, 161W, 162, 164W cm
Stated Weight (157 cm): 2900 grams / 6.4 lb
Measured Weight (162 cm): 3084 grams / 6.7 lbs
Stated Dimensions (162 cm): 298-256-298 mm
Stated Sidecut Radius (162 cm): 8.2 meters
Rocker Profile: "Camrock" (traditional camber underfoot with rockered nose and tail)
Stated Flex Rating: 9/10
Core Construction: Paulownia/Bamboo + Carbon Stringers + Ash Veneer Topsheet + Fiberglass Laminate
Base: Sintered 9900
Boots: Vans Infuse, K2 Ender
Bindings: Union Ultra FC, Now O-Drive, Union Contact Pro
Test Locations: Alyeska Resort, & Turnagain Pass, Alaska
Days Tested: 30+
[Note: Our review was conducted on the 18/19 Ultra Mountain Twin, which returns unchanged for 19/20.]

Intro
Jones Snowboards claim that the Ultra Mountain Twin is a freeride-focused twin that is built for high-speed freestyle and freeriding — seemingly a perfect candidate for a powerful, yet playful 1-board quiver. Part of Jones's "Ultra" series, the Ultra Mountain Twin is a lighter, stiffer, and overall higher-performance version of their standard Mountain Twin, and I've been spending a lot of time on the Ultra Mountain Twin this season. So what sets apart the Ultra Mountain Twin from the many other boards out there that claim to also offer versatility, stability, and playfulness, all in one board?
Weight and Construction
The Ultra Mountain Twin differs from the standard Mountain Twin in that it utilizes Jones Ultra construction. This basically means a lighter core, a faster base, an ash veneer top sheet, and more carbon fiber (and a ~$100 bump up in price).
I have always preferred the Ultra construction in Jones splitboards and was excited to try it on a solid snowboard. From what I can tell, the stiffer attributes that I love in the Ultra splitboards carry over very well to the resort and motor-assisted backcountry.
The Ultra Mountain Twin's addition of carbon stringers help to stiffen up the board longitudinally and torsionally to give the deck a greater sense of stability at higher speeds and when blasting through tracked snow. The carbon also seems to adds a sense of power when popping off of jumps and features.
Jones says that the Ultra Mountain Twin's "Power Core" is a triple density wood with bamboo stringers for extra pop and lightweight Paulownia to shave weight. It seems to be a slightly lighter and poppier core than the "Mountain Core" used the Mountain Twin.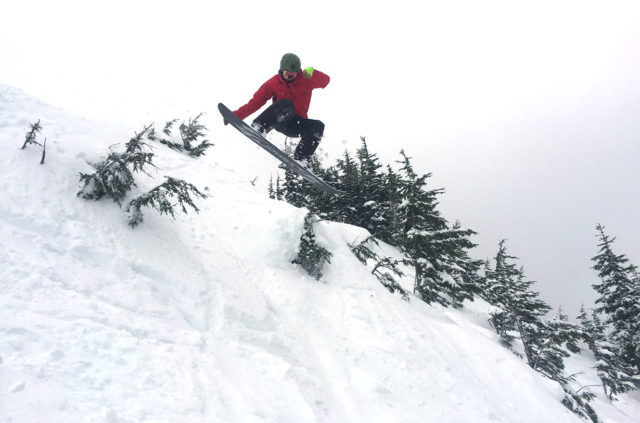 Jones claims that the Ultra Mountain Twin's ash veneer top sheet adds both durability and dampness to the overall ride — and brings an element of beauty to the Ultra Mountain Twin.
While Jones talks up the Ultra Mountain Twin's low weight, it's not a super light board at around 3084 grams for the 162 cm length. The Ultra Mountain Twin comes in at a similar weight compared to the Rossignol Angus, but feels slightly heavier than the Weston Range.
While the Ultra Mountain Twin's additional weight is nice for blasting through tracks and chunder, the added weight, combined with the board's stiff flex, means that it takes a bit more input and strength to maneuver and huck. I should also note that I weight about 160 lbs and chose to ride the 162 cm Ultra Mountain Twin, putting me at the very bottom of Jones's recommended weight range for the 162 cm version of the board (160lb-210lb). So, lighter riders should keep this in mind when deciding on sizing.
In addition to making impressive boards, Jones strives to use sustainable and recycled materials. In the Ultra Mountain Twin, that means recycled ABS sidewalls, FSC-certified wood, recycled edges, and flip-flop base to reduce waste. That's something we don't see in a lot of boards (or skis), so props to Jones for striving to decrease the environmental impact of their boards.
Shape
Jones calls the Ultra Mountain twin a "twin directional", "directional all mountain," and "freeride focused twin." Essentially, the Ultra Mountain Twin is a twin shape with a directional set back of 2 cm.
Of the boards I have spent considerable time on, the Ultra Mountain Twin has a close resemblance to both the Rossignol Angus and Weston Range, both of which are considered directional twins. The 161 cm Range, dimensionally speaking, is very similar to the Ultra Mountain Twin, but lacks the Ultra Mountain Twin's blunted nose and Traction Tech (similar to Magnetraction) and the Range has a slightly longer effective edge. The Angus varies slightly in the waist and tip, in that the Ultra Mountain Twin is slightly wider in the waist and has a slightly narrower nose and tail.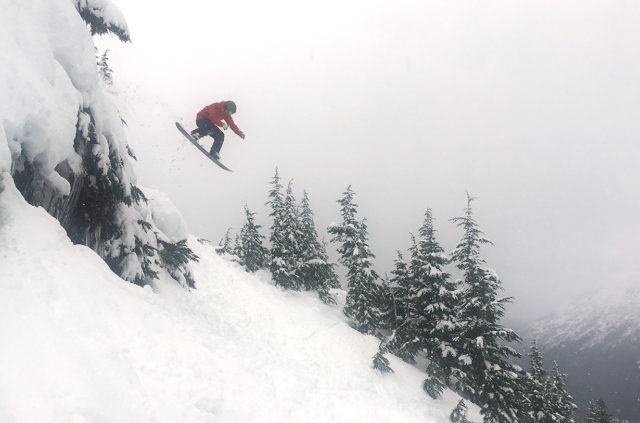 The shape of the Ultra Mountain Twin seems most ideal for softer conditions. While it does well in pretty deep powder, I would rather ride a more directional, powder-specific shape for the truly bottomless days. The Ultra Mountain Twin performs similarly on icy groomers and hardpack — a decent option, but doesn't edge quite as well as the Weston Range or a carving-specific board such as the Amplid Pentaquark. But for general riding and use as a one-board-quiver, the Ultra Mountain Twin is a great option.
The Ultra Mountain Twin's Traction Tech adds additional contact points along the running sidecut, and feels great on corduroy and softer conditions. It feels more predictable than the Rossignol Angus, which has a similar "serrated" sidecut but took me a while to get used to. That said, I still find it possible to wash out on the Ultra Mountain Twin while aggressively edging on very firm snow. The Ultra Mountain Twin seems to transition between turns smoother in comparison to the Angus, maybe due to the Ultra Mountain Twin's "Progressive Sidecut," which Jones claims will deliver smoother turns by increasing the sidecut radius slightly near the widest points at the tip and tail.
Rocker Profile
The Ultra Mountain Twin features Jones "Camrock" rocker profile, which consists of camber between the feet that transitions to a rockered tip and tail. Of all the camber options I've used, I feel that this combination of camber and rocker performs the best on most conditions. The camber underfoot helps with edging on both soft and firmer conditions, in addition to enhancing the snappy feel of the board, producing powerful ollies when hitting jumps or natural features. While flat-camber options are somewhat popular in powder and park boards, I personally feel that many of them lack a sense of power when edging and jumping.
The Ultra Mountain Twin's rockered tip and tails make riding powder and softer snow relatively easy, feeling quite smooth when transitioning from a groomer to off-piste conditions. The versatile Camrock profile seems well suited for the Ultra Mountain Twin, given that it's positioned as an all-mountain board.
Flex Pattern
Jones rates the stiffness of the Ultra Mountain Twin as 9/10, and I think that's pretty spot on. The Ultra Mountain Twin's flex is comparable to the Angus, but the Ultra Mountain Twin seems to progressively stiffen up as its flexed, whereas the Angus has a more uniform flex throughout the board. On snow, the Ultra Mountain Twin feels more stable than the Angus when riding fast in both soft and hard conditions, which may be a result of the gradational stiffening.
On the flip side, the Angus seems to be a bit "jibbier" and slightly softer. Both the Angus and Ultra Mountain Twin feel considerably stiffer than the Weston Range. If the Ultra Mountain Twin is sounding too stiff, the Mountain Twin would be worth checking out (Jones rates its flex as a 7/10).
It seems that the stiffer flex of the Ultra Mountain Twin is catered to hard chargers who are looking for stability at high speeds, and / or larger riders who have failed to find a supportive board in the past.
Powder and Tracked Powder
Although the Ultra Mountain Twin is not necessarily designed for deep powder days, it performs quite well in pow, particularly in snow that has a "bottom," as opposed to those 2-4+ foot "bottomless" powder days.
The Ultra Mountain Twin's blunted nose does a great job of keeping the nose feeling floaty and fast. Jeremy Jones comments on the blunt nose: "How a board glides in powder, crust, corn or any snow more than an inch deep, is dictated by its front contact point and just past it … The billowing snow coming out from behind the tip means you are plowing through it which is obviously slowing you down. By adding a blunt nose you get the float benefits of a much longer nose without the 'snow plow' rounded tip and it's extra swing weight".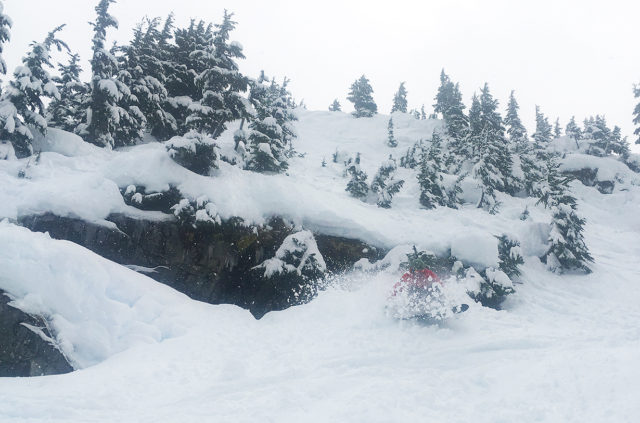 When the snow varies from several inches to 1-2 feet, the Ultra Mountain Twin does quite well. For the deeper days, a more directional, powder-specific shape cannot be beaten. Boards like the Never Summer Swift, Rossignol Sushi, Venture Euphoria, Jones Hovercraft, and Amplid Snowmelier & Surfari are designed specifically for floatation and speed in deep snow with a more freeride feeling, opposed to the more freestyle nature of twin shapes like the Ultra Mountain Twin.
For a board of this twin class, the Ultra Mountain Twin is one of the harder-charging powder boards I've used. Perhaps the most notable attribute is the Ultra Mountain Twin's ability to blast through tracked snow while feeling surprisingly stable. The Ultra Mountain Twin feels smooth and stable at higher speeds, despite how tracked the powder is, outperforming the Angus in this regard. For hucking and spinning in deeper conditions, the Ultra Mountain Twin is a top contender. While I tend to avoid riding switch, landing switch with this board feels fantastic, even with a more directional stance.
As with many of the stiffer boards I have spent time on, I have found that a board of this stiffness is best coupled with a stiffer binding. I think the Now O-Drive and Union Ultra FC are excellent options to pair with the Ultra Mountain Twin due to their stiffness and responsiveness.
Firm and Variable Snow
The Ultra Mountain Twin does a decent job of edging on firm, chalky, and variable snow. That said, I have had the edges wash out on me on icy and very firm conditions on numerous occasions. Perhaps it is user error or my semi-directional stance on the board's twin shape, but I have found when I really lay into a carve, the contact point just above my back foot seems to slip. After a few times washing out, I asked a friend who also rides the same board if he experienced this and he seemed to agree. Boards such as the Weston Range and carving-specific Amplid Pentaquark seem to be better suited for edging on super firm and icy conditions, particularly when heel-side edging. That said, the Ultra Mountain Twin does do quite well when breaking through crusts and wind board.
Corn / Spring Conditions
While I have not been able to test the Ultra Mountain Twin on corn or spring-like conditions, I have spent several days riding on it in wet and heavy pow. As mentioned above in the Powder section, I am extremely impressed by how the Ultra Mountain Twin blasts through tracks and bumps. I can only assume that these traits will carry over well for spring-time riding. I will be sure to update this section once I have spent adequate time riding the Ultra Mountain Twin in corn and slush.
Jumps, Cliffs, and Jibs
Given that Jones says the Ultra Mountain Twin is "ideal for slashing, jibbing, and jumping," it's not much of a surprise that I think it excels when sending natural features and jumps. The board feels particularly powerful and poppy, but it does take a bit more effort to handle and maneuver than the Angus or Range, due to the Ultra Mountain Twin's stiffness. The Ultra Mountain Twin seems well built and stable enough for landing on a wide spectrum of conditions — from bottomless powder to groomed tables.
While it's not necessarily the best freeride / carving board in deep powder, it is a joy to huck with and land on into deep powder. Perhaps it may be due to my background of hitting features with directional pow boards and non-twin shapes, but I was extremely impressed by how intuitive the Ultra Mountain Twin felt when hucking, flipping, and spinning off of cliffs and jumps, making me feel like a better freestyle rider than I am.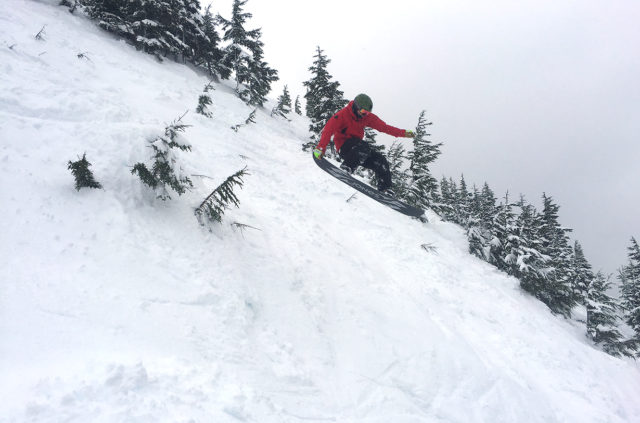 In addition to jumps and natural hucks, the Ultra Mountain Twin inspires confidence on rails and boxes as well. I am not much of a rail person nowadays, but I was pleasantly surprised by how smooth and easy it was to grind on right out of the box, even without having to detune the edges.
Who's It For?
The Ultra Mountain Twin is a fantastic board for those who enjoy jumping, spinning, and flipping all over the mountain in a variety of conditions. It is one of the better freestyle-oriented, one-board-quiver candidates that I have tried, particularly suited for those who like to charge and appreciate a stable platform.
The Ultra Mountain Twin's flex and shape seem to be more catered toward an intermediate to expert rider since it takes some strength and effort to unlock its full potential. For those who enjoy jumping and jibbing all over the mountain and who want a board that won't fold up on big drops and during high-speed runouts, the Ultra Mountain Twin is worth checking out.
Bottom Line
The Jones Ultra Mountain Twin is a strong, stable board that's great for aggressive riders who take more of a freestyle approach to the mountain, rather than a more directional, freeride approach. It's stiff and stable for larger hucks onto a wide range of snow conditions (other than ice — but who wants to land on ice?). The Ultra Mountain Twin has enough float for most powder days, provides a great sense of stability when riding at higher speeds, and does a decent job of edging on marginal conditions. For most days at the resort, especially for those who enjoy launching off of natural features and jumps, the Ultra Mountain Twin is a great freestyle board.