Board: 2020/21 Weston Riva 149
Available sizes: 145, 149, 153, 157 cm
Stated weight: 2585 grams / 5.7 lbs
Stated dimensions (149 cm): 288-246-283 mm
Stated sidecut radius (149 cm, from tip to tail): 9.3; 7.4; 7.1; 8.4 meters
Stated taper (all lengths): 9 mm
Stated Setback: 40 mm
Rocker Profile: rocker / camber / rocker
Stated flex rating: 6/10
Core construction: paulownia/poplar + carbon stringers + fiberglass laminate
Base: Sintered 4000
Boots / Bindings: Burton Mint / Burton Element
Test Locations: Alyeska Resort, Thompson Pass, & Marshall Pass, AK
Days tested: 30
[Note: Our review was conducted on the 19/20 Riva, which was not changed for 20/21, apart from graphics.]

Intro
Weston is a small Colorado-based company that, rather than focus on big-name athletes, competitions, and fancy photo shoots, places an emphasis on the community, lifestyle, and mountain experience of the common outdoor enthusiast. And their boards are designed with this philosophy in mind.
This year I've been testing one of their women's-specific directional boards, the Riva. Weston describes the Riva as maneuverable powder-oriented board that's strong and stable enough to handle high speeds and variable cruddy snow. After around 30 days on the Riva, I think there's a lot to like with this board.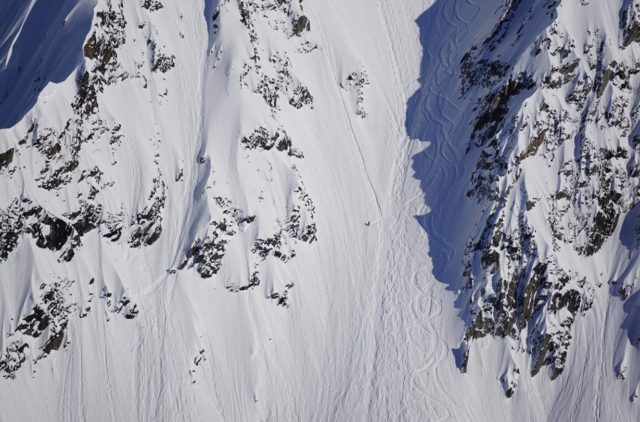 Construction
For many Alaskans, Weston is a relatively unknown brand. But during my testing in AK, the Riva sparked immediate curiosity in those with a well-seasoned eye for board construction. The craftsmanship and attention to detail on the Riva is obvious from a distance.
The Riva is designed as an all-mountain freeride board with a focus on fresh snow. Weston used their "Freedom Wood Core" in the Riva, which consists of alternating paulownia and poplar stringers. Paulownia is lighter and comparatively softer than other wood options, while the poplar stringers are stiffer to add longitudinal stability. The Riva also features tip-to-tail carbon stringers to add stiffness and pop without adding much weight.
On snow, the Riva's lighter construction results in a nimble and responsive ride that requires less dramatic input from the rider for a more intuitive feel. The Riva has a solid and stable feel that I would associate with a heavier board, while maintaining a quick, playful nature (more on performance later).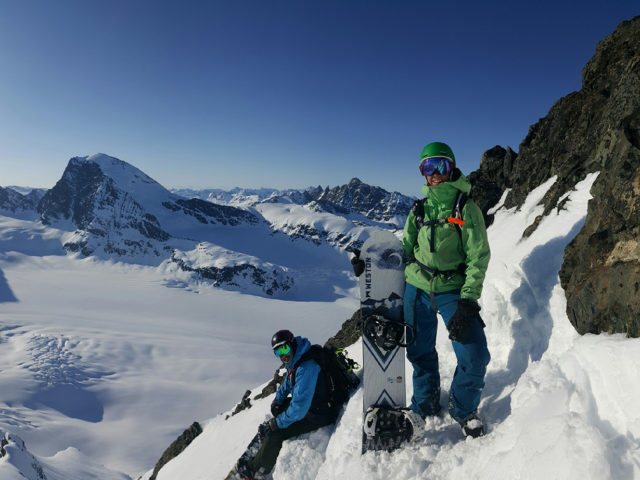 The Riva's core is wrapped in a fiberglass laminate and covered with a polyamide top sheet that's made from castor beans, rather than synthetic nylon found on many other boards. Weston's polyamide top sheet material has a distinctly rough texture that does a pretty good job of effectively shedding snow. It is tough, scratch resistant, and so far unaffected by chipping. I found the top sheet's snow-shedding element to be effective to a point, but somewhat dependent on the quality of snow. Creamy powder still stuck to the top sheet, but was noticeably easier to brush off compared to smooth top sheets prone to the "suctioning" effect with wet snow.
Weston finished off the construction of the Riva with fairly standard UHMW PE sidewalls and a high-grade sintered 4000 base (though they have added some flare with the directive "Go Forth and Slay Pow" written across the sidewall). The base is wrapped in a continuous stainless steel edge that caps the tip and tail. Though a slightly heavier vs. non-full-wrap edges, the Riva's full-wrap, single-piece edge should equate to good durability (I've had no issues with it after ~30 days of use).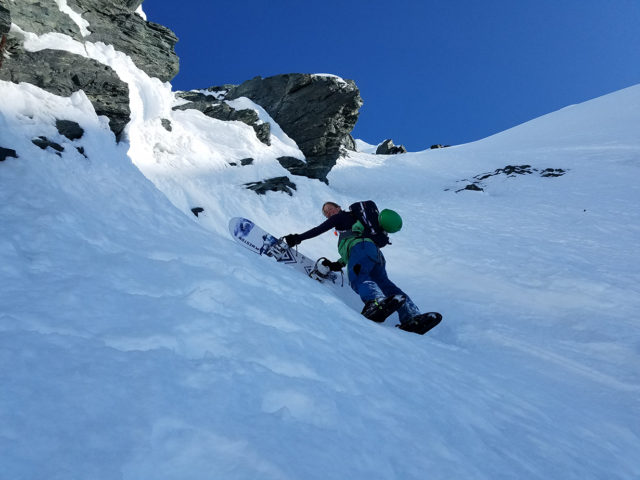 Shape / Rocker Profile
As a backcountry enthusiast fond of remote snowmachine access, I have become partial to directional snowboards in order to maximize the fun in untouched powder. The Riva fits into this category with its directional shape, wide nose, and slightly narrower tail, allowing for excellent float in powder across most terrain. The Riva has a slightly narrower waist to cater to lighter female riders with smaller feet, allowing for more direct weight transfer to the edge. This results in more precise turn initiation with less pressure than is required with a wider deck.
The sidecut radius of the Riva lies somewhere between that of a pure powder surfer and a big-mountain board. The Riva has a progressive sidecut, meaning it maintains a deeper / tighter sidecut in the center of the board (7.4-7.1 m for the 149 cm length) and tapers to a shallower / longer sidecut as you move to the tip and tail (9.3 m and 8.4 m, respectively). I think this multi-radius sidecut is part of what allows the Riva to maintain long, sweeping carves on firm snow without the "twitchy" feeling often produced by boards with deeper sidecuts while still maintaining the ability to precisely initiate tighter turns.
The Riva has traditional camber underfoot with a rockered tip and tail. The cambered middle section has provided excellent traction and consistent edge hold, while the rockered portions allowed for smooth planing in deep snow and a playful, forgiving feel.
Flex Pattern
Weston gives a stated flex rating of 6/10 for the Riva, which reportedly makes it slightly softer than their twin-tip women's board, the Rise. The Riva feels slightly softer than some other all-mountain decks like the Lib Tech TRS HP and Burton Con Artist. In my experience, this has made the Riva easier when it comes to making subtle manipulations / inputs without notably sacrificing stability. The Riva also has a fairly soft torsional flex that's reportedly a quality of Weston's women's-specific design, as they reduce the stiffness of the board in general proportion to the weight of the rider. For me, the Riva's moderate, but still strong flex pattern has proven very versatile across a wide variety of conditions and terrain.
Powder
The Riva excels in powder, as would be expected given its shape and rocker profile. The Riva's wide nose, narrow tail, and setback stance allow for nearly effortless float through light or heavy powder.
With a bit of speed, I did not feel the need to overpressure my back foot in order to stay on top of the snow on the Riva, which allowed me to maintain a neutral and nimble stance. However, the Riva does need a bit of speed to be able to maintain a natural and fluid ride in powder. A faster pace pushes the nose up and out of the snow on most terrain, but the nose tends to dip down at slower speeds, requiring more back-foot pressure. I only noticed this on very low-angle terrain, and had no issues whatsoever with tip dive on terrain that was approximately 25° or steeper.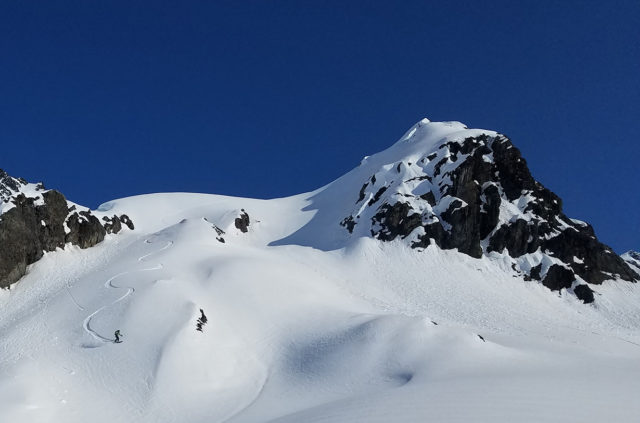 Ice, Hardpack, and Variable Conditions
When it comes to powder-oriented boards, there's a fine line companies need to tread since float is of primary concern, but you still want something that will hold an edge when the fresh snow disappears. You will inevitably encounter variable conditions and terrain, and there is nothing worse than sending a powdery couloir only to yard-sale on the apron because your snowboard cannot handle the chunky debris at the bottom.
In this regard, I found the Riva to be exceptional. The Riva held a strong edge when I needed it to, without compromising smooth carves at speed. It was stiff enough to dig in and maintain a tight grip on icy surfaces, with enough torsional flex to allow for micro-corrections. I found myself coming in very hot to several icy sections on the Riva, and was delighted to remain in control despite the abrupt change in snow texture.
When edging down a steep, well-traveled entrance to a line, the Riva produced very little chatter and was capable of holding strong without losing contact with the firm, rough snow surface. This was a nice change after spending large amounts of time on splitboards that, despite great advances in design, would be hard-pressed to replicate this kind of stability. I also found the Riva to be an excellent handhold tool for booting up the steeper lines, as the UHMW sidewall and full-wrap edge proved durable when breaking through crust layers while climbing.
In short, the Riva has allowed me to enjoy the best parts of my line without fearing the worst parts. For a powder-oriented board, that's a great trait.
Trees, Couloirs, and Other Tight Terrain
The 149 cm Riva is a bit shorter than the boards I typically ride, but one excellent quality of a shorter snowboard is the increased agility in tight spaces. I found the 149 cm Riva to be easy to jump turn due to its small size, and its stiff, poppy tail was great for making sure I got the tail around.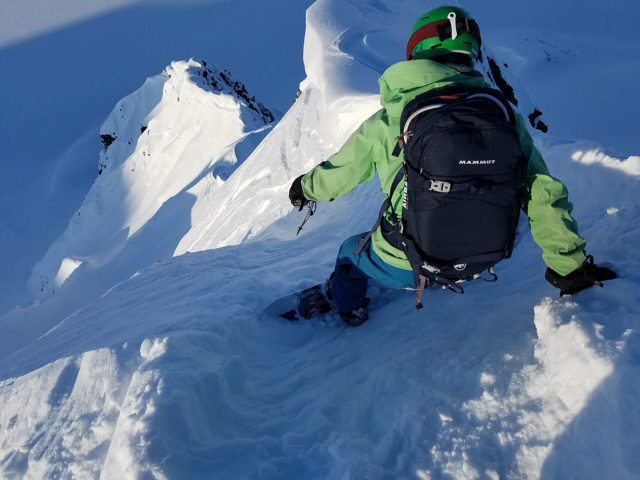 The Riva's slightly deeper sidecut near the rear foot allows for speed checks in tight spaces without dramatically changing the orientation of the board. When compared to the 154 cm Prior Brandywine or 152 cm Venture Storm, I found that the 149 cm Riva responded quicker to input, making for a more fluid ride through tight terrain.
In the Air
I have never been very into riding park or doing tricks. Snowboarding for me is all about freedom and the flow between you and the mountains. That said, the mountains provide many natural features for fun airs and drops to spice up your line. I really enjoyed the Riva when taking advantage of these features, and felt confident on the board thanks to its intuitive feel.
The Riva handled well in the air and felt solid on landings. The setback stance and short tail are nice for quick corrections in speed or direction prior to dropping in, as there is simply less surface area to maneuver. The wider nose helped to keep me from lawn darting in deep snow, and I thought that the Riva felt very stable on landings.
All that said, if you're looking for a pure freestyle board, there are many other less directional, more symmetrical options out there.
Who's It For?
The Riva is quickly becoming one of my favorite boards and I think it would work well for any lady riders looking for a board they can use in fresh snow and big terrain. The Riva is an excellent backcountry board if you have access to a snowmachine, helicopter, or a particularly frisky pair of legs. And if you like to skin for your turns, the Riva is also available as a splitboard.
Despite its powder-oriented design, I think the Riva is versatile enough to handle the myriad of conditions you typically see at the resort. There are certainly more appropriate boards available for park enthusiasts, and I would not suggest the Riva for beginners. But if you are an intermediate to expert rider who's partial to directional boards and want something that floats well in the good snow and capabably handles the bad snow, the Riva is well worth a look. Plus, given its quality, the Riva's MSRP of $549 is quite reasonable compared to some other options in this class like the Burton Con Artist ($749), Jones Women's Flagship ($599), Prior Fissile ($799 CAD), and Gnu Super Progressive Air Machine ($599).
Bottom Line
The Weston Riva has proven to be fun, versatile, sturdy, and free of any weird quirks that might otherwise hold me back from riding at my best on consequential lines. The Riva was intuitive from the start, still stable at speed, and was fun not only in powder, but also a wide variety of other conditions. I've come away really impressed by the Riva, and I look forward to keeping tabs on Weston and hope to see more women's options from them in the future.