Here at Blister, we like to think and talk about how outdoor recreation plays a role in our relationship with the natural environment in which we recreate. We also recognize that the gear we use and consume affects the natural world in both large and small-scale ways. Throughout our years of looking at the many different facets of this problem, we came across mountainFLOW eco-wax, and their approach to making less environmentally harmful products is why we decided to partner with them.
Before we get into why mountainFLOW wax is unique, we should look into why you want to be waxing your skis and snowboards in the first place.
Snow crystals are abrasive, and wax protects your equipment from abrasion and prolongs the life of your gear. Not only this, but wax provides a smooth and consistent glide on the snow in a variety of conditions, ranging from fast and icy to slow and sticky. Waxing your skis allows you to worry less about erratic changes in snow speed, letting you focus more on getting the most performance out of your gear.
Springtime is an especially good time to be thinking about waxing your equipment. Snow conditions can change wildly between different aspects of the mountain, or even between shaded and sunny parts of individual ski runs. Waxing your gear allows for a more consistent and predictable glide through these inconsistent snow conditions. Even if your season has already ended, it is very beneficial to wax your equipment for summer storage. "Storage Wax" can not only help your skis feel fast and consistent in early season snow once they come out of the garage, but it also protects your bases from debris, moisture, and other elements that can damage or affect the longevity of your equipment.
Conventional hot wax isn't the only wax that is extra useful in the spring. Waxing your skins can prevent the dreaded "glopping" of wet snow and icing of colder snow, give you extra glide over sticky snow, and make your spring missions even more efficient and enjoyable.
Clearly wax is a useful tool for getting the most out of the skiing experience, but what makes Mountainflow's products special?
Wax works as a buffer between the snow surfaces that we slide on and the bases of our skis / snowboards. As we glide along, the snow is actually pulling wax from our base(s). Because of this, the wax that is applied to your base(s) ends up in the snowpack, and eventually, the watersheds that drain the areas we ski.
Almost all waxes are made from petroleum-derived ingredients. This means that the petroleum we put on our skis also ends up in our streams, rivers, and lakes, affecting the ecosystems in our watersheds.
Mountainflow's products are all non-toxic. Their Hot Wax, Quick Wax, and Skin Wax Rub-On are all made entirely from waxes derived from plants, and they are biodegradable. Their Skin Wax Spray is water-based and non-hazardous. This means that these products are much safer to use and less hazardous for the ecosystems in which our wax will eventually end up.
For more about mountainnFLOW and their waxes, listen to episode 175 of the GEAR:30 podcast for a conversation between Jonathan Ellsworth and mountainFLOW's founder, Peter Arlein.
We believe that wax can do a lot to make skiing and snowboarding more enjoyable, and mountainFLOW's eco-wax is what we prefer to use. So, we've partnered with mountainFLOW to break down their snow product offerings and help you understand which of their waxes are best for where and how you ski.
Waxes For Ski and Snowboard Bases
The experience of gliding on snow while skiing and snowboarding is a very unique feeling, and the experience is maximized by regularly waxing the bases of your skis or snowboard(s). The products below are all designed for use on the bottom of your snow-sliding tools, and mountainFLOW offers an expansive lineup of product offerings.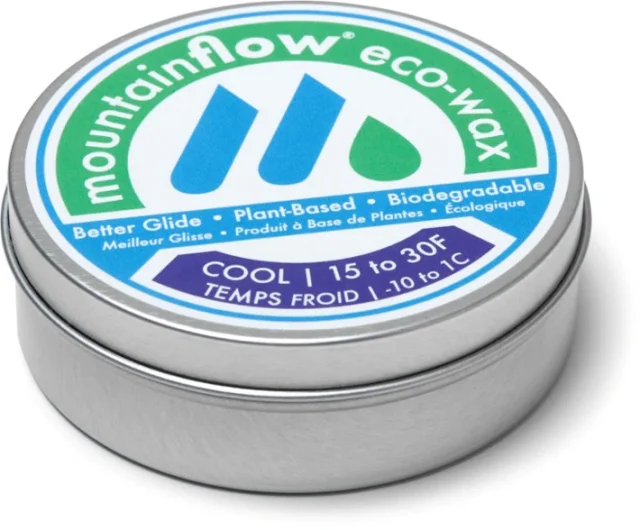 If you are new to waxing, mountainFLOW's Rub-On Quick Wax is a great way to get started. It requires no special tools, is easy to apply, and its benefits can be noticed instantly. Even if you are a waxing veteran, mountainFLOW's quick wax can be a great way to get an extra boost of speed and consistency if you don't have the time for a full hot wax, are traveling and you don't want to pack an iron, or to adjust to changing snow conditions throughout the day. mountainFLOW recommends that bases be as dry and warm as possible when applying the Quick Wax. While the Quick Wax won't last as long as their Hot Wax, it is much easier and quicker to apply.
MountainFLOW's quick wax comes in two different temperatures; "Cool" for snow temperatures of 15 to 30º F (-9.4 to -1.1º C) and "Warm" for snow temperatures of 25 to 40º F (-3.8 to 4.4º C). Check out mountainFLOW's video on how to apply their Quick Wax paste for more information.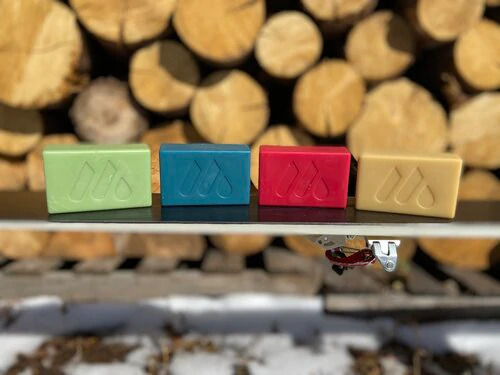 MountainFLOW's Hot Wax is their signature product. This wax offers the same performance as conventional petroleum-based wax, but with plant-based, biodegradable, and non-toxic ingredients. They are also packaged in "Eco-Clamshells," which are biodegradable and made from 100% recycled material. MountainFLOW's Hot Waxes come in four different snow temperature ranges:
All-Temp: 8 to 30º F (-13 to -1º C)

Cold: -5 to 15º F (-21 to -9º C)

Cool: 10 to 25º F (-12 to -4º C)

Warm: 20 to 36º F (-7 to 2º C)
We've been using mountainFLOW's Hot Waxes on our review skis for the past few months, and you can read about our experience with these waxes in our March edition of "Stuff We Like."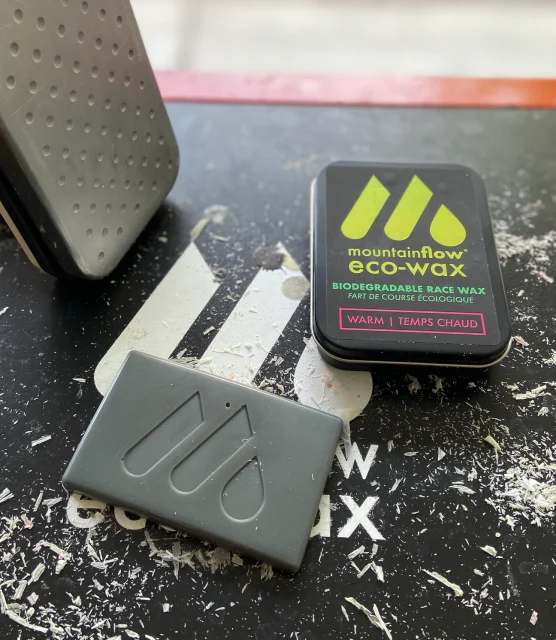 Ski racers demand the highest level of performance, speed, and durability out of their wax, and mountainFLOW's Race Wax is designed to provide just that.
Most other race waxes are made using fluorocarbons, a toxic substance that doesn't break down. A study published in December 2020 found fluorocarbons matching the same type used in ski wax in the snow, soil, and water near a cross-country ski track following a collegiate race. The study suggested that ski wax use was the main source of fluorocarbon contamination at the site.
Not only this, but fluorocarbons are a known carcinogen. If you are waxing using fluoro race waxes, you are potentially inhaling some of the evaporated fluorocarbons in the wax, which has the potential to be very dangerous for your health.
Fluoro waxes are problematic for several reasons, and fluorocarbon wax bans are in place at certain levels of competition with a more universal ban likely to take place soon. While many ski wax companies are working to implement fluorocarbon alternatives, mountainFLOW is already ahead of the game with their Race Wax, which utilizes their exclusive Ceramic Nanotechnology. This substance (which was originally developed by the Department of Defense) is naturally derived, biodegradable, and non-toxic, and is used in other applications such as on the rails of luge sleds (for more on Ceramic Nanotechnology and fluorocarbons, listen to episode 175 of the GEAR:30 podcast).
MountainFLOW offers their race wax in three temperature ranges:
Cold: -5 to 15º F (-21 to -9º C)

Cool: 10 to 25º F (-12 to -4º C)

Warm: 20 to 36º F (-7 to 2º C)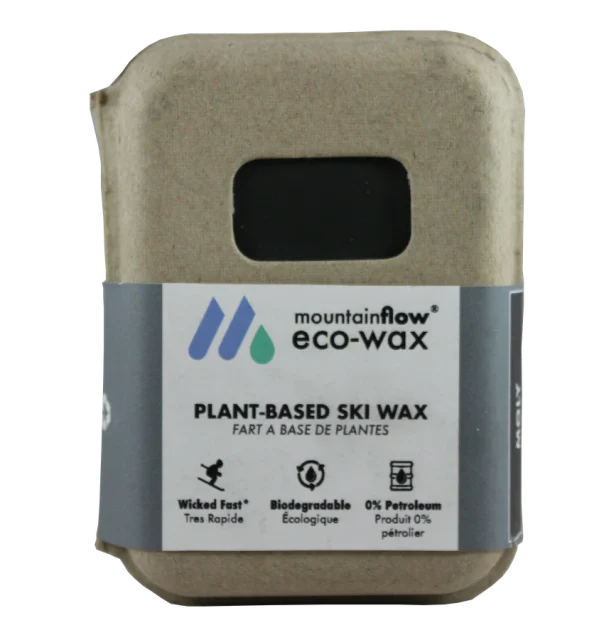 MountainFLOW's Moly (short for Molybdenum) Wax is ideal for tricky, unique snow conditions where other waxes struggle. This wax is anti-static and great for very cold, very dry snow where static friction builds up quickly and can be hard to dissipate. Not only this, but their Moly wax is also beneficial in warm, dirty snow. The uniform distribution of the Moly nanoparticles provides a protective barrier against dirt and debris, which would otherwise grind directly against the base(s) of your skis or snowboard. Their Moly wax is designed for use in all temperatures, and you can read about our experience with their Moly wax in our March edition of "Stuff We Like."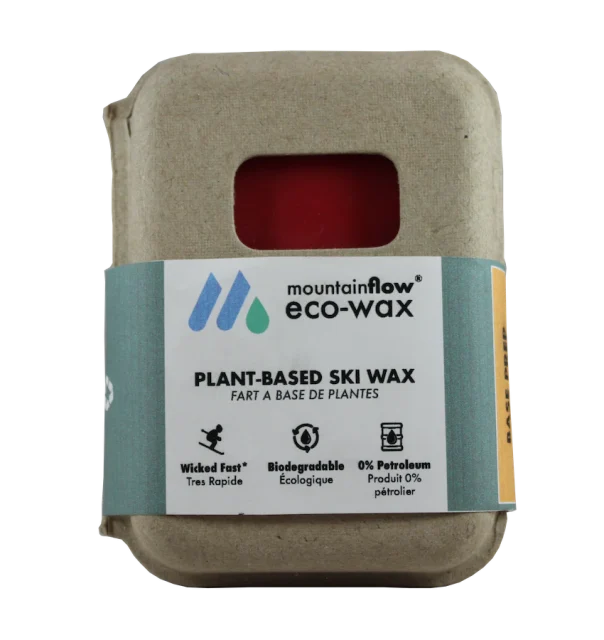 MountainFLOW's Base Prep wax is made with smaller wax molecules designed to penetrate deep into the base of a ski or snowboard. It has several uses:
After a fresh base grind, mountainFLOW's Base Prep acts as a conditioner and can restore the moisture of your base(s).

The Base Prep wax can bind with an additional coat of whatever other wax you choose to use that day, enhancing the performance you can get out of that wax, making that wax last longer, and allowing you to use less wax.

It can also be used as a base cleaner by utilizing a waxing method known as the "hot scrape." Simply apply and iron-in the wax, then allow the wax to sit for just a few minutes before scraping. This should remove the dirt and debris from your base(s).

MountainFLOW's Base Prep wax is also ideal for travel and storage. By applying a thick coat of Base Prep wax, your bases will be protected from outside elements during travel and the off-season (e.g., driving a long way down buggy, dirty highways to your skiing destination, or leaving your skis in a dusty garage or storage shed over the summer). Simply scrape it off and apply a new wax, and your skis or snowboards are in great shape and ready to go.
Check out mountainFLOW's video on how to base prep for more information.
If you like to earn your turns by skinning uphill, then mountainFLOW's skin waxes can make a significant impact on your skiing experience. Waxing your climbing skins can do a lot to improve efficiency and reduce "glopping" and icing. Skin waxes can also provide new life to old skins with worn-out plush and mediocre glide. You can read about our experience with mountainFLOW's skin waxes in our "Stocking Stuffers" edition of our 2021 Holiday Gift Guide.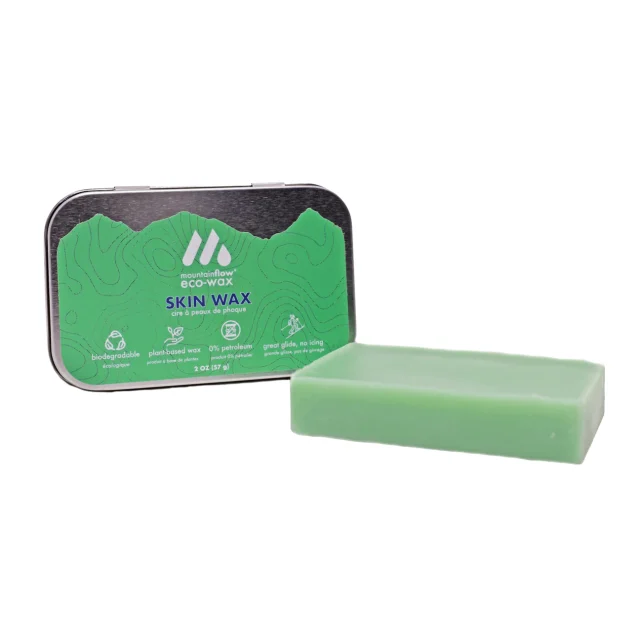 MountainFLOW's Rub-On Skin Wax is designed to improve glide and prevent icing on your climbing skins. It can be applied in the field, and it comes in a small, handy tin that can fit right in your pack (or as some of our reviewers do, just crack off a small piece to always keep in your touring pack / apparel so you've always got it just in case). Check out mountainFLOW's video on how to use their Rub-On Skin Wax for more information.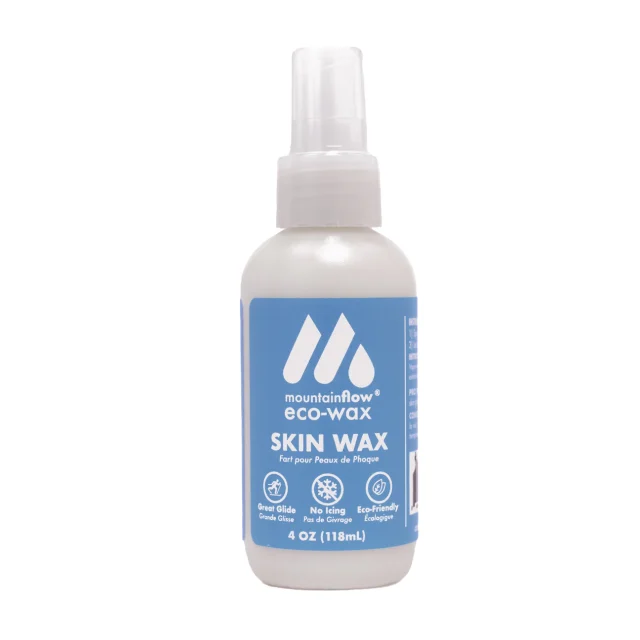 MountainFLOW's Spray-On Skin Wax is a water-based version of their Rub-On wax. It is designed to improve glide while maintaining grip and traction, and it also keeps your climbing skins dry, reducing snow buildup and "glopping." It is designed to be applied at least one night before a tour. Check out mountainFLOW's video on how to use their Spray-On Skin Wax for more information.