Intro
Spring can be a pretty frustrating season as far as layering is concerned — especially here in the Rocky Mountains. One minute it's sunny and 65°F / 18°C, the next it's freezing and snowing. But here at Blister, we're actually pretty fond of spring running, partially cause it's one of the few times of the year where we get to test out all sorts of different types of running apparel — shorts, tights, t-shirts, jackets — you name it.
We've been using a variety of spring-worthy apparel pieces from different brands over the last several weeks and in this roundup, we'll give a quick summary of what we think of each. We'll also be referring back to a few of the pieces we reviewed last year in our Running Short Roundup, which is also worth a look if you're in the market for some new shorts.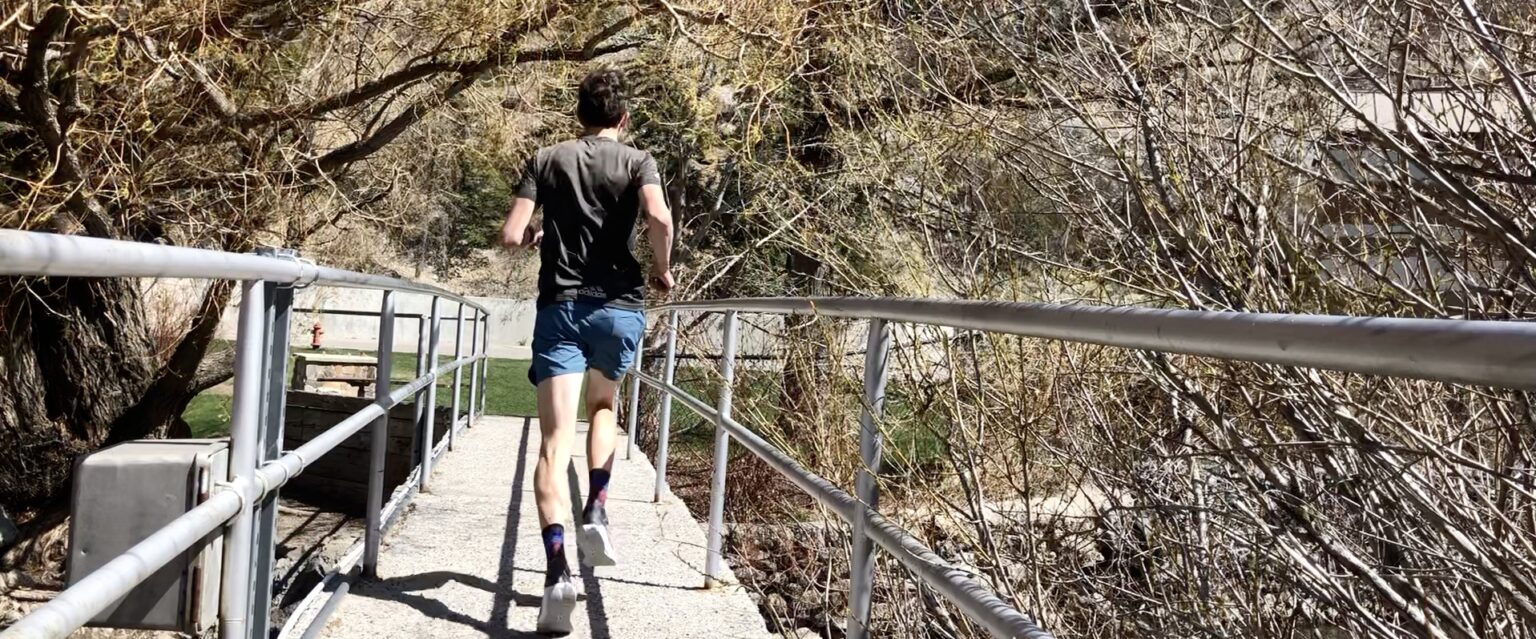 I've mostly used the EZ Shorts for short runs, gym workouts, and casual wear. Their looser fit and thicker fabric don't make them feel super light or fast during runs, but I still like running in them because they're so darn comfortable. I wouldn't recommend getting the EZ Shorts as your only pair of running shorts, but they're a great option to have around for days where you don't feel like wearing a tight-fitting, performance-oriented running short, or if you want a pair that is just as comfy to wear around the house or out in town.
Rabbit also makes a women's version of the EZ Shorts with a 2.5" or 4" inseam.
The Yakwarm tights have a pocket in the back of the waistband, which I've found to be incredibly useful. I've worn these tights on several longer road runs where I just carried a handheld for water, and the pocket in the tights is perfect for some fuel and my phone so I can listen to music with minimal phone bouncing. I have not found many tights that have a pocket large enough for a modern smartphone, so the YAKWARM's pocket is a major win in my book.
Odlo also makes a men's version of the MILLENNIUM YAKWARM Tight.
Tracksmith uses their "2:09 Mesh" (a nod to Billy Rodgers' American Record Marathon time at the 1975 Boston Marathon) for both the shell and liner of the Van Cortland Grand Shorts, and I've been pleasantly surprised by how comfortable and breathable it is. I'll admit to having a few flashbacks to the baggy mesh shorts of Middle School gym class when I first saw the shorts, but fortunately, the Van Cortland Grands are nothing like that.
While the Van Cortland Grand's mesh material does feel a little thicker / heavier than the ultra-thin nylon shell fabrics of shorts like the Patagonia Strider Pro or Rabbit FKT 5", the shorts actually still feel light and breathable on the trail. They also haven't caused any of the chafing or rubbing issues I've sometimes associated with mesh shorts. The Van Cortland Grand shorts don't really have much to offer in the way of storage — there are two internal back pockets that could fit keys and maybe a gel or two, but nothing big enough to hold a phone. Then again, the Van Cortland Grand shorts aren't really designed for carrying lots of stuff on long runs — they're intended to feel fast and look good on daily training runs and shorter races. And for those purposes, I think they work just fine.
While I wouldn't choose the Van Cortland Grand shorts for a multi-hour mountain run (due to minimal storage), I like having them as a more casual option for day-to-day training runs around town. They have a more relaxed fit than the Patagonia Strider Pro, and the mesh fabric feels softer and more breathable than the Salomon Agile 5" or Hoka Performance Woven shorts.
My only qualm with the Van Cortland Grand shorts is their fairly steep price tag — the Patagonia Strider Pro and Rabbit FKT shorts are about the same price, and have way more storage capacity. Since I do a lot of long runs and like being able to carry stuff in my shorts, that makes the Van Cortland Grand shorts a little harder to justify. But if you're more concerned about comfort and style than storage, the Van Cortland Grand shorts could still be a worthwhile investment.
I've been testing the men's 4" Van Cortland Grand shorts, but Tracksmith also makes a women's version with the same inseam length.
The Velocity tights have a wind-resistant panel on the front of the thigh, adding a little extra protection from the elements without being excessively hot in my experience. The fabric over the butt and low legs is a midweight knit that is pretty breathable but still very warm on colder days. Even on days when I was running hard, I did not experience issues with the Velocity tights being too hot. Odlo classifies the Velocity as a lightweight tight, which I mostly agree with, but they do work well on colder days as well thanks to the wind panels in the front.
The Velocity tight, like the Yakwarm tight, has a pocket in the back of the waistband that's large enough for an iPhone 8 and a gel. The high elastic waistband keeps things from bouncing around, even when carrying heavier objects like a phone.
I have also worn this tight while cross-country skiing and snowshoeing, and they were a great layer. They provided enough warmth on sunny-but-freezing days and blocked the wind while skiing. The Velocity tights are great for a variety of activities on both winter and cold spring days.
Odlo also makes a Men's version of the Velocity Tight, which also goes for $80.
The Front Runner Shorts fit true to size — my usual Men's size Small feels secure without being overly tight. So far I've only worn the Front Runner Shorts on shorter runs (up to about an hour), but I haven't had any issues with chafing or rubbing — I definitely think the Front Runner Shorts will be in my rotation for long runs once the weather warms up a little more.
Nathan also offers a women's version of the Front Runner with a 3" / 7.6 cm inseam.
In practice, I think that the Run Cannonball Run Shorts are pretty awesome for swimming — but they do sacrifice some performance on the running side of things to make that happen. As advertised, the shorts dry extremely quickly, which does help minimize chafing after a swim (or if you get caught in a heavy spring rainstorm). They also have a comfortable, relaxed fit that's fairly similar to the Van Cortland Grand shorts. But the swim-specific fabric Tracksmith uses on the Run Cannonball Run Shorts doesn't seem to be quite as breathable as the lightweight nylon material of shorts like the Rabbit Surf 'n Turf or Patagonia Strider Pro, which makes the Tracksmith shorts a bit less comfortable in hot weather. It also feels quite a bit stiffer and heavier than the fabric on the Rabbit Surf 'n Turf.
I still like the Run Cannonball Run Shorts for fairly short runs, but on anything over an hour, they start to feel a little cumbersome compared to their competitors. With that said, they have pretty much replaced my swim shorts for days at the river, and if you have local runs that make mid-run swims a possibility, they'd be a great choice.
Tracksmith also makes a 2" inseam women's version of the Run Cannonball Run Shorts.
The Performance Woven Shorts fit similarly to the Salomon Agile shorts, but with a slightly higher waist. They aren't nearly as tight-fitting as the Patagonia Strider Pro shorts, but still feel fairly secure and supportive. I haven't had any issues with chafing in the Performance Woven Shorts, but the slightly looser-fitting liner does make me a little hesitant to wear them for multi-hour runs. The looser fit also makes the shorts bounce around a bit more when I do have a phone or other heavy items in the back pocket. Finally, the woven shell fabric feels a bit stiffer than the Patagonia Strider Pro or Rabbit FKT shorts, which I've found makes the Performance Woven short slightly less comfortable — especially on longer runs.
On the whole, I think the Hoka Performance Woven Shorts are a solid everyday running short — but they don't really stand out from the competition in my book. They feel fairly similar to the Salomon Agile Shorts, but cost about $20 more. As with the Tracksmith Van Cortland Grand Shorts, the Performance Woven Shorts cost about the same amount as much more feature-packed shorts like the Patagonia Strider Pro or Rabbit FKT. If they were a bit cheaper I'd definitely recommend the Performance Woven Shorts for a day-to-day training short, but the higher price makes them a bit hard to justify — at least for my preferences.
I tested the men's 5" inseam version of the Performance Woven Shorts, but Hoka also makes a 7" inseam men's version and 4" inseam women's version.