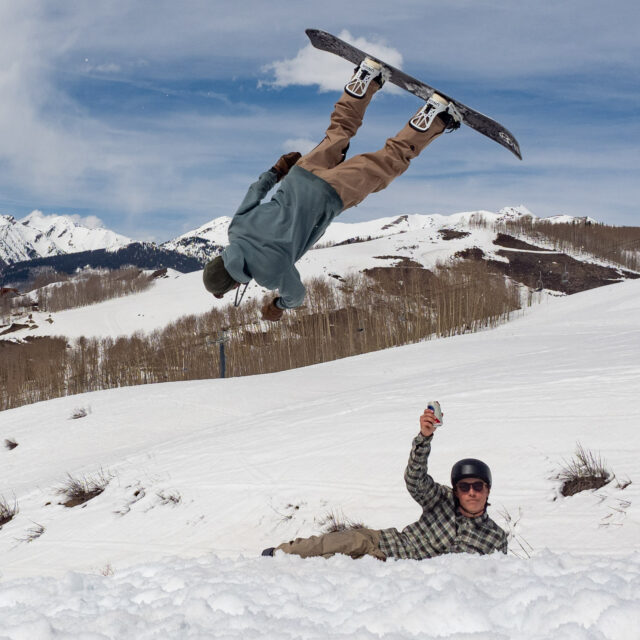 Intro
Most of our reviews are pretty long — and take a long time to produce — because we want to provide enough info for you to actually determine whether the gear we tested will work well for you.
But we get asked to check out an increasingly wide range of products, and sometimes, we just want to tell you about something we've been using and loving lately.
So we've rolled out this monthly series — Stuff We Like — to keep you current on a broad range of stuff we're currently digging.
And if there's something you love that you think we ought to check out, drop us a note in the comment section below.
MSRP: $599.99 (but seems to always be on sale for $169.00)
Gordon Gianniny: To be honest, I always kind of rolled my eyes at massage guns — until I tried one after a long run. There are all kinds of "recovery tools" on the market these days, and I'm always a little skeptical about whether most of them actually do anything. But I've been very impressed by how much of a difference a few minutes of using a massage gun can make for sore, tight muscles.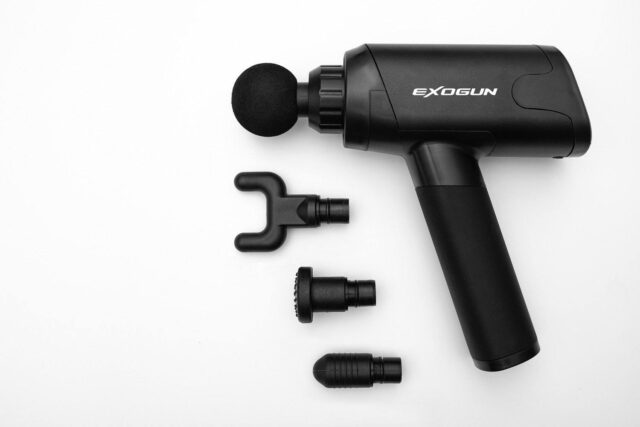 I have all kinds of weird knots and super tight muscles (side effects of running too much), and normal foam rollers are never quite enough to really make much of a difference. A massage gun like the ExoGun DreamPro, on the other hand, goes a long way toward helping loosen things up — which has been super helpful for speeding up recovery between big summer / fall mountain runs. Sure it's a little pricey (although I'm not convinced that anyone ever actually pays the $600 MSRP for a DreamPro; it seems to always be on sale for $169) — but in my opinion, it's worth the investment because, unlike some other recovery tools I've tried, the DreamPro actually works.
MSRP: $99.95
Gordon: If you're an ultrarunning nerd like me, you're probably just as obsessed with headlamps as I am — and with good reason. A poorly designed headlamp that isn't bright enough or dies prematurely can totally ruin a race that goes overnight — plus it's just annoying. This is why I'm pretty psyched that BioLite recently released their HeadLamp 750. In short, it has everything I look for in a running headlamp. It's bright enough to see trail obstacles without any trouble, it has an excellent battery life (7 hours on high), and it has a rechargeable battery. It also has a couple of cool bonus features that set it apart from some of the other headlamps I've tried out, namely a red light on the back for added visibility and an extra-long charging cable that lets you charge the headlamp while in use — which is a huge perk for overnight races where I need more than 7 hours of light.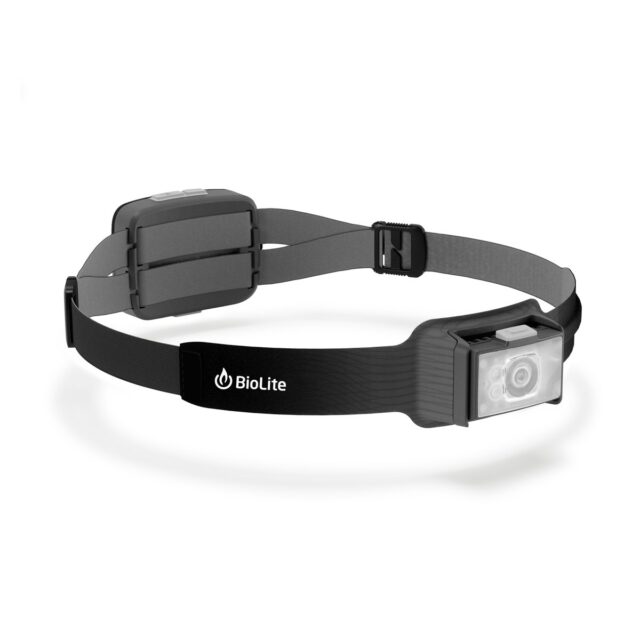 And like all of BioLite's headlamps, the HeadLamp 750 has a headband-like construction that I think is way more comfortable than most headlamps. Add the fact that the HeadLamp has a reasonable $99.95 price tag, and I think it's easily among the best running headlamps around.
MSRP: $36
David Golay: I've tried a lot of different bike gloves over the years, but I keep coming back to the Ace 2.0 as my favorite. My criteria are pretty simple: unless it's cold and wet enough that I really need something warmer, I mostly want a super-thin, unpadded full-finger glove without a wrist closure. The Ace 2.0 is the best version of that I've tried to date. The Ace 2.0 features a thin synthetic leather palm with some perforations to improve ventilation, a very light, stretchy mesh back, a thin nose wipe on the thumb, and that's about it. They're bare-bones, and that's exactly why I like them. They're cool, comfortable, light, and their tactile feel on the bar is top-notch.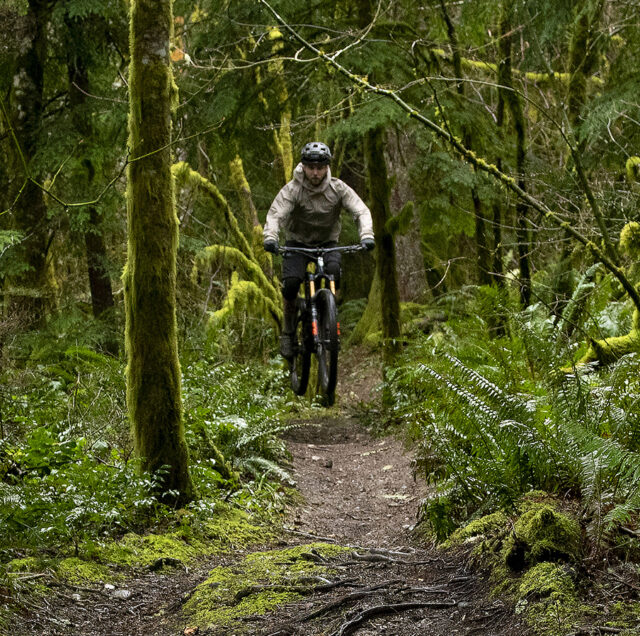 The original Ace glove featured a stretchy panel in the fingertips which wore out super quickly, but they've fixed that on the 2.0 and now they're great. Newer versions also feature touch-screen-compatible index finger and thumb panels, but I bought some on sale recently that were the older version without. I don't care that much either way, but if you want the phone compatibility, look for ones that have a rotary phone icon embossed on the index fingertip.
All that said, the Ace 2.0 isn't quite perfect. First, they run a bit small. I usually wear an XL in most bike and ski gloves, but these fit me better in an XXL. Second, I have had somewhat mixed results with the quality of the stitching. I've had a ton of pairs of these over the years and keep several in rotation at any given time, and while most pairs have held up without incident, I've had a couple where they started to come unsewn at a fingertip and needed a little touching up. My sewing skills are terrible but they've still been easy repairs, even for a hack like me. I'm not too bothered, but it would be nice to see the quality control improved a bit. Nevertheless, I'll gladly put up with the occasional bit of sewing work for a glove that's this comfortable, offers such a good tactile feel on the bar, and can routinely be found for $12–15 in the XXL that I wear.
Kristin Sinnott: I agree with everything David said and I really don't have much more to add other than that the same is true for the women's version, except I haven't run into any issues with the stitching. I also don't spend nearly as much time on my bike as David, but I am still using the same pair of gloves I purchased a few years ago. I love these gloves and have no interest in trying any other pair for warm-weather riding.
MSRP: $13.95
Dylan Wood: I might be more meticulous about making sure my mountain bike's chains are always lubed than anyone I know. Given that, I've probably gone through more bottles of chain lube than most riders, so I've done a lot of experimenting on what I like best. I found myself regularly reaching for Mucoff's C3 Ceramic bike lubes for a while, until I started using Mountainflow's All-Weather Plant-Based Bike Lube.
In Crested Butte, the dirt is usually dry and the weather is usually clear and sunny, but most good rides involve blasting through a creek crossing or two. Dry lubes often get washed off by these creeks, and wet lubes usually attract too much dust, so all-weather lubes are generally ideal. Mountainflow's All-Weather lube has proven to work really well in these conditions, and it's kept my chain silent and smooth on long rides in both dusty and rainy conditions. The other notable thing is that most other bike lubes on the market are petroleum-based, so that petroleum either ends up in the creeks I cross or in my yard and local rivers after I clean my bikes. It's good to know that Mountainflow's plant-based lube is biodegradable and does not have nearly as much potential to harm the watersheds I recreate in.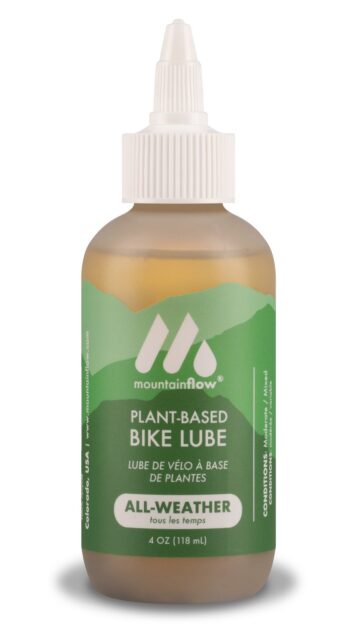 One quirk of this Plant-Based Bike Lube is that it takes a little longer than others to wipe off your chain. This doesn't bother me much, and I think it might also be part of the reason why my drivetrain stays smooth and quiet even after several creek crossings and dusty corners. I'd also like to see them improve their bottle, which makes it kind of hard to apply the right amount of squeeze in order to get the right amount of lube on your chain. Other than those two minor complaints, though, I think Mountainflow has done a great job with their All-Weather Bike Lube and I don't see myself using any other drivetrain lubricants moving forward.
PBR
MSRP: in CB, like $0.80 a can if you buy in bulk (and available for $2 at just about every bar)
Luke Koppa: It's cheap, it's good, it doesn't get old, and it makes for a nice "treat" when the sun's been down for five hours and I'm still staring at InDesign.
I won't blame you for talking crap about it, but the fact is that it's basically the only beer I've been buying for the past 4 years. And FWIW, my dad is pretty dang particular about his beverages, but after I re-introduced him to the "people's water" in Crested Butte (with the addition of a lime), he's actually been occasionally buying it recently. So maybe it's time for you to give it another chance, too.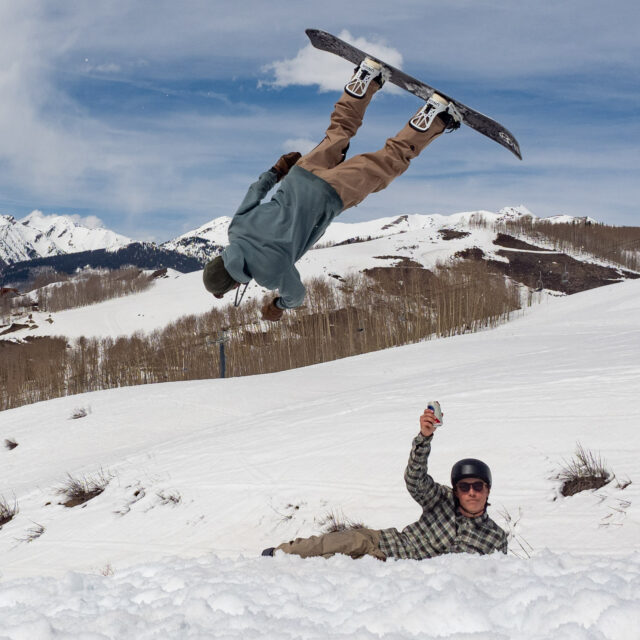 David: I'm not a regular PBR drinker, but I recently tried the non-alcoholic version and it was shockingly good — especially given that my normal beer preferences are more on the fancy IPA end of the spectrum. So that's well worth considering if you're interested in something that tastes like a beer, but with way fewer calories and no alcohol.
MSRP: $75
Luke: I'm a big fan of merino wool for everyday wear, and I'm also a big fan of understated clothing. Icebreaker's revised Tech Lite II Tee checks both of those boxes.
It's made with their lightweight 150 g/m2 100% merino wool fabric, which, like all the Icebreaker pieces I've used, is very soft for a wool piece. More importantly for me, though, is the fact that it's really breathable, stretchy, and resists odor buildup very well. That means I don't feel out of luck if someone suggests an afternoon ride and I don't have time to get my riding clothes, and it also means I can wear it for many days without needing to throw it in the washer.
On that note, I'm someone who tends to forget (or in some cases, straight-up ignore) specific care instructions on most garments, opting instead to typically wash everything I own in cold water, light detergent, and then tumble dry on low.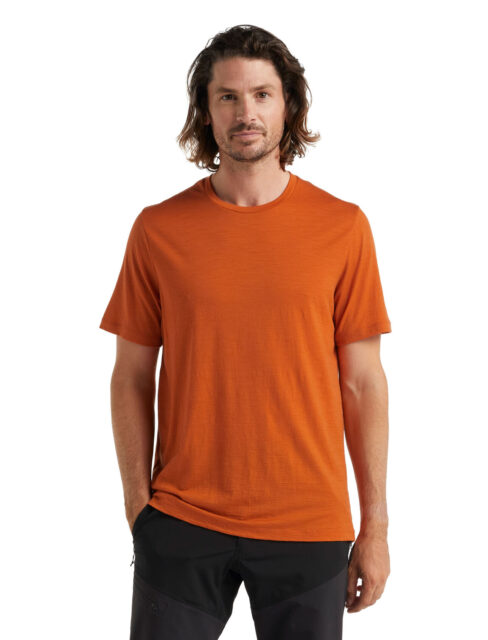 It's simpler, means I do fewer loads of laundry, and in most cases, it works fine. I do take more care with technical outerwear, but for my everyday clothes, I know that if a garment requires special care, I'm very likely not going to remember that when it's tossed in the hamper with everything else.
Getting more to the point, most merino garments shrink a bit when you tumble dry them, even on low heat. Some manufacturers say it's still alright to tumble dry them, and others, like Icebreaker in the case of the Tech Lite II Tee, do not recommend tumble drying. Knowing that I was going to forget that at some point in the Tee's life, I ordered it a size up (size Large) and after that inevitable first wash + dry cycle, it shrunk down to what I'd call a pretty standard men's Medium. If you're more careful with your laundry (which, to be clear, is what I'd suggest), I'd order your standard size — the fit is overall pretty middle of the road and just what I want for a casual piece that I'll also use when biking, ski touring in the summer, etc.
All in all, the latest Tech Lite Tee is another winner in my book, and now features a fit that I much prefer to the slimmer versions of the past. It looks very understated, with zero branding and many color choices to pick from (including my required plain-black), and it brings all the performance and odor-related benefits of a techy merino baselayer. I look forward to wearing it for years to come.
Kara Williard: I bought my first Icebreaker Tech Lite SS Tee close to seven years ago when I needed to choose one shirt while living out of a backpack for three months in Central America. Amazingly, it is still going to this day, despite hundreds of outings, adventures, and intense days of working outside. It only has a couple of tiny holes, and still looks pretty good while maintaining total functionality. Some of my favorite epics have occurred in this shirt just because it is so reliable and I can wear it for several days in a row without feeling grimy or getting too stinky.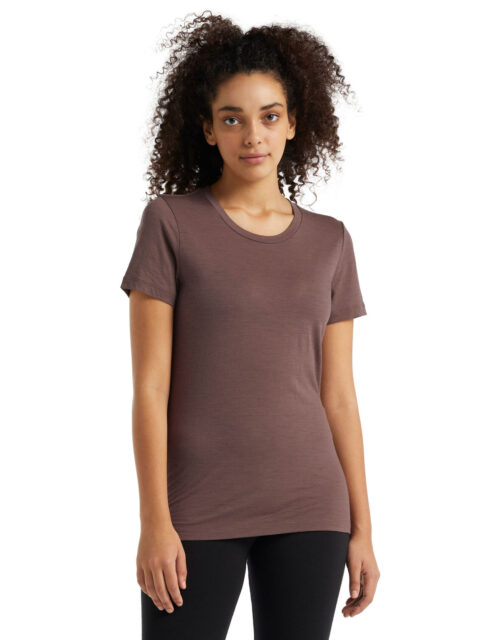 I was so excited to get another Tech Lite SS Tee a few weeks ago, and have already been so pleased, not only because it feels as comfortable as my last one and fits just as well, but also because it feels even softer. Overall, the fit of the new women's version feels pretty similar, though the sleeves are a little looser and longer on this version, which I like. Though, to be fair to my first Tech Lite, it has been washed and dried many times. The new Tech Lite SS has already proven to be a great layer for running, biking, and hiking, and it even just wears well as a casual T-shirt. Based on my previous experience, I hope this one lasts just as long, travels just as far, and proves to be a go-to item when it comes to a lightweight, wicking layer that can be used for just about anything.
MSRP: $60 (currently on sale for $30)
Dylan: Slides are awesome. With the freedom of flip-flops and the versatility to be worn with socks, it's really hard to beat a good pair of slides as a shoe that is extremely easy to put on and very unrestrictive. The Ride Concepts Coaster is everything a good pair of slides should be, plus a little more.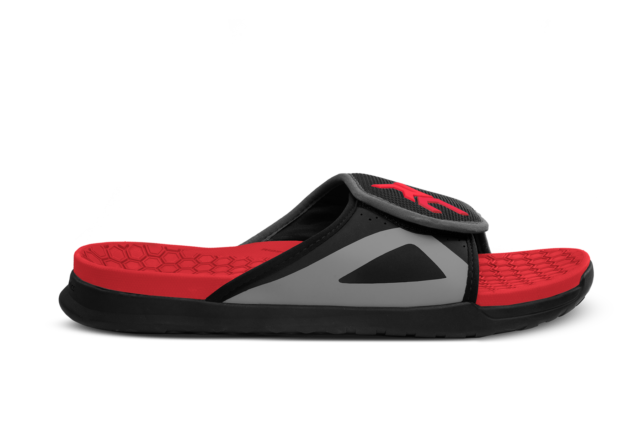 The Ride Concepts Coaster features a comfortable EVA footbed reportedly designed to help your metatarsals spread out and relax after being crammed in a shoe for a long ride. The footbed is comfortable and textured enough to be pretty grippy, even when wet. The mesh top strap feels soft on the top of my foot, isn't abrasive, and keeps my feet in place nicely. These slides also feature Ride Concept's DST 4.0 Max Grip rubber outsoles, which is the same rubber compound they use in some of their mountain bike shoes. This last feature is very appealing to me because all of my previous slides have not stood the test of time and have all since perished. But about a month of daily use has shown no wear or tear on the Coasters, and I am confident they will outlast my other, disappointing slides.
Like most slides, I found the Coasters were very convenient for slipping on quickly and easily. I would put them on in the morning with work boots in tow, and then be very relieved when I took my work boots off after a long day. I also made sure to leave them in my car or in Blister HQ so I could slip them on after a long ride and let my feet air out and recover (sorry to those who have had to sit near me on the bus on my way back from a ride). If I needed to go get the mail, take out the trash, or inevitably sort the recycling once again (damn roommates), I'd slide on the Coasters and toss 'em right back off once I got inside.
Overall, the Ride Concepts Coaster Slide has been comfortable and convenient, and I'm confident they'll be in my shoe quiver for years to come.
MSRP: $85.00
Gordon: It's (finally) starting to feel slightly more fall-like in northern Utah — the temperatures are dropping just enough overnight that my usual lightweight summer running shirts aren't quite warm enough on morning runs. But it's still northern Utah, so it's also not actually cold enough for long-sleeve, insulated layers. This is where the Ibex Tencel Tee comes in. This shirt uses a blend of merino wool and Tencel fibers, which supposedly help with cooling. I still think this shirt's slightly thicker fabric isn't quite as cool as a lighter shirt like the Rabbit EZ Tee Perf SS, but the Ibex piece is pretty awesome for the awkward in-between temperatures we're getting in Logan right now.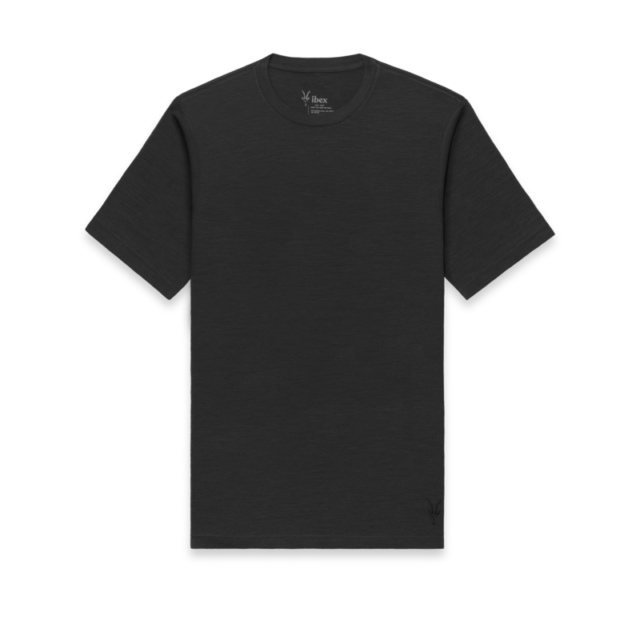 The Merino Tencel Tee feels just a bit warmer than most of my other running t-shirts, but it also breathes exceptionally well when temperatures do warm up a little. Oh, and it's also super comfortable. Overall, the Merino Tencel Tee is a pretty ideal fall running shirt in my book, and it's quickly risen to the top of my running shirt selection this month.
MSRP: $44.95
Kristin: I've been wearing Birkenstocks since high school when I convinced my mom to buy them for me. Since that day 24 years ago (don't do the math; you'll make me feel old :)), I've owned 3 pairs of the traditional cork ones, which I had resoled and recorked countless times. And while I still love them, I've never loved how they aren't water friendly. So when it came time for me to pack for an extended vacation, I decided I needed to buy the EVA version instead of packing a pair of flip flops plus my corked pair.
The Arizona Essentials EVA sandal has the same classic 2-buckle Birkenstock design, but instead of cork and leather, it's made of molded EVA. EVA (Ethylene-Vinyl Acetate) is a foam often used in running and hiking shoe midsoles that is soft, flexible, and feels like rubber. It's waterproof, lightweight, and shock absorbing. I've been wearing these EVA Birkenstocks daily for the past 5 weeks and they look and feel like new. They are comfortable and I like having the flexibility to go anywhere in them — including into the water.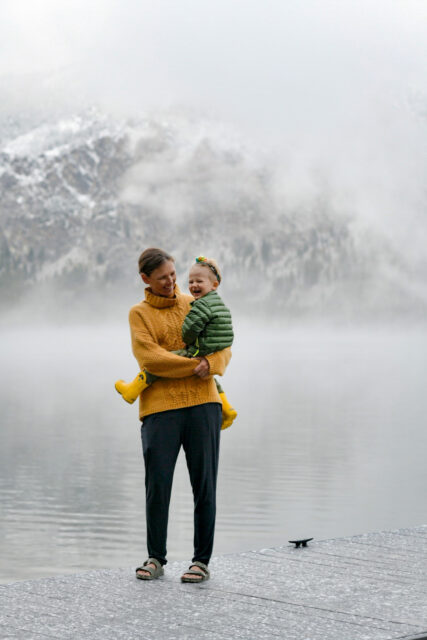 MSRP: $129.95
Paul Forward: From June through November I spend a lot of nights in a tent in fairly remote parts of the Alaskan wilderness and rely on isobutane stoves for my primary cooking equipment. Over the years I've tried most of the lightweight backpacking stoves on the market, and until this year, had always gone back to my now-16-year-old Jetboil Sol Titanium because it provided the best combination I could find of low weight, packability, and efficiency. This year I did a few weeks worth of trips early in the summer using my old Sol Titanium, but in August, I got my hands on the new Stash and have done about 30 days of camping using it as my only stove.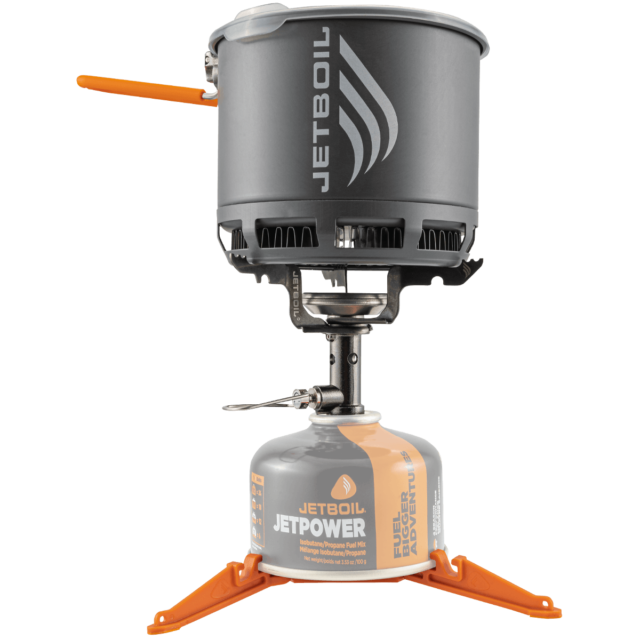 Overall, I'm really impressed and I think it's currently the best solution out there for weight-conscious backcountry travelers. First, the weight is pretty remarkable. At under 8oz for stove and pot, it's almost as light as a standalone lightweight stove like the MSR Pocket Rocket Deluxe coupled with an ultralight titanium 500-700ml pot, yet the Stash is almost half the weight of similar stove "systems" like the Jetboil Flash or the MSR Windburner series (and the Stash is still 4-5 oz lighter than the Jetboil MicroMo). It's worth noting that the Stash doesn't have a built-in sparked, so you do have to add in the weight of a lighter. But I suspect that, like me, most users will have a lighter with them anyway so that's likely a moot point.
When it comes to stove weight, however, overall efficiency (and thus the ability to carry less fuel) is also quite important. The Stash is at least as good as its heavier cousins in this regard, with a claimed ability to boil 12L with a 100-g canister. Obviously, there are a ton of factors affecting efficiency, such as elevation, temperature, and wind. But in my 30+ days of real-world testing, including a lot of below-freezing temps and stormy weather, the Stash seems to be just as good as other stove systems I've used and more efficient overall than non-system stoves like the Pocket Rocket Deluxe and Ti pot mentioned above. Most of Alaska is fairly low elevation, but with the Stash, I've been easily getting 7-8 days of about 1.4L of water boiled per day out of a single 100-g canister at elevations from 2000 to 5500 feet.
The Stash does not handle windy conditions quite as well as older style Jetboil systems like the Sol, and definitely not nearly as well as the MSR Reactor. But I mostly cook in my shelter anyway (yes, I spent all of my time in bear country but I don't want to dive into my bear strategies here) and the Stash is still better than any non-system stove I've used in terms of wind resistance. The gear tech nerd in me would love to see a full Titanium version of the Stash someday, but I suspect it would only save an ounce or so at most. Overall, I think the Stash is the best lightweight backpacking stove system out there and worth a look for those wanting to shave up to a half-pound off existing systems without significant drawbacks.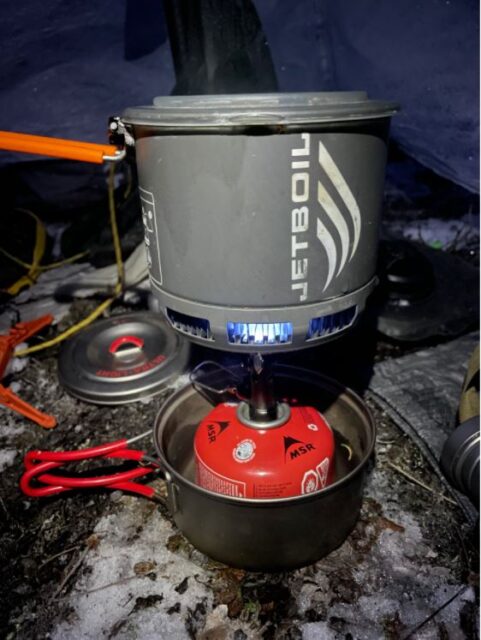 And a bonus cold-weather tip for Isobutane stove users: if you've ever used a canister stove in cold temps, you know that it takes way longer to boil and that a canister will act like it's empty even when there's a lot of fuel left in it. While it works to cup your hands around the canister or keep it in your sleeping bag at night, the best solution I've come up with is a warm water bath. Just buy a lightweight pot that is big enough to fit your canister of choice, start your cook process by heating up 100-200ml of water to warm to hot temps (no need to make it any hotter than your preferred tea/coffee temp), and then sit the canister into the water bath. This immediately brings the canister back to life for fast boil times and will allow you to fully empty a canister. My favorite pot for this is the Evernew 600ml Ti Ultralight Pot #1, which doubles as a cup for hot beverages and is what I use when I'm boiling water over a wood fire, sparing my Jetboil pot from soot and irregular heating.
MSRP: $145
Jed Doane: Like Luke, I'm a huge fan of merino wool for casual clothing as well as technical wear, and these joggers from Ibex are the best sweats I've ever owned. I'm wearing them as I type this and am very happy about it.
They're soft, with the perfect amount of stretch, and I find myself wearing them around my apartment and neighborhood more often than not. So far I've noted them to be warm enough for crisp fall mornings on the porch but not too hot for later in the day — I anticipate they'll be usable year-round. They're also significantly more breathable than standard sweats or the fleece pants that I've worn for a decade.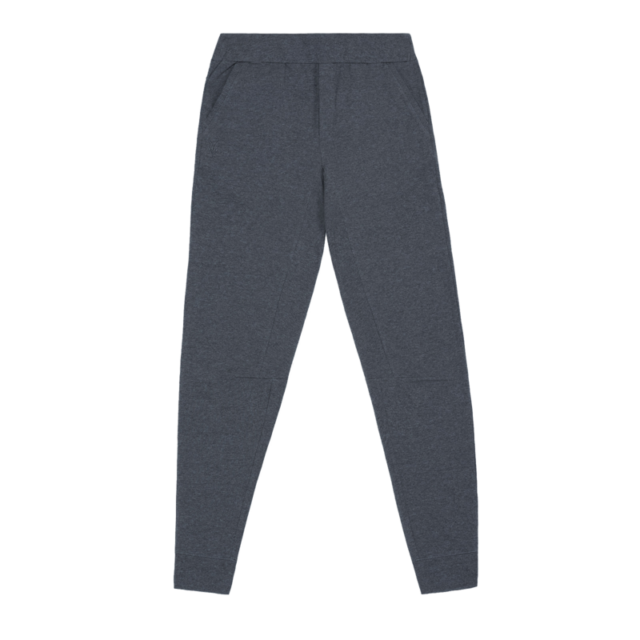 I haven't put them through much outdoor abuse, but they have resisted quite a bit of use around the house, walks to the grocery store, etc. without pilling or breaking apart.
They have a slightly longer, slimmer fit (I'm 6'2″ and wear a <edium, which hits right above my ankle after one wash), though I imagine the wool would stretch to fit any body type without being too constricting. I line-dry them and haven't noticed any shrinkage. My affinity for these joggers reminds me of how Luke felt about his old Patagonia Nano-Air pants: "They're just so dang comfortable."
Luke: The fact that Patagonia discontinued the Nano-Air Pants is truly heartbreaking to me (I am also typing this while I wear them…), but I agree with Jed in that merino sweats are great — super breathable, comfy, and let's be real — sweatpants are made for lounging, and the last thing you want to do with them is a load of laundry. Merino sweats give you the excuse of not needing to do more laundry.
MSRP: $599
Kristin: Full-disclosure — I am not a bike mechanic, nor an expert rider, but I love mountain biking. And when given the opportunity to travel with my mountain bike, I do it. For the past 2 summers, I've had that opportunity in the form of driving a family member's RV across the U.S. and then staying with family for a month. Both times, my husband, son, and I loaded up our bikes and headed east and riding local trails along the way.
When deciding how to get our bikes back home last summer, we ended up borrowing some friends' bike bags, thinking we would fly them home with us. Ultimately, we decided to leave the bike bags at home, and instead have our bikes boxed and shipped via Bike Flights, because the bike bags were too big and bulky to fit in the RV. Mailing a bike one-way is fairly easy to justify, but both ways can be pretty expensive.
This summer, we found ourselves in the same situation with another cross-country road trip planned. We brought our bikes and we were planning to go the same route by mailing our bikes back, until I was introduced to Orucase.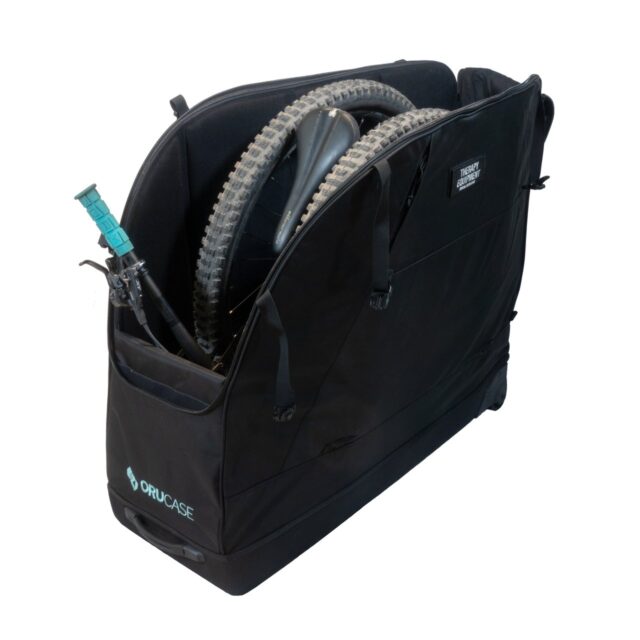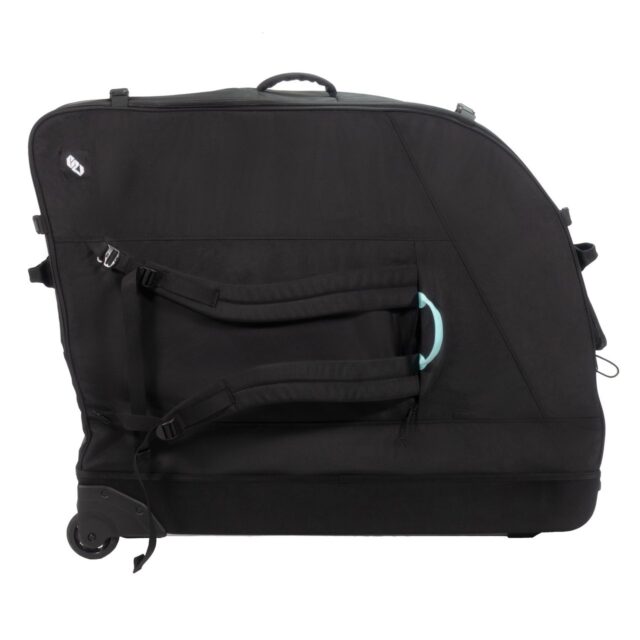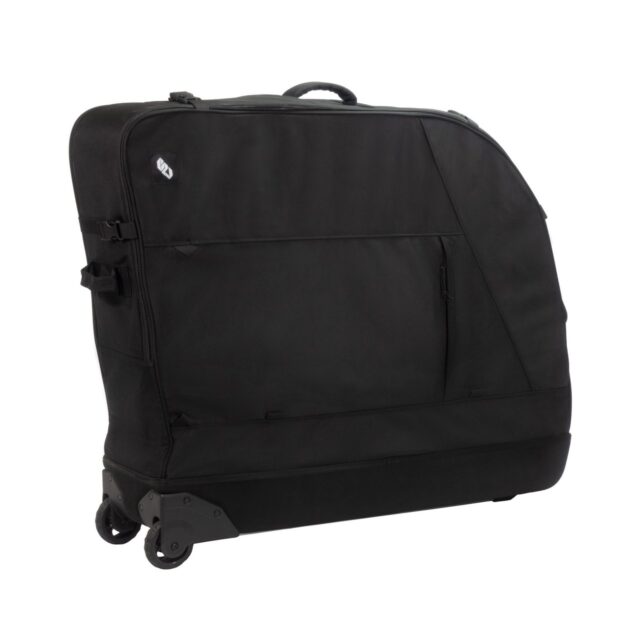 Two things intrigued me about the B2 Bike Travel Case. One was that it folds down and can be easily stored. The case easily fit into the storage compartment of our RV. The second was that there was a good chance I wouldn't have to pay oversized baggage fees. I was a little skeptical about this, but seeing as how oversized baggage fees are still less than what I'm charged to ship a bike from New Hampshire to New Mexico, it would still save me money.
When the B2 arrived, I was impressed by the size. It's not much longer than my roller suitcases and it collapses down nicely. With limited storage at my house, the compact size is definitely important. To assemble the case, the folded padding is zippered into the sides to pad the bike and to give the case some structure. The case comes with two wheel bags and zippered pockets for smaller items. With multiple handles, wheels, and backpack straps (that can be tucked away when not in use), the pack is easy to maneuver into the car and around the airport. And unlike some of the bigger bike bags, it also fits nicely into the back of a small SUV.
As mentioned earlier, I am not a bike mechanic and while I am always learning new things about my bike, I decided that my time would be better spent working on Blister Summit details than trying to disassemble my bike. So I dropped off my bike and the bag at a local bike shop. They had to remove the fork and the disc brake (?) to get everything to fit in the B2 Bike Case, but when it was all done, the dimensions came in at 53 lbs, 38 in long, 33 in high, and 12 in wide. My bike, a Santa Cruz Superlight 29er, is by no means light (despite what its name says), so I think a lot of other bikes would come in under the typical 50 lb weight limit for standard luggage.
My flight home was on Southwest and unbeknownst to me, they seem to be the strictest about oversized bags, especially bike bags. My bag came in over the maximum weight and dimensions so I wasn't surprised when they charged me a $75 fee to fly it home. If you read the comments/reviews on the Orucase website, you'll notice that most people manage to avoid baggage fees, and if I ever fly my bike home on something other than Southwest, I hope to too. But I was ok with the $75 fee. If I had shipped my bike back in a box, it would have cost over $150. So I saved money. And if I had shipped it back in the B2 Case, it would have been $50 cheaper based on the smaller dimensions. So I saved money there too.
MSRP: $165 (regular), $225 (raw)
Jed: Filson is known for their hard-wearing, durable, tin-cloth fabrics, and they just started making denim in 2020 (after 123 years of making other types of pants). They're based in Seattle, so when I moved to the Northwest and needed some new jeans, I had to see what all the hype was about. When I pulled the Rail Splitter jeans out of the plastic, I was shocked at how stiff they were. Even with Filson's reputation for tough, heavy fabrics, breaking them in seemed like a daunting task. I started wearing them around, and after months of break-in time, I'm starting to "get it" and have really been happy with them.
They're simple, no-frills jeans with an emphasis on construction and durability, which is nice in an era of planned obsolescence in clothing (and so many other things). I personally like the dark indigo color, which seems to go with anything, and they come in a standard 5-pocket style. They have a straight fit, and are definitely more "relaxed" than most other jeans.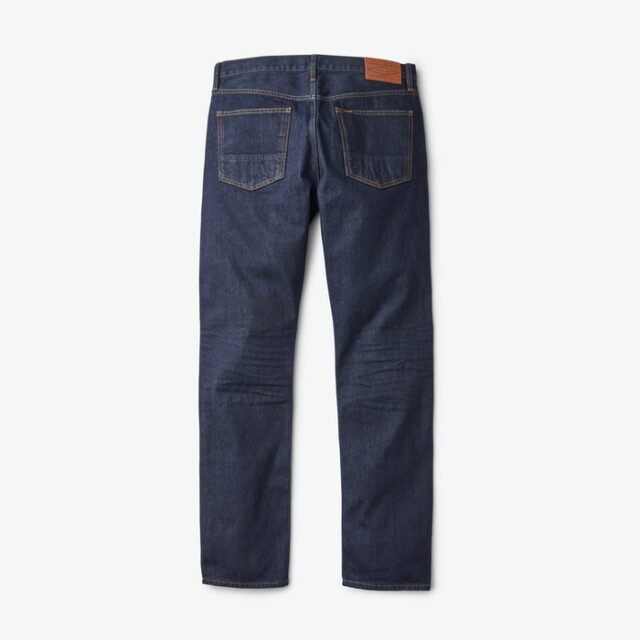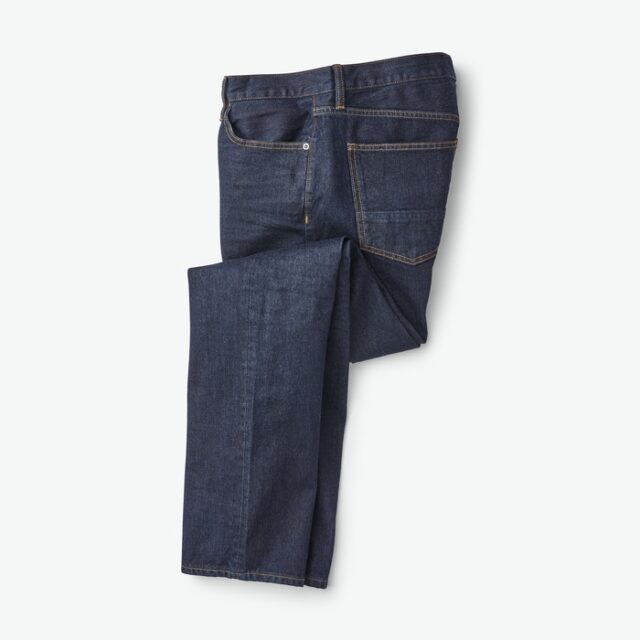 I normally wear a 32 in most brands, went with the 31×33 for these Filson jeans, and am happy with my choice — the waist runs a little large and has stretched slightly in the last few months. The rise is also higher than in most other jeans that I've worn, and slightly higher than my other pair of daily drivers, the Patagonia Performance Straight Fit jeans. As I've broken them in, the Folsom Rail-Splitter jeans have become incredibly comfortable and easy to wear. They're also quite versatile — I'd be comfortable wearing them in a casual-ish professional setting, at the bar, or doing yard work.
They're not cheap, but if my initial durability estimate is anywhere near correct, they should last far longer than any other jeans I've used. The proper review turnaround time on a product like this is probably ~5 years, but so far, I'm impressed, and anticipate wearing these for years to come.
MSRP: $300
Paul: As mentioned above, I spend a lot of time living out of my backpack and tent every year, (this year it's probably over 50 days since June), and certain items like a good knife get used on a regular basis. In reality, any decent lightweight knife will suffice for just about any use, but recently I've found myself enamored with this fancy version of the Benchmade Bugout.
Counterintuitively, the carbon-handled 535-3 is actually slightly heavier than the plastic-handled version but the carbon knife feels very well balanced and is still just over 2 oz in total weight. The carbon handle also feels stiffer and therefore less likely to flex than the plastic version when doing heavier-duty tasks than a knife like this is probably meant for.
The 535-3's blade size and shape are just about perfect for all-round outdoor use, with a fine point for delicate work like opening small packages, skinning grouse and other small game, or gutting small fish.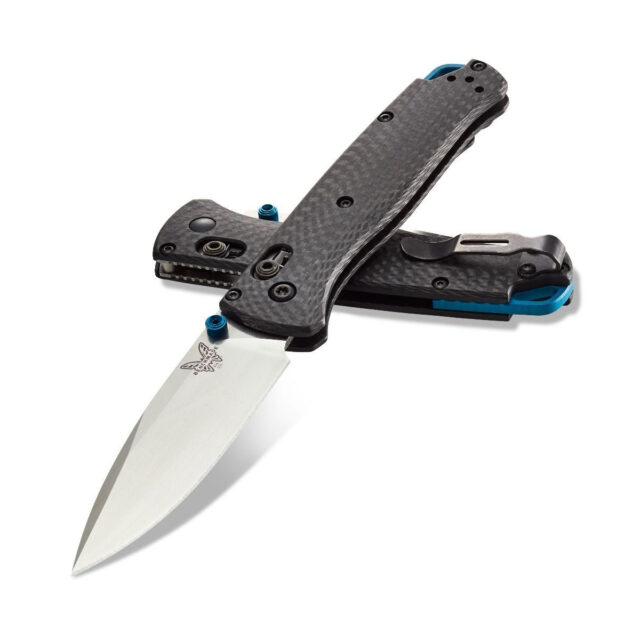 On the other hand, it's still hefty enough to easily cut finger-diameter branches with a single pass and make feather sticks for starting fires. I haven't used it to batton larger sticks but it would probably survive, based on what I've done so far.
I prefer fixed-blade knives for breaking down big game animals (stronger, more comfortable, and way easier to clean up), but I recently started skinning a moose with my Bugout before I grabbed my primary skinning knife and it worked well enough that I'm sure it would make quick work of deer-sized game as long as you don't mind having to clean up the Axis lock mechanism.
I've owned a number of high-quality blades made of CPM S90V, S30V, S35V, and S110V. I think the S90V used on this model gives it notably better edge retention than the S30V in the standard Bugout, but I'm still able to strop it pretty easily to a hair-shaving sharp edge with a little work. It has also remained completely rust-free after days upon days of sitting in a pool of water in a very wet pocket during days-long snow / rainstorms. (The K390 blade of my tiny Spyderco Ladybug that I'd forgotten in a different pocket ended up pretty rusty.)
Overall, the 535-3 Bugout is the best all-round outdoor knife I've used. I'm also confident that you get 90% of the above performance from the much cheaper standard Bugout 535 for roughly half the price, but if you find a deal on the 535-3, the better steel and stiffer handle make for a pretty awesome little knife.