Hoka Mach 4
Test Locations: Gunnison一Crested Butte & Colorado Springs, Colorado
Test Duration: 100 miles
Stated Stack Height: 35 mm (Heel), 30 mm (Forefoot)
Stated Heel-to-toe Drop: 5mm
Stated Features:
ProFly Midsole
Breathable Engineered Mesh Upper
Rockered Midsole Geometry
MSRP: $130
Reviewer: 6'1″, 143 lbs / 185 cm, 65 kg
Size Tested: US Men's 11
Stated Weight: 244 g / 8.60 oz
Blister Measured Weights (US Men's 11)
Shoes + Laces: 240 g (Left) & 241 g (Right)
Insoles: 21 g (Left) & 18 g (Right)
Total: 261 g (Left) & 259 g (Right)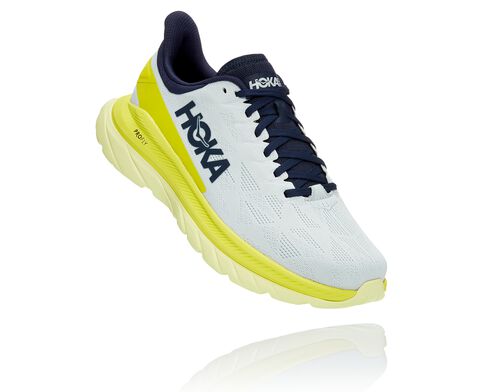 Intro
The original Hoka Mach came onto the scene four years ago as part of a new generation of road shoes from the maximalist specialists at Hoka. Featuring a dual-density ProFly midsole, the Mach replaced the Clayton series, one of my all-time favorite road shoes. The original Mach predated some of Hoka's more well-known and recent road shoes like the Carbon X and shares a lot of the same performance DNA.
I did find the earlier iterations of the Mach to feel a bit stiff and firm underfoot, leaving me wishing that I had stocked up on the old Clayton model, which was a much softer and more flexible shoe. But now on its 4th edition, the Mach 4 is easily one of the better road shoes that I have run in, and certainly the best Mach to date in my opinion. At nearly 100 miles in the shoes, I have some thoughts about where the Mach 4 excels and where I might find myself reaching for another option, so let's get into it:
Fit
As with every shoe we review we do recommend that you try it on in a store if you can, before buying it. That said I can offer some notes on how the Mach 4 fits my specific foot. For reference, I have a relatively low-volume foot with medium-high arches, and I tend to prefer shoes with a precise midfoot hold and a little more room in the toe box for my forefoot to splay.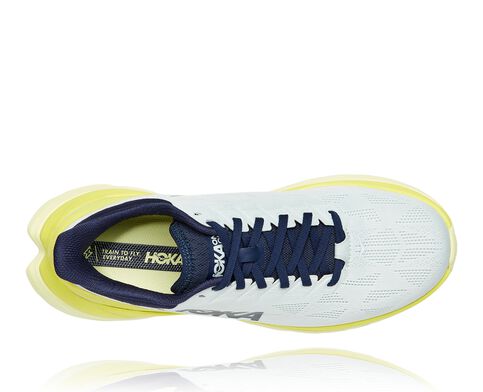 Out of the box, the Mach 4 was an incredibly comfortable shoe that locked down around my midfoot without feeling overly constrictive. The upper material provides a lot of this accommodation (more on that later). I found the fit to work very well with my foot, and somewhat similar to a shoe like the Saucony Ride or Brooks Ghost. Those with wider feet may find that the platform of the midsole is simply too narrow and may be better served looking for wider options, like the Topo Cyclone.
Weight
With a stated weight of 244 g / 8.60 oz the Mach 4 is a very light shoe for how much cushioning it has on tap. This is an area where the Mach 4 distances itself from other comparable options from Hoka, like the Clifton 8. Below I've included a list of shoes that I believe have a similar use-case to the Mach 4 with their stated weights for comparison. Keep in mind that all stated weights below are in a US Men's 9.
218 g / 7.7 oz — Hoka One One Rincon 3
224 g / 7.90 oz — Topo Athletic Cyclone
244 g / 8.60 oz — Hoka One One Mach 4
244 g / 8.60 oz — Brooks Launch 8
252 g / 8.90 oz — Hoka One One Clifton 8
The Mach 4 is not the lightest shoe on this list nor the absolute lightest on the market, but it probably has one of the better cushion-to-weight ratios. In my experience, the Mach 4 feels light enough for faster workouts while still having enough cushion for runs around 20 miles, something that can't necessarily be said for a shoe like the Brooks Launch 8 or Hoka Rincon 3 (at least in my experience). In my view, the Mach 4 falls into an "uptempo long run" category when compared with its lighter sibling, the Rincon 3, which definitely shines on shorter efforts.
Upper
The upper of the Mach 4 is one of the strong points of the shoe in my opinion. Much like the Torrent 2, the upper materials used in the Mach 4 are soft and forgiving while still providing a precise foot hold. The balance between give and tension in this material seems like it would help the Mach 4 conform to a wide variety of feet — it's certainly worked well for my foot shape and fit preferences.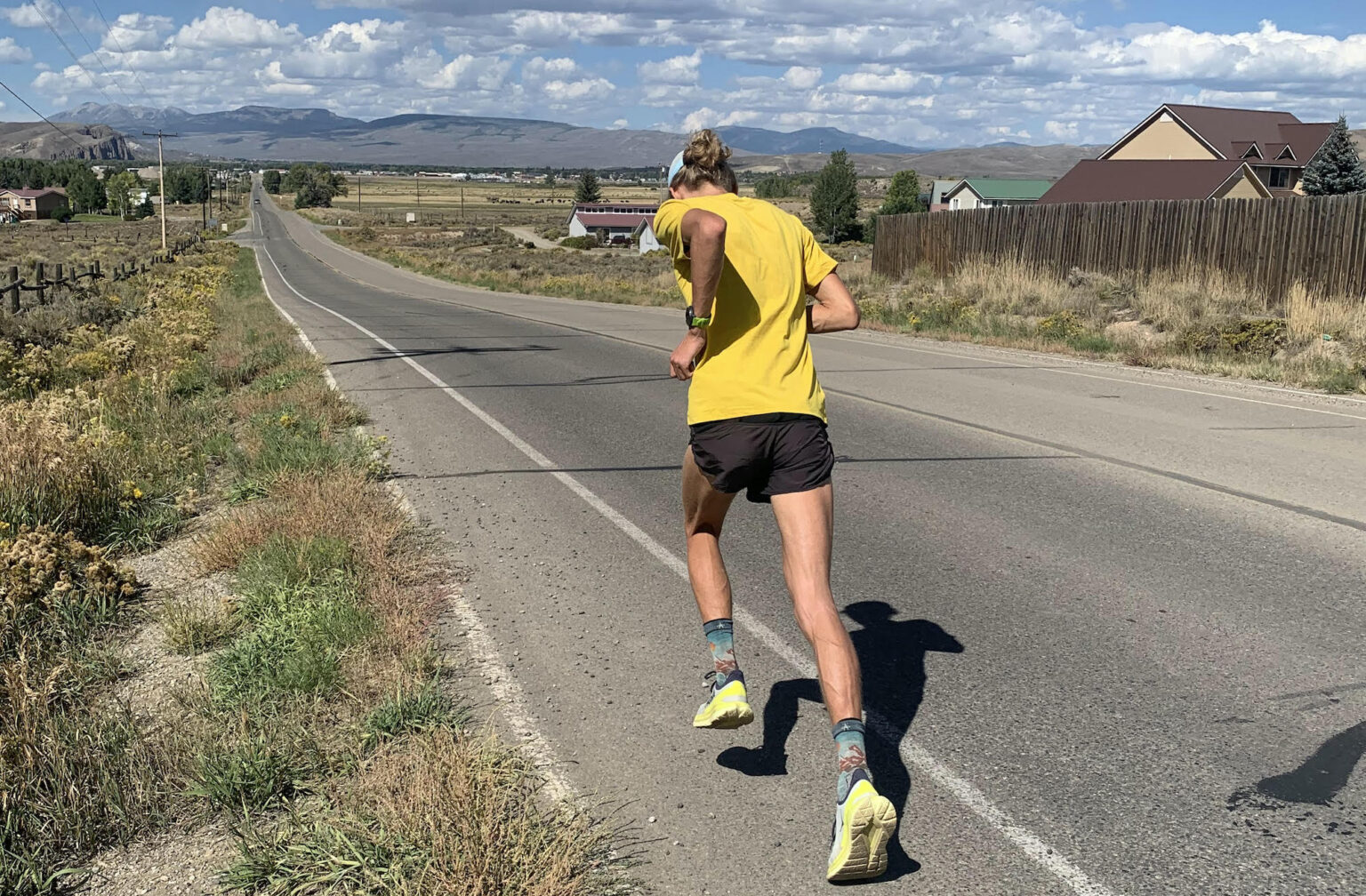 Hoka has used the same general approach for the uppers of several of their newest generation of shoes, and so far, it has been a hit with me every time. In my time in the Mach 4, I did not encounter any kind of blister issues, hot spots, or pressure points. The minimal overlays of the upper, combined with the gusseted tongue integration between the tongue and the rest of the upper, create a simple, seamless, comfortable upper. The heel counter features a flared Achilles tab, which I never found to be an issue. Similar to what you see on a lot of Nike shoes, I think that it is mostly an aesthetic feature, which I personally don't mind. But if these sort of flared elfin heels have caused a problem for you before, it's worth noting.
Midsole
The Mach 4's midsole also helps to distinguish the shoe from its other road contemporaries in Hoka's lineup. The midsole on the Mach 4 is the 4th generation of Hoka's ProFly technology. This essentially means that the midsole is composed of two slabs of foam of differing densities. The layer closer to the foot is a softer material with the outer layer being slightly firmer to provide a more efficient, springier take off. Additionally, the heel of the Mach 4 is softer while the toe is firmer, with the idea being that you have a soft landing without compromising energy return on takeoff. When it first debuted, ProFly made for a stiff, somewhat damp, and somewhat uninspiring ride (again, at least in my opinion). But in recent Hoka models, this has changed, creating a whole line of more performance-oriented shoes, from everyday uptempo trainers like the Mach 4 to full-on race shoes like the Carbon X. Lots of brands make shoes with some sort of dual-density midsole, and while the original ProFly take on this concept was a bit underwhelming, I'm a big fan of the version used on the Mach 4.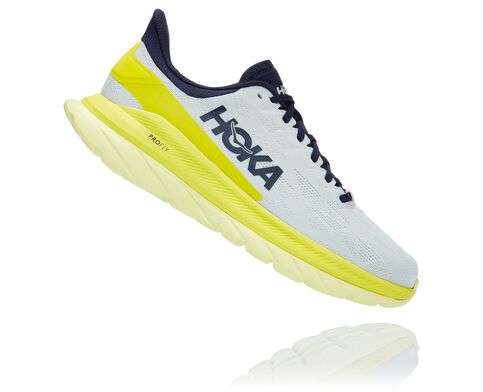 In comparison to a shoe like the Clifton 8, the Mach is somewhat stiffer, more aggressively rockered, and a bit springier. This does differentiate the Mach as more of a performance shoe while the Clifton fills the role of a more plush, everyday kind of trainer.
Outsole
The outsole of Mach 4 stays true to other iterations of the shoe in that it does not have a true rubber outsole, but rather a rubberized EVA outsole. This saves weight at the expense of grip, firmly pigeonholing the Mach 4 as a just-road shoe. On pavement, this rubberized foam is not an issue at all and leads to a very smooth ride. The tradeoff here is that, unlike some other road options that do feature a rubber outsole, the Mach 4 does not provide much grip in snowy conditions or on mellow, non-paved trails.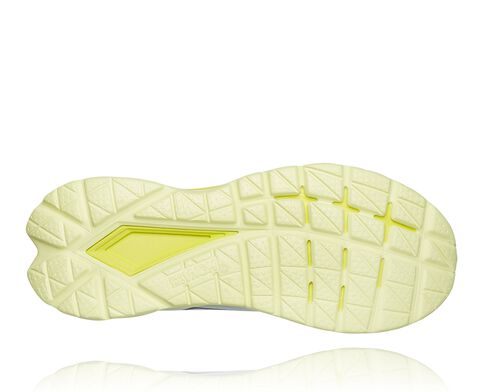 Taking the Mach 4 off the road and onto trails not only affects the quality of the run, but also significantly impacts the life span of the shoe. In my experience, these all-foam outsoles (even rubberized ones) can be torn up relatively quickly on even mildly rocky trails. This is only an issue if you split a lot of your miles between the road and the trails, and you are looking for a shoe that can do both well. The durability of this outsole is one of the main issues that I found in the shoe (more on that later).
On Trail
For the duration of my test period with the Mach 4, I used the shoe for a wide variety of distances and paces. That said, the Mach 4 is a shoe that likes to go fast. The ProFly midsole, the rockered design, and the weight saved with a rubberized EVA outsole all help the Mach 4 to feel like a very fast shoe. I found this to be a welcome addition to my lineup during the Gunnison winter, where more often than not I find myself slogging through a lot of out-and-back runs along the few plowed county roads outside of town.
When conditions are dry, the Mach 4 provides a snappy, yet well-cushioned ride that I really enjoyed on runs up to about 15-20 miles, which is about as much as I run in the winters. Dry roads are a luxury of the Gunnison winter and I would often find myself running on icy, snowy, and/or slushy roads. When these kinds of varied conditions appeared throughout the winter, the outsole of the Mach 4 was a nonstarter. On days like these, I generally found myself reaching for a pair of trail shoes, though I imagine a road shoe with a more substantial rubber outsole would have sufficed.
As the snows started to melt and the trails opened up, the Mach 4 became my flat workout shoe, a role in which it excelled. Again, this is a shoe built for speed, and it certainly did not disappoint in tempos, short intervals, or track workouts. In my opinion, the most notable aspect of the Mach 4 is its versatility — as a road-specific shoe. It's an efficient race-worthy shoe while still being cushioned enough to work reasonably well as a daily trainer, something that is reminiscent of some of the older Clifton models.
Durability
This is one area where the Mach 4 falters when compared to a shoe like the Clifton 8. At nearly 100 miles in the Mach 4, the midsole and the upper of the shoe are holding up well. The outsole, however, is showing signs of wear that make me think the shoe probably has a lifespan between 200 and 300 miles. This durability ultimately defines and relegates the Mach 4 to an uptempo training and workout shoe, leaving the day in, and day out abuse to a beefier shoe like the Clifton 8. I do think those who purely stick to dry, paved surfaces may see better performance and durability from the Mach 4's outsole, but I do think it's currently where I see the most room for improvement in this shoe.
Who's It For?
In my opinion, the Mach 4 is a shoe that belongs in a quiver. The shoe's somewhat limited durability doesn't make it the best option as an everyday day trainer in my book — but the upside of the Mach 4 is its ability to perform well at a variety of paces and distances. I think it works really well in conjunction with a beefier shoe like the Hoka One One Clifton 8 that you'd use for slower, more frequent runs, while the Mach 4 could serve as a faster-paced road runner, or as a flat workout shoe for a trail athlete looking to diversify their training with some flat speedwork. As a stand-alone trainer, the Mach 4 really is a versatile shoe, I think you'd just have to be prepared to potentially be buying new shoes every ~300 miles, as opposed to every 500 miles.
Bottom Line
In my opinion, the Hoka Mach 4 is the best of its line so far. The shoe's combination of cushion, rocker, and weight come together in a simple, snappy package. The simplicity of construction, paired with the versatility of paces for which the shoe performs well, makes it a very appealing option for uptempo training. In my opinion the Mach 4 is cushioned enough to where I would feel comfortable using it as a daily trainer, but the only reason that I wouldn't is simply the durability of the shoe (and really, its outsole). If you are looking for one shoe for everything it is worth taking a look at a shoe like the Brooks Ghost or the Hoka Clifton 8. But if you are looking to build out your quiver with a fast and comfortable shoe that can be both efficient and comfortable over long distances, the Hoka One One Mach 4 is certainly worth a look.