Socks are an often overlooked yet essential part of any runner's kit. Runners often spend hours, days, and maybe even months agonizing about which shoe to buy, but just grab a random pair of socks out of the drawer before each run without a second thought. In our experience, socks play just as big a role (if not an even bigger one) as shoes in preventing blisters and generally keeping your feet healthy and comfortable. So while you probably don't need to spend the next three months losing sleep over which pair of socks to buy, it is worth learning more about the different sock options on the market to find one that will work well for you.
We've been testing several different socks from Swiftwick — including a few new models released August 2020 — in a variety of scenarios to provide some guidance on what each model is best suited for, what it does well, and what its shortcomings might be. Swiftwick makes socks for a variety of activities, including several road- / treadmill-specific and trail-running-specific models. We tested socks from the Men's and Women's Pursuit series, the Men's Aspire series, the Women's Vision series, Men's and Women's Flite XT series, and one of their Pursuit Hike models. Within each series, Swiftwick has a variety of cuff heights, which they denote with a numbering system reflective of how tall the cuff is in inches. "Zero" is no-show, "Four" and "Five" are basically quarter-crew heights, "Seven" is crew height, and so on.
Each series has a unique combination of cushioning, compression level, and other features. In this review, we'll break down the performance of each sock and give some recommendations on what it's best suited for.
Finally, for more reviews of socks from other brands, check out our previous running-sock roundup.
Fabric: 48% wool / 28% nylon / 13% olefin / 11% spandex
MSRP: $19.99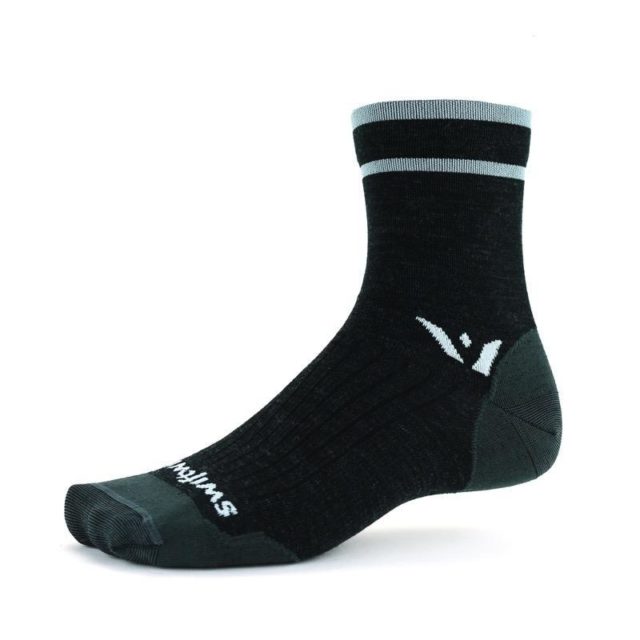 Gordon Gianniny: The Swiftwick Pursuit Seven (see below) quickly became my favorite cold-weather running and skiing sock last winter, but like most thicker merino wool socks I've used, my feet totally overheat when I wear that sock in warmer temperatures. So I was pretty psyched to get my feet in Swiftwick's new Pursuit Ultralight socks, which use a much lighter wool blend for better sweat and temperature management in hot weather.
After several weeks of hiking, running, and biking in the Pursuit Four Ultralight this summer, I'm a big fan. Unlike the heavier Pursuit Seven, the Pursuit Four Ultralight breathes very well in hot weather (or at least, hot for Gunnison, so about 90º F / 32º C), and I've never felt like my feet were getting overly sweaty in the socks. The Pursuit Four Ultralight also hasn't gotten super waterlogged after stream crossings or rain storms; while thicker wool socks seem to soak up more water than their synthetic counterparts, the Pursuit Four Ultralight seems to be thin enough that it doesn't retain any more water than similar-weight synthetic socks like the Aspire Four or Flite XT Five. If anything, it seems like the Pursuit Four Ultralight's thin wool-blend fabric dries faster than the Aspire Four or Flite XT Five after stream crossings.
Aside from its solid temperature control and quick-drying fabric, the Pursuit Four Ultralight has a secure, comfortable fit. It's not as tight as the Flite XT Five or Aspire Four, but it stays put once I've got it on. I've never had any issues with the Pursuit Four Ultralight bunching up or sliding around on my foot during a run or ride. I've also never had any blisters or hot spots while wearing the Pursuit Four Ultralight, even on full-day hikes and several hour-long rides. I'm not really a huge fan of compression socks, so I don't mind the Pursuit Four Ultralight's non-compression fit, but if you're looking for a sock that does provide some compression, the Aspire Four might be a better option.
I've been wearing the Pursuit Four Ultralight at least twice a week for the last month for rides, runs, and hikes. So far they're holding up well — I've blown out some lightweight merino socks from other brands in just a week or two, so I'm glad to see that the Pursuit Four Ultralight is still going strong. Because it is a fairly thin sock, I don't expect the Pursuit Four Ultralight to hold up quite as long as the Pursuit Seven, but so far its durability seems solid.
If you like merino wool socks but want something for hot weather, I'd definitely recommend checking out the Pursuit Four Ultralight. It's also a solid option if you're looking for a lightweight sock that doesn't have as much of a compression fit vs. the Flite XT Five or Aspire Four.
49% Merino Wool – 25% Nylon – 18% Olefin – 8% Spandex
MSRP: Zero: $16.99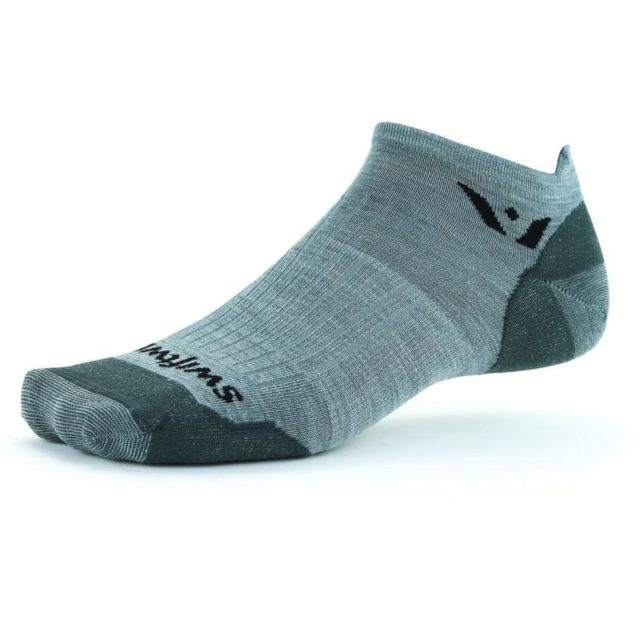 Maddie Hart: Like Gordon, I was eager to try the new Pursuit Ultralight socks, after my positive experiences with the fairly thick, regular Pursuit Four. I tested the Pursuit Ultralight in both the "Zero" and "Four" heights on runs ranging from 3-mile evening jogs to 25-mile, technical ridges.
These socks have no cushioning, which is normally not my preference for socks, but it also hasn't been problematic with the Pursuit Ultralight. The socks do have a reinforced heel and toe to help prevent wear, given their very thin fabric. After about a month of heavy use, the Pursuit Ultralights do not show any signs of thinning on the toe / heel or elsewhere on the sock, which is good to see since minimal socks in this category often suffer in the durability department.
I had several runs in the Pursuit Ultralight where I needed to run through rivers during the route. Normally, I get worried about wet feet causing blisters, even with snug-fitting wool socks. Fortunately, the Pursuit Ultralight did not cause any rubbing or blisters, even when my feet got wet. The best part was how quickly they dried, particularly for a mostly wool sock; it was a very hot day (90℉ / 32 ℃) and within 10 minutes, I had forgotten that my feet had recently been completely soaked.
As with many of Swiftwick's other socks, such as the Vision 5 Tribute and the Flite XT Zero Tab, the Pursuit Ultralight socks do collect hair and pet fur if you wear them around your house. I also noticed this while washing my clothes, as the socks tended to gather all my loose hair. It's not a huge deal, as you can simply pull it off, but is worth noting.
While the Pursuit Ultralight socks are not full-on compression socks, their combination of a lightweight fabric and a pretty snug overall fit meant that they fit very well with a wide variety of shoes.
Overall, I was a big fan of the Pursuit Ultralight for pretty much all my running needs. They protected my feet from blisters and hot spots, regardless of the terrain or distance traveled, and are very good when it comes to breathability and drying times in hot weather. They also worked well with both my more snug-fitting shoes, such as the La Sportiva Helios III, as well as some of my more spacious shoes, such as the Salomon Ultra /Pro. If you are looking for a non-cushioned sock, particularly for warm weather, the Pursuit Ultralight warrants strong consideration.
Fabric: 63% Merino Wool / 35% Nylon / 2% Spandex
MSRP: $21.99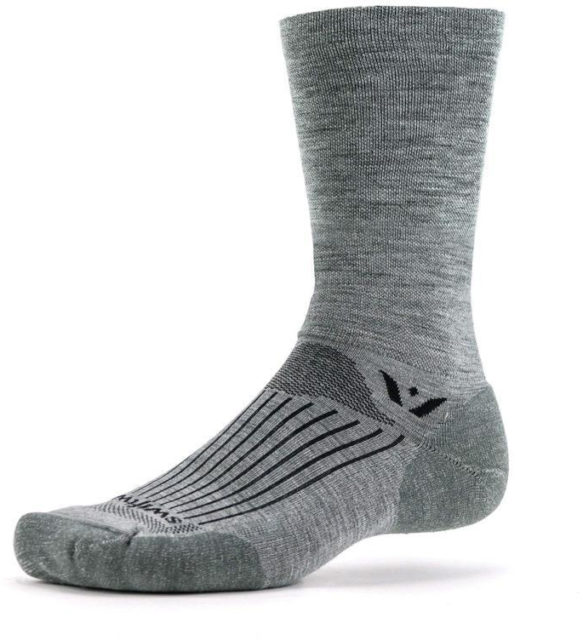 Gordon Gianniny: The Pursuit series is Swiftwick's all-season merino wool option for road and trail running, cycling, and hiking. I tested the Pursuit Seven, which has a crew-height cuff. The Pursuit series offers moderate cushioning and compression, and is intended to provide "year-round temperature control." I haven't had much success with merino wool socks in warmer conditions in the past, so I was curious to see if the Pursuit Seven would live up to this claim.
Unfortunately, I'm still not convinced that the Pursuit Seven is a great warm-weather sock. That said, it's also become one of my favorite socks for cold-weather running and nordic skiing over the last few weeks. I will say that the merino wool that Swiftwick uses for their Pursuit series socks is much lighter and more comfortable than merino socks I've used from other brands like Darn Tough or Fits. It's thick enough to keep my feet warm while running in extremely cold temperatures down to -10°F (-23°C), but thin enough that it doesn't impact the fit of my shoes. I usually run in thin, minimally cushioned socks in the summer, and I hate having to switch to really thick wool socks in the winter to keep my feet warm. The Pursuit 7 solves this problem by providing plenty of warmth without the extra bulk of many thicker socks. In addition, the Pursuit Seven's "moderate compression" feels secure without being overly restrictive. The socks fit well and don't slide around during use, but are much more comfortable for me than a true compression sock.
The temperatures are still pretty wintery here in Gunnison, but I have tried the Pursuit Sevens out on a few treadmill runs to test their performance in warm temperatures. As I alluded to earlier, I still found the Pursuit Sevens to be way warmer than thinner non-merino socks. I always get super sweaty on treadmills, but I had way more foot sweat than usual even after only 30 minutes of running in the Pursuit Sevens. So while I love the Pursuit Sevens for running in sub-freezing temps, I don't anticipate using them much once summer rolls around. Your mileage may vary, depending on your preferences.
I've been using the Pursuit Sevens at least four to five days a week for the last several months, and so far they're holding up quite well. Both socks have a little bit of fraying in the big toe area, which isn't too surprising — I'm pretty sure I've blown out every pair of socks I've ever owned in that spot. Regardless, the Pursuit Sevens seem to be holding up as well as similar-weight socks that I've used from Smartwool and Fits.
Overall, I think that the Swiftwick Pursuit Sevens would be a worthwhile investment for anyone who runs (or hikes, bikes, or skis) outside throughout the winter or just in colder temperatures. They're still too warm for my preferences for summer use, but they're much more comfortable than other merino socks that I've run in for winter use.
Fabric: 63% Merino Wool / 35% Nylon / 2% Spandex
MSRP: $19.99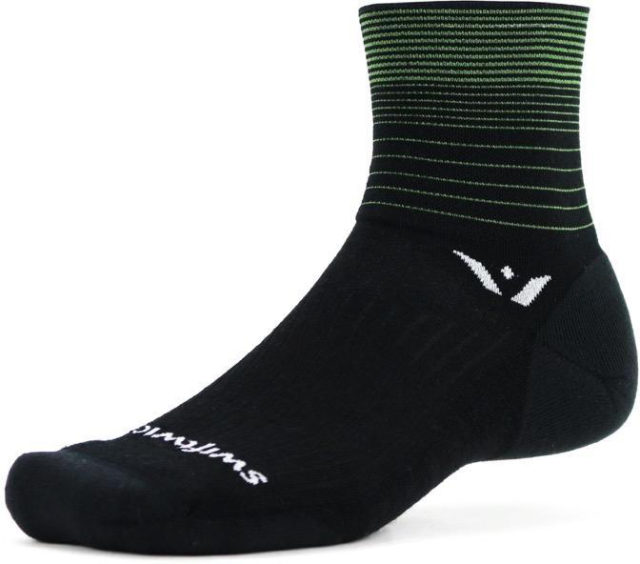 Maddie Hart: I have spent time training the Pursuit Four, a shorter-length version of the sock that Gordon explained above. Overall, I felt the combination of cushion and slight compression made for a great sock for running, biking, hiking, or everyday wear. But, I also found the sock to be less breathable and rather hot during indoor training.
Due to injury, I have been running predominantly on an Anti-Gravity Treadmill. For those of you who have never seen these machines, it is like running on a treadmill, but you are strapped in and your lower body is in a chamber. These chambers get hot; every run, my shorts are wet with sweat. I have been wearing the Pursuit Four on my runs on the Anti-Gravity treadmill, and my feet are always too warm in the sock, as Gordon mentioned above re: his experience running in them on a regular treadmill. That being said, the sock is never "soggy" with sweat and does dry quickly. Even when my foot is sweating a lot, I did not experience any issues with rubbing or hot spots being created from the sock. When I have worn the sock outside, even on days where the temps venture into the 50's F (10-15°C), I have not experienced any issues with my feet being too hot. When the temps are above 70°F / 21°C, the Pursuit can feel a bit too warm for me.
I found the compression to be my favorite part of this sock. The Pursuit Four provided just the right amount of compression without being too tight. It is not as tight as the Vision Five, but still provided a comfortable amount of compression and limited movement between the sock and my foot. I quickly found this sock to be one of my favorites and it worked great with both road, trail, and everyday shoes.
Fabric: 67% Nylon / 28% Olefin / 5% Spandex
MSRP: $17.99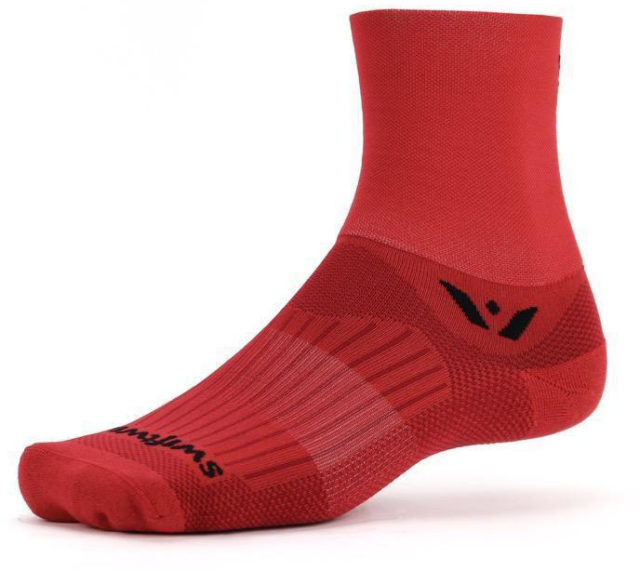 Gordon Gianniny: The Aspire Four is marketed as one of Swiftwick's trail running-specific socks. It features the brand's "light" cushioning and "firm" compression. I've had a few pairs of Aspire socks over the last few years, and for the most part, I'm a big fan. They're light, breathable, and fit extremely well. Because of their firm compression, the Aspire Four feels much tighter on the foot than the Pursuit 7. It's still not a full-on compression sock, but the added compression and thin fabric make for an excellent fit. The Aspire Four doesn't slip around or bunch up at all while running, which eliminates most (if not all) of the blister issues I've had with more loosely fitting socks.
As I mentioned before, I usually like lightweight socks with as little cushion as possible, so I love the thin fabric that Swiftiwick uses for the Aspire Four. In addition to being extremely breathable, it dries faster than just about any other sock that I've used. With that said, if you're looking for a cushioned sock, the Aspire series probably isn't for you. The fit of the Aspire Four feels much more secure than the Pursuit Seven, but it's also noticeably less cushioned.
The only major issue I've had with Swiftwick's Aspire socks in the past is durability. Like so many socks out there (especially thin ones like the Aspire), my previous pairs of Aspires have blown out in the big toe area after just a few months of use. So far the Aspire Fours are holding up well, but I don't expect them to last much longer once the temperatures warm up a bit and I start running in them more consistently.
Even so, I think the Aspire Four is worth checking out if you like a lightweight sock. They aren't especially durable, but the excellent fit, breathability, and drying time make them worth it.
Fabric: 66% Nylon / 17% Polyester / 14% Olefin / 3% Spandex
MSRP: $23.99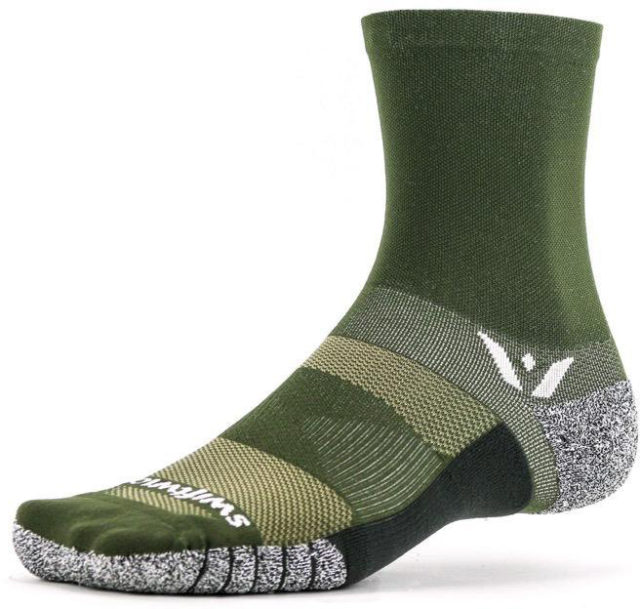 Gordon Gianniny: Of all the socks I received for testing, I was the most excited about the Flite XT Five. For the most part, the Flite XT Five looks pretty similar to the Aspire Four. It has slightly more cushion and less compression, but the material on the top of the foot and in the cuff feels very similar to the Aspire Four. The main difference is the addition of "GripDry™ fibers" in the forefoot and heel of the sock. According to Swiftwick, this material grips the inside of your shoe to prevent foot slippage.
I've been very impressed with how well the GripDry™ technology works in the Flite XT Five. My feet feel noticeably more secure on off-camber or uneven terrain in the Flite XT 5 than they do in other socks. I've even worn the Flite XT Five on one foot and the Aspire Four on the other to make a direct comparison. In addition to making me look like a total dork, this run confirmed that the GripDry™ fibers do actually improve fit security relative to the Aspire Four. Whereas the thin material of the Aspire Four felt a little bit slippery inside my shoe on uneven terrain, the Flite XT 5 felt completely secure. Over the course of longer runs, the Flite XT Five's gripping ability helped prevent hot spots and made any shoe feel slightly more secure on uneven terrain.
Aside from the GripDry™ fibers, the Flite XT Five fits and breathes well. The fit isn't quite as tight as the Aspire Four because of the XT Five's more moderate compression, but it's still tight enough to stay put once you've got it on. The GripDry™ fibers also add a little extra cushion to the forefoot and heel, though the Flite XT Five still isn't a super cushioned sock. The only area where the Aspire Four outperforms the Flite XT 5 is in drying time. The ever-so-slightly thicker fabric of the XT 5 does take a bit longer to dry than the thin, light Aspire Four. But it still dries quickly enough to avoid causing any major issues for me.
I'll be curious to see how well the Flite XT 5 holds up over the next few months. The socks aren't showing any signs of wear after about a month and a half of fairly consistent use, but the toe area is made of the same material that I've previously had issues with in the Aspire series. Regardless, I'm definitely a fan of the Flite XT Five. If you like a fairly lightweight sock and want extra security for running on off-camber / uneven terrain, I'd recommend checking them out.
Fabric: 54% Nylon / 24% Polyester / 19% Olefin / 3% Spandex
MSRP: $19.99
Maddie Hart: Personally, I tend to like socks that provide a bit more cushion, which the Flite does not have. So if you are looking for a sock with more cushioning, I would advise against these.
The XT Zero socks are short and sit just above where most shoes end, which felt comfortable for me in a variety of running shoes. Due to the GripDry technology, the fabric has a different feel on your skin than many other socks, making it feel a bit scratchy. In addition, this sock picks up all the dog fur, hair, and lint that may linger around your house. If you wear them without shoes, anticipate them getting dirty very quickly.
But, when I had running shoes on, I did notice how my foot slid slightly less within my shoe, which is what the fabric is designed to do. I totally agree with Gordon that the technology in these socks would be perfect for running on off-camber trails or even in wet and muddy conditions.
The Flite XT Zero also breathed very well. I had no issues with my feet getting too hot, regardless of the weather, making it a strong option for hot weather running. One element that I also really liked was the seamless toe box. While some socks have a stitch along the toe, the Flite XT Zero does not. I enjoyed how this made the sock feel and eliminated any rubbing that seams may cause. In addition, the sock has compression around the middle of the foot, which I found supported my arch without causing too much restriction. The rest of the sock has minimal compression.
I did not love the way the fabric felt on my foot, although it caused no issues for everyday training runs. That being said, I personally would not wear this for longer races. But aside from the feel of the fabric, the sock provides compression through the midfoot and the GripDry fabric does help to minimize sliding in your shoe. If you like low-cut, minimally padded socks, this is a solid option.
Fabric: 84% Nylon / 13% Olefin / 3% Spandex
MSRP: $19.99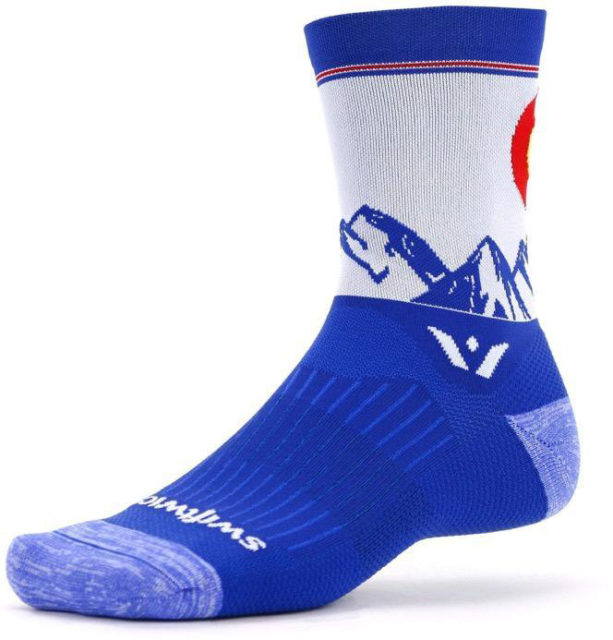 Maddie Hart: The Vision is designed to provide "moderate cushion and medium compression" in all lengths of the model. I tested out the quarter-crew Vision Five Tribute, which pays homage to different states in the United States. I, of course, opted for the Colorado print. Most of the cushioning on the Vision is located on the toes, through the toe pad, and the heel. The rest of the fabric is made of a lighter, higher-compression material. I tend to like socks with a "medium" level of cushion, and the Vision Five felt great during runs and while in the gym. I am a big fan of the higher cuff on socks, especially while trail running / racing, as they help to prevent dirt from getting inside the sock, which sometimes happens with lower-cut socks. In addition, the cuff of the sock provides a gentle compression that also aids in keeping debris out.
Personally, I do not normally run in socks that provide compression. The Vision Five provided just enough cushion without being too tight, though I did find that after wearing them for 4+ hours, the area of my leg above where the sock cuff ends was slightly swollen; it appeared that my foot had no swelling and the area without the compression of the sock had experienced a bit of inflammation. While running, the bit of compression provided support without causing any issues with being too tight, apart from the cuff (which I'd call a minor issue). I think the Vision's "medium level" of compression provided the right amount of compression to help to reduce inflammation without feeling like I was wearing a full-on compression sock.
If you are looking for a quarter-crew length sock that provides a bit of compression and has medium cushion, I think the Vision Five is a great option. If you like socks without any cushion, the Flite XT may be a better option.
Fabric: 63% Merino Wool / 18% Nylon / 15% Olefin / 4% Spandex
MSRP: $21.99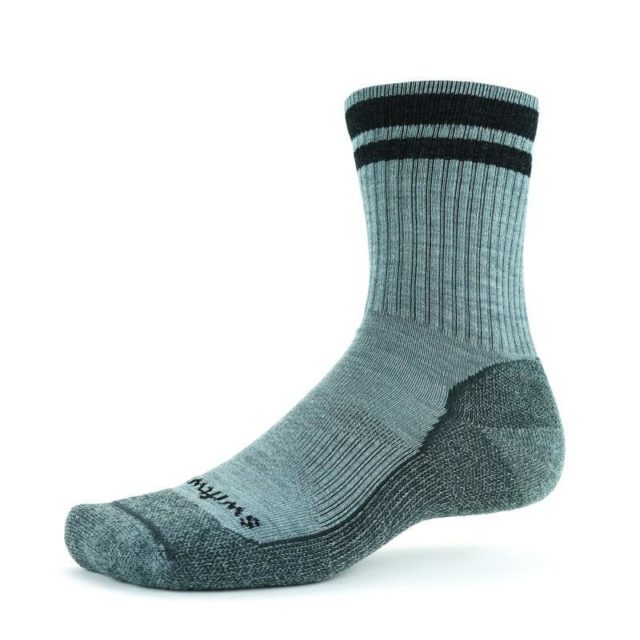 Maddie Hart: While I normally wear running socks for both running and hiking, having more cushioned socks designed specifically for hiking can be nice for longer hikes. The revamped Pursuit Hike is a breathable-yet-cushioned sock for hiking, available in a variety of heights and with "Light," "Medium," and "Heavy" cushioning. I've been wearing the Pursuit Hike Six Light Cushion sock multiple times a week for the past month or so, and have come away with some pretty positive impressions, so I figured I'd add it here, despite not being a running-specific option.
I end most of my summer days with a hike up to the peaks around Boulder, like Sanitas or Green Mountain. These hikes are between 3 and 6 miles, and I normally just wear my running shoes for that sort of distance. With my running shoes, from lower-volume ones to wider options, the Pursuit Hike Light managed to fit well without taking up too much space. Unlike the old, bulky wool hiking socks of the past, the Pursuit Hike Light features cushioning along the bottom of the foot but has a thinner knit up top, which I think makes for a useful blend of cushioning and breathability.
The Pursuit Hike uses a primarily wool fabric, with less synthetic content than the standard, running-oriented Pursuit socks. While the Pursuit Hike Light feels thick compared to my running socks, it never actually felt too hot, even on warm evenings (80℉ / 26℃). While I can't say it dries or breathes drastically better than similar, "light-cushion" hiking options from other brands, I didn't have any issues with those aspects of the Pursuit Hike Light and think it's a versatile weight for a general hiking sock.
I think the Pursuit Hike Light would work very well as a general hiking or just everyday sock. If you're looking specifically for a running sock, I'd recommend the slightly thinner, more tight-fitting Pursuit socks.