Intro
Most of our gear reviews and conversations at Blister have the goal of helping you, our audience, figure out what gear might work best for you and your particular preferences, circumstances, etc. We spend less time discussing what we personally like, and what we personally use out on the mountain or trail.
Still, it can be fun (and sometimes, maybe, even illuminating) to occasionally shrug off the cloak of objectivity and just talk about what we personally use and enjoy. That's why we've got our "Best Of" awards in our annual Winter Buyer's Guide, our annual Reviewer Ski-Quiver Selections, and now, this new series: What We're Wearing.
We sort of teased this concept in our Layering 101 article, but in short, we're going to have several of our reviewers run us through their head-to-toe kits for this winter. We'll let each individual go into as much detail as they want, and given that we're constantly testing new gear, we fully expect their answers to be fluid and likely to change over time. But for now, this is how our reviewers will be outfitted once the lifts start spinning and skin tracks begin forming in the backcountry.
[For our usual, less subjective thoughts on apparel, accessories, etc., see our 23/24 Winter Buyer's Guide, our reviews on the site, or become a Blister Member and send us your gear questions via the Blister Member Clubhouse.]
First up, our managing editor and self-diagnosed apparel obsessive, Luke Koppa.
Background: Luke Koppa
I spend most of the winter skiing via lifts at Crested Butte Mountain Resort, with occasional touring outings during the winter, then a lot of touring from April until I no longer feel like hiking a lot to ski terrible snow (i.e., anywhere from late-May to early-August, depending on the year's snow).
My preferred kits for lift-accessed skiing vs. touring vary pretty significantly, so I'll break them apart here, and I'm also going to expand a bit and cover how I tweak my layering system throughout the season, depending on temperatures, weather, terrain, etc. I doubt our other reviewers will go into as much detail, but for those who want a deep dive, here ya go:
Resort Skiing Kit
In its simplest form, my resort kit typically consists of (1) light baselayers top and bottom, (2) a midweight insulator jacket, and (3) uninsulated waterproof shells for top and bottom. Then I'm almost always wearing some sort of balaclava / neck tube, a pair of gloves or mitts, ski socks, a helmet, and some goggles.
As for what exactly I pick for each of those roles, it changes all the time. But here's a breakdown of what I was wearing the most at the end of last season.
[Side Note: given that most of these pieces are worn under other ones, and that I take a lot more pictures of other people than I have pictures taken of me, I don't have a whole lot of photos of me in every garment I mention. You'll just have to use your imagination a bit. Or Google.]
(1) Resort Baselayers
I'm not super picky here; I mostly just want a fairly light (150-200 g/m2) wool-dominant fabric in a fairly slim fit that doesn't feel bulky underneath all my other layers. I like wool because I prefer to not have to wash my baselayers all the time, and I also find it versatile in terms of being warm but also pretty breathable. Currently, my go-to baselayers have been Trew's Lightweight NuYarn variants; I think NuYarn is the best form of a wool-blend fabric that I've used — it offers all the usual benefits of wool, but in a much stretchier and more durable form than most 100% wool or wool / synthetic blends. That said, the performance differences in this case aren't super noticeable, apart from long-term durability.
(2) Resort Midlayers / Insulation
For probably 90% of the resort ski season, I'm wearing some sort of "active insulation" puffy jacket as my midlayer (I almost never wear insulated bottoms). My main priorities with my resort midlayer are warmth (duh), breathability, and a chest pocket for keeping my phone warm and stable. For the past few seasons, that midlayer has been the Patagonia Nano-Air Jacket. I find it to be far more versatile than traditional, less-breathable puffies, but it's warmer than most fleeces. I can pretty comfortably use the Nano-Air as my sole insulator in temps ranging from about 10°F / -12°C to right around freezing.
If it's colder than that, I'll usually swap the Nano-Air for a traditional puffy, like the Patagonia Micro Puff or some lightweight down midlayer. If it's around freezing or warmer, I'll usually swap in a light fleece, such as the Patagonia R2 TechFace, or just forgo a midlayer altogether once temps start nearing 40°F / 4°C.
Last season, I also spent a lot of time in Le Bent's Pramecou Wool Insulated Hybrid Jacket. I found it to perform pretty similarly to the Nano-Air, though I generally didn't like it quite as much from a performance perspective — the thin fleece arms aren't as warm and the ripstop torso fabric isn't as breathable, relative to the Nano-Air. However, I much prefer the Pramecou from an aesthetic perspective, and the performance differences aren't massive in the context of "typical" resort skiing conditions here, so I ended up using it quite a bit.
There were a few particularly cold days last season when I opted to throw on Strafe's Alpha Insulator Short, which is very similar to the Nano-Air Jacket in terms of performance. I definitely appreciated the extra warmth on days when the temps were well below 10°F / -12°C, though I would overheat fairly easily once the temperatures rose a bit, so this was definitely more of a niche piece for me.
(3) Resort Shells
This is probably what varies the most throughout the season, but it's not really because of performance. Rather, we end up testing a lot of shells and I therefore need to wear a lot of different ones. We also tend to switch up shells when we're out shooting photos for reviews so that we're not wearing the same kit in every single shot you see on our site, in our buyer's guide, etc.
However, when I'm not testing or shooting photos, my main priorities for a resort shell are durability, fit, and to be frank, how it looks.
(For a guy who mostly writes technical reviews that barely mention aesthetics, I care a whole lot about that stuff when it comes to my own gear…)
Currently, my favorite resort shell jacket is Trew's Cosmic PRIMO. For my very subjective preferences, I just love how it fits, feels, and looks. The fabric is rugged but not crinkly and it's shrugged off plenty of both precipitation and branches, rocks, etc. I probably used it for roughly 60 days last season and you wouldn't know it by looking at it. Plus, it's got lots of pockets; I don't use most of them very often, but I appreciate a small pocket for lip balm and will occasionally end up storing some bigger stuff (beer, camcorder) in my shell's pockets. The regular Cosmic Jacket was my previous favorite for this use; the PRIMO version is even better, in my opinion.
(This season, I impulsively bought a vintage Norrona Gore-Tex shell from the 90s (I think?), and I'll probably wear that a bunch this year just to annoy Jonathan; keep an eye on our photos this winter to see if I get to wear it while shooting…)
As for shell bottoms, that's a more frequent cycle of changes, primarily because I am very good at destroying the cuffs of ski pants. I've currently got 3 pants I love that I won't use solely because the cuffs have large enough holes to grab the brakes of my skis, and having experienced that sensation a lot, I do not want to continue doing so. It's terrifying. So until I find a way to get my sewing machine to reliably stitch through Cordura, I'll keep finding a pair I like and run it until its cuffs turn into brake-catching liabilities.
[I also want to note that I am very much not the norm when it comes to shredding pant cuffs. E.g., Jonathan has been rocking the same pair of Arc'teryx Sabre pants for like, a decade now and the cuffs are fine. Apparently, I knock my skis into my boots / pant cuffs a lot. If I can get a full season of ~100 resort ski days out of a pair of pants, I consider that a win; most people will be able to wear them for much longer.]
My latest favorites have included the Black Diamond Mission, Norrona Lofoten Gore-Tex Pro Plus, and Flylow Baker Bib Perm. For resort pant shells, I want a burly fabric, an articulated fit that's not wildly baggy but also not restrictive, and a couple useful pockets. I'm not a big fan of bibs that feature waterproof fabric in the bib portion (too hot for me), but I do love the extra pockets that bibs provide.
The Black Diamond Mission is probably my favorite resort pant I've used and it's held up really well to a couple of seasons of use. The Norrona Lofoten Gore-Tex Pro Plus Pant is definitely one of the nicest shells I've used and I very much enjoyed my time in it, but the fact that its fancy Vectran-reinforced cuffs still shredded in less than a full season bummed me out — it's a pair of $900 (!!!) pants, after all. Flylow's Baker Bib Perm is a little light for my tastes as a daily resort pant (whereas the regular, super burly Bake Bib is a bit too baggy), but I enjoyed using the Baker Perm in the spring since it's a bit more breathable than average. Lastly, I really like the feel and look of Patagonia's latest Snowdrifter bib — it's absurdly comfortable — but the fabric is way too light and prone to cuts to be used as a resort daily driver for me.
(4) Balaclava / Neck Tube
I pretty much always wear one of these in the resort, mostly cause my face is one of the few parts of my body that does get cold pretty easily. So this is mostly to cut the sting of the wind, and also to provide some sun protection, keep my hair in check, and to keep my headphones in my ears.
For the past two years, I've absolutely loved the original Blackstrap Hood Balaclava. For me, a hinged design is a necessity, since it makes it way more comfortable to pull the face part of it up and down (which I end up doing constantly throughout a day). The fabric is also a nice middle ground — thick and dense enough to provide my preferred level of warmth and wind resistance, but not so much that it absorbs a bunch of moisture or feels stifling on warmer days. It's also done an impressive job of resisting odor buildup. I wear mine inside-out since that makes it easier to pull my strands out. Is that dumb? For sure. But that's showbiz baby.
I also want to shout out Anon's magnetic MFi headwear accessories — I'll still use those occasionally when I'm wearing one of Anon's M-series goggles. The magnetic attachment between the goggle and face mask is amazing if you're someone who likes to have your face fully sealed off while still being able to easily separate the facemask from the goggle. I just don't want full coverage all of the time and the MFi masks look kinda goofy when down, since the magnetic piece makes them stick up / out. But I'll still reach for them fairly often when I want the fully incognito look.
(5) Gloves / Mitts
I prefer mittens over gloves. This is mostly cause I prefer how mittens look, and because it's harder to see me miss a grab when it's in a mitten, rather than a glove. And because mitts are warmer than gloves. However, many of my days involve taking pictures, and standard mitts can be a major pain when it comes to clicking buttons, operating zippers, etc. Because of this, I've become partial to "lobster" style mitts with a separate pointer finger — having that one finger on its own goes a long way in terms of improving dexterity.
My hands don't tend to get very cold very easily, and more often, the issue is trying to keep my hands from sweating and then getting cold as a result. Consequently, I prefer what I'd call "midweight" mitts that do not feature a waterproof membrane and have a mostly leather construction. This general design seems to work best for me — typically warm enough for most days without locking in sweat / moisture via a waterproof membrane, and for handwear, leather is almost always more durable in the long run than synthetics (in my experience, at least).
Last year, those mitts were the Wells Lamont HydraHyde Working Crew Lobster Mittens. Their cowhide exterior is surprisingly supple and comfy, but they've held up just as well (if not better) than other leather mitts that cost much more. They also have internal fleece finger dividers, which I'm a fan of — they keep my fingers from getting as sweaty and also boost dexterity. The knit cuff and fairly low-profile silhouette mean they fit under jacket cuffs (my preferred jacket / glove interface), and they come with leashes, which I always use with any glove / mitt in the resort.
I've also really enjoyed Hestra's classic Leather Fall Line mitts, especially because of how long they last, but they cost almost three times as much as the Wells Lamont mitts, which have already lasted almost as long as my Fall Lines.
(6) Ski Socks
This is probably one of the things I'm least picky about. I just want socks that fit pretty tightly and fall into the "lightweight" category in terms of thickness / cushioning. I generally prefer merino wool or wool-blend fabrics for their odor resistance. My current rotation includes Le Bent's Core Light Cushion, FITS Light Ski OTC, and a few of Dissent's compression models. I used to only run Dissent socks because of how secure their fit is, but they're a bit tricky to put on, they stink quickly, and I find that I don't need the absolute tightest fit for resort skiing (I almost always run Dissent socks when touring since they seem to reduce the chance of blisters).
(7) Goggles
Like resort shells, I'm constantly switching out goggles since we test a lot over the course of a season. But last year, when I wasn't testing new ones, I found myself cycling between the Anon M4, Smith Squad Mag, and 100% Norg. The Squad Mag is probably my favorite from an aesthetic perspective, and it fits my face quite well. It's also super easy in terms of swapping lenses, though, unfortunately, our pair came with a low-light lens that had become distorted during transit (i.e., the dreaded "bubble" between the two parts of the lens). So I typically switched to the M4 or Norg in low-light scenarios. The M4 has been a go-to of mine for years because I like the look, field of view, stupid-easy lens swapping, and MFi accessories. The Norg worked its way into my rotation because it's really comfy and it rivals the others in terms of lens swapping and optic quality.
If I wasn't so absurdly spoiled for choice in terms of goggles, I'd probably just go with the standard Smith Squad XL or Glade Adapt 2. I mostly just want high-contrast optics; I don't need the highest-end lens-swapping system, though I certainly enjoy using high-end goggles.
(8) Helmet
I like helmets that are simple, have some sort of rotational-impact protection system, fit securely (especially when wearing a POV camera), and work well with most of my goggles. For the past few seasons, that's been the POC Fornix SPIN. It's got an understated skate-style silhouette, still has some adjustable vents, pairs well with most goggles, and most importantly, fits my head well. It's also not super heavy, and its dial-style fit adjuster is quick and effective, keeping bobbling to a minimum when I've got a camera attached to it.
Backcountry Touring Kit
My touring kits vary a lot more than my resort ones since my touring season tends to span a wider range of temperatures and weather, from sub-zero mid-winter mornings to sweltering outings in late spring and early summer. But since I just wrote a lot about the resort kits and many of the same general preferences apply here, I'll try to keep things a bit briefer.
(1) Touring Baselayers
Not much change from the resort kits here — I'll still usually just use a light or midweight wool-blend baselayer kit. When it gets really warm (above 50°F / 10°C), I'll usually ditch the long-sleeve top and go to a lightweight short-sleeve (and sometimes ditch the full-length bottom altogether).
(2) Touring Midlayers / Insulators
Lately, I've rarely been wearing any sort of midlayer in the backcountry — or at least, wearing one in "the middle" between other layers. Since I run hot, I'll usually try to just start skinning in my baselayer top (or if it's really cold, that + my shell). Then once I get to the transition point, I'll throw my insulator over whatever other layers I'm wearing, and then just ski down like that unless it's really dumping snow (in which case the shell goes on top). I find that I will start sweating pretty easily in just about any insulator, so this system works better for me in terms of minimizing sweat (though the first ~15 min are usually quite cold…).
So in this context, my priorities for my insulator are packability, warmth-to-weight ratios, and weather resistance. That means I usually opt for a high-end synthetic puffy that comes close to down in terms of packability and warmth-to-weight, but that won't lose all its loft when it's stuffed in my (often wet, snow-filled) pack — which is where it'll live ~80% of the time. The Patagonia DAS Light Hoody is my current favorite for most days; it's very warm for how packable it is, and it's more weather resistant than the majority of "midweight" insulators. The Patagonia Micro Puff Hoody and Outdoor Research SuperStrand LT Hoody are close seconds — they're more packable but not as water resistant and not quite as warm.
On particularly cold days and/or when I want a bigger "insurance policy" in the case of an injury / having to stay still for a while, I'll swap that for the much bulkier and much warmer Patagonia DAS Parka.
(3) Touring Shells
If I know it won't be snowing / precipitating, I'll often leave my shell jacket at home while touring — in that scenario, my insulator will accomplish the same things (warmth & wind protection). But if there is some precipitation in the forecast, I want a jacket shell that's as breathable as possible and fairly light. It'll spend most of its time in my pack unless it's really nuking, so I don't want it to take up a bunch of space, but when I do end up skinning in it, I don't want it to feel like a plastic bag.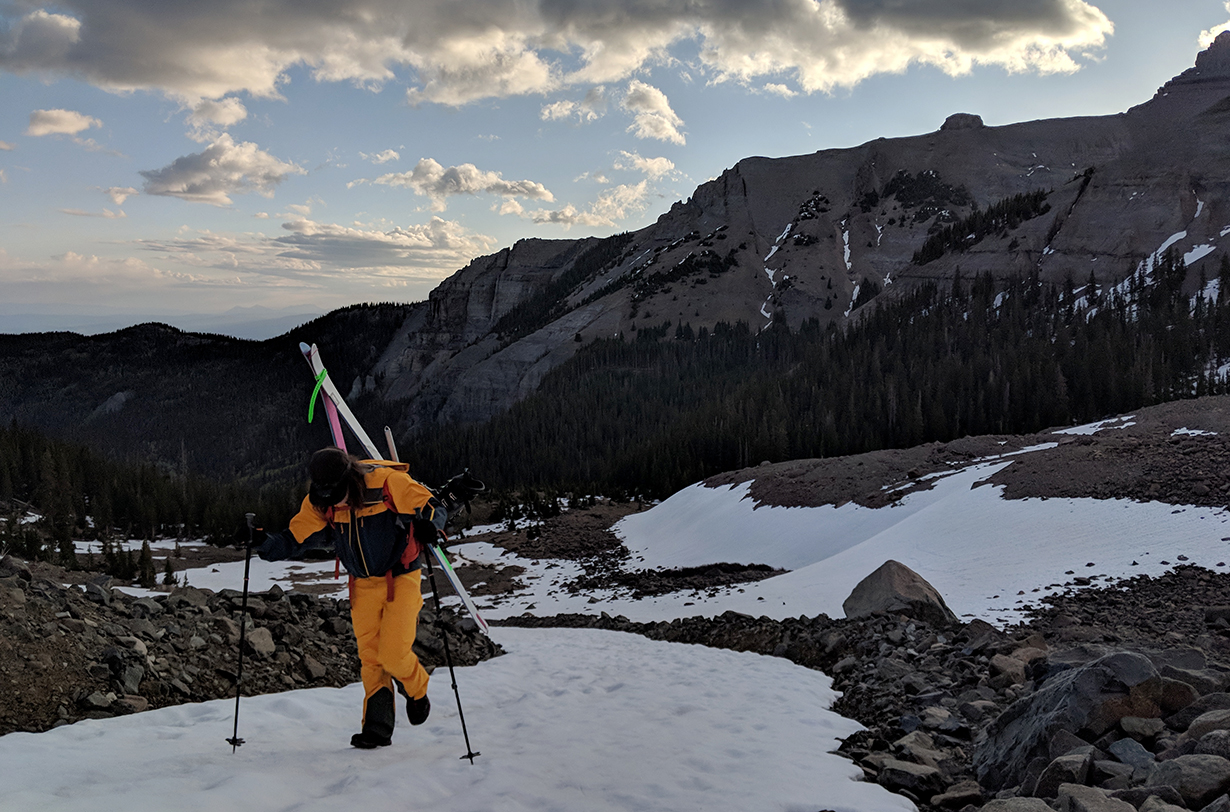 For this reason, my current favorite mid-winter touring shell is the Strafe Cham. Its Schoeller Aerobrane fabric is probably the most breathable 3-layer laminate I've ever used, but it's water resistant enough to handle Colorado's (drier) snow / weather. It's also got chest pockets large enough for most skins (a big plus in my book), and I like the look.
While I may not always have a shell jacket with me, I always have some sort of shell pant. Often, that's the Cham Pant, for all the reasons I like the Cham Jacket. I'm also a huge fan of non-waterproof softshell pants for touring, though I don't currently have a favorite. In general, I don't need my touring shell pants to be quite as breathable as my jacket, since my legs don't get as hot as my upper body, so I'll sometimes trade a bit of breathability for better protection or durability (e.g., Flylow Baker Perm, Patagonia SnowDrifter). Overall, I'm less picky about my touring shell pants than my touring shell jackets.
Once we move into spring, the high temperatures rise above freezing, and there isn't precipitation in the forecast, I'll typically swap the Cham for a non-waterproof shell. For the past several years, that role has been filled by another Strafe kit, the Recon. The Recon uses a really simple and lightweight stretch-woven material that's way more breathable than any waterproof laminate, but it still blocks a significant amount of wind and can keep out light, dry snowfall. It's rare to find a fabric this minimal in a design that's still built with skiing-oriented features; that combo makes it a legitimate "leave it on all day" layer for me.
(4) Touring Headwear
I rarely wear a balaclava / neck tube while touring. Instead, I'll usually use baselayer tops that have hoods or even built-in balaclavas (e.g., Trew Lightweight NuYarn hoody). I just prefer the simplicity while touring. I also typically wear a baseball hat or light beanie while touring, mostly just to keep my hair out of my face.
(5) Touring Gloves
On shorter winter tours, I'll often just wear the same gloves for touring as I do in the resort. My hands usually end up fairly sweaty, but on short tours, that's rarely a big deal. On longer tours, I'll bring a lightweight pair of gloves to skin in, and then a burlier pair for the descent / working in the snow. For the lighter gloves, I prefer something that's basically not insulated at all, but that still features leather on the palm for durability and grip. I had an old pair of Flylow gloves that were great for this use case (I think they were called the Dirtbag?); I'm hoping to try their new DB glove, which looks similar but adds an adjustable cuff, which would solve the one issue I had with the older model. I also picked up a super cheap pair of Hestra Work (a subsidiary of the famous high-end brand) gloves that work pretty well, apart from their cuff flaring out, which can let snow in.
(6) Other Touring Accessories
I usually just wear the same helmet while touring as I do in the resort, unless I'm heading up a line with significant rock- or ice-fall risk, in which case I'll grab a dual-certified helmet like the Sweet Protection Ascender.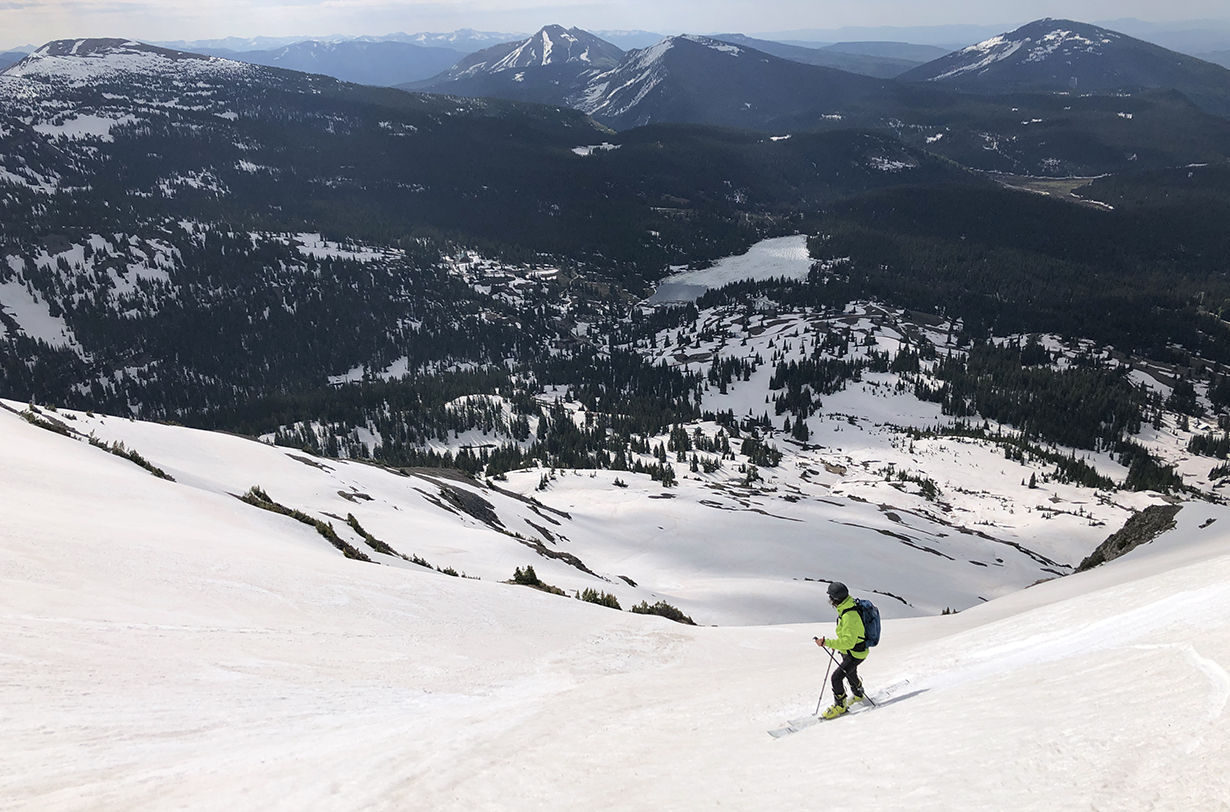 As for eyewear, I rarely bring goggles into the backcountry unless I know we're going to be skiing deep snow. If that's the case, I'll use the same ones as I do in the resort; they stay in my backpack on the uphill and only come out on the descent. If I'm not going to be getting face shots, I'll just wear a pair of broad-coverage sunglasses. Usually, that's a pair of Pit Viper 2000s, but my rationale is basically to pick any sunglasses that I'd also use for mountain biking.
As I noted up top, I generally prefer really tight compression socks for touring, since I find that they tend to decrease the chances of getting a blister. I've used Dissent's socks for most of my tours for years, and while they're a big early investment, I've also found them to be incredibly durable (albeit a bit quick to get stinky…). I typically prefer the thicker models since I don't aim for an ultra-tight fit in my touring boots, but if that is the case in a given boot I'm testing, I'll break out their ultra-thin Pro Fit Compression Nano Tour.
I'll leave it at that for now, but keep an eye out from additions from other folks on our review team!