Whether hiking in the mountains or just taking a casual stroll around your neighborhood (as many of us are limited to right now), a nice pair of hiking pants can make your experience much more enjoyable. From leggings to more traditional-style pants, we've rounded up several of our reviewers' current favorites. I'm sure you'll find something on this list that catches your eye but if your go-to hiking pants aren't listed, we'd love to know what we're missing out on in the comments section.
Fabric: 88% Polyester, 12% Elastane
Measured Weight: 250 g
Size Tested: Small
Reviewer's Waist Size: 29"
Reviewer's Hip Size: 35"
MSRP: $99.00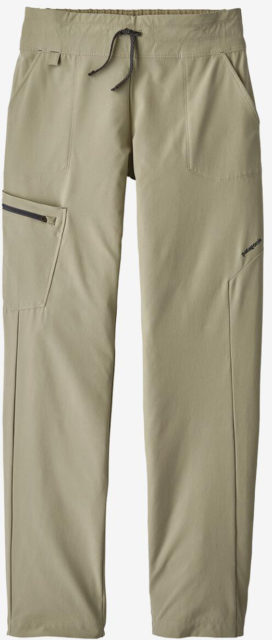 Maddie Hart: While the Fall River Comfort Stretch Fishing pant is designed for fishing, they are great for a wide variety of outdoor activities. Designed with a lightweight, stretchy fabric, these pants have allowed me to move comfortably wherever I take them. I personally don't fish, but I did wear these pants on a variety of hikes. The fabric provides 50+ UPF protection, making them ideal for long days in the sun, and that same lightweight material kept me cool, even on a 70°F / 21°C, 3-hour hike.
I tested a size Small, and in the future, I personally would get an Extra Small. The pants fit me in the waist, but had a bit too much additional room through the rest of my leg, particularly around the butt / upper back of the thigh. In addition, they were a bit long (and I am 5'9"). Patagonia does have a good size chart on their website, but be aware these particular pants may run slightly large, especially if you have a small butt like me. But even with the extra space, these pants were great for evening hikes with my family. The waist has a tie so you can cinch them tight to prevent them from riding up or down.
There are plenty of pockets on these pants, allowing me to carry everything I need for a shorter hike without having to carry an additional bag. The pocket on the right leg has a zippered interior pocket which is perfect for car keys or a cell phone. Overall I think these are great pants for hiking, fishing, or other adventures, particularly in warmer weather.
Fabric:
Exterior Fabric: 78% nylon / 22% elastane
Exterior Inserts: 92% polyamide / 8% elastane
Interior Inserts: 73% nylon / 27% elastane
Lining: 72% polyester / 28% virgin merino wool
Measured Weight: 216 g
Size Tested: Small
Reviewer's Waist Size: 26"
Reviewer's Hip Size: 31.5"
MSRP: $170

Kristin Sinnott: The Delago is a technical tight with a subtly playful look thanks to the contrasting zipper, piping, and reflective tape as well as the grey patterned print on the lower right leg. Not so conrast-y as to look outrageous, but the tights definitely stand out (in a good way) next to standard, all-black leggings. With its slightly high waist and multiple fabric types, the Delago is great for cool- to slightly-warm weather hikes (think shoulder seasons and summer in the high alpine). A stretchy mesh fabric is used behind the knees and one of the thigh pockets, giving the tights added breathability, some nice texture, and plenty of stretch in the pocket. The front of the knees features a more robust fabric that is abrasion resistant and durable — great for hiking, especially if you're a little clumsy at times.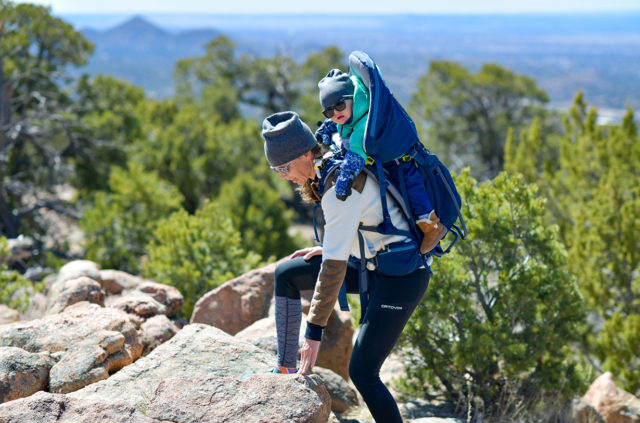 While the Delago's waist is somewhat high, the drawstring is what really helps keep the pants in place, something I find very useful when wearing my baby carrier pack (~35 lb). On a recent hike with my son, I wore the tights with the Deuter Kid Comfort Pro pack and made it through the entire hike without having to pull up or adjust them. The fabric is comfortable enough for all-day wear as it's not restrictively tight. Overall, the fit and look of the Delago tights make them easy to recommend for anyone looking for leggings to hike or run in when the weather is cool.
Fabric: 82% polyamide / 18% elastane / 70% polyamide / 30% elastane
Measured Weight: 210 g
Size Tested: Small
Reviewer's Waist Size: 26"
Reviewer's Hip Size: 31.5"
MSRP: $150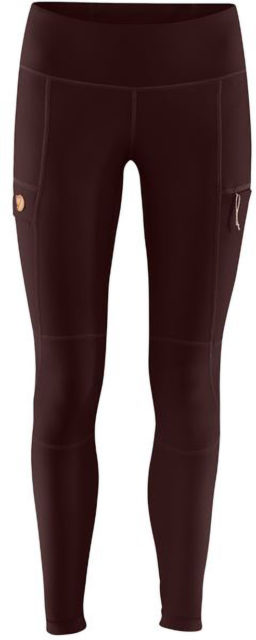 Kristin: Fjallraven is known for making durable and timeless gear and the Abisko Trail Tights is no exception. I've been wearing the tights for the last 13 months and after many washes and countless hours spent in them, there are zero signs of wear or tear. The knees, rear, and outer / upper thigh areas have a "ceramic print" that is durable and abrasion resistant but it looks similar enough to the other fabric so it doesn't stand out in a bad way. The four-way stretch fabric featured throughout is tight enough to hug all the right places but not so tight as to be restrictive or difficult to get into or out of. Fjallraven used a lighter and more breathable fabric on the back of the thighs, waist, and crotch areas to make the Abisko Trail Tights perfect for both warm- and cool-weather adventures. The fabric is of similar thickness / weight to the Ortovox Delago Tight but it's thinner than the Eddie Bauer Trail Tight.
At 5'8", the Abisko Trail Tights hit just above my ankles — a great length when paired with above-the-ankle hiking boots or any shoes really. Each leg has an exterior mid-thigh pocket (one zippered, one with a fold-over flap) and both are deep and wide enough to comfortably hold my large iPhone 7S or a paper map. The 3.5"-wide waistband sits just below my belly button and can be secured in place with an internal drawstring. I generally reserve the use of the drawstring for when I'm wearing a pack as the pants stay up on their own when not being pulled down by a load on one's hips. The matte finish and subtle fabric variations give the Abisko Trail Tights a nice, refined look while the design and fit make them a versatile & durable option on the trail.
Fabric: 85% Polyamide / 15% Spandex
Measured Weight: 201 grams
Size Tested: XS
Reviewer's Waist Size: 24.5"
Reviewer's Hip Size: 32 "
MSRP: $139.00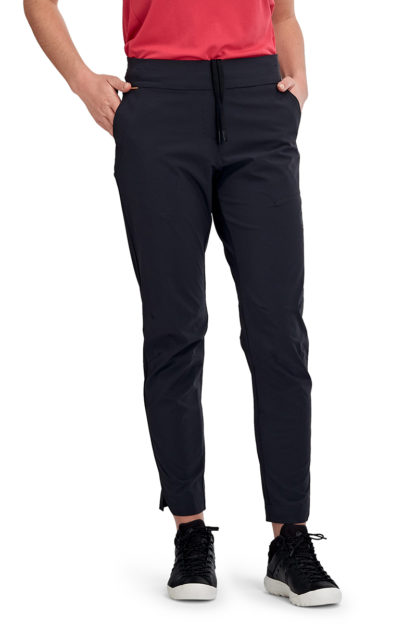 Sascha Anastas: When I choose a pant for hiking, running, or climbing, I tend to stray away from technical pants because I often find the material is stiff, noisy, and ultimately I am much more comfortable in stretchy tights. Contrary to my preconceived biases toward technical pants, the Crashiano Pant is a technical, lightweight pant that is versatile, comfortable, and a great option for almost any outdoor activity. Mammut claims that the main story with the Crashiano Pant is that they are "lightweight, robust and amazingly easy to pack, " and I would not disagree.
I would say the fit is true to size if not slightly on the smaller side (if your inclination is to go a size up, I would recommend that). I found the size XS pant form fitting in the hips, buttocks, and thighs, and it's the perfect length for me — which is a hard thing to find when you are 5'1". The flat, elastic waistband fit snugly at the waistline above the hips and was secure but not bulky and did not cause any bulging at the waistline. There is also a drawstring to cinch and tighten the fit. There are two front pockets that are roomy enough to accommodate a mobile device and on the right front pocket, there is a smaller, concealed zipper pocket that's ideal for keys. The material of the Crashiano pant is soft and the spandex allows for free movement without a lot of crinkly noise.
I reviewed these pants mostly during the early spring on colder days and would wear the pants over a thin wool base layer to add some insulation. With this combination, I was sufficiently warm even in the upper 20s or low 30s F (-4 to -2°C), temps where I would have been otherwise wearing my ski pants. I did find that, when trail running, I was a little too hot with a base layer underneath. For more rigorous activities like trail running and mountain biking when I ditched a long baselayer underneath, I found that the Crashiano Pants were breathable and wicked away the moisture efficiently. On warmer days, I rolled up the leg cuffs for added breathability.
Overall, I most enjoyed these pants while mountain biking. I found that these pants were perfect to wear over my chamois. In fact, I preferred wearing these to my other designated mountain bike pants because of the Crashiano's snug fit, breathability, and low weight. Although there is not a tab at the bottom of the pant leg to cinch the cuff so as not to get stuck in the bike chain, the tapered pant cuffs had no problems staying away from my chain.
While the pants are designed for rock climbing, I did not have the opportunity to wear these pants climbing due to colder than usual spring temperatures and pandemic restrictions, but I think these pants would be a go-to for rock climbing, particularly for warmer weather (or colder weather w/ a baselayer). I imagine that the high-but-comfortable and not too tight elastic waistband would fit perfectly under a harness and the stretch material would not be restrictive when high stepping (it hasn't been during any of the other things I've done in these pants).
Fabric: Fortius™ DW 1.0 (87% Nylon / 13% Elastane)
Measured Weight: 178 g
Size Tested: 6
Reviewer's Waist Size: 26"
Reviewer's Hip Size: 31.5"
MSRP: $150

Kristin: From hiking to playing in the backyard with my son to just lounging around, the Sabria Pants have worked great for just about anything. I attribute this to the lightweight 4-way stretch fabric that repels moisture while also being quick to dry, easy to wipe clean (my son is a toddler…), and the low-profile waist that sits nicely on my hips. With a 30.5 inch / 77.5 cm measured inseam (size 6), the Sabria Pants are shorter than the Icebreaker Persist Pants but they do still cover my ankles. I found the slim / tapered legs gave the pants a nice silhouette while keeping snags and rubbing to a minimum.
The Sabria Pants are comfortable and I found myself reaching for them most days this spring. The only time I did regret wearing the Sabria was on a warm bike ride to town. The 4-way stretch in the fabric allows for great mobility most of the time, but on a bike, I would have preferred a little more stretch in the knees and the tapered legs meant I was unable to roll them up and let my lower legs breath more. The Sabria is not meant for riding bikes so this isn't a deal-breaker by any means as they excel at most everything else.
The waistband is wide and sits comfortably on the hip and for casual wear, I found myself reaching for the Sabria Pant (and the T9 Clamberista Jogger Pant) quite often. The internal drawstring helps the pants stay in place when hiking or backpacking and when not needing the extra cinch, the drawstring stays hidden in the waistband. With the lightweight design, muted color options, and wrinkle-resistant fabric, these pants are ideal for travel — especially if you plan to hike, climb, or do a lot of walking.
Fabric: 94% polyamide / 6% elastane
Size Tested: Large
Reviewer's Waist Size: 31"
Reviewer's Hip Size: 35"
MSRP: $80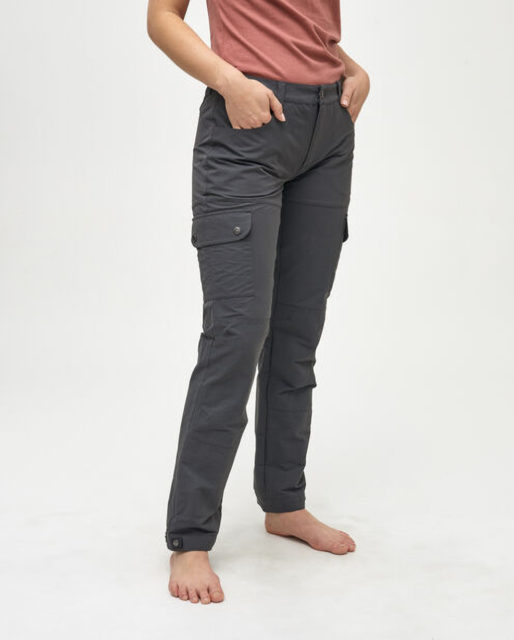 Kara Williard: The Kari Traa Siri pant is a fashion-oriented hiking pant that can easily work as anything from a durable pant for activewear to a cute lifestyle pant for a chilly night out. I first used the Siri Pant on an outdoor climbing day. It was pretty warm, temperatures around 70° F / 21°C. My first impression was that they offer ample range of motion and really good protection, while not feeling too hot despite the relatively burly fabric. The fabric is somewhat stiff at first touch, but after spending some time in them I quickly realized how flexible and stretchy it is. After a couple wears, it feels soft but has also proven to be durable. Even when climbing on rough rock and bushwhacking up to the wall, I was impressed by the quality and resilience of the fabric.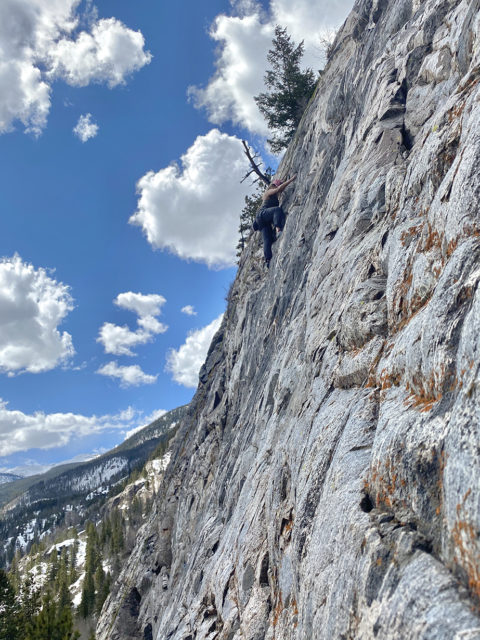 While the approach consisted of snow up to my knees, I was able to cinch the ankle cuffs snugly over my boots, via a really sweet adjustable-snap system. Once on the wall, I snapped them a bit tighter and rolled them once to keep them out of my way when climbing. Not only does this snapping system work well for different outdoor applications, it also provides a nice fashion-related adjustment as well, allowing them to look good with a variety of different shoes & boots. The size Large's waist sits right at my belly button and sits comfortably even when going for some big moves on the wall. I will say that I would have easily fit into the Medium, as the Large is a couple inches too big around my waist and I had to use a belt to keep them up. The Siri pant also features a large cargo pocket that's big enough to carry my phone. I always find this to be a huge benefit when it comes to women's pants. Overall, I was impressed by the style, fit, quality, features, & versatility of the Kari Traa Siri pant.
Fabric: 60% Nylon / 35% Merino Wool / 5% LYCRA®
Measured Weight: 231 g
Size Tested: 26
Reviewer's Waist Size: 26"
Reviewer's Hip Size: 31.5"
MSRP: $160 (currently on sale for $120)

Kristin: The Persist Pants look like a nice pair of khakis but in reality, they are so much more. Of all the pants / leggings I tested, the Persist Pants have the softest hand feel and feel less like technical hiking pants than the others. The fabric is a wool blend with the nylon layer serving as the exterior fabric and providing some protection from the weather. The merino wool is located next to skin for a soft and comfortable feel. The fit is somewhat slim but thanks to the lycra built into the fabric and the articulated knees, the pants don't restrict any movement in my experience. At 5'8", I found the size 26's legs to be a little long on me as they bunched up a little on the tops of my feet. But between the easy-to-roll fabric and the slim cut of the legs, the extra fabric was never a concern. When hiking with my son in his backpack, I was pleased to find that the snap-style waist didn't get in the way of or feel uncomfortable under the pack's waist belt. In fact, the pants sat just below the waist belt and I never had to fiddle with either to make them more comfortable.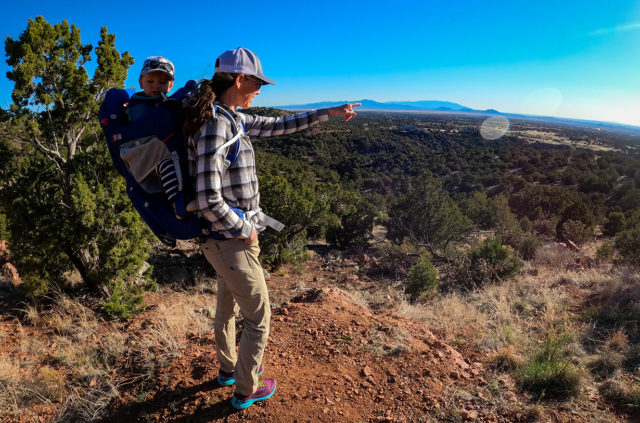 The one downside to the Persist Pants is that none of the five pockets are large enough to hold my large cell (iPhone 7S). This is definitely not a deal-breaker but I was getting used to the easy access that some of the other pants provided and was disappointed that my phone's camera wasn't as easy to grab. While I was disappointed with the lack of a cell pocket, I was overjoyed that the pants had hand pockets. Not so deep that you could really cram your hands in all the way, but they are still a comfortable spot to place one's hands on a walk. If you're looking for a pair of hiking pants that you can also wear to the office or out to dinner, the Persist Pants are a great option.
Fabric: ClambR™ (93% nylon / 7% spandex with DWR)
Measured Weight: 297 g
Size Tested: 4
Reviewer's Waist Size: 26"
Reviewer's Hip Size: 31.5"
MSRP: $89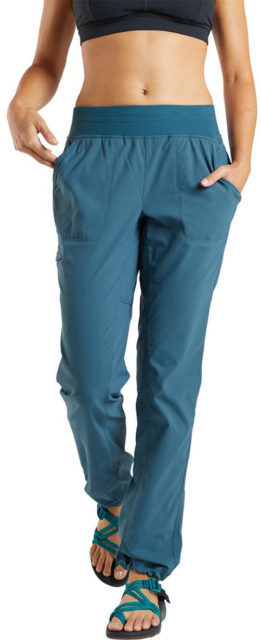 Kristin: I originally wrote about these pants in October 2019 for a Casual Pants Roundup but felt like I needed to include them here too because (1) they're still available and are unchanged from last season and (2) they are a great pair of pants.
The Clamberista Pants are about as multifunctional as pants can be. Their nylon / spandex blend fabric has a soft hand feel and the mid-rise elastic waistband (with an internal drawstring) is almost 2" wide and feels very comfortable, but not overly tight. The fabric is stretchy enough to allow plenty of mobility and thick enough to withstand minor abrasions. The DWR finish does a pretty good job of repelling light rain, spilled beverages, and other moisture and after almost a year of washing, there's still some water repellency.
The Clamberista Pants have 5 pockets, all of which are micro-fleece lined. The two hand pockets are deep enough for your hands or a large cell phone and their angled opening keeps them from sticking out. A zippered pocket on the right outer thigh is the perfect size for a cell phone and the two smaller back pockets fit a wallet or other similarly sized items. The slightly tapered legs have an elastic cinch at the cuff — great for hiking, climbing, or bike commuting as the underside of the cuff has some reflective tape. I've found myself shortening the pant legs by rolling up the cuffs rather than cinching them, but it's nice to have options. From biking to rock climbing to hiking, these pants are ideal for just about any activity. And even with their elastic waist, I don't feel weird wearing them around town.
Fabric: 88% polyester / 12% spandex
Measured Weight: 256 g
Size Tested: Small
Reviewer's Waist Size: 26"
Reviewer's Hip Size: 31.5"
MSRP: $80 (on sale $49.99)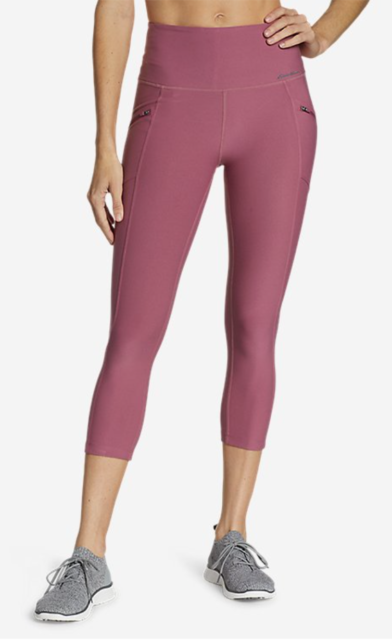 Kristin: Of the tights listed here, the High Rise Trail Tight Capris are the most similar to traditional leggings. But unlike many other leggings I've worn, the Trail Tight Capris have a nice, secure fit and don't slide down over time. As the name suggests, the High Rise version of the Trail Tights have a high-rise waist and they are indeed high. I found I loved the waist as it didn't interfere with my backpack's hipbelt and they never got pushed down by the added weight on my hips.
High waisted and form fitting, the Trail Tight Capris are great hiking pants when you have zero interest in adjusting your pants once they're on. By high waist, I mean these pants extend above my belly button. There is no drawstring in the Trail Tights but I never found that to be an issue because of the slim, high-rise design. The fabric is heavier than the other two leggings I reviewed here and provides a bit more support thanks to the thicker fabric. Also unlike the other two leggings, the fabric is all one style — no abrasion resistant or breathable fabric strategically placed in these tights. As a result, these tights feel a bit heavier / warmer and I found myself reaching for them on cooler days, even though they are a capri design. The lack of added abrasion resistant fabric hasn't been an issue yet as the fabric is rather thick, but is worth noting particularly if you want to also climb or mountain bike in your leggings. There are two zippered side pockets but both are just a little too small to fit my large cellphone. There's also a hidden pocket in the front of the waistband for small items.
When planning a whole day of activities, the Trail Tights are a great option as you can put them on and forget about them. The monotone color doesn't scream "technical gear" and the snug fit will keep all your parts in place (no jiggling) without revealing anything you'd rather hide. If you plan to do a lot of sitting, though, I would look to any of the other pants as the Trail Tights do tend to bunch up behind the knees and the seam starts to dig in a bit after hours spent with bent legs (e.g., working from home).
Fabric: 88% polyester / 12% elastane
Measured Weight:
Size Tested: 12-18 months
Size Range: 12-18 months to 10 Y
Reviewer Height / Weight: 31 inches (78.7 cm) / 21 pounds (9.5 kg)
MSRP: $54.95
Baby Linden (aka, his mom, Kristin): The Softshell Trousers Kouri are exactly like the name suggests — a softshell pant for kids. Because they are waterproof, wind resistant, and uninsulated, I figured they would be great to take on the occasional hike. I never imagined I'd be dressing my son in them every time we hit the trail this spring.
Regardless of whether you live in the mountains or in a city, I can't recommend these more as you'll definitely find a use for them. When the days are warming up but there's still a spring chill in the air, you and your child will be happy to have the Kouri Pants. On spring hikes where snow and / or mud is present, these pants kept my son warm and dry.
We recently spent a day sledding in warm, wet snow. So wet that it turned into a puddle in the sled. My son sat in the puddles for the better part of an hour and managed to stay dry (and happy). As the temp was in the 50s F / 10–15°C, I had dressed him in a light baselayer underneath which proved to be a perfect combo. Any warmer and I would have left the baselayer at home but it was nice to have a little insulation under the Kuori Pants, especially since he was going to be playing in snow. My son has plenty of snowsuits ranging from extremely insulated to fairly lightweight but all of them would have been too warm for the day so it was nice to have the Kuori Pants as an option. Unlike typical rain pants, the softshell fabric used in the Kuori pants is breathable and soft against the skin. No plastic feel to them.
The cuffs and the waistband are elastic and the waistband can be adjusted via internal buttons and some elastane. Reima's sizing is meant to be large so children can grow into the clothes. The smallest size offered is 12-18 months and they are too long for my fairly petite 20-month-old son. But when paired with his winter boots or when he's loaded in his backpack, it's a perfect length. The pants are long enough to be pulled down over the boots without leaving any parts of the shin exposed. This is true even when he's in his pack, which is a minor miracle as most pants ride up over the top of his boots. When on the ground, the elastic cuff keeps the pants from sliding over my son's feet. The Kuori pants will most likely fit him for the next 9-12 months and I know we'll use them often from neighborhood walks in the rain to mountain adventures.