Cotton tees and tanks might suffice for many mountain bike rides, but sometimes it's nice to have something a bit more sport specific. A tapered fit, more breathable fabric, or simply a longer cut can make all the difference on a long, grueling day in the saddle. So here, we've rounded up 13 short-sleeve and sleeveless women's bike jerseys that we've been using and outlined what makes each one stand out.
As always, we can't come close to reviewing everything on the market, so let us know if you've got some favorites and why. And we will also be rolling out a cooler-weather jersey roundup in the future, as well some roundups with men's options.
Fabric:
Solids: 4.4-oz 100% recycled polyester spun jersey
Heathers: 4.4-oz 100% polyester (50% recycled) spun jersey
Size Tested: Small
Weight: 111 g
Reviewer's Height / Weight: 5'8", 125 lbs
MSRP: $55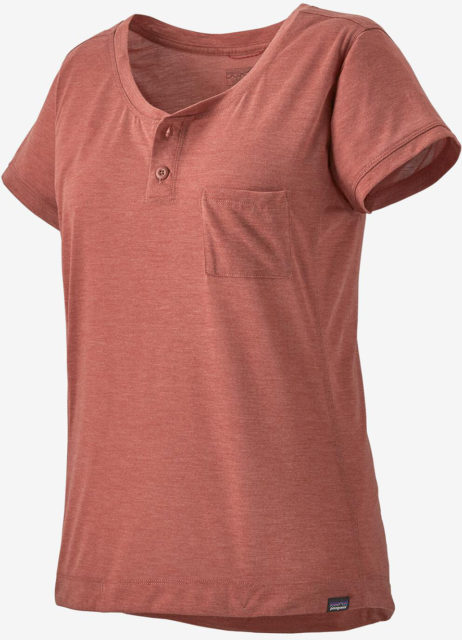 Kristin Sinnott: I've been wearing the Capilene Cool Trail Bike Henley for the past year and it's still one of my favorite tees to throw on for a ride or anytime I'm looking for a short-sleeve shirt. The increased coverage of the longer cut in the back lends itself nicely to bike rides (mountain and road) but the cut has a nice, rounded hem (in the back; front is a straight cut) and isn't so long that it looks out of place for casual wear. The chest pocket and two-button henley silhouette of this shirt change the look from ordinary jersey to something a bit more refined. And while some might think the buttons are just for show, I often find myself unbuttoning them for a little extra breeze, especially on hot days.
The recycled polyester jersey fabric is basically all that you'd expect of a technical jersey: soft, lightweight, has a bit of stretch, is breathable, quick drying, and odor resistant. This is a great shirt for when you want to branch out a little from the standard t-shirt style or you want to take your mountain bike style up a notch.
Fabric: 150 gsm 44% Merino Wool / 44% Polyester / 12% Nylon
Size Tested: Small
Weight: 122 g
Reviewer's Height / Weight: 5'8", 125 lbs
MSRP: $80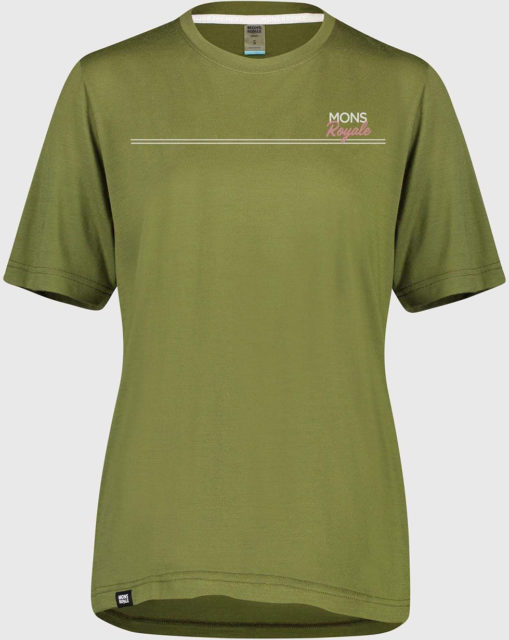 Kristin: Sometimes merino wool is the best answer for high output activities — especially if the wool is blended with other materials to create a soft, moisture-wicking, and breathable fabric like the Tarn Freeride's merino / poly / nylon blend.
I've found this shirt to be ideal for biking, especially if you're anticipating a temperature change during your ride. Even when sweaty, the Tarn Freeride has kept me comfortable thanks to its merino fabric, which I find makes it breathe really well but also offers just a touch more warmth than most similarly breathable synthetics. The merino content also helps keep the stink away from the shirt longer than most of the synthetics on this list.
As the name suggests, this shirt is designed with a "freeride fit" which to me usually means "boxy and loose." But despite the somewhat generous fit, the Tarn Freeride doesn't look dumpy or oversized at all. The hem is a pretty traditional, flat cut and if the backside is longer, it's not at all apparent. At 5'8", the size Small is long enough / offers enough coverage for me while mountain biking so I wouldn't worry about a gaper back gap (is that a thing?). I do find myself adjusting this shirt more than the others because of it's looser fit but that also makes for an extremely comfortable, non-restrictive shirt.
If you prefer a more streamlined silhouette I'd look elsewhere (like the Wild Rye Sandia). The hidden lens cleaner on the inside of the Tarn Freeride Tee is also a nice feature as merino blends are not ideal for cleaning glasses. Having worn this shirt for the past year, I am impressed it still looks and feels as good as new. I'm happy to wear the Tarn Freeride on big and little rides and for lounging around the house.
Fabric:
175 gsm
Interior Mesh: 100% polyester
Exterior Main: 84% polyester / 11% merino wool / 5% spandex dri-release jersey
Size Tested: 6
Weight: 103 g
Reviewer's Height / Weight: 5'8", 125 lbs
MSRP: $64

Kristin Sinnott: First off, kudos to you Wild Rye for creating women's-specific gear that comes in sizes ranging from 0 to 14. While this may not be necessary for some, it's refreshing to see sizes beyond the typical Extra-Small to Large. The Mia Tank isn't designed specifically for biking but the torso is long enough to work really well for riding. The fabric is soft, slightly stretchy, and with the exception of the upper-back panel, which has multiple layers of fabric, it's very lightweight and quite breathable. The lighter color is a little translucent so I always choose my undergarment carefully (light-colored bras work well) when wearing the Mia Tank.
A unique feature of the Mia Tank is the pocket on the upper back, between the shoulder blades. Hidden in the razorback portion of the tank and completely unnoticeable when not in use, the pocket easily accommodates my cell phone. The mesh fabric that makes up the pocket is sturdy enough to keep the phone in place without any fabric sagging but it's also light and thin enough that it does not add excessive warmth to the area. When I put my cell (iPhone 7S) in the pocket, there's a slight bulge (to be expected) but it fits nicely, it's comfortable, and I don't worry about it sliding out. I've run, hiked, and biked using the pocket for my cell. I loved that I didn't have to dig around in my bike bag or carry it in my hand as I ran or hiked.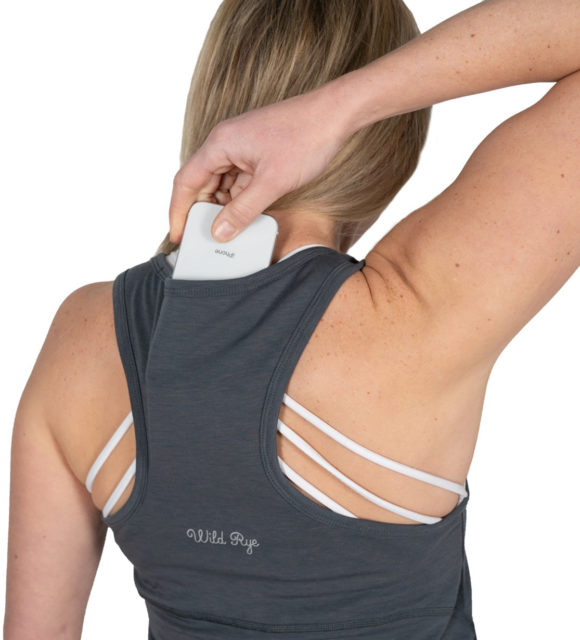 The Mia Tank's softer, breathable fabric, versatile fit, and stealthy but accessible cell pocket all make it a great shirt for any aerobic activity.
Fabric:
Mesh: 91% polyester / 9% spandex
Jersey: 100% polyester
Size Tested: 6
Weight: 94 g
Reviewer's Height / Weight: 5'8", 125 lbs
MSRP: $69
Kristin: The Sandia Short Sleeve Bike Top is new this season but it's based on the popular and quite good long-sleeve version (which our reviewer Kara reviewed last year). I tend to do most of my riding when it's warm enough for short sleeves so I was happy Wild Rye decided to launch the new version.
More fitted than any of the other tops I tested, the Sandia Short Sleeve hugs the body yet doesn't feel or look too tight in my opinion. This type of fit can be polarizing but for those who like looser-fitting tees, consider ordering up a size or look to something like the Mons Royale Tarn Shirt. Composed of two different polyester fabrics, the Sandia Short Sleeve has a nice, subtle design variation thanks to the different textures. It's also one of the most breathable tops in the roundup thanks to the mesh fabric used across the entire back as well as in portions of the front. When held up to the light, the mesh appears to be see-through but not once you're wearing it.
Wild Rye lists a UPF 50 rating for the Sandia so, even with the breathable mesh, the shirt still reportedly provides ample coverage from the sun. It also features a droptail, grippy hem that provides ample coverage along the backside and stays in place no matter how many times I adjust my pack.
Overall, the Sandia Short Sleeve is great for high-output activities like biking or hiking with a pack, particularly if you don't like super baggy fits and prioritize breathability.
Fabric: 85% polyester / 15% spandex
Size Tested: Small
Weight: 107 g
Reviewer's Height / Weight: 5'8", 125 lbs
MSRP: $75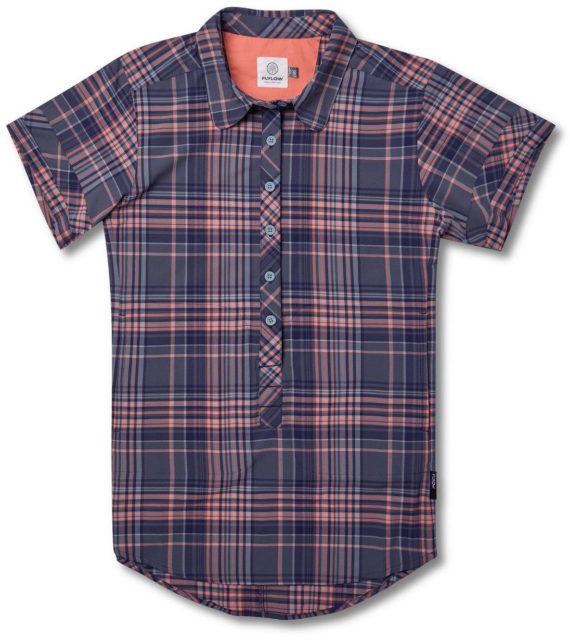 Kristin: Unfortunately, if you don't already have this shirt, you're going to have to wait a bit as Flylow is currently sold out of them due to some COVID-19 supply issues. Despite this, I couldn't leave it off of the roundup as I've really enjoyed wearing this shirt for the past 10 months.
The Aster's lightweight fabric, deep-yet-hidden hand pockets (pockets!), and ¾-length, button-down opening have me reaching for this shirt for rides and many other activities. The buttons extend beyond my breastbone making this shirt nursing friendly — hooray for all the nursing moms that ride out there. For everyone else, the ability to open up this shirt and let in the air is refreshing and not something I often see in a shirt that is not a full button-down. One word of caution though — the rubber buttons have a tendency to snag my hair when I'm not careful.
The Aster's drop-tail hem is long enough to easily cover one's backside while riding and the shirt is not so wide that it bunches too much when I'm wearing a pack. I admit to wearing this to the bar multiple times (back in the day when bars were a thing) regardless of whether or not I'd biked that day — from biking to hiking to bar hopping, the Aster Shirt is a great blend of form and function.
Fabric: 80 gsm 85% Polyester / 15% Spandex
Size Tested: Medium
Weight: 100 g
Reviewer's Height / Weight: 5'9", 150 lbs
MSRP: $79.95 (on sale for $55.95 as of publishing)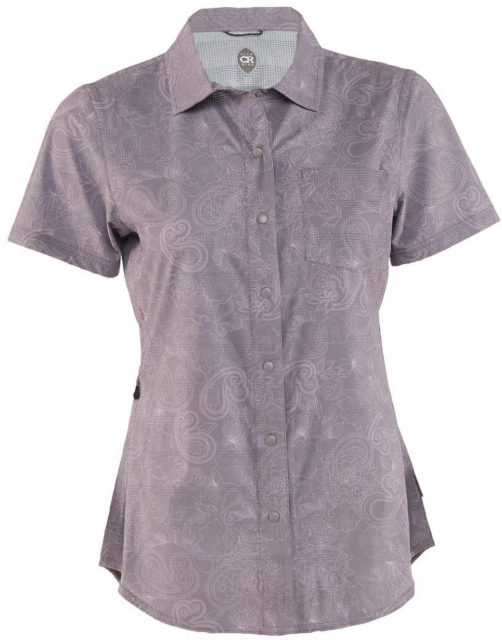 Kara Williard: As a mountain bike guide, I have always gravitated towards the professional-looking, yet functional designs of Club Ride's bike apparel. The Camas shirt is certainly no exception.
The Camas features Club Ride's classic, collared, snap-down silhouette, but it is the lightest fabric I've used from the brand, which automatically made it one of my favorite short-sleeve options as summer heated up. The fabric is extremely light, breathable, and dries fast. This not only makes it more bearable for hot days pedaling through the desert, it also ensures a comfortable feel against the skin as temps spike and things get sweaty. The fabric features micro vents throughout, including under the arms, which add to the breezy feel. Unlike some ultralight fabrics, the Camas's is soft and silky.
The fit of the Camas shirt was perfect for me in a Medium which tends to be my go-to size, including a nice, long back panel so I did not feel as though it was riding up, even with a large pack. The only thing I would mention is that the Camas was slightly snug along the bust area and I am not someone who is exceptionally busty, so I would be sure to keep that in mind.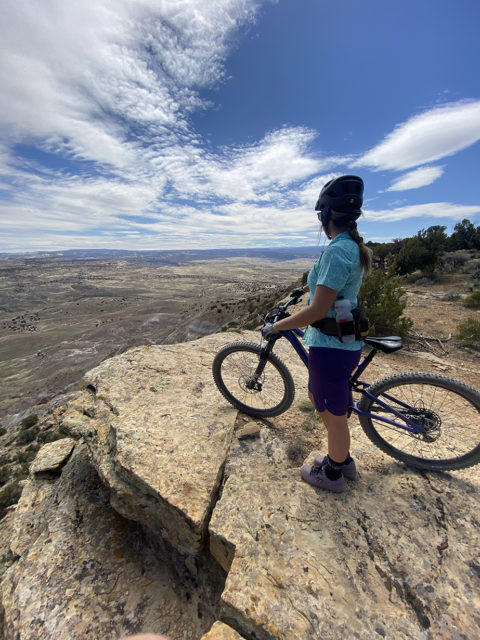 Club Ride says the Camas's fabric is rated at UPF 50 and made to resist wrinkles, which has meant it looks cute even after being shoved in a dry bag. I am a huge fan of Club Ride's snaps — they make it quick to take on and off, but the snaps have also been durable, despite being fastened to an exceptionally light fabric.
The Camas features a rear jersey pocket large enough to store a snack, CO2 cartridge, tire levers, etc. (my phone is a bit bulky and I didn't trust the pocket to hold it securely). But with lighter items in the jersey pocket, it didn't feel like anything was bouncing around too much. The Camas also features a hidden sunglasses cleaner, which is a great detail.
Again, the Camas's ultralight fabric makes it great for desert bike excursions, but this has also made it one of my top picks for camping, backpacking, and hiking in hotter climates. It maintained good odor resistance for a synthetic layer, and I got away with wearing it a couple days in a row without much odor. In comparison, it did better against odor than the Club Ride Bandara, which I think mostly just comes down to me sweating more in the less breathable Bandara. Similar to the Dakine Faye, the Club Ride Camas is one of the best options here for maximizing breathability for really hot days.
Fabric: ecoFAB (75% Recycled Polyester / 19% Tencel / 6% Lycra)
Size Tested: Medium
Weight: 128 g
Reviewer's Height / Weight: 5'9", 150 lbs
MSRP: $58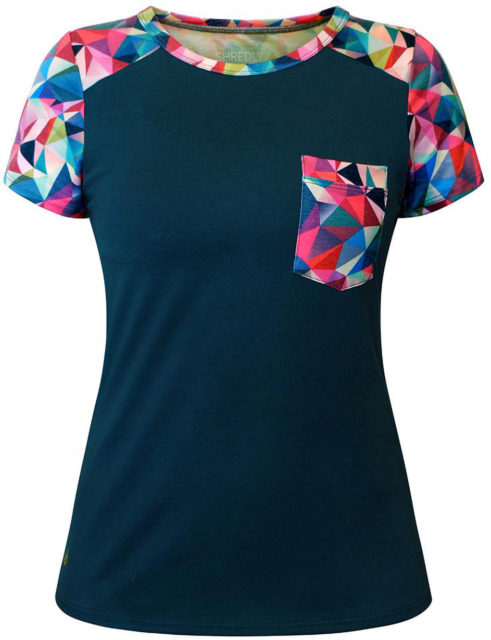 Kara: The Shredly Pocket Tee instantly felt like one of the softest and most comfortable t-shirts I had ever tried on, though because of this, I was initially skeptical about how it'd perform on the bike. I quickly came to find that the Shredly Pocket Tee's fabric is not only soft and cozy, but also wicks moisture well and functions in a wide spectrum of warmer temperatures, and it maintains all of this over many uses.
I really like the look of the Shredley Pocket Tee, with its fairly slim yet flattering fit, scoop neckline, t-shirt silhouette, and adorable pocket accent. This pocket tee is a bit more fitted than many of the jerseys here, which I don't mind because it felt feminine and attractive. The only downside to the fit is that it runs a bit short compared to most of the options here, only extending about an inch below my belly button in my usual size Medium. While this was just long enough in the front to be permissible and not cause any problems, I often would prefer another inch or so, just to feel a nice overlap with my bike shorts so that it doesn't ride up when wearing a heavy pack. That said, I am on the taller side, so this may not be a problem for other women. As always, we'd recommend trying on any of these before buying, whenever possible.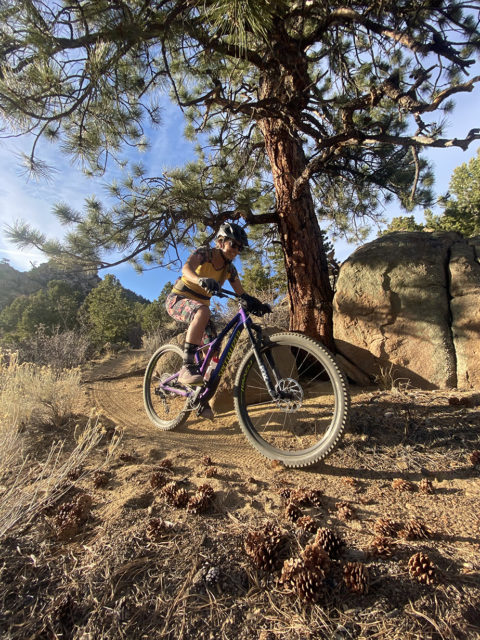 The versatility of the Pocket Tee is also a plus, as I have already found myself keeping the shirt on long after a ride. I'm happy wearing it out for walks and hikes and feel like I just scored a really cute shirt for practical, everyday use. The Pocket Tee's fabric is a bit thicker and less breathable than the Club Ride Camas or Dakine Faye, though it still felt breathable and quick-drying, even on some of the hotter rides. The Pocket Tee's fabric stands out here for being exceptionally soft, and while this makes it very comfortable, I am a bit concerned about long-term durability — it does feel slightly fragile and has started pilling after a couple washes on the delicate cycle.
I feel good every time I slip on the Shredley Pocket Tee, not only because of the cute-factor, but also because it is a versatile, functional, and exceptionally soft bike jersey that works well for most summer days. Also, major credit to Shredly for expanding options for women's mountain bike clothing (offering everything from XS-XXL and 00-24), while still offering tons of unique colors, patterns, and overall style.
Fabric: 94% Polyester / 6% Spandex
Size Tested: Medium
Weight: 154 g
Reviewer's Height / Weight: 5'9", 150 lbs
MSRP: $65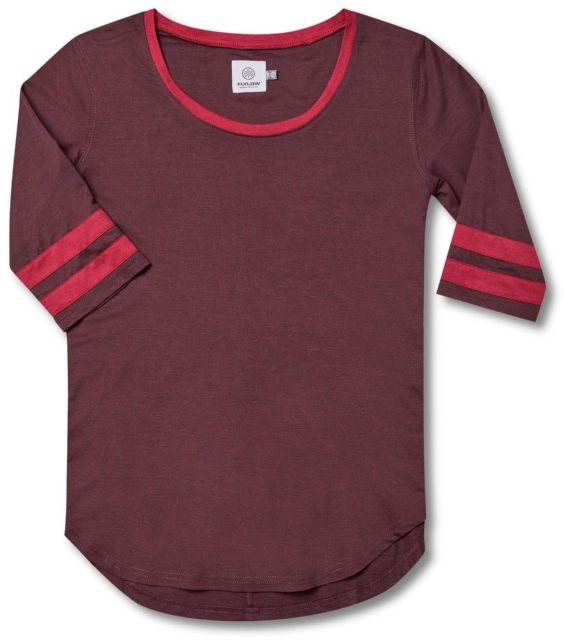 Kara: The Flylow Hawkins Shirt has been a favorite of mine for two seasons (I have one from 2018 and 2019). I appreciate that it is a soft, comfortable, and practical bike jersey that's still cute, flattering, and stylish. The material is soft against the skin, but still provides good protection thanks to its slightly longer sleeves and mid-weight material. It has ¾ sleeves with slits along the side seams, which help let in air and make it a good jersey for everything from early spring to late fall. The fit is long, as Flylow tends to be, and gives off the appearance of a tunic or just a cute lifestyle shirt. The neckline is pretty wide and roomy and does tend to look a little stretched, even upon first wear.
The Hawkin's material wicks moisture quite well and while it can be a good jersey for summer, I prefer it over many of the others here for slightly cooler days. Overall, the material and general performance of the Hawkins feels pretty similar to the Shredley Pocket Tee (versatile, but not the absolute lightest or most breathable). The current version of the Hawkins is a bit roomier than the older ones, but I feel cute and comfortable in both. As with most summer Flylow items, I find it to be a great choice for biking, but am also happy to wear it for pretty much any other application I can think of, and I do give it credit for being a bit more protective, both against sun and scrapes, than many of the other summer jersey options.
Fabric: 115 gsm 97% Polyester / 3% Spandex
Size Tested: Medium
Weight: 166 g
Reviewer's Height / Weight: 5'9", 150 lbs
MSRP: $79.95 (on sale for $55.95 as of publishing)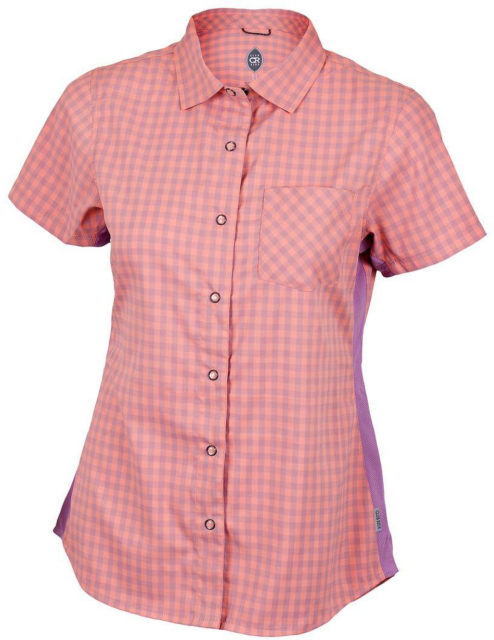 Kara: The Club Ride Simply Bandara Shirt is a great example of the brand's targeted blend of exceptional style, fit, and quality. While it uses a notably heavier fabric than the Club Ride Camas Shirt, the Simply Bandara Shirt is still a great option for summer riding as I've still found it quite breathable and it offers ventilation options, especially through the snaps down the front.
Again, I'm a big fan of Club Ride's collared / snap-down shirts. Not only do they work well for my bike guiding job, they always feel good for multiple other uses and I can often go several rides without feeling them feeling nasty. While I would definitely take the Camas shirt as my first choice for desert riding or exceptionally hot days, the Bandara surprised me as not feeling overly stifling, even in direct sun, despite being a much heavier and burlier fabric. And the upside to the Bandara's heavier fabric is that it's one of the more durable options here.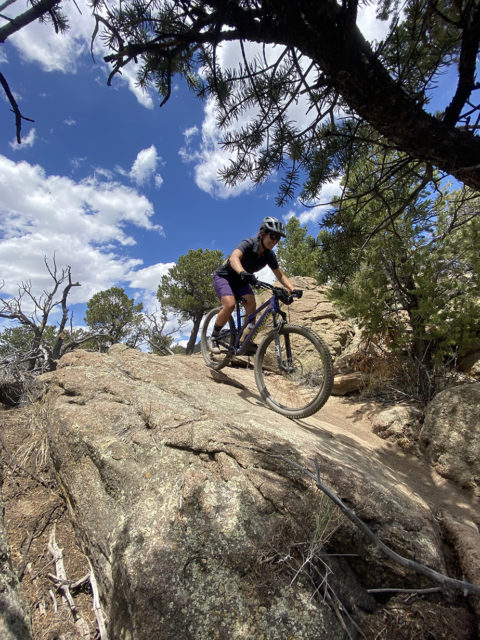 The Medium Bandara fit me perfectly. It has an overall better and roomier fit across the bust for me than the Camas Shirt, while maintaining a nice length and comfortable, yet still contoured fit. While lighter options like the Camas, Dakine Faye, and Shredley Pocket Tee are a bit better for extremely hot days, I will be wearing the Simply Bandara shirt well into the fall even as temperatures cool.
Fabric: 140 gsm 83% Merino Wool / 13% Nylon / 4% Elastane)
Size Tested: XS
Weight: 115 grams
Reviewer Height/Weight: 5'1″, 103 lbs
MRSP: $90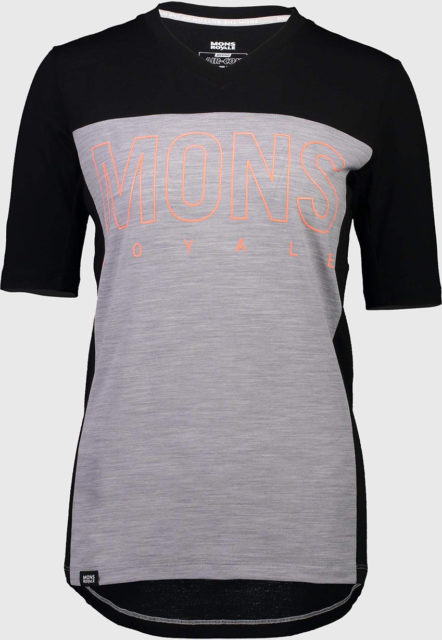 Sascha Anastas: The Phoenix Enduro VT jersey is another top that features a boxier / baggier style. This allows for plenty of freedom of movement and functionality while riding. While the fit is quite baggy (especially in the waist area), I found that the shoulder width was not too wide for me which is more often than not the case on my petite frame. The high v-neck adds a feminine touch, and the sleeves are fairly long for a "short-sleeve shirt" (extending to just above the elbow) which means they offer significantly more coverage than the old Mons Royale Phoenix Cap Sleeve (which was one of my all-time favorite riding tops). I found the Enduro's longer sleeves to be great when I wanted to ride with elbow pads or just wanted more coverage from the sun.
There is a stowaway pocket on the back panel of the Enduro VT but it isn't terribly roomy (not large enough for most mobile devices), though I was able to finagle my CO2 cartridge in the pocket for shorter rides when I wanted to ride packless. For me, the fit seemed pretty much true to size, but due to the baggy style, I felt like I was somewhat swimming in it and I found the length to be quite a bit longer than most of my other riding tops.
I found the thin and ultralight merino wool blend with the mesh side panels to be quite breathable. Even though this a wool top, I often grabbed it over others on the warmer days due to its very breathable feel and longer-than-average short sleeves (more protection from the sun).
Fabric: 140 gsm 60% Merino Wool 40% Lyocell
Weight:115 grams
Size Tested: XS
Reviewer Height/Weight: 5'1″, 103 lbs
MRSP: $80 (on sale for $56 as of publishing)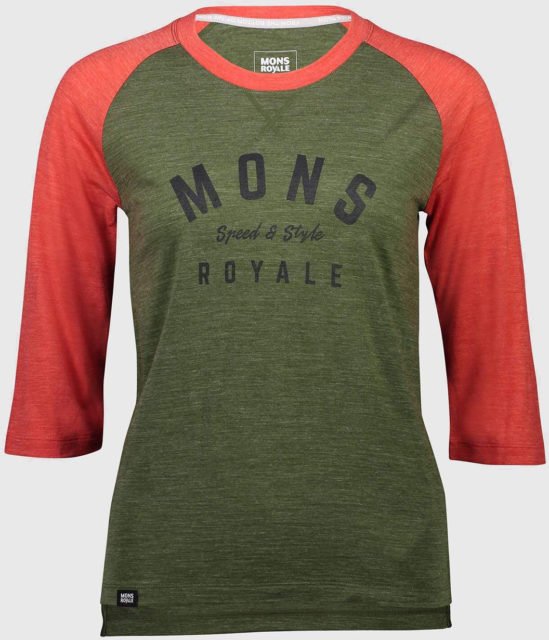 Sascha: The Zephyr Lite ¾ fit me the best out of all the Mons Royale tops that I've tried. It was a slimmer fit than the Phoenix Enduro VT, which I prefer even when I am riding in a bike park. The Zephyr is much more form fitting through the shoulders and chest and shorter than the Phoenix Enduro VT, which is particularly nice for me. Given my height, I tend to run into the opposite problem of Kristin and Kara and have a hard time finding tops that aren't too long, rather than too short. I think the Zephyr is pretty true to size but I am very careful not to machine dry this top for fear that it may shrink and become too snug (if you want a baggier fit, sizing up might be the way to go). The sleeves cuffs are fairly wide so my elbow pads never snagged on the cuff and the ¾ length sleeves extended a couple inches below my elbows which almost entirely covered up my pads.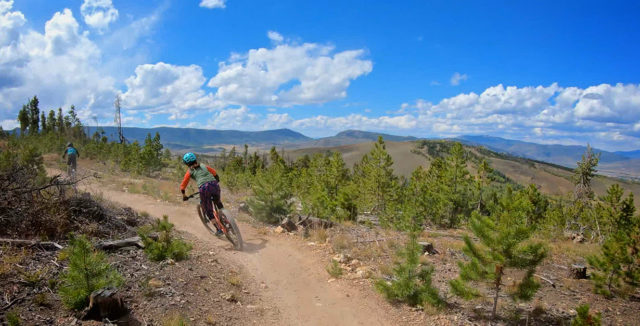 The overall weight of the Zephyr is similar to my other Mons Royale Merino tops but the Zephyr's Lyocell blend makes for a softer feel that's overall more similar to cotton than most of my other wool pieces. Although the Zephyr has been plenty breathable for most days, it's not quite as airy as the Phoenix Enduro VT. I tended to shy away from the Zephyr on the warmest days simply because of the longer sleeves. The one caveat there being that I really like the Zephyr ¾ for warm days in the bike park because most of my other elbow-pad-compatible shirts have long sleeves so I could get away wearing a shorter sleeve but could still get pad coverage.
Fabric: 88% Polyester / 12% Elastane
Size Tested: XS
Weight: 118 g
Reviewer Height / Weight: 5'1", 103 lbs
MRSP: $79.99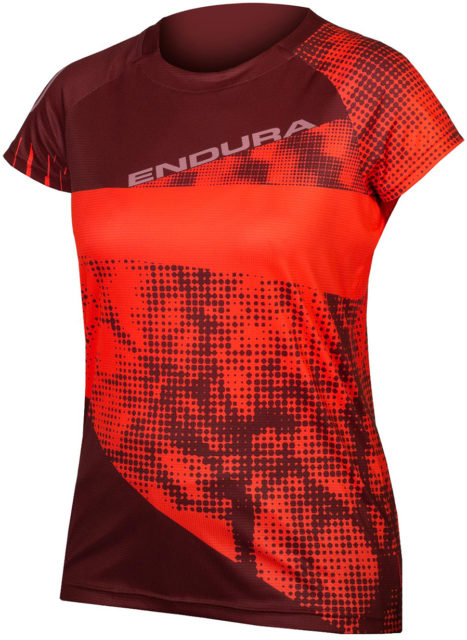 Sascha: The Endura Women's Singletrack S/S Jersey is an everyday technical top that fits and feels pretty similar to your average cotton T-shirt. Up until reviewing this top, for the majority of my rides, I would wear my cotton t-shirts mostly because of the soft texture and on-skin comfort. After getting the Endura Singletrack jersey, I've ditched my cotton shirts for the most part and probably wear this top almost every other day I ride.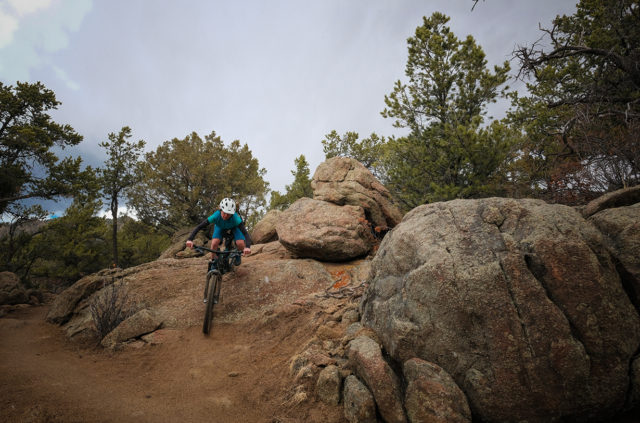 This technical jersey consists of a high-wicking polyester blend that has kept the moisture to a minimum. The length of the top falls just below my waist belt when wearing a pack, which is what I consider to be a perfect length. That said, I'd be curious to see if this top would be long enough for taller people like Kara and Kristin. With the length and a snug fit through the chest (I was still able to wear a base layer under the shirt for cooler rides), I would say the overall fit is true to size. One of my favorite features of this top is the large rear pocket. I can easily fit my mobile device, some sort of energy snack, and even a multi-tool in the large pocket, making this top ideal for rides when I want to ditch a pack.
Overall, this piece is great for those who want something that's very comfortable, fairly slim, and that offers versatile storage options.
Fabric: 100% Polyester
Size Tested: Medium
Weight: 96 g
Reviewer's Height / Weight: 5'9", 150 lbs
MSRP: $45 (on sale for $30.38 as of publishing)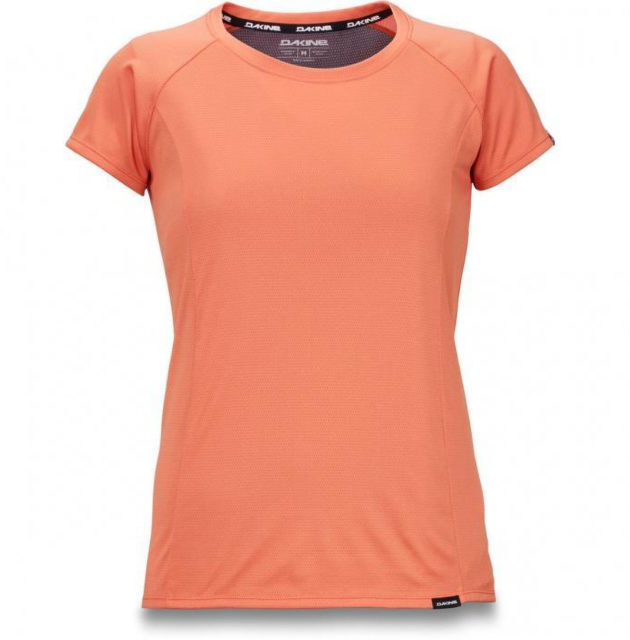 Kara: The Dakine Faye Short Sleeve Jersey quickly became my top choice for those absolutely scorching summer days. It is, without question, the lightest and most breathable short-sleeve jersey that I've used.
The Faye's material is exceptionally light with a slightly sheer look if you hold it up to the light. Once on, the material is not see-through, but it almost feels like it should be. I wore it on a couple runs on 80–90°F (27–32°C) and was immediately thankful for the benefits of such a minimal, airy fabric. The fit is moderately slim and flattering — just form-fitting enough without feeling clingy. As with a lot of shirts, the Faye felt slightly short and extended 1" below my belly button, which is not a problem until reaching up or lifting stuff (which, unfortunately, I do a lot of while guiding). The Faye features a Polygiene antimicrobial treatment for odor resistance and I can definitely wear it longer between washings vs. most traditional synthetic shirts.
Because it does not have any bike-specific features and looks pretty normal, I've also been happily wearing the Faye for running, climbing, hiking, and lots of days on the bike. I'll be curious to see how the Faye holds up over time due to its light fabric, but it's an excellent choice for the hottest days outside.