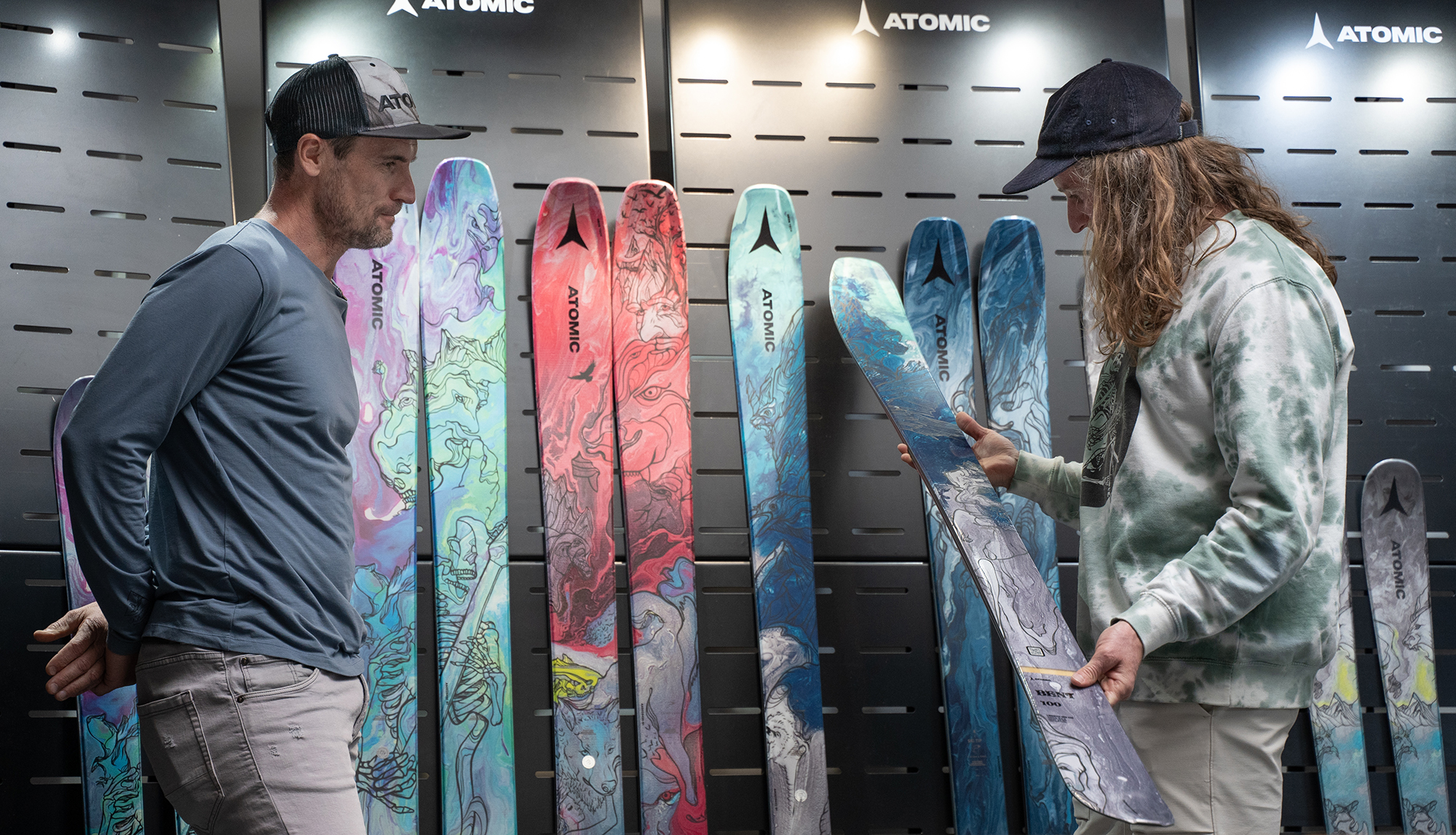 Today Atomic and Chris Benchetler released the new 22/23 "Bent" ski lineup, including seven different models, three new adult widths, and two youth models.
This is the fourteenth time Atomic and Chris Benchetler have teamed up on a ski (or multiple skis), and it's by far the biggest Bent Chetler series yet. It also coincided with an announcement that Chris will now serve as the Creative Director for the freeskiing division of Atomic skis, which is pretty sweet.
On that note — and while I'm not typically one to dwell on graphics — I personally think this collection of skis looks absolutely phenomenal. Chris is known for both his incredible skiing and his art, and it's showcased very, very well across this line of skis.
As for the skis themselves, the biggest news is the addition of a few brand-new models: the Bent 110, Bent 90, and Bent 85. The Bent Chetler 120 and Bent 100 carry over constructionally unchanged for 22/23, but with new graphics (and the name switch from Bent Chetler 100 to just "Bent 100").
The new Bent 110 fills the gap between the 100 and 120, which many have been waiting for, ever since the 100 came out. Atomic says that the Bent 110 is more of a narrower 120 than a wider 100, with the Bent 110 meant for days when it's not so deep that you need a 120mm-wide ski, but you still want more flotation and a looser, more playful ride than the Bent 100. Relative to the Bent 100, the Bent 110 has a more symmetrical rocker profile, but like all of the Bent skis, the Bent 110 is reportedly quite light for its size.
The new Bent 90 serves as the middle ground between the do-everything Bent 100 and the narrower, firmer-snow-oriented, and lower-price-point Bent 85. The Bent 100, 90, and 85 are all meant to be versatile skis that can handle both all-mountain and park duties.
In addition to the five adult skis, there are multiple youth / kids options. The Bent Chetler Mini is 90 mm underfoot and available in sizes from 133 cm to 163 cm, while the Bent JR is 78–85 mm underfoot and available from 110 cm to 150 cm.
We'll be getting on some of the new skis in the near future, so stay tuned for Flash Reviews and First Looks. In the meantime, here's all the info we have from Atomic regarding the new skis' specs:
2022-2023 Atomic Bent Chetler 120

What Atomic says about the Bent Chetler 120:
"One of the most award-winning skis to ever grace the mountain, the Bent Chetler 120 is Chris Benchetler's signature ski and the big brother of the Bent family. This pillow-bashing, powderslashing machine features topsheet and base art by the man himself. With construction and shaping designed and refined by Chris Benchetler since 2008, the latest iteration redefines what's possible in big mountain terrain. Dura Cap Sidewall construction combined with revolutionary HRZN Tech offers more surface area in the tip and tail for better tracking through chop and crud with less tip deflection. The Light Woodcore shaves weight while the Carbon Backbone adds strength and stiffness. The Powder Rocker profile offers the perfect amount of tip and tail turn-up, and camber under foot delivers epic performance through deep turns, side hits, and nose butters."
Available sizes (cm): 176, 184, 192
Stated Dimensions (mm): 142-120-133, 143-120-134, 144-120-135
Stated Sidecut Radii (m): 18, 19, 20
Stated Rocker Profile (tip rocker / camber / tail rocker): Powder Rocker 30/40/30
Features: HRZN Tech Tip, Dura Cap Sidewall, Light Woodcore, Carbon Backbone, Glossy Topsheet
Stated Weight: 1800g / 184
2022-2023 Atomic Bent 110

What Atomic says about the Bent 110:
"Rip pow turns, slash wind lips, and send any line you can imagine. The Bent 110 takes a similar approach to the mountain as the Bent 120, with slightly less width. It's Jossi Wells' goto for backcountry freestyle, charging lift-served pow laps and days when it's deep, but not 120-deep. The Bent 110 is designed with HRZN Tech Tip and Tail for a playful performance and better float through blower without adding bulk to the ski. The Bent 110 features a bit less rocker in the tail than the 120 but still charges through variable chop and crud. The combination of Light Woodcore and Carbon Backbone work together to reduce weight and keep performance responsive. With one-of-a-kind topsheet graphic and base art by Chris Benchetler, the Bent 110 is wholly reflective of his approach to the mountains: creative and unique."
Available sizes (cm): 172, 180, 188
Stated Dimensions (mm): 132-110-123, 133-110-124, 134-110-123
Stated Sidecut Radii (m): 16, 18, 19
Stated Rocker Profile (tip rocker / camber / tail rocker): Powder Rocker 25/50/25
Features: HRZN Tech Tip & Tail, Dura Cap Sidewall, Light Woodcore, Directional Shape, Glossy Topsheet
Stated Weight: 1750g / 180
2022-2023 Atomic Bent 100

What Atomic says about the Bent 100:
"From powder to piste the Bent 100 is the ski of choice for any day, every day. With art and build design by ski legend Chris Benchetler and the Atomic Freeski team, this all-mountain ski is a slimmed-down version of the award-winning signature model, the Bent 120. Freeski pro, Dennis Ranalter, calls it "the perfect all-rounder". With a versatile 100mm waist, the directional shape of the Bent 100 features HRZN Tech in the tip and tail for increased surface area and float. The Light Woodcore and generous Powder Rocker encourage slashing the entire mountain from the peak to the park. Dura Cap Sidewalls offer controlled power transmission and commanding edge grip on harder snow. Whether it's fresh snow, deep untracked, or hard variable conditions, the Bent 100 does one thing better than any other: it lets you ski like you."
Available sizes (cm): 164, 172, 180, 188
Stated Dimensions (mm): 127.5-100-118, 128.5-100-119 129.5-100-120, 130.5-100-121
Stated Sidecut Radii (m): 16.4, 18, 19.5, 21
Stated Rocker Profile (tip rocker / camber / tail rocker): Powder Rocker 20/70/10
Features: HRZN Tech Tip & Tail, Dura Cap Sidewall, Light Woodcore, Resist Edge, Directional Shape, Glossy Topsheet
Stated Weight: 1700g / 180
What Atomic says about the Bent 90:
"At home ripping the whole mountain, or upside-down in the middle of a Switch Double Cork 10 in the park, the Bent 90 is the ski Nico and Miguel Porteous refer to as "the Swiss Army knife" – the perfect allterrain/park ski. HRZN Tech Tip & Tail give the Bent 90 the ability to float through pow laps in the morning and send the park in the afternoon. The Light Woodcore and Carbon Backbone keep the weight down and the performance responsive. Extra-durable Resist Edges provide lasting durability for endless rail slides. While the Bent 90 is a narrower ski than its bigger brothers, it still maintains the same attitude of creativity, self-expression, and versatility that make the entire range so effective. With flowing topsheet and base graphics by Chris Benchetler, the Bent 90 channels a unique approach to the mountain both in design and aesthetics."
Available sizes (cm): 157, 166, 175, 184
Stated Dimensions (mm): 118-90-109, 118-90-109, 119-90-109, 119-90-109
Stated Sidecut Radii (m): 15, 17, 19, 21
Stated Rocker Profile (tip rocker / camber / tail rocker): All Mountain Rocker 20/70/10
Features: HRZN Tech Tip & Tail, Dura Cap Sidewall, Light Woodcore, Resist Edge, Directional Shape, Glossy Topsheet
Stated Weight: 1600g / 175

What Atomic says about the Bent 85:
"The Bent 85 is versatile all terrain, park-slaying ski designed to dominate the Hollywood lines under the chair, send it in the park, and perform anywhere you want to take it. Whether you're boosting airs in the pipe or busting through afternoon chop, the 85mm waist and All Mountain Rocker keeps everything under control. A compound wood core and Dura Cap Sidewall construction provide a damp, agile ride with snappy edge-to-edge performance. With unique topsheet and base art by Chris Benchetler, the Bent 85 will inspire you to ski the mountain as only you can."
Available sizes (cm): 150, 160, 165, 170, 175
Stated Dimensions (mm): 117-85-109 (all lengths)
Stated Sidecut Radii (m): 11.6 13 14.5 16 17.6
Stated Rocker Profile (tip rocker / camber / tail rocker): All Mountain Rocker 20/65/15
Features: Dura Cap Sidewall, Light Woodcore, Densolite Core, Resist Edge, Directional Shape, Glossy Topsheet
Stated Weight: 1750g / 170
2022-2023 Atomic Bent Chetler Mini

What Atomic says about the Bent Chetler Mini:
"The Atomic Bent Chetler Mini has the same features and technologies as the adult model and delivers brilliant all-mountain performance for kids aged 5 to 13 years who want to live the big-mountain dream. Built to the same specs as the original, the Bent Chetler Mini delivers big mountain performance to ambitious young skiers seeking unrestricted adventures in a variety of snow conditions. Designed by the legend Chris Benchetler himself, the Powder Rocker combines with a wide 90mm waist to offer smaller skiers superior float in deeper snow and unlimited freeride capabilities in softer terrain. Featuring a stability-inducing Dura Cap Sidewall for solid skiing performance on harder snow surfaces, this ski is an all-round smooth and steady ride. With a construction especially tuned for up-and-coming shredders who dream of one day skiing alongside the pros, this ski welcomes mini shredders to the Bent family."
Available sizes (cm): 133, 143, 153, 163
Stated Dimensions (mm): 121.5-90-113, 124-90-115.5, 126.5-90-117.5, 128-90-119.5
Stated Sidecut Radii (m): 11, 12, 13, 14
Stated Rocker Profile (tip rocker / camber / tail rocker): Powder Rocker 20/70/10
Features: Dura Cap Sidewall, Densolite Core, Directional Shape, Glossy Topsheet
Stated Weight: 1350g / 153

What Atomic says about the Bent JR:
"Super maneuverable, stable, and effortless to handle, the Bent JR is an easy to control ski designed for kids ages 8-12 looking to gain confidence skiing the entire mountain. The slightly wider 85mm waist width adds stability and Dura Cap construction makes it super light while also adding durability that will endure many seasons of learning. Capable of floating in deeper snow conditions, pulling off tricks in the kid's terrain park, or hitting the occasional kicker, at the end of the day the Bent JR shortens the learning curve for any junior skier."
Available sizes (cm): 110, 120, 130, 140, 150
Stated Dimensions (mm): 110-78-102, 112-80-104, 114-82-106, 117-85-109, 117-85-109
Stated Sidecut Radii (m): 6.3, 7.8, 9.5, 10.3, 11.6
Stated Rocker Profile (tip rocker / camber / tail rocker): All Mountain Rocker 15/75/10
Features: Dura Cap Sidewall, Densolite Core, Directional Shape, Structured Topsheet
Stated Weight: 1250g / 140