Boot: 2021-2022 Scarpa F1 LT
Stated Flex: 100
Available Sizes: 24-31
Stated Last (size 26.5): 100 mm
Stated Range of Motion: 72°
Stated Forward Lean: 9°, 11°, 13° +/- 2°
Size Tested: 28.0
Stated Boot Sole Length (size 28): 302 mm
Blister's Measured Weight per boot (size 28): 1106 & 1101 grams
Closures: BOA Fit System lower closure, velcro / buckle strap, velcro upper strap
Shell Material:
Upper Cuff: Carbon Grilamid® LFT
Lower Shell / Shoe: Carbon Grilamid® LFT
Soles: rockered, full Vibram rubber
Binding Compatibility: TLT (tech / pin) bindings
Tech Fittings: Quick Step-In
[Note: Our review was conducted on the 20/21 F1 LT, which returned unchanged for 21/22, though Scarpa did add the F1 LT Women's for 21/22, which is available in sizes 23-27 and features a slightly different, "gender-specific" fit through the cuff.]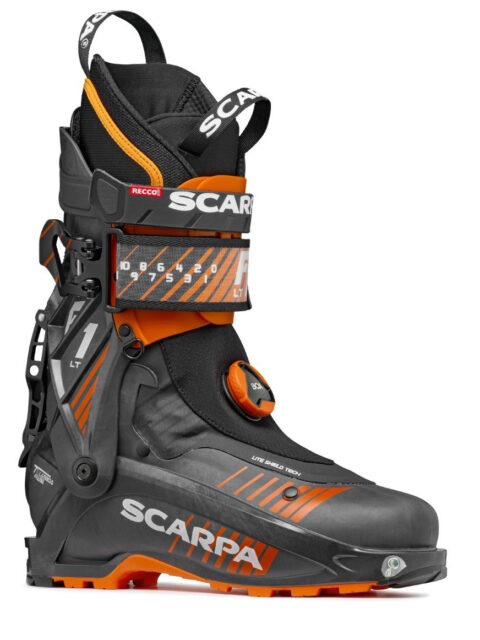 Intro
I've written a lot on Blister about my affinity for lightweight touring boots. I spent years skiing some of the biggest lines of my life in a heavily modified Dynafit TLT5 Performance when it was the only option on the market, and I still spend a lot of my human-powered season on the lightest boots I can get away with.
For the 17/18 season, Scarpa introduced the Alien RS, which quickly became my favorite touring boot ever for most human-powered skiing. It was notably lighter and walked better than many of the alternatives in the roughly 1000-1300-g category, yet it still skied quite well relative to its competitors.
For the 20/21 season, Scarpa discontinued the Alien RS but introduced the F1 LT as its replacement. As far as I can tell, the lower shell of the F1 LT is exactly the same as the Alien RS. The upper cuff appears to be a new design that borrows from the F1 and trades the Alien RS's single-motion walk mode / cuff closure with a hook and loop closure / cam buckle strap and a thin upper power strap. While the Alien RS was marketed toward skinny light skis (the Scarpa site stated that skis shouldn't exceed 1300g and 85 mm width!) the F1 LT doesn't appear to have any stated limitations.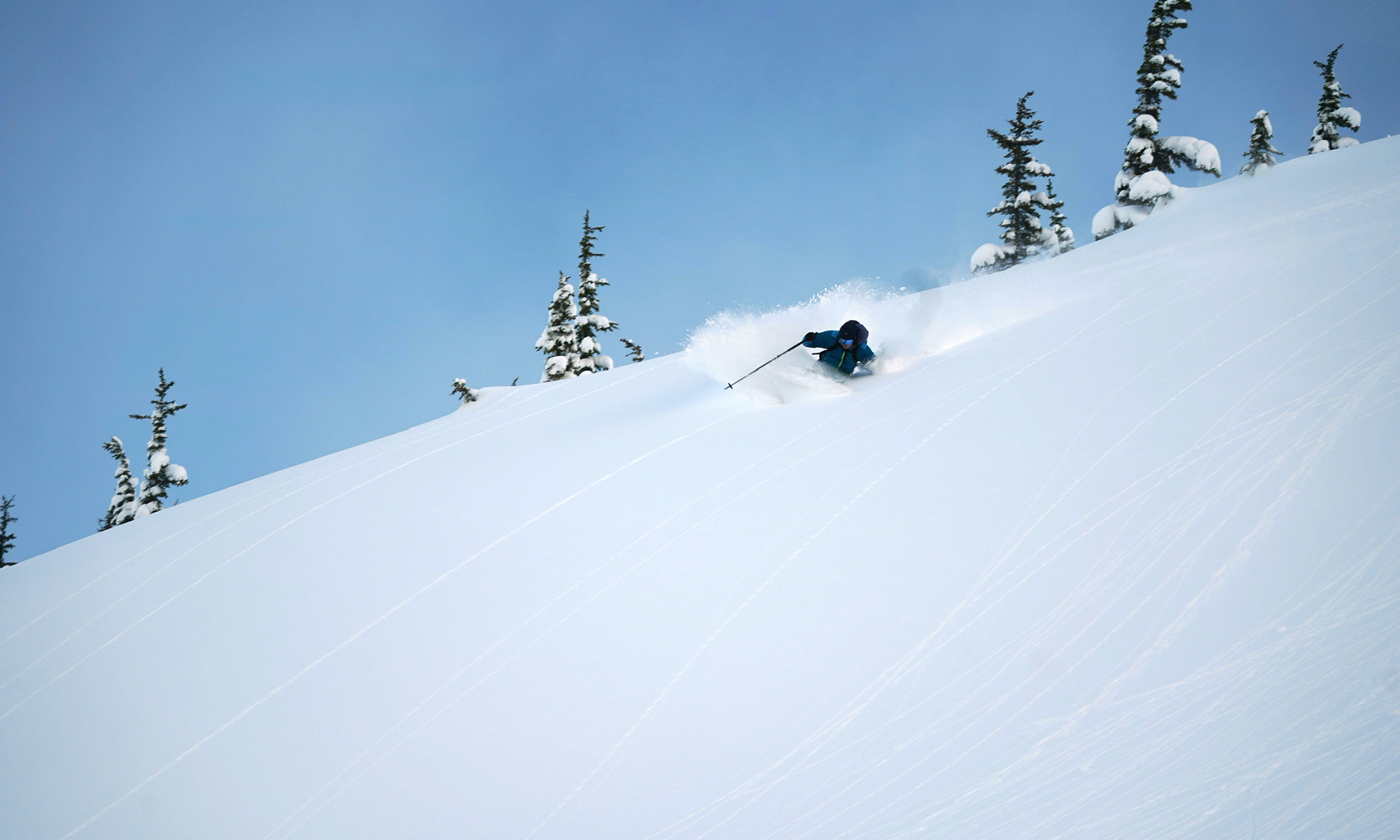 In Scarpa's words "versatile, backcountry-oriented design, the all-new F1 LT is our lightest weight alpine touring boot, optimized for high-mileage missions, ambitious traverses, and technical ski mountaineering descents."
I've now spent more than a full season touring around Alaska in the F1 LT, and like the Alien RS, I am a very big fan of this boot. So let's get into why:
Weight
As we discussed with the Alien RS, the weight of the F1 LT is simply outstanding, considering how well it skis (much more on that in a bit).
The F1 LT did gain about 100 grams in my size (28.0), which is about a 10% gain over the Alien RS, but the F1 LT is still very light and its weight sits comfortably within the class of what I'm going to generically call "lightweight touring boots" — i.e., not sub-kilo skimo boots, nor 1300+ g boots designed to mimic alpine-boot downhill performance.
For reference, here are our measured weights (per boot, in grams) of several relevant boots in the same class as the F1 LT. We've also added the weight of the burlier Tecnica Zero G Tour Pro and Scarpa Maestrale XT, to give an idea of the weight differences between the "lightweight touring" boots and the more downhill-oriented touring boots.
988 & 991 Scarpa Alien RS, 28.0 (18/19–19/20)
1014 & 1023 Dynafit TLT Speedfit, 26.5 (18/19–19/20)
1064 & 1070 Fischer Travers Carbon, 27.5 (16/17–18/19)
1065 & 1069 Dynafit TLT 7 Performance, 28.5 (17/18–18/19)
1106 & 1101 Scarpa F1 LT, 28.0 (20/21–21/22)
1110 & 1114 Atomic Backland Carbon, 27.5 (19/20)
1167 & 1170 Atomic Backland Carbon, 27.5 (15/16–18/19)
1232 & 1232 Salomon S/Lab X-Alp, 27.5 (17/18–19/20)
1288 & 1286 Arc'teryx Procline Carbon Support, 27.5 (16/17–19/20)
~1310 (avg. weight) Scarpa F1, 28.0 (17/18–19/20)
1309 & 1311 Tecnica Zero G Tour Pro, 26.5 (18/19–19/20)
1505 & 1510 Scarpa Maestrale XT, 27.0 (19/20–21/22)
So, does the F1 LT provide enough (or any?) performance improvements to justify in the increased weight over the Alien RS? Read on to find out, but first we'll look at some of its design elements.
Buckles, Closures, & Straps
The most obvious departure from the Alien RS is the switch to the buckle / power strap combo on the F1 LT from the Dyneema cord "Speed Lock" of the Alien RS. I got along pretty well with the Alien RS' Speed Lock system with only some minimal slippage issues and I learned to appreciate the simple, one-motion transitions on my Alien RS.
The F1 LT's buckles definitely take more time and futzing around at transitions and the skinny upper power strap often requires me to take a glove off to adjust. Transitions are definitely slower with the F1 LT for me. The other big difference in the closure system is that the walk mode is now completely separate from the cuff tightening on the F1 LT. While this also makes for another motion required at transition, it does make it easier to flip the boots in and out of walk mode when shuffling or skating out through rolling terrain.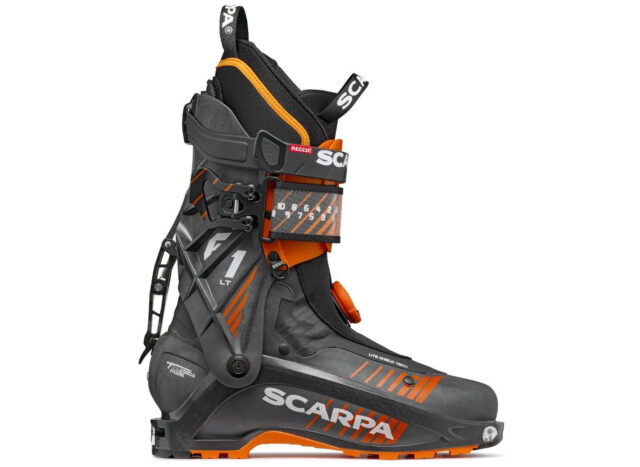 Same as the Alien RS, the F1 LT uses a BOA Fit System dial to adjust the tension of the lower shell / shoe of the boot.
Upper Cuff & Lower Shell
The second most obvious change from the Alien RS is the F1 LT's upper cuff. The new cuff does appear a little bit thicker with additional reinforcement along the sides and back, but the overall size and height are relatively unchanged. Both the Alien RS and F1 LT use a carbon-reinforced version of Grilamid plastic for both the upper cuff and lower shell. As mentioned above, the walk mode is also different and is now a separate spring-activated lever that is similar to a lot of other touring boots on the market (e.g., Scarpa Maestrale RS).
As we discussed with the Alien RS, the lower shell seems to involve quite a bit less material than comparable boots, with very minimal plastic extending over the top of the foot / instep and instead employing a stretchy gaiter that incorporates the BOA system and comes up above ankle height. In comparison to other boots in this class, the actual plastic shell of the F1 LT extends much less up and over the top of the instep.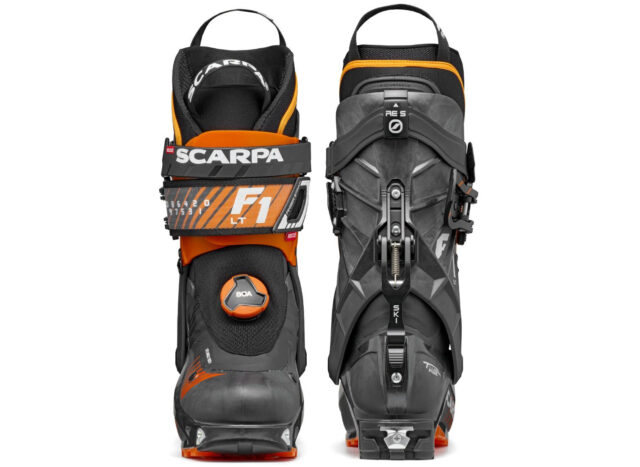 Sole
The sole of the F1 LT looks thin, but it's not as minimalist as the old Salomon S/Lab X-Alp. The F1 LT's sole features sticky-feeling Vibram rubber and has areas of higher-density rubber at the heel and toe for added durability. And Scarpa says the toe rubber is thinner to reduce weight and maximize sensitivity while climbing.
Same as the Alien RS, the F1 LT is only compatible with full TLT bindings (i.e., "tech" or "pin" bindings). It's not a boot that you can use with bindings with alpine-style heels (Fritschi Tecton & Marker Kingpin), nor "hybrid" bindings like the Shift or Marker Duke PT.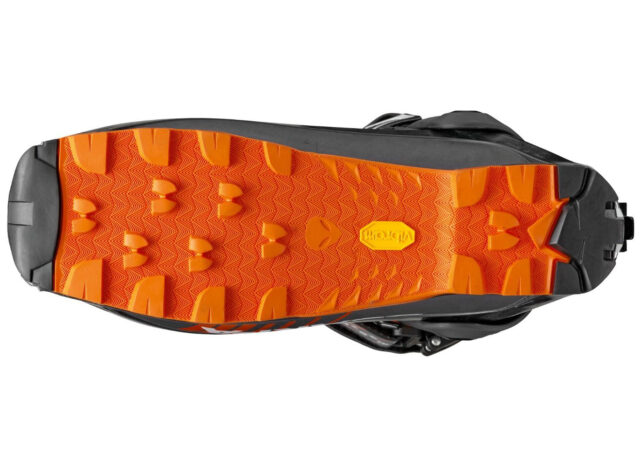 Adjustable Forward Lean
Of the other boots we've reviewed in this class, several have no forward lean adjustment (e.g., the old Arc'teryx Procline and Salomon S/Lab X-Alp), while some others have two settings (e.g., Atomic Backland and Dynafit TLT7). As in the Alien RS, the F1 LT's four different forward lean positions might be appealing for those who haven't found the position they like in existing boots. Unlike the Alien RS, the F1 LT also has a hook and loop patch on the back of the liner and comes with a removable plastic spoiler for further adjustments.
Liner
Like all of Scarpa's touring boots, the F1 LT features a custom Intuition liner designed specifically for this particular model. We've had some issues with liners on many boots in this class, and have found some of them almost unusable (I'm looking at you, Dynafit TLT7 and original Atomic Backland Carbon). Upon initial look and feel, the liner of the F1 LT, much like the Alien RS, is the best liner we've seen in this class of boot, with enough thickness for support and comfort, while at the same time remaining simple, light, and low profile.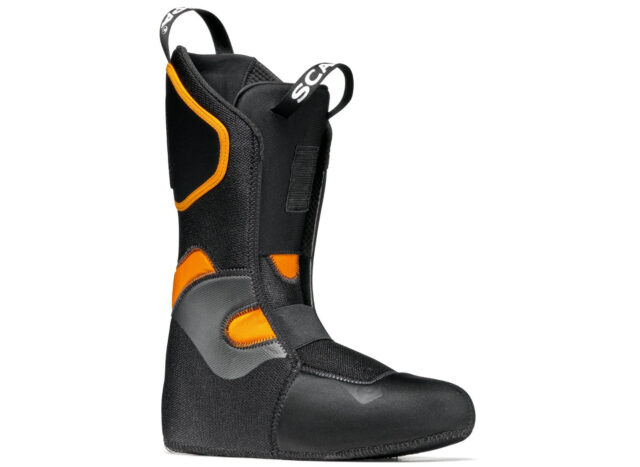 Tech Fittings
Scarpa continues to build its touring boots with Dynafit's Quick Step-In fittings, and we remain big fans of this option. Not only are the fittings Dynafit-certified for standardized dimensions, but they are easier to click into for all forms of tech / pin bindings that we've used.
Fit and Sizing
As far as I can tell, the F1 LT fits exactly like the Alien RS. In my Alien RS review I wrote the following:
As we say all the time, fit is critical for boots and it should supersede any minor performance difference between comparable boots. Don't fall in love with a boot based on its specs or looks; buy the boot that best fits your particular foot.
For my foot, the F1 LT is probably the best fitting of any of the lightweight boots I've used. I attribute a lot of this to the excellent Scarpa/Intuition liner. (For reference, I've ultimately added an Intuition liner to most of the ultralight boots I've used to get the comfort and performance I want.)
One thing that should also be said about Scarpa boots is that the shell size break is different than most (all?) other boot makers. For example, 27.5 & 28 are the same shell size in a Scarpa, whereas 28 & 28.5 are the same shell size in other companies boots.
I've generally bumped up to the 28/28.5 in most of the light touring boots I've tested, despite being a consistent 27.5 in pretty much every alpine boot and more downhill-oriented touring boot I've ever skied. With the F1 LT, I was able to stick with the 27.5/28 shell without modification.
That said, the Alien / F1 LT is a pretty low-volume fit compared to other Scarpa boots I've used, including the current Scarpa Maestrale RS, and the version of the Scarpa F1 Evo I had for testing. The good part about this (at least for me) is that the F1 LT's heel and ankle have the best feel and retention for my relatively low-volume ankle of any Scarpa boot I've used. Again, this may be in part due to the liner and the BOA closure, but my heel stays put better in the F1 LT than it does in the Maestrale RS (which also has an excellent Intuition liner, but a higher-volume last).
The less fortunate side of the F1 LT's fit (for some) is that the toe box is a little more cramped than the other Scarpa boots mentioned above. That said, I am happily skiing the F1 LT without any shell modifications, but needed substantial work at the toe box in other touring boots (like the Salomon S/Lab MTN) and many alpine boots.
The aspect of the Alien RS / F1 LT's fit that pleased me most was the very adaptable instep height. Because there's no plastic shell over the instep, instep pressure and height are dictated entirely by the moldable liner and highly adjustable BOA system. I have a high instep, and found the F1 LT to be supremely comfortable in this regard, whereas I've had issues with my instep in the vast majority of alpine and touring boots I've used.
Uphill Performance
In my review of the previous boot, I wrote that "the Scarpa Alien RS is the best boot I've ever used for skinning." I know this is starting to get repetitive, but the F1 LT feels a whole lot like the Alien RS on the uphill as long as I completely loosen the power strap and buckle.
Because the F1 LT doesn't have the Alien's "Speed Lock" system, it takes a little more work to transition the boot into uphill mode at the bottom of the run. For really short laps, I'll sometimes leave the power strap tightened on the ascent but I generally take the time to fully loosen the strap, which usually requires me to remove my gloves. I'm no randonee racer but I've learned to appreciate quick transitions and minimal fuss at the tops and bottoms of runs, so the small, hard-to-grab top strap continues to mildly annoy me because of this.
Otherwise, once fully into uphill mode, the F1 LT is an extremely comfortable boot for skinning. The range of motion of the shell / cuff and the comfortable and flexible liner make even the longest strides or most awkward steep skinning step-ups easier than any boot I've used. I tend to set pretty mellow, low-angle skin tracks so I don't often take full advantage of a boot's fore / aft range of motion, but I've also used the F1 LT on long, flat approaches where they are, again, the most comfortable, easy-going boot I've used.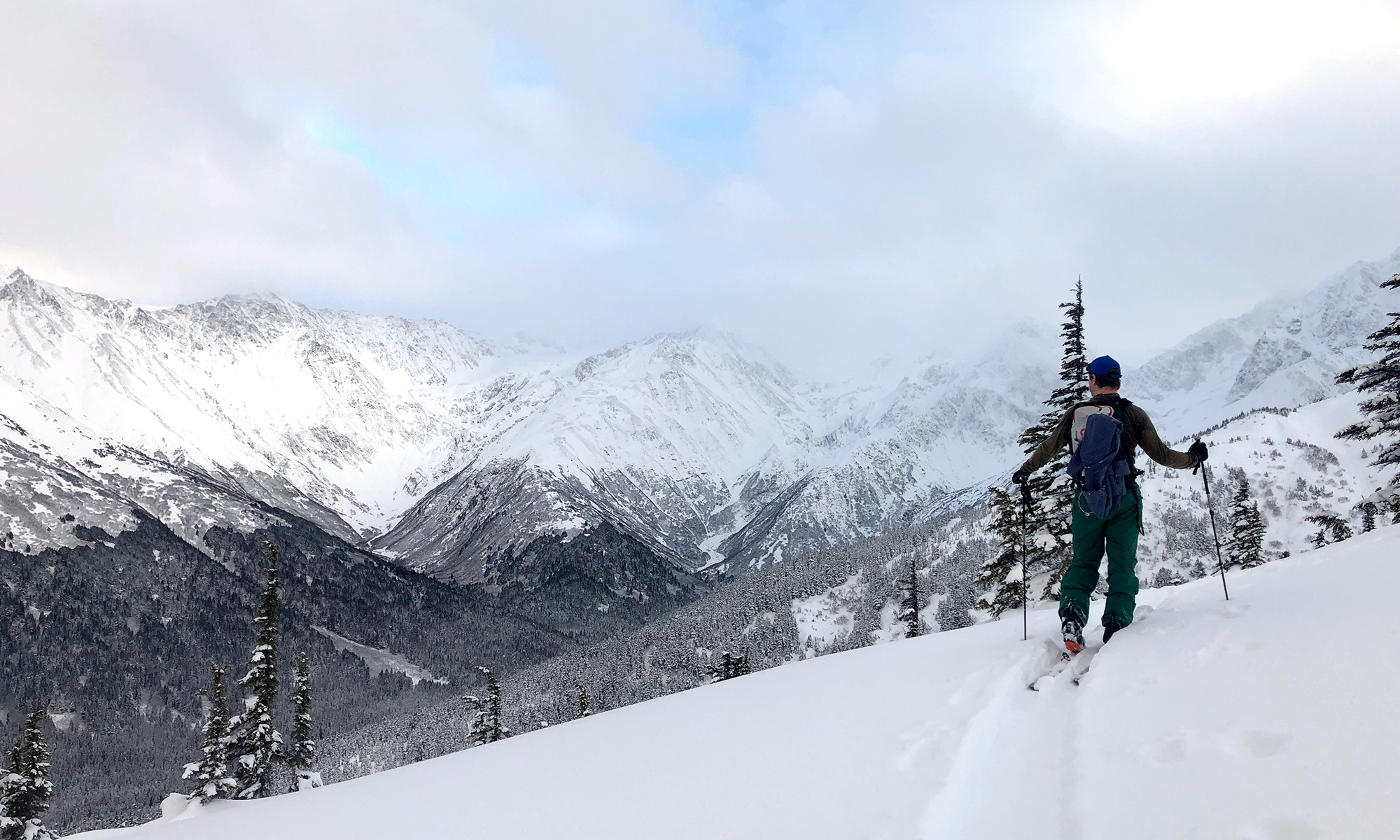 On short rocky scrambles and ridge walks, the F1 LT's short sole, light weight, and excellent range of motion make it feel very secure and intuitive. Probably in part due to the great fit on my foot, I find these boots to be almost as adept in steep rock scrambles as my dedicated mountaineering (non-ski) boots.
Overall, the uphill and skis-off travel in these boots is excellent and at least as good if not better than any ski boot I've ever used.
Downhill Performance
If you read my review of the Alien RS, most of the above is familiar and that theme continues in the downhill section. As a 6', almost 200-lb skier with a penchant for going fast and using big skis (105-124 mm underfoot so far with these boots), the F1 LT is essentially all the boot I need for the vast majority of my skiing.
The F1 LT's flex pattern is abrupt and ramps up immediately with forward flexion. In softer snow, the boot feels responsive and when pushed hard, there is good rebound from turn to turn. When skiing with a more relaxed, upright stance, the abrupt flex allows for good responsiveness and precision — even with bigger skis.
In soft snow, especially on mellow to moderate terrain, I never felt held back by the F1 LT. I could get just enough ankle flexion to feel like I was engaging with the ski and never felt like I was lacking in lateral support or power, even during more angulated, high-speed turns.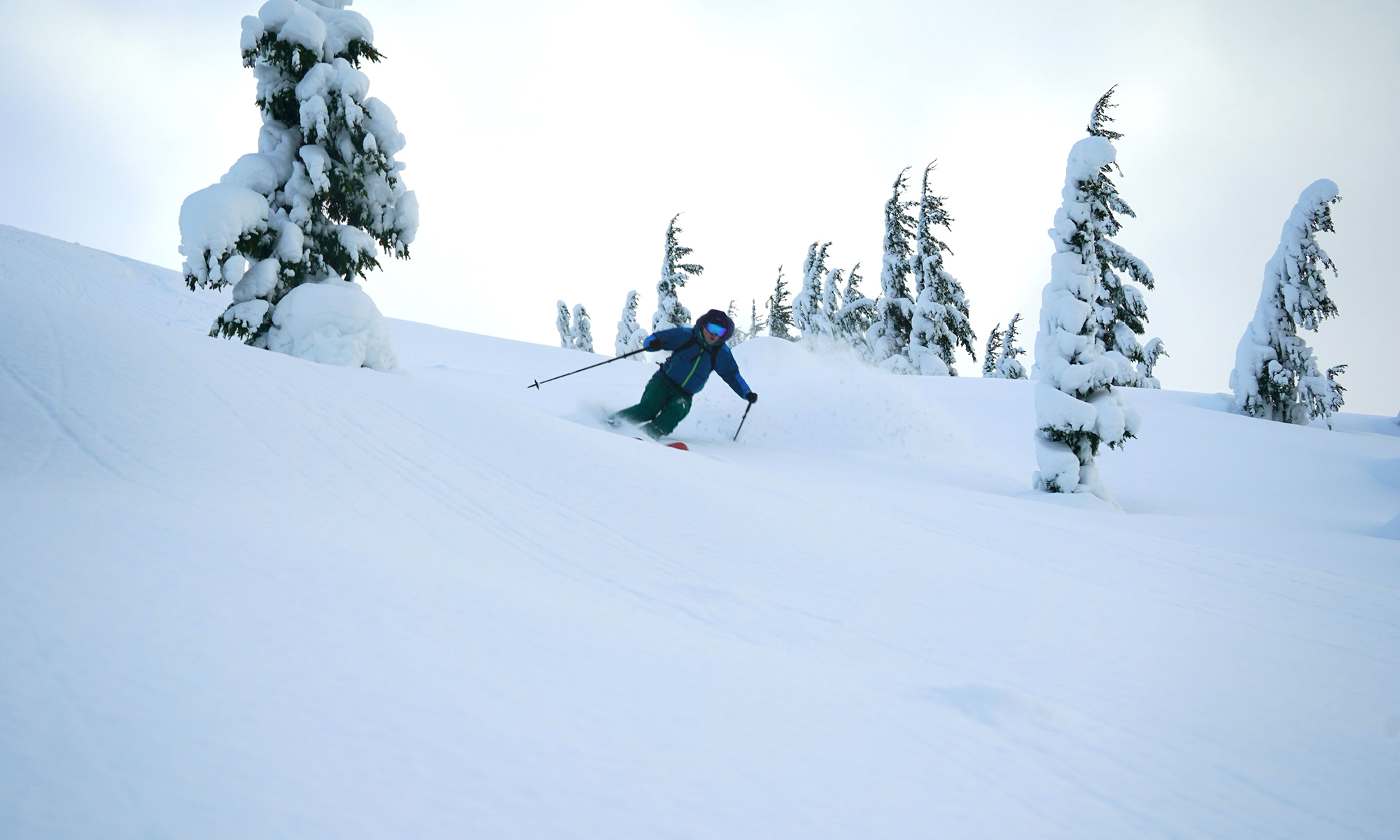 As terrain becomes steeper or more complicated, I do sometimes wish I had my stiffer, heavier Tecnica Zero G Tour Pro (or something similar). I'm not 100% sure why this is as I never really "bottomed out" the forward flex of the F1 LT, even in some pretty fierce compressions. I think it's mostly related to the suspension offered by a heavier boot like the Zero G when absorbing irregularities and landing airs. Similarly, I always felt like I had more control and power over the shovels of my skis with the Zero G in comparison to the F1 LT on the same skis and on the same types of runs. That said, I did end up skiing quite a few big runs in the F1 LT and even had an impromptu pillow session recently, landing multiple 10-15-foot airs while skiing on the 185 cm Moonlight Cruiser (a stiff, light, 120mm-wide ski) and I can't say that I had any issues with the F1 LT, despite this being presumably far outside the design intention of this boot.
As the snow gets firmer and bumpier, the F1 LT starts to feel a bit more harsh than a boot like the Zero G and I usually feel the need to slow down just a bit more. This is magnified by riding fairly long and stiff 105-120mm-wide skis and feels less apparent when on the skinnier, lighter skis like my Volkl VTA 88 Lite, likely because the latter skis feel like they have a much lower speed limit themselves in firm and choppy snow before that start to get knocked all over the place.
Overall ski boot downhill performance is fairly subjective in large part because it depends so much on fit. The F1 LT fits my foot extremely well and I'm sure that my feelings about its performance are in part related to that. That said, even as a 200-lb skier living in Alaska with big terrain, the F1 LT provides enough power and performance for the vast majority of my ski touring. The softer the snow and the more forgiving the ski, the more this is true.
For the sake of the review, I have taken my F1 LT and Alien RS up on the chairlifts at Alyeska Resort. While they did remarkably well for such a light boot, the ride is quite harsh overall (even with "gapless" TLT bindings like the Marker Alpinist) and the lack of forward flex support compared to a heavier boot immediately becomes much more apparent than I've ever appreciated while out touring. So just to be clear: I would never consider the F1 LT as a "one boot quiver" if I planned to do lift-served skiing.
Durability
I have around 30 days in the F1 LT and have had no durability issues thus far. As I mentioned in the Alien RS review, both boots' soles are thin, there is a fairly exposed BOA dial, and the plastic of the shell isn't super thick. I suspect that people who regularly tour and scramble in very rocky terrain might have issues with these aspects of the boots sooner than they would with a beefier, heavier boot, but I also think that the more time you spend climbing technical terrain both in and out of your skis, the more you'll appreciate a boot like the F1 LT and it's probably worth some small durability sacrifice. If I was doing a multi-week ski traverse here in Alaska this spring, I'd be bringing these boots and would not be overly worried about durability issues.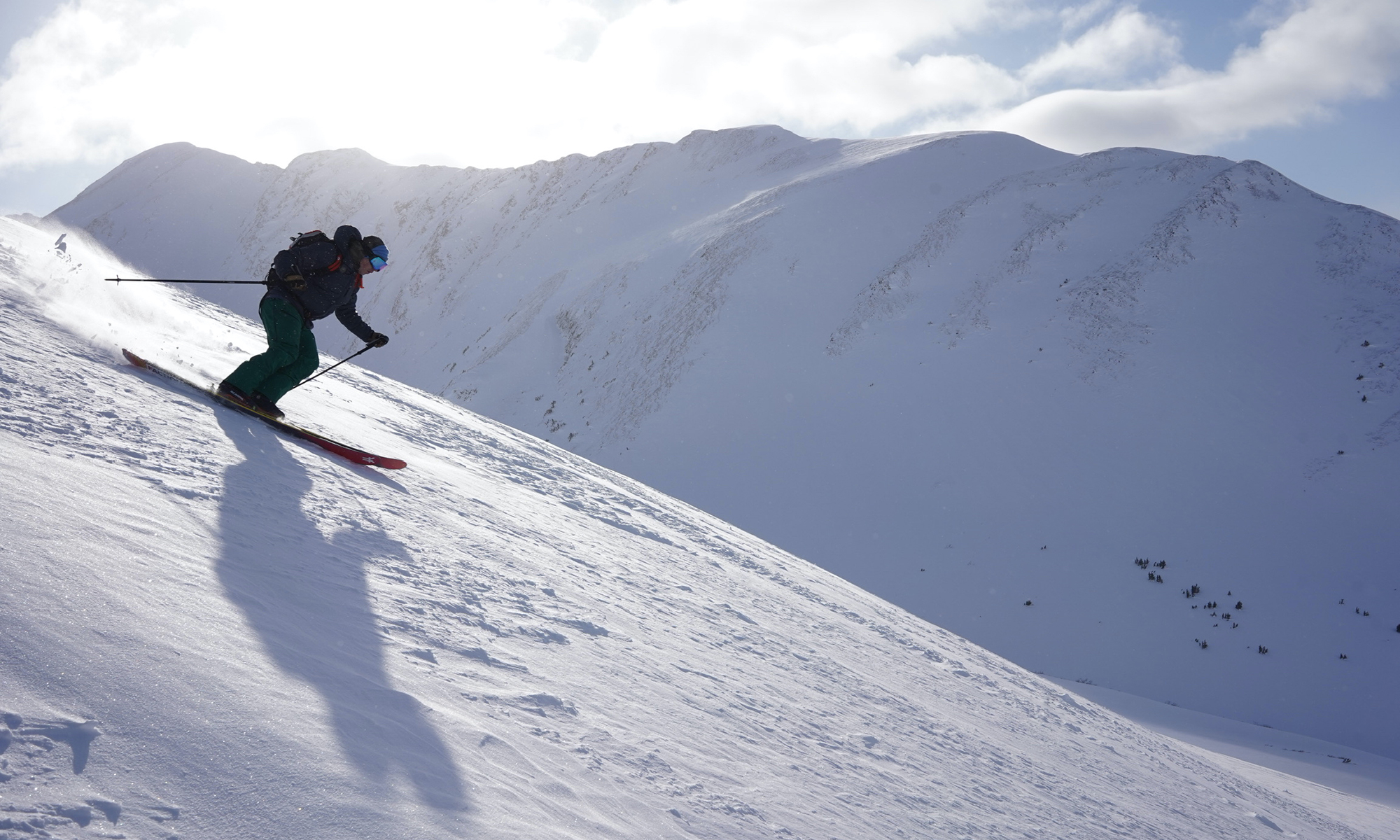 Scarpa F1 LT vs. Scarpa Alien RS
Based on how many people reach out to me on the regular to tell me how much they love their Alien RS, I suspect there are a few Alien RS owners wondering if they should consider buying the F1 LT right away. My answer is no. Keep your Alien RS if you have them. Here's why:
Weight
My F1 LT weighs 100 grams more per boot than the Alien RS. I know this isn't a lot of weight, but over long days — especially when trying to go fast and far — it does add up and it does make a difference, at least to me. I'm happy to accept 100 grams of weight gain if there are significant performance differences but…
Transitions
The F1 LT requires 3 motions to transition between ascent and descent: flip the walk mode, buckle or unbuckle the hook and loop / cam strap, and then loosen / tighten the top hook and loop strap. This can be done quickly but that top strap usually requires me to take off my gloves because it's kind of hard to grab. The F1 LT is far from slow on the transitions but when you compare it to the simple single-motion transition of the Alien RS, it feels a little slow and cumbersome.
Downhill Performance
The past three days of touring I've gone out with an Alien RS on one foot and the F1 LT on the other. On the ascent, they feel exactly the same as long as I completely loosen the straps on the F1 LT. Once strapped in and transitioned into descent mode on the top of the run, there is a very subtle feeling of increased cuff height on the F1 LT, but once I start skiing, the difference essentially vanishes. On all types of snow (pow, dust on crust, icy crust, groomed cat track) and on multiple skis (106-120 mm wide) I could not tell any significant difference between the two boots on my feet.
So, I'm convinced that if you already have a pair of Alien RS and like them, just keep skiing them. And if you can still find a pair of the Alien RS in your size, I'd say buy them. If you can't find the Alien RS, the F1 LT is still an excellent, class-leading boot with almost identical performance on the up and down.
Who's It For?
I've had a lot of conversations about these boots over the past couple of years and I really wish more people were able to try them. As I've said many times, for the majority of the backcountry skiing I've done in my life, these really are enough boot for the descent while providing an incredibly light and comfortable experience on the ascent. There are definitely days every season during which I take out my Zero G Tour Pro for bigger lines and higher-consequence terrain here in Alaska, but generally, I'm pretty happy to keep skiing my F1 LT. The more my touring plan leans toward mellow terrain (higher avalanche hazard, for example), lots of laps, or long approaches, the more likely I am to grab the F1 LT. It's true that I can't ski quite as fast and I definitely don't feel as confident on airs, but I've been consistently surprised how capable they are.
Skiers who put the utmost priority on the most alpine-boot-like performance possible at all times and are unwilling to try something softer will want to look elsewhere (and the good news is you have lots of options; see our Winter Buyer's Guide). Skiers who are looking for ways to decrease weight and increase comfort and ease on the ascent and don't mind a softer boot with a more abrupt (less progressive) flex pattern should definitely take a look at the F1 LT. Its abrupt forward flex and lack of suspension will take some getting used to. And I should also note that the majority of people I know who use these as a more all-round touring boot are technically strong skiers who tend to be well balanced over their skis without a lot of time spent too far fore or aft on their skis. So especially if you're coming from stiffer, heavier boots and/or are a less technically proficient skier, a boot like the F1 LT will require some sort of an adjustment period.
But I think anyone who spends a lot of time ski touring should try a pair of the F1 LT if they can. I think a lot of people will be pleasantly surprised how well they work! And I suspect and hope that we're going to continue to see other boots in this category because I think that, ultimately, a lot of skiers will find themselves enjoying boots like this.
Bottom Line
The Scarpa F1 LT continues to impress us because of its incredibly light weight, excellent range of motion and uphill comfort, and surprising performance on the descent for a boot this light.