Boot: 2021-2022 Atomic Backland Carbon
Stated Flex: 110
Available Sizes: 24-30.5
Stated Last (size 26.5): 98 mm (heat moldable)
Stated Range of Motion: 74°
Stated Forward Lean: 15° (adjustable to 13° and 17°)
Size Tested: 27.5
Stated Boot Sole Length (size 27.5): 298 mm
Blister's Measured Weight (size 27.5):
Shells, no Liners: 882 & 884 g
Liners, no Footbeds: 228 & 230 g
Shells + Liners = 1110 & 1114 g
Buckles: 1 micro-adjustable upper buckle + BOA closure
Powerstrap: 40 mm cam-style
Shell Material:
Cuff: Carbon Fiber
Shoe / Clog: "Carbon-Loaded Polyamide"
Soles: full-rubber, rockered, fixed
Binding Compatibility: tech bindings w/ pin toes and pin heels
Tech Fittings: yes
Test Location: Chugach Mountains, AK
Days Tested: ~7
[Note: Our review was conducted on the 19/20 Backland Carbon, which returns unchanged for 20/21 and 21/22, apart from graphics.]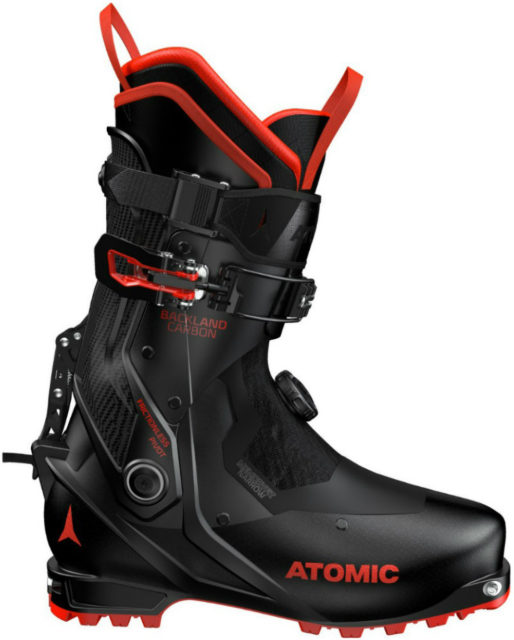 Intro
For the 19/20 season, Atomic overhauled their line of lightweight touring boots — the Backland series.
Serving as the more uphill-oriented complement to their hard-charging Hawx Ultra XTD series, the Backland boots slot into the class of very light touring boots with excellent uphill mobility, while reportedly still delivering enough stiffness and power to ski relatively hard in the backcountry.
I reviewed the previous Backland Carbon and came away quite impressed. But while that boot compared favorably to its competitors, it was a bit finicky with its removable tongues and I ended up making a lot of modifications to try to make it ski better (as I have done with many boots in this class). Well, Atomic seems like they've been listening to what people have been saying, and the updates to the new boot have us very excited.
I've now used the new Backland Carbon for many days in the Alaskan backcountry and you can check out my full review below, but first, let's take a closer look at the new design.
2019-2020 Atomic Backland Boot Lineup
The 19/20 Backland boot line consists of 7 boots. At the most uphill-oriented end of the spectrum is the Backland Ultimate, which Atomic markets as an "endurance touring boot" and some would call a skimo race boot, and that features a lower cuff (vs. the other Backland boots), ultralight Grilamid & carbon shell / cuff, and walk mechanism that's integrated into the cuff closure for quicker transitions. At the most downhill-oriented end of the spectrum is the boot we're reviewing, the Backland Carbon, which features a carbon-fiber cuff, carbon-reinforced shoe / clog, and a stated flex of 110.
For reference, here's a quick breakdown of the whole 19/20 Atomic Backland boot line. And if any of the talk about different plastics and constructions is confusing, we highly recommend listening to our GEAR:30 podcast with Atomic Ski Boots product manager, Matt Manser.
Backland Ultimate
Stated Weight (size 26.5): 750 g
Stated Flex: 70
Shell / Cuff Material: Grilamid & carbon-loaded Grilamid / carbon fiber
Backland Expert W
Stated Weight (size 26.5): 1160 g
Stated Flex: 85
Shell / Cuff Material: True Flex PU / True Flex PU
Backland Sport
Stated Weight (size 26.5): 1206 g
Stated Flex: 90
Shell / Cuff Material: True Flex PU / True Flex PU
Note: this budget-oriented boot retains the removable-tongue and non-BOA design of the previous Backland boots.
Backland Expert
Stated Weight (size 26.5): 1173 g
Stated Flex: 90
Shell / Cuff Material: True Flex PU / True Flex PU
Backland Pro W
Stated Weight (size 26.5): 1097 g
Stated Flex: 95
Shell / Cuff Material: polyamide / polyamide
Backland Pro
Stated Weight (size 26.5): 1102 g
Stated Flex: 100
Shell / Cuff Material: polyamide / polyamide
Backland Carbon
Stated Weight (size 26.5): 1094 g
Stated Flex: 110
Shell / Cuff Material: carbon-loaded polyamide / carbon fiber
Weight + Comparisons
The new Backland Carbon is a bit lighter than the old version, and it still slots right around the middle of the "lightweight touring boot" category in terms of weight; not as light as the very minimal Scarpa Alien RS, but not as heavy as the Salomon S/Lab X-Alp. And even compared to some of the lightest "freeride touring boots" like the Tecnica Zero G Tour Pro and Atomic Hawx Ultra XTD 130, the Backland Carbon is significantly lighter.
For reference, here are some of our measured weights for several boots in this class, and then two boots in the heavier, more downhill-oriented touring category. Keep in mind the size differences to try to keep things apples-to-apples.
988 & 991 Scarpa Alien RS, 28.0 (18/19–19/20)
1014 & 1023 Dynafit TLT Speedfit, 26.5 (18/19–19/20)
1064 & 1070 Fischer Travers Carbon, 27.5 (16/17–18/19)
1065 & 1069 Dynafit TLT 7 Performance, 28.5 (17/18–18/19)
1110 & 1114 Atomic Backland Carbon, 27.5 (19/20)
1167 & 1170 Atomic Backland Carbon, 27.5 (15/16–18/19)
1232 & 1232 Salomon S/Lab X-Alp, 27.5 (17/18–19/20)
1288 & 1286 Arc'teryx Procline Carbon Support, 27.5 (16/17–19/20)
~1310 (avg. weight) Scarpa F1, 28.0 (17/18–19/20)
1309 & 1311 Tecnica Zero G Tour Pro, 26.5 (18/19–19/20)
1406 & 1414 Atomic Hawx Ultra XTD 130, 26.5 (19/20)
Heat-Moldable Shell
Apart from the Backland Sport, all of the new Backland boots still feature Atomic's "Memory Fit" heat-moldable shells. Heat-moldable shells are fairly rare in the lightweight touring category, and this is something that sets apart the Backland boots from much of their competition.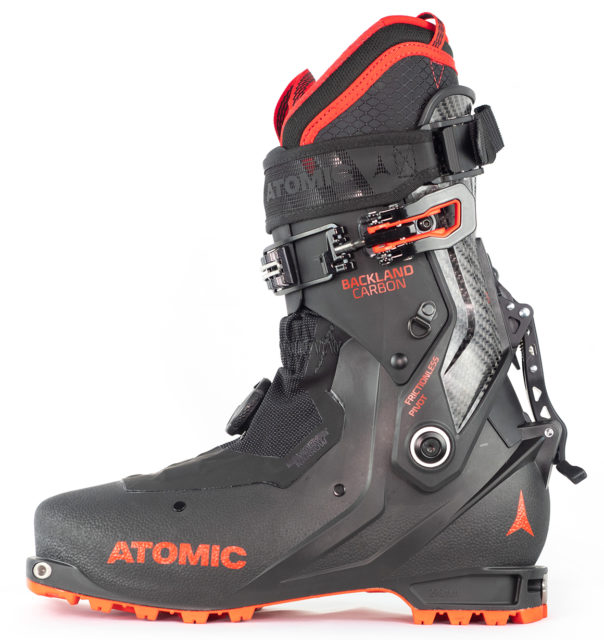 One notable update to the shells of the new Backland boots is that their cuff height has increased slightly, which is a plus since the old Backland boots' low cuffs didn't do a great job of transferring power evenly across your shins, particularly for larger skiers. This was a big reason why I decided to modify my Backland Carbons and swap the stock liner for a much taller Intuition Power Wrap liner. That said, the new Backland Carbon is still a bit shorter than most "freeride touring boots" like the Atomic Hawx Ultra XTD.
Liner
The liner in the Backland Carbon is pretty standard fare for a boot in this class. Its liner is quite thin, very pliable, and much less substantial compared to the liners in heavier touring boots. It has the standard "flex zone" near the Achilles area, minimal reinforcements around the back of the calf and the tongue area, and is fully heat-moldable.

To align with the slightly higher cuff height of the shell, the liner in the new Backland Carbon is also a bit taller than the previous version's liner.
The Backland Carbon's liner is also fully machine-washable, and it has a perforated sole that's meant to increase breathability.
Walk Mechanism & Range of Motion
The new Backland boots' "Free/Lock 4.0" walk mechanism is nearly identical to the previous versions. It's still fully external, comprised mostly of a big chunk of aluminum, and seems bomber, based on our experience with the old Backland Carbon and Atomic Hawx Ultra XTD boots, which use a walk mechanism that's essentially the same. According to Atomic, the difference between the Free/Lock 4.0 mechanism on the 19/20 Backland boots and the previous Free/Lock 2.0 system is the ability to change the forward lean on the 4.0 version without removing the walk mechanism and using a flip chip like the previous version. Instead of using a flip chip, you simply loosen two bolts with an Allen key and slide the walk mechanism up or down to adjust the forward lean. The Backland Carbon comes standard in the 15° forward lean setting, and you can adjust it to 13° or 17°.
The large bar on the back of the Backland boots has a hook that locks into a bar on the lower cuff of the boot, locking the cuff for ski mode and freeing up a claimed 74° range of motion in walk mode. It also has a small plastic / cord tab on the end to make it easy to grab.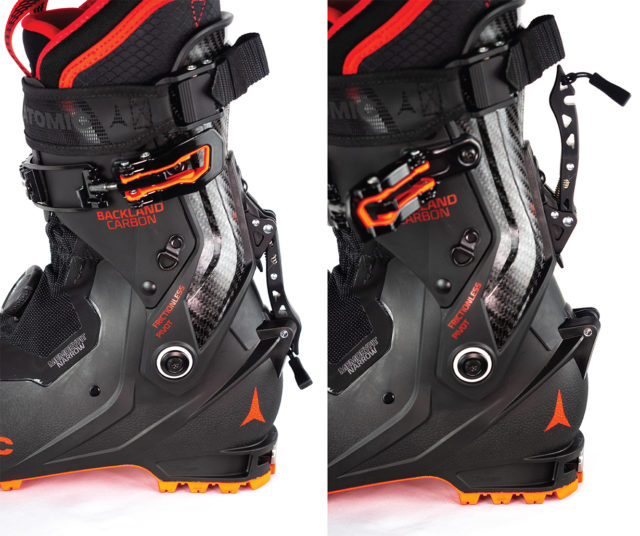 One key difference between the Backland Carbon and one of its most notable competitors, the Dynafit TLT8 Carbonio, is that the Backland Carbon's walk mechanism is not integrated into any of its buckles. Dynafit's "Ultra Lock" walk mechanism not only engages its cuff when in ski mode, but at the same time tightens down its upper buckle (and vice versa in walk mode). That system makes for even quicker transitions, though in past Ultra Lock Dynafit boots, we've had experiences with the walk mechanism disengaging during high-impact scenarios. So as always, there are tradeoffs to be made. With the Backland boots, Atomic seems to be opting to lose a bit of efficiency during transitions in exchange for a potentially stronger / more reliable ski mode. We'll see how that pans out on snow.
Buckles (or Lack Thereof)
As you probably noticed as soon as you looked at the new Backland boots, this is one of the other areas where the boots saw significant change. Instead of the buckle / cable system on the old Backland boots, the new versions have a single BOA dial closure. The BOA system is designed to accomplish the same goal as a traditional buckle (securing your instep and forefoot) but does so with a single dial adjustment and cable system that's hidden underneath the Backland's textile gaiter. Atomic says the switch to the BOA system was meant to make it easier to transition and make it more durable since the BOA dial over the instep is reportedly less prone to damage while scrambling (vs. the buckle on the side of the old boot).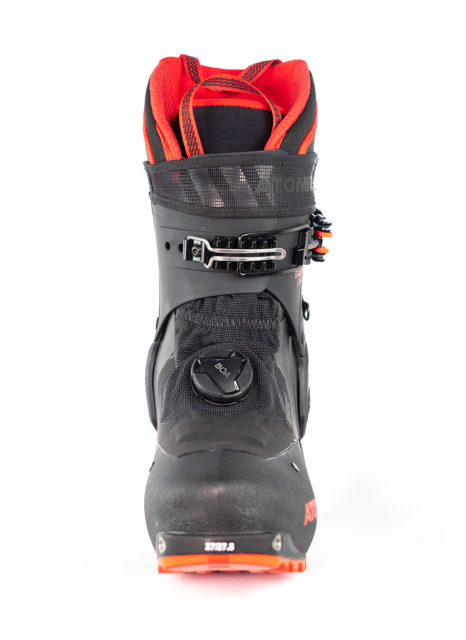 The new Backland boots' gaiter covers the instep and forefoot area and extends about halfway up the cuff to help keep out water and snow. It has magnetic tabs that are designed to connect it to the liner. Taking the liners in and out of the boot, that gaiter tends to get in the way (a slight annoyance with the old version, too). Though while messing with the boot indoors, the gaiter is barely noticeable once the liner is in the boot since its secured under the cuff of the boot. We're curious to see if that gaiter presents any issues in the backcountry.
What's really interesting here is the decision to ditch the old Backland's removable tongue. That tongue was where the old boot got most of its stiffness in ski mode, but Atomic is claiming that the 19/20 Backland Carbon still has the same 110 flex as the old version. Like the Scarpa Alien RS, the new Backland Carbon's stiffness in ski mode will come from the connection and rigidity of its cuff and lower shell, rather than a tongue. Atomic's Matt Manser said that the new Backland Carbon's max stiffness is identical to the Atomic Hawx Prime 110, but they aimed for a more progressive flex pattern with the new Backland Carbon (i.e., softer initially, but with a smooth ramp-up). The old Backland Carbon did not have a very progressive flex pattern, so this could be a big improvement. And just while flexing the boot indoors, the flex does feel quite progressive for a boot in this class.
Up top, the Backland Carbon has a single buckle that's similar to the Atomic Hawx Ultra XTD boots, in that it has a slider that lets you significantly loosen the buckle, even when it's still attached to the hooks on the boot's cuff.
These buckles can make for quicker transitions since you can flip the buckle open and get good range of motion without fully removing it from the hooks on the cuff, and therefore just need to close the buckle and tighten the power strap to secure it in ski mode. To keep the buckle on the hooks, even when the buckle is disengaged, there is a small metal latch (the silver bar shown above) that covers the buckle-latch / hook interface.
Power Strap
Another update: the new Backland Carbon now has a wider, 40 mm power strap, and this one has a cam-style ratchet, rather than the narrower, velcro-style power strap on the old version. Many of us have become fans of cam-style power straps on other boots, and the wider power strap on the new Backland Carbon seems like a sensible update, given how insubstantial the power strap was on the old version.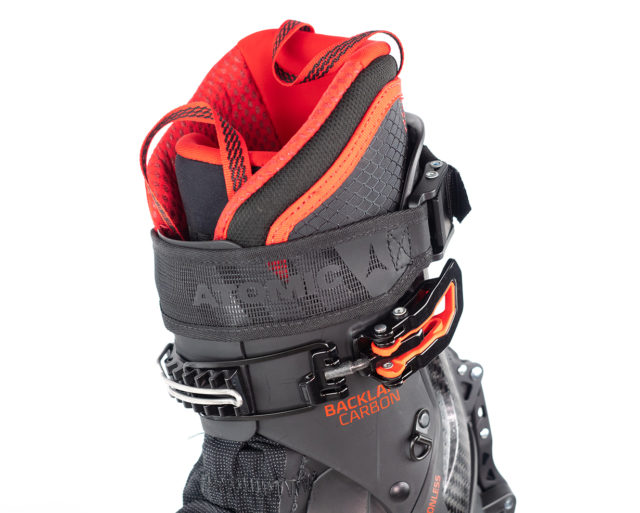 Like the power strap on the 19/20 Atomic Hawx Ultra XTD 130, the material on the 19/20 Backland Carbon's power strap is extremely thin, but its wider shape should still help it more effectively and evenly distribute pressure than the thinner strap on the old version.
Soles & Binding Compatibility
Not much change here — the 19/20 Backland Carbon still has a rockered, fixed, full-rubber sole. The tread looks basically identical to the old version's sole.
The 19/20 size 27.5 Backland Carbon has the same stated BSL (298 mm) as the old size 27.5 Backland Carbon. Like most boots in this category, the Backland Carbon's BSL is shorter than more downhill-oriented boots of the same size, which is in part due to the Backland Carbon's very short toe welt. This is meant to move the pivot point closer to your toes when skinning in tech bindings for a more efficient stride, and it also often equates to a more comfortable and natural walking experience when you're off your skis.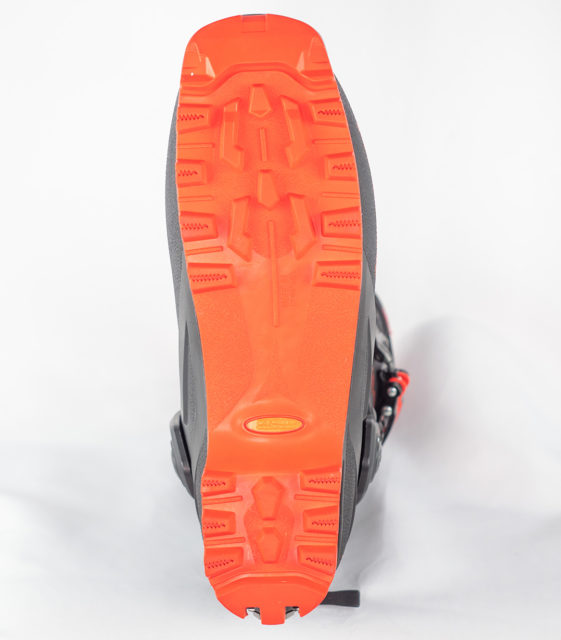 Fit
As always, buy your boots from a reputable bootfitter. Fit is by far the most important aspect of ski boots, and that's where you should start. With that said, here's my experience with the fit of the new Backland Carbon.
I've been told by experienced bootfitters that I have a low-volume heel and ankle, high instep, and medium-width forefoot. My most common problem area is my high instep followed by a frequent need for a 5th metatarsal or "6th toe" punch.
I struggled with the fit of the previous version of the Backland Carbon and found it to be a bit too low-volume throughout (for my feet) and often felt like I could have easily bumped up to the next size. The new 19/20 version fit we me well in my usual size (27.5) and I never had the thought that I'd need to bump up a size. The heel and ankle area are low-volume enough that I had very little movement both on the ascent and descent, but I think those with higher-volume ankles will probably still be okay with some heat molding. The forefoot similarly proved ample for my foot and I haven't felt the need for a punch or molding in that area. The new Backland Carbon's instep works pretty well for my high-instep foot since the BOA allows me to expand the fit in the upward direction. I have been able to find a comfortable-but-snug position, but I could see how those with a very low instep or very low-volume foot might struggle here. The BOA on the Backland Carbon really only changes the volume / shape of the boot in an up / down direction, and in terms of how tight you can get it, the BOA kind of maxes out level / even with the sides of the lower shell. As a result, those who would want to pull the sides of the boot inward or those with a very low instep might need to look elsewhere or add some shims on the boot board to suck up some volume. [Editor's Note: Reviewer Luke Koppa has a low instep and when he tried on the Backland Carbon, he was unable to get a very secure fit over his instep.]
It's worth noting here that the liner on the new Backland Carbon is overall much thicker and more padded than the original 15/16 Backland Carbon's liner. The new liner heat molds effectively and provides a nice balance of cushioning while still feeling reasonable firm and low volume in the right places for me. In the past, I have ultimately replaced many of the stock liners that come with this style of lightweight, 2-buckle touring boots but I will happily keep using the Backland Carbon's stock liner.
Some Questions / Things We're Curious About
(1) With no tongue, just how stiff will the new Backland Carbon be? We've found most of the boots in this weight class to perform very similarly on the downhill, so will the new Backland Carbon be similar, better, or worse than its competitors when headed downhill?
(2) While the old Backland Carbon was stiff for its weight, its flex pattern was not very progressive (i.e., kind of felt like hitting a "brick wall"). Without a stiff tongue, will the new Backland Carbon's flex be more progressive and / or offer better damping and suspension when skiing through variable snow and terrain?
(3) The new Backland Carbon has the same stated range of motion as the previous version (74°), but it should be quicker to transition due to its lack of a removable tongue. But will we notice any other upsides or downsides in terms of skinning, walking, and transitions?
(3) How effective is the BOA closure in terms of securing your instep and forefoot? And will we run into any durability issues while scrambling around in the new Backland Carbon?
Bottom Line (For Now)
With the 19/20 Backland Carbon, Atomic seems to have addressed many of the qualms we had with the old boot, and we're very excited to see how it compares to the boot it replaced — and numerous other boots in this category. Stay tuned for our full review.
Uphill Performance
In large part due to the combination of a comfortable, blister-free fit on my foot and a reasonably light total weight, the 19/20 Backland Carbon is a joy to tour in. I've found the range of motion (ROM) to be more than adequate for anything I did in these boots, including long approaches, the occasional short downclimb through rocky terrain, and long, steep skin tracks. The walk mode felt frictionless and the boots pretty much disappeared under me as I skied lap after lap of early season powder with a variety of skis.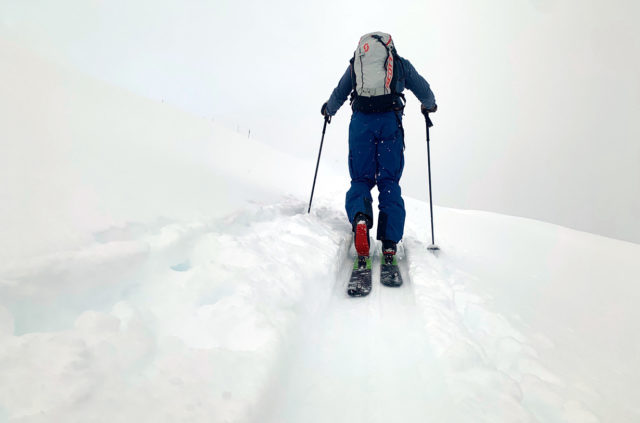 For those who have never enjoyed the touring comfort of one of the high-ROM, lightweight, 2-buckle touring boots, you're missing out. The short soles bring the pins closer to your toes, making for a more natural stride, and also make scrambling and walking around (without skis) much more comfortable. The Backland Carbon remains a great example of this. As an aside, I do a lot of driving in all kinds of ski boots (which I wouldn't recommend to others), and driving home from Turnagain pass in the Backland Carbon is almost the same as driving home in hiking boots.
Transitions with the new Backland Carbon are easier than with the older version of the boot, primarily because Atomic has done away with the removable tongue. I have owned quite a few pairs of boots with removable tongues and never minded it too much but I'm not sad to see that go away, at least from the perspective of transitions. The lack of a tongue is also really nice for flat sections on the way back to the car where I used to just deal with leaving it in but now can quickly flip the boot into walk mode and stroll across the flats more comfortably — even without transitioning the binding to walk mode.
I'll do some detailed comparisons in a Deep Dive comparison but for now, suffice to say that as nice as the Backland Carbon is on the up and on the transitions, it still feels a bit more finicky compared to some of the boots out there that allow you to lock the upper buckle and the walk / ski mechanism in one motion. A fairly subtle difference, but worth noting for those who've grown accustomed to the super quick transitions of boots with those types of buckle / walk mechanism layouts.
Warmth
Alaska has experienced some refreshingly cold temps over the last month and I've been out in Backland Carbon in some sub-zero Fahrenheit ( around -20°C) conditions a few times this year. I wondered if the liners, with their perforated soles, combined with the fairly thin Grilamid shell, would lead to colder feet in these conditions. I was pleasantly surprised to find that I stayed quite warm even on long (relative to our limited daylight, anyway) days of touring.
Downhill Performance
From the standpoint of pure forward-flex stiffness, the original Backland Carbon was one of the stiffest boots in that category that I've used. To that end, the shell and tongue were stiff enough that descending in them was uncomfortable for me in the super-thin stock liners that just didn't have enough padding to cushion the various edges of the shell when pushing hard in the boot. I ended up replacing the liners on my pair with Intuition wrap liners and added a Booster strap (both of which further stiffened the forward flex) to gain some added comfort around the cuff.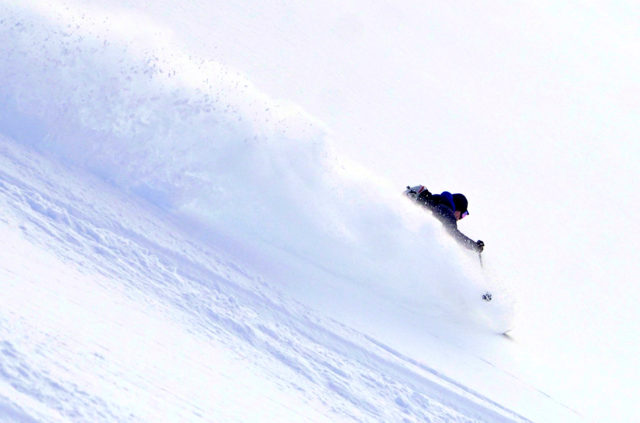 So, how does the 19/20 Backland Carbon stack up? In short, the new Backland Carbon doesn't quite match the max stiffness of the old version, but the new boot's flex is more progressive and the boot, right out of the box, is far more comfortable — especially on firmer and bumpier snow. The new Backland Carbon's flex starts pretty linear (i.e., easy to flex with little ramp-up), but as you go deeper, it ramps up nicely. There's no hard "wall" like on the previous Backland Carbon, though it's certainly possible for a bigger skier to push right through the boot to the point where you feel like you're getting too far forward (as is the case with most boots in this class).
At 190 lbs (without any gear or outerwear) and 6' tall and on 116mm-wide skis, I was able to ski the new Backland Carbon in most terrain and snow conditions that I encountered without any difficulty. The Backland Carbon provides substantial lateral stiffness and in low-density, consistent, boot-top pow, I could ski just about as fast as I would on any other boot. As the snow became more variable, deeper, or denser, I definitely had to pay more attention to my fore / aft balance and couldn't lean into the front when things got weird as I can do on stiffer, heavier boots.
With skinnier skis and firmer, more consistent snow, the new Backland Carbon provides plenty of power for carving and skidding turns. It's certainly not in the realm of the (much heavier) Dynafit Hoji Free or Scarpa Maestrale XT that I've also been skiing lately, but the Backland Carbon will handle these conditions without much difficulty.
I'll soon do a Deep Dive with specific comparison to other boots in this category including the Scarpa Alien RS, which I consider the current category leader in both uphill and downhill performance. Stay tuned for that!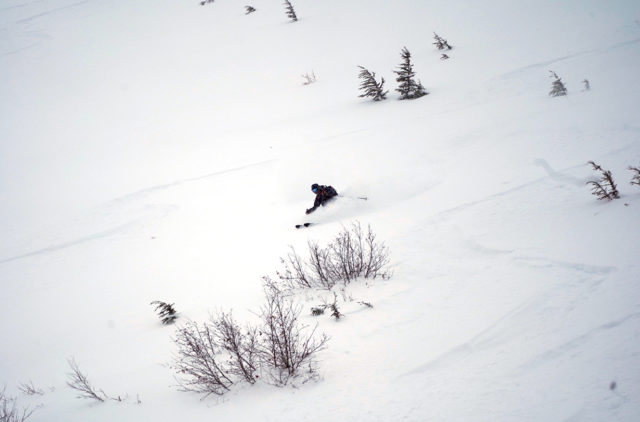 For now, suffice it to say that the Backland Carbon is a very respectable offering in the lightweight, 2-buckle category that can handle bigger skis and skiers and steep terrain. It is definitely not a "freeride" boot that allows you to ski as you would inbounds (again, as is the case with all the boots I've used that are this light). But for the vast majority of ski-touring scenarios, I think boots like the Backland Carbon are a great choice because they shave a ton of weight compared to stiffer boots and offer ridiculously comfortable uphill performance. They just require an awareness of your gear and dialing it back at times when things get more variable, fast, and challenging.
Durability
The usual concerns for boots in this category like thin rubber soles, fairly thin plastic, and more delicate hardware apply to this boot as much as they do any other light "2-buckle" touring boot. I've been skeptical of the BOA system since I first used it on the Scarpa F1 Evo, but so far I've skied many days on at least 3 different BOA boots with zero issues. I'm told that BOA is also fairly easy to replace if needed, but haven't tested that myself.
I did have an issue with one of the buckles on the Atomic Backland Carbon on the last run of my day on one of the cold-weather touring days mentioned above. It looks like a small metal piece broke off the buckle assembly either while I was skinning back up or (more likely) while I was flipping into ski mode. I didn't notice any clicks or pops but just looked down and noticed part of the buckle hanging loosely off the boot, disconnected from the rest of the buckle. I'm sure it's an easy replacement and Atomic said it would definitely be covered under warranty, but worth noting.
Who's It For?
The new Backland Carbon is a great choice as a dedicated ski-touring boot for those who prioritize comfort, low weight, and efficiency on the ascent but who still want just enough stiffness and downhill performance to be able to drive most skis in most conditions.
As I noted above, if you want to ski in the backcountry just like you do in the resort, you should check out heavier options (there are tons of great options in our 19/20 Winter Buyer's Guide). But if you prioritize uphill performance and don't mind dialing back your skiing when conditions are challenging, the Backland Carbon is another great addition to this class of lightweight boots.
Bottom Line
Personally, I still believe that the 1000-1200 gram, 2-buckle touring boot is likely the best choice for most skiers in most backcountry skiing scenarios. They save a ton of weight, are super comfortable on the ascent, and can ski the terrain and conditions that most of us encounter on purely human-powered ski days. The new Atomic Backland Carbon is a great example of this kind of boot, it compares very favorably to the other boots in its class, and if it fits your foot, it's definitely worth a try.