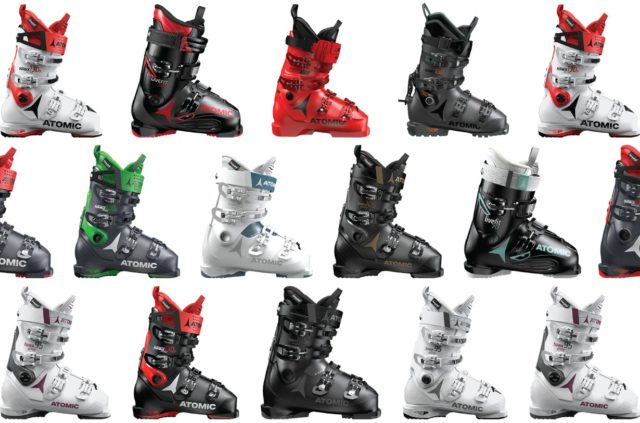 Intro
Over the next two weeks, we are about to go very deep into the world of ski boots. Here In part 1, we're going to be talking about the different plastics used to make ski boots. And next week in part 2, we'll wade into the weird, and very murky waters of flex patterns.
Check out our GEAR:30 episode with Atomic Ski Boots product manager, Matt Manser, and use the (very helpful) detailed notes below as a reference and guide.
Note: For more on Matt's background, check out episode #61 of the Blister Podcast.
TOPICS & TIMES:
What has been the focus of your recent work in ski boots? (2:10)
The 3 main families of plastics: PP, PU, and PA (6:57)
"PP" — Polypropylene (11:15)
How recycled plastics are used in the production process (19:18)
"PU" — Polyurethane (23:06)
Low-grade PU: Recycled PU (26:53)
Mid-grade PU: PU-Ester (27:53)
High-grade PU: PU-Ether (31:33)
Colors: how they affect plastics' performance (33:44)
What is Desmopan? (38:32)
"True Flex" PU — Atomic's proprietary PU (44:26)
How to make a lightweight boot out of heavy materials (49:40)
"PA" — Polyamide (53:58)
How to verify which plastics your boot is made of (1:00:24)
OTHER EPISODES IN THIS SERIES:
EXPANDED NOTES: SKI BOOT PLASTICS
Ski boots are made of plastic, and different plastics feel and perform very differently from one another. So knowing (A) which plastics are used in your ski boots, and (B) their pros and cons and general performance characteristics — will help you understand why you like or dislike your current boots, and what you ought to be looking for in your next pair of (typically quite expensive) ski boots.
It's also a way for savvy consumers to keep manufacturers honest and to verify that the manufacturer's claims about the types of plastic they used … are, in fact, true.
Each component of a boot can be made of different types of plastics, so be sure to check each of the injected parts (like the lower shell, the cuff, and the grip pad).
To tell what type of plastic a component is, look for a stamp with abbreviations (like PP, PU, PA) and an arrow will indicate which it is.
Furthermore, knowing which plastics were used in a given boot is very useful thing for boot fitters to know before working on a boot, so they will know before they start heating, punching, etc. how a particular boot will respond to the fitting process.
Important Characteristics of Different Plastics:
Durability: Different plastics are more or less resistant to scratches and chips from use. Durability also is a major factor in boot fitting, because certain plastics behave differently when heated, ground, or punched.
Weight: That is, the weight of a particular plastic per volume. Specific weight plays a major role in the overall weight of a boot, along with how thick the walls of a boot are designed to be — which is another factor that's affected by the plastic type.
Temperature Stability: How similarly or differently the plastic behaves and feels at warm air temperatures (e.g., inside, or on very warm days on the mountain) vs. cold air temperatures.
Color: This includes both the "natural" color of the plastic (e.g., clear, opaque, white, black, etc.), and also how receptive the plastic is to dyes — which affects what designs and styles are possible when using a particular plastic.
Cost: The range of costs of various plastics is massive, and plays a major role in the development, the design, and the price of different boot models.
Overview of Plastics (ordered roughly from less expensive to more expensive):
Polypropylene (PP):

Generally the least expensive plastic
Atomic primarily uses PP in their kids' boots or price point products
General Pros: PP is affordable, lightweight, and temperature stable
General Cons: Not durable, not progressive, and not easily fitted, because it can deform under a heat gun or melt during grinding

Polyurethane (PU):

Represents a step up in performance from PP plastics
Most adult alpine ski boots are made from PU plastics — but there is a wide range of PU plastics used for ski boots, from low-end to high-end.
General Pros: Produces a "progressive" flex pattern. Good durability. Easily fitted, and can be melted back down and reused.
General Cons: Heavy, less temperature stable, and can be very expensive
Low-Tier: Recycled PU

Atomic chops up and reuses their PUs to upcycle into entry-level adult boots in order to reduce waste during the production process
Pros: General performance benefits of PU, more environmentally conscious, and cost-effective
Cons: Limited stiffness, and can only come in a black colorway

Mid-Tier: PU-Ester

Often misleadingly represented by ski boot companies as "PEs" — but shouldn't be confused with Polyethylene, which fall under the "PP" category
Often used for mid- to high-end boots, like junior race boots
Pros: Progressive flex, durable, easily fitted
Cons: Doesn't have the "ideal" rebound and damping of more expensive PUs

High-Tier: PU-Ether

The Gold Standard. PU-Ether is used in World Cup race boots.
Pros: Progressive flex, durable, easily fitted, easily colored, can have a range of rebound speeds
Cons: Expensive, heavy, not temperature stable

Atomic's proprietary "True Flex" PU

Used in Hawx Ultra, Hawx Prime 120, Hawx Prime 130, Hawx Ultra XTD 120, Hawx Ultra XTD 100
Pros: Highly temperature stable, allows for lightweight designs, very moldable
Cons: Expensive, relatively heavy (but can be shaped into thin walls), not easily colored.

Polyamide (PA):

Used in touring boots
Grilamid: a commonly used, specific brand of "PA", but not all PAs are Grilamid. (E.g., "Kleenex" is a brand of tissue, but not all tissue is "Kleenex")
Pebax: (while not technically / chemically a PA) can be grouped in this category and can sometimes have issues with punching
General Pros: Lightweight, durable, easily fitted, progressive flex (but the flex pattern tends to be 'springy'), temperature stable
General Cons: PA is the most expensive plastic, and it's difficult to color