TOPICS & TIMES:
Flex Patterns & All the Feels (4:13)
"Progressive" vs. "Linear" flex patterns (5:10)
The mess that is Flex Ratings (13:13)
How Atomic arrives at their own flex ratings (17:24)
How brands make a "110" vs. "120" vs. "130" etc. (27:34)
Colorways & Geopolitics (34:20)
Why a standardized flex rating probably won't happen (35:55)
The damping / "suspension" of a boot (42:32)
Weight & Damping (47:04)
Next areas of innovation for Atomic boots? (55:08)
In today's episode we are bringing you part 2 of my conversation with Matt Manser, the product manager of Atomic Ski Boots. If you haven't already listened to Part 1, you should do that first, because it is definitely relevant to this episode's discussion about the flex patterns of ski boots.
Here in Part 2, we talk about the messy world of flex ratings; progressive vs. linear flex patterns, and the sometimes kinda shady seeming differences between a brand's 110 and 120 rated boot, or their 120 and 130. We also talk about how Atomic arrives at their own flex ratings, issues of weight and damping, and we touch on the next areas of innovation that Atomic is focused on.
But our work here is not yet done. So we are going to be doing a Part 3 with Matt, and we invite you to submit some other questions you have below, and we'll address some of them in our next conversation.
Also, if you are enjoying these discussions about materials and plastics, then you have to go check out our latest episode of our new bike podcast, Bikes & Big Ideas. I was just in Denver earlier this week sitting down with the founders, chief engineer, and director of composites of Guerrilla Gravity, and while their name might sound like they are some garage band, these guys are working on some cutting-edge stuff in the world of materials and manufacturing, and they are the only bike manufacturers using what I'm now calling carbon 2.0.
OTHER EPISODES IN THIS SERIES:
Part 2: FLEX PATTERNS
SKI BOOTS & FLEX RATINGS
When you go to buy a ski boot, you will often find that the boot is said to have a flex rating of "100" or "110," etc. and these ratings generally range from around "70" (this would be a very soft-flexing ski boot for adults — kid's ski boots will sometimes be listed around "40") all the way up to "170" or so, which would represent an extremely stiff and powerful World Cup race boot.
But here's the thing: these stated flex ratings are not tied to any specific measurement. This is important, because it means that there is no universal standard for flex ratings. A "130" from Company X can — and will — be different than a 130 from Company Y.
Flex ratings are determined by each manufacturer to rank the boots within their own line, usually by stiffness and definitely by price point. So be wary, because sometimes a company will simply change a ski boot liner or attach a slightly different power strap, then give the boot a higher flex rating — which usually goes hand in hand with a price increase.
WHY ISN'T THERE A UNIVERSAL STANDARD FOR FLEX RATINGS?
First, brands would potentially oppose any standard, because it could be costly. It's extremely expensive to create a boot mold, so for a model to ultimately miss the rating it was intended to achieve could throw off the whole line and be financially disastrous for a brand.
Second, flex patterns are partially determined by the foot that the boot is designed to receive, which isn't easily standardized.
Third, it would likely require that all boots of a certain flex rating have similar general constructions and shapes in order to be comparable, which would cause brands to align and be quite similar to each other. So, the standardization process could potentially slow down innovation.
HOW DOES ATOMIC MEASURE FLEX RATINGS?
When starting to design a boot, they tend to start with the 130. They then purchase the 130 boots from all relevant competitors, and measure each of their flex patterns. They measure them using in-store and field tests, as well as a custom-built robot (below is a graph of flex pattern data collected from a single boot design).
Having ranked the competitors, they then aim for their boot to land in the middle, in order to be the "average" stiffness among the 130 boots out there.
After experimenting with materials and design and arriving at the desired stiffness, they create the less stiff (120, 110, 100, etc.) models by blending in percentages of softer materials.
'PROGRESSIVE' FLEX PATTERNS VS. 'LINEAR' FLEX PATTERNS
When a boot is said to have a "progressive" flex pattern, this means that the more you lean into it and the deeper that boot moves into its flex pattern or 'travel,' the stiffer it gets — just like the suspension on a mountain bike fork that gets progressively stiffer the deeper it gets into its travel.
(Conversely, coil shocks on a mountain bike generally have a more linear design.)
The chart below shows a progressive flex, in that as the angle increases, the rate of torque increases, showing a curved line (instead of a straight — or "linear" — one). This helps more efficiently transmit energy from you to the ski. A more linear flex will cause you to work harder.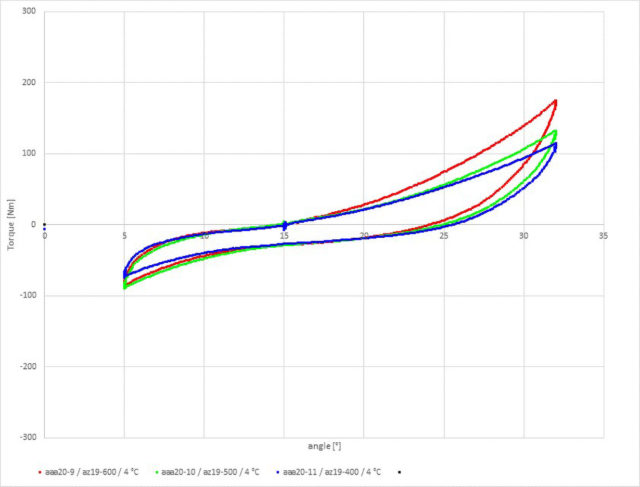 As for "linear" flex patterns in ski boots … it is doubtful that any ski boots out there have a truly linear flex pattern. I.e., some boots will be easier to flex than others right off the bat, and some will be stiffer / harder to flex at the start. But virtually all ski boots on the market will ramp up in stiffness — to some degree — as the boot moves deeper into its travel; some boots just ramp up less — or less quickly — than others.
SOME DETERMINING FACTORS OF A SKI BOOT'S FLEX PATTERN
The materials used. Some plastics are harder or produce more rebound than others, though they can be blended to achieve precise levels of stiffness. Also, based on how hard they are and how they behave when poured, certain plastics are also capable of forming different structures / designs.
The design of the boot. How thick or thin the walls of the plastic are in certain locations plays a very big role.
Your foot. This is an often overlooked factor. How much volume of the ski boot a person's foot takes up will affect leverage and ultimately how stiff or soft a ski boot feels. Generally speaking, the less volume of a ski boot your foot takes up, the softer the boot is going to feel.
There are some other factors that we will be discussing with Matt in our upcoming "Part 3" episode.