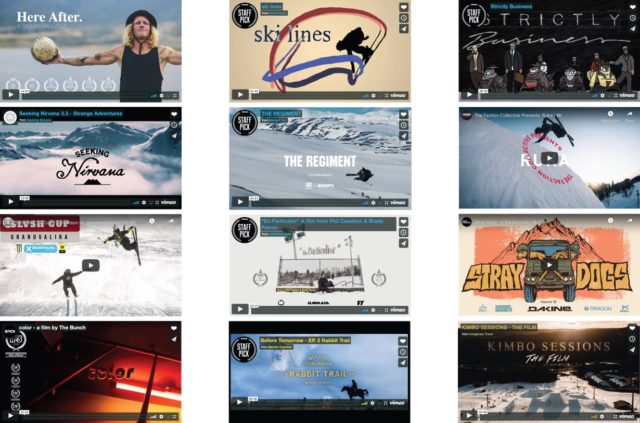 It's summer in the Northern Hemisphere, which means many of us are reminiscing on the past ski season in order to get excited about the next one. And as it turns out, there were a lot of highlights in the ski world during the past ~9 months, so I've compiled a few of my (totally subjective) favorite edits and films from the 18/19 season.
There's something for everyone here — from consequential big-mountain lines to the ridiculous creativity, tech, and style we're currently seeing in the park and urban scene. Check them out below during your lunch break, or just when your boss isn't looking…
And please let me know what I missed, because this was a pretty packed season and I could always use an excuse to watch some more skiing.
A two-year project from Henrik Harlaut. I think that's all I really need to say…
Gavin Rudy provided us with a unique break from traditional edits with this animated short, and it even includes a cameo by our very own Scott Nelson.
Just like The Regiment, this one doesn't need much explanation. Enjoy a full season of Ski Boss shredding around Montana, California, Sweden, and Alaska.
One of the best indie ski films I've seen, Strictly Business gives us professional-studio-level quality (in terms of both cinematography and skiing) without losing the camaraderie and casual feel of your typical ski edit.
There's something about the Ruka park that just produces ridiculous skiing. Combine that park setup with Etienne Mérel's editing and filming, throw in some of the best park skiers in the game, and you've got a great example of the forefront of creativity and tech in the park world.
Speaking of creativity, The Bunch never disappoints in that department, and their recent film exemplifies this. While they may be polarizing, there's no denying that The Bunch continue to make themselves stand out from the endless stream of skiing content, and I think color is well worth a watch.
Greatness doesn't come easy, especially for Phil Casabon. Continually proving himself to be one of the best urban skiers ever, Phil Casabon's En Particulier does a better job than almost any other video of showing the raw, passionate, and often brutal aspects of urban skiing and how hard Phil works to get the mind-blowing shots that he does.
If anyone asks me about the current status of freestyle skiing, I just show them videos from Kimbo Sessions. For the past few years, Kim Boberg has brought together at the end of the season dozens of the best freestyle skiers in the world, with the crew including revered veterans, talented newcomers, and plenty of filmers. It's an event unlike any other, and they finally produced a full film that documents the background of the event and includes tons of the crazy clips that Kimbo Sessions has produced over the years.
Seeking Nirvana is one of my favorite series of this past decade, and this episode documents the crew's past, present, and future — and it includes some awesome new footage from their trip to Norway.
Big lines and big tricks from some of the best backcountry-freestyle skiers, Karl Fostvedt and Lucas Wachs.
There were some amazing SLVSH games this year, but this one was easily my favorite. We got a veteran with a unique set of tricks and wacky grabs (Vincent Gagnier) going up against one of the most well-rounded park skiers in the game (Colby Stevenson), and they did not disappoint. It's not often that two skiers with this different of styles actually compete this well with each other, but Vinnie and Colby put on a show for us in this game.