With the majority of the world confined to our homes in an effort to decrease the spread of the coronavirus, many of us are spending a lot of our time in front of a TV or computer. Personally, I think I've exhausted every streaming service available, which means I'm now scouring the internet for new stuff to watch and just re-watching (and re-watching and re-watching…) some of my all-time favorites.
So here I've rounded up a bunch of ski & snowboard videos, from recent releases to classics, and everything from goofy edits to bring some fun to this weird time, relaxing pieces that'll make you forget about life for a while, to gnarly films to make your palms sweat and get you stoked to get outside as soon as it's an option.
As I get deeper into the dark depths of the internet, I'll update this post with some more favorites. And as always — and particularly now — let us know what you've been watching. I'm sure we could all use it.
Katie Burrell is easily one of the funniest people in the snowsports industry, and her and Colleen Gentemann's film, "Dream Job" is sure to get at least a few laughs. It follows Katie as she tags along with pro skiers / guides, Leah Evans, Christina Lustenberger, and Diny Harrison, to figure out just how easy it is to become a pro skier (spoiler alert, it's not easy).
Katie & Colleen are also working on some new projects after following around the Freeride World Tour this year, and I couldn't be more excited. Oh, and Katie is definitely worth a follow on Instagram and Twitter.
About as classic as it gets. Most people are familiar with the game of G.N.A.R., but if you haven't seen the film about it, you need to watch it. Like, right now.
Robb Gaffney is also still fighting bone marrow cancer and there's still a GoFundMe campaign open with all proceeds going to his family, so if you want to donate, here's a link.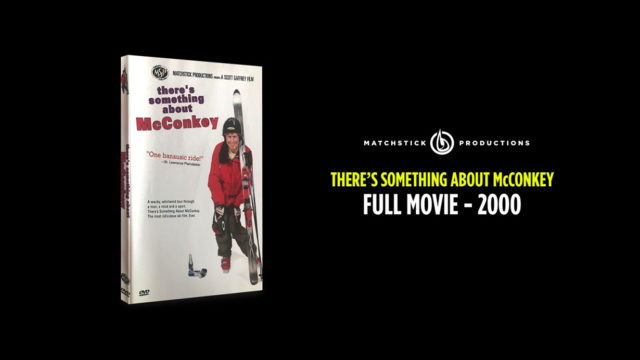 Matchstick recently put this classic film up on their site for free, so if you're like me and never got your hands on a copy, now's a great time to give it a watch. It's 45 minutes of fantastic McConkey footage, and while there's plenty of his amazing skiing and stunts, there is, of course, plenty of tomfoolery thrown in (go to ~16:00 for the Saucer Boy segment).
And Matchstick has a ton of their older films on their site for free, which makes for a great way to spend an entire day in front of your TV.
"soft" is just a really nice, pleasant, well-edited and well-shot film. It follows Christian Haller and friends around the world, focusing less on gnarly lines and massive tricks and more on what most of us love about snowsports — just riding with your friends.
We've already discussed this many times, but Eric Pollard's "Drawn From Here" is amazing and you should watch it right now if you haven't, or just keep re-watching it until you can leave your house.
DPS Cinematic's entire "Shadow Campaign" series is excellent, and "The Weight of Winter" is one of my favorites. Deep snow, great filming, and set to Alex Ebert's "Truth."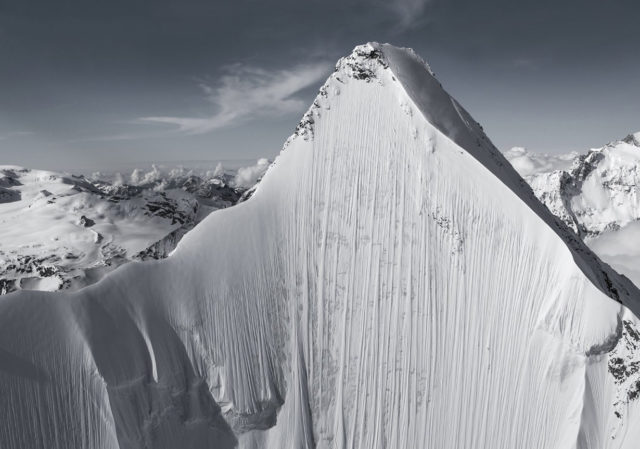 Yeah, I know we've mentioned this a bunch across our site, but it's still one of the most awe-inspiring ski movies I've ever seen. Sparks Notes: Jeremie Heitz skis stupid fast down stupid-steep faces. Click here to watch the whole film.
Like "La Liste," this film is sure to get your palms sweaty. Skier Sam Favret and snowboarder Julien Herry take you around the Mont Blanc Massif, riding incredibly steep and consequential lines. Oh, and Sam does a lot of them on one of the best skis ever, the Rossignol Black Ops 118…
Once one of the best freestyle skiers in the world, Simon Dumont took an abrupt and extended hiatus from skiing for many years. Then, out of nowhere, he got back on skis this season and met up with Tom Wallisch to put out an absolute banger of a park edit, full of classic tricks and plenty of afterbang.
Cody has released several episodes from his Fifty Project since we last posted a video roundup, so there's plenty to catch up on if you haven't been following it closely. I really like the most recent episode, where Cody gives an in-depth look at their decision-making process while attempting all of these iconic lines, and then the Mt. Shuksan episode is another recent favorite of mine.
David Golay: While most of the 2020 mountain biking calendar is unfortunately on hold, Darkfest 2020 managed to go down in February, and the highlights are well worth watching. Sam Reynolds and company have built an outrageous jump line in Stellenbosch, South Africa and it's only gotten more massive as the Fest has progressed. High winds put a bit of a damper on things this year, but there's still plenty of action with a bunch of heavy hitters in the freeride world – including Brendan Fairclough, Graham Agassiz, and Nico Vink – going absolutely huge.
David: We'll have to wait a bit for the World Cup DH series to resume, but the 2019 season left us with a lot of great action to revisit. Red Bull has a nice recap of some of the wildest runs of the year – shoutout to Nina Hoffmann for finishing her run in Vallnord missing a shoe – but my absolute favorite is Amaury Pierron's blistering, on the limit run to take the win in Les Gets.
David: I love this one for how well it captures the feel of a bunch of friends just messing around in the woods on bikes. There are lots of sketchy jumps, hucks to flat, crashing, and general tomfoolery, and while most of the riders are relatively unknown, some big names make appearances as well.
David: Transition released an updated version of their Scout earlier this year, and to go with it, put out a video of one of their employees, John Richardson, taking the new bike out for a spin – and playing the guitar rather well to boot. It's a quick one, but features some great riding and gorgeous scenery.
David: This one came out in January – which feels like about 8 years ago at this point – but it's well worth watching, even if you've already seen it. Danny's videos are great for capturing a whimsical, fun, ultra-creative approach to riding, and this one is no different. Danny puts a litany of gym equipment to use in unconventional ways, and the result is a ton of fun. It's impossible to not smile the whole way through this one.
Luke Koppa: While there is an over-abundance of vlogs out there, I love Cam McCaul's. And the "Slope-Duro-Cross Challenge" is easily my favorite. Cam and an absolutely stacked crew built an obstacle course / trail / accident-waiting-to-happen in his backyard in Bend, Oregon, and watching him and the rest of the crew try to race through it is amazing. You've got people getting sprayed with a hose, shotgunning beers for time reductions, kids throwing their first 3's on DH bikes, and even skier Sage Cattabriga-Alosa joining in.
Luke: When he wasn't competing on the DH circuit or at Rampage, Brendan Fairclough also filmed some excellent videos this year, and his "A Dog's Life Diaries" series gives a really interesting, behind-the-scenes look at what it takes to film and all the antics that go on between the shots. Episode 2 is probably my favorite, where he meets up with Vincent Tupin to rip down both trails and snow, and episode 3 with Amaury Pierron is also great.
Luke: Santa Cruz recently released their video from a trip to Chile back in February, where we get to watch Josh "Loosedog" Lewis, Iago Garay, Mitch Ropelato and Romain Paulhan leave no berm un-schralped. Seriously, I think Josh spends more time going sideways than going straight. One of my favorite bike edits in a while.
Luke: Shoutout to Joel for the suggestion — Nickolai Schirmer's 3-part "Endless Winter" series is both entertaining and inspiring, as he sets out to ski some seriously steep lines while also making a very conscious effort to reduce his carbon footprint. All three chapters of the series are well worth a watch.
Luke: This video has gone viral over the past week, but if you haven't seen it, it's awesome. Probably the most creative video I've seen come out of this pandemic, Philipp put together a quick minute-long, stop-motion video that's sure to put a smile on your face and maybe inspire you to get creative with your time at home.
Luke: Speaking of making the best of the worst, this video from 2014 is still one of my favorites. On the search for pow, the "Likebomb" crew found anything but that, but watching them ski super fast in awful conditions will always be entertaining.
Luke: Long before I moved to Crested Butte, I'd probably watched this segment a few dozen times. And now having spent a lot of time skiing in CB, it's awesome to look back and recognize every single spot in this video. Resort segments from major films are always interesting to me because it feels so much more relatable than some random, far-off backcountry zone and gets me excited to get back and try (and fail) to emulate the pros.
Luke: I very clearly remember watching Almost Ablaze at a premier in college and being absolutely blown away by Nick McNutt. This was back when he was still the "new kid" in the TGR crew, but he looked like he'd been filming for years.