The winner of our Gear Giveaway this week will get Zenbivy's extremely comfortable MotoBed sleep system!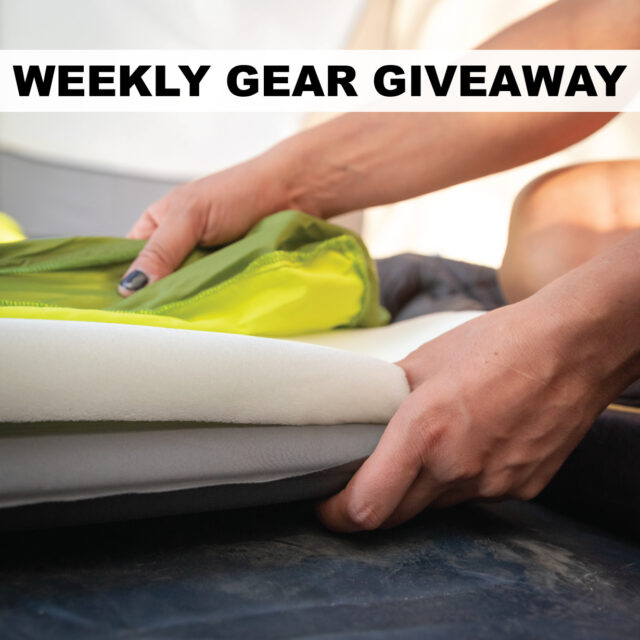 I have been using the Zenbivy Sleep System for over a year and I love how all the pieces work together. Their new MotoBed is similarly designed but it is specifically made for car camping — Zenbivy accurately describes it as an all-in-one bedroll. Set-up and breakdown are quick and easy since all you need to do is roll it out or roll it up, and the foam mattress "top" and thin, self-inflating air mattress "bottom" provide ample cushioning for a comfortable night's sleep.
The MotoBed is a sleep system that feels more like a bed than a standard camping mattress sleeping bag combo. The foam mattress topper and air mattress fit nicely into a washable sheet that's soft and more breathable than a standard nylon sleeping bag. And the rectangular comforter can be connected to the sheet for cold nights, or just draped on top when it's warmer. Another favorite design feature is the hood that's built into the sheet and fits a standard pillow (pillowcase included).
Enter before Friday, September 17th for your chance to win!
(Winners will be chosen at random and announced next Friday in our Blister Newsletter. Must be 18 or older. Winner will receive a size XL Zenbivy MotoBed. This particular giveaway is limited to residents of the U.S.)
By entering, you'll receive our bi-weekly Blister newsletter, where we'll (a) announce each week the winner of our previous Gear Giveaway, (b) provide a roundup of the news and our highest-profile reviews of the past few days, and (c) offer sneak peeks of the products we're currently reviewing. It's good times for sure, so don't miss out. You'll also be kept up to date on what's new at Zenbivy.