2022 Trek Session
Test Location: Washington
Test Duration: ~4 months
Wheel Size: 29'' (27.5'' and mixed 29''/27.5'' compatible)
Travel: 200 mm rear / 200 mm front
Frame Material: Aluminum
Blister's Measured Weight (Session 9; Size R3; w/o pedals): 37.2 lb / 16.9 kg
Build Overview (Session 9, as tested)
Fork: RockShox Boxxer Ultimate
Shock: RockShox Super Deluxe Ultimate DH
Drivetrain: SRAM X01 DH
Brakes: SRAM Code RSC
Wheels: Bontrager Line DH 30
Price:
Session Frameset: $2,999 [includes Fox DHX Performance shock]
Session 8: $4,999
Session 9 (tested): $6,999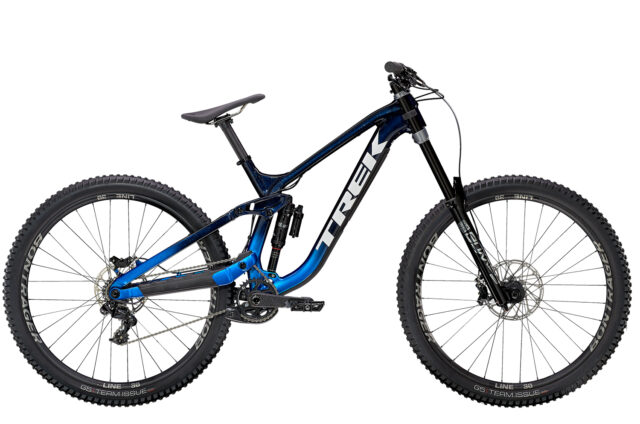 Intro
Reece Wilson won the 2020 UCI Downhill World Championship on board the Trek Session, but that success didn't stop them from making some big changes to the bike for 2021. Gone is the carbon fiber frame of old, and in its place is an all new, aluminum, high-pivot bike. As we talked about in Episode 54 of Bikes and Big Ideas, Trek's roster of downhill athletes is ridiculously stacked, and now it's time to check out the bike they'll all be piloting this season. I've spent the past few months on the new Session, and long story short, it's impressive.
The Frame
Despite the changes in frame material and suspension layout, the overall silhouette is still recognizably a Session. The biggest change is in the chainstays, which are now elevated to reach the much higher main pivot, and the drive-side houses an idler pulley to redirect the chain up and over the stay.
Trek's familiar ABP suspension layout — essentially a four-bar arrangement, with a pivot concentric to the dropout and a vertically oriented shock, driven by a rocker link — is still here. But in a major change for the Session, it's now configured as a high-pivot design with an idler pulley.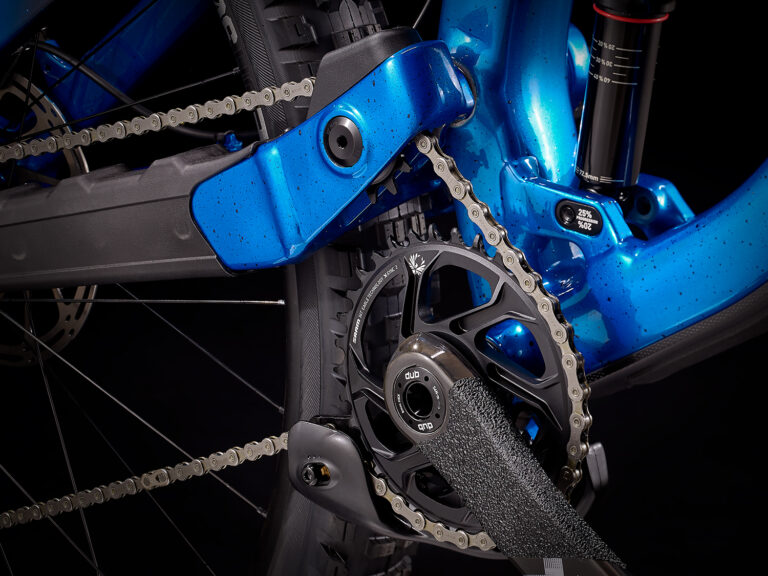 Or, more accurately, it's a change from recent Sessions — the Session 10, from way back in 2006, also featured a high-pivot layout. It's been a long time since we saw a Session with such a configuration, though, and it's interesting to see it return. High-pivot bikes are having a bit of a moment again, no doubt inspired in part by the success of the Commencal Supreme on the World Cup Downhill circuit, and it's interesting to see a manufacturer as big as Trek joining the fray, especially combined with their newly-loaded DH roster.
Trek's claims about the new high-pivot layout are pretty standard for these types of designs, and make a lot of sense on paper. The two main benefits that they tout are improved absorption of square-edged bumps, due to the more rearward axle path, and reduced pedal kickback, due to the reduction of chain growth from the idler pulley. Both should help the new bike carry speed and smooth out rough terrain better. Trek says the prior-generation Session had 15–27° of pedal kickback (depending on gear), whereas the new one has just 5–8°. The axle path of the new bike is stated to be 12–25 mm more rearward as well.
Unlike the prior-generation Session, the new bike is only available in aluminum. And while the outgoing model offered separate versions of the frame for 27.5'' and 29'' wheels, the 2021 Session is designed to accommodate both wheel sizes, as well as a mullet 29'' front / 27.5'' rear combination with a single frame.
Complete bikes come in 29'' only, and feature a flip chip (Trek calls it a "Mino Link") at the seatstay / rocker link pivot to toggle between two geometry settings, which we'll outline below. The Session can also be run in a mullet (29'' front / 27.5'' rear wheel) configuration in the high geometry setting, as well as a full 27.5'' setup with the high geometry setting and an external lower headset cup, which is included with the frame kit, and available separately for complete bikes. Rear tire clearance is stated at 2.6'' for both 27.5'' and 29'' wheels.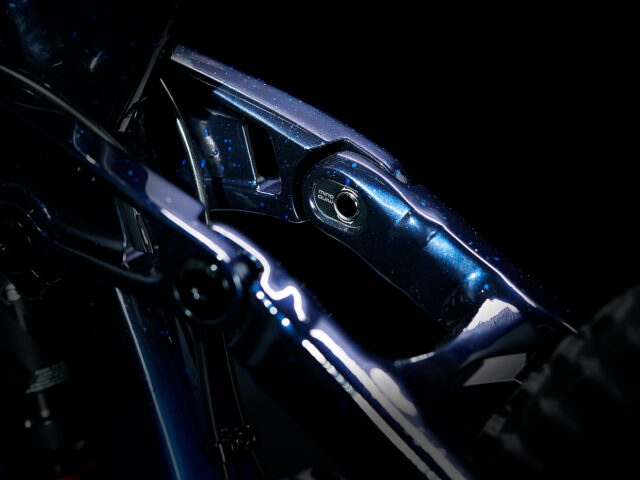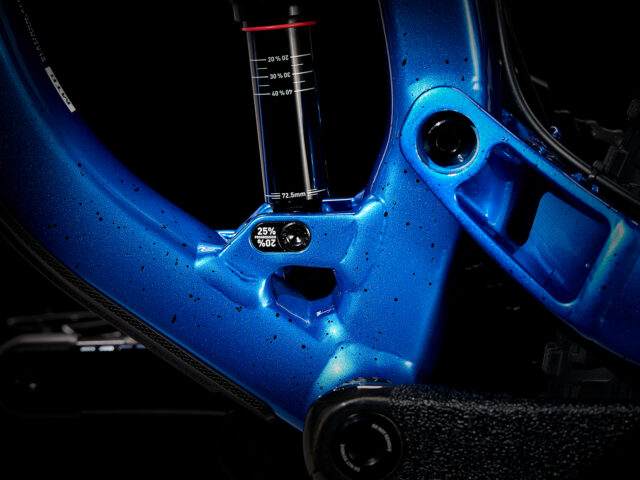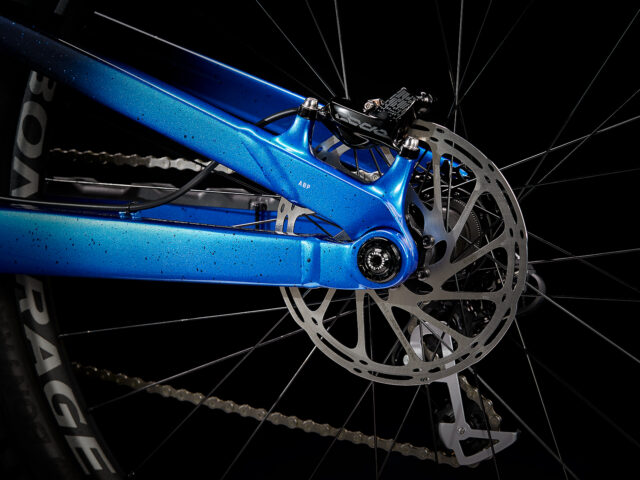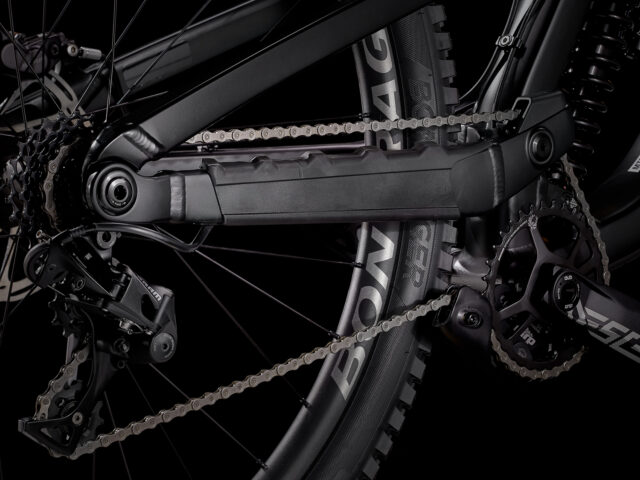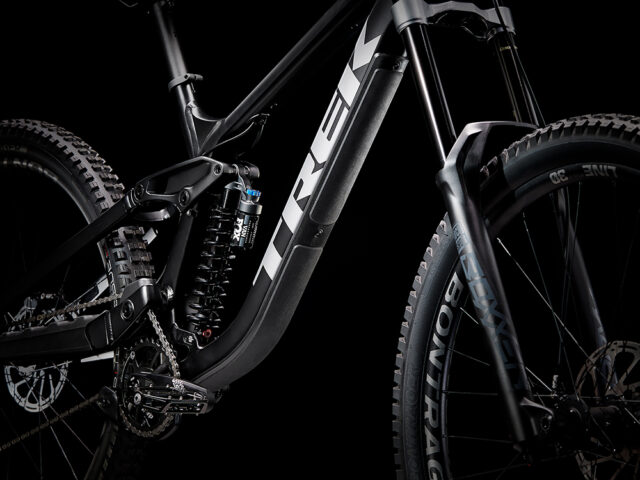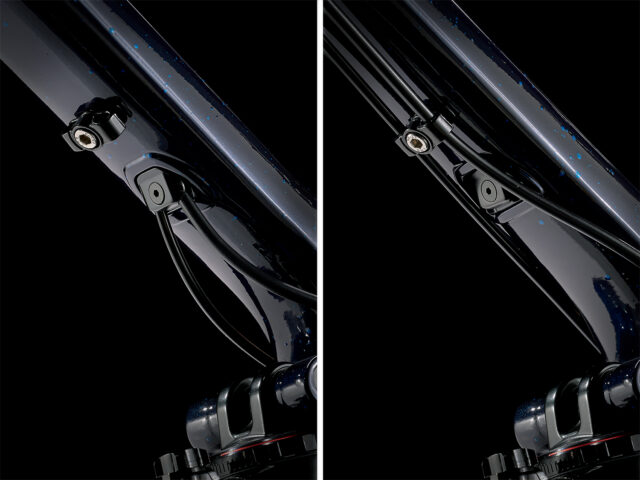 A second Mino Link at the lower shock mount toggles between two leverage curve settings for the rear suspension, which offer 20% and 25% of total progression. These settings are independent of the geometry Mino Link options, and both settings can be used in any of the wheel size configurations.
The 2021 Session also offers an unusual degree of flexibility when it comes to cable routing. Complete bikes will ship with both the brake and derailleur cables routed through the top tube, but a set of bolt-on cable guides are included if you'd prefer to run them externally, underneath the top tube. A threaded bottom bracket shell is another welcome, mechanic-friendly feature, and the lower two bosses of a standard set of ISCG '05 tabs are included — with the idler pulley, an upper chainguide won't fit. The idler does include its own, integrated chain guide, and removable dual-density rubber guards are included on the chainstay and downtube as well. The rear brake mount features post-mount tabs for a 180 mm rotor, and can be adapted up to a 220 mm option.
The Builds
Trek is offering the Session in two different build specs, the Session 8 and Session 9. The overview of both is as follows:
Session 8 ($4,999):
Fork: RockShox Boxxer Select
Shock: Fox VAN Performance
Drivetrain: SRAM GX DH
Brakes: SRAM Code R
Wheels: Bontrager Line DH 30
Session 9 ($6,999):
Fork: RockShox Boxxer Ultimate
Shock: RockShox Super Deluxe Ultimate DH
Drivetrain: SRAM X01 DH
Brakes: SRAM Code RSC
Wheels: Bontrager Line DH 30
Despite all the wheel size flexibility offered on the Session, both complete bikes come as full 29ers only. If you're interested in a mullet or full 27.5'' spec, you'll need to swap some parts out, or start from the frame-only option.
Fit and Geometry
Trek has moved to what they're calling "reach based sizing" on the new Session. In short, that means that they've decided to keep the seat mast short and the stack height consistent across the size range, and simply let riders pick how long they want the bike to be. There are three sizes on offer, labeled R1, R2, and R3, with 440, 465, and 493 mm reach numbers, respectively (29'' wheel configuration, low geometry position).
With the new Session, Trek has also chosen to join the growing ranks of brands that vary chainstay length by size. Again with the 29'' wheel, low-geometry setting, they range from 439 to 452 mm across the sizes, with the R2 getting 445 mm stays. The chainstay and seatstay parts themselves are the same for all three sizes, with the chainstay length variation coming by moving the bottom bracket shell relative to the pivot points on the front triangle. All three sizes get a 63° headtube angle and 22.5 mm bottom bracket drop in the low position. The high position steepens the headtube to 63.6°, and reduces the bottom bracket drop to 13.6–13.9 mm (varies slightly by size). The full geometry charts for the 29'', mullet, and 27.5'' configurations are all shown below.
The geometry of the mullet and 27.5'' configurations is quite close to that of the 29er setup, in the low position. Chainstay lengths shrink by a few mm, and headtube angle varies by a few tenths of a degree, but overall they're quite close. All of that adds up to wheelbases ranging from an already fairly long 1255 mm on the smallest R1 size, through a massive 1321 mm on the R3 (29'', low for both).
For the most part, this is all pretty standard for a modern Downhill bike — nothing jumps out as being far outside of the norms. The reach has grown by about 30 mm in a given size, compared to the outgoing bike, and the headtube angle is actually slightly steeper. Though reaches have trended somewhat longer, overall, DH bike geometry has been more stable in recent years than that of Trail and Enduro bikes, and Trek has stuck with the established recipe for a World-Cup-ready race bike.
Full Review
I've now spent quite a few days on the new high-pivot Trek Session, and have come away very impressed by what Trek has done with their DH race bike. But who exactly is it for, and where does it most strongly excel? Let's dig in.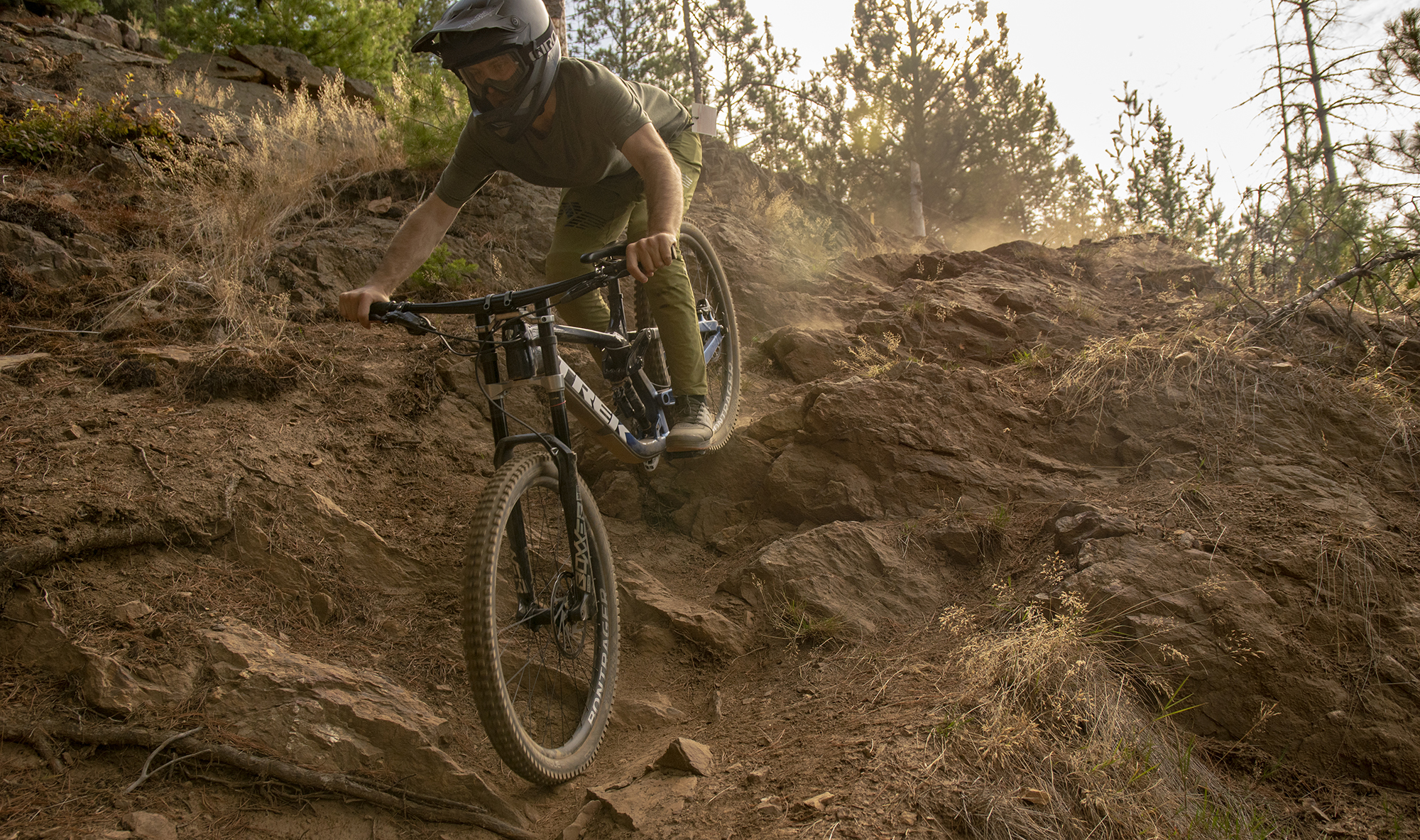 Fit and Geometry
Going into the test, I was honestly a bit unsure about the sizing of the Session. As we mentioned above, Trek moved away from the traditional Small / Medium / Large sizing paradigm, into what they call "reach based sizing." The idea is that, especially on a downhill bike where a seated pedalling position is irrelevant, they can leave the seat and headtube fairly short and let riders pick what size they want largely on the basis of reach. At 6' / 183 cm tall, I'm a little short of Trek's recommended size range for the largest R3 Session, but they also acknowledge that there's a good deal of room for personal preference to factor in here, too. And having now spent a lot of time on that big R3, I think that it is the size I'd go with for how I like to ride.
Now, I definitely could ride the R2 as well — and indeed, that's the size that Trek athletes Charlie Harrison and Reece Wilson both opt for (both of whom are listed at 5'11'' / 180 cm). While I'm only slightly taller than those two, I'm happy on the R3 for the following reasons:
(1) I tend to like long bikes in general. For one thing, I've got pretty long arms and a long torso for my height, with somewhat shorter legs. And on top of that (or probably more accurately, in part because of my shorter legs), I also like to run my bars a bit on the lower side of average. That decreases the distance between the cranks and bars, making me somewhat less stretched out on longer bikes than I might be if I wanted the bars higher.
(2) I'm a lot more interested in going fast on more raw, technical terrain than hitting jump lines and trying to look good in the air. Now, granted, that's obviously also true of Reece and Charlie, and they're both a whole lot better at it than I am (to put it lightly). But more to the point, I'm just more interested in aiming for stability and a planted feel in a DH bike, rather than a more nimble feel and a whole lot of ability to throw the bike around in the air easily.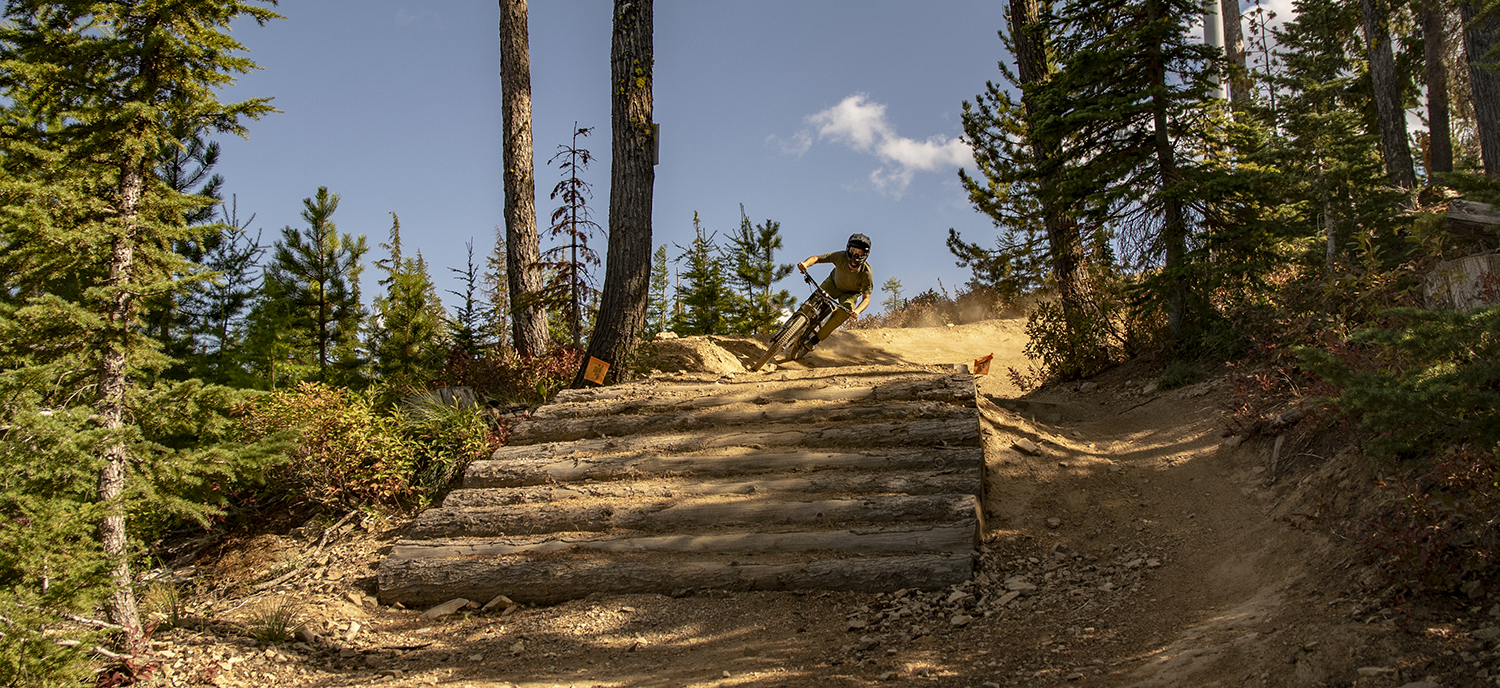 If I was looking for a more playful park bike, I'd be a lot more inclined to size down to the R2, but I'd also probably be looking at a different bike entirely. As we'll get into more below, the Session feels like it's much more interested in being a game-on DH race bike than a super flickable freeride one.
Getting my fit dialed on the Session was fairly straightforward. As I mentioned in my Flash Review, the first order of business was trimming the bars from their gargantuan initial 820 mm width to my preferred 790 mm. With them at full width, the bike felt awfully locked in and hard to turn — my arms were just stretched so wide that I was struggling to move around freely on the bike. No complaints on that spec choice though — I'd much rather see bars too wide than too narrow, since the former is a whole lot easier to address. I also shuffled some headset spacers to drop the bars a little lower than the bike shipped with, fiddled with the bar roll a little, and then I was all set. And while the R3 Session is an undeniably big bike, with a 493 mm reach, 452 mm chainstays, and 1,312 mm wheelbase (low position), it hasn't felt ponderous or hard to muscle around. It's just a well dialed, nicely balanced DH bike.
I started my testing with the geometry flip chip in the low setting and never saw any need to deviate from that position. I could see the high position being useful for facilitating a mixed-wheel configuration (which I unfortunately haven't been able to try on the Session), but as a full 29er, I was never tempted to take the bike out of low. Trek also offers a set of +/- 1° headset cups for the Session (sold separately) and if anything, I could see putting that in at -1° for especially steep tracks.
Build and Spec
I've been riding the higher-end of the two builds that Trek offers for the Session, the $7,000 Session 9. As you'd hope for from the top-tier option, it hasn't given me a whole lot to complain about. The RockShox Boxxer Ultimate fork is excellent, and the 46 mm offset is welcome on a 29er DH fork. The Charger 2.1 damper has been around for a while now (and in a bunch of different forks) but it's still excellent and easy to set up. Same for the Super Deluxe Ultimate rear shock — it's another long-standing option that still works really well. It lacks a few of the bells and whistles of some other high-end options, with just a single rebound and low-speed compression adjuster, but the tune feels well chosen for the Session and I didn't feel myself wanting for more adjustability.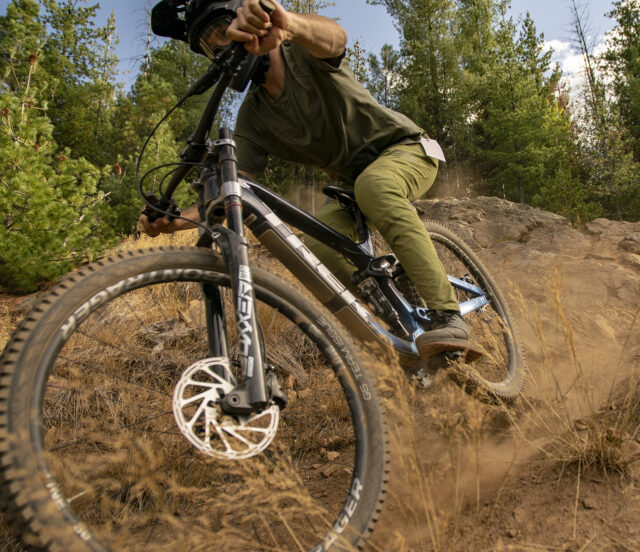 The SRAM X01 DH drivetrain also works great and I like the dedicated hub from Bontrager, which features a shortened freehub body to take advantage of the wider flange spacing and more even spoke angles that the narrower 7-speed cassette makes room for. If anything, I could go for even fewer gears with wider spacing on a DH bike, but this combo works really well. It is worth noting that Trek went with the GX-level 11-25t cassette, which uses a Hyperglide freehub body, rather than the X01 that goes on an XD driver. This allows the wider flange spacing on the hub that I mentioned earlier. It also means that there's a frankly hilarious $256 savings when it comes time to replace the cassette ($32 MSRP vs $288). Trek made the right call there.
My biggest complaint with the spec is that I'd really like to see bigger rotors on the Session. The SRAM Code RSC brakes that come on the Session 9 I've been testing are good brakes, but aren't the most powerful DH brakes on the market — both the Hayes Dominion A4 and Shimano Saint are notably stronger. Given that, I think the Code RSC brakes could use a little more help with power and heat management than the 200 mm front / 180 mm rear rotor combo can offer. If it were up to me, I'd just go straight to 220 mm at both ends, but buying a single 220 mm for the front and moving the stock 200 mm to the rear would be a more economical upgrade, given what Trek specs as standard.
It's also worth noting that the Session comes with tubes installed — a bit disappointing from a high-end, modern mountain bike (though not totally out of the ordinary). The Bontrager Line DH 30 wheels do come with their excellent molded rubber tubeless rim strips installed, but they're mounted with tubes. Converting to tubeless is just a matter of swapping the tubes for tubeless valves and adding some sealant, but it'd be nice to have the bike set up that way out of the box. Granted, Trek's far from alone in sending bikes out the door with tubes installed, but it's still something I'd love to see change — and given that Trek's stated weight for the bike on their site specifically says "with TLR sealant, no tubes" I think I can be forgiven for thinking it would come that way.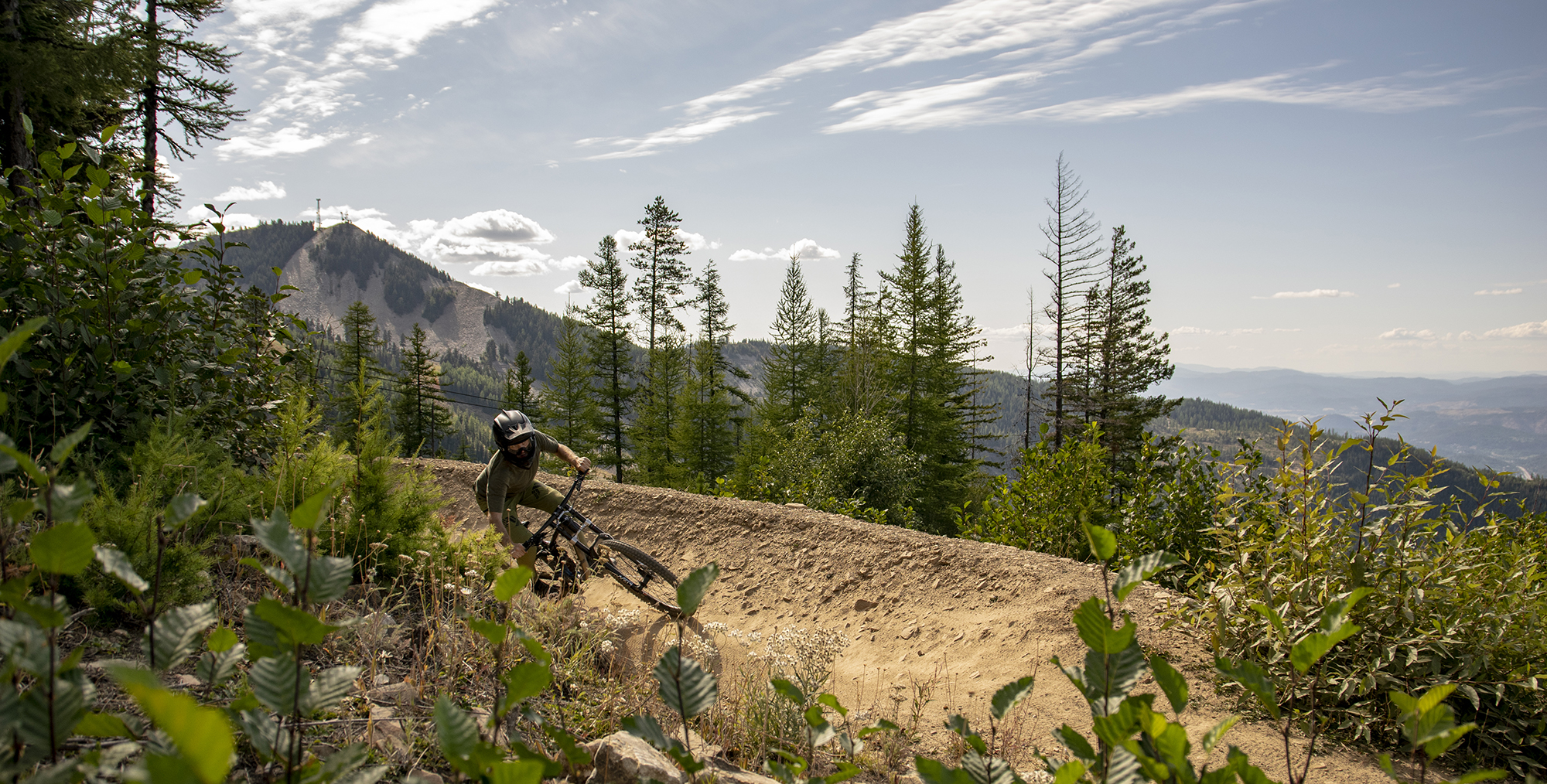 [This particular spec choice bit me on a road trip in the middle of my testing. I'd spent several days on the bike already without incident, but then developed slow leaks in both tires on the same day. Assuming — incorrectly, as it turned out — that the bike would be set up tubeless, I bought all 8 oz of Stan's sealant that the local bike shop had in stock, removed the valve cores, and dumped 4oz into each… tube. I also tightened the valve nuts slightly and actually got the rear tire to hold air, but the front remained leaky for the rest of the day. That night in the hotel parking lot I took the front tire off to investigate, and discovered that there was in fact a tube installed. With no sealant left and no tubeless valves on hand, I decided that my best move was to cut the badly pinch-flatted tubes up to get the sealant out, and fashion a pair of valve stems for myself. It turned out that the Bontrager rim strips and tires held air so well even without sealant that the rear tire held despite the tube being toast, and the front was close to holding on. That was a big part of why I assumed that the tires had to be set up tubeless — I figured that they'd be leaking a lot faster if there were tubes in there. Live and learn I guess.]
Setup aside, I also really like the Bontrager G5 tires that come on the Session. They look a bit like a mix between a Maxxis Minion DHF and DHRII (with a little Specialized Butcher thrown in on the side knobs). Their braking performance in particular is very, very good; they also corner well and predictably, though, like most tires with a big open channel between the center and side knobs, do require a fair bit of commitment to get over on edge for aggressive cornering. I tend to get along well with those sorts of designs, but riders who prefer more consistent grip across varied lean angles will probably have the same complaint here. For better or worse, I haven't been able to test their wet-weather performance much (it's been a really dry summer here) but their performance has been strong in conditions ranging from full-on hero dirt through loose and dusty, with a good bit of bike park hardpack and loose-over-hard thrown in.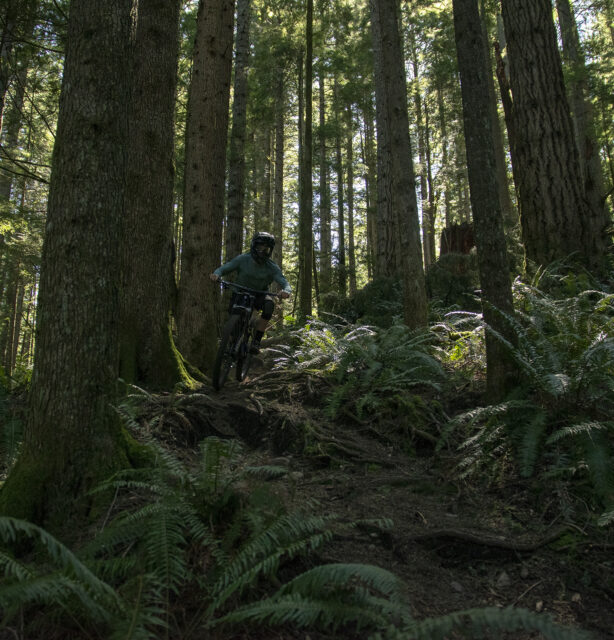 Suspension Performance and Handling
While it's got a high enough main pivot placement to require an idler pulley, the rear suspension on the Session could be described as something of a "mid-pivot" layout. The distinction I'm drawing here is that, unlike a lot of high-pivot bikes (including the Forbidden Dreadnought that I just reviewed), the Session's axle path is only rearward for about the first half of the travel. The whole point of a high-pivot layout is that it helps the rear wheel travel up and away from bumps, with the goal of improving square-edged bump absorption and the ability to carry speed through rough sections. My time on the Dreadnought and several high-pivot DH bikes that I've ridden before has borne those benefits out, but I've also found that they come with tradeoffs when it comes to how a bike pumps through and pops off terrain features, and how much the rear-center length changes as the suspension cycles. And so I was very curious to see what kind of a balance the Session struck on those fronts.
[And for a whole lot more on high-pivot suspension designs, including why they require an idler pulley to work properly, check out the section of our Mountain Bike Buyer's Guide on suspension kinematics, starting on page 74.]
In short, the Session really does feel like a middle ground between a fully-rearward high-pivot design and a more conventional suspension layout — but in a way that feels like an excellent compromise, especially for a DH bike. To start, the Session mows down small to medium chop — think exposed roots or brake bumps — exceptionally well. It's smooth, planted, and extremely composed when carrying way, way more speed than it seems like should be possible into rough sections and just letting the bike do its thing. But crucially, it also feels like the drawbacks of the high-pivot layout are a lot less pronounced on the Session than on other, fully-rearward bikes that I've ridden. The Session pumps through rollers just fine, pops off lips reasonably well, and doesn't feel like it has some impossibly long rear end that's hard to muscle around in tight spots (despite the very long 452 mm chainstays on our size R3 test bike). And the bit of extra drag from the idler, while still present, really isn't a big deal on a DH bike, like it might be for some riders on a bike they're planning to pedal back up to the top.
That's not to say that the Session is some best-of-all-worlds magic machine, though — the Session feels like it's very much meant to be a DH race bike first and foremost, and is definitely not what I'd choose if I was looking for a more playful park bike that was easy to throw around in the air. Sizing down to the R2 would probably help some, but I also think that would be trying to turn the Session into something that it isn't. And it's probably worth noting that some of Trek's athletes, including Casey Brown and Kade Edwards have been riding a 27.5'' wheeled "Session Park" without the high-pivot layout at freeride events, including Audi Nines. I really never felt like the R3 was too big for me, even on some flatter, tighter, more awkward trails where a DH bike might have been a bit overkill. It's just a focused DH race bike that wants to be going fast first and foremost.
This was most apparent on flatter, tighter trails and bike park jump lines with steeper, lower-speed jumps. Even compared to many other DH bikes, the Session feels just a bit less engaging and slightly harder to muscle around in certain spots. And while I did just say that the Session pumps and pops off things "fine," it really is only fine — a super poppy freeride / park bike this is not. The prior Session felt a bit more like an all-rounder DH race / park bike, but the new model feels much more focused on being the former. And I think that makes a lot of sense. For one, Trek has one of the most stacked team rosters in DH racing right now, and it's no surprise that they wanted to have a bike to match all that talent. And on top of that, as Enduro bikes have gotten more and more capable over the years, more and more people are using them in the bike park as well, leaving room for the Session to move more specifically into the DH race role. Maybe it's not a coincidence that we loved riding Trek's latest Slash in the park…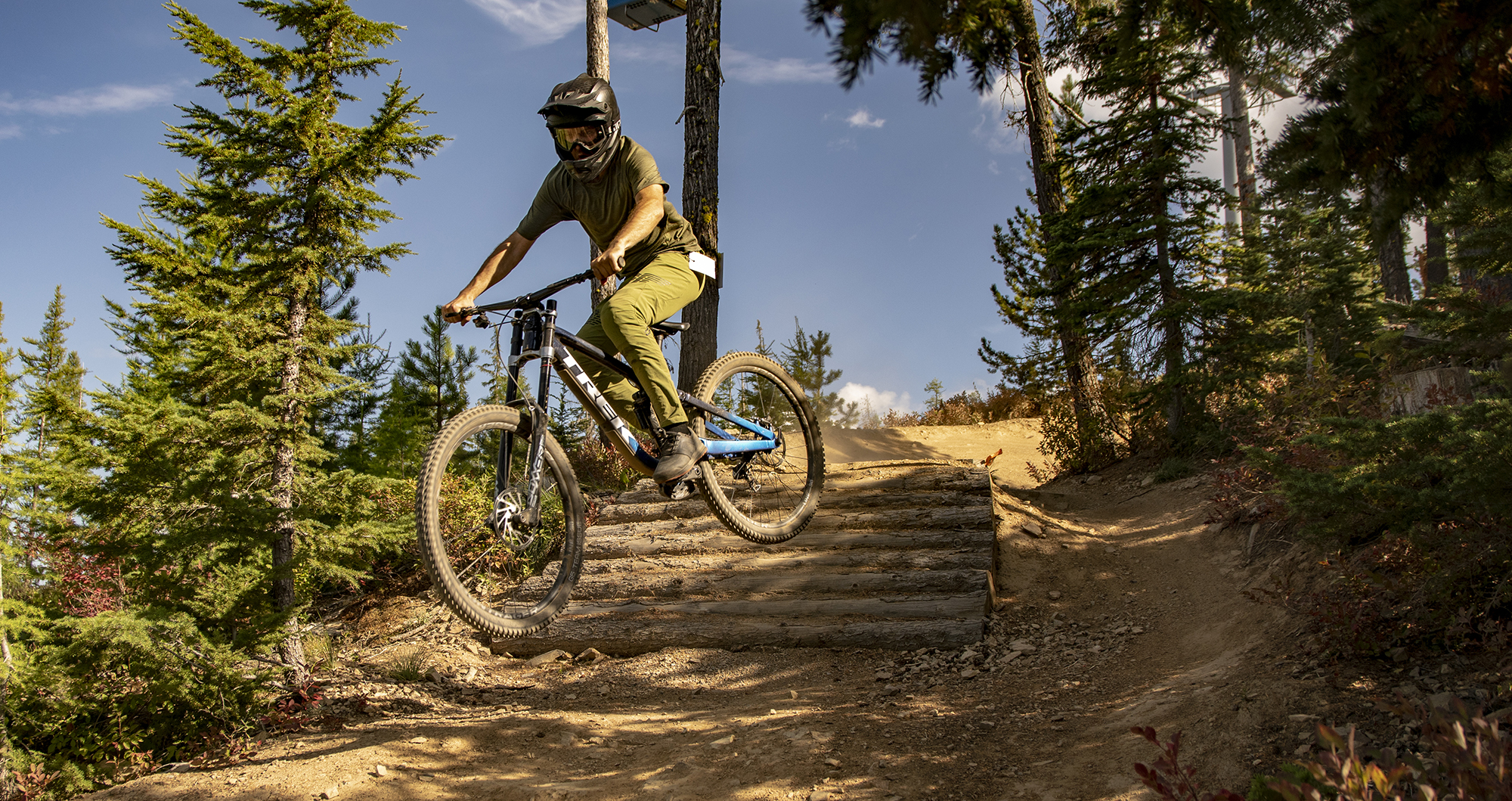 The Session's suspension also remains notably active under braking — which is one of the main benefits that Trek touts of their ABP layout. The lack of pedal kickback, due to the high pivot / idler arrangement is apparent too. There's very little interaction between the suspension movement and the pedals, which both helps with the Session's exceptional sensitivity on mid-sized chatter, and also seems to help a bit with keeping your feet planted when riding flat pedals.
I already mentioned this in the Flash Review, but it's also worth pointing out again just how quiet the Session is. Trek did a really good job nailing their frame protection, and despite my general aversion to internal cable routing, I never noticed any noise from that, either. And while I'd prefer that the bike came with at least the brake hose routed via the external option, it's nice that the frame has provisions for both. Good job, Trek.
Flip Chip Settings
I experimented a bit with both of the progression flip-chip settings, and while they make an appreciable difference, it's a fairly subtle one. In the 20% setting, the rear suspension feels a touch more plush and planted; bumping the progression up to 25% adds a little bit of support and pop, but it's by no means a dramatic change. Trek's World Cup athletes are running a mix of air and coil rear shocks (albeit RockShox Blackbox ones that aren't available to the public currently), but I suspect that I'd personally want a slightly more progressive leverage curve to run a coil shock on the Session. There's definitely a degree of personal preference at play here — as evidenced by the lack of agreement within the Trek race team — but I mostly preferred the 25% setting with the Super Deluxe Air, and do wonder if I'd want more progression than I'd get with a coil. The shock shipped with two volume spacers installed, and that setup felt about right — I wasn't inclined to change anything there.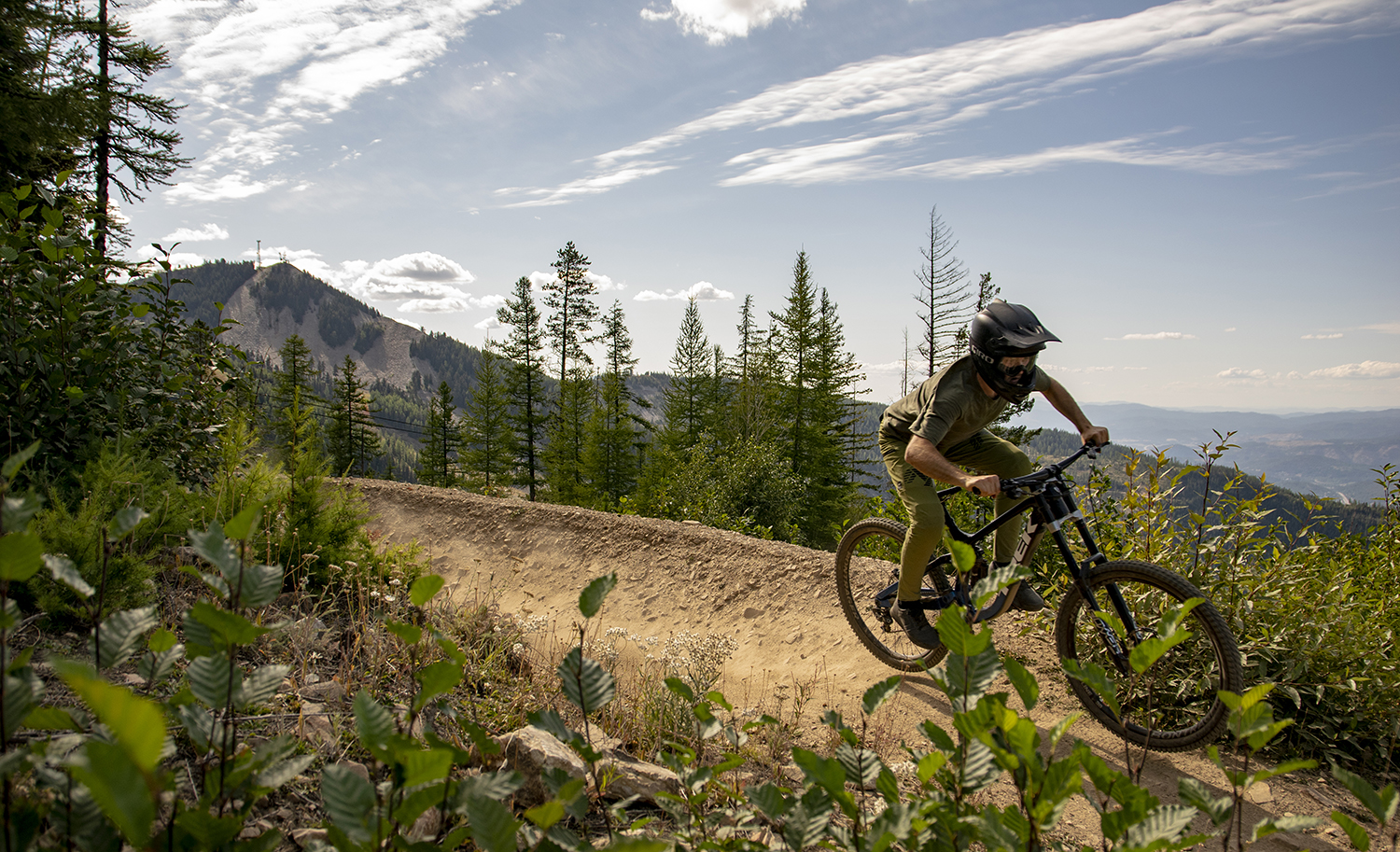 As mentioned above, with the stock 29'' wheels at both ends, I wasn't tempted to deviate from the low geometry setting. With a 63° headtube angle in that setting, the Session isn't crazy slack, nor is the bottom bracket particularly low. The high setting seems most useful for trying a mixed-wheel size configuration (which I unfortunately was not able to experiment with).
And finally, one note on the progression flip chips — they're helpfully labeled with which side is positioned up for which setting… but if you swap the two chips from left to right on the bike, the settings end up labeled backward. The head of the lower shock bolt is supposed to be on the non-drive side to produce the correct labeling. Or, if you prefer, the rear hole yields 25% total progression, and the forward one is the 20% setting.
Who's It For?
This one's pretty straightforward: the new Session is a great option for riders either looking to race DH, or just to ride lift / shuttle-accessed trails as fast as possible — especially if those trails are on the steeper, rougher end of the spectrum. The Session can definitely also serve as a park bike for more flow trails and jump lines, but that's not really where it excels. I'm sure it's no coincidence that Trek stacked their roster of DH racers just in time to put them all on the most committed DH race bike that they've made in a while, and they've done a great job — both with the team signings and the bike.
Bottom Line
The latest Trek Session definitely wants to go fast, first and foremost, and it does a very impressive job of combining excellent bump absorption and stability with just enough maneuverability and pop to manage tighter spots when called upon. It's a much more focused DH race bike than the previous iteration, but in the right terrain and with the right approach from the rider, it's excellent.