2022 Trek Session
Wheel Size: 29'' (27.5'' and mixed 29''/27.5'' compatible)
Travel: 200 mm rear / 200 mm front
Frame Material: Aluminum
Blister's Measured Weight: 37.2 lb / 16.9 kg (Session 9; Size R3; w/o pedals)
Build Overviews:
Session 8:

Fork: RockShox Boxxer Select
Shock: Fox VAN Performance
Drivetrain: SRAM GX DH
Brakes: SRAM Code R
Wheels: Bontrager Line DH 30

Session 9:

Fork: RockShox Boxxer Ultimate
Shock: RockShox Super Deluxe Ultimate DH
Drivetrain: SRAM X01 DH
Brakes: SRAM Code RSC
Wheels: Bontrager Line DH 30
Price:
Session Frameset: $2,999 [includes Fox DHX Performance shock]
Session 8: $4,999
Session 9: $6,999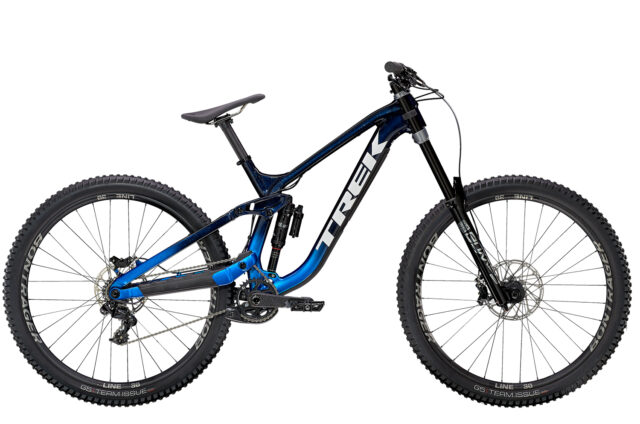 Intro
Reece Wilson won the 2020 UCI Downhill World Championship on board the Trek Session, but that success didn't stop them from making some big changes to the bike for 2021. Gone is the carbon fiber frame of old, and in its place is an all new, aluminum, high-pivot bike. As we talked about in Episode 54 of Bikes and Big Ideas, Trek's roster of downhill athletes is ridiculously stacked, and now it's time to check out the bike they'll all be piloting this season.
The Frame
Despite the changes in frame material and suspension layout, the overall silhouette is still recognizably a Session. The biggest change is in the chainstays, which are now elevated to reach the much higher main pivot, and the drive-side houses an idler pulley to redirect the chain up and over the stay.
Trek's familiar ABP suspension layout — essentially a four-bar arrangement, with a pivot concentric to the dropout and a vertically oriented shock, driven by a rocker link — is still here. But in a major change for the Session, it's now configured as a high-pivot design with an idler pulley.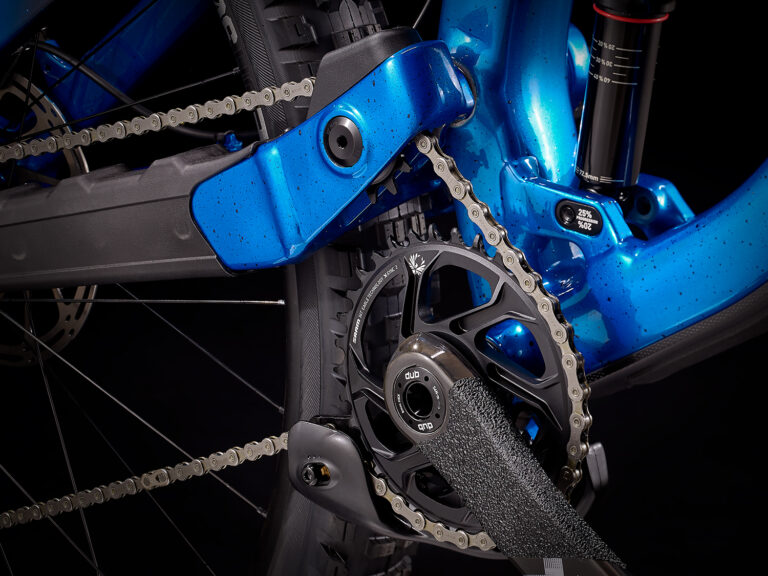 Or, more accurately, it's a change from recent Sessions — the Session 10, from way back in 2006, also featured a high-pivot layout. It's been a long time since we saw a Session with such a configuration, though, and it's interesting to see it return. High-pivot bikes are having a bit of a moment again, no doubt inspired in part by the success of the Commencal Supreme on the World Cup Downhill circuit, and it's interesting to see a manufacturer as big as Trek joining the fray, especially combined with their newly-loaded DH roster.
Trek's claims about the new high-pivot layout are pretty standard for these types of designs, and make a lot of sense on paper. The two main benefits that they tout are improved absorption of square-edged bumps, due to the more rearward axle path, and reduced pedal kickback, due to the reduction of chain growth from the idler pulley. Both should help the new bike carry speed and smooth out rough terrain better. Trek says the prior-generation Session had 15–27° of pedal kickback (depending on gear), whereas the new one has just 5–8°. The axle path of the new bike is stated to be 12–25 mm more rearward as well.
Unlike the prior-generation Session, the new bike is only available in aluminum. And while the outgoing model offered separate versions of the frame for 27.5'' and 29'' wheels, the 2021 Session is designed to accommodate both wheel sizes, as well as a mullet 29'' front / 27.5'' rear combination with a single frame.
Complete bikes come in 29'' only, and feature a flip chip (Trek calls it a "Mino Link") at the seatstay / rocker link pivot to toggle between two geometry settings, which we'll outline below. The Session can also be run in a mullet (29'' front / 27.5'' rear wheel) configuration in the high geometry setting, as well as a full 27.5'' setup with the high geometry setting and an external lower headset cup, which is included with the frame kit, and available separately for complete bikes. Rear tire clearance is stated at 2.6'' for both 27.5'' and 29'' wheels.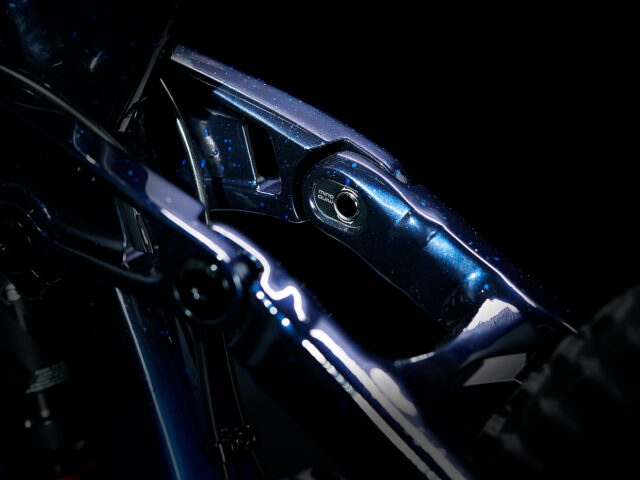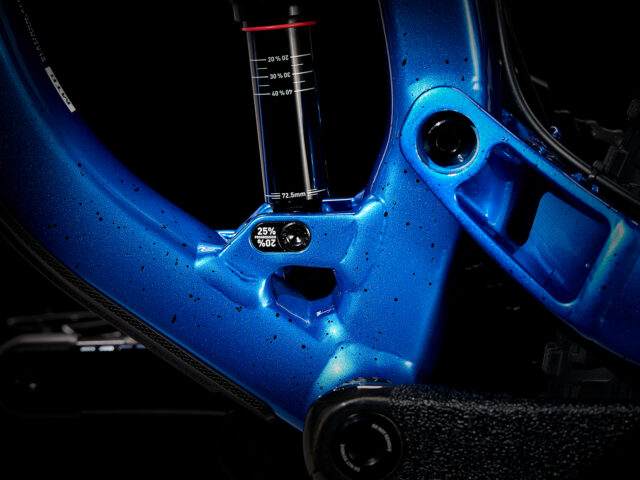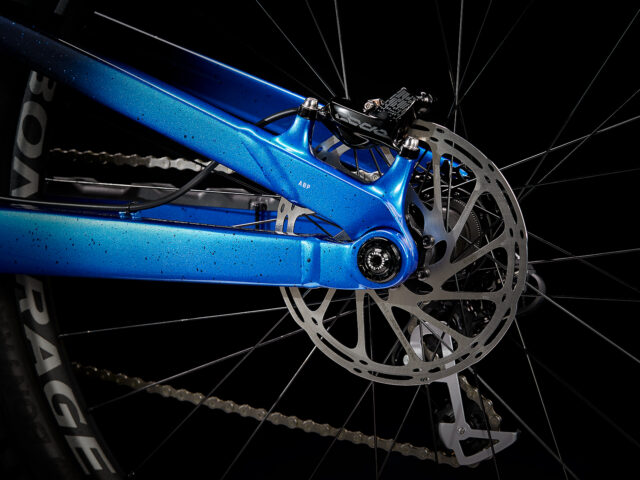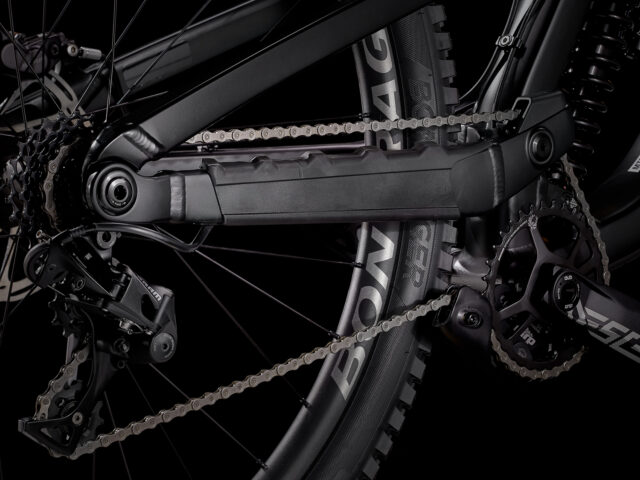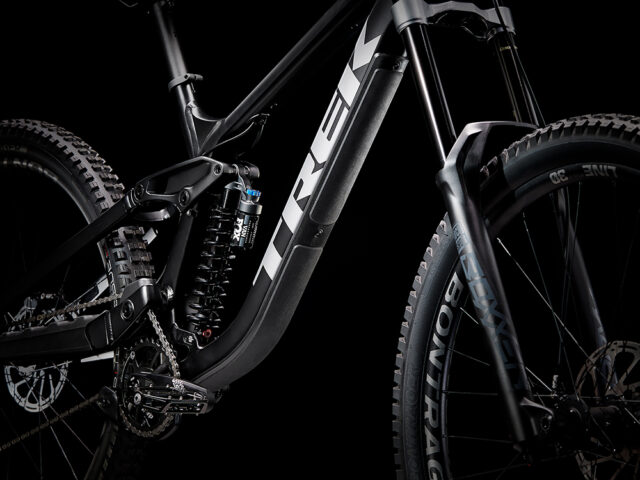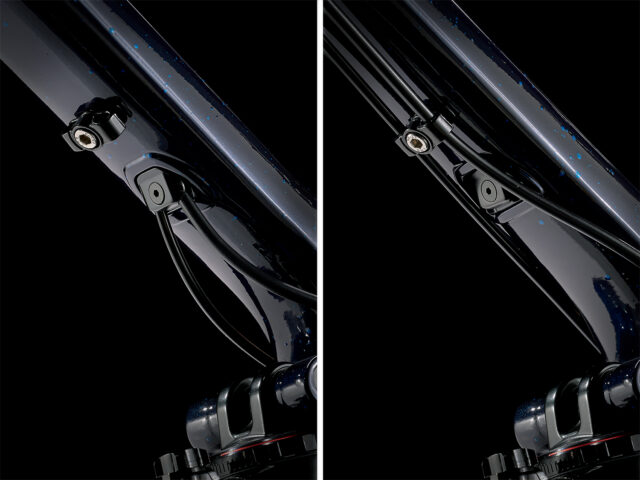 A second Mino Link at the lower shock mount toggles between two leverage curve settings for the rear suspension, which offer 20% and 25% of total progression. These settings are independent of the geometry Mino Link options, and both settings can be used in any of the wheel size configurations.
The 2021 Session also offers an unusual degree of flexibility when it comes to cable routing. Complete bikes will ship with both the brake and derailleur cables routed through the top tube, but a set of bolt-on cable guides are included if you'd prefer to run them externally, underneath the top tube. A threaded bottom bracket shell is another welcome, mechanic-friendly feature, and the lower two bosses of a standard set of ISCG '05 tabs are included — with the idler pulley, an upper chainguide won't fit. The idler does include its own, integrated chain guide, and removable dual-density rubber guards are included on the chainstay and downtube as well. The rear brake mount features post-mount tabs for a 180 mm rotor, and can be adapted up to a 220 mm option.
The Builds
Trek is offering the Session in two different build specs, the Session 8 and Session 9. The overview of both is as follows:
Session 8 ($4,999):
Fork: RockShox Boxxer Select
Shock: Fox VAN Performance
Drivetrain: SRAM GX DH
Brakes: SRAM Code R
Wheels: Bontrager Line DH 30
Session 9 ($6,999):
Fork: RockShox Boxxer Ultimate
Shock: RockShox Super Deluxe Ultimate DH
Drivetrain: SRAM X01 DH
Brakes: SRAM Code RSC
Wheels: Bontrager Line DH 30
Despite all the wheel size flexibility offered on the Session, both complete bikes come as full 29ers only. If you're interested in a mullet or full 27.5'' spec, you'll need to swap some parts out, or start from the frame-only option.
Fit and Geometry
Trek has moved to what they're calling "reach based sizing" on the new Session. In short, that means that they've decided to keep the seat mast short and the stack height consistent across the size range, and simply let riders pick how long they want the bike to be. There are three sizes on offer, labeled R1, R2, and R3, with 440, 465, and 493 mm reach numbers, respectively (29'' wheel configuration, low geometry position).
With the new Session, Trek has also chosen to join the growing ranks of brands that vary chainstay length by size. Again with the 29'' wheel, low-geometry setting, they range from 439 to 452 mm across the sizes, with the R2 getting 445 mm stays. The chainstay and seatstay parts themselves are the same for all three sizes, with the chainstay length variation coming by moving the bottom bracket shell relative to the pivot points on the front triangle. All three sizes get a 63° headtube angle and 22.5 mm bottom bracket drop in the low position. The high position steepens the headtube to 63.6°, and reduces the bottom bracket drop to 13.6–13.9 mm (varies slightly by size). The full geometry charts for the 29'', mullet, and 27.5'' configurations are all shown below.
The geometry of the mullet and 27.5'' configurations is quite close to that of the 29er setup, in the low position. Chainstay lengths shrink by a few mm, and headtube angle varies by a few tenths of a degree, but overall they're quite close. All of that adds up to wheelbases ranging from an already fairly long 1255 mm on the smallest R1 size, through a massive 1321 mm on the R3 (29'', low for both).
For the most part, this is all pretty standard for a modern Downhill bike — nothing jumps out as being far outside of the norms. The reach has grown by about 30 mm in a given size, compared to the outgoing bike, and the headtube angle is actually slightly steeper. Though reaches have trended somewhat longer, overall, DH bike geometry has been more stable in recent years than that of Trail and Enduro bikes, and Trek has stuck with the established recipe for a World-Cup-ready race bike.
Bottom Line (For Now)
The new Trek Session looks like a very interesting new competitor in the high-pivot Downhill bike space, and we're really excited to spend a lot of time on one (and see how the new Trek race teams fare on the updated bike once the World Cup season gets underway). We recently started logging some rides on it and Blister Members can check out our Flash Review for our initial thoughts, then stay tuned for our full review in the future.
Flash Review
Blister Members can read our Flash Review of the new Session for our initial on-snow impressions. Become a Blister member now to check out this and all of our Flash Reviews, plus get personalized gear recommendations from us, and discounts and deals on gear.