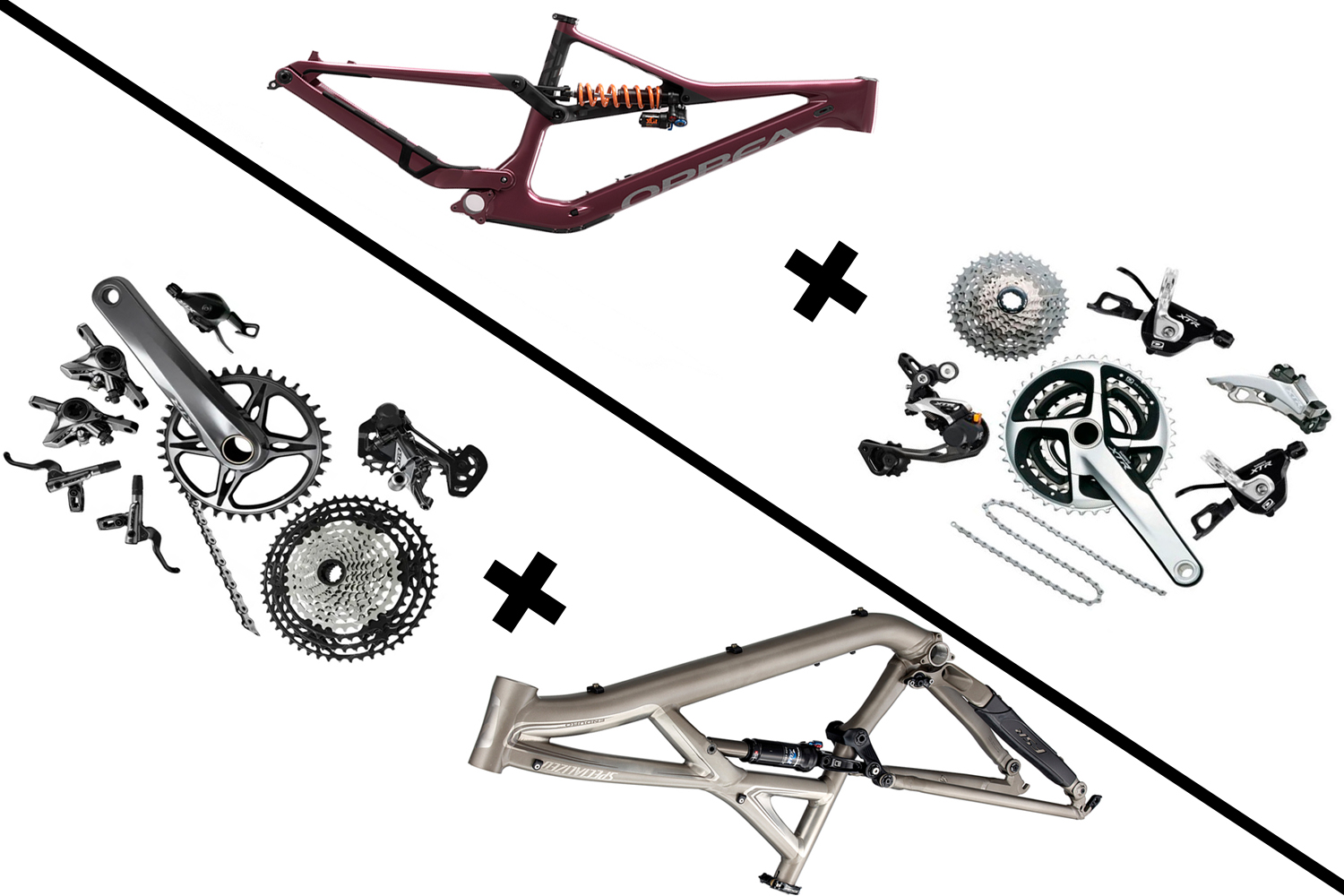 Here at Blister we spent a whole lot of time thinking about skiing, biking, running, and all the gear that goes into making those activities happen. In our new recurring "Would You Rather" segment, we'll be posing hypothetical questions to the Blister crew — and opening the floor to you, dear reader, in the comments.
Q: Mountain bikes have changed enormously in the last decade, both in terms of their frame geometry, and in the parts we have available to build them up. If you had to spend the next year riding either a frame with modern geometry, but built entirely with 10-year-old parts, or a frame with 2011 geometry but decked out in the latest and greatest modern components, which would you go with? We're talking 2×10 drivetrains, short-travel dropper posts, 26'' wheels with narrow rims, dated suspension, and way worse brakes than we have now, vs. short reaches, steep headtube angles, slack seat tubes, and wheelbases that look microscopic by today's standards.
Dylan Wood: Although I am young (22 at the time of posting), I have a little bit of experience with older components and somewhat dated geometry. When I just got into mountain biking, my first hardtails had three chainrings in the front, dropper posts were just becoming popular, and companies were just figuring out how to make longer-travel 29ers ride decently. After riding many XC bikes, my first trail bike was a V2 Santa Cruz Bronson from 2018, which while this wasn't too long ago, it had a 445 mm reach on the size Large, a 66º head tube angle, and a 74º seat tube angle – numbers which seem pretty short, steep, and slack, respectively, for a 150 mm trail bike. Now, I know that mountain bikes were way worse before my time, and I am pretty glad I didn't get to experience the awkward "puberty" era of mountain biking and got in it when bikes were metaphorically starting to mature.
That being said, I am spoiled with 1x drivetrains with chains that don't drop every descent, long-travel dropper posts, high-volume air shocks, stiff forks, and powerful hydraulic disc brakes, and I don't think I would be able to kiss these privileges goodbye. Instead, I think I might be able to kind of cheat a little bit to answer this question.
I'd definitely opt for an old frame with new components, and to make up for the fact that the reach on this hypothetical frame would be significantly shorter than what I am used to, I'd opt for a larger frame. For example, the 2011 Specialized Enduro had a 477 mm reach on a size XL, perfectly acceptable for a size Large today. I'd also run a shock in the rear with a shorter eye-to-eye length but appropriate stroke length (so I don't run the rear wheel into the frame), which should both slacken the bike out and lower the bottom bracket to a more desirable height. I'd also probably put a 27.5" wheel in the front to hopefully avoid stuffing it into holes I don't pay much attention to with bigger 29" wheels under me.
While this cheat solves a few compromises, I would definitely have to deal with an already slack seat tube angle that I've further slackened out by at least a degree. I'd just suck it up and slide my seat all the way forward on the rails. Also, I probably wouldn't be able to run my preferred 170 mm dropper post due to having a longer seat tube, though I'd just have to suck this up too and run the longest size I can fit. Besides these downsides, I think I'd enjoy this bike enough to not have too many complaints about it. If I were not able to cheat and I had to keep all the same sizing on parts and maintain the original wheel size and geometry, I'd still go the old frame and new parts route, I just wouldn't enjoy the bike as much, but I'd likely still enjoy it more than a new frame with old parts.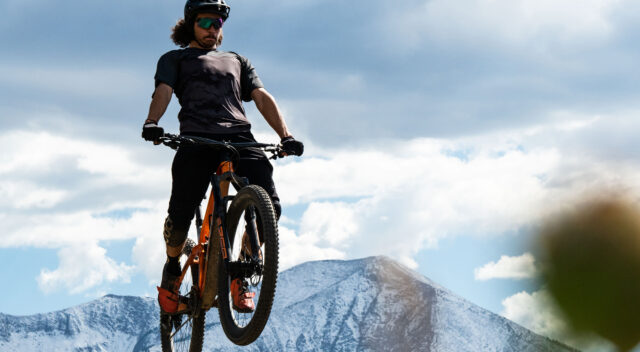 Noah Bodman: I'd go with a new frame, old parts. If we're talking 10 year old components, that isn't that bad. In 2011, we were on the cusp of the 1×11 revolution, [Ed: SRAM's first XX1 11 speed groupset came out in 2012, so you can't have it on this build] Shimano had already introduced a clutched derailleur, if I wanted to get creative, Pinion gearboxes existed, and while dropper posts weren't very reliable, they were pretty common (the Rockshox Reverb came out in 2010, and assorted other options had been around for a few years). Plenty of brakes were terrible, but Saints existed back then and they worked well.
There aren't really any modern 26" wheeled frames (at least not that I'm considering for this build), so that leaves me looking for 29" parts in 2011. Which means the fork and the tires are the real hangups when building up a new frame with old parts. In 2011, 29" forks were available, but mostly in lighter weight, shorter travel iterations. Depending on the exact bike I was building, I could either go with something like a Fox 34 (which was available in a 29" iteration), or I could get a little more creative and mount up something like a travel reduced Manitou Dorado (which is inverted, so it'll fit whatever wheel I bolt to it).
The real trick here is tires, and I just made it on this one. Maxxis introduced the 29" version of the DHF almost exactly 10 years ago. Sure, it probably has a casing that's too light and a rubber compound that's too hard, but it'll still work alright. Now, if the criteria here was 10.5 years ago, I'd be stuck with super lightweight XC treads, which would really throw a wrench into the gears of my new frame / old parts build.
So why not go with an older frame, new parts? Frames have gone through a massive shift in geometry over the past 6 years or so. Lower bottom brackets, slacker head angles, longer front ends, steeper seat tubes. And, notably, bigger wheels. 29ers (and 27.5's) certainly existed in 2011, but they were almost universally found on very XC-oriented bikes.
Now, there were some frames in 2011 that had fairly decent geometry numbers. A Specialized Enduro Evo is at least in the realm of a modern-ish bike in terms of geometry, albeit with a sky high bottom bracket and super short chainstays. But it's still a 26" wheeled bike, and that presents a problem. I can put together the fanciest components 2021 has to offer, but that doesn't help me when 26" products essentially don't exist anymore. I'd be struggling to find 2021 rims, tires, and a fork that'd work on that bike.
So I'm at least 80% convinced that I could take a modern frame and put together a build on it with 10 year old parts that'd be a competent, fun bike.
Luke Koppa: Out of our reviewers, I have the least amount of experience in the bike gear world. One potential upside to that is that I've always owned a bike with relatively "modern" geometry and "modern" components, and all of them have generally been quite good. The downside, for this question, is that I don't have a whole lot of real-world experience off which I can base my answer.
With that said, I've got a friend whose contact name in my phone is "Chris 26 ain't dead." In addition to being funny when Siri tells me he's calling, that name pretty much sums up his take on bike gear. He currently owns a 2018 Specialized Enduro 27.5, but he very often chooses to ride his other bike over that one — his other bike being a ~2007 Santa Cruz VP Free. While he has added a very short-travel dropper (that extends terrifyingly quickly) and a more modern shock, it's still a remarkably short, steep, and heavy bike compared to modern ones. And yet, he rides just as fast, if not faster than me on the majority of trails we frequent. However, he's pretty much constantly having to fix and / or replace various components on that bike, and having a hard time finding said components.
So, in large part due to my buddy Chris, I think I'd go with old geometry + new components. Chris and thousands before him proved that you can ride short and steep bikes on basically any trails we ride today, and I suspect I'd be able to eventually adapt to the retro geometry. It'd definitely take some time and I wouldn't be super psyched about it, but I think I could get there. And more than being able to ride fast (and let's be real, I'm never gonna be very fast no matter my bike), I mostly just want to be able to ride my bike. If I'm constantly having issues with the components on my bike that prevent me from doing that, I'm gonna get annoyed pretty quickly. I honestly kinda like the idea of a reliable bike that makes slower speeds and even mildly steep terrain more interesting; I'm not constantly seeking out the gnarliest zones and I'm pretty happy with how moderately fast I can ride on modern bikes, so this could be pretty fun.
[David: My main takeaway from this is that we need to make Luke borrow and review Chris' VP Free.]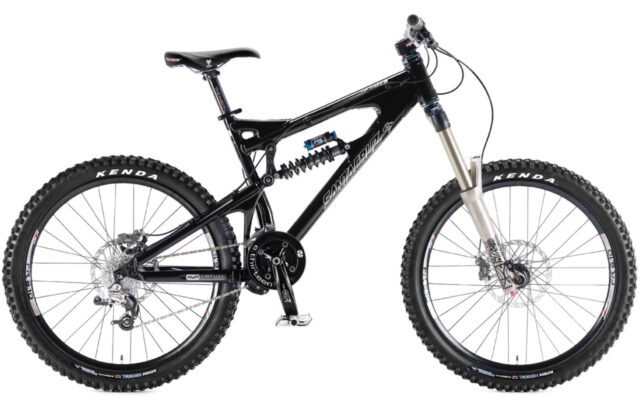 David Golay: Actually trying to build a modern frame with 10 year old parts would be a real challenge due to things like changing hub standards (Boost) and the like, so while I appreciate Noah's zeal for figuring out how to make that maybe happen, I was deliberately a little more vague in my phrasing of the question to get around that issue — and so, if I get to have a frame with modern geometry, but compatible with 10 year old parts, I'm definitely going that route. Like Noah said, 29ers were a thing by 2011, but still mostly relegated to the XC realm, and so my hypothetical build here is going to be a 26er, for vastly better availability of aggressive tires, wheels, and forks — and I'll be perfectly happy with it. I think.
The venerable Maxxis Minion DHF had already been around for 10 years in 2011, and could be had in sticky 3C rubber and DH casings, at least in 26" diameter; Shimano's XTR 10 speed drivetrain worked well, and I'd learn to live with the reduced range, just like I was doing back then. (And I'd still forgo a front derailleur — they're the work of Satan.) Dropper posts did exist, but not in long enough travel versions for me to be happy with, so I'd probably just pass there too, and opt for a quick release seat clamp and spare myself the pain of rebuilding an early vintage Reverb or Crank Brothers Joplin every month. Fox's RC4 rear shock came out in 2010, and while the 36 and 40 forks have come a long way since 2011, I could live with their older versions just fine.
What I couldn't live with is going back to short reaches, slack seat tube angles, and steep head tubes. Sure, people managed to ride all kinds of gnarly lines on them back in the day, and go really fast on them, but I've seen the light now. I can't go back. I've owned a Nicolai Geometron since 2017, and just moved on to my second one, the G1. Modern geometry is just so much better, so much more confidence-inspiring that I'm clinging to it for all I'm worth.
Eric Freson: I'm not that old either (34), but, y'all are acting like mountain biking has only been around or relevant for ~10 years. In my own short lifespan, I have ridden everything from fully rigid mountain bikes to elastomer forks and "new" v-brakes, to 9mm/quick release long-travel trail bikes with franken 1×10 drivetrains and chain guides, to what we have now. Words like dated, ancient, and old are relative obviously, but to pick stuff out from the post-2009 era of mountain bike development is just cheating your way around the hard truth of this answer.
If we were to be dropped back into the golden / explosive era of mountain biking in the '90s, I believe the answer to the above question changes very dramatically. And so I'm just going to expand on the original question and dive into that time in mountain biking history.
It is so much easier to adjust your line choice on a 69° HTA frame with a modern fork than it is to do the mental math on how stiff your elastomer fork is going to respond with *today's* temps on your 65° HTA modern frame. It's far easier to drop your seat out of the way at the push of a button on your super high standover old bike than it is to manually drop your seatpost on your modern one with its 78° STA. It's easier to use your 203mm-rotor'ed 4-piston disc brakes to slow down your bike, which is getting twitchy with its short wheelbase, then to realize your v-brake's pads are literally melting on your modern trail bike, and you're about to die.
I can live with all the wonky geometry in the world. I'm flexible there. What I can't live with is going back to a period in time where the parts on your bike were so fragile, failed so frequently, or were so underdeveloped that your personal safety was *literally* at risk every time you fired up a hot lap. Save for the adolescence of early carbon frames, most people haven't ever had a problem with breaking bike frames. [Edit: huck-to-flat-era David begs to differ.] But anyone that's been riding mountain bikes pre-2009 can remember a time when they literally melted / boiled their brakes, had a hole in the sidewall of a tire that they could stick their hand through, or had suspension so non-existent or underdamped that they honest to god got bounced off the side of a trail after a bad line.
The frustration of a ride ended early due to your 4th flat thanks to a new bur inside your narrow and soft aluminum rim just isn't something modern mountain bikers can relate to. Do you even carry a tube patch kit on you anymore?!? Give me awkward geo but refined parts ANY DAY over modern geo and asking me to take my life in my hands just to go for a bike ride again. I survived once and I'm not going to go back to try to do it again.
What's Your Take?
Do Luke and Dylan just not appreciate how much worse older geometry was? Are David and Noah going to die when their 2011 Saint brakes randomly go to the bar? (Maybe.) Does Eric not remember what parts actually existed in 2011? (Kinda seems like it.) Let us know what you think in the comments.