The winner of our Gear Giveaway this week will get a really cool combo of gear from Wagner Custom Skis, Glade, & artist James Niehues!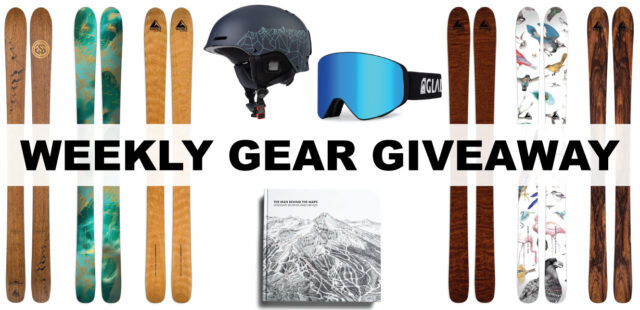 The winner will get a $2,200 credit at Wagner, which they can use to purchase a fully custom ski. The folks at Wagner will work with you to dial in everything from the shape to the rocker profile to the core to the graphics to end up with a design that's fully tuned for your preferences.
Then they'll also get Glade's Tenmile helmet and their new MagFlight goggles. We had two reviewers in the Tenmile last year and both came away with positive impressions regarding its fit and comfort, while the new MagFlight (review coming this season) features a super easy lens-swap system thanks to its magnetic frame / lens combo.
Finally, the winner will also get a signed copy of James Niehues's book, The Man Behind the Maps. If you've looked at a ski-resort map in the last 30 years, there's a very good chance you've seen one of James's illustrations — he's hand-painted maps for more than 200 ski resorts, and his hardcover book makes for an awesome coffee table piece, with 292 pages of his illustrations. We have a copy in Blister HQ and it is an awesome piece of ski / snowboard memorabilia.
For a chance to win all of this, enter before Friday, November 27th.
(Winners will be chosen at random and announced next Friday in our Blister Newsletter. Must be 18 or older. This particular giveaway is limited to the U.S.)
By entering, you'll receive our bi-weekly Blister newsletter, where we'll (a) announce each week the winner of our previous Gear Giveaway, (b) provide a roundup of the news and our highest-profile reviews of the past few days, and (c) offer sneak peeks of the products we're currently reviewing. It's good times for sure, so don't miss out. You'll also be kept up to date on what's new at Wagner, Glade, & James Niehues.