Intro
Day one and two of Outdoor Retailer Summer Market 2019 are in the books. Hundreds of companies have descended upon the Denver Convention Center to show off all of their new products for 2020 and, as expected, we saw a ton of really interesting looking gear.
Even more so than in past years, the products, brands, and trends of this year's show seem to be focused around new and innovative technologies, rather than quirky / crazy product designs. Everything from new baselayer fabrics from Gore-Tex (yep, you read that right) to titanium-infused nylon fibers from Rab — the new tech we've seen this year has been very interesting.
And for even more info on the products, trends, and weird things we noticed at OR this year, check out our recent GEAR:30 podcast.
Day One
Gore-Tex Infinium Fibers Shirt
This might just be the most surprising piece we saw at the show today. In conjunction with Under Armour, Gore-Tex has developed a baselayer fabric that is designed to pick up less moisture, dry quicker, and stick to your skin less than traditional polyester, wool, and / or nylon baselayers.
So how do they claim to do this? By blending small fibers of expanded polytetrafluoroethylene (ePTFE), the same material used in Gore's waterproof membranes, into the polyester fabric of the baselayer. The resulting fabric has a flecked appearance with the white ePTFE fibers standing out against the dark polyester. We can't wait to get in this unique new fabric and see how it performs outside.
On top of that, Gore also is releasing updates to its Infinium line including digitally printed shells, new membrane configurations of Windstopper, and a commitment to eliminate all harmful PFC use by 2023 across all lines. (We're also seeing other companies making similar efforts, with Patagonia hoping to eliminate all PFC use by 2021 and Deuter having eliminated all PFC's for 2020).
Mystery Ranch Skyline 23 Pack
On-route climbing packs are often made to be as light as possible and, as a result, are very minimal on features. Mystery Ranch, however, isn't known for their minimalism and their new Skyline 23 is no exception.
With a fully-featured silhouette that includes a quick-open main compartment, an ingenious belay-station access design, an ice-ax carry system, and compression straps, the Skyline favors usability over an ultralight design. Not many companies make packs as burly or as well thought out as Mystery Ranch and the Skyline 23 looks like another pack that could continue in that tradition.
Patagonia Storm Racer Shell
Patagonia does a lot of things very well, though they aren't known for their crazy designs or wildly out-of-the-ordinary features. Instead, they tend to focus on perfecting proven silhouettes and pushing new, sustainable, technology. But with their new Storm Racer shell, they're breaking away from their more conservative designs of the past. This thing is seriously wild.
The new Storm Racer is super light (stated weight of 200 grams) and designed to work in conjunction with their redesigned running vests. The main front closure of the new Storm Racer is a waterproof zip that runs offset and diagonal from the collar and is capped with a small snap. There is another offset diagonal zip that runs down the other side as well, but only halfway.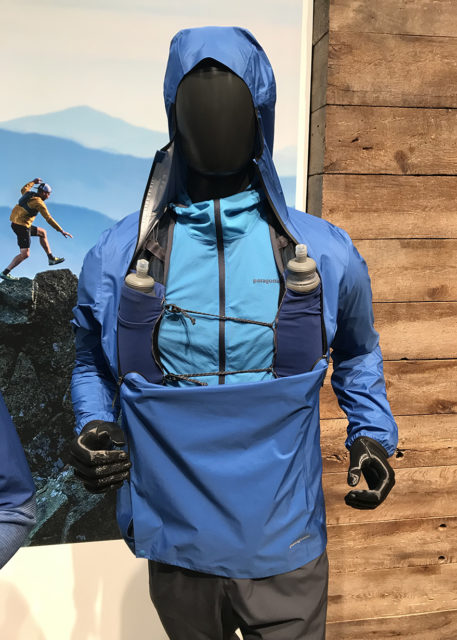 The result is a jacket that is supposed to be easy to get on / off without stopping that also allows unfettered access to your running vest for hydration and nutrition. This thing looks wild and we're eager to get it on the trail.
Mountain Hardwear Gore-Tex Paclite Plus Jacket
Another unexpected new technology coming out of Gore-Tex — Paclite Plus. A much-needed upgrade to their traditional clammy-feeling Paclite fabric, Paclite Plus offers a lighter-weight layup and a much softer lining scrim that should be significantly softer against skin compared to original Paclite.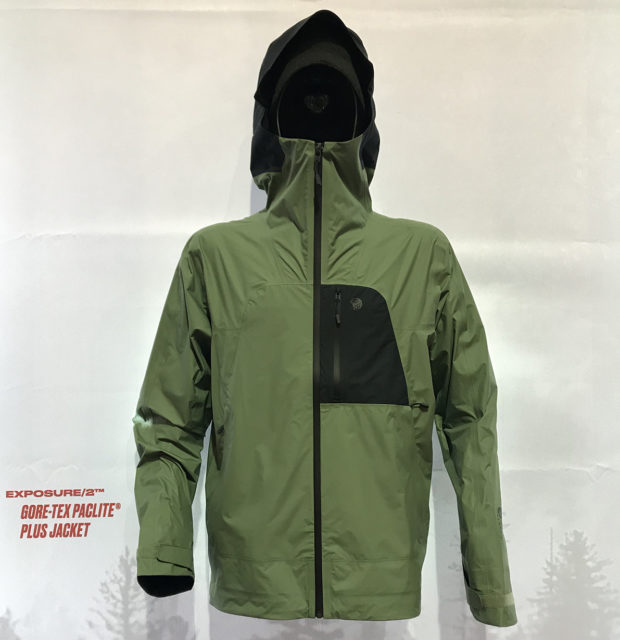 Several companies are using this new material for 2020, including Mountain Hardwear, Rab, and more — we're very excited to test it out.
Rab Mythic Ultra 180 Sleeping Bag
Perhaps the most intriguing new tech we've seen so far at the show is featured in Rab's new sleeping bags, the Mythic Ultra 180 and Mythic Ultra 360, which Rab claims are the lightest sleeping bags in the world.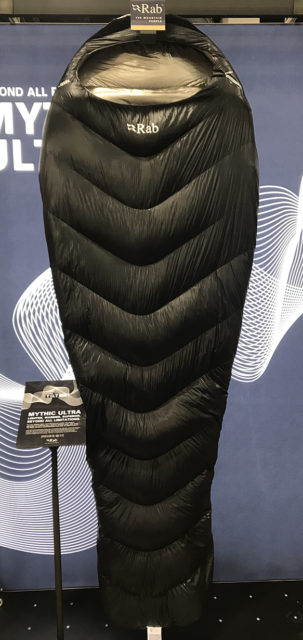 The Mythic Ultra 180 is filled with 900-fill-power down, has a claimed weight of 400 grams, and is rated to 32°F (the 360 version is tested to 20°F). But the really interesting thing about this bag is the liner fabric.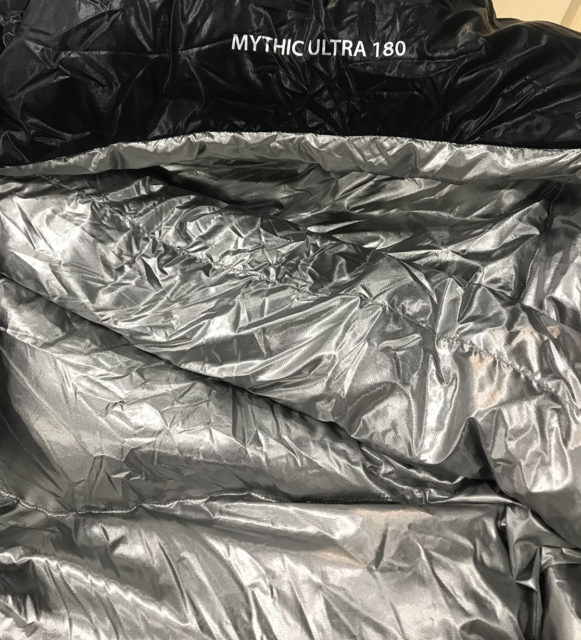 The nylon fibers used in the fabric are individually coated with titanium in a vapor deposition process in order to reflect heat more effectively — sort of like a space blanket. And while you might instantly think that the bag would feel really sticky / clammy, our initial impression is that the interior fabric feels really natural and comfortable. Rab claims the bag is about 7-11°F warmer in the field than it performs on the EN test due to this new lining material. Seriously cool stuff.
Outdoor Research Microgravity Jacket
Outdoor Research is expanding its line of proprietary "AscentShell" waterproof jackets which use an electrospun membrane (think Polartec NeoShell, The North Face Future Light, Patagonia Descensionist, etc).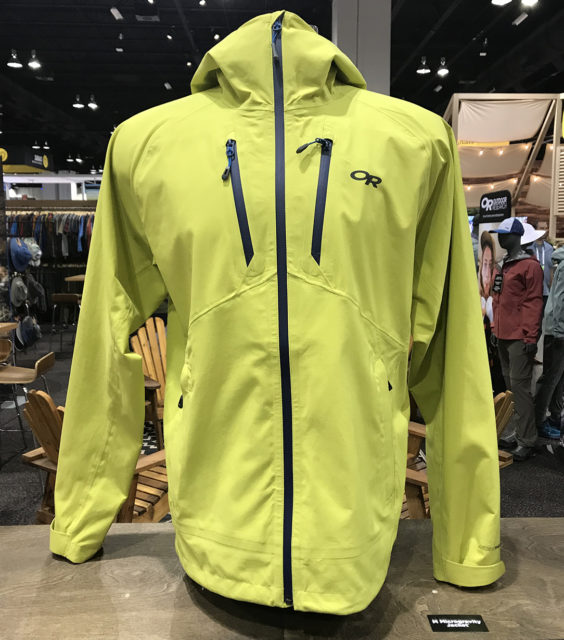 Outdoor Research's new Microgravity jacket is a lightweight 3-to-4 season shell that is tuned for good breathability in high-output situations while maintaining enough protection to keep moisture out in an unexpected rain or snow storm. Though this isn't the craziest piece we saw at the show, it seems like it could be a big step forward for Outdoor Research in the hardshell category. We're excited to see where this new line of shells goes.
Day Two
Black Diamond Z4 Cams
With the introduction of the 2020 Z4 cams, Black Diamond has now overhauled their entire cam lineup — all within the past few years.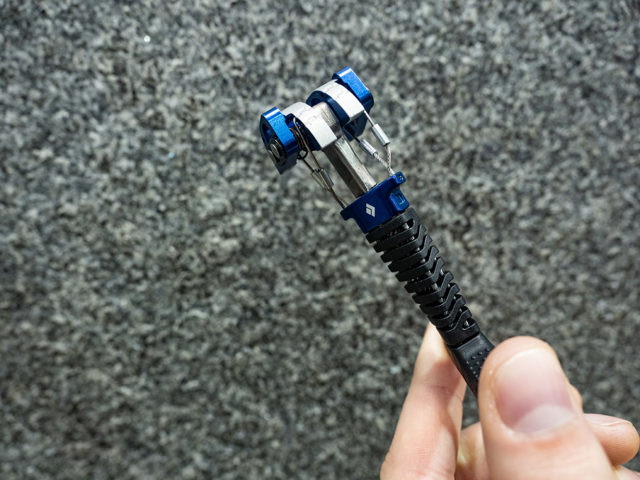 The new Z4 cams effectively replace both their X4 and C3 lines and use a unique stem construction that makes them extremely flexible during placement but a bit more rigid once you pull the trigger. This is meant to make the new Z4 cams easier to place while decreasing the likelihood of the cams "walking" once placed.
Playing around with the Z4 cams at the show, Black Diamond's claims seem accurate. And with the Z4 cams being available in sizes down to a 0 — and coming in offset options — they seem like a very cool new addition to the smaller cam market.
Black Diamond Vision & Vision MIPS Helmets
In addition to their new Z4 cams, Black Diamond also introduced two new climbing helmets. The Vision and Vision MIPS helmets use a flexible EPP foam throughout most of the helmet while featuring stiffer EPS in a few areas for added durability.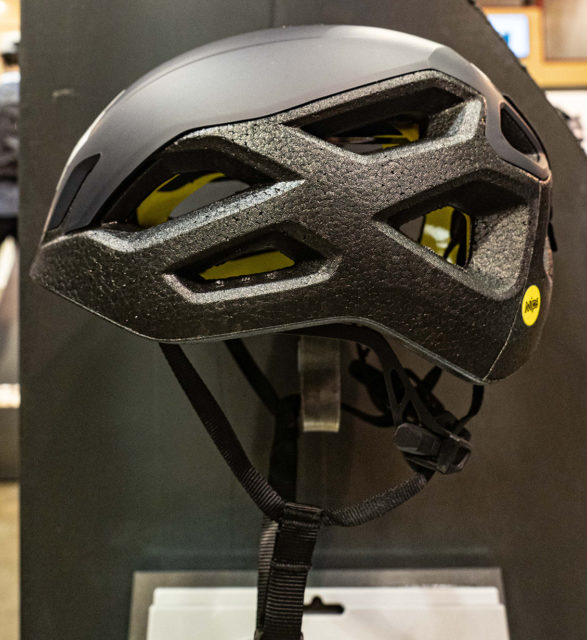 In terms of construction, that puts the Vision in the same class as the Petzl Sirocco and Mammut Wall Rider — two very light helmets. With a stated weight of 210 grams, the Vision isn't quite as light as those helmets but it's still on the lighter end of the spectrum, and looks like a cool, potentially more durable addition to Black Diamond's helmet lineup. Lastly, the Vision will also be available with MIPS, making it one of very few climbing helmets with the MIPS system.
Rumpl
Rumpl had a few new products at the show.
First, they introduced a new version of their original puffy blanket that uses a proprietary synthetic insulation that they're calling "Nano Loft." Essentially a middle ground between the more traditional synthetic fill in their Original Puffy Blanket and the down insulation in their Down Puffy Blanket, the Nano Loft blanket feels a lot like a down blanket but is more water resistant and comes in at a price ($150 for the small size) that slots between the Original and Down versions.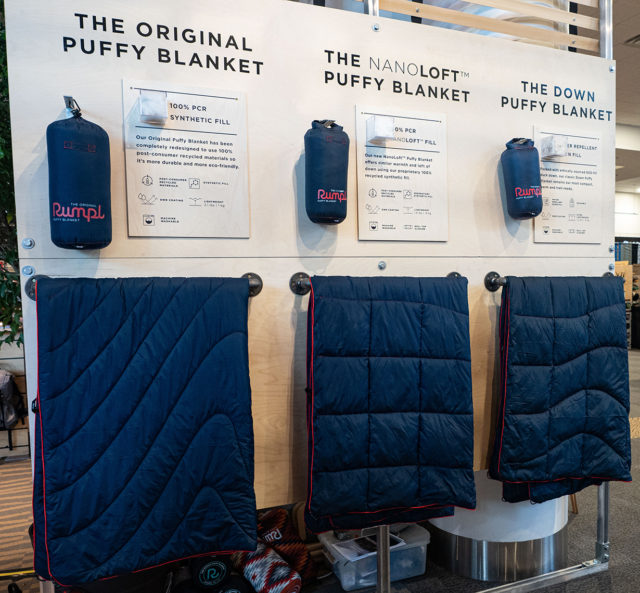 But an arguably even more important aspect of Rumpl's 2020 line is that all of the blankets' face fabrics are made from post-consumer-recycled (PCR) content, and the synthetic blankets use PCR fills, too.
On top of that, Rumpl has some pretty amazing-looking insulated Ponchos which not only feel super cozy, but also feature the obviously mandatory beer-holder front and center. Plus, they make a kids version called the Gromcho, which is pretty much the best product name ever.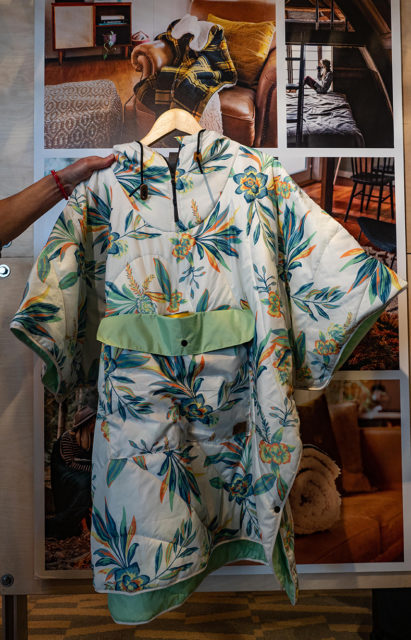 Topo Designs
Topo, known for their simple packs, apparel, and accessories, was showing off an expanded and refined line.
The pieces that caught our eyes right away were their new softshell jackets. Topo already has some super light, packable windshells, but their new softshells look like they'll be more breathable and potentially more versatile, all the while maintaining the brand's clean and modern aesthetic. The softshell anorak looks awesome, but there are also full-zip options for those who aren't down with the pullover life.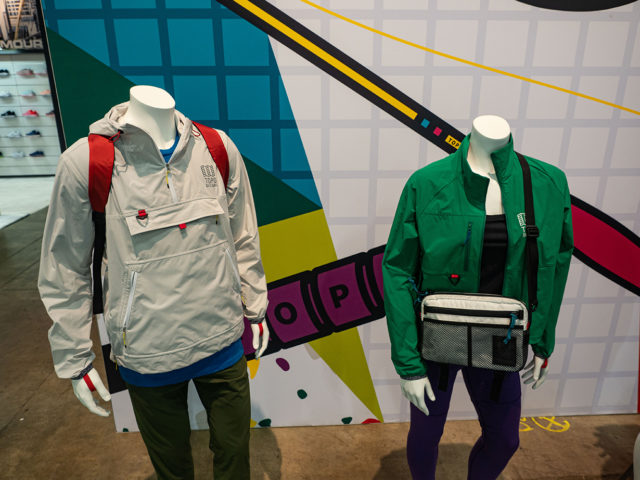 Topo also expanded on some of their proven products, now offering a smaller and higher-end version of their classic Rover pack and a "Premium" line of some of their staple packs like the 30L & 40L Travel Bag, 35L Travel Bag Roller, Rover Pack, Dopp Kit, and more. The premium versions are available in all-black colorways and feature higher-end trims, closures, and fabrics.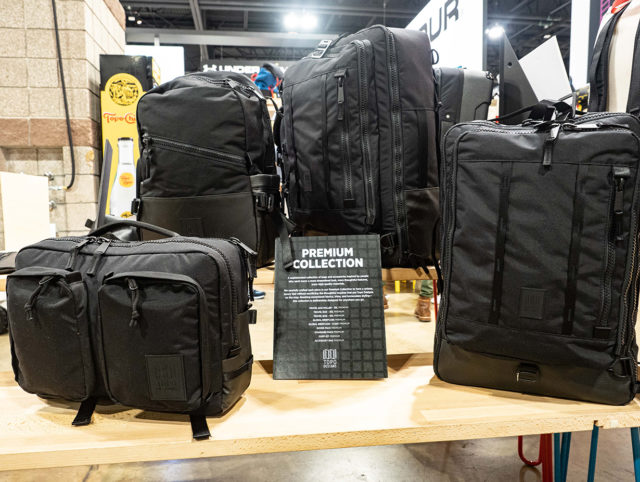 Tecnica Running Shoe
Last week we posted a review of a new product from Tecnica — their heat-moldable Plasma S hiking shoe.
For 2020, Tecnica is bringing that same heat-moldable tech to four trail running shoes. The new Origin series not only includes heat-moldable materials around the arch, heel, and insole, but is also designed specifically for runners of different sizes.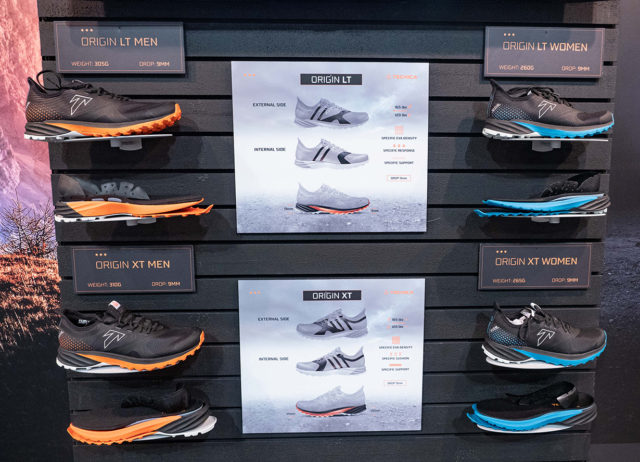 The idea behind this is that people who weigh more / less need different types of cushioning and support. To address this, the Origin LT and Origin LT Women are designed for lighter runners who don't need quite as much cushion and TPU overlays for support, while the Origin XT and Origin XT Women feature a slightly thicker midsole and more supportive upper. The women's versions also use an entirely different last, rather than just being smaller than the men's shoes.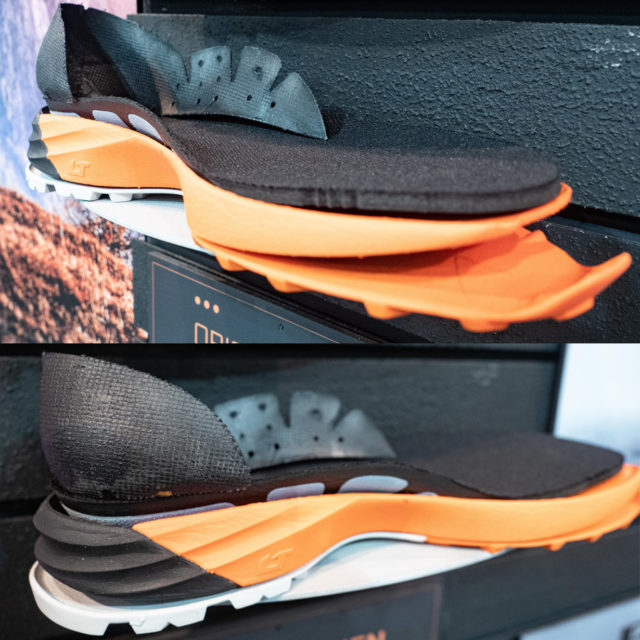 All of the Origin shoes have a stated heel-to-toe drop of 9 mm, the men's shoes reportedly come in a little over 300 grams, the women's around 260 grams, and they all feature a Vibram MegaGrip outsole. We're very excited to try out these new shoes as a custom heat-moldable fit is something entirely new for the running category.