[Editor's Note: From 11.15.19–12.13.19, you have a chance to win an AIARE Level 1 or Level 2 avalanche safety course through 57hours in our weekly Gear Giveaway.]
September is a hectic time at Blister. Summer reviews are wrapping up, and snow fever is in full effect.
But the biggest reason that September is crazy around here is that we are all working to put out our massive Winter Buyer's Guide — and it is a gargantuan amount of work.
So this year, we decided that we needed a bit of a post-Buyer's-Guide vacation, and after talking it over with the crew, we decided that we would escape to the sun and sand of Moab, Utah, for a few days.
Luke Koppa (who grew up rock climbing) hadn't touched vertical rock in years, and I hadn't been on a mountain bike in over a decade. It was time to change that.
After a quick survey of available climbing + biking guides on 57hours, an app created by Blister Member, Viktor Marohnic, that matches clients with guides, we found Willie Benegas. Willie has been guiding and climbing for decades and, while he is pretty much the nicest guy you'll ever meet, Willie is also a serious badass — he has summited Everest 13 times and has a tick list that would make even the most seasoned mountaineer's head spin.
After a little back and forth with Willie, we had a plan: one day we would climb the route Jah Man on Sister Superior, and the next day, we'd get on bikes and go explore Canyonlands and the surrounding area.
57hours made the process of booking a guide painless. I found Willie on the app, and shot him a request to book. Within 24 hours, we had our reservation confirmed.
The only issue?
While scrolling through the various guides and trips on the app, I now have an enormous outdoor to-do list. There are so many rad trips and experiences that you can book through this app.
So, we wrapped up the Buyer's Guide and headed to Moab.
After a pre-dawn alarm, Luke and I met Willie to get the lowdown on our first day in the desert, with the goal of climbing the Sister Superior Tower in Castle Valley. The plan seemed complicated. Since Sister Superior is fairly remote, we had decided to approach on bikes because they'd be quicker, and, well, way more fun. We'd be coming in from the opposite side of the valley as the typical approach and riding through a series of dry washes to get near the base of the tower. Then we'd hike to the base of the route, climb it, walk back to our bikes, and ride out to the standard trailhead where we would set up a car shuttle.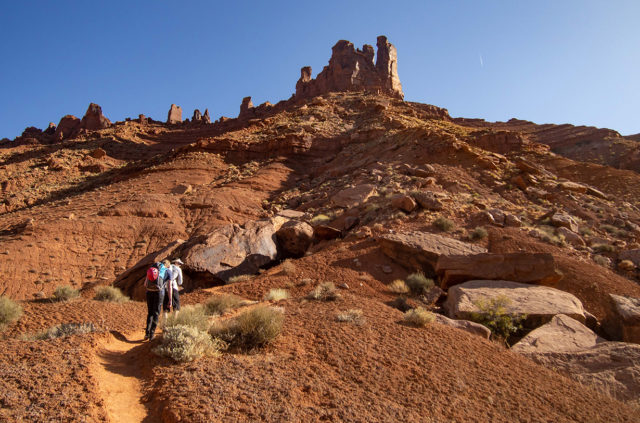 In retrospect, this was an awesome way to climb Jah Man. Biking through the washes was incredibly cool, and it cut down our approach time by several hours. The car shuttle was quick and easy to set up, and everything when off without a hitch.
The route itself is an absolutely classic desert tower route that checks all the boxes for adventurous sandstone climbing. Long, unprotectable chimney? Check. Insecure face moves? Check. Splitter crack climbing on bombproof rock? Check. A chossy, tricky top out? Check.
We had a great time out on the rock. The weather was perfect and we summited in no time. Luke certainly did not get cut any slack on this off-the-couch. This is legit 5.10 climbing, and he kicked off the years-old rust impressively well.
Day 2: Biking at Dead Horse Point
The next day, we had a larger crew out for a scenic bike ride. Luke, Willie, and me were joined by our editor-in-chief, Jonathan Ellsworth, and by our A/V guy, Jared Farley.
We decided on a trail that I'd be able to handle (i.e., something pretty easy) — a dramatic 15-mile loop around Dead Horse Point State Park with sweeping views of Canyonlands, and a great variety of mellow trails, slickrock, and some technical and flowier sections throughout.
Fortunately, after riding a few miles the day before, I wasn't as rusty as I thought I might be, and we had a great time — and I managed to, for the most part, stay on my bike. It was great to get out and ride with Luke and Jonathan (even if Jonathan hated seeing me ride in a pink climbing helmet), and to see Willie's never-ending stoke seamlessly transition from climbing to biking.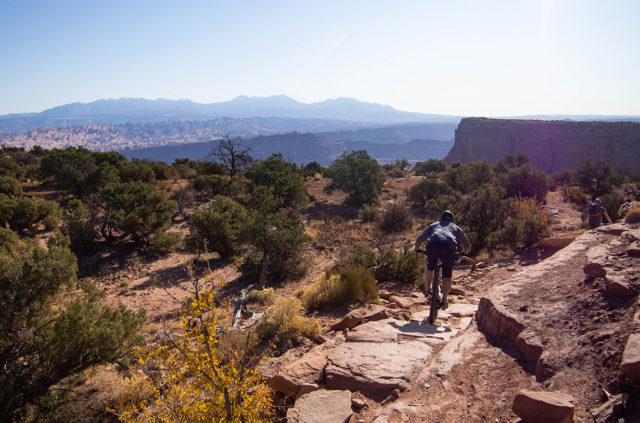 Overall, it's hard to ask for a better trip than we had, and getting lined up with a great guide and a great guy like Willie was a huge part of that. Whether you're a seasoned expert, a complete beginner, or anywhere in between, I think there are many great reasons to go out with a guide. As a beginner, you can easily get yourself into places and adventures that you could never complete on your own. And as an expert, there are countless tips and tricks that you can learn from a guide — especially someone like Willie, who has stood on more 8,000-meter peaks than I have 14ers.
Time to start planning the next adventure…