Ski: 2020-2021 Liberty Skis Genome, 187 cm
Available Lengths: 181, 187, 194 cm
Blister's Measured Tip-to-Tail Length: 184.2 cm
Stated Weight per Ski: 2350 grams
Blister's Measured Weight per Ski: 2417 & 2469 grams
Stated Dimensions: 170-141-157 mm
Blister's Measured Dimensions: 169.5-140-156.5 mm
Stated Sidecut Radius: 23 meters
Tip & Tail Splay (ski decambered): 79 mm / 54 mm
Traditional Camber Underfoot: ~3 mm
Core: Bamboo / Poplar + Fiberglass Laminate
Base: Sintered P-Tex
Factory Recommended ("Standard") Mount Point:
7 cm behind Liberty's "Center" mark; 81.5 cm from tail
-10.6 cm from Blister's measured "true" center; 81.5 cm from tail
Boots / Bindings: Lange RX 130 LV / Salomon STH2 16
Test Locations: Chugach Powder Guides, Girdwood, AK
Days Skied: ~15
[Note: Our review was conducted on the 17/18 Genome, which was not changed for 18/19 19/20, or 20/21, apart from graphics.]

Intro
These days, it seems like more and more companies are aiming making their powder skis more moderate — narrowing the waists down, mellowing out the rocker profiles, and lightening them up to make them easier to use when conditions aren't all-time.
While these kinds of skis certainly make a lot of sense for most people, sometimes it's refreshing to see a company go the opposite direction, and make a ski specifically for floating in really deep pow. This year, Liberty introduced their redesigned Genome, and at 140 mm underfoot, it looks like it should be a pretty ideal tool for bottomless snow.
Here's what Liberty says about the Genome, which returned unchanged for 18/19 and 19/20:
"DON'T FEAR THE GIRTH. The Genome is surprisingly nimble, due to tip and tail Bomb Rocker and lightweight construction. You can float, pivot, and romp deep snow, but can lay down tracks on harder stuff because of the unique camber profile. The Genome will make you a believer."
So, while Liberty is claiming a bit of versatility, we're taking those claims with a large grain of salt given the ski's massive dimensions.
Shape / Rocker Profile
The Genome actually strays away from the shaping techniques we normally see for dedicated pow skis, namely, a lot of taper and a ton of rocker. While the Genome certainly has plenty of tip rocker, it's tail rocker line isn't all that deep (it looks more like a big twin tip).
What's also interesting is the addition of camber underfoot — we wouldn't normally expect this from such an enormous ski, but considering that we don't know of any skis this wide with this sort of rocker-camber-rocker profile, we're interested to see if it really does help the Genome handle firmer conditions (though we're still very skeptical of Liberty's claim that it can "lay down tracks on the harder stuff"). We're also curious to see if that camber affects the surfy-ness / maneuverability of the Genome compared to similarly large, but fully rockered skis. Check out our tip-to-tail rocker profile specs for a few notable skis below:
Liberty Genome, 187 cm: 79 mm / ~3 mm / 54 mm
DPS Spoon, 190 cm: 96 mm / 0 mm / 40 mm
DPS Lotus 138 Spoon, 192 cm: 105 mm / 0 mm / 42 mm
Armada ARG II, 187 cm: 66 mm / 0 mm / 65 mm
Flex Pattern
Here's how we'd sum up the flex pattern of the Genome:
Tips: 6-6.5
Shovels: 7-8
In Front of Toe Piece: 9-10
Underfoot: 10
Behind the Heel Piece: 10-9
Tails: 7-6.5
It isn't a burly charger, but it's not a complete noodle either. The Genome has a pretty round flex pattern, though the tails do soften up pretty quickly — it doesn't feel like a hinge point (it is a smooth transition) but it feels like the ski goes straight from "9" to "7" between the heel piece and the tail. The Genome's softer tips / tails and gargantuan width should make for plenty of float.
Dimensions
The Genome's dimensions definitely stand out on paper. Because the ski has very minimal taper, it's tips and tails are really wide, and we suspect they'll feel pretty big when trying to whip the ski around. For reference, here are the dimensions for the few skis that are comparable:
Liberty Genome, 187 cm: 169.5-140-156.5 mm
Armada ARG II, 187 cm: 133.6-131.9-132.8 mm
Volkl Bash 135, 186 cm: 150-135-140 mm (stated dimensions)
Praxis Powderboards, 190 cm: 134-138-127 mm (stated dimensions)
DPS Lotus 138 Spoon, 192 cm: 147-138-143 mm
DPS Spoon, 190 cm: 159-148-150 mm
Sidecut Radius
Most of the similarly fat pow skis out there either use full reverse sidecut, or extremely long sidecut radii (e.g. the Volkl Three's stated 50.9 m sidecut radius for the 186 cm). However, the Genome again bucks the trend here by using a relatively short sidecut radius of 23 meters for the 187 cm version. So, we're interested to see how this shorter sidecut radius affects the Genome's stability at speed, and its preference for small vs. large turns.
Weight
The Genome doesn't employ an ultralight carbon construction like DPS' super fat skis, so it's not very surprising that it's a pretty heavy ski. This, combined with the not-very-tapered tips and tails and the more moderate rocker profile (at least compared to the Spoon and Lotus 138), make us curious about how maneuverable the Genome will feel, especially in tight spots.
For reference, here are a few weights for some other notable skis in this class:
2093 & 2115 DPS Spoon, 190 cm
2268 Praxis Powderboards, 190 cm (stated weight)
2285 DPS Lotus 138 Spoon, 192 cm (stated weight)
2417 & 2469 Liberty Genome, 187 cm
2508 Volkl Bash 135, 186 cm (stated weight)
2700 & 2703 Armada ARG II, 187 cm
Comparisons
The Genome is currently up in Alaska, where Blister reviewer Paul Forward will be putting time on it and comparing it to a bunch of different pow skis, from deep-snow specialists like the DPS Spoon and Lotus 138, to the more moderate, narrower options that make up most of the market today.
Bottom Line (For Now)
If you are looking for maximum flotation, the Liberty Genome looks like a pretty safe bet. Its massive dimensions and softer tips / tails seem like they should offer plenty of float for the deepest snow, and it's unique shape and rocker profile (at least compared to other 135+ mm underfoot skis) look like they could potentially offer a bit more versatility than the other super fat pow skis. We have the Genome in Alaska right now, and should be getting it into some deep snow very soon.
FULL REVIEW
Last season I spent a good chunk of time skiing on Liberty's 140mm-wide pow ski, the Genome, and not always in perfect conditions. All in all, I came away really impressed, and the Genome earned itself a "Best Of" award in our 18/19 Winter Buyer's Guide (and again in our upcoming 19/20 Winter Buyer's Guide). So here I'm going to go into more detail on why I think this ski is worth checking out. But first…
Why Super-Fat Skis?
Before diving into my experience with Genome I'm going to spend a few paragraphs discussing the existence and purpose of skis this wide. I've heard from more than a few people that skis like the Genome are ridiculous and have become outdated by narrower and more versatile powder shapes. However, based on my experience and judging by many of the comments on our First Look of the Genome (and the Armada ARG II), there is still a lot of love out there for super-fat skis like it.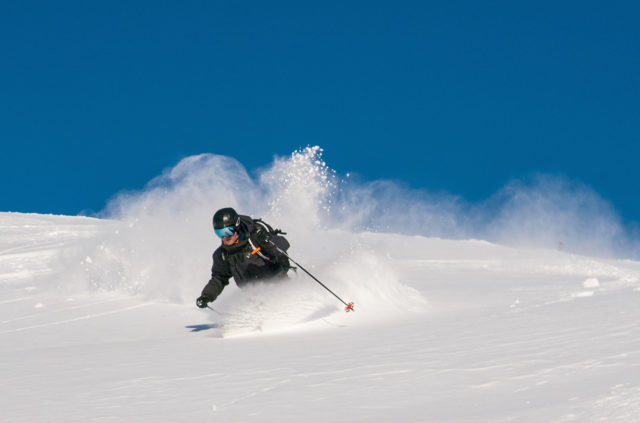 I've had a penchant for the fattest skis on the market for a long time, and since the late 90's I've been hearing remarks about my "waterskis" (I think the first time I heard that I was on a pair of ~87 mm Volant Chubbs!). I even spent a whole season with a pair of Praxis Powderboards as my only ski. For a while, when the only rockered skis available were all wider than 120 mm underfoot, super-fat skis were fairly popular. But as soon as rocker and rocker / camber profiles came to narrower, more versatile shapes, wide skis — especially those over 130 mm underfoot — slowly became nearly extinct.
While refinements in flex patterns, rocker profiles, and shapes have allowed for excellent powder skis that are much narrower than the Genome, I and many other skiers I know still see a place for super-fats.
Here in Alaska, where big snowfalls are frequent and we spend much of our season on big alpine terrain with long, steep runs, super-fat skis can be excellent tools. That's because they often require much less effort than narrower skis, even those in the 110-120 mm class. Even mediocre super-fat skis plane up, turn, pivot, and slide much easier than narrower options, and super-fats allow both intermediate and expert skiers to ski deep pow faster and longer with less effort.
A big part of the reason for this is that the extra floatation all but eliminates the more dramatic weighting / unweighting between turns that is sometimes necessary on skinnier skis in deep snow — especially deep maritime snow. This is why most heli-ski operations in Alaska generally provide clients (especially those with less powder-skiing experience) with super-fat rockered skis. It's also why many Alaskan ski guides prefer super-fat skis that allow them to more easily get around in deep snow and big terrain with big packs.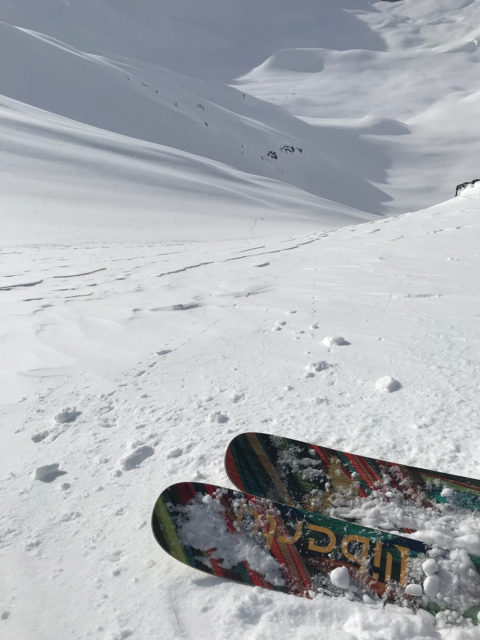 It is worth mentioning that most pro skiers on Alaskan film trips are not typically on anything bigger than 125 mm underfoot, and often are on something in the 115-120 range. While every skier has his or her own reason for ski choice, many of them tell me that it comes down to the fact that they usually are going extremely fast and need narrower, stiffer skis for high speeds in variable runouts. They also note that landing big airs results in pretty big impacts on super-fat skis. In addition, some just like to use a more versatile ski so they can stay on the same skis all season wherever they go and are always on something familiar to them. It's also likely a factor that few of the mainstream ski manufacturers (i.e., sponsors of many pro skiers) still make super wide skis.
Now with all that said, let's talk about the Genome's on-snow performance.
Powder
I'll touch on the Genome's performance in other types of snow, but I'd assume that anyone considering the Genome is surely looking for a powder ski. I've spent a ton of time on powder-specific shapes like the Praxis Powderboard, DPS Lotus 138 (pretty much every version of it), DPS Spoon, and lots of other super-fat skis.
[Note: Even though some of those skis have some form of sidecut, I'm going to refer to them as "reverse/reverse" skis for the remainder of the review in reference to the reverse sidecut and reverse camber that initially defined these types of skis.]
I like those kinds of shapes so much that I used to hold the opinion that any ski over 130 mm underfoot should generally have a reverse-sidecut shape because it works so well in deep snow. To varying degrees, reverse/reverse designs have lower swing weights and allow for almost effortless drifting and slarving and quick easy pivots.
In comparison to the reverse/reverse shapes, the 187 cm Genome definitely does not break free as easily into the same high-speed power slides as the above-mentioned skis. But the Genome's softer flex in its tips and tails, combined with its rocker profile and overall girth, make it one of the best "traditionally shaped" skis I've ever used when it comes to breaking it free into slides. The one possible exception would be the discontinued Salomon Rocker2 122.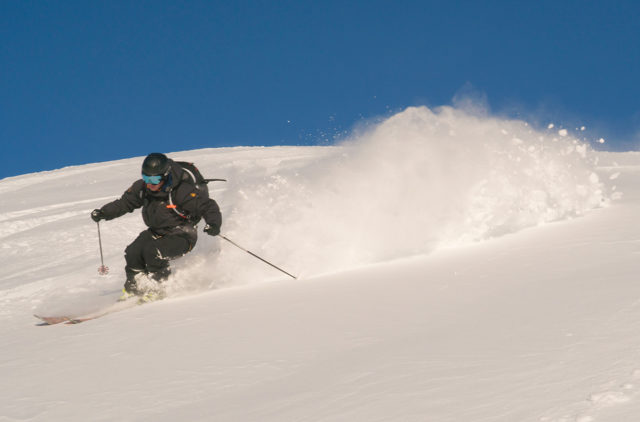 Compared to the Powderboard / Spoon / Lotus 138 shapes, the Genome requires a more dramatic edge release, but the excellent flotation certainly allows for long, drifted turns in steep terrain and easy slarving on lower-angled slopes.
While the Genome does not allow the same freedom from the fall line as the reverse/reverse shapes, the Genome does provide more tip flotation for those who like to push into the front of the ski. While the reverse/reverse shapes generally prefer a more neutral stance (except at high speeds where they plane up no matter what), the Genome's shovels are very supportive. Even in the 187 cm length, I could easily drive the Genome in all but the very deepest snow and trust that the big shovels would stay on top and the skis planing (I'm 6' and ~230 lbs with my pack).
Where the Genome is much better than the reverse/reverse shapes is anytime the pow is a shallower or low-density over a firm base. In these conditions, the massive girth of the Genome and its giant shovels generally keep it pretty high in the snow anyway. But if it does engage with any firm snow underneath, the Genome's relatively long effective edge (compared to the reverse/reverse shapes) and moderate sidecut radius engages easily and predictably into smoothly carved turns.
In wetter, heavier pow the girth of the Genome was quite welcome and gave me great maneuverability and general ease of use. Even compared to similarly shaped ~120mm skis (e.g., Liberty Origin Pro and DPS Alchemist Lotus 124) in the same conditions, the Genome is notably looser and easier to keep on top.
One of the cool things about the Genome that I haven't found in a lot of big pow skis is that it has a fair amount of pop and playfulness, especially for such a monster ski. It's easy to load up the tails for ollies over little wind features or rocks, and they just feel like they want to be thrown around. Despite their morbid obesity and big tips and tails, they feel pretty light underfoot and the swing weight is much less than I expected.
Firm, Smooth Snow
I did get a few runs in on smooth windbuff while heli-skiing and even made a few groomer runs at Alyeska on the Genome. Overall, they are exactly what you'd expect from 141 mm ski with a 23 m sidecut radius. They hooked up and carved well, but they're slow edge to edge and when you really lean them over it feels slightly precarious being up off the snow that far.
That said, I carved plenty of fast, clean arcs and generally had a good time in these conditions on the Genome. The rocker in the tips and tails don't let them hook up and rail like a pair of similarly obese Fattypus A-Lottas, but the Genomes do okay. I think the Genome would be a phenomenal lift-served Japan pow ski that could negotiate soft groomers as needed to get back to lifts.
Crud
The construction of the Genome does feel relatively damp, but no amount of dampening can change the reality that these things are extremely wide and have a relatively short effective edge. They're fine for surviving some crud on the way to the lift, but it's best to slow down a little and skid around.
Chop
As long as the chop is soft enough that it's not deflecting the massive tips, the Genome stays on top nicely and skip over the tops of ruts and tracks. Once things start trending more toward crud, it gets a bit tougher. The Genome does not knife through heavy chop as well as skinnier, stiffer skis. If there is a firm base accessible under fairly low-density, chopped-up snow, the Genome will engage and carve, but they're definitely prone to getting knocked around a bit as a result of just how wide they are.
Those who've learned to slash, skip, and knife through deep chop on some of the much stiffer DPS Lotus 138 iterations will be disappointed by the Genome, but the big Liberty will definitely carve better than any 138 once things smooth out a bit or get shallow.
Firm Variable Snow
Refrozen, firm, bumpy snow is not the forte of any super-fat ski. That said, the Genome's stiffness underfoot, fairly supportive tail, and intuitive shape do make it better than any of the reverse/reverse shapes when hitting unseen or unanticipated patches of variable snow.
This latter trait is very important in Alaska, especially when big, north-facing pow runs often have variable runouts with sun and wind crusts and lots of old avalanche debris. It's these variable runouts that give even very experienced skiers trouble. It's also one of the reasons why I typically transition to slightly narrower skis later in the season when these conditions become more common in runouts.
Breakable Crust
I do kind of enjoy breakable-crust skiing and I always get to do it at least a few times every year, whether I want to or not. The width of the Genome does a good job of keeping the downhill edges up and over the crust, and the nimble, poppy feel (for a ski this big, anyway) allow it to be jumped free of the snow during turn transitions.
The Genome's predictable and moderate sidecut radius also allows for the old "railer" technique — just locking into the sidecut radius and riding big long arcs without any attempt to scrub, skid, or otherwise break free of the crust.
Length
The Genome comes in 187 cm and 194 cm versions. My first inclination was to try out the 194 cm ski, but I suspected that many readers will be more interested in the 187 cm version and thought I'd give it a try. It also sounded like a fun ski to try in a shorter length and I was also curious how it would stack up against the 186 cm Volkl Bash 135 (formerly called the Volkl Three) that has become popular with some of the guides I work with.
I do hope to ski the 194 cm Genome someday, but for most of what I do — and even with my big guide pack — the 187 cm has been both playful and supportive in big-mountain terrain. Given my personal preference for long skis, it's possible that I'd prefer the 194 cm for heli guiding, but the 187 cm rarely felt too short.
Who's It For?
There are so many awesome powder skis on the market that are much more versatile than the 141 mm Genome can ever be, and those who want inbounds and firm-snow versatility should look elsewhere.
But there are definitely some people that should be checking out the Genome. If you answer "yes" to a few of the questions below, the Genome could be worth a look:
(1) Are you looking for a ski that you'll use in deep, untracked snow that's likely accessed by snowcats, helicopters, or very special days riding lifts?
(2) Do you prioritize the flotation of a >130 mm ski over maximum versatility?
(3) Are you looking for a big ski with a little pop to it?
(4) Do you want your super-fat ski to be able to handle the occasional shallower or firmer lap?
Bottom Line
Nobody needs a ski this wide, but if you want to experience powder skiing in a way that is different from even the best <120 mm pow skis, you should really try a pair of super-fats. The Liberty Genome is the super-fat option that still feels kinda like a normal ski on firm snow, and that still has some of the pop and liveliness of a skinnier, lighter ski.
Deep Dive Comparisons
Become a Blister Member or Deep Dive subscriber to check out our Deep Dive of the Genome to see how it stacks up against the DPS Spoon, DPS Lotus 138, DPS Alchemist Lotus 124, Moment Comi, Volkl Bash 135 / Volkl Three, and Volkl Kuro.