Strafe Sickbird Suit
Reviewer: 5'8", 130 lbs
Size Tested: Small
Blister's Measured Weight (size Small): 910 grams
Blister's Measured Front Zipper Length (size Small): 68.5 cm / 27 in
Blister Measured Inseam Length (size Small): 81 cm / 32 in
Materials:
Main Fabric: Recon Elite 3L waterproof / breathable laminate w/ a 60-denier nylon face fabric
Wrist Gaiters: Polartec Power Dry
Pant Cuff Reinforcements: 1000-denier Cordura
Stated Features:
Fully seam sealed
Integrated helmet compatible hood with 3-point adjustment
Microfleece fleece lined front hood & chin guard
Removable internal suspenders
Full length interior windguard
Exposed underarm vents
Exposed hamstring vents
DWR coated 4-way stretch powder cuffs with gripper elastic
Internal Cordura® scuff guards
Durable Cordura® hem guards
Zippered hem gussets for adjustability
YKK Aquaguard® Coil & Vislon® zippers
Pockets:
2 exterior chest pockets (zippered)


1 w/ internal drop-in mesh electronics sleeve

1 internal chest pocket w/ media port (zippered)
1 internal drop-in chest pocket
1 external forearm pocket (zippered)
2 thigh pockets


1 w/ internal drop-in mesh electronics sleeve
MSRP: $999
Test Locations: Taos Ski Valley & Ski Santa Fe, NM; Telluride & Silverton, CO
Days Tested: 5

Intro
Truth be told, I haven't worn a one-piece ski suit since I was in the single-digit age group, and with very few companies currently making technical, ski-specific one-pieces, this is not all that surprising. When contemplating skiing in a one-piece I think one of two things — retro ones from the 80's or the types of kits Freeride World Tour athletes wear. I'm certainly nowhere near as competent or confident as a FWT skier and the Sickbird is not at all retro in terms of its aesthetic — or the high-end fabric it uses. This left me with some initial apprehensions, but I ended up liking the Sickbird more and more every time I used it, and I think other people will, too.
What Strafe says about the Sickbird Suit
"The Sickbird Suit is perfect for the deepest storm days and as anyone who has worn one in these conditions will tell you, once you go once-piece you won't go back. Designed to provide the ultimate in outerwear protection, comfort, and simplicity, the Sickbird Suit is made with supple yet durable Recon Elite 3L 4-way stretch fabric to provide our highest level of protection while maintaining critical breathability. The women's Sickbird has a flattering cut that still allows for freedom of movement and ample storage and venting that is carefully designed to maximize utility. Forget what you think you know about the onesie because the Strafe Sickbird suit is like nothing you've ever experienced."
The Sickbird is meant to excel in powder, which makes sense — a one-piece really is the ultimate powder skirt. But while Strafe created the Sickbird for powder days, it's not meant to be some niche piece. Unfortunately, I received the Sickbird just after the biggest storm of the year and have yet to test it in deep conditions. However, I have found it to perform well in everyday conditions. I was able to test it on warm and cool days, and in the resort and the backcountry. Testing something as unique as the Sickbird was intriguing, exciting, and to be honest — a little nerve wracking. I've been consistently impressed by the quality and design of Strafe's products, but a one-piece snowsuit was a little off the beaten path for me. Here's what I've found:
Fit
Strafe describes the "relaxed" fit of the Sickbird like this:
"roomier and more progressive, relaxed styles fit a wide variety of shapes and sizes."
The fit guide for the Sickbird lists the size Small as being for women between 5'4" and 5'7" so my 5'8" frame is just outside that window. That being said, I was within the other parameters for the Small. At my height, I think I could easily have worn a size Medium but it would have been pretty baggy in some areas. When standing with my arms at my side, the leg cuffs of the size Small Sickbird Suit hit at the top of my foot. But when skiing in an active stance, the cuff came roughly halfway up my boot. Not my ideal length for ski pants, but also not really an issue as I came to realize.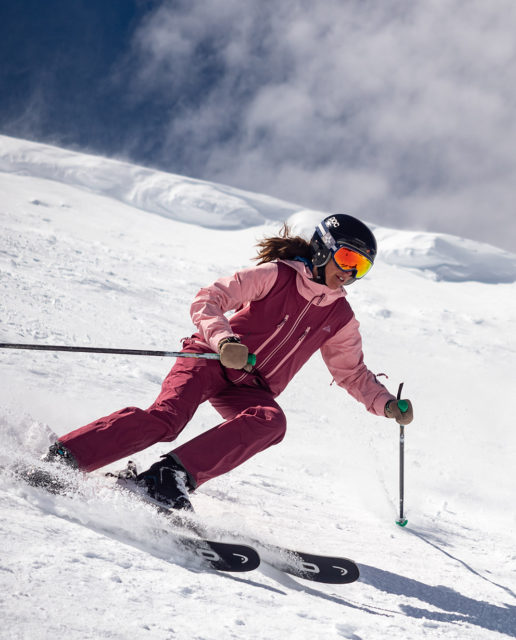 Fellow reviewer, Kara Williard, had originally planned to test the Sickbird but since she is a whole inch taller than me at 5'9", she found the size Small too short for her (which makes sense, given Strafe's sizing chart). During my time in the size Small Sickbird Suit, it only felt short when I was fully extending my arms overhead, but I can't imagine a scenario where this wouldn't happen in an otherwise appropriately fitted jacket or one-piece.
The size Small sleeves hit at the top of my hand and the arm length seems to be a little longer than that of the Strafe Meadow Jacket in the same size. Unlike the Meadow Jacket, I never noticed the Sickbird's sleeves riding up above my gloves when fully extended (e.g., when buckling my boots). The size Small Sickbird Suit's waist sits right around my hips which I found to be a great fit. While I think my body is fairly proportional, I tend to avoid overalls and other pieces of apparel where the legs are connected to the torso since they always seem to ride up on me. Thankfully and surprisingly, I did not have any problems like this with the Sickbird.
I did have one issue with the fit — if you can call it an issue — and that had to do with the wider, roomier waist. I unfairly compared it to a teletubbie waist on a few occasions as I thought it stuck out on the sides a bit, but nobody ever agreed with my observation. As I mentioned above, I was a little nervous and self conscious to try the Sickbird. I typically try to blend in with others around me rather than looking for the spotlight. For example, when skiing under the lift, I let my husband go first so all eyes are on him (he's a beautiful skier) and then I sneak down the run unnoticed.
But the more I wore the Sickbird the more I liked it, and I received a lot of positive feedback from folks. Unlike many retro one-pieces, the Sickbird's overall aesthetic is very modern and to some people, the fact that it's a one-piece might not even be noticeable. Of course, the nice colorways and clean design helped. So no, it won't make you look like a teletubbie, but the waist does feel roomier than most pant and jacket combos I've used. Granted, I have a fairly lean frame, and the fabric still drapes nicely and the shape of the Sickbird looks fine even when not fully filled out in the midsection. The extra room in the waist also leaves plenty of space for layers.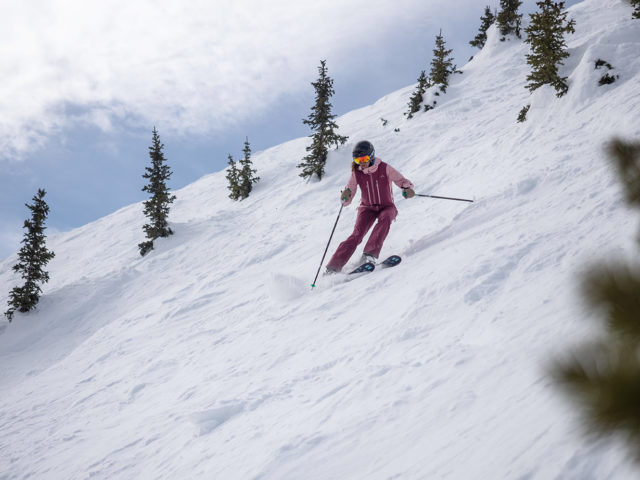 The bottom cuffs, like the other two Strafe pants I've tested (Scarlett Bib and Wildcat Pants), have a zipper on the outside to expand and accommodate wider boots. When closed, the cuffs easily fit over my buckled touring and alpine boots (Atomic Hawx Ultra XTD 115 W and Salomon S/Max 120 W). But when hiking or skinning I had a tendency to unzip or widen the cuffs to allow the boots to be worn unbuckled.
There were two fit-related things that really surprised me about wearing a one-piece. The first observation is that it's challenging to tuck in layers. Trying to tuck anything in, especially once the Sickbird's sleeves were on, was frustrating. I imagine that I'd be able to get the hang of it the more I use it, and I am also very particular about having everything tucked in just so — no bulges or weird overlaps. Trying to tuck in a baselayer, especially in the back, requires a bit of finagling and after getting it just so, I would then mess it up by putting on the sleeves. But once I did have everything straightened out, I could hit the slopes and never need to worry about baselayers shifting or drafts developing from exposed areas.
The second observation is that wearing a backpack is way more comfortable without an extra waistband. I wore the Sickbird in Silverton where backpacks are required and quickly realized I could just throw on the pack without having to adjust for any extra bunching at the waist.
So, in the end, the one-piece Sickbird presents a few complications when it comes to fit, but also brings some notable upsides compared to a traditional jacket + pant combo. As always, we recommend trying on any piece before buying, and we'd say this is even more important with one-pieces like the Sickbird.
Pockets
The Sickbird has 7 pockets, with the smallest one being on the forearm of the left sleeve, ideal for a pass or lip balm. It has two large (27 cm / 10.5") chest pockets with the left one having an internal mesh electronics sleeve and a media port. The mesh sleeve is large enough to fit my large cell phone without too much wrangling. I'm a big fan of internal electronics sleeves as they keep the main pocket from getting weighed down by a phone and they keep the object from bouncing around. I love that the Sickbird has two — one in the chest pocket, and one in one of the thigh pockets.
The Sickbird has a drop-in internal pocket on the right side that's large enough to accommodate gloves (or the suit's detachable suspenders), but any added bulk in the pocket is visually noticeable. Also, when using the restroom, items in this pocket have a tendency to fall out when the sleeves are off. I, unfortunately, learned this the hard way.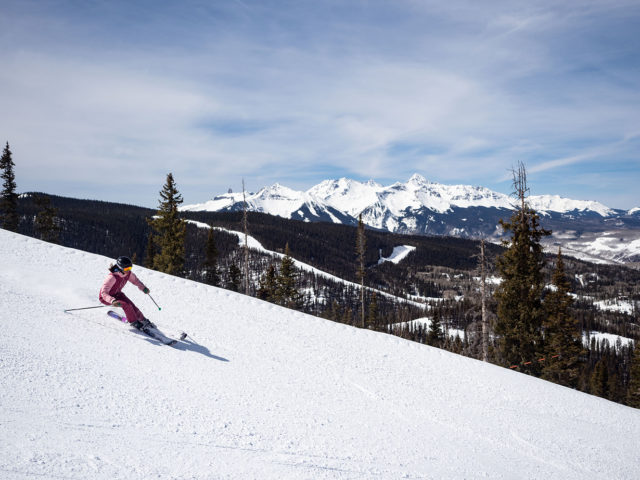 The Sickbird's hand-warmer pockets are located on the thighs and the right one has another internal mesh electronics sleeve and a loop for keys. The two leg pockets on the Sickbird are pretty big, with a 19 cm / 7.5" zipper opening and an internal dimensions of 19 cm x 27 cm (7.5" x 10.5"). They easily accommodate a large cell phone or an avalanche beacon (but never both — keep your phones away from your beacons!). There is also an interior zippered pocket on the left chest for smaller, more valuable items. With or without a backpack, the Sickbird's pockets function as intended and I never had an issue trying to figure out where to put something. When looking at the Sickbird, it doesn't at first appear to have many pockets, but the streamlined design is deceiving as there are more than enough pockets and they are all exceptionally functional.
Vents
Sometimes it seemed like half of the Sickbird Suit was a vent. It has four large, unlined vents, including two on the upper body and two on the legs. The upper underarm vents are large — 40 cm / 16" to be exact— which is impressive when compared to some of the jackets I've tested with vents ranging between 22 cm / 9" (Patagonia Descensionist) to 32 cm / 12.5" (Patagonia Snow Drifter). The Sickbird's leg vents aren't quite as large but are still impressive at 35.5 cm / 14" long. The number and size of the vents help make this powder-oriented suit more versatile, since switching out jackets to a lighter version is not an option when skiing in a one-piece.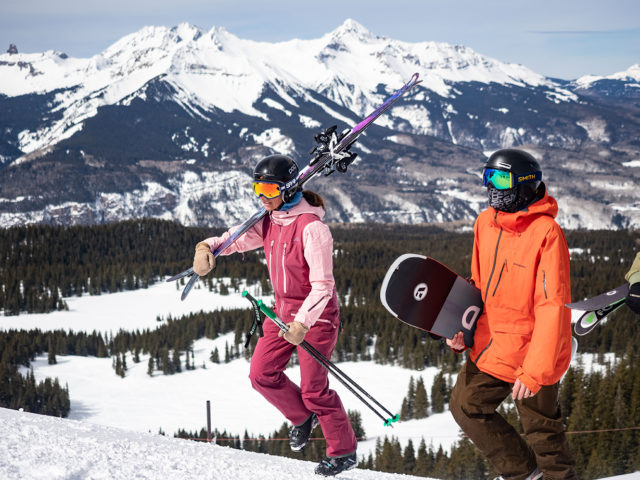 I wore the Sickbird in Telluride on a spring day when the weather was about 35°F and windy in the morning, and the temperature eventually warmed up to about 45°F by the afternoon. I kept my layers simple with a 200 g/m2 merino bottom base layer and a 140 g/m2 merino base layer top. When trying to schlep my gear and son around the base area, I quickly overheated. But once I unzipped all the vents, I cooled off quickly. Any time I started to overheat on the lift, I could easily open up the vents and get comfortable. While bootpacking this past spring at Silverton Mountain, I again put the vents to use and was happy that they were easy to access, even when wearing a backpack.
Other Features
Removable internal suspenders for hiking and 'après domination' (as Strafe claims) come standard in the Sickbird, but my suit did not include this feature. Without the suspenders, I had a hard time walking around with the suit's top down, and even tying the sleeves around my waist resulted in the suit quickly sliding off me. I think the Sickbird's suspenders would make it much easier to wear it around the lodge, during warm bootpacks, or anytime one would typically want to remove their jacket.
The biggest issue I had with the Sickbird was due to the lack of one particular feature — a dropseat. I probably inspected the suit four or five times to make sure there wasn't a hidden zipper somewhere, but after careful inspection by myself and a number of extremely helpful friends, I can assure you that there isn't one. The lack of this seemingly important feature made it frustrating to use the restroom as the upper part of the suit had to be completely removed. Trying to keep the sleeves off bathroom floors was as challenging as tucking all the layers back into place. On the flip side, if there was a dropseat, the Sickbird would likely look less tailored. Some people may have no problem with this, but it's worth noting.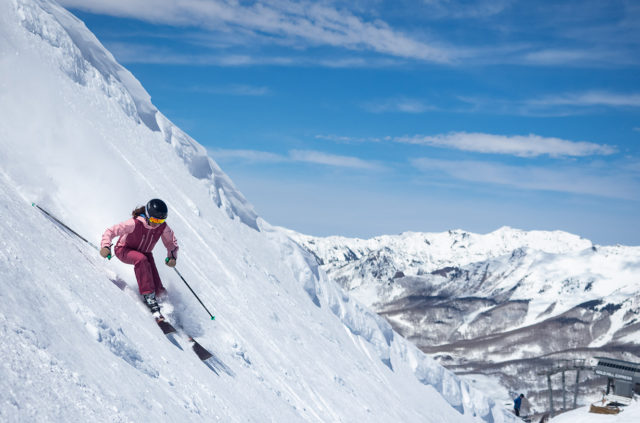 Like the Strafe Sunnyside Anorak and Meadow Jacket, the Sickbird has the same internal wrist gaiters made of Polartec Power Dry, a soft and breathable fleece fabric. The cuffs can be tucked away or they can be worn with the thumb loops to help eliminate drafts going up the sleeves. I'm generally not a huge fan of wrist gaiters, but I'm starting to see their utility. The Sickbird's cuffs helped eliminate drafts going up my sleeves on cooler days, and on warmer days I tended to remove my gloves and just wear the cuffs. I also didn't really notice the wrist gaiters when I was not using them, which is a plus.
The Sickbird Suit has a fairly large hood that comfortably fits over a helmet, and the two internally routed side cinches and single back cinch makes it easy to dial in the fit. The hood also has easy release points to loosen it without much effort. I think the Sickbird's hood is pretty ideal, since I only noticed it when needed, and the collar didn't pull on my neck when the hood was down.
Materials
The Sickbird uses Strafe's proprietary Recon Elite 3L laminate, a 4-way-stretch, air-permeable, waterproof / breathable fabric that Strafe describes like this:
"Our most durable, waterproof, and lightweight fabric in the line has a hydrophobic and air-permeable membrane and 4-way stretch for superior comfort and mobility."
As I mentioned in the intro, the Sickbird was designed for the deepest days so it makes sense that it uses Strafe's high-end Recon Elite 3L fabric. But it is also their lightest waterproof fabric. Some of the deepest days also tend to be some of the coldest, so while the Sickbird's fabric will keep you dry, don't expect it to keep you warm unless you add layers (just like basically any uninsulated shell). As I mentioned above, the relaxed fit of the Sickbird means there is plenty of room to accommodate layers.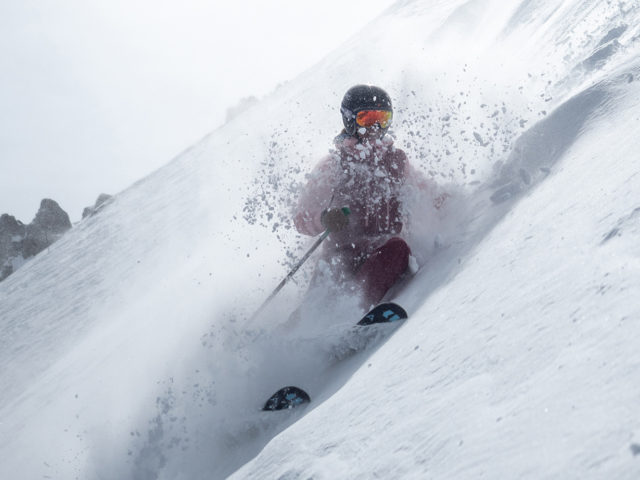 The Recon Elite 3L fabric has a fairly soft hand feel, and although it's reportedly Strafe's most durable fabric, it is quiet when moving. I was unable to test the waterproofing of this piece but I did notice it was breathable when I wore it for a short spring tour in Santa Fe and a few longer hikes at Silverton. While it breathes quite well for a hardshell, I still prefer jackets like the Patagonia SnowDrifter for touring, simply because I like having the option to take off my shell on the uphill (though the Sickbird's suspenders could potentially help in that regard). I wouldn't have any reservations about wearing the Sickbird for inbounds bootpacking or sidecountry laps.
[Editor's Note: We've had other reviewers in pieces that use the same Recon Elite 3L fabric as the Sickbird, and have found it to be completely waterproof and a bit better than non-air-permeable waterproof fabrics like Gore-Tex when it comes to breathability. For more on waterproof / breathable fabrics and how they differ, see our Outerwear 101 and 201 articles.]
Durability
I have not yet worn the Sickbird Suit enough to make any conclusive claims about its durability, but it's unsurprisingly holding up just fine after about 5 days of use. That said, I've had very good experiences with other Strafe products when it comes to durability, and so have our other reviewers. For what it's worth, the Sickbird's 60-denier face fabric falls right around the middle of the spectrum when it comes to weight — likely more durable than lighter touring-oriented jackets, but not as burly as some inbounds jackets like the Strafe Meadow.
The Sickbird uses the same reinforced cuffs as the Strafe Scarlett Bib Pant, which feature a burly 1000-denier Cordura fabric, but that fabric is still covered by the Sickbird's main body fabric. So while the Cordura fabric itself is really burly, the fabric covering it is prone to cuts and scuffs. This potential issue is mostly an aesthetic one as the interior Cordura fabric is still very tough and I've personally never experienced any scuffing or ripping on my pant legs, but I do tend to ski with a fairly wide stance.
As always, I'll update this review if I notice any durability issues as I continue using the Sickbird Suit.
Who's It For?
The Sickbird Suit definitely isn't for everyone. Those who prefer the option to swap different jackets and pants are the most obvious group that should look to other options. The Sickbird's lack of a dropseat will rule out others, and those who want the absolute most breathable or most durable kit have better options.
But as I noted at the beginning of this review, I've liked the Sickbird suit more every time I've worn in. Despite its unorthodox silhouette, it has very useful features and a versatile fabric.
So I think this suit is for someone looking for something unique but not outlandish (despite its one-piece design, I think it looks really nice). It should be particularly appealing to people who value simplicity and seamless weather protection. It's ideal for powder days where the lack of an open waist is beneficial, but it's also breathable enough that I was totally content using it on bluebird spring days.
Lastly, the $999 price of the Sickbird suit may at first seem extremely high, but it's important to keep in mind that it's essentially a jacket and a pair of pants in one. It's still far from cheap, but there are plenty of jackets and pants on the market now that cost more than $500 apiece, making the Sickbird's price in line with most high-end apparel.
Bottom Line
The Strafe Sickbird Suit is a well designed, technical, and fun piece of apparel. I was admittedly apprehensive when I got it, but I ended up really enjoying using it on the mountain and I frequently received compliments on the look from lots of different people. It's fun, but not outlandish. Serious, but not too serious. If you're looking for a technical apparel kit with excellent weather protection, enough breathability for the vast majority of ski / snowboard days, and want all of that in a unique silhouette, the Sickbird Suit is excellent.