Strafe Sunnyside Alpha Anorak
Reviewer: 5'8", 125 lbs
Size Tested: Small
Blister's Measured Weight (size Small): 331 grams
Blister's Measured Front Zipper Length (size Small): 12.5"
Blister's Measured Side Zipper Length (size Small): 9"
Materials:
Face fabric & lining: Recon Air 20-denier stretch-ripstop nylon
Insulation: 80-g Polartec Alpha
Stated Features:
2-way stretch face & interior fabric
Integrated hood with elastic binding
Raglan sleeves and extended side panels for pack compatibility
10″ zipper opening at right side panel
Polartec Power Dry® lightweight thumbhole cuffs
YKK Coil zippers
Pockets:
1 exterior kangaroo-style pouch pocket with media port (zippered)
1 exterior open kangaroo-style hand pocket
MSRP: $269
Test Locations: Telluride & Silverton, CO; Taos Ski Valley & Santa Fe, NM
Days Tested: 15+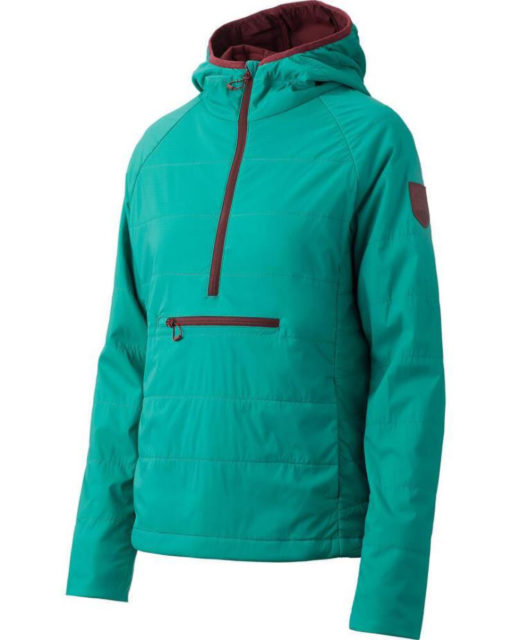 Intro
Anoraks are by no means a new design (they're arguably one of the oldest styles of jackets) but it does seem like every company now has their own versions. With so many to choose from, companies are making their pieces stand out by designing technical yet stylish anoraks.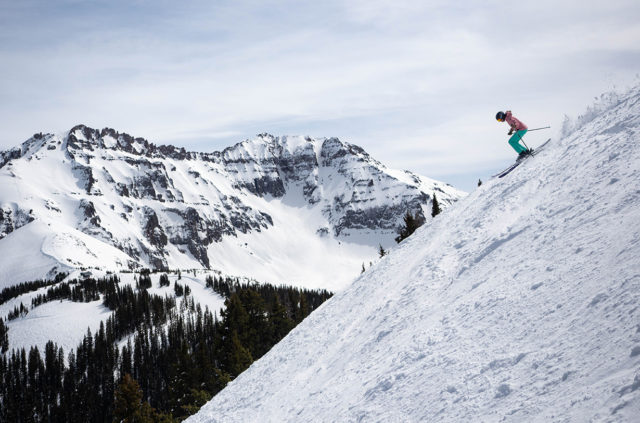 Strafe's Sunnyside Alpha Anorak is part of this newer trend of technical anoraks. With its attractive cut, soft fabric, breathable insulation, and wind and water resistance, the Sunnyside Anorak looks as good as it performs, and I think it could convert even the most stubborn of ladies to anorak fans.
What Strafe says about the Sunnyside Alpha Anorak
"The Sunnyside Alpha Anorak works equally well as a light midlayer when paired with our Meadow jacket, or as a stand alone piece on warmer spring missions. The air-permeable Recon Air® fabric & lightweight Polartec Alpha® insulation will keep you comfortable and dry when you're working hard while retaining critical warmth on chilly mornings in the backcountry."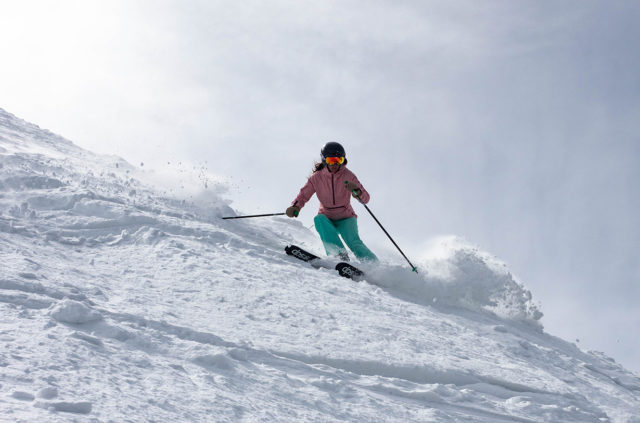 As Strafe mentions, the Sunnyside was designed to be worn as a midlayer or as an outer layer. I used it as both and am happy to report that this is not some exaggerated claim. On top of that, the Sunnyside is as comfy as my favorite hoodies but also performs well enough to wear when skiing — uphill or downhill. Oh yeah, and be prepared to get compliments when you're wearing it because it looks good.
Fit
I tested the Sunnyside Anorak in a size Small, the same size I tested in the Strafe Meadow Jacket and Strafe Scarlett Bib Pants. The sizing chart for Strafe provides a recommended height for a Small as between 5'4" and 5'7". At 5'8", I am just outside that window (but I am within the other size chart parameters), but with the Sunnyside Alpha Anorak, I thought the size Small was a great fit. When I tested the same size in the Meadow Jacket the only issue I had was that, when fully extended, the sleeves rose up above my gloves. And while the same is true for the Sunnyside, it wasn't as noticeable.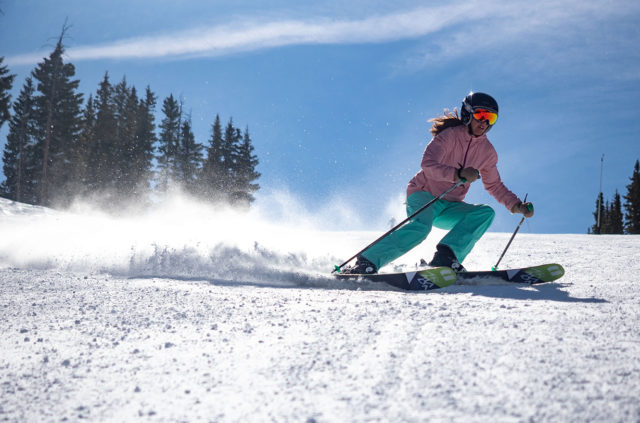 Strafe lists the Sunnyside's fit as "active," which they describe as a "trim fit, but loose enough for layering and movement." The first time I put on the Sunnyside I didn't realize there was a side zipper but I still managed to get the anorak on without unzipping it. Granted, it wasn't easy and I was more than happy to discover the side zipper prior to trying to taking it off.
The Sunnyside's side zipper measures 9" long and is hidden away on the back right panel. When used as intended, the side zipper makes it easy to get into and out of the anorak. The idea of a jacket that has to go over your head to get in and out of instead of a full zip might be enough to deter some people from trying this piece, but I wouldn't worry too much. Thanks to the long side and front zippers, I could easily remove the Sunnyside Anorak — even while wearing a helmet.
The Sunnyside has the same Polartec Power Dry thumbhole cuffs as the Strafe Meadow Jacket. The cuffs are lightweight and soft, and the color-matched fabric keeps them hidden when not in use. If you've read any of my jacket reviews, you'll know I'm not a big fan of wrist gaiters / thumbhole, but after spending time in the Sunnyside, I'm starting to change my mind.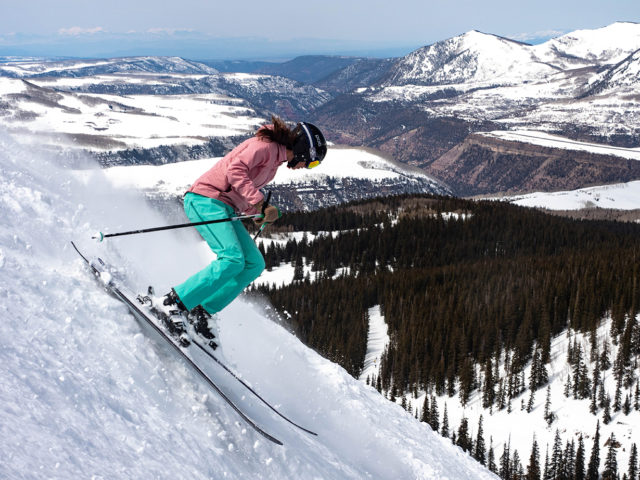 I never used the cuffs when I was wearing the Sunnyside Anorak as a midlayer or when I was wearing gloves / mittens. But thankfully, the thumbhole cuffs are thin and therefore they didn't bunch up too much around my wrists. When I wore the anorak as an outer layer, I started to use the cuffs and noticed their benefits.
While skiing with the Sunnyside Anorak as an outer layer, I appreciated how the extra bit of material stopped air from moving up my sleeves. On several occasions I found myself wearing the cuffs when out running errands, walking with the stroller, or skiing without gloves. The cuffs are long enough to cover the top of my knuckles and they added the perfect amount of warmth to my hands — especially when pushing a stroller during a surprise hail storm.
The Sunnyside is designed with raglan sleeves which essentially mean that the sleeve portion starts at the neckline and underarm, rather than being sewn directly around the shoulder / underarm.
The Sunnyside's raglan sleeves and moderate fit allow this somewhat slim-fitting anorak to have ample room to add layers underneath while still maintaining a broad range of motion in the arms. For how fitted the Sunnyside looks, I was very surprised by how I could add one or several layers underneath and still be exceptionally comfortable.
I would say the ideal use for the Sunnyside's hood is over a hat or bare head because, when used this way, the hood opening perfectly frames my face. When the hood is up and the anorak is fully zipped, the collar tucks comfortably under my chin and the top of the hood extends down to cover part of my forehead.
I was surprised / impressed that the fairly low-profile hood fit over my fairly large POC Skull X helmet. I'd attribute this to the anorak's 2-way stretch fabric. That said, I don't think the Sunnyside's hood is really designed to fit over a helmet and I wouldn't want to wear it over one for long periods of time. The hood also fits under the helmet fairly comfortably thanks to the jacket's thin insulation and the hood's tapered shape.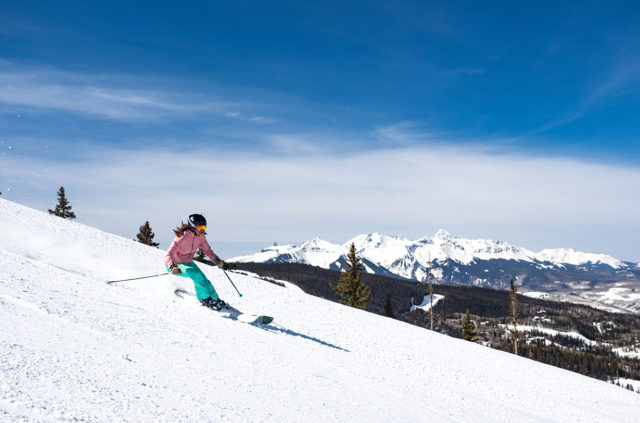 The anorak's front zipper is 12.5" long and, when fully zipped, the collar falls just below my chin. On cold days I was able to tuck my chin into the collar but it did require me to scrunch my neck down. While not optimal, I never needed more protection around my chin since, on cold days, I had a buff or neck gaiter on to offer added warmth and wind protection in that area. The Sunnyside's front zipper allows the anorak to open just below my breastbone and I found it to be quite nursing friendly. As a new mom, this was an extremely nice surprise as many of my midlayers have zippers that hit mid breast and aren't convenient for easy feedings.
I think the Sunnyside's torso length is ideal for a midlayer / outerwear piece as it extends ~4" below my hip bones. It's just long enough that air doesn't move up from below but not so long that it can't be tucked into bibs or hidden under a shell.
Pockets
The Sunnyside features two pockets on the front. One is zippered and the other is open on the sides like a muff, which is completely unnoticeable when looking at the jacket.
The zippered pocket can be accessed from the outside, slots in the interior of the outer pocket, and is large enough to hold a large cell phone when the phone is placed on its side. This pocket isn't very deep and I had to make sure to zip it closed every time because, if I didn't, the contents would fall out when I bent over. There is also a media port conveniently located in this pocket.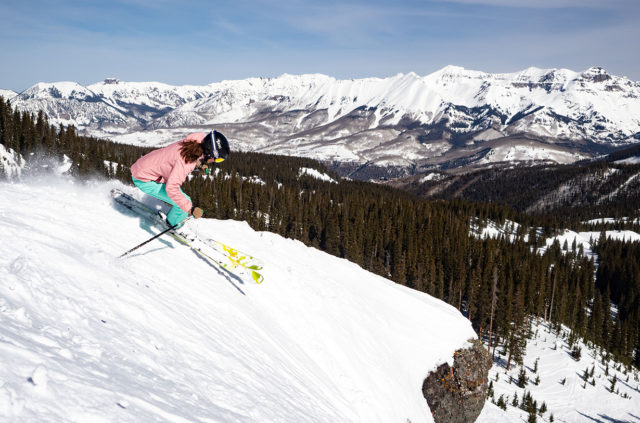 The open pouch fits lightweight gloves and other smaller items and it makes for a great hand warmer. The only drawback of the open-style design I noticed is that, when I was wearing the Sunnyside as an outer layer, snow can get blown back into the pocket resulting in a snow-filled pocket. That being said, I think the pocket design is fantastic, and pretty much every jacket with a similarly open front pocket has similar issues.
Materials & Performance
The Sunnyside Alpha Anorak is made of two materials: (1) Recon Air, a 2-way stretch ripstop nylon fabric and (2) Polartec Alpha, a 100% polyester insulation. Alpha is part of a recent trend of "active insulation," which is warmer than typical fleece but more breathable than your standard down or synthetic insulated puffy. You can read more about active insulation and layering strategies in this article. Strafe has this to say about the Sunnyside's materials: "The air-permeable and quick drying properties of our Recon AIR fabric and Polartec Alpha insulation is the ultimate combination for active protection and insulation."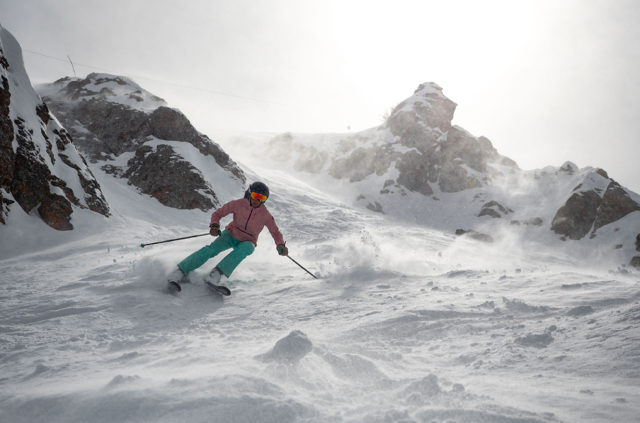 As mentioned above, I inadvertently wore the Sunnyside during a hail and rainstorm. The storm lasted at least 20 minutes and most of the water beaded up on the fabric but some eventually penetrated through the outer layer. I opted to leave the anorak on for the remainder of the day and I never felt wet or cold as the anorak dried off quickly and the water never penetrated beyond the outer layer.
I also wore the Sunnyside Alpha Anorak as an outer layer while skiing on a few occasions. On one occasion, I wore it with just a hoody midlayer underneath on a 20°F morning lapping the Kachina lift at Taos. I was perfectly warm and happy as I made slower turns through the mogul fields. Once I hit the groomer and my speed increased, I could feel the cold air coming through the Sunnyside's zippers. Still, I was pleasantly surprised by the Sunnyside's warmth, given how light it feels and my tendency to think of it as a midlayer.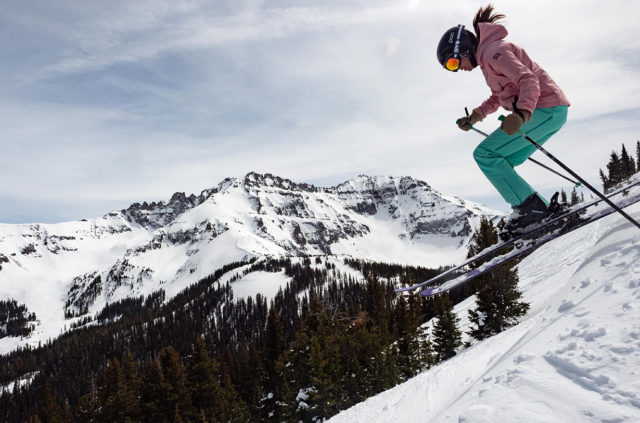 On another occasion, I wore the Sunnyside Anorak on a warm but slightly breezy spring day at Telluride with only a t-shirt underneath. The Sunnyside was breathable enough to stop me from overheating on the bootpacks and wind resistant enough to keep me warm on the 9 am chair, despite a cool breeze. But it also wasn't completely windproof so I was able to cool myself off when skiing as the day warmed up.
Compared to other midlayers, the Sunnyside is a bit warmer than typical fleeces like the Patagonia R1, and not quite as warm as similarly heavy down pieces like the Patagonia Down Sweater. The Sunnyside is roomier than some of the more technical midlayer out there which lets you layer more underneath, but might make it feel a bit bulky when layered under a slim-fitting shell.
Durability
The Sunnyside reminds me of my original Patagonia Nano-Puff jacket as they are both light insulation pieces with a soft face fabric and cozy feel. With the Nano-Puff, its easy-to-snag fabric always made me hesitant to wear it as an outer layer when I knew it could get brushed up against rocks, branches, etc.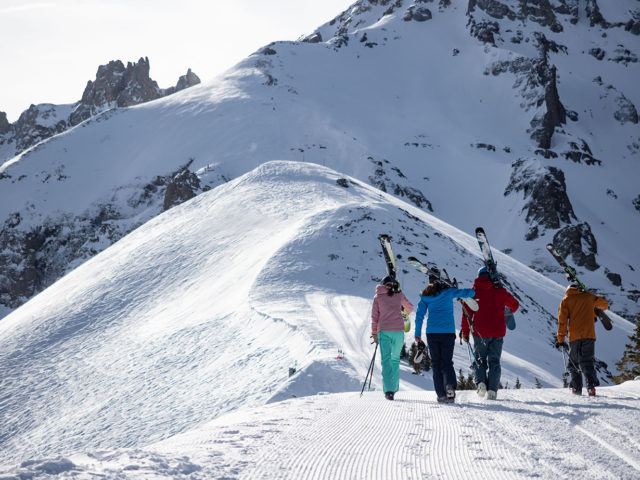 With the Sunnyside, I never worried about the fabric when shouldering my skis, skiing through trees or out on an adventure. I have not had any issues with snags and the anorak still looks like new. The Sunnyside is still a lightweight piece with a thin exterior fabric, so don't expect it to hold up to abrasion as well as pieces with much heavier, thicker fabrics (e.g., most ski shells). But for a lightweight midlayer that I've also used as an outer layer, it's held up really well so far. As always, we'll update this review if we run into any issues down the line.
Who's It For?
Everyone. Well, ladies that have shoulder issues and / or can't raise at least one arm above shoulder height would probably want to give this a pass. But seriously, Strafe converted me to an anorak lover — or at least a Sunnyside one. It's not only warm, breathable, weather resistant, and highly functional, it also looks great. If you're looking for a light insulation piece that you can use for high-output activities and just lounging around at home, you should check out the Sunnyside.
Bottom Line
Whether you're into snow sports or would prefer to just lounge by a fire all winter, the Strafe Sunnyside Alpha Anorak is worth a good look. I've worn it around the house and around town as much as I've worn it skiing and, thanks to its stylish yet technical design, it looks — and works — well in a really wide range of situations.