2019 Mondraker Foxy Carbon RR 29
Size Tested: Medium
Geometry: (Here)
Build Overview:
Drivetrain: Sram X01 / GX Eagle
Brakes: Sram Code R
Fork: Fox 36 Factory Fit4, 44mm offset
Rear Shock: Fox DPX2 Factory
Wheels: DT Swiss E1700 Spline 29
Wheels: 29′′
Travel: 150 mm rear / 160 mm front
Blister's Measured Weight: 30.7 lbs (13.9 kg) without pedals
Reviewer: 5'9", 155 lbs
MSRP: $7,199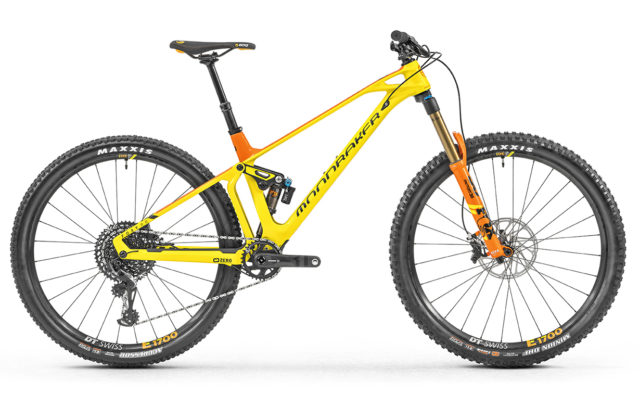 Caveat
We rode this bike at Interbike's outdoor demo, which moved locations this year and was held at the Northstar bike park in Tahoe. Northstar has some awesome trails, ranging from super rocky, technical trails that were covered in moondust to flowy jump trails that were also covered in moondust.
Normally, Blister tries to get as much time on a bike as we realistically can so that we have time to play around with setup, get comfortable with the fit, and hopefully reveal any durability issues that might arise. But for obvious reasons, spending an hour or two on a bike at Interbike's outdoor demo doesn't give us the time to give the bike our usual treatment, especially since we were mostly riding lift-served terrain that was (1) short on climbing, and (2) biased heavily towards the kind of trails you find in a bike park.
That said, there's a lot of value in riding a bunch of different bikes, back to back on the same trails. Traits that might not be obvious when the bikes are ridden weeks or months apart become evident.
So in other words, back to back comparisons on great trails are useful, but don't take this as the final word on these bikes, especially when it comes to maintenance and durability issues.
So with all that in mind, let's take a look at the Mondraker Foxy Carbon RR 29.
Intro
Mondraker has been producing successful bikes in the European market for a while now, but they've always been a rarity in North America and, until recently, I'd never had the chance to swing a leg over one. But Mondraker had their fleet at Interbike, and the brand spanking new Foxy 29 seemed like a great way to get acquainted with the brand.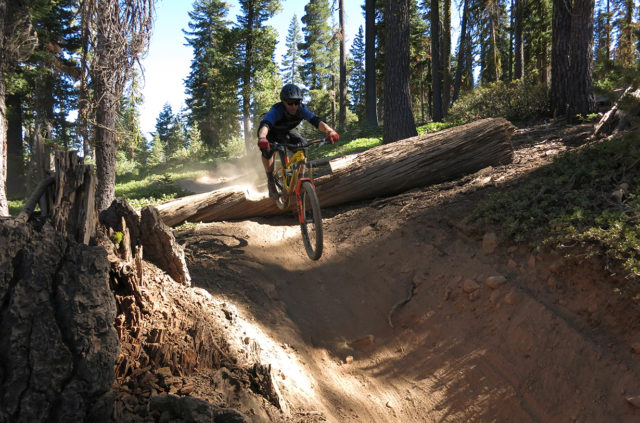 I wasn't really sure what to expect out of this bike — the suspension is vaguely reminiscent of some DW link designs, but probably more noteworthy is the Foxy's geometry. Mondraker was a pioneer in stretching out the front of their bikes, and a lot of other companies have followed suit. Even so, the Foxy RR is long even by modern standards, and I was pretty interested to see how that played out. So yeah, plenty of interesting stuff with this bike, so let's get down to it…
The Build
Mondraker offers three build kits of the Carbon 29, and there are also four builds on the "regular" carbon Foxys, which run on 27.5" wheels. Of the 29er models, the RR sits in the middle of the lineup. And yes, that means this bike that costs $7,199 is the "middle," and that $5,399 is the bottom of the line. These are not the bikes of the proletariat.
But at least for that chunk of change, you get a pretty nice build. The RR that I rode comes with Fox Factory suspension — a reduced-offset Factory 36 set at 160 mm travel up front, and a Factory DPX2 producing 150 mm travel out back. Personally, I'd love to have the adjustability of the Grip2 damper in the fork, but the Fit4 damper that it comes with is still a solid contender.
The RR's drivetrain is what most companies would call an X01 Eagle kit, which means it has an X01 Eagle rear derailleur and assorted down-spec components rounding out the kit. The RR build gets a GX Eagle shifter, and X1 carbon cranks. And while that kit isn't wall-to-wall X01 Eagle, those are all components that I've put thousands of miles on, and they definitely perform well.
Braking is handled by Sram's Code R. I maintain that, for a bike like this (and any other bike that's built to kill it on the descents), the Code RSC's are the best brakes on the market. They're powerful, but more importantly, they feel great and they're super easy to set up for any individual preference. The Code R brakes on the Foxy aren't quite as adjustable and don't have all of the modulation of the RSC brakes, but they're still excellent brakes. But given that this bike costs over $7,000, I would've liked to have seen the better RSC brakes equipped.
The Foxy RR is rolling on DT Swiss E1700 Spine 29 wheels. The DT Swiss 350 hubs are some of the most bomb-proof options on the market, and generally speaking, I've had pretty good luck with most DT Swiss rims. The rims they use in the E1700 wheelset are maybe not quite as durable as DT Swiss's top of the line options, but they still hold up nicely. And at 30 mm internal width, I think they hit the sweet spot in terms of tire compatibility — they'll work well with anything from a 2.3" to a 2.6" tire.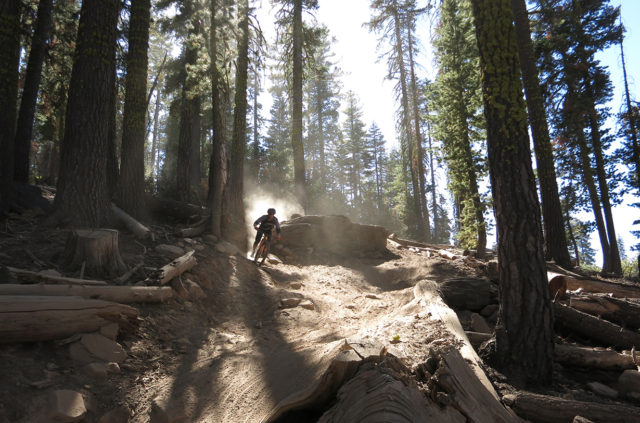 For tires, the Foxy 29 comes with a 2.3" Maxxis Aggressor in the rear and a 2.4" Maxxis DHRII up front. For drier conditions, this is a great tire setup. The Aggressor rolls quickly, and the DHRII offers up a ton of braking traction. Some people might be a little thrown off by the DHRII in the front, but even though the DHRII is designed as a rear tire, it works well on both ends of the bike.
Rounding out the build, parts from Onoff make up most of the cockpit — The Foxy RR has an Onoff stem, handlebar, dropper post, headset, and grips. I haven't spent any time on Onoff parts prior to my time on the Foxy, so all I can really say here is that they didn't call attention to themselves during my testing, which is a good thing.
Fit and Geometry
The geometry on the Foxy is pretty interesting — like many Mondrakers, it uses their "Forward Geometry." That premise is pretty similar to what a lot of other companies are doing — making the front end of the bike longer, but the Mondraker takes it a bit further than most other brands.
The Medium Foxy 29 that I rode has a 470 mm reach measurement, and a 629 mm top tube length. That's long. For reference, what I'd call an "average" sized Medium bike these days probably has something like a 435 mm reach, and a 605 mm top tube. So, by the numbers, the Medium Foxy is as big as some other companies' Large or XL sizes.
Now, Mondraker also specs their bike with a super short stem — a 30 mm — whereas most "average" bikes are coming with a 40 or 50 mm stem. So the front end of the frame gets longer, but a short stem brings the bars back a bit closer to the rider. But still, the frame is 30-40 mm longer than what I'm used to, and the stem is only 10-20 mm shorter, so there's a net lengthening. And I was expecting that to feel pretty weird and take some getting used to on the trail.
But it didn't, really. I'll get into that more in the Ride section below, but for the purposes of this Geometry and Fit section, my takeaway is that I was comfortable on the Medium Foxy, even though it's pretty big by the numbers.
And getting back into those numbers, we find a bike that is, in fact, pretty dang long. 435 mm chainstays are pretty average for a 29er these days, and the Foxy's 66° head tube angle is, by modern standards, maybe even a bit steep for a bike in this travel class. The Foxy stays in line with modern trends and has a fairly steep 75.5° effective seat tube angle, although the actual seat tube angle is a good bit slacker.
That long front end combined with an average-ish rear end and head tube angle leads to a decidedly long wheelbase — 1210 mm on a size Medium, which is pretty huge. That'd be long for a Medium sized downhill bike, much less a 150 mm bike like the Foxy.
Before we get into how that plays out on the trail, if you're somewhat (or very much) confused by all of those numbers and angles, check out our Geometry 101 and 102 articles.
The Ride
The Foxy Carbon 29 is pretty stretched out, and swinging a leg over the bike, that's fairly apparent — it feels long. But, even before I got it out on the trails, it didn't feel quite as ridiculously long as I expected. Some of that's probably due to the short stem. Some of it's probably due to the steep-ish seat tube angle. And perhaps some of it is just the nature of bike sizing being all over the map these days, so I've become more accustomed to not expecting a given size of a bike to fit any particular way.
And once I got out on the trail, those initial parking-lot impressions more or less held true. Yes, the front end of the bike feels pretty long, and a "neutral" standing position feels a bit more forward than on most other bikes. But the shorter-offset fork and the not-super-slack head angle also meant that I didn't feel like my weight distribution, in relation to the front wheel, was massively different than some other relatively long (but still a good bit shorter than the Foxy) bikes that have slacker head tube angles.
And even though the head angle on the Foxy isn't super slack like some of the other bikes on the market right now, the extra length at the front of the bike (and the resulting lengthy wheelbase) keep the bike from feeling unstable or prone to endo-ing.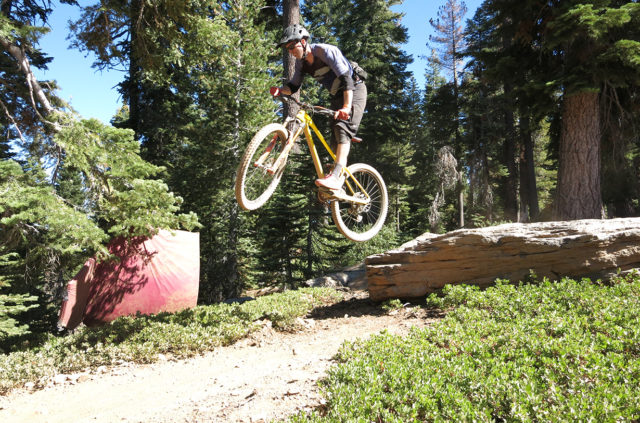 To put all of that another way: if I want to ride aggressively and go fast, I try to keep my weight pretty far forward on a bike to help keep traction on the front tire. On a bike with "normal" geometry, that can take a bit of a conscious effort because it often means I want to be more forward than what is a neutral, standing position. And on a "normal" bike, it also means I tend to appreciate a slacker head tube angle, mostly because it puts the front wheel farther out in front of me. That means I can get more forward on the bike without feeling like I'm going to go over the bars with every little impact, because even when I'm forward, the front wheel is still a good bit in front of me.
Mondraker's geometry essentially takes that whole calculation and builds it into the frame. By stretching out the front end, the neutral, standing position is quite far forward. And that, I think, is why I didn't have much trouble adjusting to the bike's geometry — it naturally puts me in the position that I want to be in. The difference is that, unlike a lot of other bikes, I don't have to make the conscious effort to get in that position — on the Foxy, it just happens.
The other upside of that long front end is that it makes the bike looong, and that makes the bike stable. Riding in Northstar, there are plenty of rock gardens where line choice matters. And given that this was the first time I'd ridden there, I had no idea where those lines were, so there was a lot of me chucking myself into a bunch of boulders, hoping for the best. That didn't always work out so well, but on more than one occasion, the Foxy 29's length helped me out of a terrible line choice.
It's also worth noting that the Foxy has (by modern standards) a steep-ish head angle. And the nice thing here is that the bike gains stability through its length, but it retains a bit of slower-speed maneuverability with that slightly steeper-than-average head angle.
Some might be concerned about the long front end making it hard to get off the back of the bike when needed, but I didn't find that to be a problem. Northstar doesn't have any trails that are particularly steep for extended periods, but on the few pitches where the grade rolled over "fairly steep," I didn't feel like I was struggling to get far enough back.
The (arguable) downside of the geometry is that it forces you into an aggressive riding position, and if you're not used to that, it might feel uncomfortable. If you normally ride hard and you're trying to go fast, this bike will probably feel pretty comfortable. But if you're a more relaxed rider, or if you haven't really gotten comfortable keeping your weight forward most of the time, the Foxy's geometry might put you in a position that can feel a bit unnerving at times. It's one thing to be forward on the bike while riding a mellower flow trail. It's another thing to be forward and aggressive on the bike through a steep rock garden. The Foxy wants to put you in that forward, aggressive position for both situations, and everything in between.
Geometry discussions aside, the Foxy's suspension is competent, especially when you're on the gas. The bike feels pretty efficient in all situations — mellow pedaling up a fire road reveals not much pedal bob, and laying down some power in a sprint yields some snappy forward progress. It's still a 150mm-travel bike, but compared to other bikes in this class, the Foxy does pretty well while pedaling.
Over smaller bumps, the suspension feels pretty firm — it's not a particularly cushy bike. It didn't necessarily feel like it got hung up on impacts, but it definitely doesn't have that irons-out-the-trail feel to it.
On the whole, the Foxy 29's suspension felt fairly linear — while bigger hits didn't necessarily overwhelm the bike, it didn't feel like there was a ton of ramp-up at the end. In the middle of the stroke, however, things felt pretty supportive, and that leads to a poppier-feeling bike. As a side note, that more linear-feeling suspension makes me a bit suspicious of the Foxy XR, which comes equipped with a coil shock. It seems like adding a linear coil shock to a linear suspension design would be a recipe for harsh bottom outs, but I haven't ridden the Foxy XR, so I'll withhold final judgment.
In regards to the suspension, the Foxy shares some similarities with the Yeti 5.5 — a fairly linear-feeling suspension that isn't super supple over small bumps, but pedals pretty well and has a supportive mid-stroke that makes the bike feel a bit more playful.
And it's that playful character that really surprised me the most about the Foxy. On one hand, it has this long front end that puts you in an aggressive, attack position pretty much all the time. But on the other hand, it has this suspension that wants to pop off of everything. And for reasons that I can't quite pin down, the Foxy is the easiest Trail bike to manual that I've been on… maybe ever.
Which left me a little conflicted — I felt like I should be trying to pin the bike through everything and attack rock gardens with reckless abandon. But I actually enjoyed the bike a bit more on mellower trails where I was popping off of every little bump, and trying to hold manuals through rollers.
So I think there are two ways of looking at that: the cynical version says that the suspension doesn't quite jive with the frame's geometry. But I think the more accurate view would be that the bike is a bit more versatile than first impressions might let on — it has the geometry to run down technical trails at mach ridiculous. But the suspension helps the bike be something beyond just a one-trick pony, and it's actually a pretty good time for rides where going fast isn't the priority.
Bottom Line
This was my first introduction to Mondraker's bikes, and I've gotta say, I had fun on it. The whole "Forward Geometry" idea works well, and it made it easier to keep my weight forward and the front wheel planted. But, somewhat surprisingly, the bike still has a playful side to it — despite the long front end, the Foxy isn't all business. And given that this isn't an ultra-long travel-shuttle sled, pedaling still matters, and the Foxy does that quite well.
I'm not sure this is the bike I'd recommend to a more casual rider, but the price tag is likely to weed out most of those shoppers anyways. But if you like the sound of the stretched-out front end and the resultant riding position, and if you're looking for something that's snappy on the pedals (at the cost, to some extent, of an ultra-plush feel), the Foxy is most definitely worth a look.