Ski: 2020-2021 Majesty Superwolf, 178 cm
Available Lengths: 148, 154, 160, 166, 172, 178, 184 cm
Blister's Measured Tip-to-Tail Length: 176.3 cm
Stated Weight per Ski: 1450 grams
Blister's Measured Weight per Ski: 1477 & 1481 grams
Stated Dimensions: 131-91-111 mm
Blister's Measured Dimensions: 129.9-90.6-110.1 mm
Stated Sidecut Radius (178 cm): 18 meters
Measured Tip & Tail Splay (ski decambered): 62 mm / 14 mm
Measured Traditional Camber Underfoot: 4 mm
Core: paulownia + fiberglass laminate
Base: sintered IS7200 "fast base"
Factory Recommended Mount Point: -9.85 cm from center; 78.3 cm from tail

Intro
Last week we posted our First Look & Flash Review of the new Majesty Havoc, a 110mm-wide, lightweight freeride ski. As we noted in that post, we're also reviewing Majesty's 118mm-wide, twin-tipped Vanguard and the ski we're discussing here, the 91mm-wide Superwolf.
The Superwolf is new for the 20/21 season and essentially replaces the Majesty Werewolf, serving as the middle ski in Majesty's touring collection and slotting between the ~85mm-wide Superscout and ~103mm-wide Supernova.
I've now been able to spend a bit of time on the Superwolf in Crested Butte, mounted by The Alpineer with the new Majesty / ATK R12 bindings, and Blister Members can check out my Flash Review for my initial on-snow impressions. For now, let's take a closer look at the design of the Superwolf and how it compares to the competition. We'll also be posting a video First Look soon, so subscribe to our YouTube channel to stay up to date on that and our other videos.
What Majesty says about the Superwolf
"Superwolf is the ultimate, multi-purpose ski to handle diverse conditions, fresh tracks and steep, technical lines. We have equipped our new re-engineered skis with an early rise tail, rocker tip, semi-cap construction, paulownia wood core, triax and biax fiberglass. It is a high performance ski mountaineering skis that's usability has been increased with the longer contact edge and more control. Construction and radius makes Superwolf stable at high speed and maneuverable in tight places."
While many people would think of a ~91mm-wide ski as a pretty narrow, firm-snow-oriented option, Majesty is highlighting the versatility of the Superwolf in their description. And as we'll get into below, I think they have some reason to do so just looking at the design of the ski.
It's also worth noting that Majesty makes several of their touring skis in both "standard" and carbon versions. The standard Superwolf we're reviewing uses a pretty simple construction with a paulownia wood core and fiberglass laminate, and then the Superwolf Carbon ditches the fiberglass in exchange for a lighter carbon laminate and consequently lower weight (stated weight of the 178 cm Superwolf Carbon is 1310 grams). Despite these skis being designed with low weight as a priority, they still feature pretty standard edges and sintered bases, and a semi-cap construction with most of the ski featuring a pretty tall sidewall.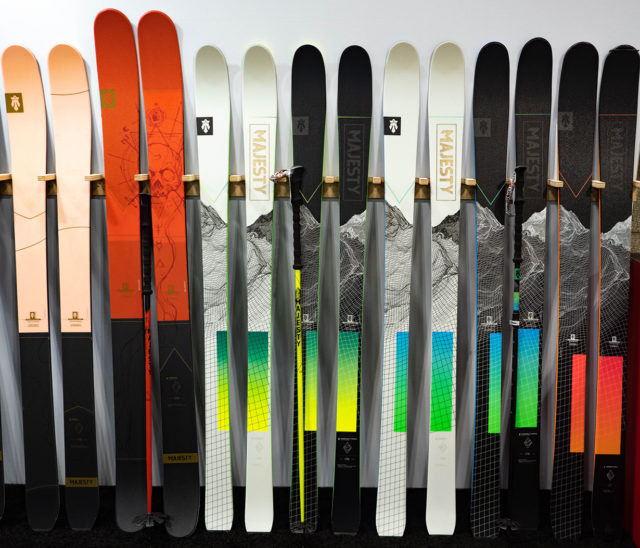 Oh, and I also want to commend Majesty for the graphics of their touring lineup. This is obviously totally subjective, but where most touring skis tend to stick to more minimal, arguably bland graphics, I love the retro '80s look of their 20/21 touring skis.
Shape / Rocker Profile
As soon as I saw the Superwolf, I immediately thought of the Salomon MTN Explore 95, which is one of our all-time favorite skis in this class. Like the MTN Explore 95, the Superwolf has a directional shape with a tip that's pretty tapered and a much less tapered tail. This is in contrast to more traditionally shaped skis like the Line Vision 98 and Blizzard Zero G 95, and it's a big reason why I suspect that the Superwolf might be a bit more versatile / easier than some of those skis in deeper and more variable conditions, where minimally tapered — and especially really light & stiff — skis can feel hooky and difficult.
Compared to the Majesty Werewolf, the Superwolf's shape dials back the dramatic tip taper and the shape is overall a bit less radical than the very tapered (and pretty straight) Werewolf.
The Superwolf's rocker profile looks like it matches its sidecut, with a fairly deep tip rocker line (for a ~91mm-wide ski) and a much shallower tail rocker line with a fairly flat tail. The Superwolf's rocker profile is also quite similar to the MTN Explore 95's, though the MTN Explore 95's tip rocker line is a bit deeper while its tail is a bit flatter.
Flex Pattern
Here's how we'd characterize the flex pattern of the Superwolf:
Tips: 6.5
Shovels: 6.5-7.5
In Front of Toe Piece: 8-9.5
Underfoot: 10
Behind the Heel Piece: 9.5-9
Tails: 8.5-8
For reference, Majesty says the Superwolf has a directional flex pattern and lists the "flex ratio" is 7.
Their note about the Superwolf having a directional flex pattern is definitely accurate — its front half is notably softer than its back half. Overall, the Superwolf's flex pattern is pretty dang similar to the MTN Explore 95 and Dynastar Mythic 97, and stiffer overall than the Line Vision 98. The Superwolf has tips and shovels that are fairly easy to bend, there's a slow-and-smooth ramp up as you move from the shovels to the middle, a strong section underfoot, and a slight decrease in stiffness as you move to the tail.
Sidecut Radius
One of the defining aspects of the old Majesty Werewolf was its long sidecut radius (26.2 meters for the 184 cm length). While our reviewer Cy Whitling found that to be nice when making hop turns down steep couloirs as it kept the ski from feeling hooky, it also made the ski fairly difficult when he just wanted to make shorter carved turns on mellower slopes.
The Superwolf sticks with a less radical sidecut radius, with the 178 cm length having a stated sidecut radius of 18 meters. I'm curious to see if this moderate radius will help make the Superwolf easier and more fun on moderate slopes, without making it hooky in steep terrain.
Mount Point
Like many other skis in this class, the Superwolf has a pretty traditional mount point of around -9.8 cm from true center.
Weight
The Superwolf is definitely a lightweight ski at an average weight of 1479 grams per ski for the 178 cm length, though there are also plenty of lighter options in the ~90mm-wide, touring category (including the carbon version of the Superwolf).
But, as frequent readers of Blister know, we tend to be content skiing slightly heavier setups in exchange for better downhill performance, and we know many other skiers feel the same. So, personally, I'm pretty excited about the weight of the Superwolf. It's similarly light compared to skis like the K2 Wayback 96, MTN Explore 95, & Line Vision 98, but heavier than some of the superlight options like the Fischer TransAlp 90 Carbon.
You could always go lighter by picking the Superwolf Carbon, but I'm excited about the potential stability and suspension of the Superwolf vs. some of the lighter options in this class.
For reference, here are a number of our measured weights (per ski in grams) for some notable skis. Keep in mind the length differences to try to keep things apples-to-apples.
1250 & 1256 Fischer TransAlp 90 Carbon, 176 cm (18/19–19/20)
1353 & 1358 Majesty Werewolf Carbon, 184 cm (17/18–19/20)
1353 & 1376 Blizzard Zero G 95, 185 cm (16/17–18/19)
1390 & 1439 Salomon MTN Explore 88, 184 cm (17/18–20/21)
1446 & 1447 Line Vision 98, 179 cm (19/20–20/21)
1469 & 1477 K2 Wayback 96, 177 cm (18/19–20/21)
1477 & 1481 Majesty Superwolf, 178 cm (20/21)
1489 & 1545 G3 FINDr 102, 179 cm (19/20–20/21)
1512 & 1523 Dynastar Mythic 97, 184 cm (17/18–19/20)
1543 & 1565 Salomon MTN Explore 95, 184 cm (16/17–19/20)
1629 & 1684 Elan Ripstick 96, 181 cm (17/18–19/20)
1632 & 1637 Armada Tracer 98, 180 cm (19/20–20/21)
1633 & 1638 Faction Prime 2.0, 184 cm (17/18–18/19)
1661 & 1664 Black Crows Camox Freebird, 178 cm (17/18–18/19)
Some Questions / Things We're Curious About
(1) The Superwolf is fairly narrow at 91 mm underfoot, but it has a pretty modern, tapered shape with a notable amount of tip rocker, so just how versatile will it feel across a wide range of backcountry conditions?
(2) The Superwolf isn't the absolute lightest ski in its class, but it's still pretty light. So how damp will it feel compared to both lighter & heavier options in this class?
(3) The Superwolf's design shares a lot in common with one of our favorite skis, the Salomon MTN Explore 95, so just how similar will they feel on snow?
Bottom Line (For Now)
The Majesty Superwolf looks like it could be a good narrower touring ski for those who appreciate efficiency on the uphill but who don't need the absolute lightest setup out there. That basically describes me, so I'm very excited to keep putting time on this ski (and the new Majesty / ATK R12 binding). Blister Members can check out my Flash Review linked below, then stay tuned for our full review.
Flash Review
Blister Members can now check out our Flash Review of the Superwolf for our initial impressions. Become a Blister member now to check out this and all of our Flash Reviews, plus get exclusive deals and discounts on skis, and personalized gear recommendations from us.