2022 Fox Float X
Size Tested: 210 x 50 mm
Blister's Measured Weight: 479 g
MSRP: $600 USD
190 x 45 mm
210 x 50 mm
210 x 52.5 mm
210 x 55 mm
230 x 57.5 mm
230 x 60 mm
230 x 65 mm
185 x 52.5 mm
185 x 55 mm
205 x 60 mm
205 x 62.5 mm
Intro
The Fox DPX2 was a bit of a mixed bag. While it worked well on some bikes, for some riders, other folks struggled with a lack of small-bump sensitivity and sometimes inconsistent performance as the shock heated up. Fox went back to the drawing board, and the result is the new Float X. The Float X replaces the DPX2 (in metric sizes; the legacy imperial DPX2 lives on) and its design is very, very different from the shock it replaces — and the on-trail performance is a lot different, too.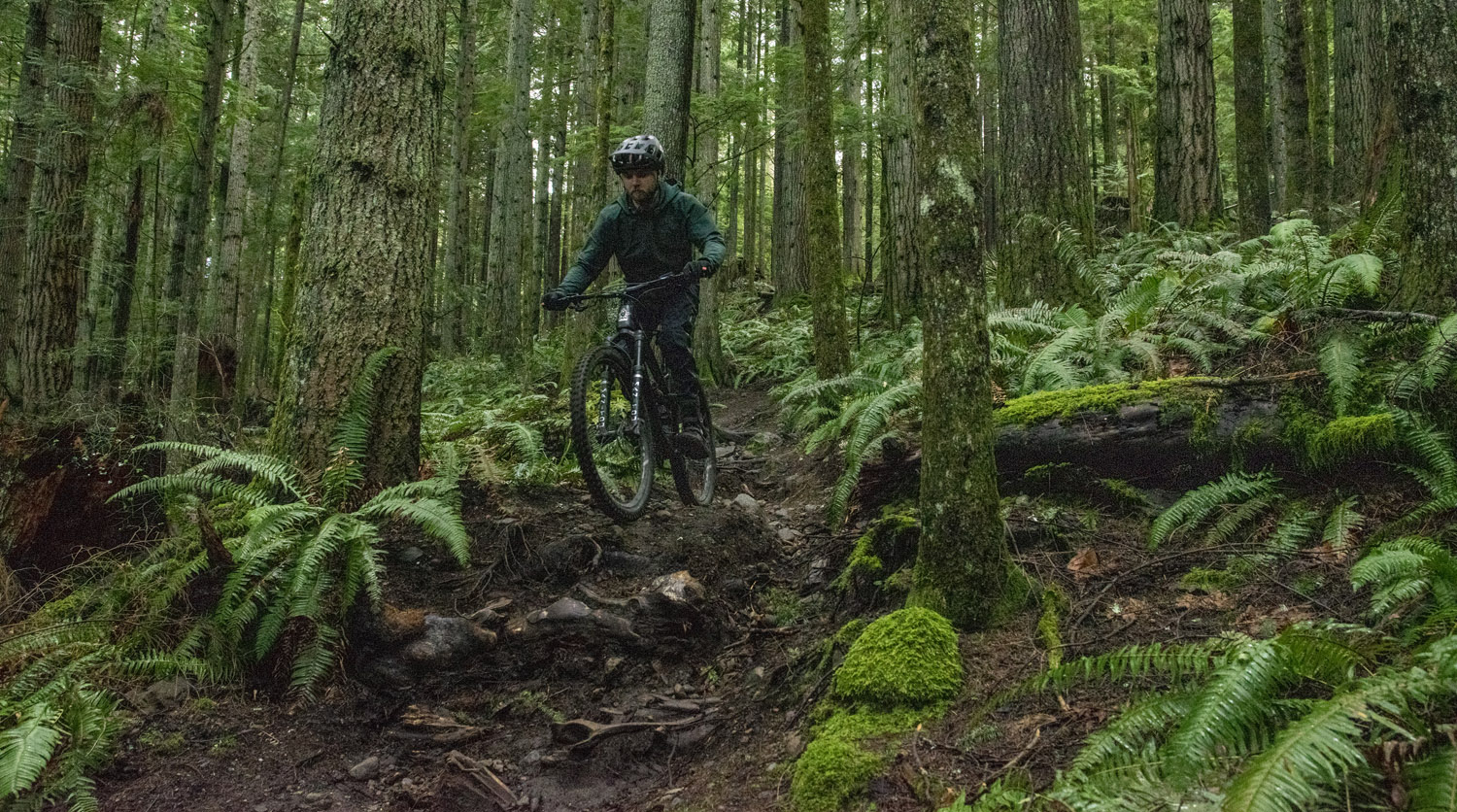 The Design
The Float X gets an entirely new damper design (which is shared with the DHX, its coil-sprung counterpart) — and in a major departure from the DPX2, as well as Fox's Float X2 and DHX2 gravity shocks, it's a monotube design, rather than a twin-tube one. And since Noah Bodman already covered the basic design differences really well in his DHX review, I'll just quote him here:
"The main difference between a single- and twin-tube damper is that, in a single-tube damper, oil is pushed back and forth through the main piston head, and much of your damping force comes from the valving there. In a twin-tube damper, oil is pushed up by the main piston head, through the damper valves, and then recirculates down through a second tube (the "twin" tube) to the back side of the main piston head.
This can all get pretty complicated, so I'll let the pros at Vorsprung explain it a bit more concisely — the visuals in their video on the subject definitely help.
The quick and dirty takeaways are that, in a perfect world, either damper style can yield the same performance, and perfection really comes down to the valving and tune of each specific damper. Twin-tube dampers have the advantage of being a bit more suited to a wide range of external adjustability, and they can have a narrower shock shaft that has smaller seals and less friction. Single-tube dampers can be a little simpler and have a bigger shock shaft that might hold up better to lateral loads, which can be especially troublesome on bikes that use a yoke to extend the rear shock."
The adjustments on the Float X are similar to those found on the DPX2, but pared down slightly. In place of the three-position open / pedal / climb switch there's a more conventional two-position affair. Tool-free low-speed compression adjusters round out the damper adjustability. Both sweep through their entire range in a single turn, and the settings are numbered for easy tracking. The compression knob has 11 settings, labeled 0 to 10 (having it go to eleven was right there); the rebound one gets 14 settings, labeled, for some reason, 2 through 12, with a couple more clicks available past the etched numbers.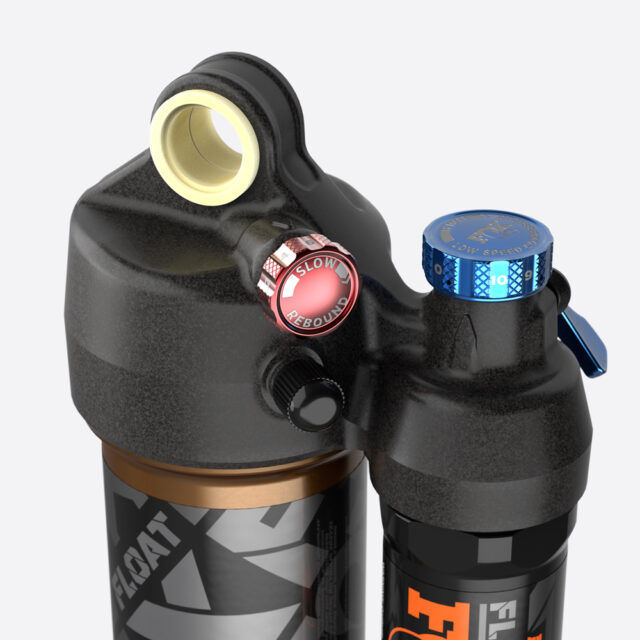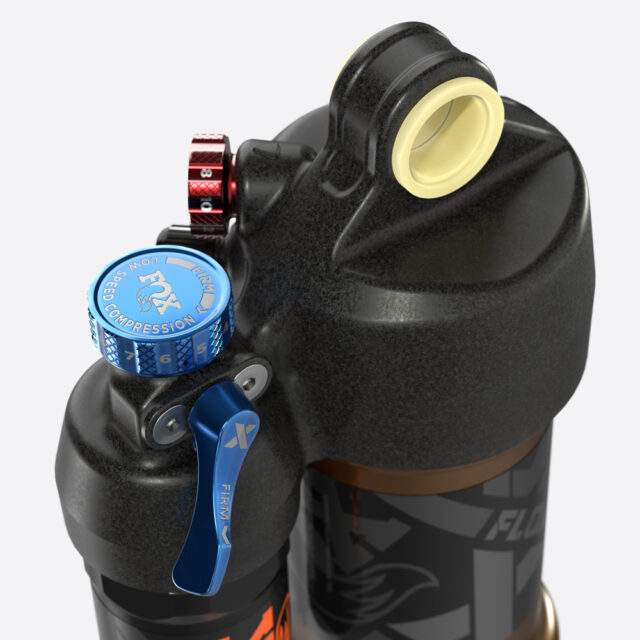 The indicated numbers are counting clicks from close (i.e., a compression setting of "4" is four clicks from maximum damping). Smaller numbers therefore correspond to more damping, which might be a bit counterintuitive, but counting clicks from closed is considered to be the best practice for mitigating the effects of assembly tolerances in comparing settings from one shock to another. And anyway, the compression and rebound knobs are also labeled with an arrow that says "firm" and "slow", respectively, in case you lose track of which way is which.
As per usual for Fox, the Float X is available in three different trims — Factory, Performance Elite, and Performance. The Factory and Performance Elite shocks feature the same damper design, with the only difference being a shiny gold Kashima coating on the Factory version, whereas the Performance Elite model gets a black anodized finish. Fox says that the Kashima coating reduces friction compared to the black finish, but while we haven't tested both versions of the Float X back-to-back to compare, we haven't found it to make much difference in other Fox products over the years. Finally, the Performance trim gets the black finish of the Performance Elite, but with a pared-down damper that loses the compression adjuster. The Float X Performance is only available on complete bikes, but the other two versions can be purchased aftermarket.
The Float X also features a substantially bigger air piston than the DPX2, and the result is that a given rider on a given frame should need significantly lower air pressure than with the DPX2. That will be most beneficial to heavier riders and/or folks on higher-leverage-ratio bikes, who could find themselves bumping up against the 350 psi pressure limit for the DPX2. And indeed, I wound up running about 30 psi less in the Float X than the DPX2 I used for comparison on our Guerrilla Gravity Trail Pistol test bike (190 psi vs. 220). As per usual for an air-sprung shock, the Float X has provisions for a variety of sizes of volume spacers to tune the amount of spring ramp-up deeper in the stroke. The spacers are available in 0.2 through 1.0 cubic inch sizes, in 0.2 cubic inch increments, plus an 0.1 cubic inch mini spacer that can be clipped onto any one of the other spacers to split the difference between sizes. Volume spacer installation is tool-free, by simply unthreading the air can by hand (remember to let the air out first!) and snapping a new spacer into place.
Somewhat unusually, changing the stroke of the Float X is also an easy DIY task. It's accomplished by removing the air can (as you would to change volume spacers) and then removing the two bolts that secure the plate that the bottom out bumper runs into, and adding or removing spacers behind it as desired. Spacers are available in 2.5 mm thicknesses and can be stacked on top of each other as needed. If you're making a significant change one way or the other you'll also need replacement bolts (standard M3 x 0.5 flat head cap screws) of an appropriate length to compensate for the change in spacer thickness. On a lot of bikes (including the Guerrilla Gravity Trail Pistol that I tested the Float X on — check out the review for more on that) it's possible to increase the shock stroke to bump up the rear travel slightly, but it's critical to check for clearance before you blindly go longer — you may run into issues with linkage parts interfering, the tire hitting the frame, or other such issues, depending on the bike in question. Consult with your frame manufacturer if you're not sure.
All of that does come with a slight weight penalty as compared to the DPX2 — our 210 x 50 mm Float X test shock weighs in at 479 g, 60 g heavier than a DPX2 in the same size. That's probably not make-or-break for most people (and the folks who do care would likely be better off with an inline shock, such as the Fox DPS anyway) but it's still worth noting. How it works on the trail is a whole lot more important than any minor differences on a scale, so let's get into that part of the Float X story.
On the Trail
Setting up the Float X for our Guerrilla Gravity Trail Pistol test bike was straightforward — I set sag per usual, started with both damping adjusters in the middle of their ranges, and hit the trail. After a bit of experimentation, I wound up running the rebound a bit faster (9 clicks from closed), the low-speed compression a bit firmer (3 or 4 clicks from closed), and a touch more air pressure than I started with (190 psi). The 0.4 cubic inch volume spacer that the shock shipped with felt on the money, and I wasn't tempted to do anything different on that front.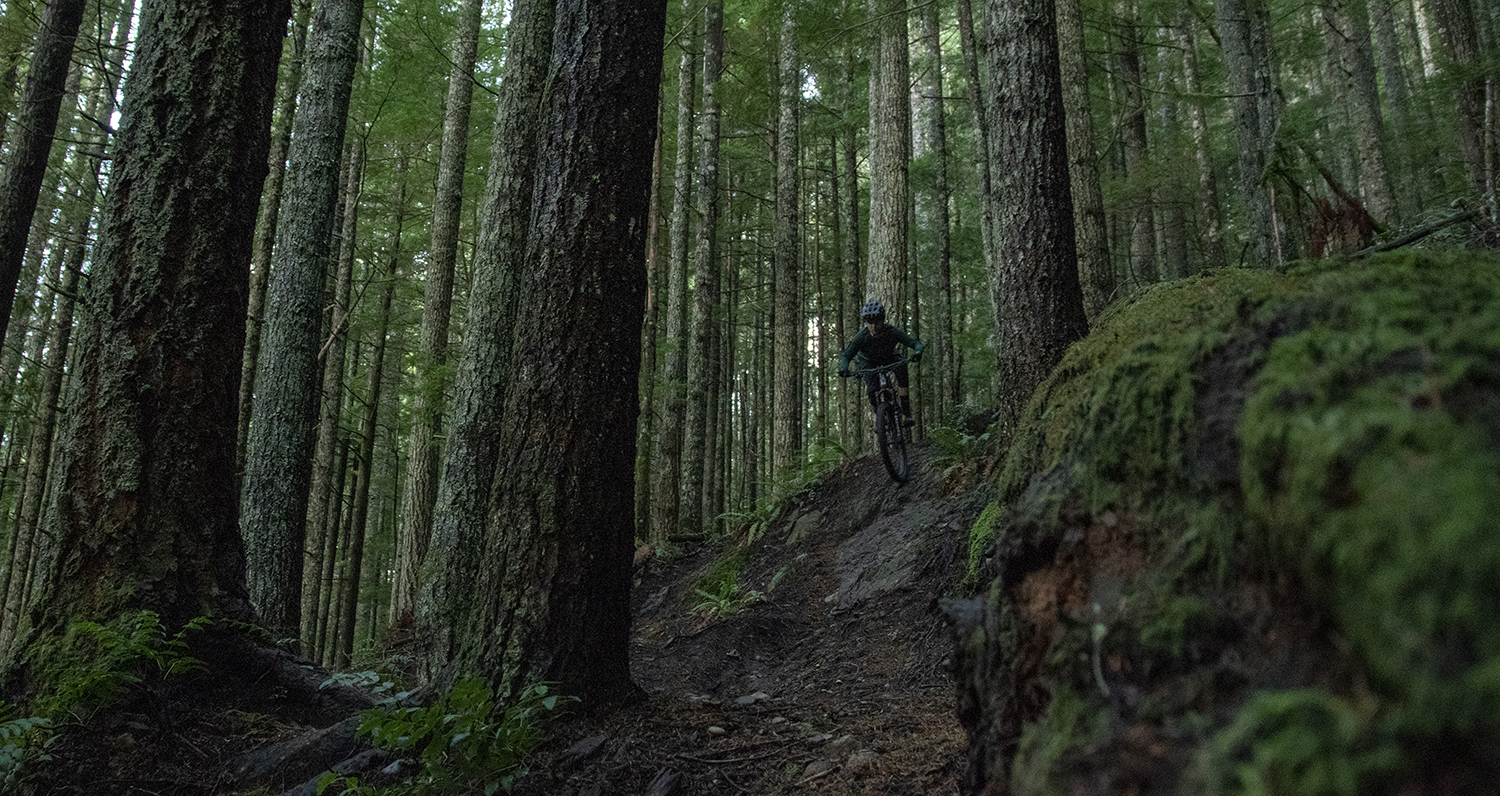 Compared to the DPX2, one of the first things that jumps out about the Float X is that its small-bump sensitivity is greatly improved. The Float X is a whole lot smoother and feels quite a bit lower friction. Especially if you firm up the low-speed compression to try to add support when you start hitting bumps harder, the DPX2 is prone to feeling like there's a bit of a platform that you have to break through to get it to start moving before the damping opens up. That's gone with the Float X.
In his review of the DHX, Noah Bodman noted that the small-bump sensitivity was very impressive, but the shock felt like it blew through the deeper part of the travel too easily, and lacked support when you really started pushing it harder. And since the DHX and Float X share a damper, I was a bit concerned as to how the Float X was going to shape up on that front.
Now, it's important to remember that rear shocks, in particular, can be had with a ton of different damper tunes directly from the factory, so comparing two versions of the same shock that are set up for different bikes isn't always the most meaningful. But the good news is that this particular tune does feel a lot more dialed than the one Noah had on the DHX. I'd personally probably prefer a little more high-speed compression damping, but it hasn't risen to anything close to what Noah described, and overall the Float X has worked really well. That said, it definitely hasn't made the Float X2 feel redundant in Fox's lineup, either — the bigger, more complex Float X2 definitely still has a place for more aggressive riders, especially on longer-travel bikes. The Float X2 is a bit more supportive and considerably more tunable — especially in terms of dialing in more high-speed compression damping. But it's also more expensive, heavier, and more complicated to set up, and the Float X makes a lot of sense for Trail bike applications, especially for riders who'd rather just go ride than put a lot of time and effort into dialing in suspension setup.
I haven't directly A/B'd the two on the same bike, but the current shock that the Float X reminds me of the most is the RockShox Super Deluxe Ultimate. It's not a perfect 1:1 comparison though — in most tunes that I've tried so far, the Super Deluxe feels a touch less supple and low-friction right off the top, but a bit more supportive, and with a little firmer high-speed compression damping. Again, both the base tune and the kinematics of the bike that it's bolted to have a big impact on a rear shock's performance, and that makes comparisons tricky. But at least as set up here, the Float X feels quite a bit like a Super Deluxe that's tuned for a little more plushness and sensitivity, at the expense of a little support.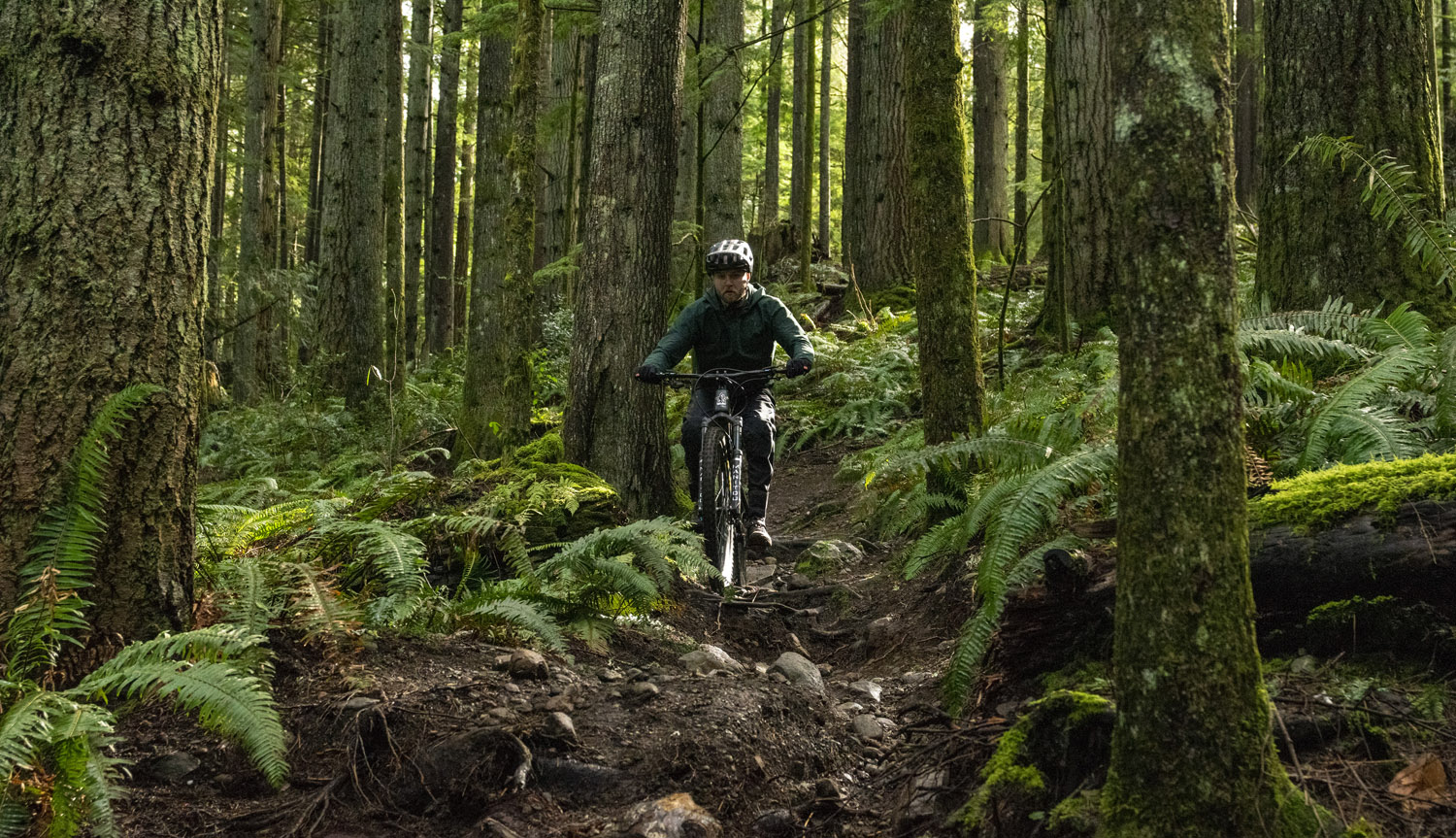 The climb switch on the Float X is also tuned quite nicely. It's substantially firmer than any of the versions of the newer 2021+ Float X2 that I've been on (and I've tried a lot by now), but a touch less firm than the norm for the RockShox Super Deluxe. I think that's a good range to be in — and to be clear, the Float X and Super Deluxe are in a similar ballpark, and the gap to the Float X2 is a whole lot bigger. Nobody's making you use the climb switch any time you're climbing, so having one that makes a modest difference feels largely pointless to me. A very firm climb mode isn't always ideal to be sure, especially when climbs get rougher and more technical, but you can just turn it off in those scenarios. I'd much rather do that, and have a climb mode that's very effective when you do choose to use it than one that's fine to leave on for pretty much any climb, but also doesn't make much of a difference. The Float X hits a nice balance there.
I don't have much to report on the durability front — the Float X has held up well and performed reliably in my time on it so far. I don't think I've quite hit Fox's 125-hour recommended service interval yet, but I can't be that far off it either, and it hasn't given me anything to comment on. So far so good.
Bottom Line
The Fox Float X is a good all-arounder Trail bike shock, and one that I think will work a lot better for most people than the DPX2 that it replaces. Folks who are on a bike with an imperial-sized shock are unfortunately out of luck, and the Float X isn't going to take the place of the Float X2 (or DHX2) for riders who want a more tunable, more supportive option for longer-travel bikes. But it's a good performing shock that's easy to set up and hard to make feel too out of whack, as long as the base tune is decent, and that makes it a good option for a whole lot of people.