Intro
Whether you prefer to call them hip packs, fanny packs, bum bags, or any of their other myriad names, packs without shoulder straps have inarguably taken over the mountain bike world in the last few years. They're not nearly as hot or heavy as a full backpack, and some of the larger options can carry enough gear for even all-day epics. On the flip side, ultra-minimalist options can be great for shorter rides where you don't need to carry the kitchen sink. Here we've got six options across the full spectrum that we've been testing for quite some time now, and you can read on to see how they all stack up.
Race Face Quick Rip 1.5L
MSRP: $57
Stated Features:
Single sided stretch belt adjustment
Neoprene bottle holder
Ripstop nylon construction
Reflective logo
Lower carrying straps
2 pockets + phone pouch
Waterproof zippers
Blister's Measured Weight: 252 g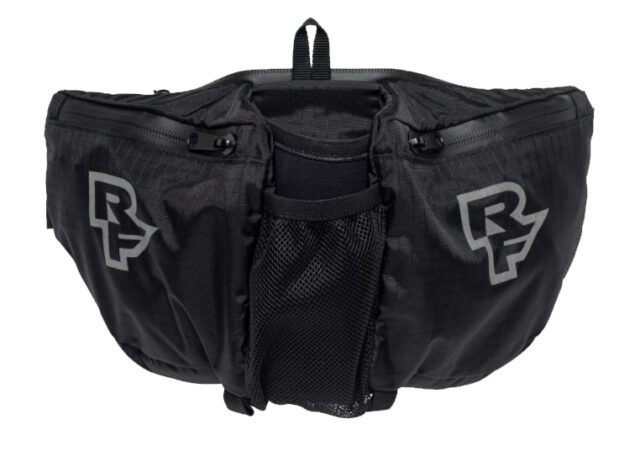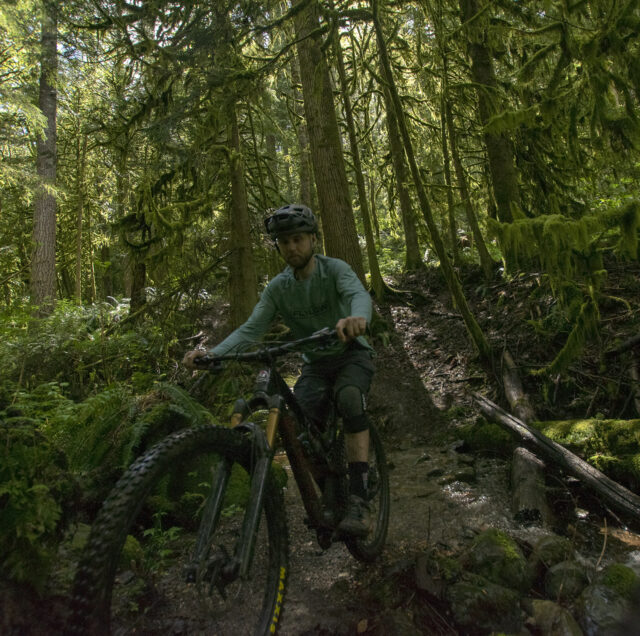 David Golay: Race Face says that the Quick Rip 1.5L is for "when a backpack is too bulky for that quick lap but your pockets just won't do the job," and it is indeed a really good option for carrying a few basics and a single beverage.
The most standout feature of the Quick Rip 1.5L is that its single bottle holder is centered on the pack, rather than off to the side of the main pouch like on most of the packs here. The biggest advantage of this layout is that it's much more stable and secure than designs that place the bottle on the side of the pack. Particularly if they're only holding a single bottle on one side of the pack, those designs can be prone to rotating around your torso due to the unbalanced weight of the bottle. There's no such issue with the Quick Rip 1.5L. The bottle holder is also made of neoprene, providing an appreciable amount of insulation, and features a mesh pocket on top of the holder that's ideal for holding a pair of gloves for the climb back to the top before donning them for the descent.
The downside of this layout is that the main pocket is divided into two halves, so there's not really room for any bulky or (especially) long items. Getting a mini pump in the Quick Rip 1.5L is tough, but doable with some smaller options. If your pump isn't notably short, you're probably out of luck. A Lezyne Pressure Drive (small size, 182 mm / 7.17'' long) goes, barely, but it sits diagonally and takes up a lot of room in the pocket due to the awkward fit. Anything much longer than that is out. The two side pockets feature water-resistant zippered closures and no additional inner dividers or organizers. There's also a padded phone pouch behind the bottle holder, again with a water-resistant zipper closure.
The strap on the Quick Rip 1.5L is also particularly nice. It's very large, which helps distribute the load over a wide area, it's slightly stretchy, and features a single-adjustable buckle closure. That does mean that you're not able to move a second adjuster to dictate where the buckle sits on your waist, but it's also one less adjuster to work its way loose.
Finally, the Quick Rip 1.5L features a pair of stowable straps that deploy from the bottom of the pack, to attach knee pads or a jacket to the exterior. When not in use, they stuff into pouches on the bottom of the side pockets. It's a similar concept to the straps on the High Above Lookout (more on that below) but placed on the bottom of the pack instead of the top. The upper placement on the Lookout places the stowed jacket or pads a little more neatly out of the way but both work well enough, and the straps on the Quick Rip 1.5L are quicker and easier to deploy.
Overall, the Quick Rip 1.5L is an especially good option if you've been annoyed by the lack of stability from packs that place a bottle on the side of the pack, and can work around the limitations in fitting a pump into the pack.
High Above Lookout
MSRP: $115
Stated Features:
Waterproof Xpac shell material from Dimension Polyant
Heavy-duty nylon webbing
Three interior pockets
Additional weather-resistant external zippered pocket
YKK Uretek #8 zippers
Extra-Long para-cord zipper pulls for ease of entry
Blister's Measured Weight: 287 g (includes one Bottle Rocket)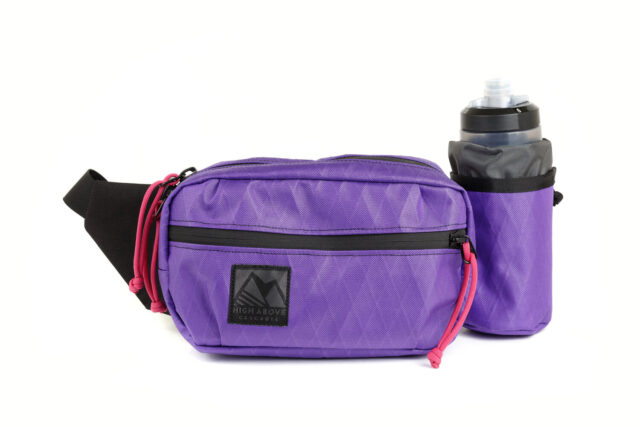 David: We ran my full review of the High Above Lookout going on two years ago now, and in the time since I've logged many more days with it and continued to be impressed. The overall layout is fairly conventional — one large main pocket, some internal dividers to keep smaller items organized, a smaller front pocket, and optional water bottle holders on the side(s). But what really makes the Lookout stand out is the quality of materials and construction. It's exceptionally well made and has held up flawlessly to a huge number of days on the bike without being any worse for the wear.
The water bottle holders (High Above calls them "Bottle Rockets") attach to the sides of the pack with plastic straps, which means that they're removable and interchangeable as desired. The standard Lookout comes with a single Bottle Rocket, but a second can be added for $15. If you prefer, High Above also offers a "Quick Draw Edition" of the Lookout which uses Fidlock magnetic water bottle holders in place of the Bottle Rockets.
The Lookout is also notable for being made in Bellingham, Washington — a rare thing, with most of the options here being sewn overseas. The extra-burly materials and US manufacturing don't come cheap, but the Lookout has proven to be exceptionally durable, which makes the price tag a whole lot easier to justify. There's a lot to be said for buying something high quality, once, and if that line of thinking resonates with you, the Lookout is well worth a look.
Dakine Hot Laps 2L
MSRP: $50
Stated Features:
100% 450D ripstop Recycled Polyester (rPET) exterior
Two deployable water bottle pockets
Dedicated, fleece-lined phone / sunglasses pocket
Zippered main pocket with internal dividers
External straps for securing a jacket or other items
Blister's Measured Weight: 295 g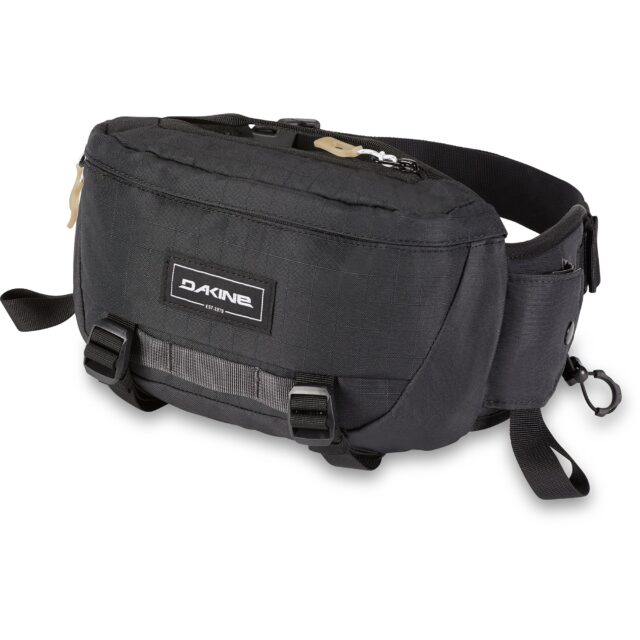 David: The overall dimensions and form factor of the Hot Laps 2L are very similar to those of the High Above Lookout, making it a compelling option for riders who find the higher price tag of the Lookout tough to swallow. The Hot Laps 2L is definitely not as burly as the Lookout, but we haven't had any major issues with it in a few months of use.
The Hot Laps 2L features a large zippered main pocket with some internal organizers for small items, plus a fleece-lined phone pocket that sits against the back panel of the pack. Dakine also says that this pocket can be used for sunglasses, though in my experience it's borderline on the small side for many larger, bike-oriented models. If you've got a pair that folds pretty flat it'll probably work, but bulkier glasses are a tight fit and feel somewhat at risk of being crushed.
The main pocket has plenty of room for a tube, pump, mini tool, and a few snacks. Riders looking to carry the kitchen sink with them will need something larger, but I find the Hot Laps (and similarly-sized Lookout) to be pretty ideal for most days — short of those where I need to carry a ton of water to get through a very long, hot ride. Figuring out how to pare down my riding kit to what I can fit in a small hip pack took a little trial and error, but has been well worth it to ditch a larger, heavier, hotter pack.
A pair of water bottle holders deploy from the sides of the pack and secure flush with a snap when not in use. Both include an elastic tether to help secure a bottle or can, though one end of one of the tethers came detached fairly early on in my time with the pack. It still worked alright without, and I was able to (crudely; my skills are rather lacking) sew it back in successfully. The bottle holders on the Hot Laps hold a bottle to the pack with slightly less movement than the Bottle Rockets on the Lookout, but don't hold a bottle quite as securely. I've only had a bottle get ejected from the Hot Laps once, but that's one more time than I've had on the Lookout, in a much longer test duration. And if you care about such things, the holsters on the Hot Laps don't hold an empty beer can very well — the Lookout is the clearly better option for that specific case.
Finally, the Hot Laps features a pair of straps on the bottom to hold a jacket or some long, slender item. Some bulkier jackets are a slightly tight fit due to the strap length, but most shells work alright. I've also used it to carry a small folding saw quite successfully. As mentioned above in the Race Face Quick Rip review, I prefer the position of the straps on the Lookout for carrying a jacket — with it on the top of the pack, it bounces around less and is more protected from spray off the rear wheel — but both work fine.
Overall, the Hot Laps 2L is a very solid option for a small-ish pack that can carry enough stuff for most everyday rides, without being unnecessarily bulky or heavy. If an extra-burly version with premium materials and construction sounds appealing, the High Above Lookout is the one. But the Hot Laps 2L is a nice, fairly affordable option that works well and has enough features for most rides for most people.
RMU Utility Belt
MSRP: $40
Stated Features:
Recycled fabric
Stretchy mesh pockets
Deployable bottle pocket
Aluminum waist buckle
Blister's Measured Weight: 156 g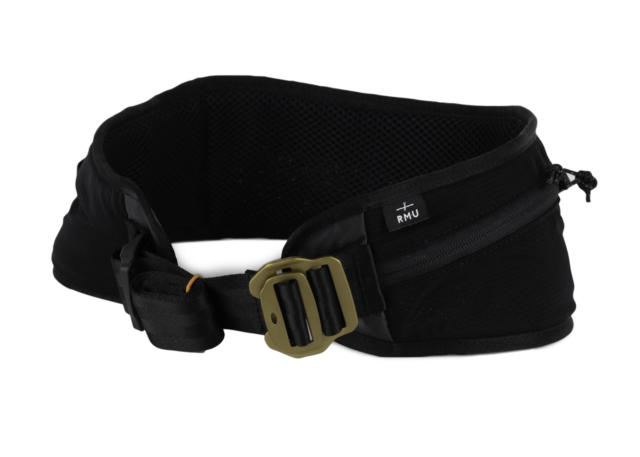 David: The RMU Utility Belt is an ultralight, super minimalist "pack" for riders looking to carry the bare necessities on shorter rides. As the name would suggest, it really is more of a belt than a true pack — the pockets are quite small and basic. The largest one is centered on the back and is just large enough to fit a 29er tube and a small pump. There's a second pocket on the left hip with a zippered closure that can fit a multi-tool and a plug kit, and a third on the right hip with a baffled opening that I honestly haven't used much. It's borderline too small for even a pair of gloves, and without a real closure, I don't trust it with my keys.
There's also a deployable beverage holster that folds out of a pouch on the right side of the main center pocket. It works in a pinch, but is pretty floppy and allows the bottle or can to bounce around significantly when descending something rough. I've found it to be just fine if I'm going to take up something to drink at the top of the first climb, but for longer rides where I want to descend with some liquid on my back, I'll bring a bigger pack.
I'm a big fan of the aluminum buckle closure on the Utility Belt. It is very slightly more difficult to put on than a standard plastic buckle, but sits much flatter and isn't nearly as long. As a result, it allows the strap to sit more comfortably without digging into your stomach, especially when hunched over on the bike.
Overall, the Utility Belt is a great option for short laps where you don't need to carry too much stuff, and its smaller footprint does mean that it's notably more comfortable and less noticeable than a bigger pack if you're not trying to overload it. In particular, having everything stored very flat against your back means that it's not as bouncy as a bigger, heavier pack can be. The Utility Belt doesn't let you carry a whole lot, but for the bare necessities, it's a really good option.
EVOC Hip Pack Capture 7
MSRP: $100
Stated Features:
In the padded main compartment the camera is protected by individually adjustable compartment dividers.
Accessories can be stored in the attached compartment with a water repallent inner pocket, and accessed rapidly.
Additional storage space is provided through additional pockets on the adjustable-length hip belt.
Carrying comfort assured through the easy adjustment of the gap between back and pack using the VENTI FLAP system.
Optimal air circulation and heat dissipation thanks to the ventilation channels in the back padding.
Integral rain cover and belt system for holding a tripod.
Blister's Measured Weight (w/ all dividers, rainfly, & straps): 606 grams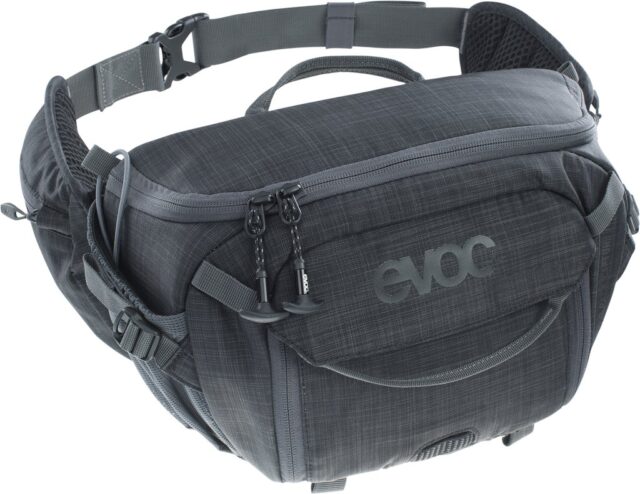 David: Luke already ran a full review of the Hip Pack Capture 7L last year but I've also been using one for the last year or so, and like Luke, I'm a big fan.
I was never one to drag camera gear out on the trails before I started working at Blister and it became a job requirement, but I've long been on the fanny pack bandwagon and hate riding with a backpack if I can possibly avoid it. Enter the Hip Pack Capture 7L.
The main pocket of the pack is designed specifically to carry camera gear and does that really well. I primarily use a Nikon D5300 (a fairly compact, crop sensor DSLR), Sigma 17–70mm F2.8 lens, and Sigma 10–20mm F3.5 lens. In the Capture 7L, there's plenty of room for both, with some nice adjustable padded dividers to keep everything organized. A pair of straps on the bottom of the pack are designed to carry a tripod or something similar, but my main tripod isn't compact enough to fit through them. I've strapped it onto the top of the pack with Voile straps, but found that the tripod, camera body, and two lenses are too heavy to be very comfortable with just a hip strap to support them.
In addition to the padded main pocket, there's a front pocket with a pair of zippers that opens a large flap, with dividers for memory cards and spare batteries. The battery pockets could stand to be a touch larger for the Nikon EN-EL14as that my camera uses, but they get the job done. A stowable rain cover deploys from the bottom of the pack, and while (like Luke) I wouldn't trust it to hold up to direct spray from a garden hose, it's been plenty for a few hours of exposure to light rain.
The main pocket has a U-shaped opening that makes access extremely easy, and the Hip Pack Capture 7L carries heavier loads unusually well for a hip pack. There are limits — as noted above, when trying to carry a camera, two lenses, and a tripod — but it's still much better than most. The relatively rigid back panel (which features substantial foam panels with large cutouts for airflow) probably deserves a lot of the credit here, as does the large, well-padded hip strap.
A pair of smaller pockets for items like keys and snacks sit on each side of the hip strap, and there's a single bottle pouch on the left side of the main body of the pack.
A camera hip pack is a fairly specialized item, and the Hip Pack Capture 7L does make the most sense for people who are specifically looking to carry camera gear on the trail. If you fit that description, though, it's the best option I've tried to date and has greatly improved my experience of shooting riding photos.
Luke: Yep, I'm still a big fan of the Capture 7L, now having spent a little over a year with it. David hit the highlights and you can check out my full review for more details, but I'll add a few new thoughts.
For my camera setup, I'm carrying a mirrorless Olympus M-1 Mk. II body, Panasonic 35–100 mm F2.8 telephoto lens, and an Olympus 7–14mm F2.8 wide-angle lens. Those fit nicely in the pack (albeit a bit snugly) and also leave room for my Crankbrothers Klic pump, a small multi-tool, my keys, and maybe a snack or two. All of that results in a pretty heavy hip pack, but as David noted, this one does carry weight quite comfortably. There are times where I get a bit annoyed by the weight tugging on my stomach on soul-crushing climbs, but overall I've been impressed by how little I notice the weight in the Capture 7L. This thing also breathes surprisingly well.
While Crested Butte is a lot less wet than Seattle, I've been happy with the Capture's weather resistance during the numerous rainy (and snowy) rides I've done with it on my back. Even when I forget to throw on the rain cover, I've never noticed water getting into the main compartment. And the rain cover is another nice second line of defense. I also don't have a tripod that's compact enough to bring with me, but the straps have been very nice for stashing a shell (or rod tube for a few bike-to-fish trips).
My only nitpick is that I wish Evoc would've put a water bottle pocket on the other side of the pack, rather than just one. I rarely feel the need for more than a single bottle but it'd be nice to have the option, and could make the pack feel more balanced.
Other than that, the Capture 7L has been great, and it's a big part of why I now basically never go on a trail ride without my camera. It carries the load really well, protects it better than the vast majority of hip packs, and all the trims and fabrics are holding up very well after nearly two seasons of hard use.
Topo Designs Quick Pack
MSRP: $69.00
Stated Features:
1000D nylon, 400D nylon pack cloth and 420D nylon pack cloth
Internal stash pocket
External diagonal zippered pocket with with dual slip pockets
Internal key clip
Adjustable removable shoulder strap
Stowable 2″ seatbelt waist belt
Top carry handles
Bike light attachment loops
Bottom compression straps
Heavy-duty plastic hardware
Oversized YKK zippers with paracord zipper pulls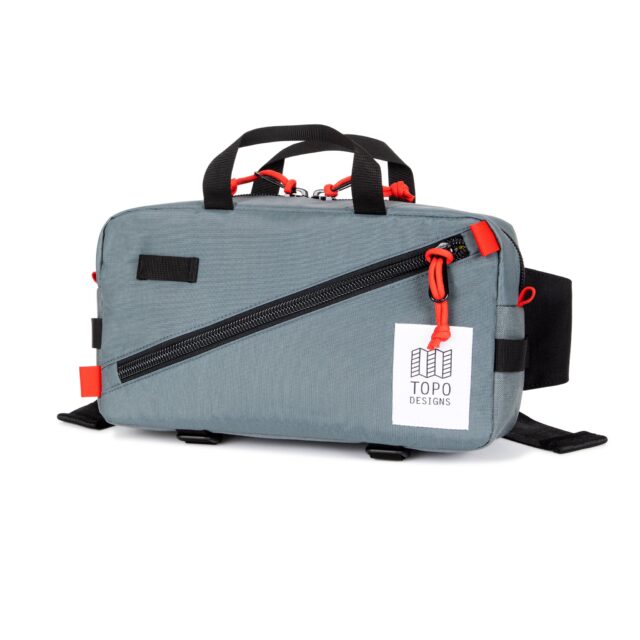 Luke: Topo Design's Quick Pack is a particularly nice option if you like to use hip packs / shoulder bags outside of the mountain biking scene. It doesn't have some of the more "techy" features and fabrics as some of the other packs here, but it also has some features (and a general look) that the others lack, too.
In terms of storage, the standard Quick Pack has about 7 liters of volume (there's also the 2.5L Mini Quick Pack). The Quick Pack has one large main compartment, an internal pouch that's nice for a wallet, phone, etc., and an external zippered pocket that's similarly thin but that's useful for something like a multitool.
Most water bottles and pumps fit inside just fine, though there are no external bottle pockets, which might be a dealbreaker for some folks. There are compression straps on the bottom that are useful for stashing an extra layer, or really tightening everything down. There's also a tab for clipping a bike light or retractable fishing tool tether, and typical of Topo, the two YKK zippers are extremely beefy and easy to use.
One unique feature of the Quick Pack, among the packs here, is that you can stow the Quick Pack's main hip belt straps into a sleeve and use the included shoulder strap to carry it that way. The Quick Pack also comes in a wide assortment of both very bright and subdued colorways, with Topo's signature 70s / 80s aesthetic clear in many of them.
As far as on-bike carrying goes, the Quick pack is pretty comfortable overall. It doesn't feel as nice with a heavy load as the Evoc Capture 7L, nor is the Quick Pack as comfortable in hot weather due to its plain cordura fabric on the back-facing area. Overall though, if you're looking for a hip pack that looks a bit different than most, is built with very durable materials and components, and that you'll use both on and off the bike, it's certainly worth checking out.